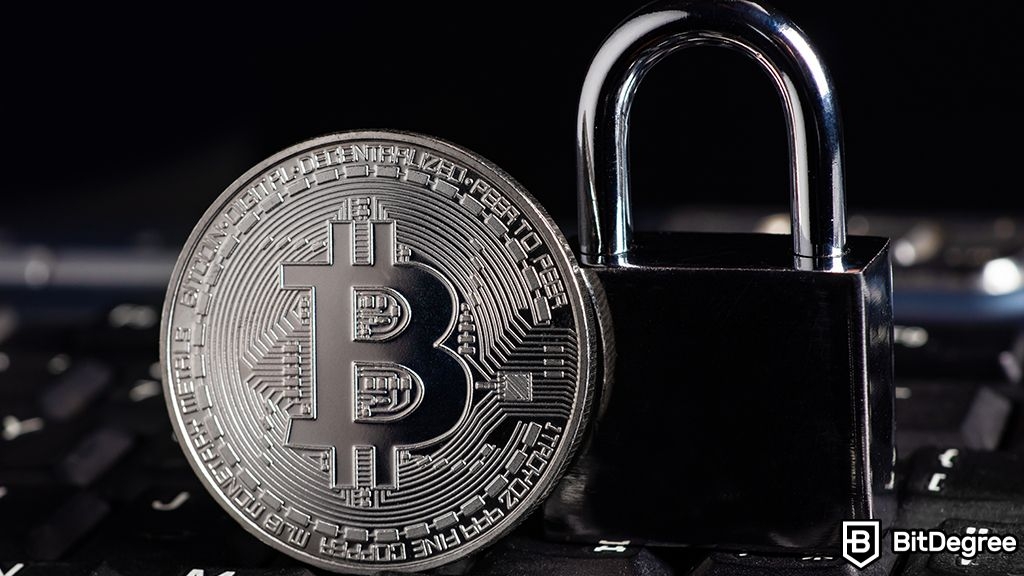 Be it Ethereum or Binance Smart Chain (BSC), not all smart contracts play fair – some sneakily seek permission to access your tokens limitlessly. Once they have this access, they take advantage of your tokens, even if you've withdrawn from their platform. But don't fret, that's where BSC revokes come into play (or any other network revokes, for that matter).
Keep in mind, though, that the option to revoke permissions is relevant primarily in the context of decentralized exchanges or applications that request access to your tokens. Centralized exchanges like Binance or Kraken, on the other hand, do not require such permissions from users.

Did you know?
Want to get smarter & wealthier with crypto?
Subscribe - We publish new crypto explainer videos every week!
What is a Crypto Bull Run? (Animated Explainer + Prediction)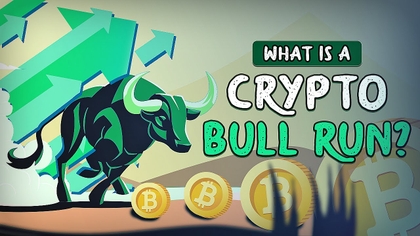 Table of Contents
How to Revoke Smart Contracts (BSC)?
If you find yourself in a situation where you are tricked into giving access to your tokens, or you give it knowingly but eventually want to cancel it, here is a guide on how to revoke BSC smart contract permissions. Note that the process is usually the same when it comes to other blockchains as well, be it Goerli, Polygon, and whatnot.
Latest Deal Active Right Now:
REDEEM $600 PRIZE
Binance Cyber Monday
Attention new Binance users: this Cyber Monday, you can score up to $600 in rewards by completing special tasks. Activate this amazing Binance Cyber Monday deal using the code – 49316610!
Expiration date : 09/12/2023
6,127 People Used
Only 16 Left
If I were to put it very briefly, you just need to:
Got to a website that provides revoking services;
Connect your wallet;
Change the network (if needed);
Revoke BSC permissions of your choice.
If you want a more detailed explanation, though:
Step 1: Go to a website that allows BSC revokes and connect your wallet. For the sake of this tutorial, I used Revoke.cash (BSC Scan revoke or any other would most probably have very similar steps).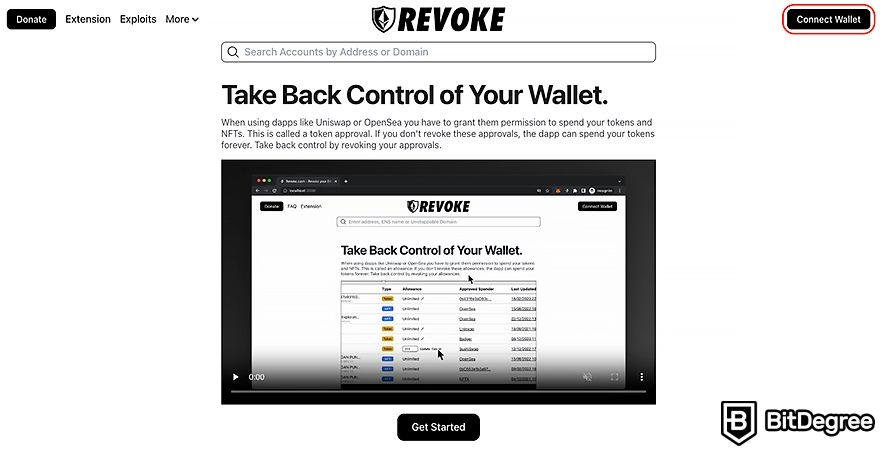 Step 2: You can choose from several different wallets, but I went with MetaMask. Keep in mind that you should have a MetaMask wallet (or any other wallet) extension installed on your browser if you want a hassle-free BSC revoking experience.
Once you click on MetaMask, a wallet extension will appear, asking you to approve the connection. Click "Next" and then "Connect."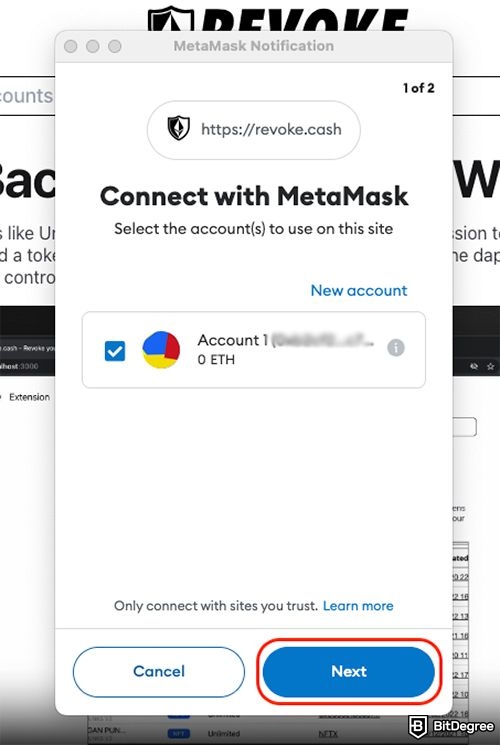 Step 3: Initially, you will be connected to the Ethereum network because it's the default network of MetaMask (unless you have switched the network on your wallet beforehand). However, since this is a tutorial on "how to revoke smart contract BSC," you should switch your network to BNB Chain.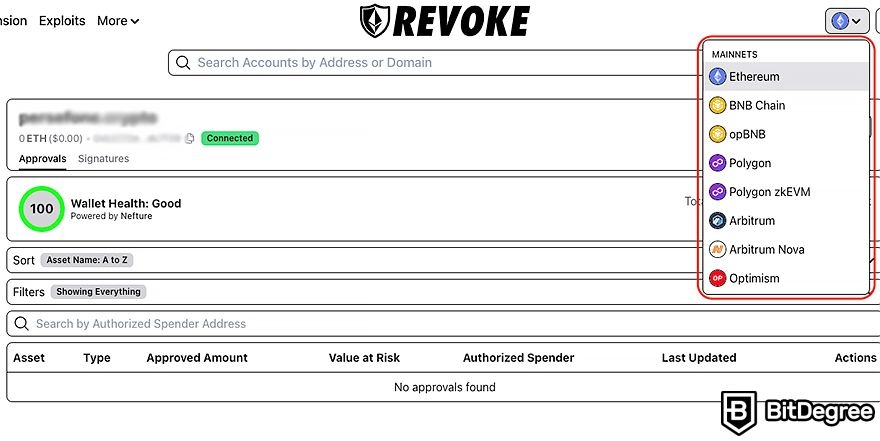 You will also have to make that switch on your wallet, but this will be prompted automatically once you switch it on the website.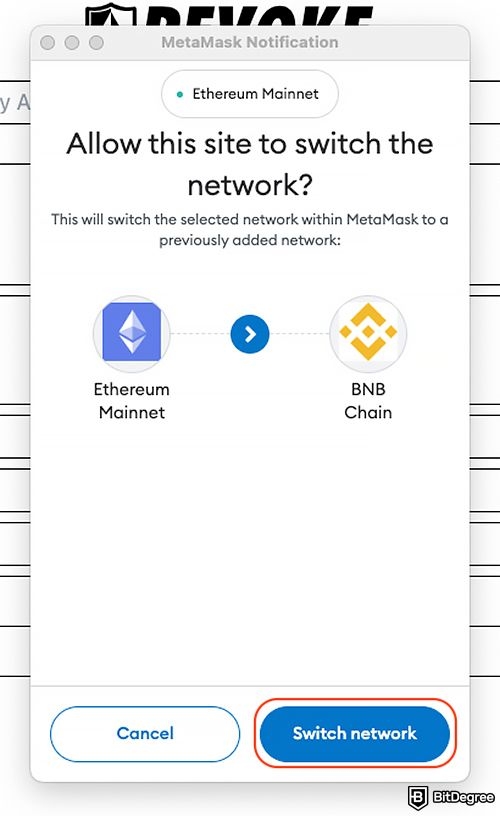 Step 4: Once your wallet is set, you'll see a list of operations you've completed on BSC with your wallet. Some of these operations may be revocable, while others may not.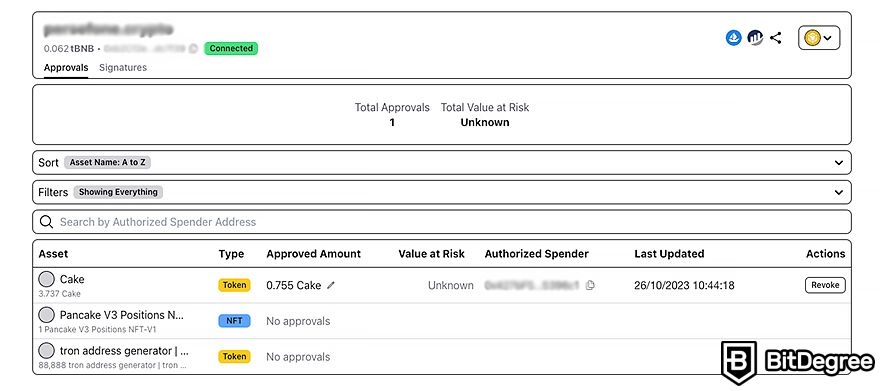 Pick the one BSC token approval you want to revoke and click "Revoke" (pretty obvious, I know).

Your wallet extension will pop up asking you to confirm the BSC token approval revoke of your choice (in my case, it was the CAKE token spending cap on PancakeSwap). Click "Approve."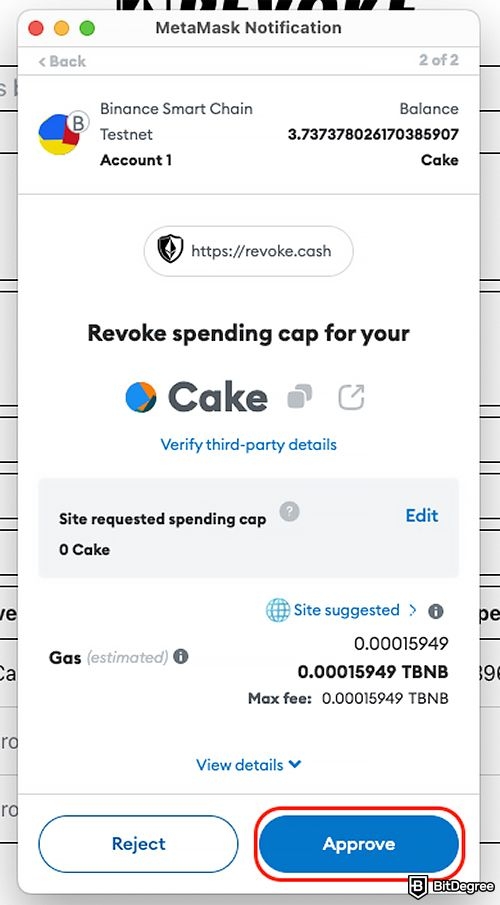 And that's it! You now know how to revoke crypto permissions. Do keep in mind, though, that you will have to pay a certain gas fee for revoking smart contract permissions (you'll see the fee you need to pay on your wallet confirmation window).
Revoking Approvals VS Disconnecting Your Wallet
A question that is often asked when it comes to BSC revokes (or any other network revokes) is whether disconnecting your wallet from a website does the same as revoking a smart contract approval. The short answer is no.
If you want to get into more details, though, when you revoke crypto contract permissions, you essentially nullify the authorization you granted to a smart contract, allowing it to interact with your tokens. So, after revoking permission, the smart contract will no longer have the ability to perform operations with your tokens.
Besides, note that you can also revoke NFT contract permissions, not only "traditional" crypto contract permissions.
When it comes to disconnecting your wallet, you simply sever the active connection between it and the platform in question. This means that it will no longer be synced with your wallet address, so whenever you want to connect it again, you will have to grant access. However, your token or NFT approvals stay active, even when the wallet is disconnected.
Conclusions
So, that's all there is to BSC revokes. You just need to find a platform that provides revoking services, connect your wallet, and revoke BSC permissions you don't want to be active anymore.
Just keep in mind that, like any other operation on the blockchain, revoking a crypto or NFT contract permission does impose gas fees. They differ based on network congestion and various other factors, so make sure to check them out before making a revoke.
Above all that, make sure to only give access to your tokens to the platforms you trust, and always look into any type of permission before agreeing to it. Or, you could also use centralized exchanges like Binance or KuCoin for your transactions, so you won't have to worry that much about the security of your funds.
About Article's Experts & Analysts