Justin Sun has been officially recognized as the World Trade Organization ambassador for Grenada by the government of the country. Sun will be based in Geneva, Switzerland.
Justin Sun is best-known for being the founder and creator of TRON - one of the largest and most-popular blockchains and cryptocurrency technologies on the market. Possessing an avid interest in history and international political affairs, Sun majored in history at Peking University, being first in his class. After that, Sun went to pursue a master's degree in arts in social sciences, at the University of Pennsylvania.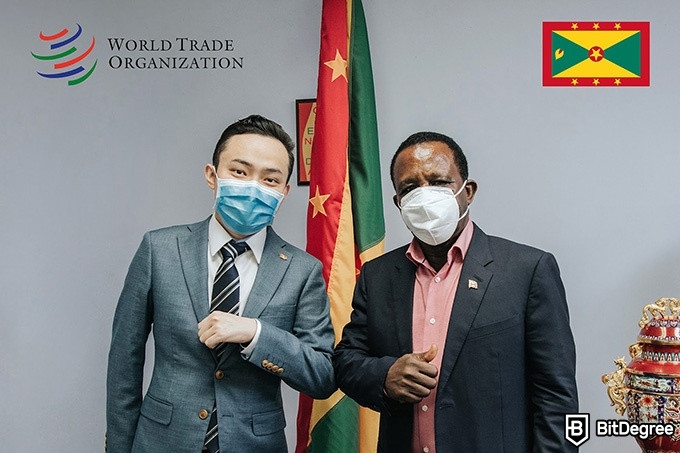 Above, you can observe Justin Sun (left), and Prime Minister Keith Mitchell (right), soon after Sun was appointed as the WTO ambassador for Grenada. Image credit: WTO.
The news is notable, since Grenada is a key member of the Caribbean Community, otherwise known as CARICOM. After the announcement, Sun exclaimed:
It is truly an honor to serve as the WTO ambassador for Grenada. I look forward to the opportunity to represent Grenada and work with WTO leadership to reinvigorate global trade in various ways, particularly the development of a robust digital economy internationally.
With Justin Sun being an expert in blockchain technology, this will likely serve as vital information for improving the regional and global economies, both of which have been ravaged by the recent COVID-19 pandemic. While there's a projected 13-32% decline in global trade, the CARICOM region is expected to be among the most-impacted ones, due to the decline in tourism.
This is a third party-distributed Press Release, BitDegree is not responsible for any content or related materials, the advertising, promotion, accuracy, quality, products or services on this page. Before making any decisions or taking any actions, readers are advised to do their own research, first. BitDegree is not liable nor responsible for any direct or indirect loss or damage related directly or indirectly to the use of any products, services or content in the Press Release.
---