Cathie Wood's buying spree signals ARK Invest's commitment to the crypto industry.
Cathie Wood, the CEO of ARK Invest, is keeping her faith in the crypto industry intact despite recent regulatory actions, as evidenced by her continued investment in Block Inc. and Coinbase.
In the backdrop of the Securities and Exchange Commission (SEC) of the United States taking legal action against Binance and Coinbase - two of the crypto industry's leading exchanges - Wood demonstrated her confidence in the sector.

Did you know?
Want to get smarter & wealthier with crypto?
Subscribe - We publish new crypto explainer videos every week!
What is a Crypto Mining Rig? Is it Worth it? (EASILY Explained)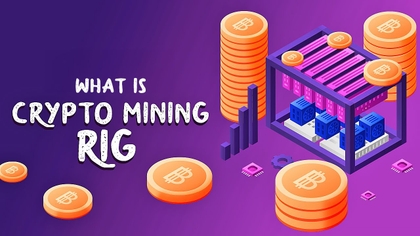 While this legal turbulence impacted the share price of Coinbase, Block Inc. saw its stock price surge during the same period.
Unfazed by the legal imbroglio, Wood added 305,573 new shares of Block across six transactions between June 7th and 8th, thus solidifying ARK's position with a 4.81% stake in Block, its fourth-largest holding.
The newly purchased Block shares were divided among three of ARK's ETFs. A significant chunk, 240,174 shares, was allocated to ARK Innovation (ARKK). Over 39,000 shares found their way to ARK Next Generation Internet (ARKW), and the remaining 26,300 shares were added to ARK Fintech Innovation (ARKF).
Wood's trust in Coinbase is also evident, with ARK Invest buying 419,324 shares valued at $21.6 million. These purchases happened on June 6th, right when COIN's stock was experiencing a sharp 20% drop overnight.
ARK's investment in Coinbase, which now stands as its seventh-largest holding at 4.39%, is spread across three ETFs: ARKF, ARKK, and ARKW.
Despite this, Wood remains optimistic about the platform's prospects, particularly given the legal troubles faced by Binance, one of Coinbase's main competitors. In an interview with Bloomberg, Wood recently stated:
We have Binance under increasing regulatory scrutiny for more criminal activities, fraud being one of them, therefore we have the competition for Coinbase disappearing, so that's a good thing longer term for Coinbase.
Despite the crypto industry facing regulatory pressure, Cathie Wood's bullish stance on Block Inc. and Coinbase underscores her belief in the long-term potential of cryptocurrency innovation. Her actions send a powerful signal to the market, especially at a time when the regulatory environment is getting more challenging for crypto firms in the US.
---