Key Takeaways
Coinbase has filed its final bid to dismiss the SEC's lawsuit, claiming that the regulator has overstepped its authority by classifying listed cryptocurrencies as securities.
The crypto exchange asserts that the SEC's jurisdiction should be confined to actual securities transactions.
The US SEC filed a lawsuit against Coinbase on June 6th, 2023.
Coinbase, the prominent cryptocurrency exchange, has submitted its final attempt to dismiss a lawsuit initiated by the US Securities and Exchange Commission (SEC).
The core of Coinbase's argument lies in the fact that the SEC has overstepped its boundaries by labeling cryptocurrencies listed on the crypto exchange as securities.

Did you know?
Want to get smarter & wealthier with crypto?
Subscribe - We publish new crypto explainer videos every week!
How to Create an NFT: Easiest Way (Animated Explainer)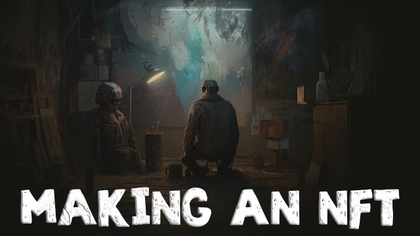 In a court document filed on October 24th in a New York District Court, Coinbase took issue with the SEC's broad interpretation of what constitutes a security. The crypto exchange argued that the SEC's authority should only apply to actual securities transactions, stating:
The SEC's authority is limited to securities transactions. Not every parting of capital with a hope of gain qualifies, and trades over Coinbase are only securities transactions if they involve 'investment contracts.' The transactions at issue here do not.
Coinbase charged the SEC with what it called a "radical expansion of its own authority," arguing that such sweeping jurisdiction over all investment activities should rest solely with Congress.
Paul Grewal, Coinbase's chief legal officer, echoed these sentiments in a separate post published the same day. He criticized the SEC's expansive definitions, stating they have "no limiting function at all."
The filing by Coinbase serves as a response to the SEC's earlier rebuttal on October 3rd, where the regulator insisted that various cryptocurrencies listed on Coinbase indeed meet the criteria for being considered investment contracts under the Howey test.
The legal tangle began when the SEC filed a lawsuit against Coinbase on June 6th, alleging that the crypto exchange had violated US securities laws by listing tokens deemed to be securities without proper registration.
Coinbase countered with its own motion for judgment on June 29th, asserting that the SEC was both overreaching its authority and infringing upon Coinbase's due process rights.
Coinbase's final plea to the court focuses on the contested definitions and limits of regulatory authority over cryptocurrency transactions. As the case advances, its outcome is poised to have far-reaching implications forfocuses onocurrency industry and the regulatory landscape.
---