Chumbi Valley is an NFT-powered, play-to-earn (P2E) game. The game possesses a familiar vibe to the old-school Pokemon and Zelda games, yet has its own unique NFT characters that players can collect and play with. These characters use spells to protect their in-game forests, and accompany the players on adventures. One of the major benefits of Chumbi Valley, though, is the fact that it has managed to accumulate a huge community following.
The game will be located on the Binance Smart Chain and Polygon blockchains (networks). Initially, the game will be supported on Android, Windows, and Mac devices, and iOS support is planned for the future. Within Chumbi Valley, you will be able to grow your Chumbis, explore the land, locate rare items (in the form of NFTs), fight other Chumbis, and participate in many more activities.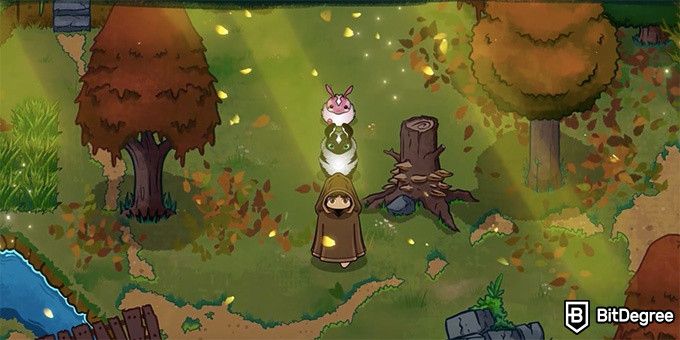 Currently, Chumbi Valley has over 250,000 members on Discord, and over 210,000 followers on Twitter. The project even had to create an additional Telegram channel in order to accommodate for the huge numbers of new people flooding in. These unprecedented numbers are still to be seen within the industry elsewhere, which makes Chumbi Valley stand out from the NFT gaming crowd.
The game will be holding an NFT sale soon. There were 4,000 different NFT spots available, and with over 200,000 wannabe participants, Chumbi Valley had to hold a raffle, with the help of GiveLab. At the time, this was the biggest raffle that GiveLab had ever hosted.
Seed Chumbi NFT Sale and Token Launch
One of the upcoming events from the Chumbi Valley is the Seed Chumbi NFT sale that will be taking place this month. The first 4096 Seed Chumbis are going to be the most valuable, since they will come with special invitations to airdrop events, as well as access to BETA gameplay.
UPDATE: The Seed Chumbi NFT sale has closed.
Chumbi Valley will also host a token launch. The token will be launched on the Binance Smart Chain, and will be called CHMB. This token will be a core part of the entire ecosystem of the game, and will be used both in-game, as well as an external currency on the Chumbi market.

The goal of the company behind the game is for the CHMB token to one day become deflationary - this would be achieved with the help of DAO-like governance.
How Does One Play Chumbi Valley?
Chumbi Valley is played from a top-down perspective. You travel and adventure with your Chumbi, and navigate through the various forests and lands of the game. As you explore, farm, craft items, battle, breed Chumbis, and partake in other activities, you will be able to earn CHMB and LSTS tokens.
The Chumbi Valley is set to launch sometime in mid-2022. The project is very anticipated by the community behind it, and thus, it has a lot of support and potential to be truly market-changing. Among other venture capitalists, Everse Capital is one of the institutions that have invested in it.
This is a third party-distributed Press Release, BitDegree is not responsible for any content or related materials, the advertising, promotion, accuracy, quality, products or services on this page. Before making any decisions or taking any actions, readers are advised to do their own research, first. BitDegree is not liable nor responsible for any direct or indirect loss or damage related directly or indirectly to the use of any products, services or content in the Press Release.