Despite CertiK finding significant clues about the scammer, their identity remains hidden in the shadows.
Blockchain's watchdog, CertiK, has pieced together significant clues in its attempt to expose a mysterious crypto scammer responsible for stealing over $1 million from the crypto community.
CertiK's August 16th report unveiled the dark trails of the crypto scammer, pseudonymously known as "Faint." This digital marauder has reportedly been siphoning off funds since 2022.

Did you know?
Want to get smarter & wealthier with crypto?
Subscribe - We publish new crypto explainer videos every week!
How to Avoid Major Crypto Investment Risks? (Beginner-Friendly)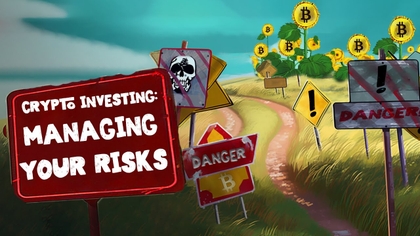 While digging deeper, CertiK linked multiple Ethereum Name Service (ENS) domains to this scammer, such as faintxbt.eth, comefindme.eth, thanksfortheseed.eth, onchainkitten.eth, and hzontop.eth.
In a surprising turn, CertiK uncovered potential ties between Faint and another shadowy figure called "Soup." An earlier probe by on-chain investigator ZachXBT had attributed multi-million asset heists to Soup, who used deceptive tactics like impersonating Discord employees.
This collaboration of fraudulence was further cemented when CertiK noticed Faint bragging about hacking Discord servers. One such instance happened after Cross The Ages, a notable NFT card game, had its Discord compromised. The scammer's taunt came in the form of a picture featuring a distinctive watch.
Drawing on ZachXBT's earlier work, CertiK highlighted a striking resemblance between Faint's watch and one showcased in an investigation about another scammer named "Madman." The similarity between the watches could imply a deeper connection or possibly even the same individual at play.
However, even with these revelations, CertiK hasn't been able to pinpoint the true identities behind these malicious actors. Stressing the ongoing menace posed by Faint, CertiK urged the community to bolster their defenses against these cyber predators.
CertiK's report emphasized the importance of utilizing tools like Wallet Guard and Pocket Universe that can flag suspicious connections to known wallet drainers. As a preventive measure, they also suggested users cross-check addresses and be vigilant about the legitimacy of the approvals, ensuring they don't fall prey to familiar phishing schemes.
---