A German artist placed a "solid gold" cube in Central Park to advertise the upcoming launch of his cryptocurrency – and New Yorkers weren't too happy about it.
Those walking around Central Park on Tuesday, February 2, came across a peculiar sight – a golden cube. The art installation, created by German artist Niclas Castello, was allegedly a 24-carat 410-pound gold cube, worth roughly $11.7 million. The cube was said to be surrounded by heavy security.
As it turns out, the block was a promotion for the artist's upcoming crypto project, Castello Coin (CAST). The project's website describes the ERC-20 token as "the first Coin in history to achieve its level of recognition through a unique, physical artwork," bringing the worlds of crypto and traditional art together.

Did you know?
Want to get smarter & wealthier with crypto?
Subscribe - We publish new crypto explainer videos every week!
What is Aurora in Crypto? NEAR Protocol Token Explained (ANIMATED)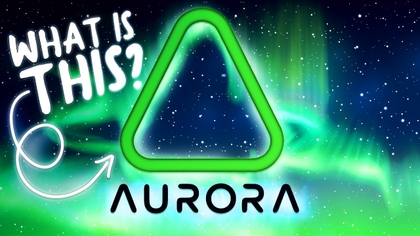 The website also advertises an NFT project, set to be launched later this month with an auction.
The Coin acts as a bridge between the traditional financial world of finance, the world of traditional forms of investment and traditional art, and the new world, the world of cryptocurrencies and the digital age. The resulting global recognition will ensure a high level of relevance and acceptance, and leads to strong trust.
"Strong trust" may become a challenge for the artist, though. While he claimed that the cube he placed in Central Park was solid gold, "over a foot and a half on all sides and has a wall thickness of about a quarter-inch," it was soon discovered that it was, in fact, hollow.
Unsurprisingly, the stunt received an astounding amount of attention not just among New Yorkers but on social media as well. The news posted by Artnet received over 14,000 quote retweets, most sharing a negative sentiment towards the installation.
Some responses joked that the cube was reminiscent of an item from the video game Minecraft, where players can create gold cubes as one of the items.
Others, like actor Alan Tudyk, found the situation fitting of a Hollywood heist movie.
However, the predominant sentiment among the critics was that such flaunting of wealth in a public place like Central Park felt dismissive of the financial disparity in New York. The Daily Beast reporter Scott Bixby cited the 2020 US Census, stating that there were 129 unsheltered residents in Central Park.
GBH reporter Tori Bedford pointed out that a few days before the cube was placed in Central Park, a body was found in a tent in a nearby location.
According to Artnet, the cube was supposed to be a one-day installation that would later be relocated to a private dinner on Wall Street.
---