Key Takeaways
Bitcoin's jump to $37K has catalyzed significant growth in altcoins like dYdX, Solana, and Avalanche.
The altcoin market cap reaching a yearly high signals the potential onset of an altcoin season.
The shift in market dynamics, with Bitcoin's dominance leading to increased altcoin investment, suggests the beginning of an altseason.
The cryptocurrency landscape experienced a notable surge on November 15th, with Bitcoin jumping to an intra-day high of $37,400.
Altcoins such as dYdX, Solana (SOL), and Avalanche (AVAX) mirrored the bullish trend, each recording significant double-digit gains and nearing new peaks for the year.

Did you know?
Want to get smarter & wealthier with crypto?
Subscribe - We publish new crypto explainer videos every week!
How do Cryptocurrency Exchanges Work? (Easily Explained!)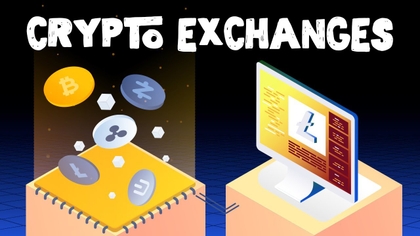 The period of growth has prompted analysts to call the start of an "altcoin season."
The total market capitalization of altcoins reached a notable high in 2023, touching $659.5 billion. A combination of market sentiment and fundamental aspects of the respective projects influences the rise in altcoin values.
Focusing on this week's standout performers, it's clear that specific developments have spurred their growth.
dYdX, a decentralized exchange operating on the Ethereum Virtual Machine, launched its Layer-1 blockchain on October 27th, marking a pivotal moment with its genesis block. The move, which facilitated the on-chain distribution of transaction fees to validators and stakers, has been a significant push for the DYDX token, driving its price up by over 110% in the past month.
dYdX's growth is also reflected in its user activity and financial metrics. The platform has seen a significant surge in fees and revenue, with both increasing by 77.5% to $8.67 million over 30 days. This upward trend in financial performance suggests a robust annualized revenue potential for those invested in the platform.
Solana's SOL token also experienced a remarkable 166% increase in the same timeframe. Although it is well below its all-time high, Solana's growth is attributed to increased user activity and the success of its leading decentralized application, Jito.
Avalanche's AVAX token, representing another Layer-1 blockchain, has also witnessed a notable upward trajectory. Despite a smaller revenue base than its counterparts, AVAX recorded a 59% gain in the past week and a 118% rise over the month, demonstrating its resilience and potential in the crypto market.
While altcoins show strong performance, Bitcoin continues to dominate, maintaining a market dominance above 50% since mid-October. This dominance often presages a shift in investment towards altcoins, marking the onset of an altcoin season.
The recent rally in Bitcoin and the concurrent surge in select altcoins underscore a vibrant and evolving cryptocurrency market. The dynamic interplay between Bitcoin's dominance and the rising altcoin sector hints at a more diverse and mature digital asset landscape.
---