9Metaverse is a completely new NFT gaming ecosystem. It's being created by different developers from Hong Kong, all of whom are led by Wendy Lam, an artist & programmer. The game in question will combine a cute Hong Kong webcomic artist art style together with the idea of NFT collectibles.
Wendy Lam had this to say about the project in question:
"The 9Metaverse is set in places all across the universe, a space adventure with a lovable cat using alien technology, the opportunities for character and plot design are endless".
A collection of different games (all themed around the main 9Cat characters) is set to release, called "9Cat Saga Adventures". The first iteration of the game will be set in an old alien camp ruin. You will need to complete different quests, fight vast numbers of enemies, and earn your loot in the form of in-game items and 9Photon tokens. These tokens will be used for various upgrades, special events, and so on.
While 9Photon tokens will be used mostly for game-related purposes, the 9Meta token is the overarching currency of the entire ecosystem. This token will be used for different planet, character, and item acquisitions, all coming in the form of NFTs. 9Meta will also work to unlock the play-to-earn (P2E) aspect of the game.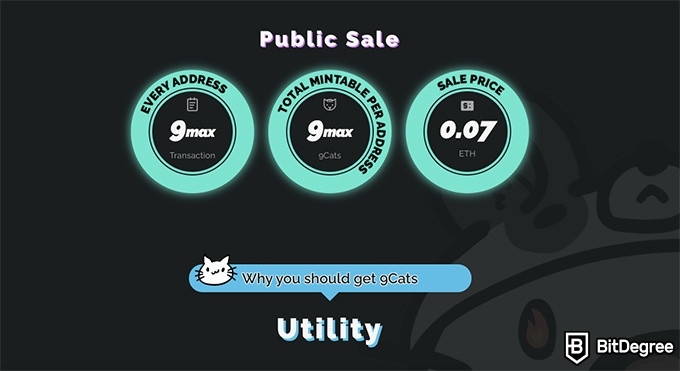 The main goal of the team behind 9Cat Saga Adventures is to create a game that would actually be fun to play and advance through. According to said team, this would target the issue of games being seen as nothing more than investment tools - something that's quite prevalent within the industry.
Wendy elaborated on this point further:
"What we are seeing is other projects consistently focusing on the blockchain aspect whilst completely ignoring the more important part — the game. If you want a gaming project to succeed, it has to be first and foremost a fun game, something that attracts people to want to play, not just something to invest in. You don't want to release a glorified Facebook game from the early 2000s and slap a $1000 price tag onto it. We don't want 9Cat to be like that."
The debut set of 9Cat NFTs are scheduled to be released sometime in December. The team urges wannabe 9Cat holders to act fast, since there are going to be only 9999 different NFTs available, with minting limits set on wallet addresses. Specifically, during the presale, 1999 9Cat NFTs will be available, with there being a limit of three per wallet address. The presale will take place on Dec. 17, 2021. In order to participate, you will need to be whitelisted.
While the first 1999 9Cat NFTs will be priced at 0,06 ETH each, the public sale will see the rest of the tokens priced at 0,007 ETH each, with there being a limit of nine acquisitions per wallet. The public sale is set to take place on Dec. 26, 2021.
All of the 9Cat NFTs are going to be unique. They will differ in rarity, as well - the first generation 9Cats will possess the "Godlike" rarity tag. The 9Cat NFTs will generate 9Milk tokens on a daily basis. The said tokens will be usable for the customization of your 9Cat NFT - you will be able to change its name, backstory, and so on. If you have two or more 9Cat NFTs, you will be able to breed them in order to produce new ones, too.
For more information, you may visit the relevant Discord group, or access the links below.
This is a third party-distributed Press Release, BitDegree is not responsible for any content or related materials, the advertising, promotion, accuracy, quality, products or services on this page. Before making any decisions or taking any actions, readers are advised to do their own research, first. BitDegree is not liable nor responsible for any direct or indirect loss or damage related directly or indirectly to the use of any products, services or content in the Press Release.
---