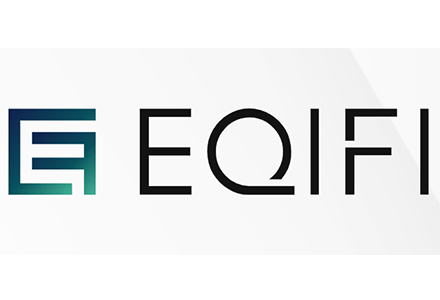 Anyone who has been actively present in the crypto scene for the past few years has undoubtedly noticed a huge rise in various crypto-related services. The DeFi sector has grown exponentially, and thus, has brought with itself a variety of different crypto-related projects. We'll cover one of such projects in this EQIFi review.
EQIFi is undeniably a very interesting and unique DeFi project. Fundamentally, it's a staking and yield aggregation platform that allows users to either borrow crypto assets, or earn a notable APY.
That being said, a statement like that doesn't do EQIFi Finance any justice - the details surrounding the aforementioned services are very intriguing, and the project itself has some one-of-a-kind offers for its users to consider.
Whether you're interested in general EQIFi reviews, the EQIFi coin, or their crypto borrowing services, you'll find all of that (and much more!) covered below!
Pros
Crypto borrowing
Up to 70% APY
Staking functionality
Multiple currency support
Debit card - coming soon!
Licensed bank-powered
Cons
No live customer support
Not very beginner friendly
EQIFi Review: PROS
Since EQIFi isn't a "traditional" crypto service (neither an exchange, nor a crypto wallet), it's probably a good idea to start off our EQIFi review by introducing the platform, in general, and taking a quick glance at the services that it offers.
As mentioned in the introduction, EQIFi offers DeFi services to its users. Specifically, you have the EQX EQIFi token, yield aggregation, APY earning & staking services, crypto borrowing, and a debit card, soon available to be acquired globally.
Pretty standard stuff for a DeFi-oriented project, right? Well, the charm of EQIFi Finance hides in the details! Before that, though, the one huge factor that differentiates EQIFi from other, similar decentralized finance-concerned projects is the fact that the platform in question is powered by an actual, licensed bank.
A Project Powered by EQIBank
This is, obviously, the very first point that needs to be discussed and covered in this EQIFi review. If you're well-versed in crypto and blockchain tech philosophy, you're probably quite aware of why that's the case, too.
If not, though, allow me to give you a quick rundown.
Crypto fans usually divide themselves into two groups - those that are very adamant about keeping all-things-crypto decentralized and anonymity-driven, and others who are seeking mass adoption, and understand that, in order to achieve this, some form of regulation needs to be present.
This is, evidently, a really "hot" topic that's been raging on for multiple years now. No matter which camp you might fall into, there are "for" and "against" arguments on both sides.

Now, in regards to EQIFi, it's rather evident that the latter position is one that's much closer to the company's heart. Specifically, EQIFi Finance is powered by EQIBank - a centralized, licensed, and fully-governed financial entity.
What does that mean to the user? Well, a few things.
First of all, it means that you will have to pass full KYC verification checks in order to use all of EQIFi's services uninterrupted. Furthermore, it also means that you will be able to borrow assets, earn from yield aggregation & liquidity farming, as well as stake your cryptocurrencies in a semi-centralized, licensed manner.
For some, this is a direct violation of what crypto is all about. However, as you might already see, we're covering this point in the "PROS" section of the EQIFi review. This is because, speaking long-term, this is a huge benefit.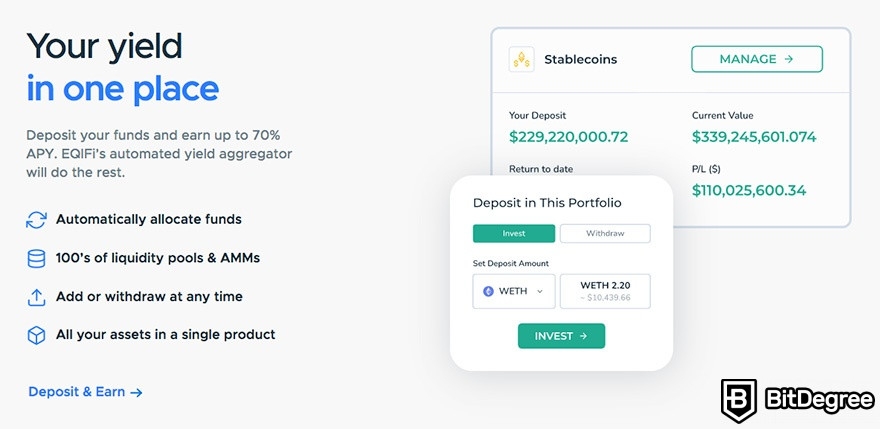 For starters, it allows for the team behind the project to be fully doxed - anyone and everyone can visit EQIFi's official website, and check to see who the CEO is, who's responsible for the project, and what are their credential & history in the crypto space. All members have their professional LinkedIn profiles listed on the site!
On top of that, if something would go wrong, you should always have who to turn to. Perhaps you have a question about the EQIFi token? Maybe you're unsure about the details surrounding some part of the EQIFi DeFi project, in general? Or, you've run into a bug while using the platform?
No matter what it is, customer support is available to be reached, and you shouldn't need to worry about "something shady" happening in the background.
Naturally, you might then say - what about centralized cryptocurrency exchanges, such as Binance or Kucoin? In this regard, they are the same as EQIFi!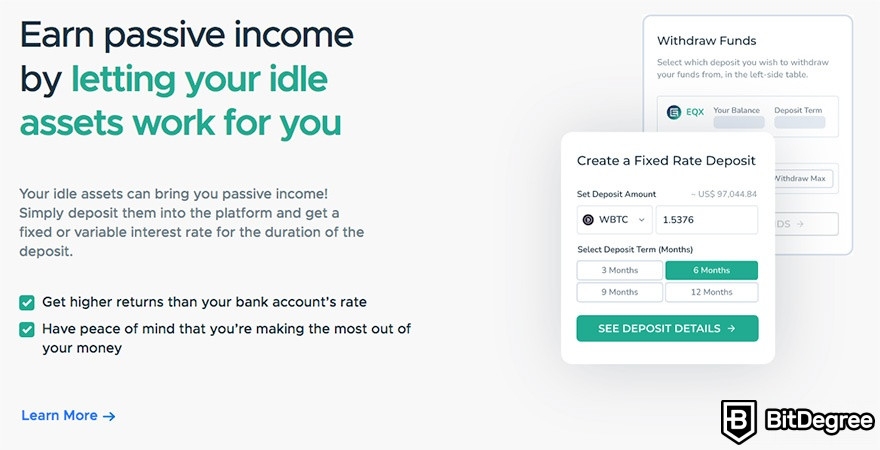 Well, yes and no.
The top-rated crypto exchange platforms are, in fact, centralized, to an extent. However, none of the top-rated exchanges are powered by an official, licensed bank. Furthermore, exchanges rarely deal with DeFi services, such as yield farming or crypto asset lending & borrowing.
All in all, the point here is simple - EQIFi's approach to the DeFi sector is very unique, and a fully licensed and regulated bank standing behind their services is definitely a huge benefit to the user, as far as reliability and security are concerned. Note, however, that this still shouldn't be seen as a "bullet-proof" measure - potential users of EQIFi should always do their own research.
Up to 70% APY Returns
APY stands for "Annual Percentage Yield". It's a term that's used to describe your potential returns on an investment, after a year.
Well, "investment" here isn't really the right word. The term that would fit in the context of this EQIFi review a bit better would be "allocation".
You see, with yield aggregation and yield farming projects, you don't really need to "invest" anything - all that you do is allocate your funds to a specific yield or staking pool. Doing so, your allocated amount of assets starts "working", and earning you passive income.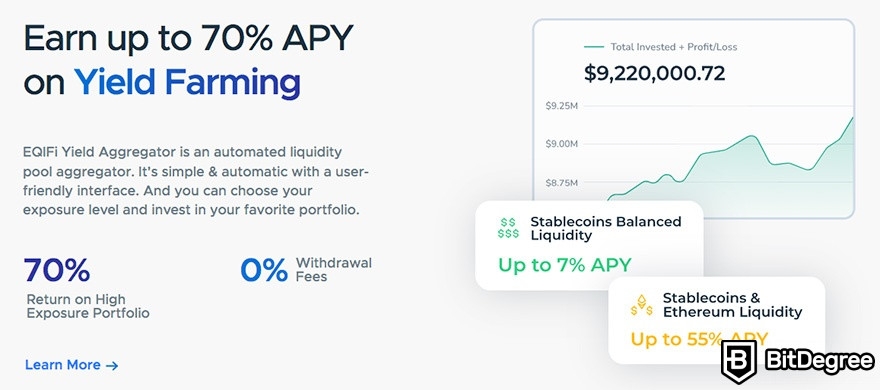 Now, I won't go in-depth on how that all works, from a technical point of view - this isn't really something that you've come here to find out. However, what you WILL be happy to learn is the fact that EQIFi offers its users up to 70% in APY.
This is a huge amount of returns!
The company even compares it to other forms of passive income, on their official website - you can expect to earn around 0,1% APY in your savings account, and 4% & 10% in real estate and S&P 500, respectively.
With numbers like those, 70% sounds incredible. How would the process look, though?
For starters, you would need to have some crypto assets in your EQIFi portfolio - assets that you're OK with allocating to a yield aggregation pool, and keeping there, for an extended period of time.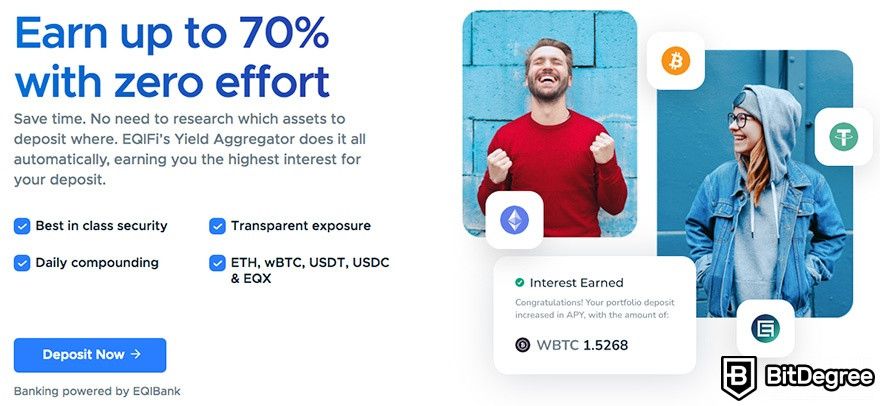 Then, you would simply choose the allocation portfolio that you'd like, and that's it - your assets would be locked for as long as you'd like (you can take them out at any given point in time), and you'll start earning an APY dependant on the portfolio that you've chosen.
This feature is amazing, since it allows users of EQIFi (and holders of the EQX EQIFi coin) to earn a passive income without actually doing anything, and just by holding their crypto assets on the platform in question.
Crypto Borrowing, Made Easy!
Crypto loans aren't really a new thing, as far as the DeFi industry is concerned. Decentralized finance enthusiasts have been able to borrow cryptos by putting up their tokens as collateral for a few years now - there are even well-established DeFi platforms that focus solemnly on this single feature!
That being said, the process is much simpler and, frankly, more reliable when you do so with EQIFi.
In this regard, the platform functions as most other borrowing and lending projects - it allows you to borrow an uncapped amount of the asset of your choice, granted that you have the collateral to back it up.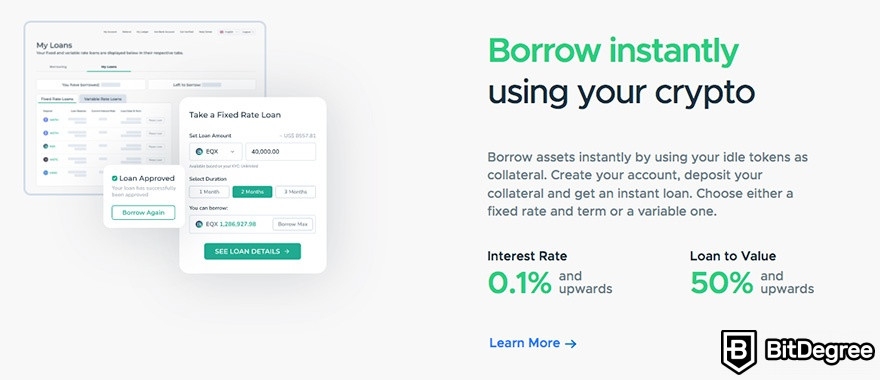 Users may choose the duration for which they want to borrow the asset, as well. After you fill out all of the information, the loan should be approved in a matter of hours, or sometimes even minutes. That's because everything works in accordance with the logic of an underlying smart contract.
The EQX EQIFi loans (and those of other crypto assets, too) are available in over 180 different countries worldwide. To add to that, you may also place multiple different coins as collateral, per one loan that you'll take out.
In other words, say, you want to borrow wrapped Ethereum (WETH). You don't necessarily need to place BTC as collateral - you can mix it up with BTC, BAT, and DAI, for example. Not many user EQIFi reviews mention this, but it provides the borrower with a lot of freedom!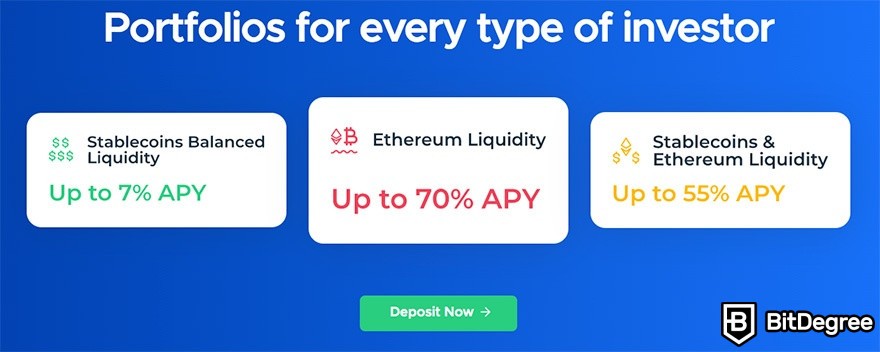 Also, while this is something that we'll get into in a minute, it's worth pointing out that there are different tiers of how much you can borrow on EQIFi. These tiers are segmented depending on how much of the EQIFi crypto token it is that you hold.
On the last (fourth) tier, your borrowing limits will be eliminated - in other words, assuming that you have collateral to back it up, you'll be able to borrow as much as you'd like!
Now, to add to all of that, it would be impossible to talk about EQIFi DeFi borrowing without mentioning one more feature.
Interest Rate Swaps
Probably one of the most unique features that you'll come across with EQIFi are the interest rate swaps.
The term itself might sound confusing, but when you break the concept down, it's actually much simpler than it looks!
When you take out a loan, there's an interest that's tied to your loan - in other words, as you pay the loan back, you'll end up paying more than you've borrowed, as a form of payment of getting that loan, in the first place.
This is rather self-explanatory, and is the basic, fundamental rule of how lending works, in general.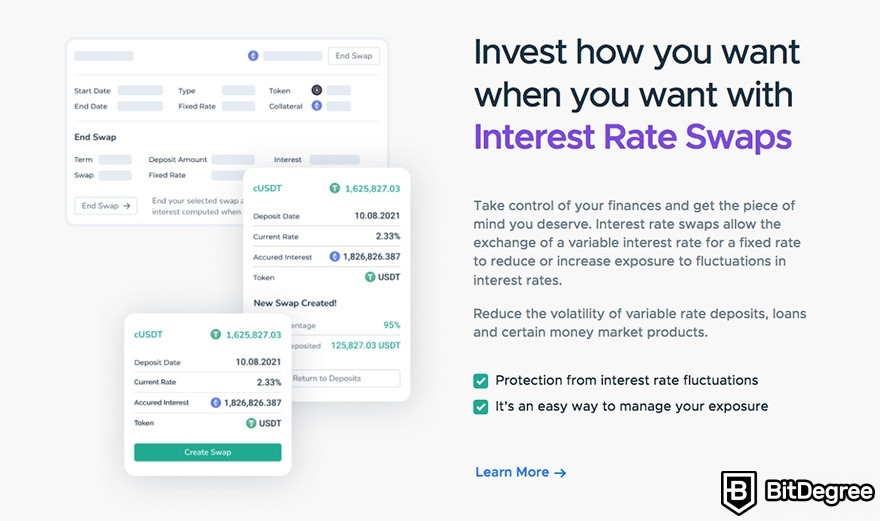 Now, for the sake of this EQIFi review, let's say that there are two types of interest rates that you might encounter - fixed, and variable. As the terms might imply, fixed rates are static - you pay a designated, fixed interest rate with your loan.
On the flip side, a variable rate depends on the economic factors for your borrowed assets. In other words, the rate might be lower on one day, and much higher the next - it depends!
Well, traditionally, you'd be locked in place with the rate that you've chosen whilst taking out the loan. EQIFi DeFi, however, does something special - the platform allows you to swap your interest rates, from one to another.
This is done with the help of a smart contract, and there needs to be another person who wants to swap their rate, at the same time. When both of you initiate the swap, the smart contract does the rest - your rates will be swapped in a matter of seconds or minutes!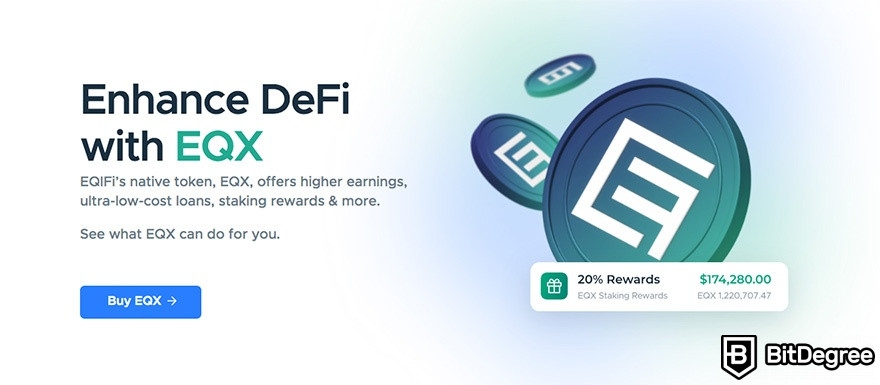 Your new rates will be adjusted on a few factors. First, which rate you've swapped to - variable, or fixed. Also, the smart contract works in an algorithmic manner, in order to determine the optimal rates for each loan, at any point in time - thus, there won't be a need for human intervention!
It's a super-unique feature, and can be very useful if you're stuck with, say, a variable interest rate, while the market isn't favorable to your situation.
Hold the EQIFi Native Token - Receive Benefits!
The DeFi project in question has a native token called the EQX EQIFi token. This makes sense, granted that it's a crypto project that we're talking about here!
Having said that, the EQX token is actually rather special. Specifically, it offers a pretty wide variety of benefits to the holder.
For starters, it acts as a governance token. Meaning, holders will be able to participate in the decision making processes of the platform.
Say, there's some sort of an update being planned on EQIFi. Or a list of potential changes is released, to the community. Using your EQX tokens, you could vote on these changes & updates, and thus, help shape the future of the platform!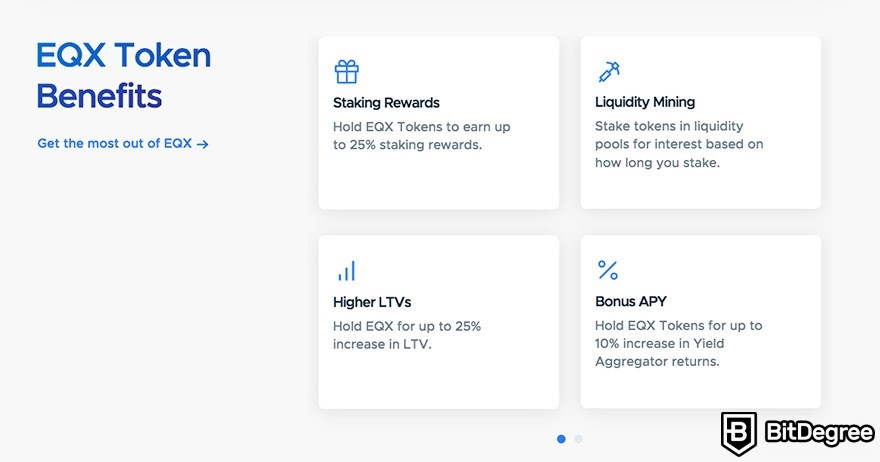 With many DeFi-powered projects, this is usually where the benefits end. However, that's not the case with the EQIFi coin.
The EQX token can be used for fee reductions, as you participate in various transactions on the platform. To be more specific, holders of EQX are able to decrease fees for up to 10%.
This is a notable margin! If you plan on 'moving' high volumes of crypto, 10% can be very notable, especially for simply being a holder of a native token of the platform that you're using, either way.
Next up, EQIFi crypto token holders will also have priority access to EQIBank accounts, as well as increased limits on various DeFi services and products offered by the yield aggregator. Following this, the token functions in a cross-platform manner - it doesn't only provide benefits on EQIFi, but also to anyone who's planning on using EQIBank, as well.
The benefits do not end there! If you hold EQX EQIFi, you will be able to earn up to 25% more, in the form of staking rewards. Once again, this is a huge margin! The actual percentage of increase in rewards will depend on a few factors.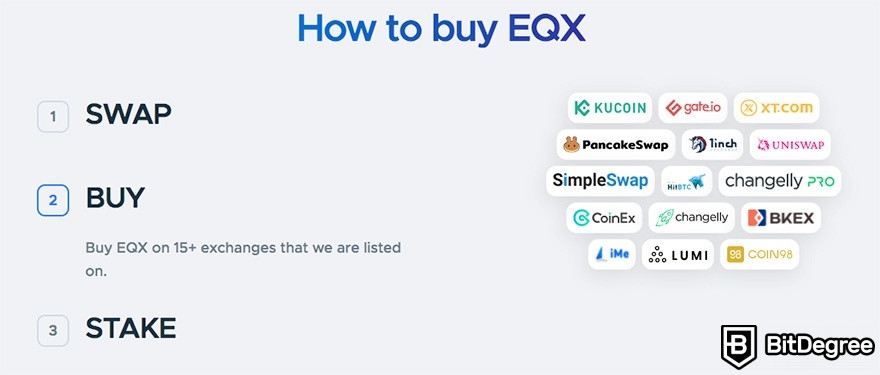 Where did this "staking" come from, you might wonder? Well, EqiFi does allow you to stake EQX tokens, within the platform's own liquidity pools. This is yet another form of receiving passive income on EqiFi, in addition to yield farming.
Lastly, EQX holders will receive up to a 25% increase in LTV (Loan-to-Value) towards their collateral, as well as a bonus APY of up to 10%.
While not many user EQIFi reviews point this out, the aforementioned governance & staking processes, and limits on loans depend on the number of tokens that you might hold. There are 4 different tiers, with each one unlocking an increased number of benefits.
So, to sum things up, anyone who chooses to hold EQX EQIFi tokens will receive a myriad of benefits, in all forms, shapes, and sizes. It's incredible just how many different perks token holders are able to utilize! Naturally, this incentivizes users to purchase and hold EQX tokens, long-term.
The EQIFi Debit Card - Comin Soon!
The world of crypto has come such as long way that there are debit cards being issued by DeFi projects, too! EQIFi is no exception - as of writing this EQIFi review, the company is currently in the latter stages of planning their debit card issuance.
The card itself will be issued to any EQIFi users who will wish to receive it. It will be a MasterCard, and will come with all of the benefits associated with that brand name.
What are those benefits, you may ask? Well, for starters, global presence - you will be able to use the EQIFi crypto card anywhere in the world, where MasterCards are accepted. This includes making payments, as well as accessing ATMs to withdraw and deposit cash.
Furthermore, while users will be able to hold funds in their cards in the form of USD, they will still be able to spend in most of the major global currencies. This does, once again, provide a lot of convenience!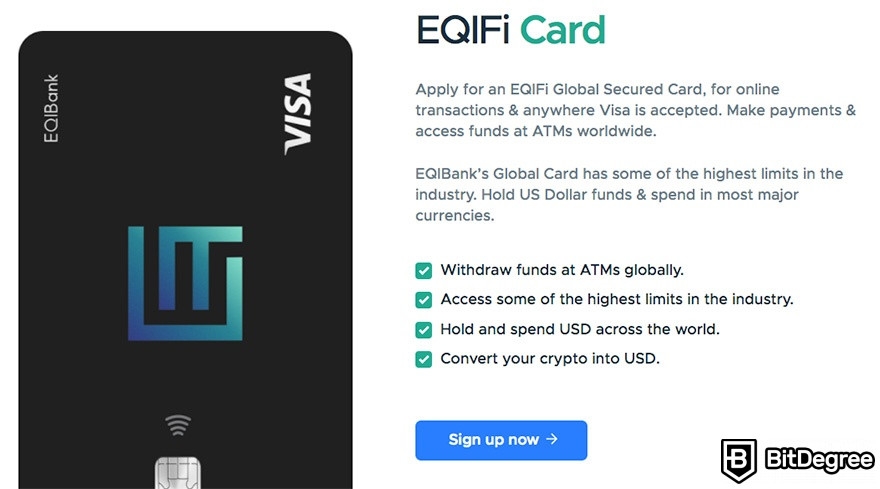 If you acquire the EQIFi card for yourself, you will be able to top it up with anywhere from $200 up to $50,000. The card itself is considered to have some of the largest and most-notable limits in the entire industry, and thus, supplies the user with a lot of freedom.
Now, how do you actually go about getting yourself the EQIFi card? Well, the process is actually very simple, as outlined on the company's official website.
First, you need to sign up and open an EQIFi account. This will entail identity verification, and all other relevant KYC processes. Once that's done, all that you need to do is request the card, from the account management area of your dashboard. Whenever the card is available, EQIFi will send it to you, and once you top it up with funds, you'll be able to start spending, just like with any other debit card out there!
Top-tier security, 24/7 customer support, global presence, no spending limits, email and SMS notifications, and so on - the benefits of the card are vast! It definitely sounds like an awesome addition to your digital EQIFi wallet!
EQIFi Reviews: CONS
With all of the major benefits of EQIFi covered, let's also take a look at some of the more-notable cons expressed in user online EQIFi reviews.
No Live Customer Support
Customer support is a huge factor when you're choosing to use a financial service, whether it be traditional finance, crypto, or else. DeFi-wise, it's important to mention that not many of the well-known projects have support available, in general - in these situations, your best bet is to "google" for answers, or seek out the community behind the project.
EQIFi does have customer support - we've established that much already. The support agents are ready to help you out, at any point in time - they are available to be reached 24/7.
That being said, you may only reach them via a ticketing system. There's no live chat feature available on EQIFi.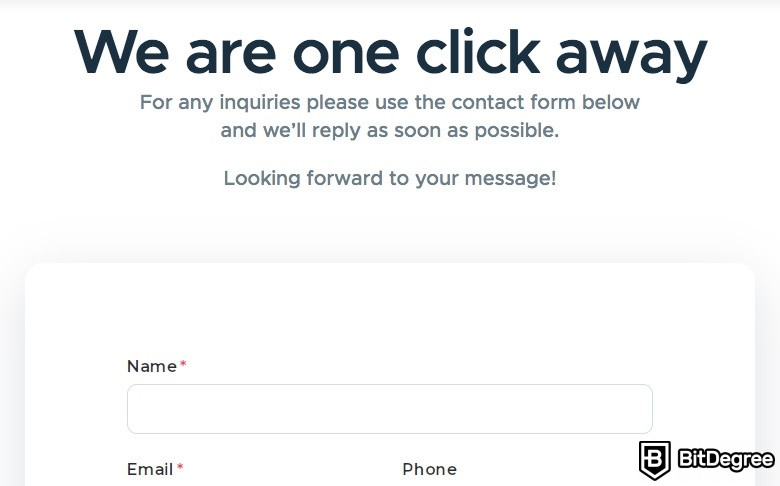 This is, frankly, a shame. It makes reaching customer support a bit tedious, and if you're experiencing a serious issue - frustrating. Quite a few different crypto services have turned towards live support, and the user feedback has been one-sided - it's a much better option. Well, obviously!
It's true that you won't find all that many user EQIFi reviews "complaining" about the lack of live support on the platform. However, it can still be rather impactful, especially as the platform grows, with time.
So, not a game-breaker, but definitely something that can be improved upon!
Might be a Bit Confusing for Beginners
Likely the biggest "issue" that's associated with EQIFi reviews is the fact that it could prove to be rather confusing, and difficult to get into for beginners.
If you're an experienced crypto trader, have a varied portfolio, know the ins and outs of Ethereum, smart contracts, and yield aggregation / farming, chances are that you're not going to have all that much trouble with EQIFi. It's also worth mentioning that the platform utilizes a minimalistic approach to its design - the site is simple to navigate through and use, and doesn't overpower you with complex jargon of features.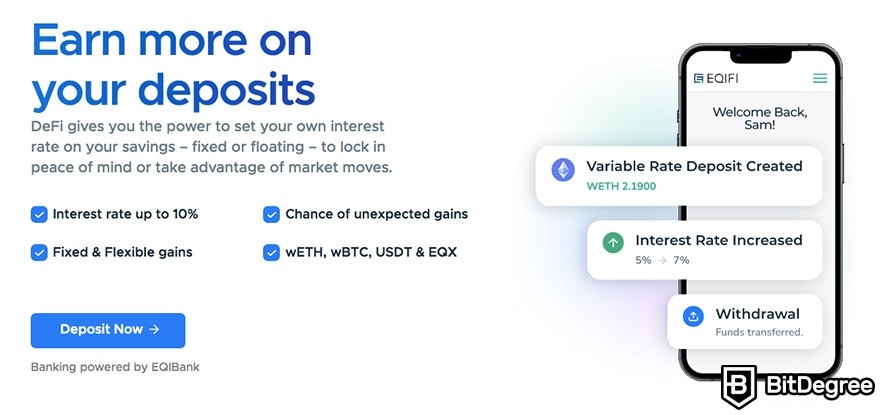 That being said, it's still worth acknowledging that EQIFi Finance is a DeFi project. This, in turn, takes it from a beginner-friendly platform to one that's aimed at the more-advanced users, by default.
How so? Well, when was the last time you told your friend (who knows nothing about crypto, mind you) about Bitcoin and yield aggregation, in the same sentence?
Exactly - while introducing BTC to beginners is pretty simple (thanks to its popularity and pop culture impact), yield aggregation, staking, and interest rate structures usually aren't something that people would learn about as a hobby.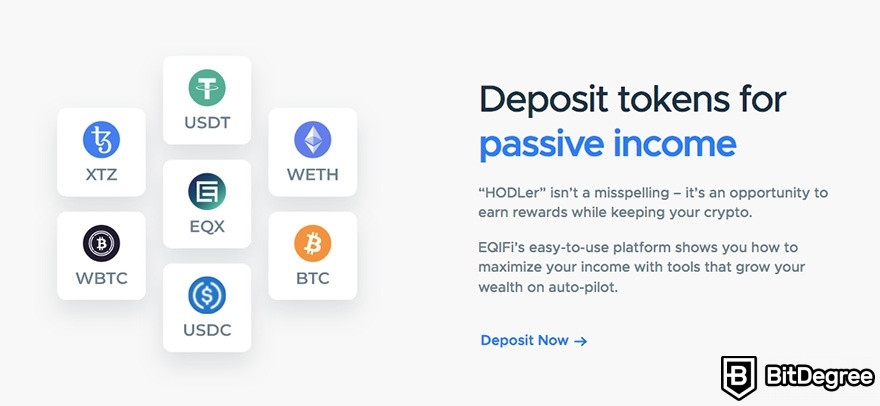 Now, if you're a beginner in the space, that doesn't mean you can't try EQIFi out. In order to do so, you'll need to create an account, and have some WETH (or other supported coin or token) to transfer to it. Then, after all of the confirmations are done and settled, you may start using the services of the platform!
If you'd like to learn more about how to actually use the EQIFi platform, I am planning to write a separate tutorial on the topic. You'll be able to find it here.

Did you know?
Conclusions
Wrapping things up, the conclusion to this EQIFi review is rather simple - EQIFi is definitely one of more-interesting projects to come out in the DeFi scene, in recent years!
At first glance, the platform looks like "yet another DeFi venture". However, upon closer inspection, it's evident that this is not the case - EQIFi has some very unique features to offer to its users!
For starters, the obvious - the project being powered by an established, regulated, and licensed bank. This provides EQIFi with legitimacy and reliability, at least to a certain extent - at the end of the day, it's a feature that no other major DeFi project can boast of!
EQIFi also has a few different functionalities for its users to explore and utilize. Yield aggregation, staking, borrowing, debit card issuance - it functions like a true crypto banking institution!
If you hold the EQIFi token, you also become eligible to receive a huge array of additional benefits. Staking, loan discounts on collateral (LTV), APY increases, governance, and more!
It's worth mentioning that EQIFi doesn't have live customer support (but support agents are still available to be reached 24/7, via a ticketing system), and that it's not necessarily the most beginner-friendly project out there. The latter, however, can't really be blamed on the company or the project itself - it's just the current nature of the DeFi sector, in general.
All things considered, EQIFi does appear to be a very interesting and unique project that's definitely worth at least checking out! Do note, however, that when dealing with DeFi platforms, you should always do your own research, and only invest (risk) as much money as you're comfortable with losing.
With that, thanks for reading my EQIFi review! Until next time!
The content published on this website is not aimed to give any kind of financial, investment, trading, or any other form of advice. BitDegree.org does not endorse or suggest you to buy, sell or hold any kind of cryptocurrency. Before making financial investment decisions, do consult your financial advisor.
Leave your honest EQIFi review
Leave your genuine opinion & help thousands of people to choose the best crypto exchange. All reviews, either positive or negative, are accepted as long as they're honest. We do not publish biased reviews or spam. So if you want to share your experience, opinion or give advice - the scene is yours!