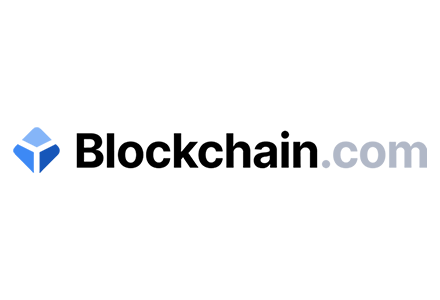 In the cryptocurrency world, time is everything. This is true for companies within the space, too - the longer a name is present in the industry, the more reliable it's going to be viewed as, by the public. Well, granted that this is the case, in this Blockchain.com review, we'll be talking about a true old-timer.
Blockchain.com has been around since 2011 (in one form or another - that's two years after BTC saw the light of day!). With more than 81 million wallets created in over 200 countries, the company offers its users a selection of different features, with its wallet and crypto exchange platforms being at the forefront.
Is Blockchain.com safe, however? Is its wallet worth using? What about the rest of the features and tools offered by the brand?
We'll discuss and answer all of these questions, in the Blockchain.com review up ahead!
Pros
An industry veteran
KYC compliance
Very simple to use
NFT integrations - coming soon
Industry-standard security features
Cons
Small selection of supported cryptos
Customer support complaints
Blockchain.com Review: PROS
To start things off on a positive note, we'll first take a look at some of the most notable benefits offered by Blockchain.com.
A Reliable, Non-Custodial Wallet Service
As I've mentioned at the beginning of this Blockchain.com review, the primary service that the company offers is that of a hot cryptocurrency wallet.
Let's break that down, shall we?
In the world of crypto, there are two major types of wallets you will encounter - hot and cold ones. Cold wallets are hardware devices - think Ledger, or Trezor.
On the flip side, hot wallets are also called "software-based crypto storage". In other words, a hot wallet is an app (in one way or another), and needs an internet connection to function properly. Cold wallets do not.
Yes, hot wallets can also be internet browser extensions, and website-based storage locations, too. That being said, this does not change the key fact of the matter - hot wallets require a constant internet connection maintained, in order to function properly.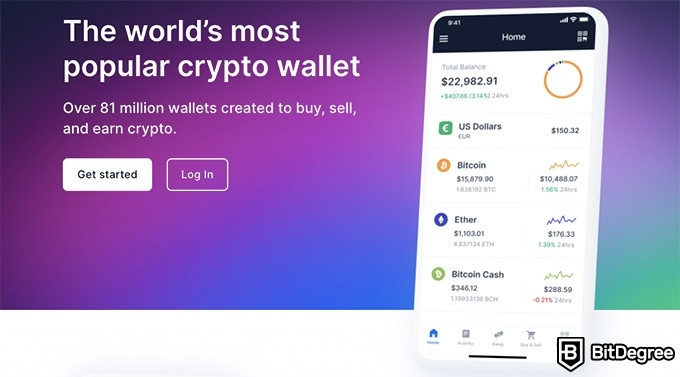 Hot wallets are the most popular type of crypto storage, since they are usually completely free, and very convenient to use. The Blockchain.com wallet is no exception.
A single look at the company's official website will show you that Blockchain.com does focus on its wallet services, quite a bit. The brand proudly exclaims that their wallet is, in fact, non-custodial.
What does that mean, exactly?
Well, different user Blockchain.com reviews will talk about a different meaning of the term. To be fair, though, it's actually quite simple - in the context of cryptocurrency wallets, "non-custodial" means that Blockchain.com won't have access to your private keys.
Private keys are used to access your wallet - as the term might imply, they are the keys to your crypto. If you lose your wallet, forget your password, or face some other issues of the same nature, having your private keys is going to let you recover your wallet, no problem.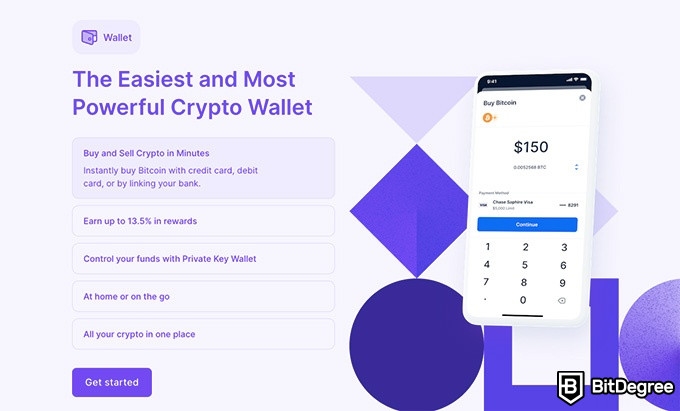 Well, Blockchain.com states that they are completely non-custodial - while they do provide high-end security, wallet-wise, they can't view your balances, confiscate your wallet, or do anything similar.
In the cryptocurrency industry, it's widely agreed upon that non-custodial wallets are the way to go. However, finding a reliable wallet service of this kind can still, to this day, prove to be a challenging task. Judging by the user Blockchain.com reviews left online, it would seem that, wallet-wise, the company is well-known and respected!
To top that off, Blockchain.com users can send, receive, and store over 1000 assets through their non-custodial wallet. That's a huge number! This includes 99.9% of all the tokens on the Ethereum blockchain (in other words, ERC-20 tokens).
Note, though, that this is true as far as the wallet is concerned - this does not mean that users will be able to TRADE that number of tokens, on the exchange part of the platform.
Industry-Standard Security Features
Now, no matter if you're planning on using the Blockchain.com wallet, or any other crypto-related service that the company may offer, security is something that should be looked at, at the very start.
It sounds like a no-brainer, right? Well, oftentimes, people get swayed by various exciting features and widgets, and thus, lose track of what's essential. If, say, your wallet supports all of the cryptocurrencies in the world, but doesn't have basic PIN code password protection, well… No matter what crypto you may store within it, chances are that you won't have access to your coins or tokens for long…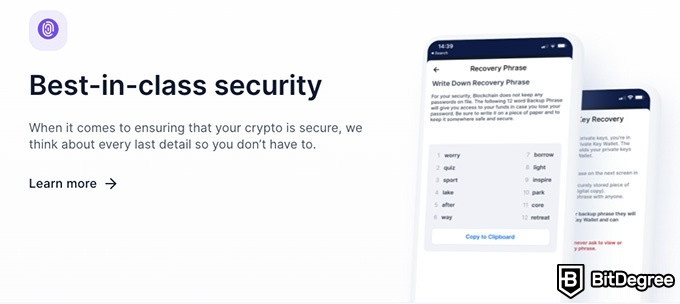 On top of that, reading through various user Blockchain.com reviews left online, it's evident that "security" can mean a lot of things. It's a term that encompasses everything from the very specific technicalities of the back end of your wallet, to things such as authenticators and recovery phrases.
For those wondering is Blockchain.com safe, a single glance at the company's website will reveal a list of different security benefits that you can expect to receive. For starters, you have your usual stuff - email verifications, two-factor authentications, and so on. While they are standard, though, these features are very effective at deterring any potential hackers or scammers!
Then, you have things such as recovery phrases. Once again, a very standard feature, but it will allow you to recover your funds, if you lose access to your wallet. Good stuff!
Moving on, however, there is one feature that does stand out from the rest - cold storage.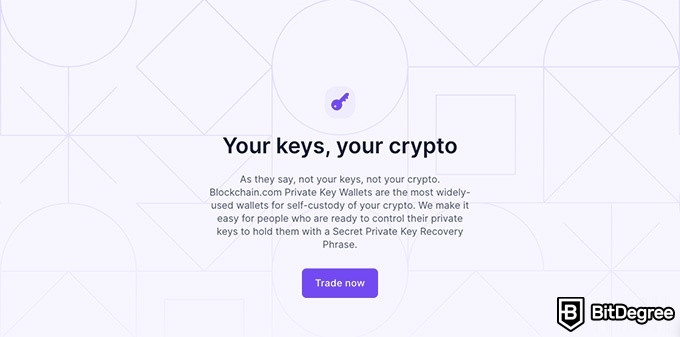 While this is something that you might find referenced in multiple user Blockchain.com reviews, it's often not really elaborated on. Well, to be clear - Blockchain.com stores 95% of all of its (and its users') funds in cold storage devices that are distributed across the entire world.
The rest 5% of funds? They are used for active trading, user fund withdrawals, and liquidity on the company's exchange - once again, standard practice.
This single feature alone ensures top-tier user fund security. If Blockchain.com were to get hacked, or there was simply some sort of a technical issue with its security side of things, the funds being stored in cold storage devices means that, no matter what happens, the damage should be minimal.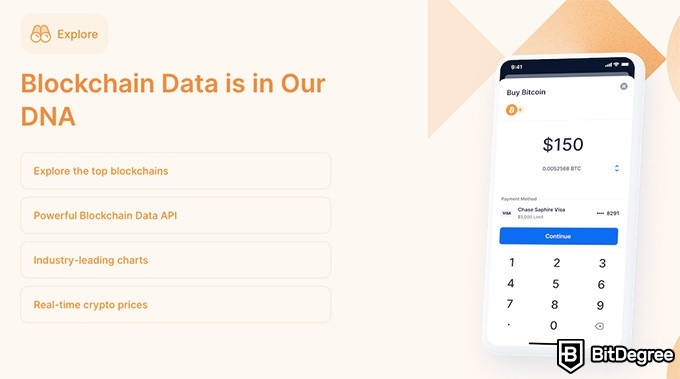 Following that, naturally, if you're still wondering "is Blockchain.com safe?", it's worth knowing that there are other security-related features employed by the company, too - a bug bounty program, cryptographic software, state-of-the-art security features for mobile and desktop devices, and so on.
All in all, the point remains the same, nonetheless - if you're worried about the security side of things, most user Blockchain.com reviews found online agree that, in this regard, the company should have you covered.
Multi-Feature Service (Crypto Exchange)
The Blockchain.com wallet does, admittedly, receive the most attention from the users of the platform. That being said, however, it's important to emphasize that it's not the only service offered by the brand - far from it!
Full-scale service-wise, the other feature that you should be aware of is the crypto exchange available on Blockchain.com.
Users are able to trade different cryptocurrencies on the Blockchain.com exchange. The project does support a limited number of coins, that's true, but you will still find all of the biggest and most well-known crypto assets available to be traded - Bitcoin, Ethereum, Doge, and so on.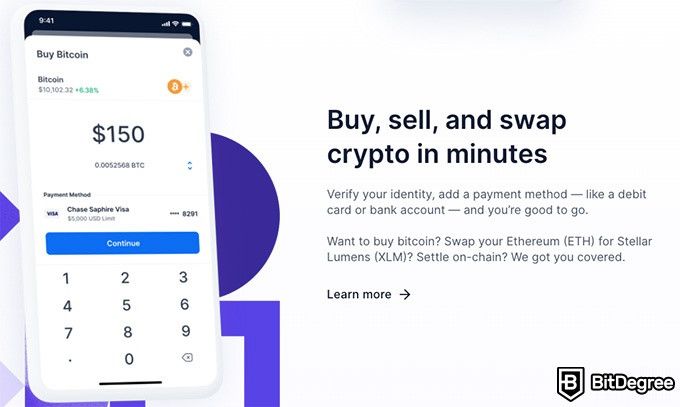 The best part? Blockchain.com's exchange appears to be very beginner-friendly.
Every time you go to exchange crypto assets (rather, trade or swap them), you need to use a special dashboard to do so. These dashboards tend to house a variety of complex, professional trader-oriented features within. The dashboard utilized and provided by Blockchain.com is simplistic, and newbie-friendly.
This is great news, especially if all that you want to do is trade the main, biggest coins on the market! The company doesn't overwhelm you with advanced features and industry-specific jargon, and allows you to "take it at your own pace", so to speak.
The platform also has spot and margin trading options, too. There are over 90 different crypto pairs available to be traded this way, and you can leverage 5x with margin trading options. Note, however, that fiat-crypto trading will only be available for residents of the EU, US, and the UK.
That said, Blockchain.com accepts fiat currencies such as USD, GBP, and EUR, via Open Banking, ACH, SEPA, wire transfer, and credit & debit cards.
On top of that, the transactions happen super-quick, and Blockchain.com allows you to save a lot of money, the more that you trade. Speaking of which, this is actually another feature mentioned in multiple Blockchain.com reviews, too.
Low Trading Fees
Fees are an exceptionally important topic, when talking about cryptocurrency trading services. This is, obviously, more relevant to exchanges than any other platforms of a similar nature!
Trading fees are also one of the core features that people look into, when picking out the best cryptocurrency exchange for themselves. High fees can really cut into your potential profits, and make each trade that much riskier.
When it comes to the fees imposed by the Blockchain.com exchange, the situation is actually very decent! Most user Blockchain.com reviews agree that the company provides some of the lower fees on the market.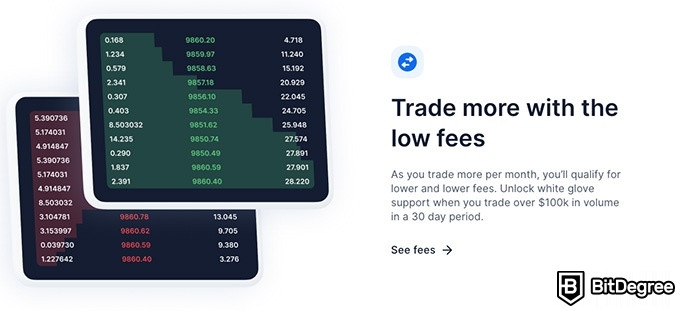 To be more specific, with Blockchain.com, you have a double fee model - one set of fees is applied to the market makers, the other - to the market takers. This is pretty standard practice.
Following that, your fees are going to get lower the higher the amount of crypto it is that you trade. So, when you just start out, the standard fees are going to be 0,2% and 0,4%, for market makers and takers, respectively.
Zero fees are also available, however, you have to trade $1,000,000,000 worth of crypto assets to reach this level. That's a bit… Unrealistic for most traders, to say the least.
However, even with the initial trading fees, the general sentiment is still pretty good! There are exchanges out there that offer lower trading fees, as well as those that have much higher ones.
KYC Compliance
KYC stands for "Know Your Customer". It's a set of financial rules and regulations that state that financial institutions need to identify their customers, and collect private information on them.
Cryptocurrency exchange platforms are considered to be fiancial institutions - thus, KYC laws apply to them, as well.
Most (if not all) reliable crypto platforms are going to enforce KYC checks on their users. This entails ID verification, proof of residential address, sometimes even financial records or income declarations.
Is this intrusive? Well, yes - obviously. However, is it necessary?
Most definitely.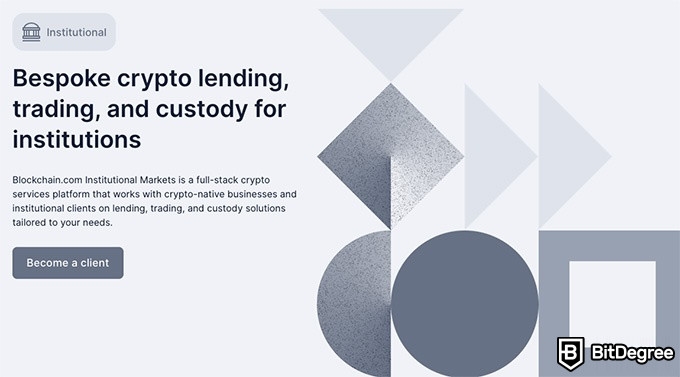 KYC helps exchanges ensure that there's little-to-no foul play happening on their platforms. Potential scammers and malicious parties will often choose to avoid KYC-imposing projects, since they are usually much stricter on the legality side of things - that's a good thing.
All of that being said, Blockchain.com does impose KYC verification checks on its users. While you will be able to register and use the fundamental features of the Blockchain.com wallet without having to pass KYC, if at some point you'll decide that you want to buy, sell, or trade crypto on the platform, you will need to pass the said checks.
Once again, this is a good thing. While there are debates on what KYC rules do to the decentralization and anonymity aspects of crypto, rational thought would dictate that mass adoption is impossible without some form of regulation.

Allow me to be clear, though - if you're only planning on using the wallet side of Blockchain.com, you won't need to pass KYC. This is only the case for those individuals who want to access the trading and exchange functionalities of the platform.
Either way you look at it, if anything, KYC definitely does add to the security aspect of the crypto service provider!
NFT Support - On the Horizon!
NFTs are the "hot topic" nowadays - everyone knows about them, many people have them, and even more people are actively getting into them. It's a sector that's definitely booming, and is showing no signs of slowing down, either.
It's no secret, then, that crypto exchange and wallet platforms are also trying to keep up with the trends, as well. Well, user Blockchain.com reviews will tell you that this brand isn't an exception.
When you go visit the Blockchain.com exchange, at the top of the homepage, you will see that there's a banner promoting NFT support - something that Blockchain.com will have very soon!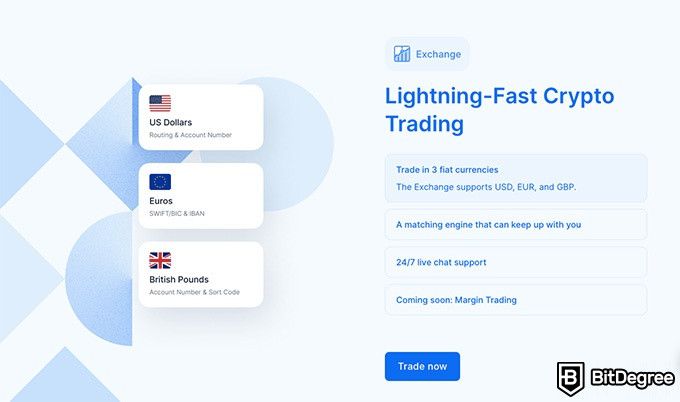 To be more specific, users of the platform will be able to store and trade different non-fungible tokens on the Blockchain.com wallet and exchange. This is, for a fact, awesome news, especially from the convenience side of the deal!
From the looks of things, it would seem that Blockchain.com has an integration with OpenSea - the largest Ethereum-powered NFT marketplace in the world. For the user, this opens up doors to famous NFT projects such as Cryptopunks, Bored Ape Yacht Club, Cool Cats, and many more.
Even if you're not a direct fan of NFTs, it's worth acknowledging that Blockchain.com does react to the industry, and works to integrate new and exciting features into their platforms, whether it be the wallet, the exchange, or else.
Latest Ledger Wallet Coupon Found:
100% FREE Shipping
For ALL Ledger Products
Purchase top-rated Ledger products and get it shipped to you completely for FREE, wherever you are! Take advantage of this limited-time offer now.
Expiration date: 04/06/2023
1,278 People Used
Only 72 Left
Blockchain.com Review: CONS
Now that we've covered the major benefits that you can expect to receive from using the Blockchain.com wallet and exchange, it's worth acknowledging that there are some less-than-positive features associated with the platform, as well.
Online, you will find a pretty noticeable number of negative Blockchain.com reviews, from users from all over the world. Reading through the actual reviews, however, it would seem that many of them don't even really make sense - they make claims that aren't backed up by anything, and when confronted with questions, these "users" suddenly disappear.
So, to keep it fair, we'll only focus on the actual objective shortcomings of the platform. At the top of these shortcomings, you will find the lack of crypto asset support.
Small Number of Supported Cryptocurrencies
As of me writing this Blockchain.com review, the platform currently supports 18 different cryptocurrencies. This includes some of the main coins on the market (BTC, ETH), stablecoins (USDT, USDC), and a few less-known alternatives (cEUR, WDGLD).
Now, for some people, this won't be a huge issue. If you're looking to trade and store but a few cryptos in your wallet, and aren't concerned with any of the less-known tokens or coins, this "shortcoming" won't really affect you.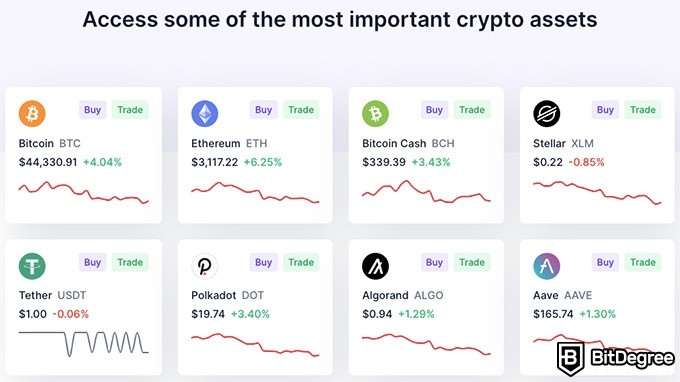 If, however, you're a day trader, or simply someone who wants to invest in some of the less-known assets on the market, Blockchain.com won't allow you to do so, due to its limited token support.
There's little excuse here, too - with well over 10,000 different crypto assets out there, on the market, having access to only 18 different coins is very limiting.
That being the case, the redeeming factor here is that Blockchain.com offers rewards on all 18 assets that can be traded or swapped in the wallet. The APR (Annual Percentage Rates) can go up to 16%, which is more than great!
Having said all of that, this is definitely a point worth keeping in mind!
Customer Support Issues / Limited Live Support Feature
I tend to mention this quite often, but customer support is one of the most undervalued features of any crypto-related service. A long time ago, with the inception of cryptocurrency exchanges, customer support was almost non-existent - if you faced some sort of an issue, you were left to deal with it on your own.
With time, things changed, and we've started moving slowly towards mass adoption. However, there can be no mass adoption until this very aspect isn't guaranteed, with all reliable and legitimate crypto-related services.
There are quite a few Blockchain.com reviews found online that do complain about the support of the platform. The criticisms are difficult to differentiate between, since the Blockchain.com wallet and exchange services have different support teams, and appear to come with somewhat different experiences, too.
Nonetheless, the overarching complaint from users is that support isn't very helpful, and takes a long time to respond.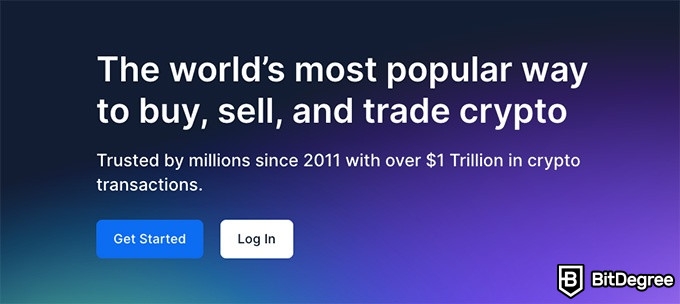 The long response time issue can have a lot to do with the fact that Blockchain.com offers only limited live support. Instead, for unregistered or logged-out, there's a ticketing system in place - you submit a ticket, and have to wait for someone from the customer support team to respond.
Here, it needs to be mentioned that support services are available on Blockchain.com 24/7 - thus, it would make sense that you should receive your answer in a pretty timely manner. Once again, though, this doesn't always appear to be the case.
Live support is available when you enter the trading interface, as well as when you log into your wallet account. If you'd like to reach support agents without logging in, though, this can only be done via a ticket.
On top of that, as mentioned above, there are quite a few users that complain about the support not being very helpful, even when they do eventually answer the users' inquiry. This issue seems to be most prevalent when it comes to the wallet side of the platform.
Now, while all of these issues aren't directly related to the wallet or exchange services offered by Blockchain.com, they can still be frustrating, especially if you end up being the one who needs some help, with some sort of an issue related to the aforementioned services.

Did you know?
How to Use the Blockchain.com Wallet?
By this point in the Blockchain.com review, you should have a pretty good idea of what the company (and its services) is all about. Now, before I let you go, there's one last thing to be covered - the question of how to start using Blockchain.com!
Specifically, we'll be looking at the wallet side of the platform. That's because, one - the Blockchain.com reviews wallet is the main "thing" that people are looking for within this crypto service provider, and two - it's the main service offered by the company itself.
How to Register on the Blockchain.com Wallet?
For starters, let's begin with the registration process.
Step 1: Go to the Blockchain.com official website.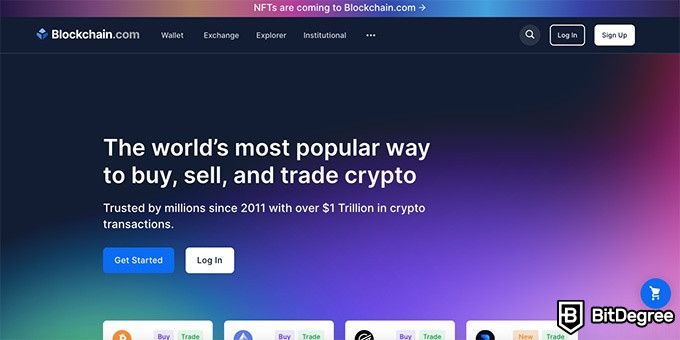 Step 2: On the top-left corner of the screen, click "Wallet", and on the new page that loads up, click "Get Started".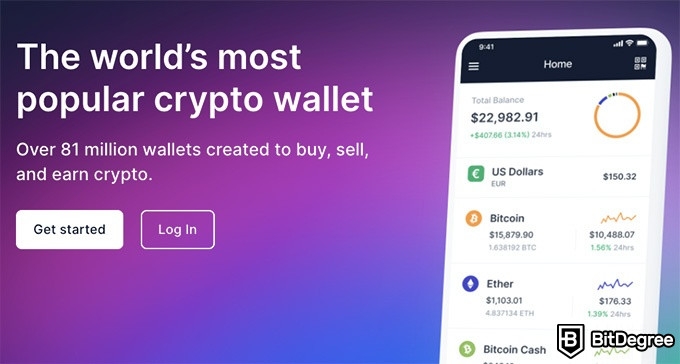 Step 3: Here, you will need to choose your country of residence, as well as enter your email address and create a password.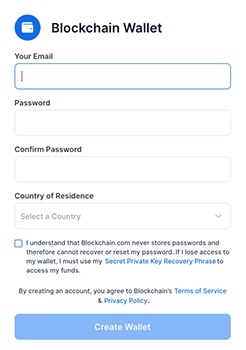 Step 4: Once you do all of that, you will then be prompted to confirm your email address. Do so, and that's the last step - you're in your new Blockchain.com wallet!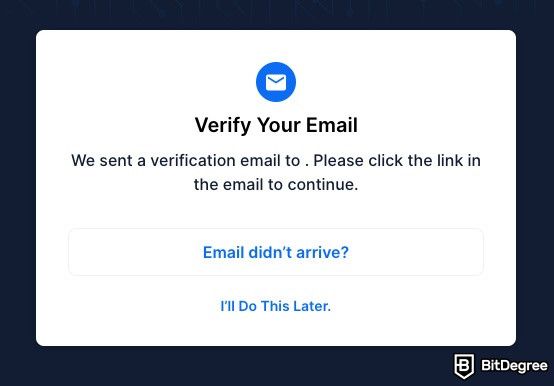 As you can see for yourself, the registration process for the wallet creation is very quick, and rather seamless. The only private information that you need to provide to the company is your email address (you can, for a fact, use a burner address), as well as your country of residence.
Next up, let's take a look at the actual wallet interface itself.
How to Navigate the Blockchain.com Cryptocurrency Wallet?
The very first thing that you should note here is KYC - simply put, identity verification. As mentioned earlier in the Blockchain.com review, this is a procedure that all reliable cryptocurrency exchange platforms enforce on their users, in order to comply with anti-money laundering laws.
I'd like to remind you that Blockchain.com has KYC verification checks, as well, but they are mostly isolated to the exchange side of the platform. Wallet-wise, the company only requires users to confirm their identities if you'd want to access the rewards account on your wallet, or buy, sell, and swap cryptocurrencies.
In other words, crypto storage is a KYC-less process with Blockchain.com.
The entirety of the wallet interface is very user-friendly and easy to navigate around in. On the left side, you have your portfolio, balances, airdrop and exchange info. At the very top, you can access your rewards, check crypto prices, send, receive, and trade cryptocurrencies.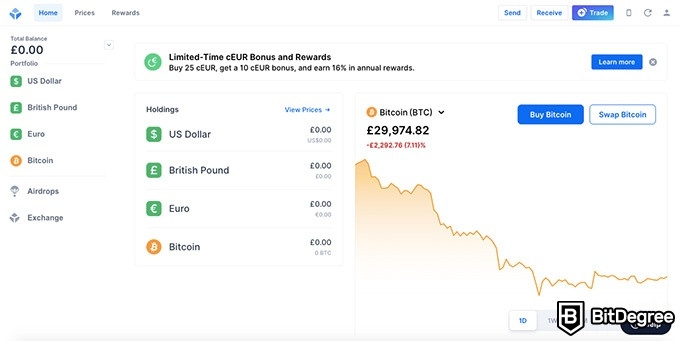 At the center of the screen, you may also see your holdings, as well as purchase some cryptocurrencies, such as BTC.
The menu layout for your wallet is very straightforward. It is worth acknowledging that it doesn't really possess any advanced features - while it might be a shame for some of the more well-versed users of the wallet, as far as crypto industry newbies are concerned, you should face no issues using the platform.
Furthermore, as a final point of this Blockchain.com review, I do also want to mention that, if you pass all of the required identity verification checks on the website, you will be able to trade, sell, and transfer your cryptocurrencies to and from your wallet, no problem.
The above is very convenient for anyone who doesn't want to jump from one exchange platform to another, and would instead prefer to do everything on a single, reliable website. Well, if you wouldn't want to trade some of the more-niche coins, that is.

Pros
Can be managed from mobile device
Very secure
Supports more than 1500 cryptocurrencies

Pros
Top-tier security
DeFi app support
Store over 5500 assets, install up to 100 apps simultaneously
Conclusions
So, then - is Blockchain.com a good cryptocurrency service provider, and is the platform worth checking out?
Despite the notable number of negative user reviews found online, I'd say yes - it's definitely worth using!
Throughout my research and experimentation for this Blockchain.com review, I have not come across any huge issues or notable cons that would relate to the platform in question. Blockchain.com is an industry veteran - the company has been around since 2011! No matter how you look at it, that's a very respectable amount of time. This is especially so true in the crypto industry, where everything can change on a weekly or even daily basis!
Furthermore, both the crypto wallet and exchange services offered by the brand are in-line with all of the industry standards. Is Blockchain.com safe? Yes. Is it easy to use? Most definitely.
Good security measures, simple platform navigation, KYC compliance, multiple features - Blockchain.com has a lot of benefits! The only truly notable shortcomings appear to be those that relate to a lack of crypto coin and token support, as well as customer service.
In short, if you're in the market for an exchange or crypto wallet service, do check out Blockchain.com!
The content published on this website is not aimed to give any kind of financial, investment, trading, or any other form of advice. BitDegree.org does not endorse or suggest you to buy, sell or hold any kind of cryptocurrency. Before making financial investment decisions, do consult your financial advisor.
Leave your honest Blockchain.com review
Leave your genuine opinion & help thousands of people to choose the best crypto wallet. All reviews, either positive or negative, are accepted as long as they're honest. We do not publish biased reviews or spam. So if you want to share your experience, opinion or give advice - the scene is yours!