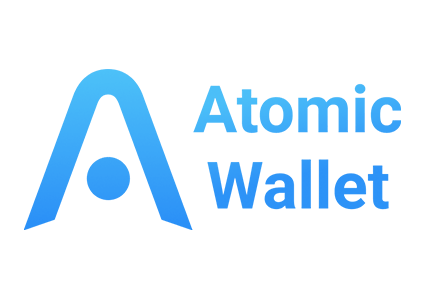 If you're currently searching for a brand new cryptocurrency wallet, and are willing to try something that's not necessarily mainstream, you might find yourself coming across some user Atomic wallet reviews. Most of those reviews are likely going to be quite positive.
To tell you the truth, that's not at all too surprising - the wallet really is that good of a product.
While finding a high-end wallet product can prove to be a tricky task (especially if you're not searching for a hardware alternative), Atomic aims to make this search quite a bit easier for you. The wallet comes with multiple different aspects that any and all crypto enthusiasts will surely appreciate - let's take it from the top, shall we?
TL;DR: User Atomic wallet reviews will tell you that Atomic is a software-based crypto storage platform, with a built-in exchange that allows you to trade and exchange your cryptocurrencies on the go. The wallet holds more than 300 different cryptocurrencies, and is very straightforward & beginner-friendly.
Pros
Easy to use
Supports more than 300 cryptocurrencies
Secure
ShapeShift and Changelly integrations
24/7 live customer support
Cons
Not as secure as a hardware wallet
Few coins can be 'atomically-swapped'
Atomic Wallet Review: PROS
To start things off on a positive note, we'll mention some of the benefits that users would receive if they were to use the Atomic wallet.
Truth be told, though, as I've already mentioned in the introductory part of this Atomic wallet review, most of the feedback that this wallet gets is quite positive - there doesn't seem to be many issues with it, at least as far as game-breaking ones go.
The Atomic wallet was created back in 2017. If you're a cryptocurrency enthusiast, you probably already know that this was the year when cryptocurrency boomed - and that's putting it lightly! Coincidentally, 2017 would also signify the year when one of the better software-based wallets would come into existence.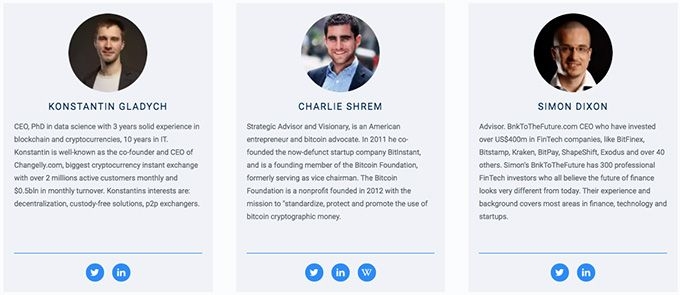 The wallet was created by a man named Konstantin Gladych. Mr. Gladych is quite well-known in the community - he's also the man behind Changelly, one of the more-popular cryptocurrency exchange platforms out there. While some other user Atomic wallet reviews mention this, Mr. Gladych surely knows his way around crypto storage.
Ever since the point of its inception, the Atomic wallet has been steadily growing and adapting to the ever-changing crypto market and culture. Today, it's a full-fledged crypto wallet!
That's the backstory of the specific piece of crypto storage - with it out of the way, let's move on to the core features of the Atomic wallet that make it as seemingly-appealing as it is.
Supports 300+ Cryptocurrencies
It's no secret that, today, there are more cryptocurrencies out there than there have ever been. This is true with the actual crypto coins - just think about all of the ERC-20 tokens, to add to that! With more and more dApps coming into existence, and cryptos becoming increasingly more popular, the number will just keep on growing!
That said, you probably don't need an Atomic wallet review to tell you that holders of all of these cryptos are going to need to store the coins somewhere, right? Well, that's exactly why multiple currency-supporting wallets have become the norm.

That wasn't always the case, though! Some time ago, all of the major cryptocurrencies had their own, designated wallets - while there are some left today, they're far from being as popular as they used to be.
So, what does all of that have to do with Atomic, you may ask? Simple - user Atomic wallet reviews note that the wallet in question holds more than 300 different cryptocurrencies, and all of the existing ERC-20 tokens.
Now, the ERC token part isn't at all too surprising. You see, most wallets that are able to house Ethereum will also store all of its tokens, no problem- that's just the way the technology's designed.

Actual cryptocurrency-wise, though, 300 is a pretty impressive number! You can naturally expect to find all of the main crypto coins available to be stored on Atomic - Bitcoin, Ethereum, Litecoin, Ripple, EOS, Dash, and so on.
To put it short, using the Atomic wallet, you likely won't need to worry about not being able to store all of your crypto portfolio inside of the wallet, unless you hold some super-niche coins. Great news for any crypto enthusiast!
Latest Coinbase Coupon Found:
CLAIM YOUR $200 BONUS
Coinbase Cyber Monday
Cyber Monday Madness at Coinbase! Get your first crypto and earn up to $200 in rewards. Hurry up before this Coinbase Cyber Monday deal ends.
Expiration date : 08/12/2023
3,784 People Used
Only 16 Left
A Software Wallet - Decent Security
Since we're discussing cryptocurrencies and their storage here, you can probably imagine that one of the more popular questions that people search the answers for within Atomic wallet reviews sounds a little something like this - is Atomic wallet safe?
With all of the scandals and controversies that many of the crypto wallets have been enveloped into, it's no wonder that security is being stressed as much as it is nowadays. To be frank, though, 'security' has always been a major factor when choosing the best cryptocurrency wallet - it's the only thing that's truly important, when you think about it!
In total, there are four main groups of crypto wallets, all with varying security levels:
Online wallets - least secure;
Software / app wallets - more secure;
Hardware wallets - very secure;
Paper wallets - the most secure.
As you can probably see from the list above, online wallets are the least-safe alternative when it comes to storing your cryptocurrencies. There's a pretty simple reason for why that's the case, too - since they are always online (usually based in some exchange), they are constantly prone to being hacked.
Hardware and paper wallets are the most secure alternatives, but there is also a "middle" option - a software (or app) wallet.
Reading through user Atomic wallet reviews, you'll learn that Atomic is a software wallet pretty fast. In non-IT terms, this basically means that you'll have to download a program to your computer, install it, and create a wallet there.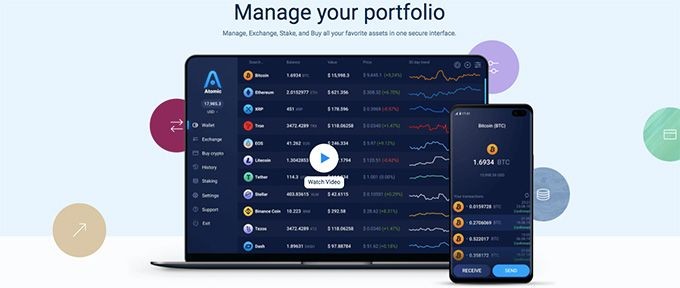 That is, in fact, a much better option than storing your cryptocurrencies online.
With a software wallet, you can basically remain sure that you'll be at a much smaller risk of being hacked. That said, you have to be sure that the computer on which you're planning to install the piece of software is completely clean, and does not possess some sort of a keylogger, or another type of malware.
Looking online, reading through user Atomic wallet reviews, it would seem that the general sentiment regarding the crypto storing platform in question being software-based is rather good. Most users seem happy that they won't need to trust an online-based platform with their private keys - that's great!
24/7 Live Customer Support
Let me tell you - this one hits close to home.
While quite a few user Atomic wallet reviews mention the fact that Atomic allows you to connect to them live, at any given point in time, I can tell you that I've experienced the importance of customer support in the crypto wallet world firsthand, not too long ago.
Not to name any names, or get too much into it, but I recently needed to contact a crypto wallet brand about their product - the inquiry was actually quite urgent.
While I did manage to sort the issue out at the end, it took two weeks of back-and-forth of emails, automated messages and confirmations that "yes, I still need help, and no, my issue didn't just magically solve itself because you guys ignored me for a week".

If I didn't give off a straightforward-enough impression, allow me to reiterate - good-quality customer service is absolutely mandatory if you want anyone to take your brand and products seriously. Thankfully, it would seem that Atomic has got that covered.
You can ask the support about the product, the company, their verifications checks, is Atomic wallet safe, what measures are there to guarantee the safe being of your crypto coins, and so on - all of your questions will be answered! Surely, a huge win on Atomic's side of things!
Built-in Exchange Features, Open-Source Functionality
Upon first installing and running the Atomic wallet, you'll soon notice that there are more features to it than just storing your crypto coins. Frankly, the other 'major' feature is that Atomic allows you to perform "atomic swaps" with certain coins (that's where the name of the wallet comes from, too), and does also have integrated exchanges built into its system.
Let's tackle the 'atomic swap' part first, shall we?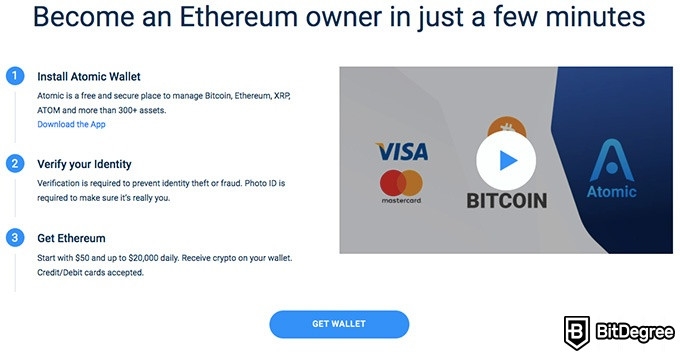 For the longest time, "atomic swaps" has been a concept that sounded good on paper, but seemed far off from being implemented in the real world. When an atomic swap is performed, it means that you are able to trade one crypto coin for another, without the interference of a centralized exchange platform.
A few Atomic wallet reviews mention this, but it's important to note that not all cryptocurrencies can be swapped this way - only a select few. This is where the latter part of the deal comes in - Atomic having not one, but TWO crypto exchanges integrated into its software.
The exchanges in question are Changelly and ShapeShift. The former needs no formal introduction - as mentioned in the introductory part of the article, the creator of the Atomic wallet, Mr. Gladych, is also the founder of Changelly. Frankly, this means that you can expect some great functionality when it comes to this exchange and the Atomic wallet!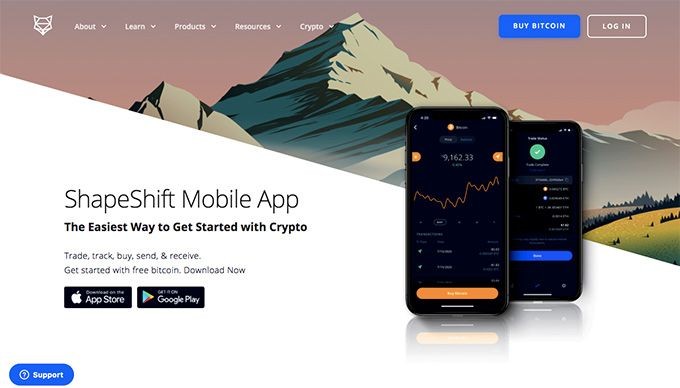 ShapeShift is yet another very popular cryptocurrency trading platform. Together with Changelly, these two platform integrations are going to allow you to trade crypto coins quite seamlessly, all from the comfort of a single wallet software.
The icing on the cake here is that the Atomic wallet is also open-source. What it means is that anyone and everyone is able to go through the code of the software, and check for errors, bugs, or other potentially-harmful issues with the platform. Not many user Atomic wallet reviews mention this, but it makes the wallet out to be very transparent - that's always great!
Latest Ledger Nano X Coupon Found:
SAVE 10%
Ledger Cyber Monday
Ledger Cyber Monday sale is bringing you the best deals - follow the coupon link & get 10% off Ledger Nano X when buying the Family Pack X!
Expiration date : 06/12/2023
7,469 People Used
Only 21 Left
Atomic Wallet Review: CONS
Moving on to the disadvantages of the Atomic wallet, as noted earlier on in the Atomic wallet review, there isn't all that much to talk about. Still, a few things are worth keeping in mind, especially if you're planning on trying Atomic out for yourself.
Not as Safe as a Hardware Device
One of the most common complaints that user have for the Atomic wallet doesn't even have anything to do with the wallet itself - rather, it concerns its type.
As I've stressed multiple times already, the Atomic wallet is software-based. If you're looking for the absolute maximum amount of security, this might be an issue for you.
LEDGER NANO X
TREZOR MODEL T

Overall level of security & safety of your assests offered by a certain crypto wallet.

Whether the crypto wallet requires two-factor authentication as an extra layer of security when completing an action.

Whether the crypto wallet requires multiple keys to authorize a transaction as an extra layer of security.

Whether the crypto wallet requires a Pin code as an extra layer of security when completing an action.

The general anonimity level of your data.

What kind of methods of recovering your cryptocurrency assets in case you lose your wallet or forget your primary password does the wallet offer.

24-word Recovery Phrase or Nano S Plus
12-24 letter and number code

Who owns your private keys.

You
You

The level of control you have on the crypto wallet.

Visit site
Read review
See TOP10 Brands
Read review
Table: The security features of the Ledger Nano X and the Trezor Model T
The only wallets that provide the "maximum amounts of security" would have to be hardware and paper ones. That's simply because there's no possible way for them to be hacked - they are not connected to the internet! The only damage that can be done is that of a physical nature.
With a software wallet, you risk losing your funds if you run the wallet on a faulty, malware-filled computer. Naturally, it's your responsibility to keep your machine safe and clean, but that's definitely not something that can be simply-guaranteed.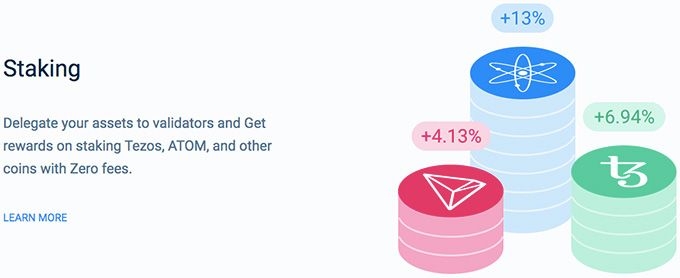 Either way, if you plan to trade cryptos quite often, and are not holding on to thousands of coins at a time, then Atomic should still suit you very well. Hardware wallets are great, but they are usually costly, and will be a hassle when it comes to trading cryptos "on the go".
"Atomic Swaps" are More of a Gimmick, Rather than a Viable Exchange Solution
Atomic swaps are a great feature, especially if you're serious about trading cryptocurrencies. However, while it's a heavily-advertised aspect of the Atomic wallet (I mean, it's even in the name!), the issue is that there's a very limited number of coins that are able to be "atomically-swapped" (yes, I did that on purpose).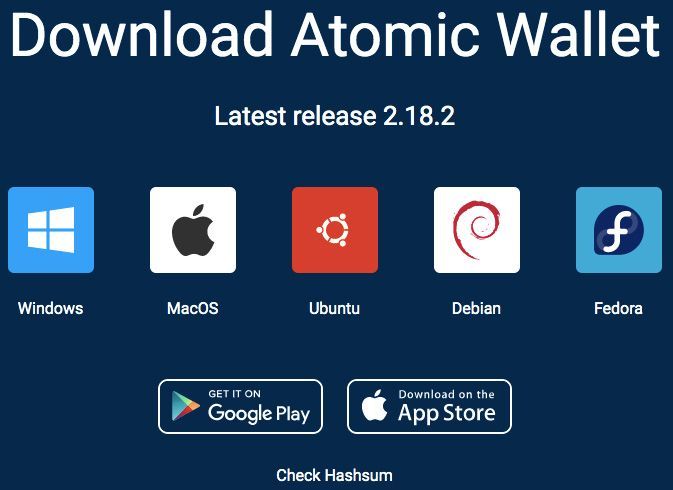 For the general crypto HODLer, this might not be a big issue. Admittedly, while the concept has been heavily explored all the way back from 2017(ish), it's still very uncommon in the world of cryptocurrencies.
That said, some user Atomic wallet reviews do point out that they were rather disappointed by the lack of options when it comes to utilizing the 'atomic swap' feature.

Did you know?
Price
Pricing-wise, the Atomic wallet is at the top - in other words, it's completely free to download, install and use at your own leisure.
Isn't that a bad thing, though? Is Atomic wallet safe if it's completely free to use?
No, it's not a bad thing - and yes, it's perfectly safe to use. You see, most of the software-based wallets on the market are generally free to use. Atomic is no exception - that's a good thing! The Atomic wallet does, however, take a certain fee when you buy crypto coins on the platform.
How to Use the Atomic Wallet?
Now, if you've read the entirety of this Atomic wallet review and have decided that the wallet in question is the right choice for you, the next step is to learn how to actually use it!
Thankfully, it's actually one of the easier software wallets to learn to use. Let's take it from the top, though, and talk about the installation and setup process, first.
How to Set Up the Atomic Wallet?
Step 1: Download the wallet, and run the setup to install it.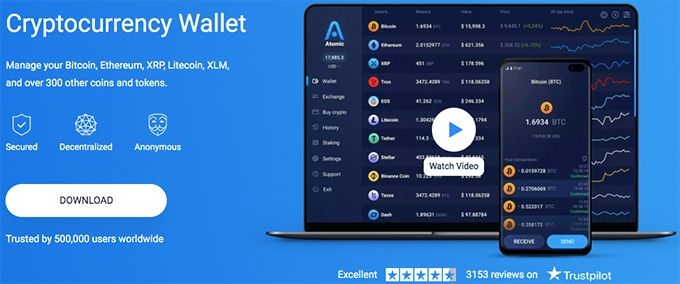 Step 2: Press "New Wallet".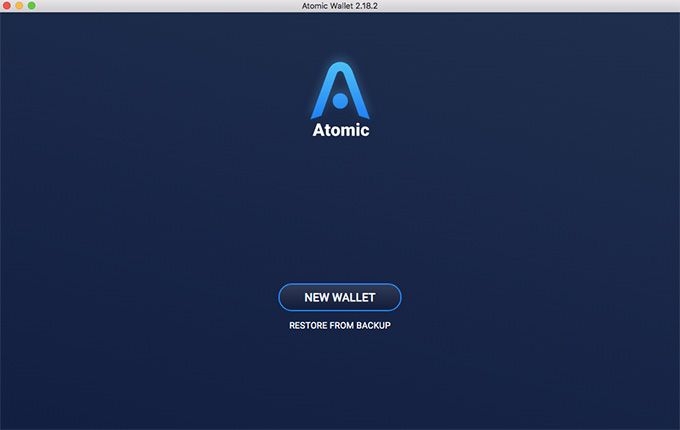 Step 3: Create a strong password - make sure to not reuse any passwords that you'd use to log in to other sites!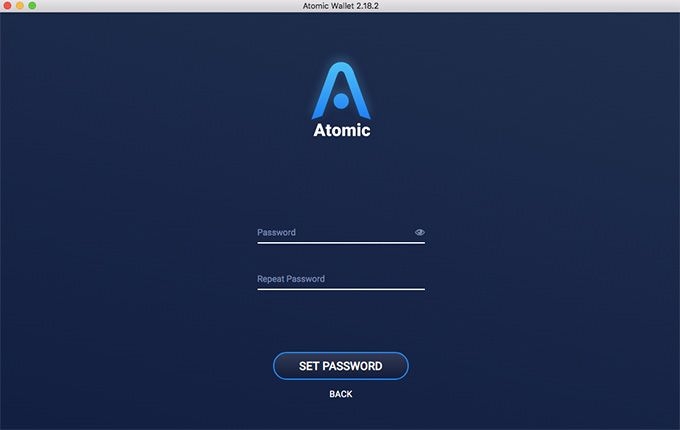 Step 4: Make sure to write down the 12-word backup phrase and store it somewhere safe - if you lose access to your wallet, this is the only way you'll be able to get it back!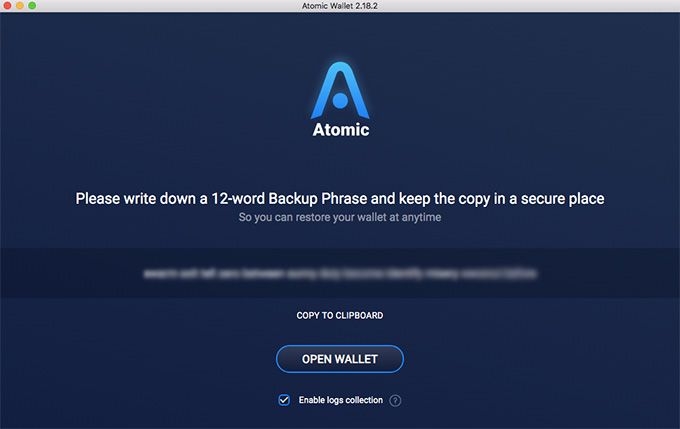 And that's it - your setup process is complete!
How to Buy / Sell Cryptocurrency with the Atomic Wallet?
Buying / selling cryptos with the Atomic wallet is frankly as simple as setting it up, in the first place.
Step 1: Press on the "Buy crypto" button on the main dashboard.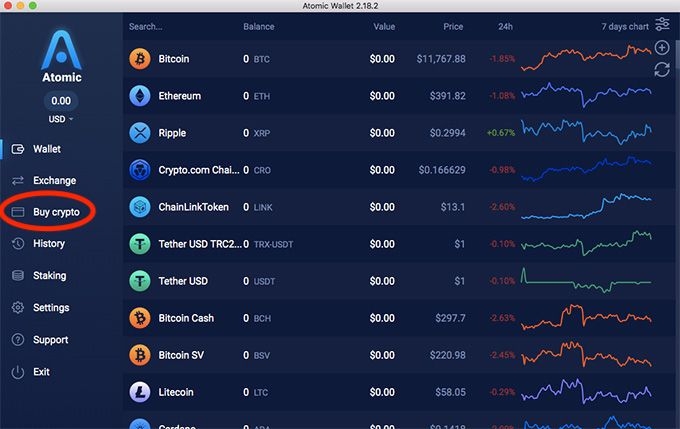 Step 2: Choose the type and amount of crypto that you'd like to buy, and the currency with which you're going to be doing so.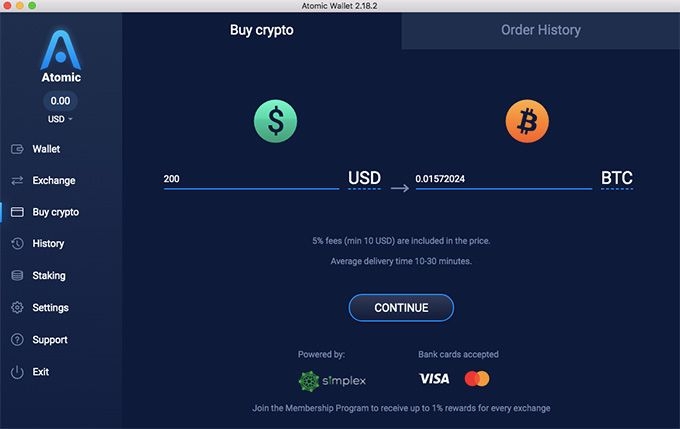 Step 3: If you're purchasing cryptos with fiat currencies, you'll have to enter your payment details, and then pass the verification process.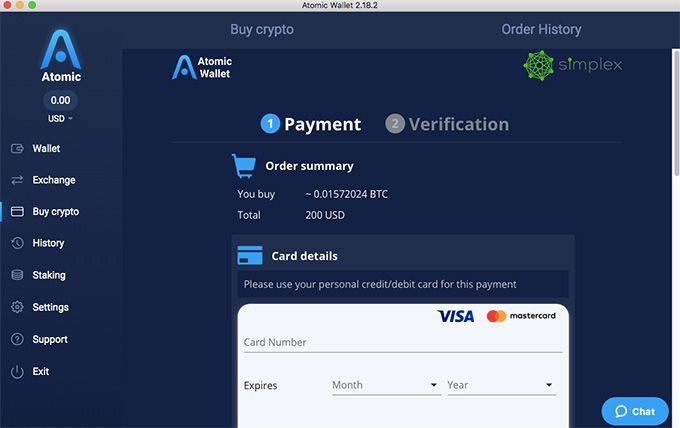 Once all of that's done, the transaction might take up to half-an-hour to complete. You don't need to do anything from that point onwards, though - just wait for your crypto coins to come in!
How to Exchange Cryptocurrencies on the Atomic Wallet?
Exchanging cryptos within the software is even simpler than purchasing them with fiat currencies.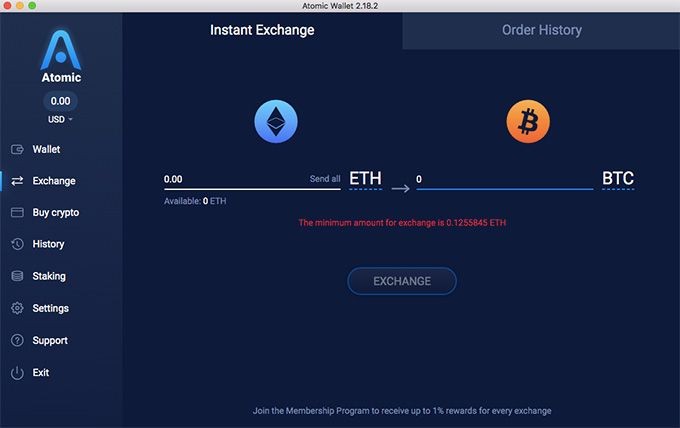 Frankly, all that you have to do is go to the "Exchange" section of the platform, select and type in the types and amounts of crypto coins that you'd like to exchange, and actually perform the exchange - multiple user Atomic wallet reviews will tell you that using the wallet really is that simple!

Pros
Can be managed from mobile device
Very secure
Supports more than 5500 cryptocurrencies

Pros
Top-tier security
DeFi app support
Store over 5500 assets, install up to 100 apps simultaneously

Pros
Multiple cryptocurrency support
Very secure
SegWit and Bech32 address support
Conclusions
To summarize, the Atomic wallet is surely one of the better software wallets on the current cryptocurrency storage platform market.
The wallet in question offers 24/7 live customer support, holds more than 300 different crypto coins (and all of the ERC-20 tokens, too), is easy to use, has integrated crypto exchanges, and is quite secure.
While the 'atomic swap' feature is only available with a few select coins, most users of the wallet aren't going to see this as a huge issue. All things considered, Atomic is certainly worth checking out, especially if you're in the market for a brand new software wallet!
The content published on this website is not aimed to give any kind of financial, investment, trading, or any other form of advice. BitDegree.org does not endorse or suggest you to buy, sell or hold any kind of cryptocurrency. Before making financial investment decisions, do consult your financial advisor.
About Article's Experts & Analysts