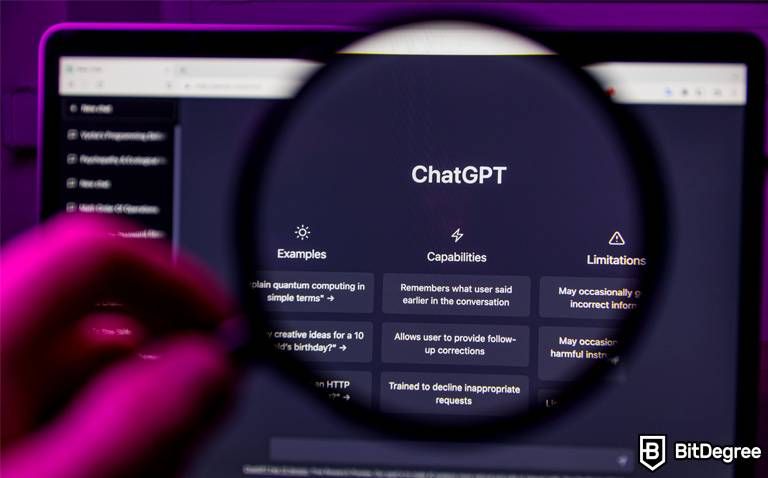 Artificial intelligence tools have seen a massive explosion in the digital space. AI-generated images, machine translation, even audio recordings created by these digital tools have been trending on social media and making news headlines. However, one tool gets mentioned more often than others – and based on this article's title, you know we're about to find out where to learn ChatGPT.
Of course, before we dive into the ins and outs of this particular tool, we need to learn more about what artificial intelligence is and why it's so popular nowadays. It's a field that seems to be evolving by the hour, and its history is still being written, but there are some basics to keep in mind before you use AI-based creative tools.
Next, we're going to discuss how and where to learn ChatGPT in earnest. Naturally, it's always easier to learn in practice, so you're going to discover tips and tricks that you can apply from your very first interaction with the AI. We'll be seeing what help you can find on platforms like DataCamp, Coursera, edX and Udemy. Spoiler alert! These platforms provide some killer courses on ChatGPT.
So, let's start our ChatGPT for beginners guide.
Where to Learn ChatGPT: The Background
Before you find out where to learn ChatGPT, you might be interested in finding out more about where this technology and other similar AI tools have come to be. Don't worry, we won't be diving into the entire history of AI. As novel as it might appear, it's actually really long and, like many technological advancements that we're used to today, started in the mid-20th century.
Latest DataCamp Coupon Found:
CLAIM 50% OFF
DataCamp Cyber Monday Deal
DataCamp Cyber Monday special is here! Enjoy a massive 50% off on DataCamp plans. Subscribe now and redefine your data and Al skill set for the better!
Expiration date : 08/12/2023
5,324 People Used
Only 36 Left
Evidently, artificial intelligence has been a hot topic in the science world for decades. Scientists look towards it with both awe and concern, and its potential is seemingly endless. No wonder that it's also become a massive inspiration for Sci-Fi writers and filmmakers.
Whether it's a helpful assistant like JARVIS from the Iron Man movies or a rogue all-seeing machine like 2001: A Space Odyssey's HAL 3000, it's a fascinating concept to play around with.
AI systems have already been in use for numerous purposes, but the processes have always been more behind-the-scenes. For example, artificial intelligence is used to determine GPS routes or handle search engine algorithms. Tools like Alexa and Siri use AI technology to handle queries.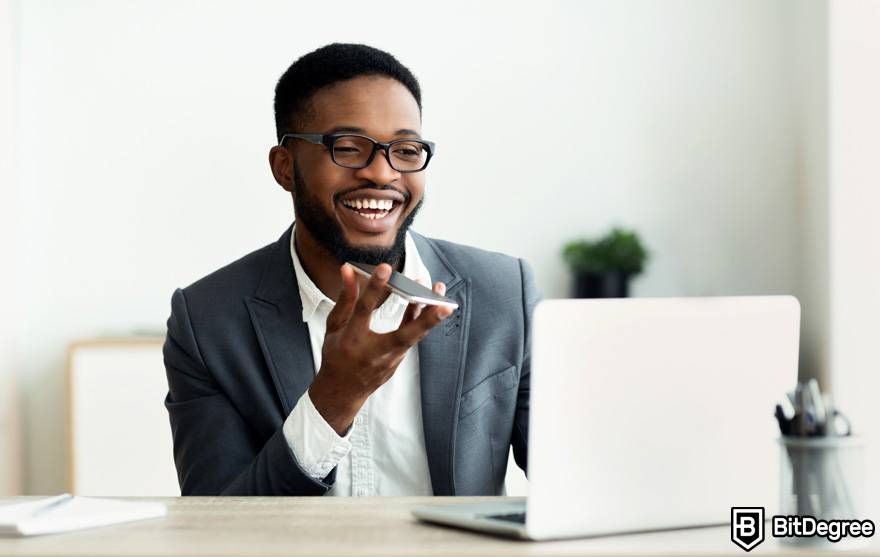 One of the more direct examples of user-to-AI interaction is chatbots. Ever had the "Any questions?" pop-up appear on a site you're visiting? The question options are created to match the prompts that the chatbot has been developed to answer. This is why sometimes you're not able to find answers to very specific questions.
So, what happened to make AI explode in the tail end of 2022? Well, the reason is really simple – easy access! While most examples of AI that we've covered so far involve the AI being handled by the developers and only interacting with the consumer as the end product, the arrival of certain tools and apps has made this technology far more accessible and experimental.
In fact, let's take a closer look at a couple of examples.
Photo AI
In late 2022, social media exploded with images that took people's selfies and turned them into paintings of various styles. As it turned out, this trend emerged thanks to an app that used artificial intelligence to generate artworks using various photos that the users uploaded on the platform.
AI-based images kickstarted the wave of direct user-AI interactions that lead to creating content. There are two different approaches here.
Some platforms, like the app we've discussed above, take a newly uploaded image and use AI to alter or enhance it. The other process requires users to type in various prompts which are then used to create a unique image.
Despite its popularity, AI-based image development has seen some controversy, especially due to some users stealing artworks from artists and feeding them to the algorithm. This has already posed some interesting questions about copyright – but that's a topic for another day.
Text AI
Now, let's get into the category that we're here for today. AI text generation tools are pretty self-explanatory. Using a massive database of information, they create completely unique texts faster than a human could type. In many cases, text AI tools are akin to chatbots – you enter a question you have and the algorithm creates the answer.
New chatbots and AI text generators pop up nearly daily, but ChatGPT is perhaps the best-known tool out there. It was launched in November 2022 and instantly became the thing that everyone was talking about. With each new iteration, the algorithm is refined, allowing users to access more accurate and relevant answers to their questions.
As with all AI tools, you can't rely on text generators 100%. There have been some instances recorded where ChatGPT used literature that doesn't exist to cite sources, or created academic works that showed inaccurate data. The first rule of ChatGPT for beginners is to double-check for accuracy.
ChatGPT For Beginners: Resources
Naturally, as all these AI tools have been on the rise, a new demand for user guides has emerged. So, if you're in to find out where to learn ChatGPT but aren't sure that there's enough help out there yet, don't worry – the online community has collected a ton of useful resources in a pretty short time, and new ones pop up every day.
Here, you'll find beginner-friendly courses offered by DataCamp, Udemy, edX, and Coursera. Some may even grant you ChatGPT certification.
As a side note, don't miss DataCamp's Data & AI Literacy Month (September 2023) if you want to truly grasp the concept of AI and connect with industry experts through webinars, podcasts, and a tonne other exciting events.
Now, without further ado, let's start learning.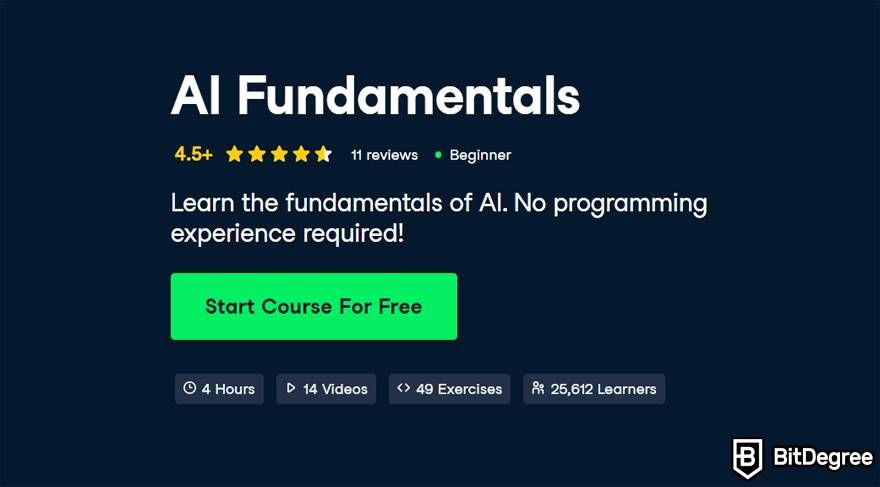 Platform: DataCamp
Duration: 4 hours
Price: From $25/month
Certificate: Yes
Level: Beginner
Discount: Available
Where to apply? HERE
There's a lot more to AI than just learning ChatGPT. If you're completely new to the field, you may want to learn about some of the core principles first – it'll help you once you start working with ChatGPT in earnest. The AI Fundamentals course by DataCamp is a great starting point.
Naturally, the rising popularity of artificial intelligence has attracted both techies and people who haven't been deeply interested in this technology before. While knowing the ins and outs of AI is, of course, not necessary to use the tools, it can be a little overwhelming to see articles with a bunch of unfamiliar terminology. AI Fundamentals will help you fill in these gaps.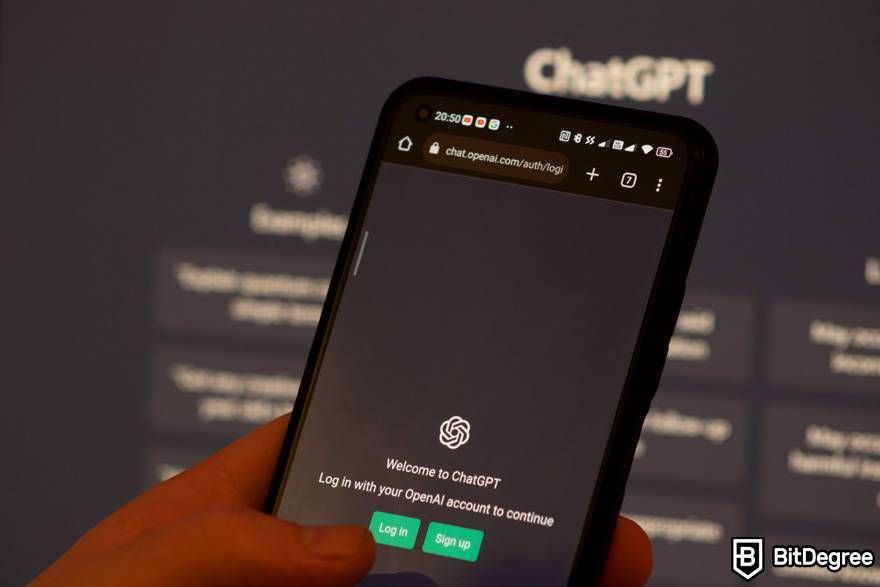 This crash course isn't too long – yet in just four hours, it covers every essential term that you might encounter as you research AI. There are no prerequisites to have prior experience working with machine learning or artificial intelligence, as it aims to be a simple yet practical guide to the field.
Throughout the course, you'll be covering four chapters:
Introduction to AI
Supervised Learning
Unsupervised Learning
Deep Learning & Beyond
In the first chapter, you'll cover the differences between general and narrow AI and how these two types are used. You'll be introduced to the principles of AI models and the issues that are common among them. This chapter will also reveal the importance of machine learning in the field of artificial intelligence.
The second chapter introduces one of the two machine learning subcategories – supervised learning. Essentially, this is the process of using labeled data units to train artificial intelligence. The goal is to produce a classification model. You'll be introduced to the basics of how to execute such AI training and evaluate the results.
The third chapter, Unsupervised Learning, touches on the other machine learning subcategory. Here, the training process relies on unlabeled data units and aims to generate brand new data as a result. You'll be working with data clusters and learning how to detect anomalies. Also, you'll figure out how to prioritize and interpret things when you select data models.
You'll wrap up the course by looking into deep learning. You might've heard the phrase "neural networks" before. These digital models are actually based on the structure of the neural systems in humans, so at first glance, they appear very complex.
However, you'll be finishing this chapter after working on your very first neural network model – and get your first opportunity to see how deep learning works in practice.

Overall, you'll be covering a lot of useful things that might pique your interest before you see how to learn ChatGPT in earnest. You'll be taught by data scientist Nemanja Radojković whose expertise lies in machine learning and AI. The course offers data units taken from the real world, so it'll be a good hands-on experience.
Interested? You can take the first chapter of AI Fundamentals for free or sign up for the DataCamp Premium plan at just $25/month. With this plan, you'll be able to access the entire course catalog and even earn your first ChatGPT certification – that's something we'll cover in another course on the list. Besides, you can find special DataCamp offers and discounts here.
So, get your machine learning journey started and sign up for AI Fundamentals on DataCamp today!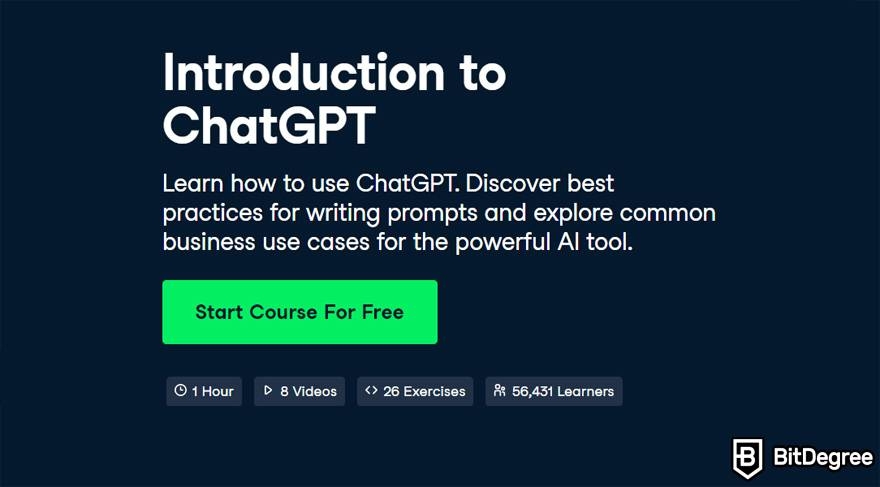 Platform: DataCamp
Duration: 1 hour
Price: From $25/month
Certificate: Yes
Level: Beginner
Discount: Available
Where to apply? HERE
So, you know your artificial intelligence basics now. Time to see where to learn ChatGPT. You won't be searching far and wide – in fact, our next course on the list, Introduction to ChatGPT, is also available on DataCamp. Bear in mind that there's another course by the same name on the list. However, that one is offered by edX and we'll talk about it separately.
The Introduction to ChatGPT course popped up in just weeks after the platform started making headlines everywhere online, making it one of the earliest resources available for those looking into how to learn ChatGPT. It clocks in at just 1 hour, so it's a great option if you're looking for something fast and easily digestible.
This course consists of just two chapters – Interacting with ChatGPT and Adopting ChatGPT. In the first one, you'll be learning more about this program and how it came to be. It discusses the best use cases for ChatGPT as well as where its limitations lie. In the second chapter, you'll learn where and when this AI tool can be used, as well as what its prospects are.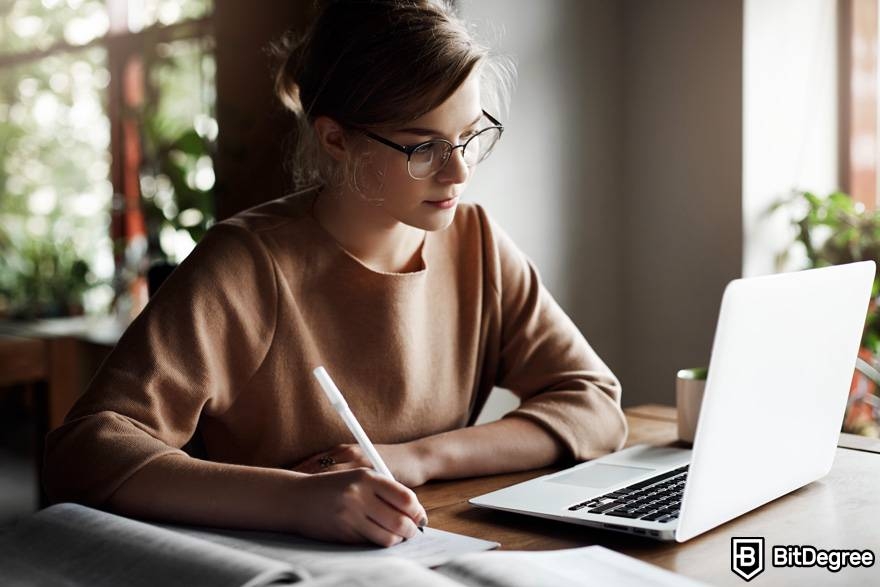 By the end of the course, you'll know:
How interactions with ChatGPT work;
What the most common use cases are;
What data is used for the responses;
What's written in the Terms of Service and what legal concerns may be;
How generative AI works;
How to engineer a prompt.
As you can see, there's a lot to master in just sixty minutes. The course is brought to you by James Chapman. While he's currently part of the DataCamp team as the Curriculum Manager, his journey with the platform started in 2018 as a fellow learner – so, he understands better than most what makes this gamified learning experience fun and efficient.
However, did you know that the courses we've discussed so far aren't the only AI resources on DataCamp? Well, in spring 2023, the platform introduced the AI Assistant as part of its Workspace services.
DataCamp Workspace is a cloud-based notebook that you can use as a sandbox while you study data science. The AI Assistant helps automate your coding process, visualize data, and correct any issues that may arise.

Let's circle back to the Introduction to ChatGPT course. While the first chapter can be taken for free, you can complete the course and earn a ChatGPT certification by signing up for the DataCamp Premium plan for $25/month. Among features like the full course catalog and various projects, you'll also be able to enjoy the Workspace perks.
If you want to learn more about DataCamp's special offers, follow the link here. Otherwise, you can sign up for the Introduction to ChatGPT course as soon as today!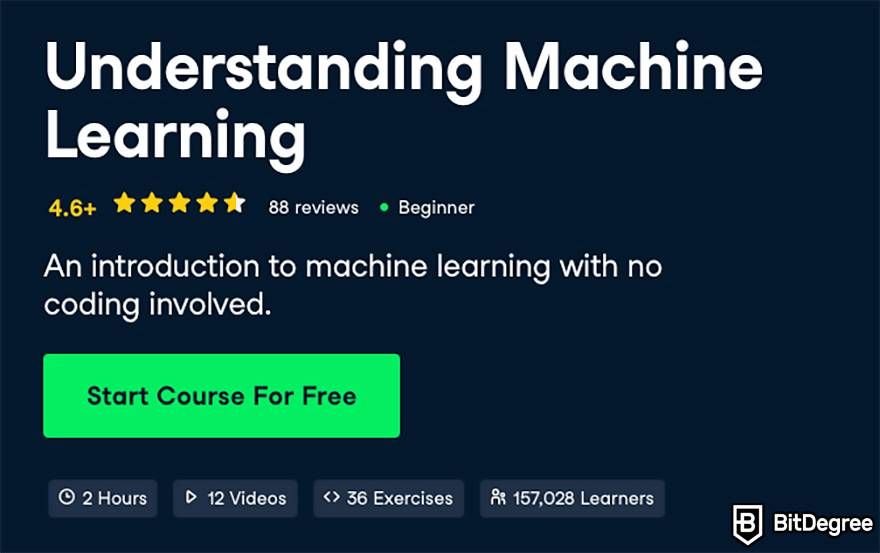 Platform: DataCamp
Duration: 2 hours
Price: From $25/month
Certificate: Yes
Level: Beginner
Discount: Available
Where to apply? HERE
ChatGPT employs machine learning (deep learning, to be more precise), right? If you're not sure whether this is true, before learning about ChatGPT, you should first look into machine learning overall. And I know just the right resource for that - DataCamp's Understanding Machine Learning course.
This is a coding-free course that will introduce you to the intricacies of machine learning. To answer the question - yes, ChatGPT does employ machine learning. This means that to fully understand how the technology works, you need to understand what is behind it.
Don't worry, though, with this non-technical beginner-friendly course, you'll know all the basics of machine learning in only 2 hours. Besides, the course consists of 12 videos and 36 exercises. So, not only will you learn the basics, but you'll also be able to have some hands-on experience.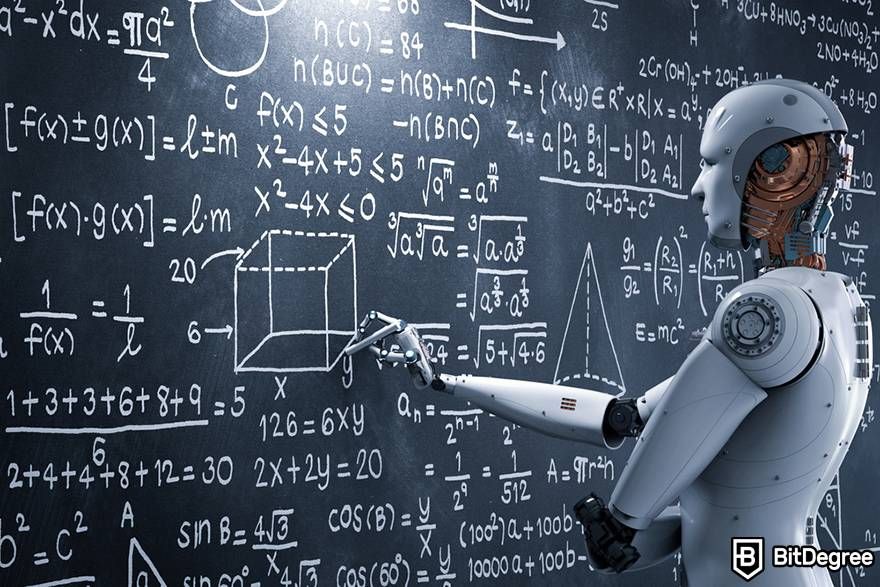 The course has three chapters:
What is Machine Learning?
Machine Learning Models
Deep Learning
The first chapter introduces the definition of machine learning and all the jargon you should know when it comes to this topic. Besides that, it explains how machine learning is related to artificial intelligence and data science, as well as walks you through the process of building machine-learning-based models.
The second chapter delves deeper into different machine learning models. It elaborates on both supervised and unsupervised learning, as well as teaches you how to evaluate and improve the performance of these models.
The last chapter is the most crucial for you, as it explains all the basics of deep learning. In this chapter, you'll learn about neural networks, the limitations and drawbacks of machine learning, and two main use cases of the technology - computer vision and natural language processing (the latter is exactly what ChatGPT is about).

The Understanding Machine Learning course is taught by DataCamp's curriculum manager Handriex Lacroix, DataCamp's data scientist Sara Billen, and Duolingo's content program manager Lis Sulmont. There's no need to say that all three instructors have the skills and expertise needed to teach this course.
If you want to enroll, you should know that the first chapter is free. However, you have to subscribe to DataCamp's Premium plan if you want to access the rest of the course (and over a thousand more courses, of course). The plan costs $25 per month, but don't forget that you can always find some amazing DataCamp discounts right here.

Platform: Udemy
Duration: 4.5 hours
Price: $84.99
Certificate: Yes
Level: Beginner
Discount: Available
Where to apply? HERE
Of course, there are more places to look for where to learn ChatGPT. You can learn a lot of great tips and tricks about new tools not just from industry experts but from your peers as well. One such guide is the ChatGPT Complete Course - Learn ChatGPT & Prompt Engineering on Udemy.
The title is quite a mouthful, I know. However, it's a great detailed guide to maximizing the best use cases for ChatGPT. In fact, ever since the inception of the tool, this guide has been one of the most comprehensive and popular options on Udemy.
As you can see by the name, the course covers the ins and outs of how to use ChatGPT for numerous situations. For instance, some of the use cases that you'll see examples of include:
Scripting YouTube videos
Preparing for job interviews
Translating
Writing and testing code
The possibilities range from simple experimentation to utilizing ChatGPT to boost your creativity. In just short of five hours, you'll cover every step of the process, from signing up to designing code and writing a story. To keep things easy to navigate, the entire course is split into ten sections, covering topics like ChatGPT for Communication, Prompt Engineering and Design, and Advanced Development Techniques.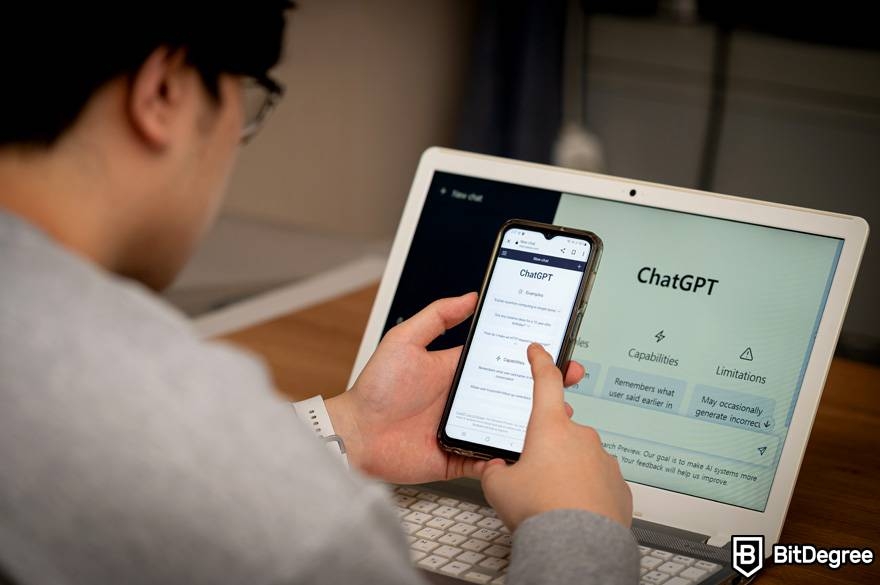 As you might know, ChatGPT gets updated pretty frequently. So, if your concern is the accuracy and relevance of course content, you can relax. The instructor updates the course regularly and changes topics with new version releases.
Speaking of instructors, you'll be working with Mike Wheeler, a cloud computing teacher. He strives to help people with no prior experience in tech to master cloud and AI tools, such as ChatGPT. So, here's another good news – you don't need any prior experience to learn ChatGPT. The only required tools at your disposal are your Udemy account and free access to the AI tool itself.
In fact, this course is great if you're someone who's more focused on the creative side of things. As part of your training, you'll see how to write social media posts and blog articles, how to create the outline for a novel, and even how to start developing games!
So, you could set yourself a project and use the script and the Python code you've generated with ChatGPT to turn an idea into reality.

All of this – and more – can be at your disposal for $84.99. While the price seems pretty steep, keep in mind this is a one-off payment – and we've got some handy discount codes that you can use. Also, if you're a US resident, you should know that the ChatGPT Complete Course is part of the Udemy Personal catalog.
Udemy Personal is a subscription-based service that unlocks over 8,000 courses for just $16.57/month. These cover not just the best lists of where to learn ChatGPT, but also other various topics like arts, programming, lifestyle, natural sciences, and more. So, consider checking it out if it's available in your region.
Learning ChatGPT can be quick, easy, and affordable – and you don't need to be a tech expert to get started. So, seize the opportunity and enroll in the ChatGPT Complete Course - Learn ChatGPT & Prompt Engineering course today!

Platform: Udemy
Duration: 11 hours
Price: $84.99
Certificate: Yes
Level: Beginner
Discount: Available
Where to apply? HERE
If you're familiar with Udemy and the range of courses it has to offer, it shouldn't be surprising that it's becoming the go-to destination for everyone looking into where to learn ChatGPT. By now you can find tens of hours of content that will help you explore the world of artificial intelligence. One of such contributions is the ChatGPT Complete Guide.
This 11-hour course consists of over 220 lectures on AI tools developed by OpenAI. You might've seen this name around – OpenAI is the research organization behind various artificial intelligence products, including ChatGPT. Throughout the course, you'll learn how to master these tools and discover their true potential.
Like the other Udemy course we've discussed, the ChatGPT Complete Guide is updated frequently and is up to date with the latest software version. In it, you'll find over 150 prompting ideas to play around with. You'll also walk through a basic guide to the ChatGPT interface and see how to set things up yourself.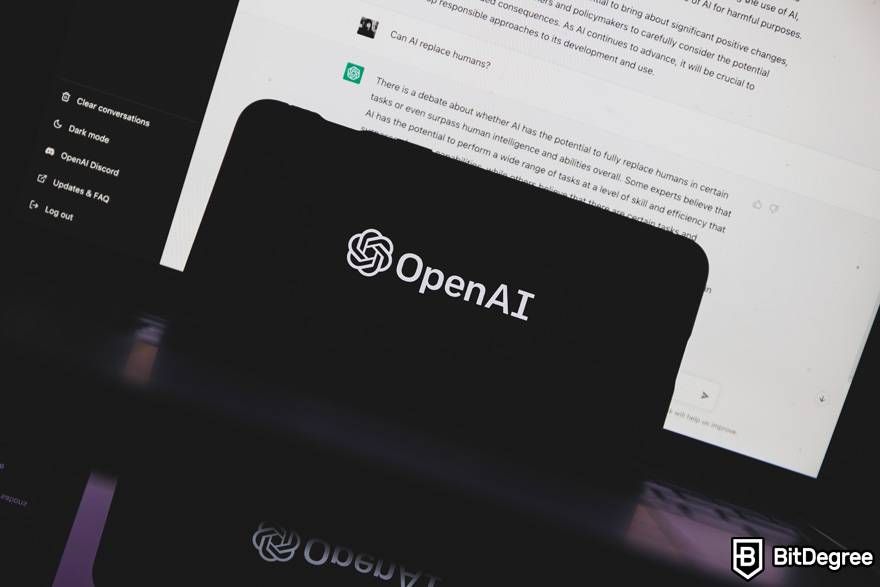 As the title implies, it's not just an ordinary ChatGPT for Beginners course. Remember those photo AI generation tools we discussed earlier? Well, that's where Midjourney comes in. It's one of the most popular image generation programs that uses artificial intelligence and, like ChatGPT, it was created by OpenAI.
It doesn't end with just the course materials, though. Alongside the video guides, you'll find multiple downloadable resources that will enhance your learning experience and help boost your creativity.
By the end of this course, you'll have a good understanding of:
Where to learn chatbot prompts and how to use them;
How to simplify complex texts and extract essential information;
How ChatGPT can be used for transcribing audio and video files;
What role artificial intelligence texts can play in social media and in marketing;
How to generate images using Midjourney and DALL-E;
How to monetize your AI-based works.
As you can see, there's a lot for you to cover. Don't worry – your helping hand here is instructor Julian Melanson. As a digital teacher, he focuses on AI tools and filmmaking techniques. So, you can expect high-quality, informative video guides throughout.

You can enroll in the ChatGPT Complete Guide for $84.99 or, if you live in one of the supported regions, you can cut this cost down to just $16.58/month by signing up for Udemy Personal. And, as always, special discount codes for Udemy can be found here.
Master the whole array of OpenAI tools and become an expert in text and photo AI with the ChatGPT Complete Course by enrolling today!

Platform: edX
Duration: 1 week
Price: $20
Certificate: Yes
Level: Beginner
Discount: Available
Where to apply? HERE
If you're a complete newcomer to the world of artificial intelligence, you probably want to cover all your bases. For that, you can never have too many introductory courses on how and where to learn chatbot essentials. After all, each instructor brings something unique to the content. So, allow me to introduce the second Introduction to ChatGPT course on our list – this time by edX.
This is a week-long course that consists of three modules:
Getting started with ChatGPT
Customizing ChatGPT
Advanced Applications and Best Practices
The first module introduces you to OpenAI and its product ChatGPT. Things get pretty practical from the get go – you'll see how to set up your ChatGPT client and how to start asking the AI questions. This module also delves into the data training process dating back to 2021. You'll find out what the limitations of ChatGPT are and how it handles abusive queries.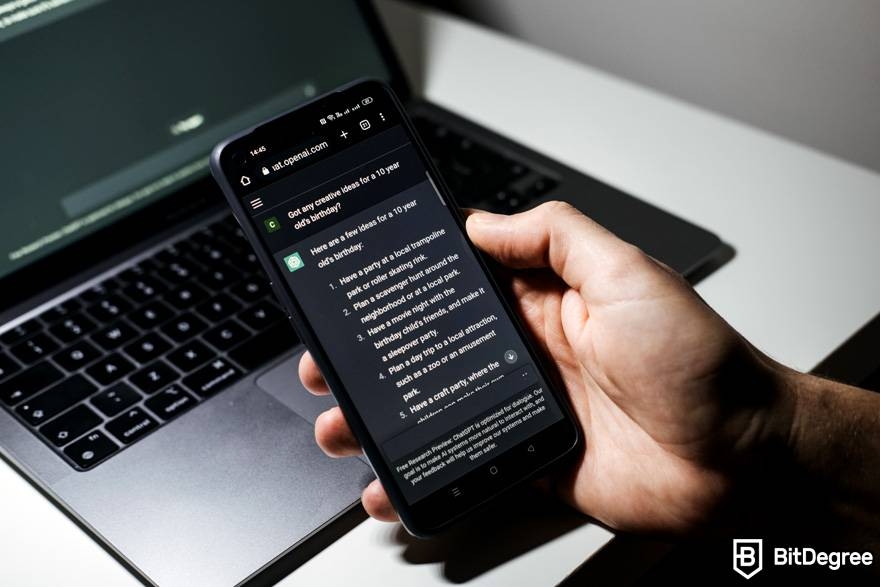 The second module lets you get more crafty. This is where you're going to want to linger if you're looking for where to learn chatbot development. That's right – you can use ChatGPT to build your own chatbots. You're also going to see how you can personalize ChatGPT both by creating customized responses and integrating third-party tools like Discord and Slack.
Finally, in the third module, you're going to learn more sophisticated use cases. For example, you're going to see how ChatGPT can help you translate texts from and into languages that you don't speak. The course will also touch on some of the legal and ethical questions that arise with the use of artificial intelligence. So, you're going to get a bit philosophical as well.
This course is led by Miguel Amigot, a computer scientist and electrical engineer. Amigot is also known as the CEO of IBL Education, a platform dedicated to helping learners develop their AI skills, such as ChatGPT for beginners. His hands-on experience with AI tools in the education sector is sure to make this course insightful.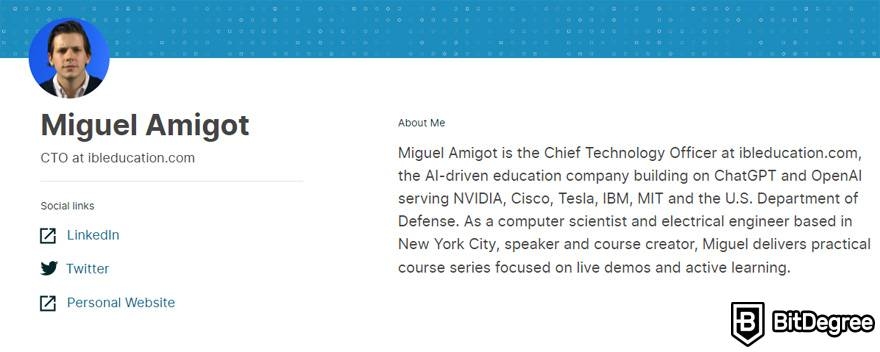 You can audit the Introduction to ChatGPT for free – that way, you can follow along with the video guides. However, if you'd like to earn a ChatGPT certification, the course on edX costs just $20. This grants you unlimited access to the content and the ability to complete assessments. Of course, we've also got edX discount codes that you can find here.
The Introduction to ChatGPT course on edX is a great place to start when you're looking into where to learn ChatGPT. So, sign up today and gain more insights into this tool.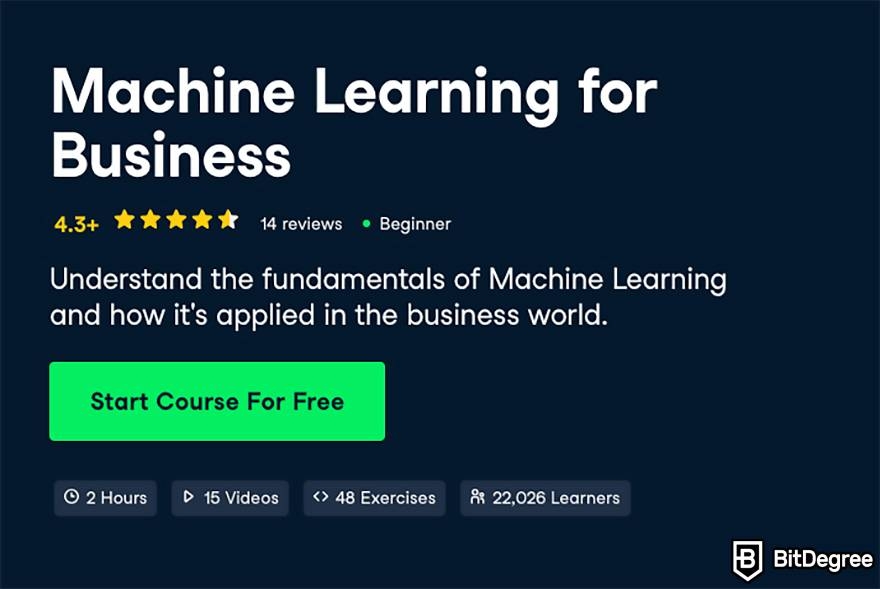 Platform: DataCamp
Duration: 2 hours
Price: From $25/month
Certificate: Yes
Level: Beginner
Discount: Available
Where to apply? HERE
I know you're looking for "where to learn ChatGPT," and this is not a course that teaches precisely about ChatGPT. However, the Machine Learning for Business course by DataCamp will teach you all you need to know about using machine-learning-based tools like ChatGPT in the business world.
This course consists of 15 videos and 48 exercises that will approximately take 2 hours to go through. During that time, you'll learn how to use machine learning technologies to formulate business questions as modeling projects. Besides that, you'll learn more about machine learning types, their possibilities, and when you should not use them.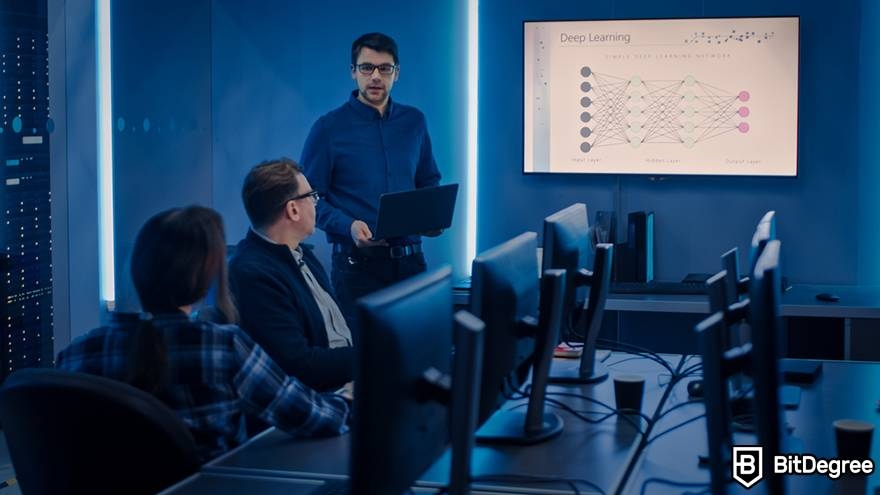 The structure of the course is as follows:
Machine learning and data use cases. In this chapter, you'll be introduced to use cases of machine learning in the business world, how they fit in the data pyramid, what are the principles of machine learning, and what job roles there are.
Machine learning types. This chapter covers such topics as causal and prediction models, supervised and unsupervised learning, as well as classification and regression (subtypes of supervised learning).
Business requirements and model design. The third chapter is all about business requirements, model training, model performance measurements, and what risks machine learning usage could pose for businesses.
Managing machine learning projects. The final chapter will teach you how to manage machine learning projects, what are the best and worst practices, what to avoid, and what challenges you might face.
The course is taught by Karolis Urbonas, who has plenty of experience when it comes to business and machine learning. After all, he is the head of the machine learning and science team at Amazon Web Services.

If the Machine Learning for Business course has piqued your interest, know that you can access the first chapter for free. Then, if you want to finish the rest of the course, all you need to do is subscribe to the DataCamp Premium plan (for $25/month). Though, with this subscription, you'll get much more than access to the rest of this course - you'll get access to thousands of courses.
Also, don't forget that you can find the best DataCamp offers here.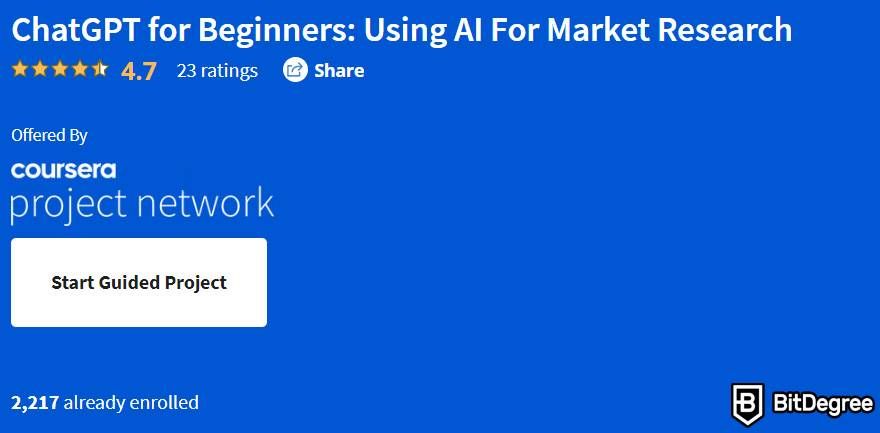 Platform: Coursera
Duration: 1 hour
Price: $9.99
Certificate: No
Level: Beginner
Discount: Available
Where to apply? HERE
Now that we know what artificial intelligence is and how it works, it's time to look at some of the best use cases for ChatGPT. As this tool evolves, its potential seems endless. However, we can already see some trends and applications, and the ChatGPT for Beginners: Using AI For Market Research guided project on Coursera explores one of them.
As you've noticed, this isn't a conventional course like the ones we've already discussed. Guided Projects are a service offered by Coursera that lets you gain hands-on experience with various tech tools. It aims to help young professionals develop new useful skills that are in high demand.
During this guided project, you're going to learn how ChatGPT works and where its limitations lie. Once you've got your account set up, you'll see how the different types of prompts work and start your marketing research project. You'll use the prompts to receive marketing data input. Then, you'll create a final report using your findings – this time, without the use of ChatGPT.

This project, taught by UX designer and creative coach Jan Demiralp, is only going to take an hour, so it's a great way for you to familiarize yourself with how ChatGPT works. You don't need any prior knowledge or experience working with this software either. If you're looking for where to learn ChatGPT in practice, it's a good practical starting point.
The ChatGPT For Beginners: Using AI For Market Research guided project costs $9.99 – and you can find our special codes for Coursera here. Bear in mind that you can only complete it on desktop. However, it doesn't require you any external tools aside from access to ChatGPT.
So, if you're on the lookout for something short and practical, why not get started with this guided project by Coursera? You'll get to expand not just your AI skills, but also your marketing knowledge!

Pros
Easy to use with a learn-by-doing approach
Offers quality content
Gamified in-browser coding experience
Main Features
Free certificates of completion
Focused on data science skills
Flexible learning timetable

Pros
High-quality courses
Nanodegree programs
Student Career services
Main Features
Nanodegree programs
Suitable for enterprises
Paid certificates of completion

Pros
A huge variety of courses
Easy-to-navigate interface
Over 600 free courses
Main Features
A huge variety of courses
30-day refund policy
Free certificates of completion

Platform: Coursera
Duration: 5 weeks
Price: FREE
Certificate: Yes (paid)
Level: Intermediate
Discount: Available
Where to apply? HERE
Another one of the often listed best uses of ChatGPT is as a creativity booster. You might've seen the various videos explaining how the software can create a whole book summary or evaluate the quality of your work compared to other popular publications.
As far as inspiration is concerned, ChatGPT can be really useful, and the Artificial Creativity course on Coursera will help you hone it in.
It's recommended to take this course over five weeks, and the total content duration comes up to around 13 hours. You'll start learning by exploring the idea of machine creativity. You'll discuss the link between arts and technology in both philosophical and technical ways.
The second week's content covers the origins of artificial intelligence and introduces you to concepts like the Turing test. This is where you'll really start working with ChatGPT to conduct design research analysis.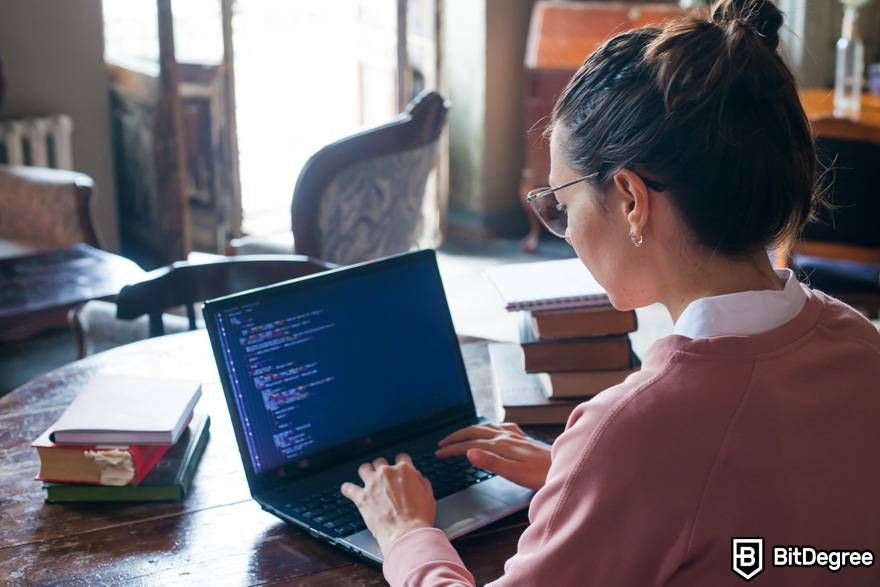 In the following weeks, you'll dive deeper into utilizing AI for your creative projects. You'll also work with AI image generation tools and combine them with your concepts to create completely new works. As you wrap up the course, you'll face some deep questions, like "do machines have imagination" and "can AI create masterpieces like classical painters?"
As you can see, this course is all about how artificial intelligence can be used in design to turn concepts into reality. Essentially, it brings arts and technology together. Keep in mind that this is an intermediate course and some background understanding of AI and design is recommended.
Artificial Creativity is presented by the Parsons School of Design, and the instructor for this course is Jeongki Lim. He's the Assistant Professor of Strategic Design and Management at Parsons and his research focuses on the relationship between design and technology.

You can audit the Artificial Creativity course for free. This allows you to preview all videos and access some of the bonus materials. However, if you want to complete the peer-reviewed tasks and obtain a certificate, you should sign up for the Coursera Plus plan.
The price of Coursera Plus starts at $59.99 a month, and will grant you unlimited access to the entire course catalog on the platform. And even if that price tag seems a bit steep, you can use one of the special discount codes that can be found here.
So, let your creativity flow freely, and let technology inspire you. Enroll in the Artificial Creativity course on Coursera today!
Conclusions
So, by now, you know that finding where to learn ChatGPT doesn't require scouring the furthest corners of the internet. Everything you need is at your disposal – courtesy of some of our favorite online learning service providers, such as DataCamp, Udemy, edX, and Coursera.
There's one thing clear, though – artificial intelligence is on the rise and tools like ChatGPT and Midjourney are here to stay. Some find them spooky, others exciting. One way or another, it's important to know how to use them to our advantage.
Good luck on your way to becoming one of the first to obtain ChatGPT certifications!
Leave your honest feedback
Leave your genuine opinion & help thousands of people to choose the best online learning platform. All feedback, either positive or negative, are accepted as long as they're honest. We do not publish biased feedback or spam. So if you want to share your experience, opinion or give advice - the scene is yours!