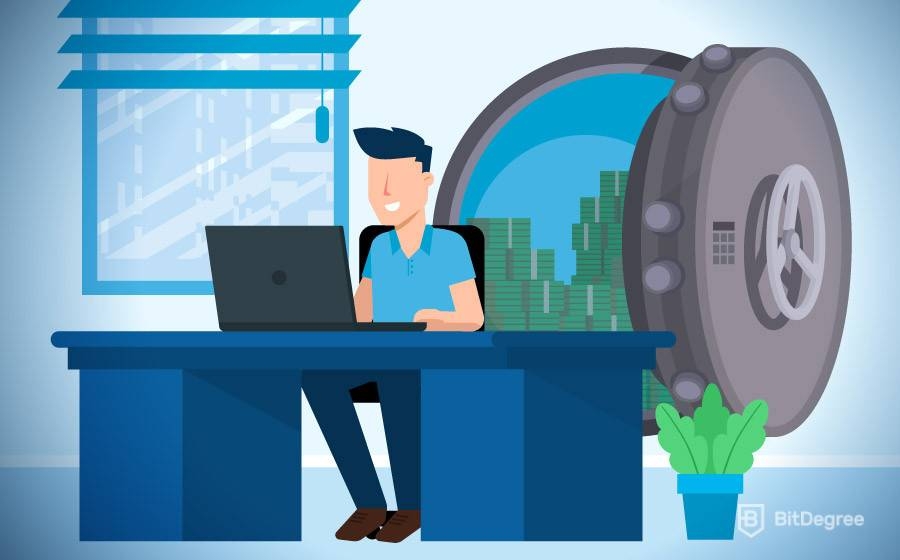 In this day and age, tens (if not hundreds!) of thousands of people either dream to or have already created their websites. This is an essential thing to have whether you're a freelancer, a company owner, an individual blogger or anything in between. However, for your website to be successful, great content isn't enough - your website has to look awesome, too. People who are responsible for the visual side of a website are rumored to make a great living out of their artistic skills and expertise. Whether that's true or not, we'll be able to judge for ourselves - all in this web designer salary article.
At first, I'll tell you what a web designer is and what this person does. We'll also have a brief overview of the different groups of designers out there - all of them make different salaries! After that's done, we'll finally move on to the question at hand - how much do web designers make? Even though one might think that there's a pretty simple answer, it's a tad bit more complicated than that. But let's not get ahead of ourselves and take it from the top.
Understanding Web Design
Let's begin by talking about the web designer profession. Even though it might seem quite self-explanatory, some people still seem to mix things up and not fully understand what exactly do these designers do. Alongside with what they do and their responsibilities, comes a different web designer salary.
Latest DataCamp Coupon Found:
EXCLUSIVE 67% OFF
On DataCamp Subscription
Follow the Datacamp promo code link & get an exclusive 67% OFF Datacamp subscription. Act now while the offer is still available!
Expiration date : 27/03/2023
2,765 People Used
Only 35 Left
Web designers are people responsible for all of the design decisions of a website. When I say all, I mean - all. This isn't limited to the main picture, theme, and border - all of the site-specific banners, buttons, pop-ups - everything goes through the supervision of web designers.
If you want to view it very simply, these people are responsible for everything that you see when you enter a website. This is a huge deal - first impressions can be deciding factors whether or not a person is going to stay on the site, or leave ASAP. With this point of view, you could say that web designers are like soldiers that lead the charge - their work is the first noticeable thing. Naturally, this yields a huge responsibility which influences web designer salary.
Whenever a web designer's job is discussed among various circles of people, the "website designer salary" topic always pops up at one point or another. It is generally seen and accepted that web designers to make a great living and awesome career. However, more often than not, people fail to mention that there are a lot of different types and groups of web designers. For the sake of saving time and being as objective as possible, let's take a look at the main three.
The Different Types of Web Designers
As stated above, there are three main types of web designers - entry-level, junior and senior ones. This classification is considered to be the standard for most popular jobs these days, especially if they're IT-related. Let's take a closer look at each of the three groups.
Entry-Level Web Designers
The entry-level web designer title is somewhat self-explanatory. Most of the people that fall into this category are second or third-year university students that have recently started looking for ways of how they could apply their acquired skills for the jobs, therefore their web designer salary is not generous. And practice is a really important term here - rarely is the topic of a web design salary discussed when it comes to this group of people. Instead, more often than not, companies choose to take in these wannabe-designers for practice (whether it be to earn some university credits or some other reason). Some of these practices are paid, others - not.
Entry-level web designer earnings tend to be low not only because of their lack of skill. It is generally seen that these designers are still not sure whether or not this career path suits them. A huge amount of the students that enter university to learn web design never actually use these skills later on in life. This is the case with a lot of professions, especially those who require a lot of work and dedication to truly master.
Whether the entry-level web designer salary is sufficient or not, we're going to talk about that later on in the article. Now, let's take a look at the next group of designers - junior ones.
Junior Web Designers
A junior web designer is a person that people most often refer to when they say "web designers" or when they talk about how much do web designers make. Statistically, it is also the biggest group of the three - this is also noticeable in other, similar professions.
Junior web designers are people who have just finished their university degree (or a course, a program, etc.) and already have some sort of experience in the field. These designers are usually already certain that a web design salary will suit them - in other words, they have decided that this is the career path that they want to follow.
The reason why the "junior" group of web designers is as broad as it is is that it takes a comparatively short time for entry-level web designers to become junior ones, but it can take decades for a junior designer to advance to the next level. This is also why it's difficult to talk about junior web designer salary objectively - it varies quite a lot.
With that said, let's move on to the final group in this list - senior web designers.
Senior Web Designers
Senior web designers are at the top of the food chain. They are season-hardened veterans that have seen everything, both hot and cold.
Senior web designers tend to be employees that have stayed in the same company for a very long time. This isn't necessarily a prerequisite, but that's most often the case. These people are often assigned with the most important tasks - whether it be designing a designated landing page, creating an astonishing banner, or anything else. Furthermore, senior web designers are often responsible for the training and preparation of their junior and entry-level colleagues. Needless to say, these people have a lot of responsibilities in the company.
When it comes to the senior web designer salary, it represents the amount and quality of work that they do. Many people see the numbers and are shocked, but there's something that you should keep in mind - senior designers have dedicated their lives to the craft, and are usually constantly working on perfecting their skills even further.
Now that we've covered all of the main groups of designers, we can finally move towards talking about how much do web designers make.
Web Designer Wage
To start, let's go back to the very beginning and talk about how much do entry-level web designers make.
Entry-Level Salary
Needless to say, the entry-level web designer salary will be the smallest amount of money out of all of the three groups. However, people still say that an entry web design salary is something to strive for. Let's check if that is true or not.
By the way, as a reference point for the comparisons, I'll be using the average US salary. As of writing this article, it's around $3700.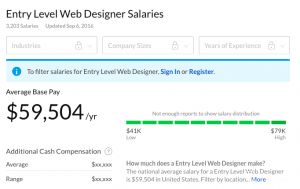 According to Glassdoor.com, the average yearly entry-level website designer salary is around $59,500. This equates to almost $4960 per month. As you can probably tell for yourself, it's quite a bit more than the average US salary! Keep in mind, we're talking about entry-level employees here - people who don't have any prior experience in the field, and can only perform simple tasks. What does this tell us? I'd say, it's a very clear indication that becoming a web designer isn't an easy feat, and that there is a constant shortage of professionals of this craft in the job market.
Junior Salary
Now we're going to move towards the big group and try to see what web designer salary junior employees can expect to earn.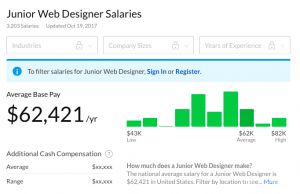 Glassdoor estimates that the average salary of a junior web designer should hit the ballpark of around $62,500 per year or $5210 per month.
Even though the junior web designer wage isn't bad by any stretch of the imagination, its correlation with the entry-level salary is still quite peculiar. However, there is one explanation that could make sense of this situation.
As I've mentioned earlier, the junior web designer group is very broad and, well… Big. Whether you're an almost-junior-but-still-entry-level designer or an already hardened veteran that has almost reached the title of a senior designer - both of these people fall in the same "junior" group. And, if there are many more people who belong to the earlier definition instead of the latter one, it reflects on their web designer salary. With that logic, however, we could say that there's a huge lack of senior web designers out there, which would make the senior web designer payroll something to dream for, right? Well, let's check to see if that's the case.

Pros
Easy to use with a learn-by-doing approach
Offers quality content
Gamified in-browser coding experience
Main Features
Free certificates of completion
Focused on data science skills
Flexible learning timetable

Pros
Simplistic design (no unnecessary information)
High-quality courses (even the free ones)
Variety of features
Main Features
Nanodegree programs
Suitable for enterprises
Paid certificates of completion

Pros
Huge variety of courses
Easy to navigate
No technical issues
Main Features
Huge variety of courses
30-day refund policy
Free certificates of completion
Senior Salary
A senior web designer makes around $81,500 per year (almost $6800 per month), according to Glassdoor. This is a much bigger jump compared to the junior and entry-level web designer payroll.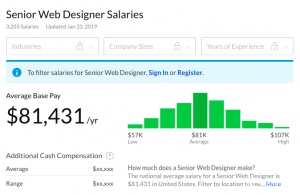 The senior web designer wage makes sense not only because of the need for such designers. Sure, their experience plays a big part in the equation, but one should also remember the fact that these web designers have more than one task at hand. Whether it be new member training or some huge project - everything adds up in the end.
And if I'm Not From the US..?
At this point, we've already looked over the salaries of the main groups of designers in the US. But what about the rest of the world?
Web designer salary is something that would surely be difficult to discuss in each country in the world (quite frankly, that would be impossible, not to mention the size of the text that this process would produce). However, I have found a good point of reference - let's take a look at how much do web designers make in the UK.


Totaljobs.com claims that the average salary of web designers in the UK should amount to around £37,500 GBP (or $48,850) per year. This turns out to be somewhere in the range of $4080 per month. This seems like a really small number when we compare it to the average (junior) salary in the US, but you have to keep one thing in mind - the average salary in the UK is almost half of that! This just goes to further show and prove the point that web designer salary is pretty good and they are needed all over the world.
Conclusions
As you've probably noticed, web designers don't get paid big amounts of money for nothing. Website design is a difficult and challenging field - you'll need many years of intense practice and a pretty good idea about marketing to become a successful website designer. It's not enough to be great at putting beautiful designs together - you have to follow the market trends, constantly be up-to-date with what's happening in the world (what people like and what they dislike), and so on.
A big portion of people that start studying web design don't even finish their studies or, if they do, never touch design programs again. A successful web designer has to work every single day to perfect his or her craft to the maximum. This doesn't only require a lot of discipline, but also a big passion. However, the numbers speak for themselves - a web designer salary is a great reward for their hard work.
I hope that you found what you were looking for and that the information provided within will be useful to you. If you're thinking about becoming a web designer yourself - great! Professionals in this field are always needed - you might be just starting your path towards becoming a senior web designer! Best of luck!
Leave your honest feedback
Leave your genuine opinion & help thousands of people to choose the best online learning platform. All feedback, either positive or negative, are accepted as long as they're honest. We do not publish biased feedback or spam. So if you want to share your experience, opinion or give advice - the scene is yours!