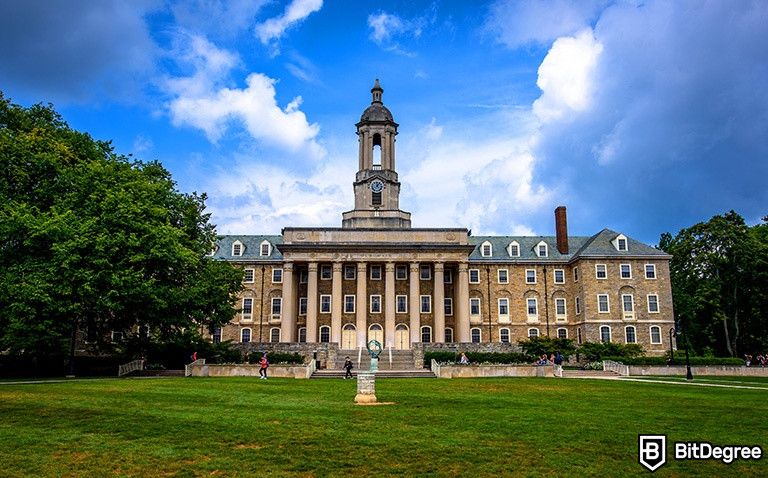 The University of Pennsylvania is an Ivy League university that is known for the quality of its courses and specializations. That said, you do not need to move to Pennsylvania and apply to the university in order to study those courses - this is where UPENN online courses come in to provide you with an alternative.
There are many different University if Pennsylvania online courses for you to access, though - in this article, we'll talk about 7 great options that you can encounter on edX and Coursera, and that are definitely worth paying attention to.
The courses mentioned below are quite varied in the subjects that they cover, so everyone should be able to find something that would suit their wants, needs, and expectations.
Before we get into the UPENN online courses themselves, however, let's quickly discuss the reasons for why you'd want to choose to learn online, in general.
UPENN Online Courses: Why Learn Online?
So, then - why should you choose the University of Pennsylvania free online courses (or paid ones), instead of going to the actual university and studying the topics "the old-fashioned way"?
Latest DataCamp Coupon Found:
CLAIM 50% OFF
DataCamp Cyber Monday Deal
DataCamp Cyber Monday special is here! Enjoy a massive 50% off on DataCamp plans. Subscribe now and redefine your data and Al skill set for the better!
Expiration date : 08/12/2023
5,324 People Used
Only 36 Left
Well, multiple reasons. For starters, the currently-obvious one - COVID-19.
As waves of the COVID-19 pandemic keep on surging throughout the world, the US is no different! Universities all around the country are reacting to this pandemic in multiple different ways - one of these ways, however, is transferring the courses to an online learning format.
Now, think about it - would you rather pay huge tuition and learn the things that you want from the university itself, or pay significantly less (sometimes - nothing at all), and still study the same subjects? The answer seems obvious, does it not? While the latter option does not provide you with a diploma, you will still be able to receive a certificate upon completing a course.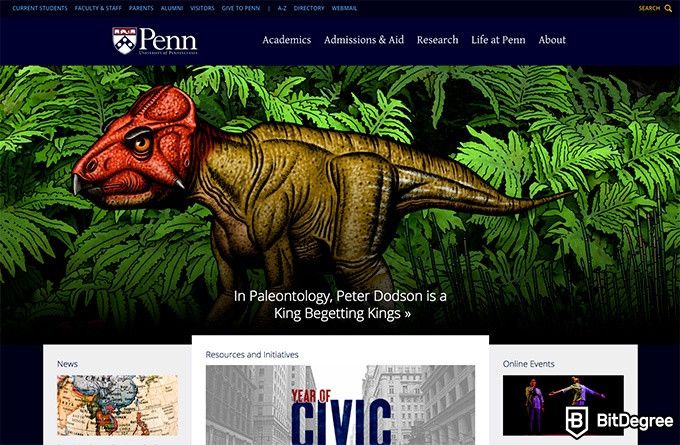 Pricing is surely a big factor, too. Studying at an Ivy League university can be very expensive! While you might miss out on some of the more general courses, you can receive a similar education by choosing to learn UPENN online courses!
Naturally, there's also the factor of convenience, too. If you choose the University of Pennsylvania online courses, you'll be able to study the subjects at your own pace, whenever you'd like to. This does not apply to everything (some courses or specializations might still have set dates for assignments and exams), but the general idea still stands!
Finally, it's worth acknowledging that not everyone is going to have the chance to study in the US, for geographical reasons. If you absolutely love everything about the UPENN, but reside on the other side of the world with no possibility of moving, the UPENN online courses could be a great alternative.
With all of that being said, let's move on to the actual courses themselves, shall we?
While the name this course might be a mouthful, I assure you - it's not as complex as it sounds.
The Changing Minds: Geographic Discoveries and New Worlds through the Eyes of a Renaissance Jewish Scholar course will allow you to discover Abraham Farissol - a Jewish Renaissance scholar - and his works. You'll be able to see how the scholar viewed the Renaissance, and what were the social, political, and intellectual environments during the time.
The course belongs to the "History" category, so it should interest anyone who's into the subject, particularly the period of Renaissance. If you commit 1-2 hours per week, you'll be able to finish the course in around 5 weeks or so.
Note, however, that this is considered to be an advanced-level course. This basically means that you should already be knowledgeable when it comes to the topics of Renaissance, and history, in general.
While it is one of the University of Pennsylvania free online courses, you will have to pay if you want to receive a certificate afterwards. It will cost you €25.
Business analytics is going to be useful no matter what sort of a career path it is that you choose. This is true for both employees and employers, alike - everyone will surely benefit from being able to analyze the business intricacies at their workplace!
With the Business Analytics Specialization, you will be able to, quote-unquote, "make data-driven business decisions". That is surely one of the most important things for any business that works with a product, whether it be a physical, or digital one!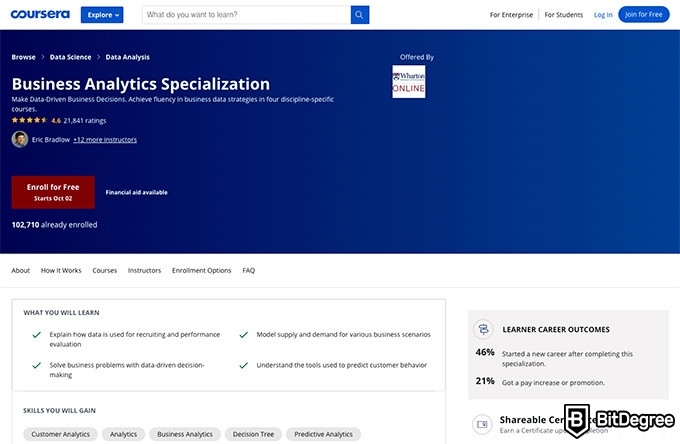 While studying the specialization, you will be able to learn and understand how data is used in the recruiting and performance evaluation processes, study the tools that are used for prediction on how customers will act, and - most importantly - figure out how to solve business problems in a data-driven manner.
Since it's a specialization, you can expect this to be one of the longer UPENN online courses - namely, if you put in 3 hours per week, the course should take you around 6 months to complete. That said, it's perfectly suitable for beginners, so you can jump straight on in, without having any prior knowledge in the field of business analytics!
Software development is often seen as one of the "safest" career path choices out there. That's simply because there will always be a need for good, reliable, and talented software developers - the demand for such specialists only increases with time!
There are actually quite a few UPENN online courses that have to do with software development, too. One of the better options for beginners, though, is the Software Development Fundamentals course.
The course is seen to be of a somewhat of intermediate difficulty. This means that you should already be familiar with the concept of software development, and also have some know-how when it comes to the tools that are usually used for the job (programming languages).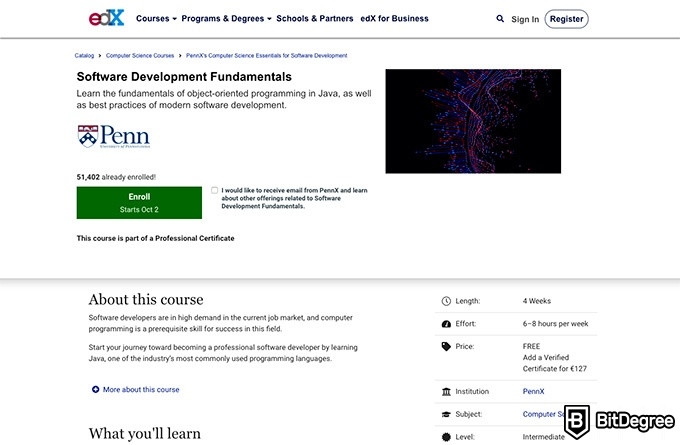 That said, with 6-8 hours per week, the course will only take you around a month to complete. During this time, you will learn Java basics, object-oriented design processes, testing and debugging, and what are polymorphisms.
While it is one of the University of Pennsylvania free online courses, the course certificate is actually pretty costly - it will cost you €127.
Do you want to be successful? That's a silly question - of course you do! Everyone does! That said, do you know HOW to achieve success? Are you good at goal setting, do you have all of the necessary personal development skills?
If you could do with some "brushing up" with any of those things, or would like to learn more about the process of achieving success, the Achieving Personal and Professional Success Specialization might be just what you need!
The specialization in question is based on the Wharton success model - it's modeled around the four Wharton courses on personal development, goal setting, and success achievement.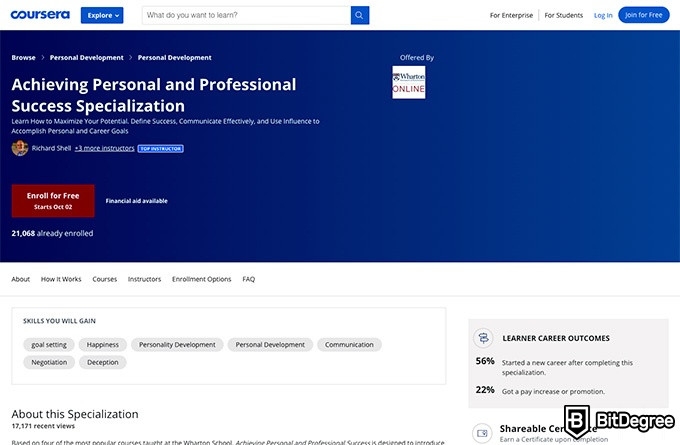 As you study the course material, you will also learn what roles deception and communication play in the grand scheme of things, and how developing your personality can aid you in reaching towards your own, personal goals, whatever they might be.
The course comes with a shareable certificate, and takes around 4 months to complete (assuming that you study around 2 hours per week). Surely one of the more interesting UPENN online courses!
The Programming for the Web with JavaScript course is considered by many to be one of the better courses on JavaScript, and how you can use the programming language in your web development ventures.
While the course is of an intermediate level, and you should have some knowledge in the field of web development, you'll start the course by learning complete web programming basics. You'll learn how to use JavaScript to create dynamic web pages, and also build scalable web apps, too!
That's the great thing about this course, too - you'll have the chance to start from the very basics, and work your way up from there! While it's a good idea to take the time and study some additional information regarding the topic, this particular course should definitely suit your wants and needs, too!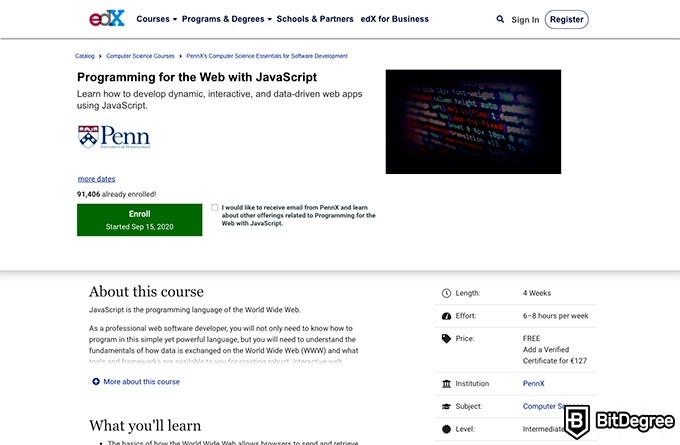 The course should take you around a month to complete, if you spend 6-8 hours per week studying the material. While that is, admittedly, a significant amount of time, programming is a pretty tricky topic!
So, if you're interested - don't miss out on the opportunity to learn one of the better UPENN online courses!
If you're into the field of psychology, then the Foundations of Positive Psychology Specialization might be one that catches your interest.
The whole specialization is centered around the idea of positive thinking, and how it can influence everything from goal setting, all the way to planning and communicating with other people.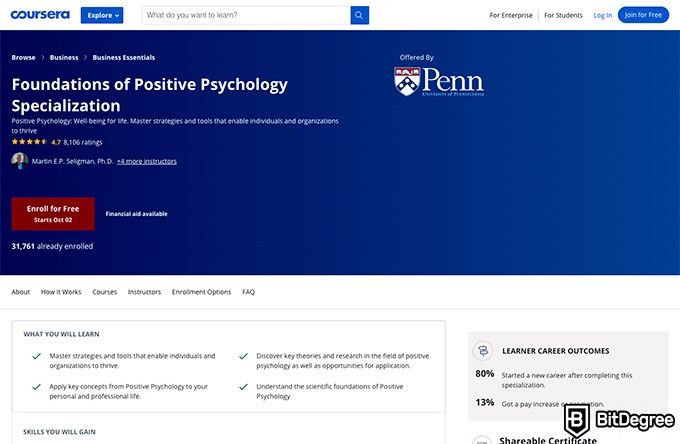 The course is somewhat similar to the earlier-discussed Achieving Personal and Professional Success Specialization, but does also tackle some different topics, too. It is actually advised that you take the time and study both courses (even simultaneously), especially if you're serious about positive psychology and self-improvement.
The course takes around 5 months to complete, if you learn for 4 hours per day. One of the more unique and interesting UPENN online courses!

Pros
Easy to use with a learn-by-doing approach
Offers quality content
Gamified in-browser coding experience
Main Features
Free certificates of completion
Focused on data science skills
Flexible learning timetable

Pros
High-quality courses
Nanodegree programs
Student Career services
Main Features
Nanodegree programs
Suitable for enterprises
Paid certificates of completion

Pros
A huge variety of courses
Easy-to-navigate interface
Over 600 free courses
Main Features
A huge variety of courses
30-day refund policy
Free certificates of completion
Now, the title should frankly tell you all you need to know about this particular course in question.
Working with big data, you'll be able to determine a lot of important information, and then use it to make and enforce even more important decisions. In order to do so, however, you first need to learn how to work with big data, in the first place.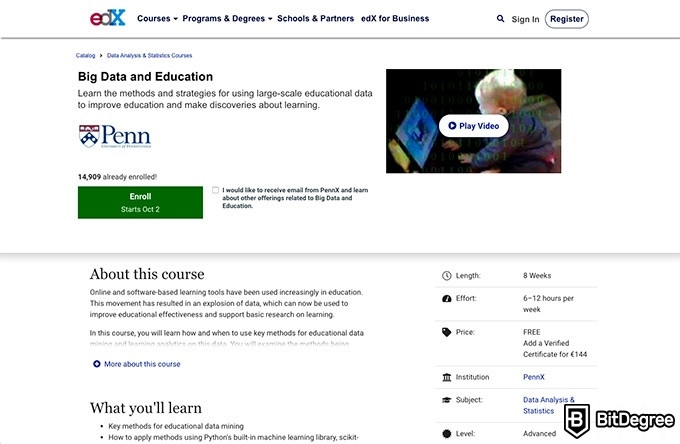 While there aren't all that many University of Pennsylvania online courses that would teach you something like this, the Big Data and Education course is one of the few. It lasts for about 8 weeks (assuming that you learn around 8 hours per week), and will teach you data analysis and statistical techniques.
The course is, in fact, free to learn, but the certificate will cost you €144 - a pretty hefty price tag! That said, it is an advanced-level course, so you should expect some high-tier information from it, too.
Pricing
The last thing that we should mention in this article is the pricing model that you're going to encounter with the UPENN online courses, no matter where it is that you choose to study them.
As you've probably already noticed, there are many of the free UPENN online courses out there. With most of these, you are going to need to pay a designated fee in order to receive a certificate of completion.
There are also paid courses, too - most of them are going to require a subscription payment each month. That said, the prices for these courses are going to depend on many different variables.
It's worth noting, however, that the prices are surely going to be much lower than those that you'd pay when applying to the actual university!
Conclusions
Those are some of the most popular UPENN online courses!
If any one of these courses piqued your interest, make sure to check it out - it might be the push that you need in order to jumpstart your new career path!
If, however, neither of the courses mentioned on this list seemed interesting to you, worry not - there are many more University of Pennsylvania online courses out there! Make sure to check out Coursera or edX if you want to learn more!
All of that being said, I hope that this article helped you find the best UPENN online courses for yourself. Thanks for reading, and best of luck with your future education! Until next time!
Leave your honest feedback
Leave your genuine opinion & help thousands of people to choose the best online learning platform. All feedback, either positive or negative, are accepted as long as they're honest. We do not publish biased feedback or spam. So if you want to share your experience, opinion or give advice - the scene is yours!