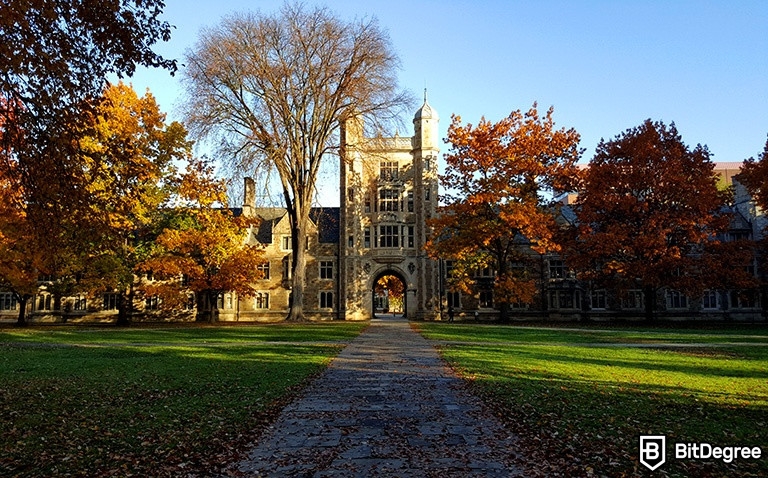 Online courses are currently becoming more and more popular by the day. Whether you're already a student in a university and just want to brush up some extra-curriculum, or you've decided to study online, altogether, such courses can be exceptionally beneficial. In this particular article, we'll take a look at some of the most popular University of Michigan online courses.
Some of the U of M online courses are going to be available for you to study on some specific online learning platforms - in other words, MOOC providers and hosts. The two platforms that are going to be important in today's list are edX and Coursera - the leaders in providing high-end online education.
While we'll be discussing 7 of the more-popular University of Michigan online courses, do note that there are actually plenty more options to pick from - all that you need to do is visit either edX or Coursera, and navigate to the pages that interest you the most.
University of Michigan Online Courses: Why Learn Online?
One of the most common questions that people have in regards to University of Michigan online courses is this - why should you learn these courses online, through some third-party course provider, instead of attending the actual university and doing it "the proper way"?
Latest DataCamp Coupon Found:
EXCLUSIVE 25% OFF
On DataCamp Subscriptions
Follow the Datacamp promo code link & get an exclusive 25% OFF Datacamp subscriptions. Act now while the offer is still available!
Expiration date : 12/06/2023
2,765 People Used
Only 35 Left
There are a few answers to this question, but let's address the most important one first - basically because it's not actually "the proper way" at all.
You see, if you want to attend a university to study a specific course or a subject (in a broader sense), you'll probably have to go through some seriously difficult hoops, not to mention pay a huge tuition fee. Frankly, you won't study only the things that you want - there will be many additional subjects, too.
None of those issues apply when talking about UMICH online courses, though.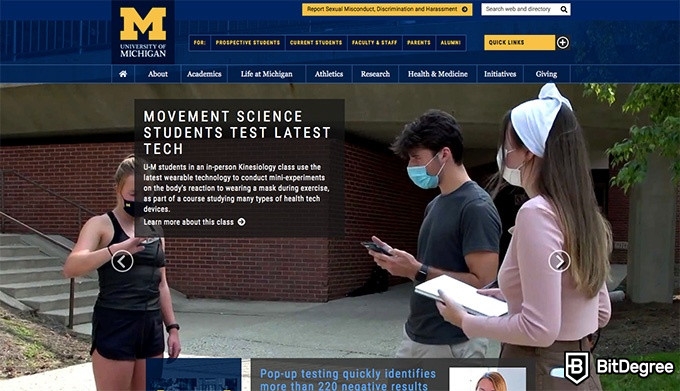 With the University of Michigan online courses available on edX and Coursera, you won't only save a huge amount of money (many of the courses are free, with only the certificate costing some money), but will also be able to learn exactly what you want, whenever you want.
You'll also be able to do so from the comfort of your home, too! While you can expect deadlines and assignment submission requests, you can also be sure that they are going to be very flexible, and easily adjustable.
If you're looking to start a new career, or simply get into the job market "the right way" and as soon as humanly possible, the University of Michigan free online courses (and paid ones) could be an amazing option for your education!
That said, let us check out some of the best U of M online courses, so that you could decide for yourself.

Did you know?
As you may notice, this particular course on anatomy has the term "specialization" in the title. That's frankly the case with all of the University of Michigan online courses on this list, at least those that are available on Coursera.
A specialization, as the name might imply, is a long and thorough collection of lessons and classes on a particular subject. In the case of this Anatomy Specialization, it aims to introduce you to the "foundations of the human anatomy".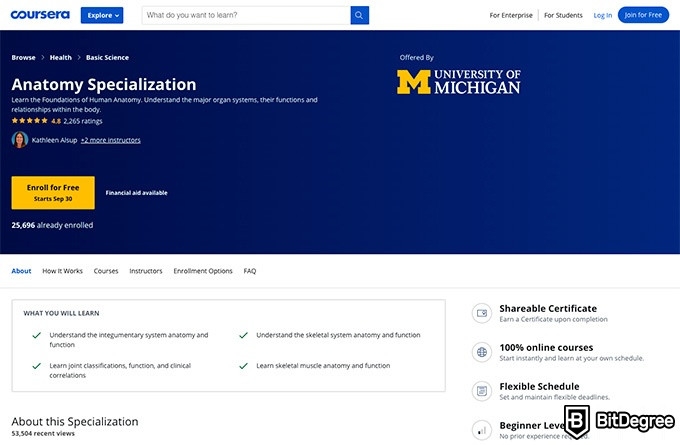 The course should take you around 5 months to complete. During this time, you will learn the fundamentals of human anatomy. Well, namely, the major organs - how they work, why they work the way that they do, how they relate to each other within the body, and so on.
You will also be able to learn about muscles, joints, the human skeleton, and so on. Since it's a beginner level course, no prior knowledge in the field of human anatomy is required, although it will surely help if you are, in fact, familiar with the topic.
Definitely one of the more interesting University of Michigan online courses, especially if it's a field that interests you personally!
If you finish the above-mentioned Anatomy Specialization, like the way that the course was taught, and would like to further your knowledge in the field even more, you can then pick the Anatomy: Cardiovascular, Urinary, and Respiratory Systems course.
It's one of the University of Michigan online courses, so you should expect a similar methodology going in. The course itself focuses on some specific parts of the human body, namely - the cardiovascular, urinary, and respiratory systems.
The length of the course is 4 weeks, with the assumption that you'll spare around 2-3 hours per week for your studies. The course is completely self-paced, though, so you can surely finish it much faster than that.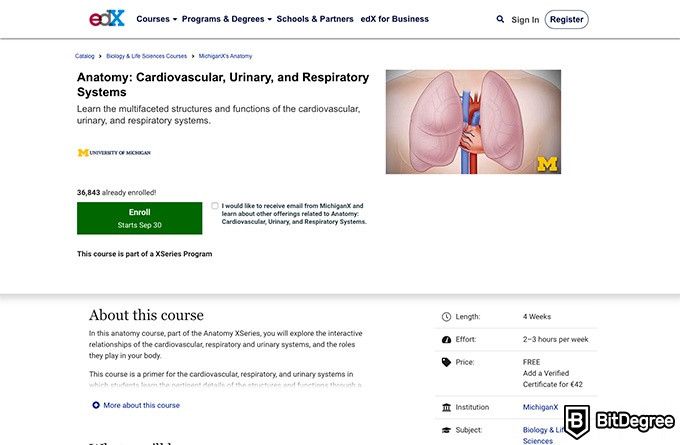 There is also a certificate available for you to acquire once you do finish the course, but it will cost you €42 (around $49). While that is not a particularly high price, it's not mandatory, either. That said, if you want to attach the certificate to your CV, or showcase it in some other way, you will have to purchase it beforehand.
All in all, for anyone interested in the field of anatomy, it's surely one of the better UMICH online courses, especially if you combine it with the Anatomy Specialization!
If you're into finance, you'll be glad to know that there are actually some high-end University of Michigan online courses that have to do with this topic. At the forefront of these courses, you're likely to find the Foundational Finance for Strategic Decision Making Specialization.
This course in particular is going to be useful for people who are planning to dedicate their lives (or have already dedicated them) to the field of finance. While it is a beginner-level course, the instructor does recommend that you'd have some prior experience with numbers and financial intricacies, in general.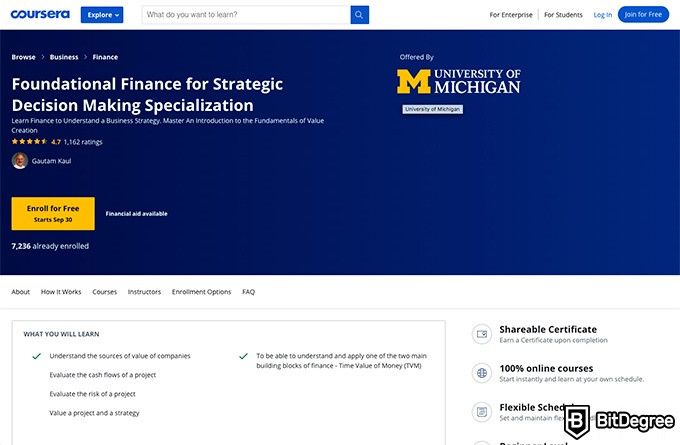 Taking the course, you'll have the opportunity to learn how to make the right financial decisions and evaluate their effectiveness, how to understand and use the financial jargon in a proper manner, what is Time Value of Money, and so on.
If you see yourself in the financial market, then this is one of those U of M online courses that are surely worth checking out! Also, enrollment into the course is free, as of writing this article.
As the title of this course implies, Programming for Everybody (Getting Started with Python) is aimed to teach anyone and everyone the fundamentals of programming with Python.
This is actually one of the University of Michigan online courses that are based on a specific book of the same name - Programming for Everybody. The course in question covers the first five chapters of the book, so it should serve as a real, high-quality introduction to programming.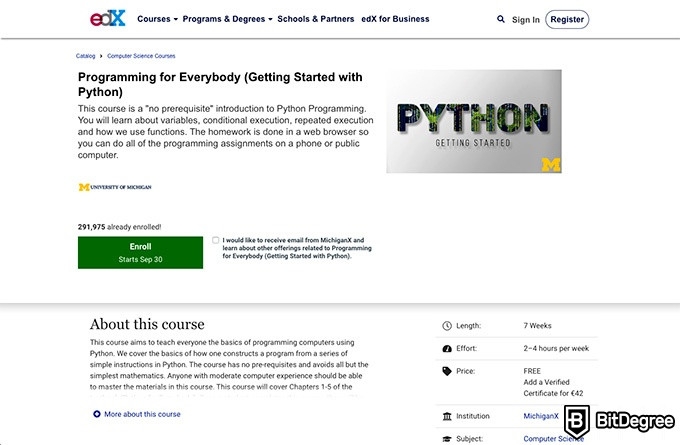 Being a "no prerequisites" type of a course, it frankly means that you literally do not need to have absolutely no prior knowledge when it comes to programming with Python, or even programming, in general. The "About" section of the course states that, if you know some basic maths and how to use a computer, you should be set.
With 2-4 hours per week, the course takes 7 weeks to complete. Same as many other UMICH online courses, you'll be able to then purchase a certificate for €42. So, if you're into computer science, and would like to start your coding journey on the right foot, make sure to check out the course in question!
During a meeting with a high-ranking company official one time, I was told that "a good writer is harder to find than a good programmer". What this should tell you is that, while the job market often appears to revolve around tech-related positions, if you're passionate about writing, in general, you shouldn't face any issues finding a job.
To help you do that, though, you're going to need a high-end course, or better yet - a specialization. That's exactly what you'll find on Coursera - the Good with Words: Writing and Editing Specialization should be the perfect choice!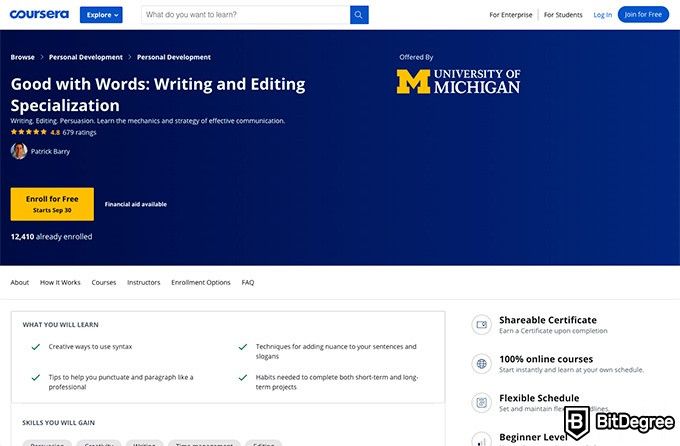 The course lasts for around 4 months (given that you spare around 4 hours per week). In addition to actual writing and editing techniques, you will be able to learn some efficient persuasion through text tactics, learn how to manage time effectively, and how to boost creativity when it's most needed.
With no prior experience in the field needed, this is going to be the perfect course for anyone who's passionate about expressing themselves through writing, and who wants to apply their passion to the job market. Surely one of the more unique U of M online courses on Coursera!
Do you want to make a change? I mean, REALLY make a change, or at least influence positive changes in your community?
If so, one way that you could go about doing so is via appropriate storytelling. The Storytelling for Social Change course can help you get on track.
This is a very unique course, since it's aimed at people who like to write, and also want their writing to influence opinions on social issues (whatever these issues might be).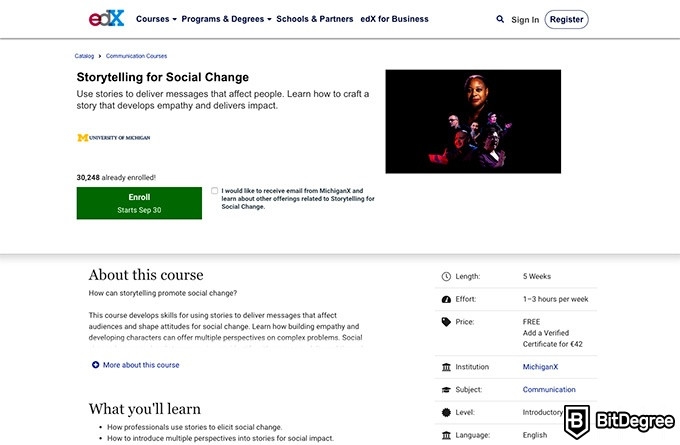 Whether you're a non-profit worker, a social activist, a public speaker, or simply a writer enthusiast, you will surely be able to benefit from this particular course. It's completely beginner-friendly, which means that you do not have to be an experienced writer (or even a storyteller) to start learning.
It's also a completely self-paced course. What this means is that you will be able to study and learn the subjects at your own pace, without being forced to submit assignments at some specific deadlines.
It's also one of the University of Michigan free online courses, which means that you will only need to purchase a certificate, if you so wish to. It would cost you €42.

Pros
Easy to use with a learn-by-doing approach
Offers quality content
Gamified in-browser coding experience
Main Features
Free certificates of completion
Focused on data science skills
Flexible learning timetable

Pros
Simplistic design (no unnecessary information)
High-quality courses (even the free ones)
Variety of features
Main Features
Nanodegree programs
Suitable for enterprises
Paid certificates of completion

Pros
Huge variety of courses
Easy to navigate
No technical issues
Main Features
Huge variety of courses
30-day refund policy
Free certificates of completion
Good teamwork is crucial in any and all types of companies - that's something that probably does not need to be said. However, on top of that, any successful company requires a good team leader to, well… Lead the way to success!
The Leading People and Teams Specialization was created with the intention of helping you do just that - become a superb leader for your own team of people.
Being a specialization, you can expect the course to touch on many different points that make up good leadership. Motivation, onboarding, vision alignment, goals and rewards, communication - all of these and many more things will be covered throughout the runtime of the course!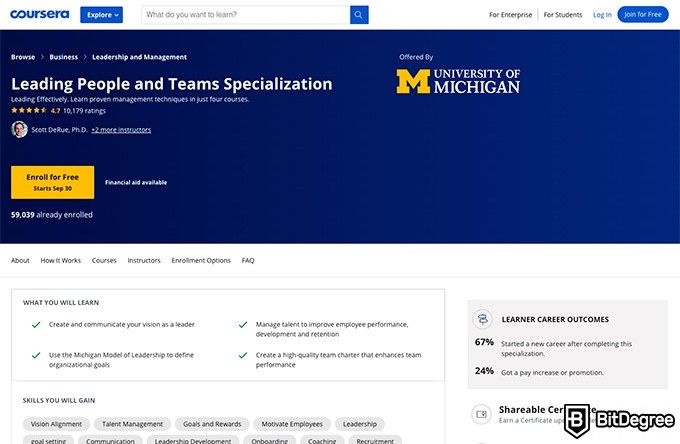 The course takes around 5 months to complete, if you follow the suggested 2-hours-per-week route. You will be able to earn a certificate upon completing the course, although it might cost you some money.
One of the most important University of Michigan online courses for all of the future leaders out there, for sure!
Pricing
The last thing that needs to be discussed in this article is the pricing model that you can expect while browsing through the University of Michigan online courses.
As you've probably noticed by now, there are some University of Michigan free online courses available on both Coursera and edX. While these courses are free to enroll in, they might require you to purchase a certificate of completion, if you so want to.
Other courses might, in fact, be free to enroll in, but could require you to pay a monthly fee for as long as you study the course. The prices in such situations are going to depend on the courses themselves.
Conclusions
That concludes our list of some of the best University of Michigan online courses. No matter which course it is that you pick out of the list, you can be sure that all of them are going to be top-tier, quality-wise.
Both Coursera and edX are amazing online learning platforms that house a wide variety of curses, though - even if you find that the University of Michigan free online courses mentioned above don't really suit your wants and needs, you should surely be able to find a great course for yourself on one of these platforms, nonetheless.
Leave your honest feedback
Leave your genuine opinion & help thousands of people to choose the best online learning platform. All feedback, either positive or negative, are accepted as long as they're honest. We do not publish biased feedback or spam. So if you want to share your experience, opinion or give advice - the scene is yours!