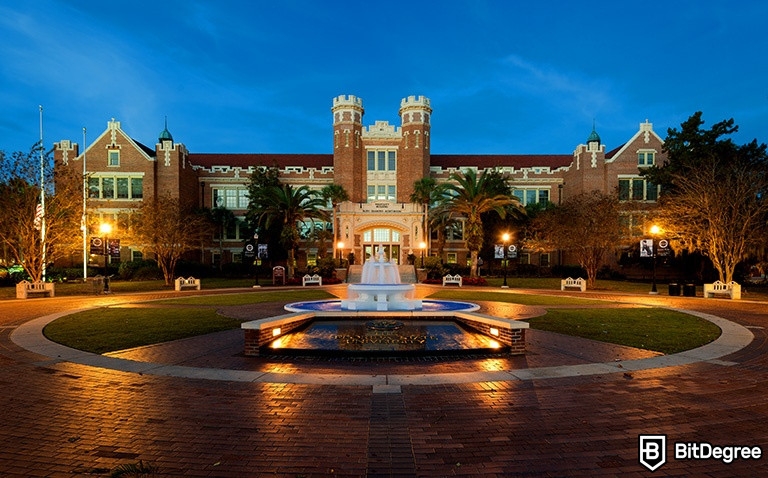 University-level online courses have been becoming increasingly more popular over the recent years. Due to factors such as COVID-19, their popularity has increased even more dramatically as of late. UF online courses are no different in this regard.
If you're interested in studying some of the University of Florida online courses, you've come to the right place - well, at least in a way. In this article, I'll tell you about 7 of the more popular UF online courses that are available on Coursera.
Coursera is a very well-known e-learning platform, and the University of Florida is a reputable higher education institution. Combine these two things together, and you have yourself a pretty solid deal on your hands!
First things first, however - let's take a look at some of the most common reasons why people choose to browse through the UF online course catalog, and study online, in general.
UF Online Courses: The Benefits of Learning Online
So, then - what's so special about the UF online courses?
Latest DataCamp Coupon Found:
GET 50% OFF
On Datacamp Plans
Use this Datacamp coupon to access a limited-time discount - get 50% OFF DataCamp plans. Don't miss this Datacamp deal!
Expiration date : 24/09/2023
3,928 People Used
Only 17 Left
Well - where to begin!
For starters, the factor that I mentioned at the beginning of the article has a lot to do with it. COVID-19 has isolated many of us in self-quarantine - people don't leave their homes to even go grocery shopping, not to mention going to and attending in-person lectures!
There are other reasons why you should choose UF online courses, though - COVID-19 is just the most prominent one. For example, some students choose to study online simply because it might be almost impossible for them to reach Florida, geography-wise. This is especially true with foreigners!
Also, pricing. College and university tuition isn't cheap - far from it! More and more wannabe-students every year refuse to take out student loans, especially when they see how much their peers struggle with them. Instead, UF online courses could be a very decent alternative.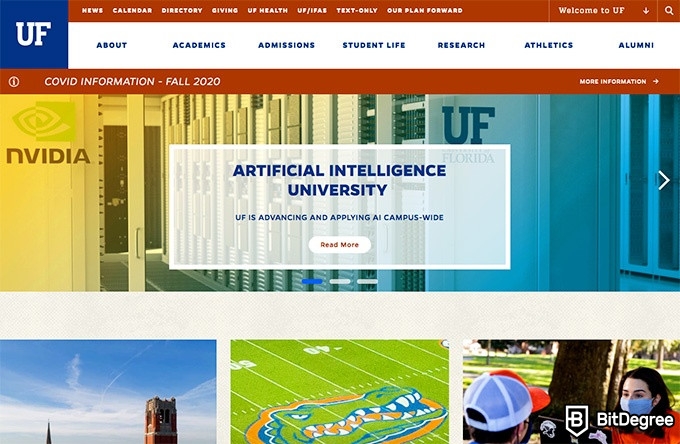 Now, sure - you won't really get the "full university experience" whilst studying online. That said, due to the current global situations, that experience would likely be quite stale, either way.
The other thing that might "lack" when studying UF online courses is the fact that you won't really get the chance to learn all of the more general subjects that are available during your studies in a university. Naturally, you could pick and choose some other courses to complement your main ones, but that's up to you.
Either way, it's evident that, as time goes on, the UF online course catalog is becoming broader, and attracting more and more students. If you're interested in checking out and perhaps studying some of the UF online courses, do keep the below-mentioned list in mind!
Throughout life, you are likely to encounter many different ways of dealing with the hardships that fall upon your shoulders. If those hardships are of the physical kind, you might visit a doctor or a physician - if they're not really tangible, you could work them out in some other ways.
Well, no matter what the case might be, one of the more-popular UF online courses that are available on Coursera - Healing with the Arts - can help you find another alternative to the term "healing".
As the course title might imply, you will learn how art of all kinds can help you deal with some issues that you might be struggling with. Whether those issues are spiritual or emotional, the course should help you understand mindfulness, meditation, and visual arts.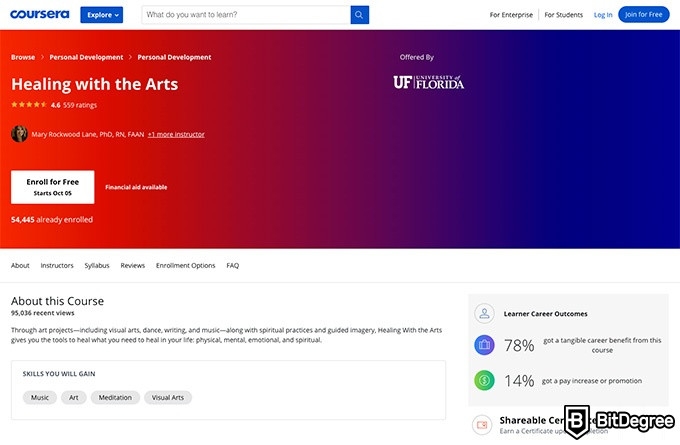 One of the most interesting facts about this particular course is that an incredible 78% of the students that have finished it state that the class did provide some tangible career benefits in their lives. That's more than 3 out of 4 people who've taken the course!
Whatever the case might be, if you're interested in this type of UF online courses, make sure to check it out! With around 12 hours of runtime, you should be able to finish it and learn something new very quickly!
Have you ever wondered about your specific personality type?
Most of us have.
That said, though, have you ever thought about it in a professional, career-oriented context?
If not, don't worry - this is where one of the more-popular UF online courses - Personality Types at Work - comes in to help you out.
The course will take you around 21 hours to complete. After you are done, you'll be able to figure out personality type intricacies in a much easier manner - both when it comes to you yourself, and in regards to others, too.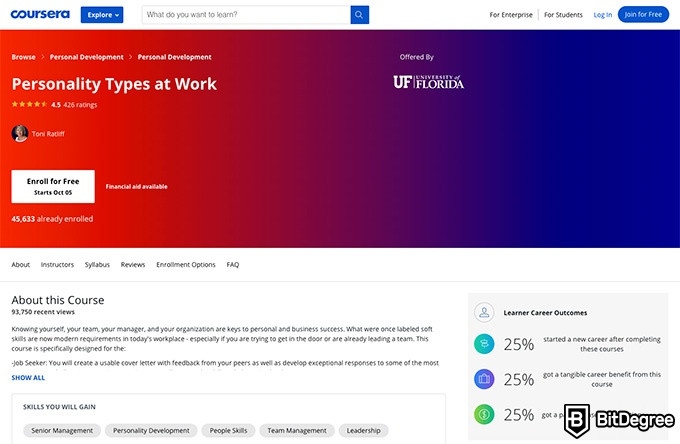 You will learn about team management and how to work with a team effectively, in general; what are people skills and how you can use them for the advantages of the company or the project, some proper leadership rules of thumb, personality development, and so on.
The course will be exceptionally useful for those who are planning to become (or already are) managers of a team, or who are seeking a specific job position, in general. Surely one of the more interesting UF online courses!
Yes, you've read that right - the Horse Course.
I mean, you got to give it to the instructor - that's a pretty clever wordplay.
Jokes aside, this is the course that will be perfect for any and all animal - specifically, horse - lovers out there. It focuses on and teaches you everything from the very basics of caring for horses, up to working with them and their management.
The great thing about this course is that it will teach you the actual fundamentals of horse care - you do not need to come with extensive prior knowledge!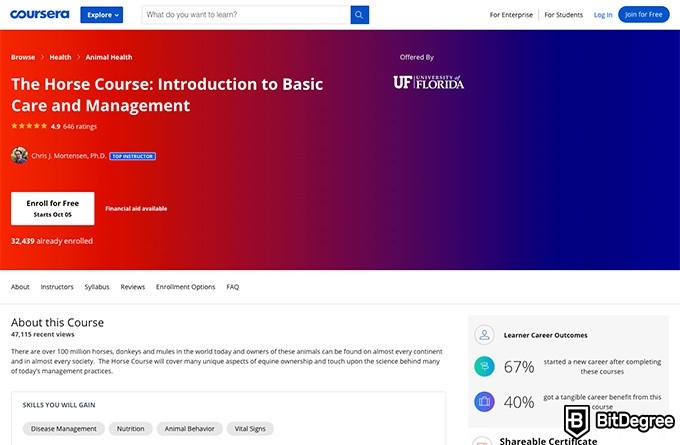 It's also one of the shorter University of Florida online courses, too - you'll be able to finish the course material in just 18 hours. During that time, you will learn proper horse nutrition, some vital signs to look out for, how to work with sick horses, and animal behavior intricacies, in general.
Once you're done, you'll actually be able to receive a certificate of completion, too! Definitely one of those UF online courses that are worth paying attention to, especially if you plan on studying animals even further!
While it's not common to find UF online courses like this, it's actually one of the classes that are almost exclusively-oriented towards Florida.
Why is that the case? Well, simply because of the fact that it tackles agricultural and water quality issues seen within the state.
If you reside in Florida (or are simply interested in these issues in this specific state), and want to specialize in the field of agriculture, this is the perfect course for you!
Studying the Sustainable Agricultural Land Management course, you will learn various land and nutrient management strategies, become more informed about the different issues that plague Florida's agricultural and urban water bodies, and also learn about the best management practices concerning the topic, too.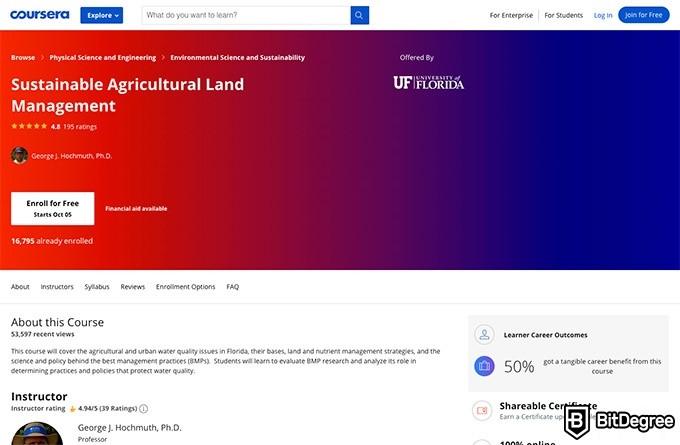 As of writing this article, half of the students that have taken the course quote tangible career benefits thanks to it - that's not bad! The class will take you 20 hours to complete - with some additional learning materials combined with the ones mentioned in this course, you might score a job in this specific field of expertise!
So, in short - if this topic is something that interests you, make sure to check the course in question out - especially if you reside in Florida!
With time, more and more people are becoming increasingly more conscious of the food that they eat. Today, it's quite easy to find information online about the different benefits of healthy food, how you can keep a healthy diet, and how to substitute certain less-than-healthy products for some other, healthier options.
That said, if you want to take your knowledge one step further and deepen your knowledge concerning these topics even more, you could turn to online courses for some additional help. The Meat We Eat is one of the courses that are surely a must in this type of a scenario!
The course will take you around 14 hours to complete. As the name might imply, it revolves around the topic of meat - namely, about the quality of the meat that we consume.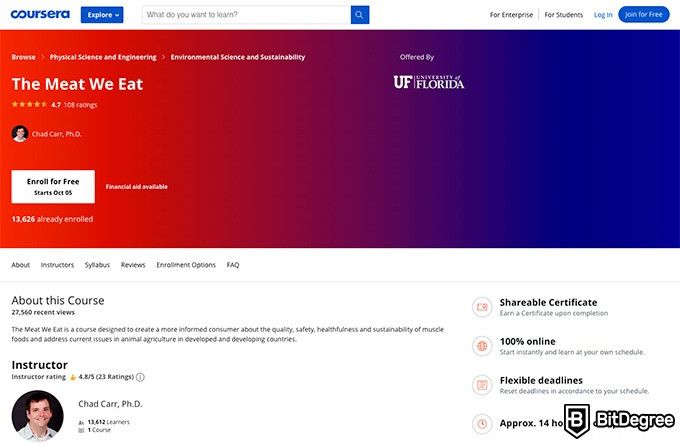 Furthermore, you will also have the ability to learn about the various issues that are present in animal agriculture, in both developing and developed countries.
While the course might not be directly related to some career-advancing opportunities, it will still surely help you in developing a more healthy mindset, which is always a good thing!
Now, admittedly, this is one of the more interesting and unique UF online courses. That is frankly due to the reason that it isn't really a full-fledged course, in the first place - rather, it's a public update and some guidance in the shape and structure of a course.
Ever since the COVID-19 pandemic had started to spread on a global scale, there has been a drastic increase in information regarding the topic that you could find online. Admittedly, a lot of that information is very unreliable - it would seem that everyone and their pets have suddenly become experts on the topic!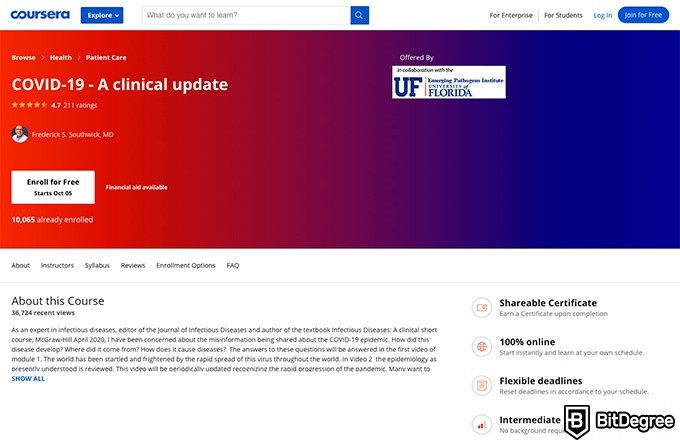 The COVID-19 - A Clinical Update course is an attempt to "clear the air" of any false information, and direct people to some sources that can actually be trusted.
You will learn everything that you could need to know about the virus - how dangerous it is, risk factors, treatment, and - most importantly - how to help in stopping its spread even further.
Surely one of the most important topics to discuss at present times - make sure to check the class out!

Pros
Easy to use with a learn-by-doing approach
Offers quality content
Gamified in-browser coding experience
Main Features
Free certificates of completion
Focused on data science skills
Flexible learning timetable

Pros
Simplistic design (no unnecessary information)
High-quality courses (even the free ones)
Variety of features
Main Features
Nanodegree programs
Suitable for enterprises
Paid certificates of completion

Pros
Huge variety of courses
Easy to navigate
No technical issues
Main Features
Huge variety of courses
30-day refund policy
Free certificates of completion
Out of the entire UF online course catalog, this class surely does stand out, topic-wise!
If you're passionate about music theory, the culture behind its development, or simply music as a concept, in general, you should set your sights on the Music's Big Bang: The Genesis of Rock 'n' Roll course.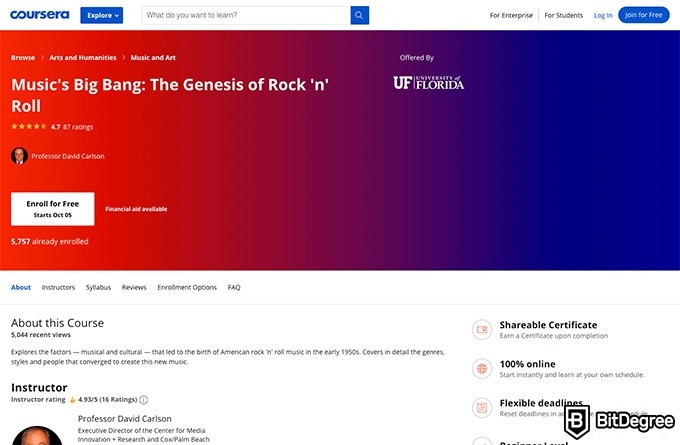 The course explores American rock 'n' roll music in the early 1950s. You will have the chance to learn about the factors that led to the development of rock 'n' roll in the US - how the culture behind it was formed, how it came to be, and so on.
Definitely, one of the more interesting University of Florida online courses, especially if you're interested in studying music, in general. Check it out!
Pricing
Before letting you go, I want to mention one last thing regarding UF online courses - pricing.
All of the courses in the list above are going to be located on Coursera. Enrollment is free - that's great! However, some courses might have some pricing options in place, too.
Most of the time, the pricing options are going to be centered around the certificate that you could receive after finishing the course. In other words, they are optional - the courses themselves are free to study.
In other cases, though, a course might have a monthly subscription. Seeing as most courses on this list are very short, that would concern other UF online courses - those that revolve around entire specializations.
Conclusions
All of that being said, I do sincerely hope that this list of some of the most well-known University of Florida online courses was useful to you, and that you managed to find the best option for yourself!
If, however, you'd like to study something else, and none of the classes mentioned above seem to suit your wants and needs, you could check out some other courses on Coursera - perhaps the actual better options are waiting for you there?
All in all, I thank you for reading, and wish you the best of luck! Until next time!
Leave your honest feedback
Leave your genuine opinion & help thousands of people to choose the best online learning platform. All feedback, either positive or negative, are accepted as long as they're honest. We do not publish biased feedback or spam. So if you want to share your experience, opinion or give advice - the scene is yours!