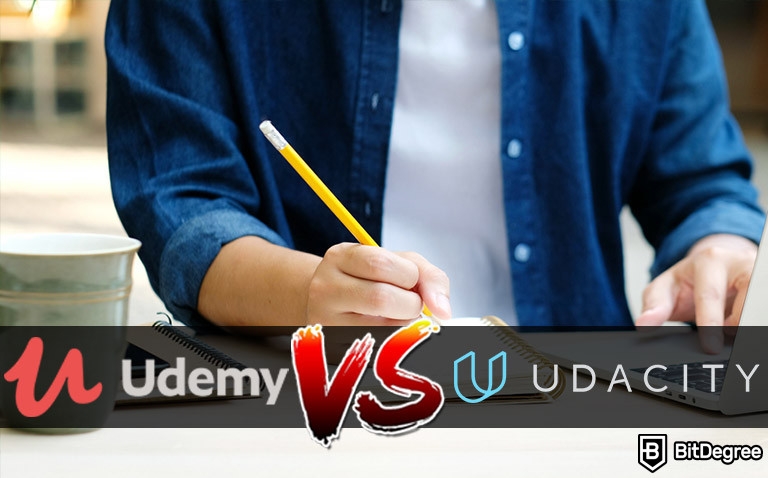 An increasing number of people are choosing online studies instead of traditional education. That's not only because of the current COVID-19 pandemic but also because students find it more flexible and affordable. About 52% of graduates evaluate online courses better than classroom education. Needless to say, the number says a lot.
Now, if you've decided to start learning online, you need to find the best learning platform for your personal wants and needs. In this article, you'll find a thorough Udemy VS Udacity comparison that will help you to decide which of the two online learning platforms is right for you.
However, before jumping straight to Udemy VS Udacity comparison, there are a few important aspects that have to be discussed.
Udemy VS Udacity: The Aspects You Should Consider
Since there are so many different MOOCs, choosing the very best one is not easy. However, when you know which aspects play a major role, things get so much less complicated.
Latest DataCamp Coupon Found:
EXCLUSIVE 25% OFF
On DataCamp Subscriptions
Follow the Datacamp promo code link & get an exclusive 25% OFF Datacamp subscriptions. Act now while the offer is still available!
Expiration date : 12/06/2023
2,765 People Used
Only 35 Left
There are 5 most important aspects that you should focus on when evaluating Udemy VS Udacity, including course variety and quality, accredited certification, usability, supported languages and pricing. Even though there are even more factors that could be included in Udemy VS Udacity, these are the most essential ones.
To make it even more clear, let me explain each of the aspects:
Course variety and quality. Since each of you is looking for different courses, it's important to consider the number as well as the variety of courses available. You should be able to choose from IT, marketing, web design, business and multiple other programs depending on the field that you're working in. What is more, it's crucial to evaluate the content quality and make sure that it's up-to-date.
Accredited certificates. Since you invest so much time and effort into courses, you expect to get accredited certificates that you'll be able to include in your CV or portfolio. In this Udemy VS Udacity comparison, we'll check out the quality as well as the value of each of the company's certificates.
Usability. Content quality and certification are important when choosing an online learning platform, however, ease of use is something that you should have in mind as well. After all, some courses might take months to complete.
Supported languages. If you're not a native English speaker, some courses might be too difficult to understand. That's why I'll take a look at the available languages when comparing Udemy VS Udacity.
Pricing. Even though online courses are significantly less expensive compared to traditional learning institutions, some programs tend to be rather pricey. That said, I'll compare which of the two Udemy VS Udacity are less expensive and provide you with numbers.
Even though there are some other aspects that matter, these are definitely the dominating ones. Now that you're aware of each of them, it's time to jump to the actual Udacity VS Udemy and find out which one of them is better once and for all.
Udemy VS Udacity: The Comparison
When comparing Udacity VS Udemy, I'll begin evaluating them in the same order and start from the quality and diversity of courses.

Did you know?
Course Variety and Quality
As I've mentioned earlier in this Udemy VS Udacity comparison, both course quality and variety are the major aspects when choosing a MOOC no matter what kind of courses you're looking for.
While you should focus on the specific courses that you're looking for, it's always recommended to choose a platform that has a wider variety of courses. That's because you might change your mind when learning and decide to try something new, for example, drawing classes. When a platform provides you with multiple options to choose from, you can find everything in one place. This can save you not only time but also money.
Moving to Udemy VS Udacity, I have to say that there's a huge difference. Udemy offers about 130k courses, whereas Udacity only 500 to choose from. Can you imagine?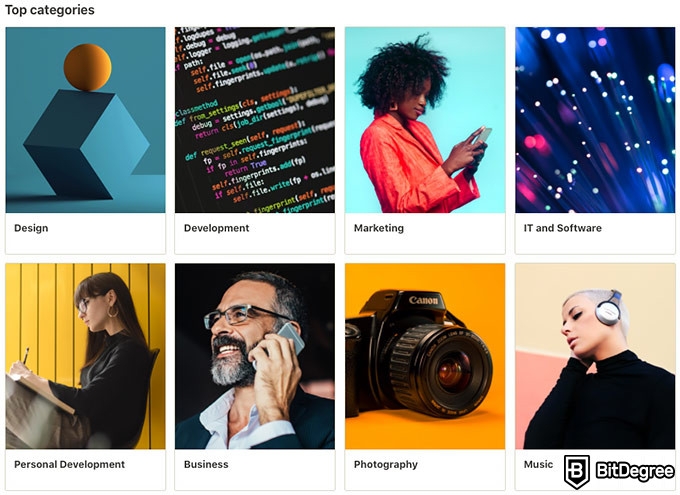 While this might seem like a misunderstanding, there's a very logical explanation for why the number of courses offered by these two MOOCs is so different. Udemy focuses on relatively short courses that cover multiple topics, including:
Computer Science
Languages
Data Science
Business & Management
Engineering
Social Sciences
IT & Software
Health
Math & Logic
Personal Development
Arts/Music
Philosophy
When it comes to Udacity, the situation is completely different. This learning platform focuses on in-depth courses that are offered by institutions of higher education. Most of them will teach you digital skills, such as:
Computer Science
Languages
Data Science
Business & Management
IT & Software
Note: There are new Udacity courses that are added on a daily basis, so you might find more options available when reading this article.
It seems that Udemy strongly outweighs Udacity in this case, however, that's not completely true. Even though Udemy offers thousands of courses, Udacity provides you with Nanodegree programs that can help you to get a promotion, better job offer, or even completely change your career path.
When it comes to course quality, the majority of students who tried both of these platforms would agree that not all Udemy courses are of high quality - some of them are outdated and include low-quality videos. Udacity, on the other, focuses on the courses that they already have and make sure to improve them regularly as well as keep the content up to date.

Thus, it could be very difficult to evaluate which of the two Udemy VS Udacity is better when it comes to course quality and variety. Simply think of your personal needs - are you looking for a variety of short courses or a smaller amount of options but more in-depth courses?
Now that this part of the Udacity VS Udemy comparison is clear, let's move further and discuss certification.
Certification
There are two different types of people when it comes to MOOCs. Some of you are looking for comprehensive courses that would provide you with valuable knowledge and new career opportunities. Whereas others are less serious about it and want to find short courses that would be fun to learn.
If you belong to the first group of people, then it's crucial to choose an online learning platform that provides students with accredited or at least valuable certificates that you'll be able to show to your current or future employers and take your career to the next level.
First off, Udemy. I have to disappoint you here. Since Udemy is not an accredited institution, its certificates are not accredited as well. That being said, while you can share your achievements with friends and add new skills to your CV as well as portfolio, they cannot be used for formal accreditation.
When it comes to one of the Udemy alternatives or sites like Udemy that provide accredited certificates, you should definitely give it a try to edX. It's one of the most popular online learning platforms that ensure course quality and content freshness.
Now, while Udacity offers more in-depth courses as well as nanodegree programs, it doesn't provide accredited certificates as well. However, the good news is Udacity courses' certifications are valued among the employers, especially if you complete Nanodegree programs. You can share them to take your career to the next level.
If you're interested in checking out Udacity competitors, you should give it a try to Coursera. It offers in-depth courses, specializations and programs that provide you with accredited certificates after completion.
User Experience
When choosing online learning platforms, the majority of people pay attention only to the variety and quality of courses. I completely agree that these two factors are the most important, however, ease of use is something that matters as well.
Since both of these platforms are very popular, you would assume that they're all super easy to use and navigate. Let's find out if that's the case in this Udemy VS Udacity comparison.
When it comes to Udemy, it has a very straightforward page, you can instantly find the list of available courses as well as a drop-down menu that includes all the categories. Moreover, you can search for courses by entering the keywords into the search bar. That being said, Udemy is definitely super easy to use, even if you haven't tried any online learning platform before.
Now, let's take a look at Udacity. On Udacity's homepage, you'll find all the needed information about this online learning platform. Moreover, you'll be instantly introduced to the most popular programs, student reviews as well as find a drop-down menu with included Nanodegree programs. The information is provided as clearly inside of the courses as well, so you'll have the most pleasant learning experience.

You can enjoy learning both Udemy and Udacity courses on mobile devices. That being said, if you're on your way to work or have a quick break, you can use that time for learning.
You can access Udemy courses online. That's the only major advantage that it has over Udacity when it comes to the ease of use. Other than that, each of these platforms is super easy to navigate, so you won't have any issues when using them.
Supported Languages
If you're not a native speaker, you might find it difficult to understand some of the courses, especially when it comes to Udacity as the knowledge that you'll be learning is very specific. This means that you should pay attention to the available languages that online learning platforms provide.
What's important to mention is that, in most cases, not all courses will provide you with translations whether it's Udemy or Udacity. The language options vary depending on the course and its popularity. In most cases, you'll be able to find only subtitles, unless an instructor decides to include a different form of translation.
When it comes to Udemy VS Udacity supported languages' comparison, there's a huge difference. While Udacity supports 25 languages, Udemy allows you to learn in 65 languages!

Pros
Easy to use with a learn-by-doing approach
Offers quality content
Gamified in-browser coding experience
Main Features
Free certificates of completion
Focused on data science skills
Flexible learning timetable

Pros
Simplistic design (no unnecessary information)
High-quality courses (even the free ones)
Variety of features
Main Features
Nanodegree programs
Suitable for enterprises
Paid certificates of completion

Pros
Huge variety of courses
Easy to navigate
No technical issues
Main Features
Huge variety of courses
30-day refund policy
Free certificates of completion
Pricing
The final aspect - pricing.
Udemy offers mostly individual courses, their prices start from about $12,99 when a discount is applied. Udacity, on the other hand, offers monthly subscriptions. Udacity's Nanodegree programs start from $299 per month. Needless to say, it's on the more expensive side compared to Udemy.
It's important to mention that both platforms offer free courses, Udemy includes about 200 options. However, free courses and programs do not provide certificates and are considered to be not as good as paid ones. So, that's for you to decide.
If you find some of the courses and programs too expensive, you should make sure to check out the most attractive Udemy and Udacity coupon codes that our team of dedicated professionals picked specifically for you.
Now, if you're not sure which platform to choose, you should take advantage of a free trial that both Udemy and Udacity provide.
Even though Udacity courses are rather expensive, due to the COVID-19 pandemic the company offers one month free on 40 of our premium Nanodegree programs. That's amazing! Udemy, on the other hand, provides you with a 7-day free trial.

At this point, Udacity surprised me more. The fact that you can learn free for a whole month sounds unrealistic.
Conclusions
Therefore, after a thorough Udemy VS Udacity comparison, the major difference between the two platforms is clear - Udemy is great for those who are looking for shorter and inexpensive courses, whereas Udacity offers extensive Nanodegree programs and focuses more on digital skills.
It wouldn't be fair to categorically state that Udacity is better than Udacity or the other way around because each of us is looking for completely different online courses and appreciate different qualities.
In order to find yourself the best online learning platform, you should make sure to pay attention to each of the factors that I introduced to you: course variety and quality, accredited certification, usability, supported languages and pricing.
Now, if you're looking for sites like Udemy or Udemy alternatives, it's recommended to check out edX. However, if you're interested in Udacity competitors, then it's recommended to try Coursera's courses. Both of these platforms offer in-depth courses for those who prefer more traditional learning.
Leave your honest feedback
Leave your genuine opinion & help thousands of people to choose the best online learning platform. All feedback, either positive or negative, are accepted as long as they're honest. We do not publish biased feedback or spam. So if you want to share your experience, opinion or give advice - the scene is yours!