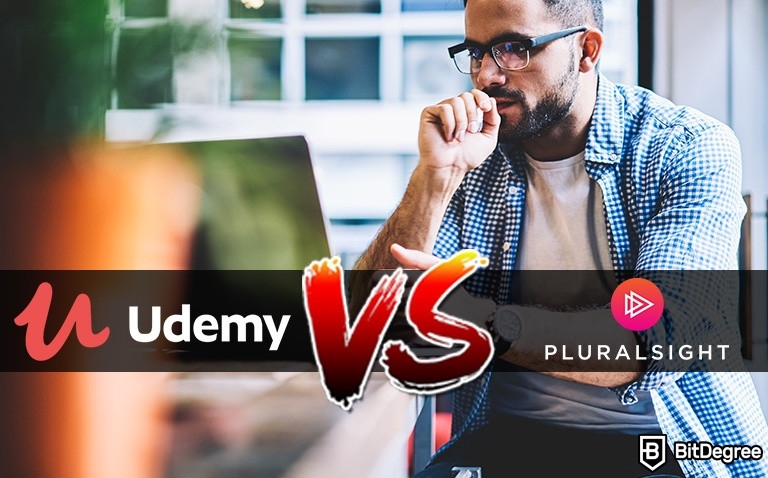 If you're planning to study online, one of the first - and most important - decisions that you're going to have to make would have to do with the actual platform which you're going to use to study on. Picking the best online learning site for yourself isn't always an easy task, though! In this Udemy VS Pluralsight comparison, you might be able to find the right one!
Both Udemy and Pluralsight are very popular names in the e-learning industry - while the former is a highly-respected and reputable site that has garnered over 130,000 courses, the latter is an industry veteran, being around and offering online courses since 2004.
Admittedly, no matter if you're having a hard time picking the correct platform for yourself, or even simply looking for Udemy alternatives, the choice can be a difficult one to make. In this Udemy VS Pluralsight comparison, though, you might be able to sweep the indecisiveness away!
Udemy VS Pluralsight: Comparison Criteria
Before we jump into the actual Pluralsight VS Udemy comparison itself, there's one thing that we should get across, straight from the get-go.
Latest DataCamp Coupon Found:
EXCLUSIVE 25% OFF
On DataCamp Subscriptions
Follow the Datacamp promo code link & get an exclusive 25% OFF Datacamp subscriptions. Act now while the offer is still available!
Expiration date : 12/06/2023
2,765 People Used
Only 35 Left
There are multiple different points and positions we could take in order to evaluate the two e-learning sites in question. However, that would likely make for a pretty chaotic comparison!
Instead, we'll focus on five essential features that should be looked at when trying to find the best online learning platform for yourself. Naturally, there are many more factors to keep in mind, but if a platform of your choosing has all five of these features down and figured out, that's already a great sign that you won't really be making a mistake by picking it.
The five features are: content quality & variety, pricing, ease of use, multiple language support, and certifications. Let's discuss each of them separately, just to make sure we're both on the same page.
Course Quality & Variety. The quality of the courses should always be the very first and, frankly, essential thing that you pay attention to when picking out the best e-learning site for yourself. As you can probably imagine, this is true not only with this Udemy VS Pluralsight comparison, but with any other MOOC provider, too! The quality of the courses will usually serve as a telltale sign of what you can expect out of the platform, in general (meaning, just how professional the company behind it is). As far as course variety goes, though, this is something that you should look for if you plan to study a few courses on the same site.
Certification. If you were to take a look at some lists of the best online learning platforms in the current market, you could notice that the absolute majority of them are going to offer their students some sort of certification once they complete a course. As you can probably imagine, certificates are very important for most students who want to learn something online - these platforms know this! One of the things that we'll look into in this Udemy VS Pluralsight comparison will have to do with accredited certifications - more on that later.
Usability Aspects. Whether you love Udemy and are simply looking for some reassurance, or you're on the look-out for some other sites like Udemy, there's no arguing that, once you find the ideal MOOC provider for yourself, you're going to be spending a lot of time on their platform. Because of this, and the fact that you'll probably be browsing through courses and looking up information on the site, it's very important that the platform would be simple and fun to use, too. One of the more interesting aspects of this Udemy VS Pluralsight comparison!
Multiple Language Support. While a huge part of the world speaks English, there are still countless numbers of people who might not know the language, but still want to learn and become proficient in their respective fields of expertise. They shouldn't have to lack options simply because of a language barrier! Some MOOC sites know this - they offer multiple language support, and provide courses that might have subtitles in some of the more popular languages, too. Definitely something worth keeping in mind for this Pluralsight VS Udemy comparison!
Pricing. While pricing is often the thing that "makes it or breaks it" for wannabe-students of some major online learning platforms, it is also a pretty complex topic, too - you could find a site that offers multiple payment options, subscription plans, and so on. In order to verify the model that works best for your individual wants and needs, you should always consider the finances that you can spare for learning and studying online, and then pick a site appropriately! That said, many course providers are going to offer free classes or free trial periods, too - whether or not this is the case in this Udemy VS Pluralsight comparison, we'll find out soon enough!
Now that we've got all of that out of the way, we can move on to the actual Pluralsight VS Udemy comparison, and try to find out which of the two platforms in question will suit you best!
Udemy VS Pluralsight: The Comparison
The way that we'll go about this is by taking a look at each of the above-discussed features, and checking how both of the course providers in this Udemy VS Pluralsight discussion compare and contrast against one another.

Did you know?
Course Quality & Variety
Course quality is a bit of a tricky topic. If you were to look at most of the major MOOC providers, most of them are going to have courses that they "host" - meaning, they've invited different instructors from all around the world to upload their content on the platform in question.
Udemy is a great example here, although some other sites like Udemy will fit the narrative, too.
While there are always going to be some quality guidelines, if the MOOC platform's catalog of courses is huge (i.e. Udemy's 130,000 courses), there are bound to be some less-than-ideal examples - they shouldn't define the platform, as a whole!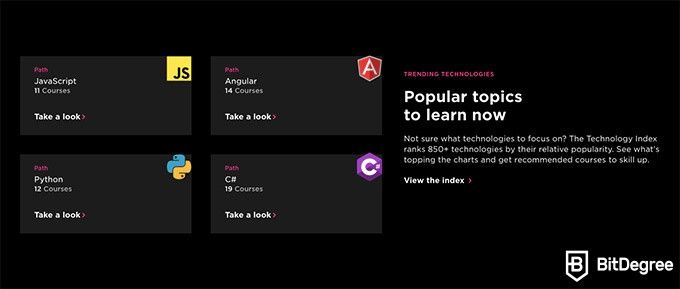 The good thing here is that both Udemy and Pluralsight appear to offer some top-tier quality courses. Looking at some student Udemy VS Pluralsight comparisons, the general notion is that both platforms have some pretty high quality standards, and that the courses you'll find on either one of them are going to be both informative, and fun to study.
As far as course variety is concerned, Udemy is the clear winner here - with 130,000 different courses, you'll be able to find everything and anything that you might to learn quite simply! Pluralsight might not be the best option as far as Udemy alternatives go, though - most of the 7000 courses on this platform revolve around the topics of IT and programming.
Certification
As pointed out earlier on in this Udemy VS Pluralsight, certificates are usually going to be among the more important aspects to consider when picking out the best e-learning site for yourself.
There are generally two types of certificates that you might receive upon finishing a course with a specific MOOC provider - accredited ones, and non-accredited ones.
Accredited certificates are the way to go. If you possess an accredited certificate, and bring it to your job interview, your potential employer will know that you are actually proficient in the field that your applying to work in, and that you have passed all of the required examinations, too.
Non-accredited certificates are the more common option, though. The value of such papers is going to depend on many different factors - most of the time, though, you shouldn't expect it to work wonders on your job prospects. It will surely be better to have a certificate like that than to not have one, in general, though (makes sense, right?)!
As far as this Udemy VS Pluralsight comparison is concerned, neither of the two platforms have accredited certificates. That being said, Pluralsight's certificates of completion are actually often considered to be more useful than those found in Udemy! That's simply because Pluralsight has a good reputation with multiple major companies, and thus, a certificate from this MOOC provider could actually yield you some tangible career benefits.
Ease of Use
In regards to the usability aspects of an online learning platform, there are basically two places to look at - the navigation pages of a website, and also the course pages themselves.
That's frankly because you'll be spending a lot of time in these two places. When it comes to site navigation, it would include looking for courses, reading about the platform and its features, and so on. In any case, you'd probably want the site to be simple and fun to navigate through!
Course pages are no different. Whether it be the video player or the course curriculum, these things should be smooth, work well, and also be aesthetically pleasing, too.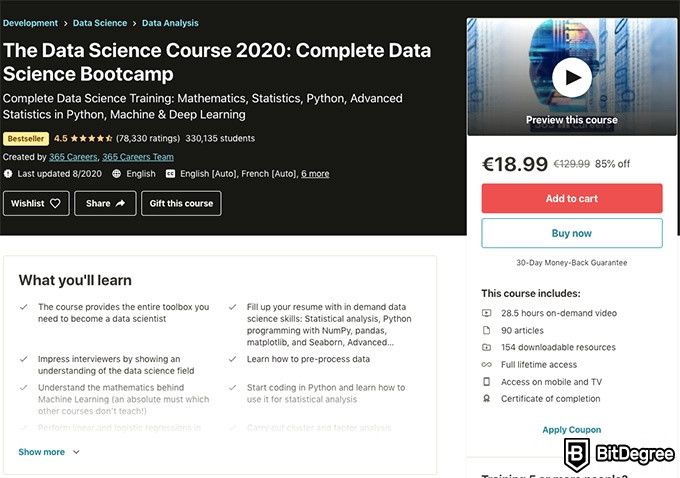 When it comes to these aspects in the Udemy VS Pluralsight comparison, it's worth noting that, while Udemy does appear to have streamlined all of the parts of their website, Pluralsight's landing page and other, navigational pages could be a tad bit confusing, when you first enter the sight.
That being said, Pluralsight's course pages are absolutely amazing - they are clear, super-fun to use, and very well-made. Surely one of the best Udemy alternatives, at least in this regard!
Multiple Language Support
As pointed out earlier, multiple language support is one of the more important aspects of a great online learning site.
You might say - I know English, so that doesn't apply to me! While you would be right to an extent, the fact that a platform will be available in multiple different languages means that it is both professional, and that it cares about providing education to as many people around the world as possible.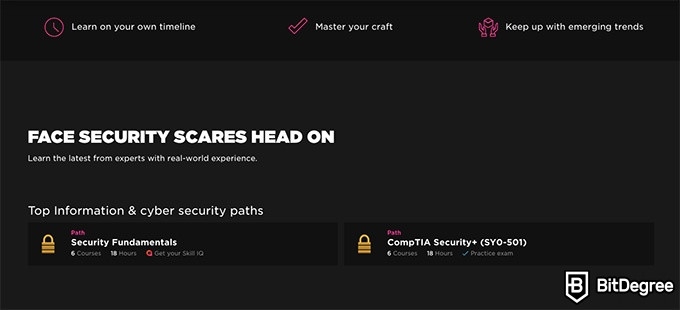 In all honesty, when it comes to this Udemy VS Pluralsight comparison, both of the platforms are amazing! Looking up courses and navigating the sites, you may find that Udemy is available in 65 different languages, while Pluralsight supports 50. Those are some insane numbers!

Pros
Easy to use with a learn-by-doing approach
Offers quality content
Gamified in-browser coding experience
Main Features
Free certificates of completion
Focused on data science skills
Flexible learning timetable

Pros
Simplistic design (no unnecessary information)
High-quality courses (even the free ones)
Variety of features
Main Features
Nanodegree programs
Suitable for enterprises
Paid certificates of completion

Pros
Huge variety of courses
Easy to navigate
No technical issues
Main Features
Huge variety of courses
30-day refund policy
Free certificates of completion
Pricing
Lastly, let's discuss the pricing options of both of the MOOC providers in question.
The prices of Udemy courses start at $19,99, and can go up quite a bit. With such a staggering number of courses available, you can expect to find both some really high- and low-priced classes, depending on the topic, availability, and so on. Udemy does also offer over 600 free courses, a 7-day trial, and a 30-day refund policy.
Pluralsight, on the other hand, is based on a subscription model. The subscriptions start at $29 per month, and go up, significantly (you can pay both monthly and annually). The site also offers only around 5 free courses per week, and does not have a refund period - that said, there's still a 10-day free trial for you to try out.
Both platforms are going to have paid certificates, though.
In short, while Pluralsight is one of the sites like Udemy in some regards, pricing-wise, it would seem that Udemy is still the better alternative. No matter which user Udemy VS Pluralsight comparison it is that you read, Udemy does offer better pricing options, and has a lot of more free courses available.
Conclusions
So, then - which of the Udemy VS Pluralsight online learning sites is the better alternative for you?
All things considered, it does appear that Udemy is going to be the better alternative for most people who are looking to learn something new online. That being said, it's also worth keeping in mind that Pluralsight does have a lot of different benefits to offer to students!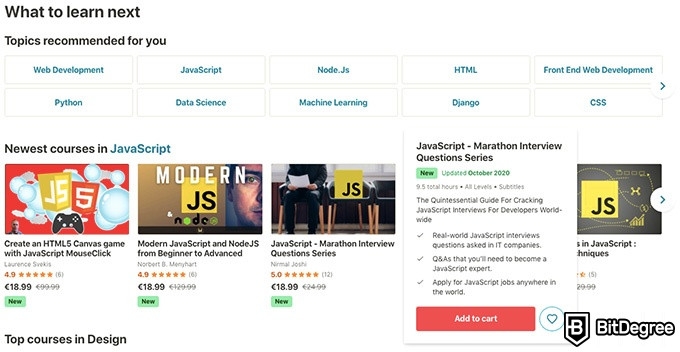 Let me put it this way - if you're looking to study IT-related subjects, and are willing to pay a medium-sized monthly subscription fee, then Pluralsight might even be better for you. However, if you like course variety, and prefer to pay for standalone courses, then Udemy is surely the best option here.
With that being said, I thank you for reading this Udemy VS Pluralsight comparison! I do hope that it was useful to you, and wish you the best of luck in your future e-learning endeavors!
Leave your honest feedback
Leave your genuine opinion & help thousands of people to choose the best online learning platform. All feedback, either positive or negative, are accepted as long as they're honest. We do not publish biased feedback or spam. So if you want to share your experience, opinion or give advice - the scene is yours!