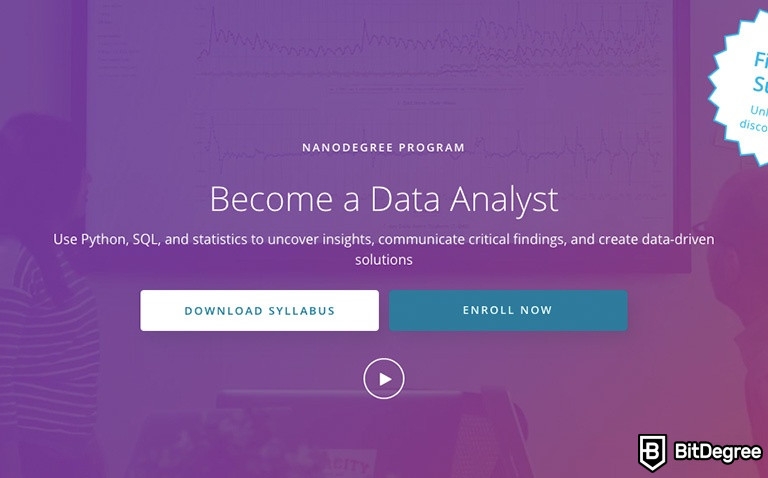 Data analysts are people who work with large amounts of data, and aim to draw certain conclusions from the things that they find out. It's a very interesting and rewarding career path - and not one that would be very simple to follow, either! In this Udacity Data Analyst Nanodegree review, we'll discuss a course that might help you prepare for it.
I use the term "might" on purpose, too. The fact that Udacity does offer a course on data analysis doesn't inherently mean that it's going to be right for you! There are plenty of positive student Udacity Data Analyst nanodegree reviews, sure, but at the same time, the course does receive some negative feedback, too.
Worry not, however, since we'll discuss all of the intricacies in the review ahead. I'll tell you both about the positive and the less-positive aspects of the course, and help you figure out if it's the right choice for you, if you're planning on becoming a data analyst yourself.
Let's get to it!
Why Study to Become a Data Analyst?
The very first thing that we should contemplate is the question of why you would want to study data analysis, in the first place. Now, I'm not questioning your career choices - far from it!
Latest DataCamp Coupon Found:
EXCLUSIVE 25% OFF
On DataCamp Subscriptions
Follow the Datacamp promo code link & get an exclusive 25% OFF Datacamp subscriptions. Act now while the offer is still available!
Expiration date : 12/06/2023
2,765 People Used
Only 35 Left
Instead, I'd like to do the opposite - highlight some of the main benefits that this path tends to bring, and why it's worth considering as a potential profession, in the first place.
First of all, the thing that I've mentioned at the beginning of this Udacity Data Analyst Nanodegree review - the chance to work with huge amounts of data. This, in of itself, can be a very exciting prospect.
How so? Well, data analysts are literally the people who are responsible for things such as statistics, whether it be company-specific, or even concerned with public health, safety, outlooks on certain topics, and so on. You get to be the one who studies data-driven patterns, and analyzes why they are the way that they are - that's super-exciting!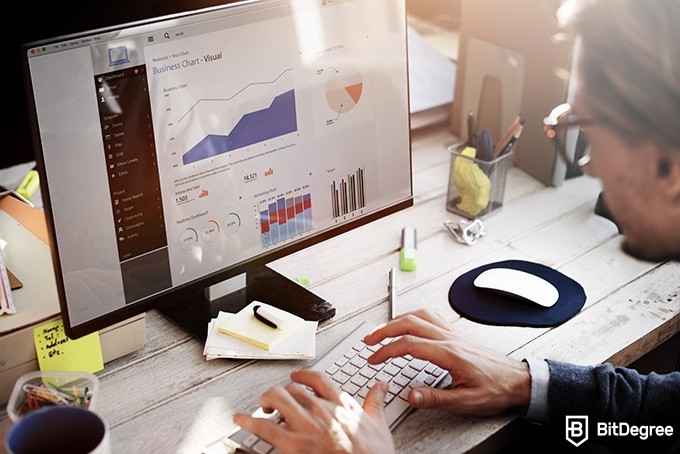 Furthermore, it's a very intellectually-stimulating career path, too. This is, evidently, something that you would learn when studying the Udacity Nanodegree in data analytics - data analysis is just one part of the puzzle, since, once it's analyzed, conclusions need to be drawn, too. You are the one who's responsible for this part, as well!
Lastly, needless to say, people who work in the field of data analysis do also tend to make some pretty great salaries. This is true simply due to the fact that it's a difficult profession to master - it involves a lot of programming and other technical skills, and you might be working pretty closely with machine learning engineers, too!
Evidently, each and every single individual is going to have their reasons for studying data analysis, whether it be the Udacity Data Analyst course, or any other. However, these are some of the main benefits that are shared among everyone who choose this profession as the career path that suits them.
Platform: Udacity
Duration: 4 months (10 hours / week)
Price: €1236
Certificate: YES
Level: Intermediate
Where to apply? HERE
While the current situation that the world is in has surely given a boost to online-based learning, even before the pandemic, there has seemingly been a consistent growth in this market, at least in the US[1]. With the increase in popularity, people are naturally searching for high-quality courses in order to learn new skills and brush up on already-existing ones!
As far as data analyst Udacity courses go, there are a few different options available on the platform. The course in question, however, is a Nanodegree that's aimed at intermediate-level professionals who already have some foundations in regards to data analysis (rather - programming and working with data sets).
Let's explore the benefits that you can expect to receive by studying the course in question, shall we?

Did you know?
Highly-Skilled Instructors
Without a doubt, one of the most important parts of a high-quality online course are its instructors - they are the people behind the course, and ones that you put your trust in!
With the aforementioned increase in online learning popularity, however, it might often seem like everyone and their uncles have suddenly started creating and publishing various courses, on an insane number of different topics.
Thankfully, this isn't a very prominent issue in the realm of data analysis. If you were to search for some business courses, however, or ones that relate to social media, you'd basically be barraged.
Having said that, though, as far as this Udacity Data Analyst Nanodegree review is concerned, the topic in question still requires a lot of knowledge and experience in the field in order to be able to teach it to other people!
The great news here, however, is that all of the instructors of this course - and, believe me, there are quite a few - are very competent and qualified to teach you! They are, as follows:
Josh Bernhard - data scientist over at Nerd Wallet, lead data science instructor at Galvanize, over a decade of experience in the field.
Sebastien Thrun - the literal founder and president of Udacity and Google X. Need I say more?
Derek Steer - the CEO of Mode Analytics, mentor at Insight Data Science, has a huge amount of experience with the topic in question.
Juno Lee - curriculum lead for the School of Data Science at Udacity, has developed a few different courses on the topic.
Mike Yi - content developer, has worked on the Udacity Data Analyst Nanodegree program as a support lead.
David Venturi - a former chemical engineer and data analyst, has created a personalized data science master's program using online-found resources.
Sam Nelson - the Product Lead of the program, has ample amounts of experience regarding data analysis.
Evidently, all of the people mentioned on the list have backgrounds in data analysis, in one way or another. That's awesome! With such a broad list of professionals, admittedly, you would struggle to find a course that would have even more-qualified individuals teaching you the topic in question.
In short, as far as the quality of information found within the program in question is concerned, student Udacity Data Analyst Nanodegree reviews are almost unanimous - since the course is taught by true professionals in the field, you can expect only the best!
A Nanodegree - Further Proof of Quality of Information
One thing that further proves the high quality standards of the course in question is the fact that it's a Nanodegree.
Nanodegrees are special types of courses from Udacity - it's a term branded by the company. Two distinct things make these courses special - the benefits that come with each and single one of them, and a high standard of information quality.
The benefit side of things we'll be discussing further on in this Udacity Data Analyst Nanodegree review, extensively. However, for now, let's focus on the "quality of information" part.
Reading through student feedback left online, it would appear that all Nanodegrees that Udacity offers have a certain benchmark in place - like a universal level of quality. The programs are very informative, and appear to go into the subject rather deeply, and not just discuss some of the surface aspects, and move on.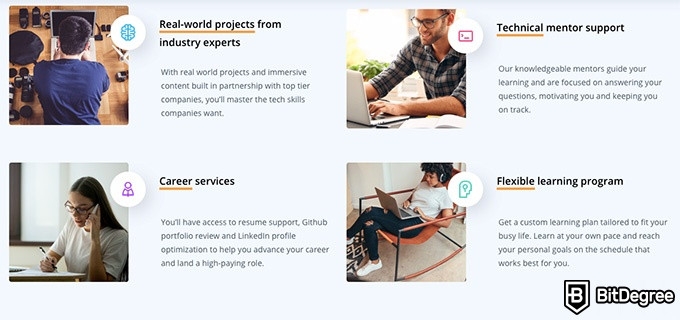 Naturally, as you can probably tell, these things are very subjective - if you want to study data analyst Udacity courses, these are the things that you may or may not notice, too! However, one thing's for sure - the company does have a certain reputation to uphold!
You see, the programs in question are always branded as being some high-level classes that would help you understand the topic that they revolve around, mostly due to the fact that they are taught by true professionals in the field. Makes sense!
It's kind of the way that the general public currently views Udacity's Nanodegrees, too! This is, yet again, a good thing - it simply drives the idea that Udacity cares about the quality of its courses even further, and allows you to be sure that your studies will be worth it.
Now, then - with that said, let's talk about some of the specific benefits offered by Nanodegrees.
Flexible Study Hours
While there are a couple of specific major reasons why people choose to study some specific topics online, it would probably be rather naive to think that flexible study hours aren't one of them.
With most online courses, you would simply purchase access to them, and then come back whenever you'd like. There are absolutely no time constraints, and no immediate need to start or be consistent with your study schedule.
That can sound pretty good, but it can also be counterproductive, too - I'll explain why that is in a second.
With the Udacity Nanodegree in data analytics, you would, in fact, be able to create a pretty flexible schedule, and maintain a balance between your daily responsibilities, and your studies. However, Nanodegrees don't offer you AS MUCH freedom as simple, standalone courses would.
I would argue that this is a good thing, though.

Being able to come back and access a course at any given point in time is cool, but it can also lead to you abandoning your studies, as well. This is especially true if you begin being inconsistent - it can lead you to starting to "not feel it", and getting lost in the different topics that the course addresses.
This is normal, sure, but it can also be avoided. With the Udacity Data Analyst Nanodegree, it's not an issue that you should develop.
Since the program in question is exactly that - a whole program taught by different instructors and involving live interactions -, it doesn't really have such an undisputed lack of time constraints. However, students report that you should still be able to manage your time perfectly fine, and not worry too much about keeping up with your studies.
Whatever the case might be, it's surely a much-appreciated feature of Nanodegrees!
Constructive Feedback & Technical Mentorship
As a twist to the point made in the earlier chapter, the main negative aspect of studying an online course is often thought to be the fact that you don't really get any feedback on your progress.
In most cases, that is.
This factor refers to standalone courses that you would purchase on some specific online learning platforms, or even free courses that are often offered on those same sites. They don't have any after-purchase support, and thus, no feedback on your tasks.
This is where yet another benefit of Nanodegrees comes in. By studying the Udacity Nanodegree in data analytics, you can expect to receive two types of feedback (help) - that which is related to your course material, and another if you have any technical questions, too.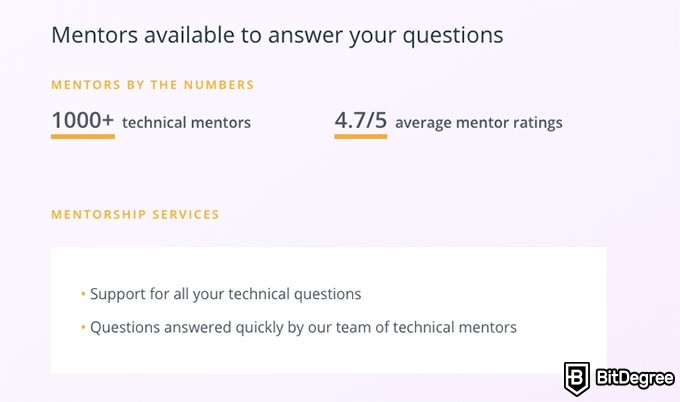 The former is going to be great for all situations in which you would encounter something that you don't quite understand, or would simply have questions regarding some of the course material. Knowing that you will always have your questions answered by competent professionals is truly reassuring!
In regards to technical mentorship, Udacity has over 1000 different technical professionals that are ready to help you out with any of the more technical questions you would come up with. This is mostly related to programming and code-related questions, but can mean other things, too.
This is awesome! By receiving both types of feedback whilst studying the Udacity Data Analyst course, you will be able to learn and improve much faster than you would otherwise! On top of that, you will also be able to utilize the full potential of the course - great stuff!
Career Support Services
Let's assume that you're part of the majority of individuals who want to study a specific course due to the fact that you'd like to learn a new skill for the job market[2]. Furthermore, let's also consider the fact that you do appreciate the Udacity Data Analyst Nanodegree so much that you've decided to take this specific course in question.
Right - what now? What should you do after you finish the course?
I'll tell you about some specific alternatives towards the end of the Udacity Data Analyst Nanodegree review, but for now, this where another feature of Nanodegrees comes in - career support.
If you decide that you are ready for the job market, the next logical step would be to go and put yourself out there - in other words, start looking for a job. This can, admittedly, be a pretty intimidating task, and any and all help is surely appreciated!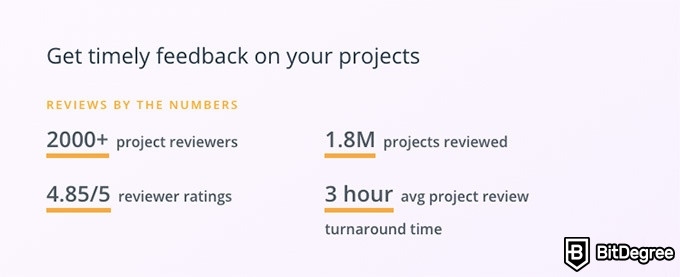 Help is exactly what you get with the aforementioned career support services offered by Udacity. Frankly, a team of professionals will help you with your resume, LinkedIn profile, and even Github.
Now, that's a rare feature, as far as online courses are concerned!
The fact that Udacity offers to help you out with preparation for job searching is a truly valuable feature to have! The most notable part here is that this is, yet again, only available with Nanodegrees - if you were to choose and study any other, standalone course, you wouldn't be able to receive this benefit.
The Negative Sides of the Udacity Data Analyst Nanodegree
At this point, it is evident that the Udacity Nanodegree data analyst comes packed with a lot of different benefits. While these benefits aren't necessarily course-specific, and are rather notable for most Nanodegrees that the online learning platform in question offers, they are still very positive features to have!
That said, what about the negative sides of the Udacity Data Analyst Nanodegree? Are there any, and if so, how deal-breaking are they?
Well, naturally, not everything is going to be "perfect" - there are some student complaints, sure. However, truth be told, they aren't at all that strict!
Most of the complaints revolve around two separate factors - the fact that the Udacity Data Analyst course isn't exactly very beginner-friendly, and also the lack of accredited certificates on the platform. Let's take a closer look at both of these points, one at a time.
Not Suitable for Complete Beginners
Upon checking out the landing page of the course in question, you will quickly notice that the program does have prerequisite requirements - in other words, you can't jump into it blind, without any prior knowledge in the field.
What knowledge or experience should you have concerning the topic, though?
Well, Udacity states that you should be able to work with Python (namely, the libraries of the programming language), and also with NumPy and Pandas.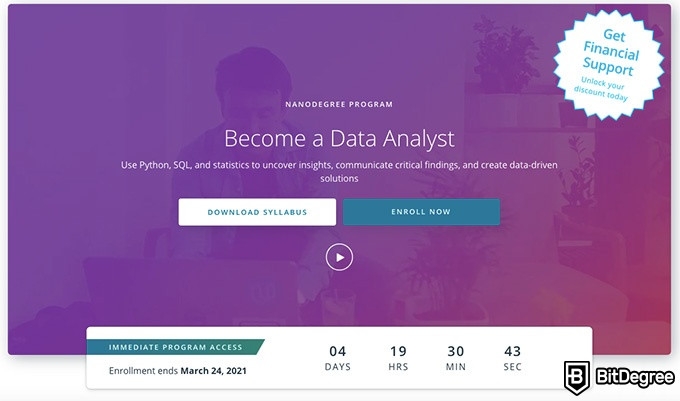 While the requirements aren't necessarily "extremely advanced", they are still a pretty solid filter for anyone who might be interested in data analytics, but has absolutely no prior experience with anything related to programming.
Admittedly, this isn't exactly a "con" in itself. It does not compromise the quality of the course, and definitely doesn't minimize any of the benefits discussed up to this point in the Udacity Data Analyst Nanodegree review.
That said, if you're a complete beginner in the realm of data analytics, unfortunately, this isn't going to be a program for you.

Pros
Easy to use with a learn-by-doing approach
Offers quality content
Gamified in-browser coding experience
Main Features
Free certificates of completion
Focused on data science skills
Flexible learning timetable

Pros
Simplistic design (no unnecessary information)
High-quality courses (even the free ones)
Variety of features
Main Features
Nanodegree programs
Suitable for enterprises
Paid certificates of completion

Pros
Huge variety of courses
Easy to navigate
No technical issues
Main Features
Huge variety of courses
30-day refund policy
Free certificates of completion
No Accredited Certificates
Undoubtedly, this is the most common and most often-mentioned issue of Udacity, as a whole. While it's surely something to consider whilst trying to figure out whether or not you'd benefit from studying the data analyst Udacity course, the case is the same with all courses and Nanodegrees offered by the platform.
So, no - Udacity does not offer its students accredited certificates, since it's not an accredited online learning platform. What does that mean, exactly, and how does it impact your learning experience on the site?
Well, it doesn't really impact it, at all. Rather, this is an issue that is more prominent when you finish a course, and start searching for a job in that field.
Accredited certificates are those that are backed by an educational institution - in the vast majority of cases, this would be a university. Such certificates represent the fact that, if you were to take that online course, you would receive the same knowledge level as you would by taking a course on that topic in the aforementioned university.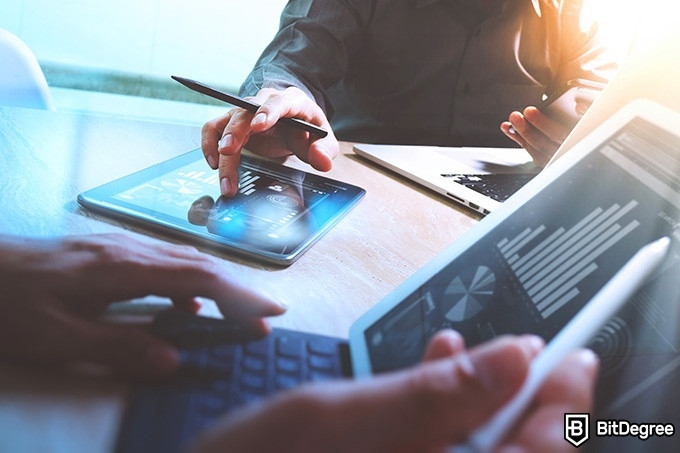 As opposed to that, a non-accredited certificate is one that you will basically receive with most courses you'll find online. It's often viewed as just a piece of paper that holds no value, since anyone can print and sign it.
When it comes to the Udacity Data Analyst Nanodegree, however, things are a bit… Different.
The certificates of completion that you would receive after finishing a Nanodegree program ARE actually backed (most of them), but not by educational institutions. Instead, they are backed by specific companies.
These companies include, but are definitely not limited to, Google, Facebook, Hubspot, Moz, and in the case of this specific course in question - Kaggle.
What this means is that the Nanodegree certificates do, in fact, hold value! It's just that this value is a bit less academic, and more business-oriented.
It's surely unfortunate that Udacity does not offer accredited certification. However, just how much this is an issue does sort of depend on your own, personal situation - the type of courses that you are looking for, the career plan that you have in mind, just how much this is important to your future employer, and so on.
It's still something worth keeping in mind, nonetheless!
Price
Course pricing is a very varied topic - it might actually be the most random feature of online courses, in general!
What do I mean by "random"? Well, online courses tend to be priced in some very different ways - there are so, so many variables that go into the pricing feature of a course, that it often can get really confusing.
At the same time, ironically enough, pricing is a very straightforward feature when it comes to the Udacity Data Analyst course. This is due to the consistency that Nanodegrees bring to the online learning table.
The course in question is going to cost you €1236. This is the price for 4 months of studies - it's the amount of time that is estimated for you to finish the program.
However, in comes another feature (benefit) of Nanodegrees! There is actually an alternative pricing plan that you can choose to follow, too.
You can actually pay for the course as you learn. In other words, you would pay in smaller amounts of money each month - this comes out to be €359 per month.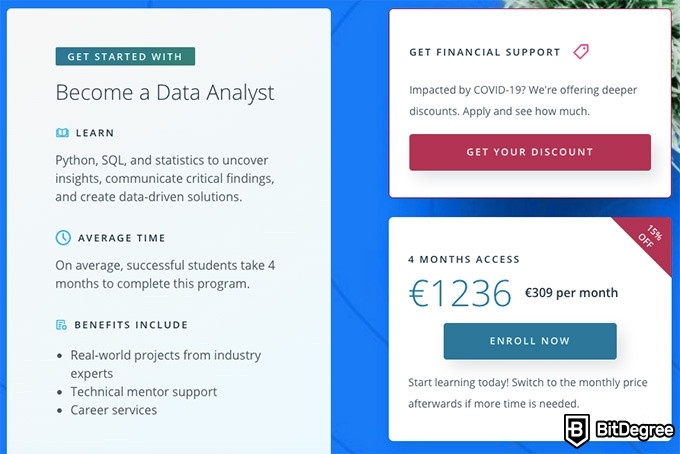 The fact that Udacity offers students an alternative pricing option is awesome! It opens the course up for a much wider range of individuals - if you truly want to study data analysis, but are also on a rather tight budget, this is a way for you to find a compromise!
All things considered, evidently, Udacity's Nanodegrees aren't all that "cheap" per se. They will prove to be expensive if you compare them with standalone courses, whether it be on the same online learning platform, or some others.
However, you would do well not to compare Nanodegrees with standalone courses! That's because, well - they aren't that.
Nanodegrees are extensive learning programs that help you become skilled and knowledgeable in a set specific field of education - the Udacity Data Analyst Nanodegree is no different. Taught by professionals and possessing such a variety of additional features, it's considered by most students to be definitely worth the price tag!
An Alternative Path After Finishing the Course
Earlier on in the Udacity Data Analyst Nanodegree review, we've entertained the idea of what you could do after you finish the course in question. That idea was simple - once you complete the program, you could then use the services of Udacity's career support, and start looking for a job.
A pretty solid plan! However, do keep in mind that there's an alternative, too - continuing with your studies.
On the main landing page of the Udacity Nanodegree in data analytics, you will find some related programs. As of writing this article, these programs include Programming for Data Science with Python, and a Nanodegree on business analytics.

What this means is that there's a HUGE amount of additional things that you can learn, in the realm of data analysis. Well, that was probably obvious, to begin with.
While the Udacity Data Analyst course isn't exactly very beginner-friendly, it's also not really aimed at advanced students, either - it's more of an intermediate-level program. By extension of that, you can definitely continue your studies, if you'd like to improve your skill further!
The awesome thing here is that you are going to be able to continue learning on Udacity - the aforementioned programs are both Nanodegrees, too. What this means is that you will receive all of the benefits mentioned in this specific data analyst Udacity course review, too.
If you do enjoy what the platform has to offer, and would like to continue your studies with it, this is great news!
Summary
Let's summarize all of the main points that we've discussed in this Udacity Data Analyst Nanodegree review, and check to see if the benefits truly do outweigh the negatives.
The Udacity Nanodegree in data analytics is exactly that - a Nanodegree. It's a thorough and in-depth program on the topic in question, and it comes with a lot of different perks for the students, starting form highly-competent instructors, and ranging all the way to career services after you finish the course.
The quality of information that you will find on the course is reported to be up to par, and you can also expect constructive feedback and technical assistance every step of the way. This is a rare feature, and one that is definitely much appreciated by the students of the course!

The program isn't very beginner-oriented, however - if you want to be successful in your studies of data analyst Udacity, you will have to possess some prior experience with Python programming. On top of that, Udacity does not provide any accredited certificates of course completion - this is an important point to keep in mind!
The program is priced in the same manner as all other Nanodegrees found on the site, and can be paid for either all at once, or in increments each month. The price tag is pretty hefty, sure, but students report that it's definitely worth it, as far as the general quality and benefits of the program are concerned!
Lastly, after you do finish the course in question, you can choose to either start looking for a day job, or continue your studies on the platform even further, in the form of a different, more-advanced Nanodegree.
Conclusions
So, then, all of that being said and done, is the Udacity Data Analyst Nanodegree worth checking out for anyone who's interested in becoming a data analyst?
Yes, it definitely is! However, you should definitely keep these two things in mind - the course isn't oriented towards complete beginners, and it won't provide you with an accredited certificate, either.
Other than that, the vast majority of student Udacity Data Analyst Nanodegree reviews are really positive! The general sentiment is that the program is definitely worth checking out, especially if you're serious about studying the topic thoroughly.
Table: Some general information about edX and Coursera
If, however, you would like to check out some alternatives instead, do make sure to visit other online learning platforms, too - edX and Coursera are often thought to be among the best, and thus, perhaps the optimal option for you is waiting on one of them?
With that, though, I'd like to thank you for reading this article about the Udacity Nanodegree in data analytics. Cheers, and until next time!
Scientific References
1. Imed Bouchrika: '50 Online Education Statistics: 2020 Data on Higher Learning & Corporate Training'
2. Ibid
Leave your honest feedback
Leave your genuine opinion & help thousands of people to choose the best online learning platform. All feedback, either positive or negative, are accepted as long as they're honest. We do not publish biased feedback or spam. So if you want to share your experience, opinion or give advice - the scene is yours!