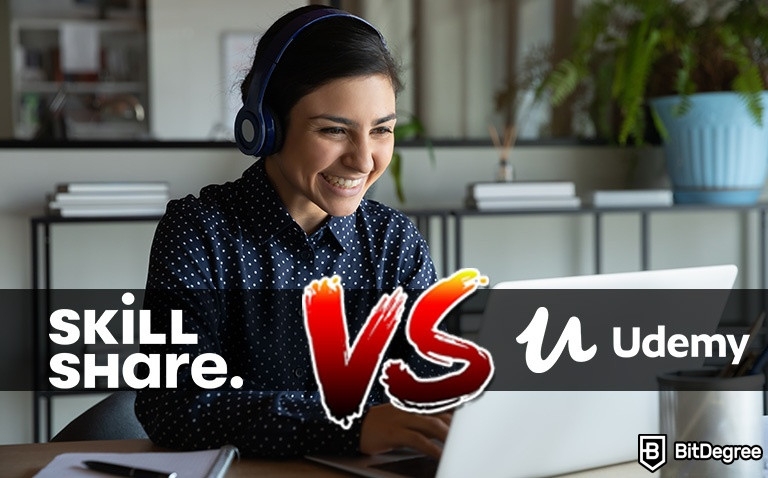 As time goes on, the concept of online learning is becoming increasingly more popular, all around the world. However, with the increase in popularity comes a lot of confusion, too - which online learning platform is going to be the best to study on? In this Skillshare VS Udemy comparison, we'll talk about two of the more popular alternatives.
We'll follow some specific comparison criteria, and check to see which of the two e-learning giants might suit you best. If you're looking for sites like Udemy or some specific Udemy alternatives, Skillshare is a name that tends to pop up quite often. It's the perfect pair to compare!
Skillshare VS Udemy: Comparison Criteria
As I've mentioned in the introductory part of the Skillshare VS Udemy comparison, while there are multiple different angles of how we could approach comparing the two platforms in question, we're going to focus on some select, specific features.
Latest Udacity Coupon Found:
SAVE 75%
Udacity Black Friday Offer
The best time to save on Udacity courses is now - follow this coupon to access 75% Udacity Black Friday discount on all courses & enjoy top-quality learning for less!
Expiration date : 30/01/2023
3,176 People Used
Only 97 Left
Admittedly, each and every person is going to have something different that they are looking for in an e-learning provider. Some people will pay the utmost attention to the usability aspects of the site, while others will check whether or not there are any free courses, first.
All of that being said, though, there are actually features that all of the top MOOC providers should possess. These features include course variety & quality, certification (preferably - accredited), good usability, multiple language support, and some decent pricing options.
Let's take a closer look at each of these features.
Course Variety & Quality. Whenever you want to learn something new (or improve your knowledge in a specific field), you'd probably like to have a few different options to be able to choose from, right? That is why course variety is important - while, say, programming courses are great, most people would probably choose to learn on a site that has multiple different programming languages to choose from, rather than just one course on Python. On top of that, course quality is a no-brainer, too - whether it's a Skillshare VS Udemy comparison or any other, most people would expect the classes to be top-tier.
Accredited Certification. Many of the top e-learning sites do, in fact, offer users certification upon completion of some specific courses. That's great! However, don't be fooled - accredited certificates are where the true value of these papers lies. You see, if your certificate is accredited, you can expect to receive tangible career benefits thanks to it. If it's just a simple certificate, however, well… While it may have some positive effects on the process of you getting a job, it's less likely to have a huge impact. An important point in this Udemy VS Skillshare comparison!
Ease of Use. If you're planning to study some specific topic in an extensive manner, you're probably going to spend a lot of time on a specific MOOC provider. This is especially true if you aren't looking for a specific course, but rather for an entire specialization or even a degree. Whatever the case might be, however, you'd probably want your selected course provider to have some great usability aspects, and be as simple to use as possible. This is true when it comes to Skillshare VS Udemy comparisons, too - it's an important aspect to consider when choosing a long-term online course platform!
The Number of Supported Languages. The absolute majority of the online learning sites that you'll encounter on the internet are going to have a single primary language - English. However, there are plenty of people around the globe who do not have good English language skills, and would thus benefit exponentially from a course provider that could offer them additional language support. This is true both with the course translations, and also when it comes to the actual website itself, too. A point that is worth keeping in mind in this Udemy VS Skillshare comparison!
Pricing. Finally, last but oh-so-certainly not least, the pricing of the courses is a topic that's surely on everyone's minds, no matter if you're looking to learn a programming language, web development, or how to make a killer ham sandwich. No matter if it's this Skillshare VS Udemy article, or some other e-learning platform comparison, you're bound to notice that different MOOC providers have some very different pricing options available. In order to pick the best one for yourself, you'll have to consider a few different variables!
So - those are the five essential aspects to look at when trying to choose the best online learning platform for yourself, or while simply looking for some Udemy alternatives and other sites like Udemy. With that being said, though, let's move on to the actual Skillshare VS Udemy comparison itself.
Skillshare VS Udemy: The Comparison
Now that we have all of the core comparison criteria figured out, in order to keep things as simple as possible, we're going to analyze, compare and contrast the two e-learning sites in accordance with the list mentioned above. First up, the course quality and variety factors.
Course Variety & Quality
As I've pointed out earlier on in this Skillshare VS Udemy comparison, both of the aspects of course variety and their quality are going to be very important when choosing the right platform for yourself, no matter what it is that you want to learn.
I mean, think about it yourself - if you're looking to learn web development, and find a site that has the right courses for you, but also possesses some amazing classes on cooking, you might want to try them out, too! It's better (and usually - much more affordable) to have all of your favorite courses in one place, and on one platform.
As far as the Skillshare VS Udemy debate goes, however, I have to say - Udemy is the somewhat-clear winner here.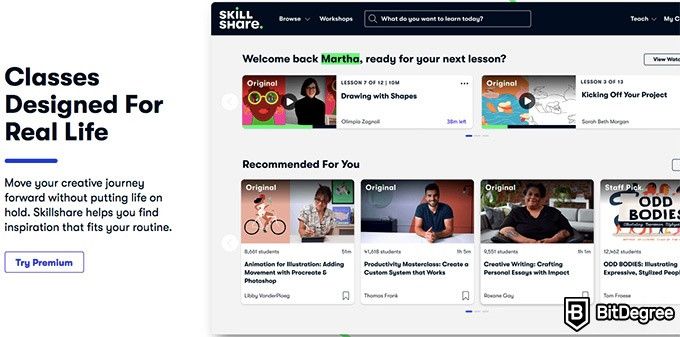 Skillshare is a site that is mostly directed towards the more-creative people of the world. Photographers, visual artists, musicians, writers, and so on - the platform has a pretty specific target audience, and thus, the courses are catered around it, too!
Udemy, on the other hand, has a much broader selection of topics available for you to pick from. They range from some of the more arts-related topics, to those of IT, programming, and business development.
Also, while Skillshare has around 3000 courses to offer to their students, Udemy possesses more than 30 times that. Yup, you've read that right - Udemy has over 130,000 courses available for you to learn!
That being said, as far as course quality goes, both Udemy and Skillshare are amazing. On this point, it's a draw (at least as far as this Skillshare VS Udemy comparison is concerned).
Certification
With the right certificate, you can increase your chances of landing your dream job quite significantly. The "right" in that sentence refers to accredited certificates - in order to receive one, you'd have to study accredited courses which would guarantee that you'll receive the required education in order to perform your future tasks that relate to that education efficiently.
Unfortunately, the bad news in this Skillshare VS Udemy comparison is that neither Skillshare nor Udemy offer their users accredited certificates.
There is, however, some redeeming news, too.
Both platforms in question do offer their users certificates - simply not accredited ones. On top of that, Udemy also has some certification exams, specializations, and is even able to grant you some university or college credits - something that Skillshare isn't able to do.
So, yet again - if you're looking for other sites like Udemy or some better Udemy alternatives, certification-wise, Udemy is still going to superior to Skillshare.
Ease of Use
Ease of use is a pretty interesting aspect, mostly because it's quite difficult to measure. There are multiple different things that make up an e-learning platform's usability experience - this is something you'll notice mentioned in some other user Skillshare VS Udemy comparisons, too.
However, the great thing here is that both Skillshare and Udemy are actually considered to be very easy and fun to use.
Whether it be the course navigation pages or the actual courses themselves, both platforms are straightforward in how they present the information to their students, and have thought-out designs.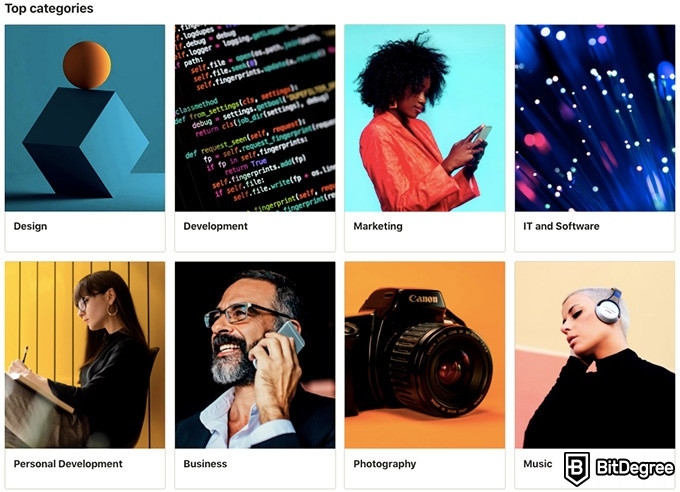 Both platforms are available to be used on mobile devices, too - this just adds to the entire experience, since more and more people are choosing mobile as their way of going about most internet-related activities in their day-to-day lives.
The only aspect here that Udemy does, in fact, have over Skillshare is the fact that you'll be able to access all of your Udemy courses offline, if you so wish to - not the case with Skillshare!
Other than that, the point that's worth making in this part of the Udemy VS Skillshare comparison is this - both platforms are going to be easy to use, and you should face no issues, no matter what it is that you choose to learn on either of them.
Language Support
No matter which online course provider it is that you pick, you'll notice that all of the top-tier ones have English set as their default language. Most of the courses on these sites are in English, too.
However, some platforms may choose to translate some (or all) of their courses into other languages, too! These translations could come in the form of subtitles - a pretty simple and conveniant solution!
That being said, though, course-wise, 9 times out of 10, it's going to be the instructor's choice of whether or not they want to translate the course, and include the translated version into the course program (or even add the subtitles, in the first place).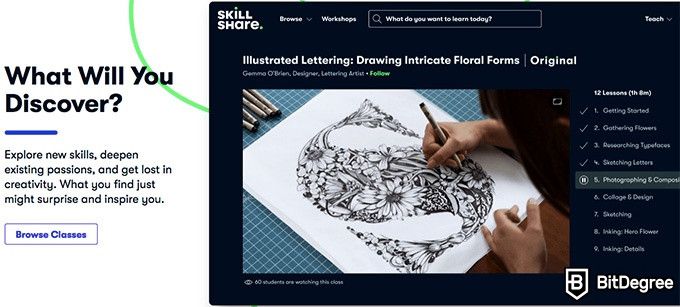 That said, the fact that you could browse a MOOC provider's site in your language is a big deal, too - it could provide you with a lot of valuable information, and help you decide whether or not the site is right for you!
This is one of those aspects that are quite easy to compare in any Skillshare VS Udemy debate - while Skillshare is only available in English, you'll be able to browse Udemy in 65 different languages. That's quite a staggering difference!

Pros
Simplistic design (no unnecessary information)
High-quality courses (even the free ones)
Variety of features
Main Features
Nanodegree programs
Suitable for enterprises
Paid certificates of completion

Pros
Huge variety of courses
Easy to navigate
No technical issues
Main Features
Huge variety of courses
30-day refund policy
Free certificates of completion

Pros
Easy to use with a learn-by-doing approach
Offers quality content
Gamified in-browser coding experience
Main Features
Free certificates of completion
Focused on data science skills
Flexible learning timetable
Pricing
Finally, let's discuss the different pricing options available with the two e-learning sites in question.
Both of the platforms offer their users free trials. However, while Udemy offers only 7 days to try its courses out for free, you might be able to actually try Skillshare out for up to 2 whole months (the default free trial is also 7 days, though)!
Udemy's pricing model revolves mostly around individual courses - their prices start from around $19,99. With Skillshare, however, you'll have to subscribe, and then you'll be able to study all of the courses at your own leisure. If paid annually, the subscription will cost you $8,25 per month, but if you choose the monthly subscription, it will cost you $15 per month.
It's also worth mentioning that if you'll want to receive a certificate of completion on Udemy, you'll have to pay for it, separate from the course.
All in all, while both platforms are actually quite affordable and well-priced, I have to say - if you're not sure, Skillshare could be the better alternative here! That's mostly due to the fact that, with Skillshare, you could actually get up to 2 months of free membership (if you're lucky enough to score the right coupon code).
Conclusions
To finish off this Skillshare VS Udemy comparison, let's answer one, final question - which of the two online learning platforms is the better alternative?
Truth be told, if you were to consider each and every single factor mentioned in this article, then Udemy is the clear winner! The platform offers a huge number of courses (of which most are of great quality), is simple to use, and even provides you with some certificates of completion (even though you'll likely have to pay extra for them, and they're not accredited).

That said, though, it's worth acknowledging that Skillshare is also an amazing Udemy alternative, too! While the platform might lack the course count and language support, it does offer some great courses for anyone who wants to exercise their creative side, or learn some new creative skills.
Leave your honest feedback
Leave your genuine opinion & help thousands of people to choose the best online learning platform. All feedback, either positive or negative, are accepted as long as they're honest. We do not publish biased feedback or spam. So if you want to share your experience, opinion or give advice - the scene is yours!