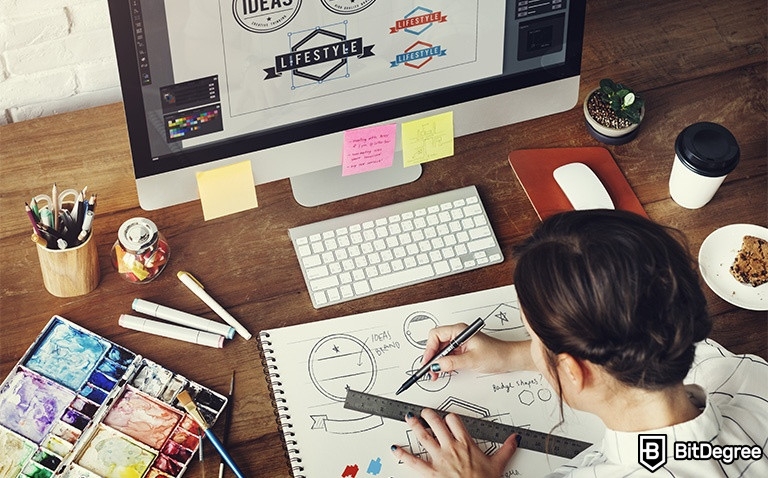 Have you ever looked at an eye-catching poster or a masterfully designed brand logo and thought to yourself "how do they do that?" Well, a Skillshare graphic design course is the best way to find out.
The platform, being one of the best-known online course providers at the moment, has over 4 thousand programs available to anyone interested in learning about graphic design. Whether you're a beginner or a pro looking for inspiration or a new technique to try out, Skillshare has it all!
That being said, we, unfortunately, don't have enough time to review every class the MOOC platform has to offer, so in this article, we will be reviewing the 7 best graphic design courses on Skillshare:
But before we jump into what exactly makes each course worth your attention, let's take a look at why Skillshare is the best choice for those interested in graphic design.
Why Should You Take a Skillshare Graphic Design Course?
It's no secret that graphic designers have been in high demand for many decades. In fact, according to Britannica, the field will soon be celebrating its 100th birthday, as the term "graphic design" was first coined in 1922 by typographer William A. Dwiggins.[1]
Latest DataCamp Coupon Found:
EXCLUSIVE 25% OFF
On DataCamp Subscriptions
Follow the Datacamp promo code link & get an exclusive 25% OFF Datacamp subscriptions. Act now while the offer is still available!
Expiration date : 13/06/2023
2,765 People Used
Only 35 Left
Since then, with new technology being constantly developed, graphic designers have become one of the most in-demand occupations, and the growth of its popularity is not predicted to cease any time soon.
In fact, the demand for graphic designers in computer and technology fields is expected to experience massive growth of 24-26% by 2024.[2]
Needless to say, a career in graphic design is one of the best ones to have in our technological age.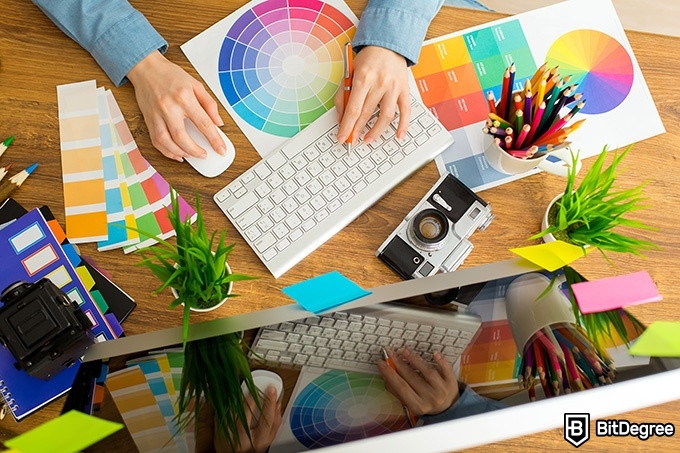 Now, you might be thinking, sure, becoming a professional sounds great, but why should I start learning graphic design on Skillshare?
Well, there are many reasons why Skillshare is the perfect choice for you. As mentioned before, the platform offers more than 4 thousand individual courses hosted by skilled professionals that can teach you all the ins and outs of graphic design in a matter of a few days.
What's more, is that anyone interested in graphic design can find the perfect course to suit their needs. Beginners can choose from hundreds of introductory classes covering the necessary fundamentals to kick start their journey, while those more familiar with the field can select a specific skill set to master, like typography or illustration.
In short, Skillshare is a great platform to find interesting and informative graphic design courses for no more than $10 per month. And as if that wasn't amazing enough, some classes can be taken for absolutely free!
It really doesn't get better than that.
And now, let's see what Skillshare graphic design courses are the best to try right now.

As with any other art form that you aren't familiar with, at first glance graphic design can look like some sort of witchcraft. How do those professionals make it seem so easy? It's almost like they instinctively know how to turn a few lines and shapes into masterpieces.
Well, good news - anyone can become a graphic design wizard, just like the masters mentioned previously. Everything begins with the fundamentals. There are several basic principles that can help you create balanced, visually appealing designs in minutes!
The Basic Principles Of Graphic Design is a Skillshare graphic design course created specifically with beginners in mind to help them feel more confident with their first ventures into the field.
The fully theoretical program covers 7 core principles used by professional graphic designers to take their work to the next level - contrast, repetition, tension, hierarchy, balance, white space, and scale. These basics are what can make a good design look great.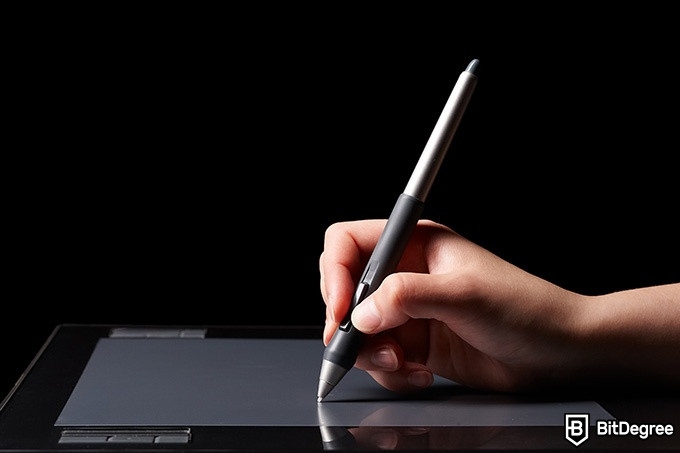 In addition to the necessary theoretical material, the course shows examples of the principles being used by professional graphic designers, which allows students to see the simple techniques transform a design in a real situation.
What makes this 9 class course great is the easy-to-follow structure. Each fundamental is covered in a separate lesson, allowing everyone to properly grasp the concepts.
Another thing that makes this Skillshare graphic design course worth your attention is its duration. If you're just getting started with exploring graphic design, your first courses shouldn't intimidate you with hours of monotonous theory. This program is only 18 minutes long, which means that even the busiest students can have the basics down in less than an hour!

Of course, as amazing as the class is, pricing will always remain one of the key factors to consider while deciding if it's the right one for you.
Well, Skillshare has that covered, too! If you are interested in learning the fundamentals of graphic design on Skillshare, all you need to do is apply for a premium membership. To assure that your experience is as stress-free as possible, the first two weeks are completely free for you to try out all of the perks. And if you decide to stay, you would only need to pay $10 per month.
Skillshare really is that great!
Those interested in finding out more about the basic theories of graphic design will learn:
How the core principles can be applied in various situations;
How to know what you need to tweak to get the best results;
What tips and tricks experts use to create digital art.
So, kickstart your graphic design journey with one of the best graphic design courses on Skillshare!
Start the course NOW.

Alright. You have the fundamental concepts down to a T and are ready to create your first piece. But there's only one thing left to figure out - how exactly do you start working with graphic design?
There are so many different programs and systems you could use that it's impossible to learn everything about all of them. However, we have found a Skillshare graphic design course that can be considered the ultimate graphic designer's handbook.
Graphic Design Masterclass: Learn GREAT Design is exactly what it sounds like. The course leaves no stone unturned and teaches you everything there is to know about the three most popular graphic design programs, including useful tips on creating different designs.
Covering Adobe Photoshop, Adobe Illustrator, and InDesign, the class individually introduces you to the specifics of each system, from the tools available to the possible results and everything in between.
In addition to that, students will learn to practically apply graphic design theories, create different types of designs, and much more.
Now, you can trust us when we say that they weren't kidding when they called this course a Masterclass.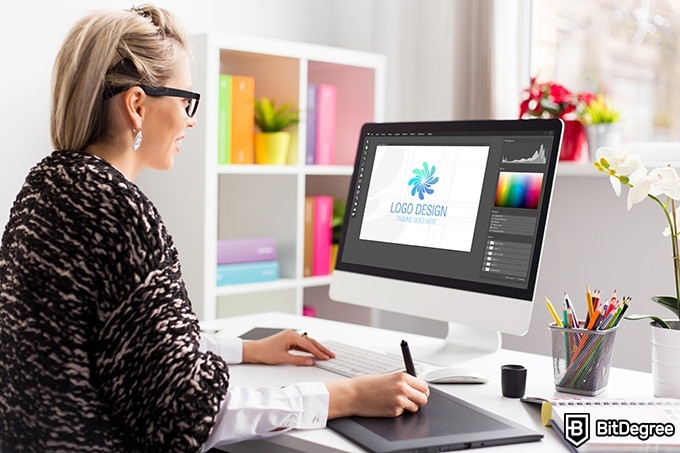 Of course, it is important to note that you shouldn't expect to go from zero to hero in a few hours. This Skillshare graphic design course is the most in-depth program on our list. With 138 lessons and new ones being uploaded regularly, the course contains 18 hours and 8 minutes of learning material.
Admittedly, this can seem like a steep mountain to climb, but the beginner-friendly class is created to make learning graphic design fun and simple. With bite-sized lessons, you won't even notice the time flying by!
If you're worried that the Masterclass comes with a price tag to match, you can rest assured. Like all other Skillshare graphic design courses in this article, you can take this program free of charge during the first two weeks of your premium membership.
And if you ever want to revisit any class, you can have unlimited access for only $10 per month once the free trial is over.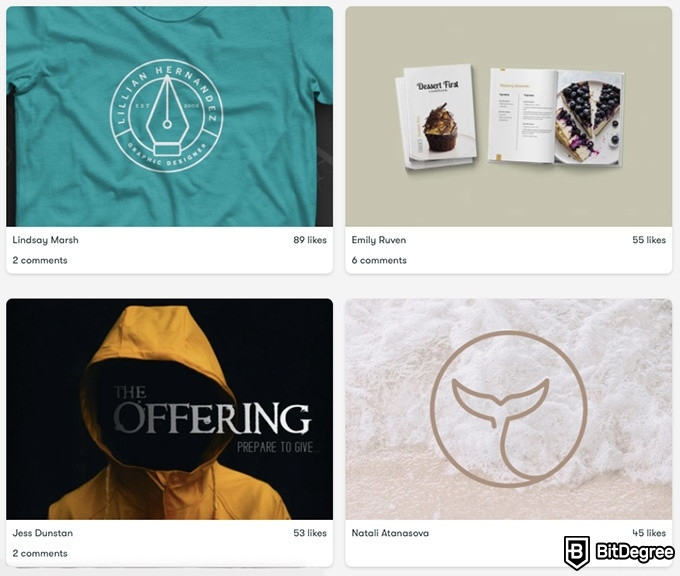 Those eager to know more about the ins and outs of graphic design will learn:
How basic graphic design theory can be used while working with Photoshop, Illustrator, and InDesign;
What techniques are used to create logos, thumbnails, posters, and much more;
What skills are most important in different graphic design niches and which one is the best for you.
Whether you're a beginner or already have some knowledge behind your belt, there is no better place to start learning graphic design than with this Skillshare class.
Start the course NOW.

Graphic design doesn't have to be limited to only Photoshop, Illustrator, and InDesign. There are many different programs you can try to figure out what your preferences are. Some programs focus more on tools needed for typography and lettering, others work best for illustration and digital painting.
And if you are interested in the latter, you've probably heard about Procreate - an iOS app launched in 2011, designed specifically with digital artists in mind.
If you are curious to find out how to use the program, then Procreate for Beginners is the perfect Skillshare graphic design course for you. The series of mini-tutorials is designed for beginners looking for simple and fun lessons on how to create beautiful digital designs.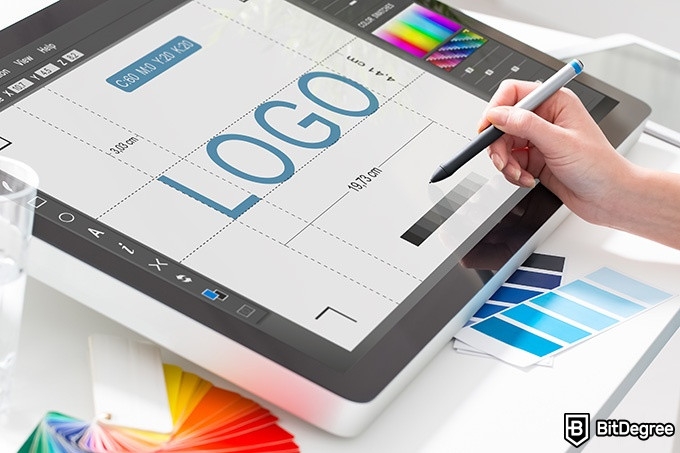 Because Procreate has unlimited possibilities, the online course focuses on how the app can be used to create lettering. That being said, the skills you learn can be used to create any design you'd like. Lessons are paired with mini-projects that will help you hone your skills while having fun.
This Skillshare design course is divided into four main blocks of tutorials - interface basics, masking, lettering tips, and exporting. And to make the process as simple as possible, the material is divided into 27 lessons, so you don't need to worry about juggling several topics while working with one tutorial.
As mentioned previously, Procreate can truly be limitless. However, all the basics of tools, tips, and projects are covered by only 2 hours and 37 minutes of content. An afternoon with a new hobby has never been so simple!
Of course, we can't forget about the pricing. This is one of Skillshare's pay-to-take courses, accessible to those with a premium membership. However, if you want to just try the course out with no commitment, you can enroll for free during the first 14 days of your subscription.
And if you decide to stay longer, the full Skillshare experience costs no more than $10 per month.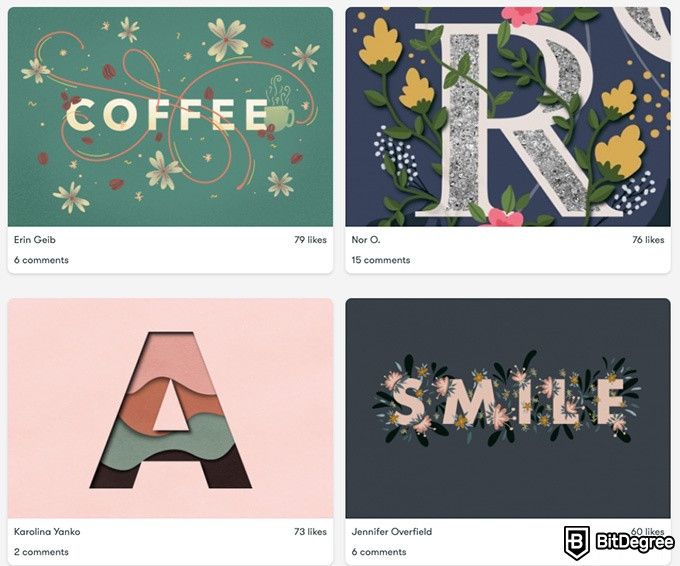 Those enrolled in this Skillshare graphic design program will learn:
What tools and techniques can make working with Procreate much smoother;
How the basics of graphic design can be applied while working with the app;
What brushes you can use to create unique, eye-catching designs.
This Skillshare class is perfect for those looking for a simple way to digitally express their creativity.
Start the course NOW.

Let's admit it - sometimes technique and understanding of design fundamentals might not be enough to be a great graphic designer. Even the most complex, intricate creations made by professionals can sometimes look… off. Chances are, one of the most important theories was forgotten during the creative process.
Color theory.
Of course, graphic design doesn't have to be bursting with color for it to be good. Black and white or monochrome pieces can be just as impactful. That being said, color theory is one basic that all artists should be familiar with.
Color Theory Basics for Graphic Designers - Creating Color Palettes is a Skillshare graphic design course designed to make using color in your work less intimidating and maybe even fun. Whether you're completely new to graphic design or have simply never ventured into the realm of color theory, you are sure to find this class useful.
What makes this color theory class stand out from the rest is its content - while covering the fundamentals, the program also explores the psychology behind different colors. This allows students to see color theory as much more than just matching shades and the color wheel, which makes the course that much more enjoyable.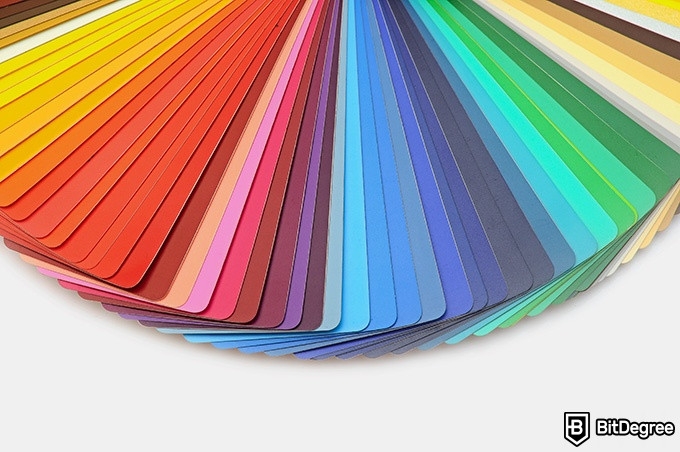 Keeping in mind the fact that graphic designs primarily work with color palettes, that's exactly what the course covers - the 7 lesson program teaches you how to create eye-catching palettes in a blink of an eye.
Because the syllabus focuses only on one of many theories of graphic design, you can expect to breeze through the material in just one sitting. That being said, there's no denying that the 40-minute class is full of useful tips to help you elevate your art.
Now, if there's one thing that no one can do better than Skillshare, that's pricing. Those with a premium membership can take this and many more graphic design courses available on the platform without any charges during the first two weeks of their subscription.
And once the free trial is over, you can continue enjoying the perks of learning graphic design on Skillshare for only $10 per month.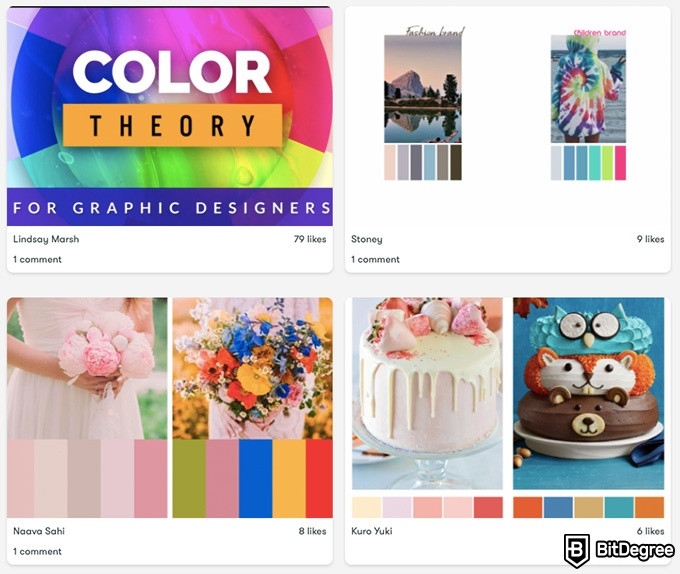 If you are ready to see the true colors of graphic design (pun intended), you can expect to learn:
What are hue, tone, shade, and how they can work together;
How you can use different color combinations to evoke a specific mood or emotion;
How images can be used to create vibrant color palettes that tell a story.
With so many great tips and interesting material, this Skillshare graphic design course is sure to be a favorite among many.
Start the course NOW.

Graphic design can be used in more fields than you expect, some of the most popular being advertisement posters, YouTube thumbnails, and, of course, branding. Logos and visual brand designs are a subtle mix of artistic creativity and clever design.
However, just knowing how to use Adobe Illustrator is not enough to create a successful brand design. It takes a specific skill set to capture the exact essence of a brand with no more than lines, letters, and colors.
That being said, this is exactly what this Skillshare graphic design course is all about. The Branding Masterclass for Graphic Designers: The Entire Process is a program created specifically to teach you the subtleties of the inner workings of branding through graphic design.
Now, it should be noted that this course is not intended for beginners. Because the syllabus does not cover the basics of graphic design, it is important to have some experience to make sure that the course can be taken without any trouble.
Because branding is much more than finding which colors go well with which font, this course was made to prepare graphic designers for every step of the process. From consulting with clients to settling on a concept and eventually adding all the finishing touches, no detail is forgotten.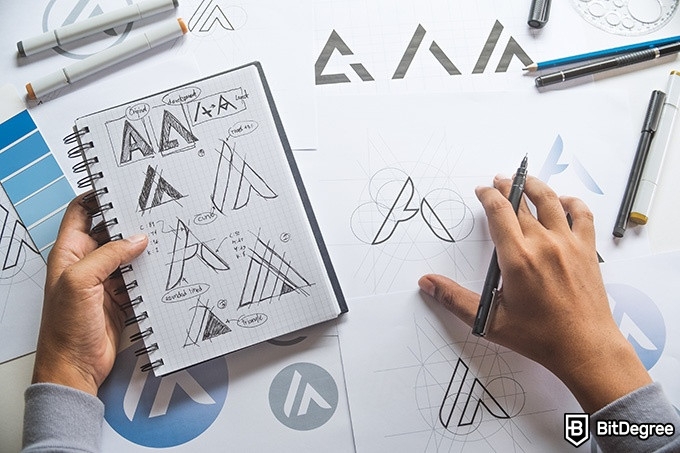 One of the best things about this Skillshare design class is how detailed the syllabus is. The 55 lessons are not limited to the branding process. Students will be taught how to create a multi-faceted brand, as well as have a unique opportunity to study other graphic designers' portfolios to see how their new skills are used by professionals.
This truly is much more than just a graphic design course.
As you can probably guess, this course is not one on the shorter side. In fact, it's the second-longest class on our list, with 8 hours and 24 minutes of learning material. But that just shows that you will have every detail explained to you, making it definitely worth your while.
What makes Skillshare's pricing system exceptionally wonderful is that the content and how in-depth or basic it is do not affect the prices of the courses. As with all other Graphic design courses mentioned in this article, you would need to have a premium membership to be able to take this online class.
However, the first two weeks of the subscription allow you to try out any courses for free, and if you would like to continue learning on Skillshare you won't be charged more than $10 per month once the free trial is over.
It really can't get better than that.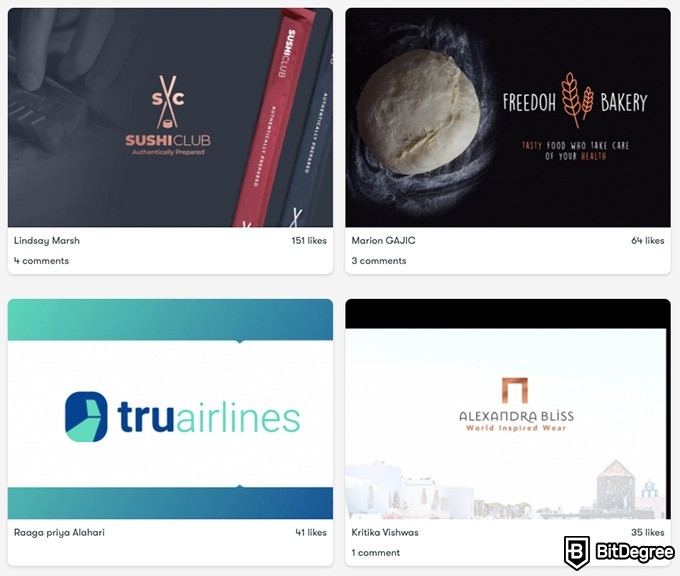 The students that decide to kick start their career in graphic branding with this Skillshare design course will learn:
How to translate the client's vision into an actual design;
What you need to keep in mind to make the branding simple, yet memorable;
How to work with the tools available to you to create sophisticated visuals.
So, what are you waiting for? Learn how to create an eye-catching brand design with just a few clicks of your mouse.
Start the course NOW.

Even though graphic design has tens if not hundreds of uses in several industries, some people choose to keep digital art as a hobby to relax with after a long day at work. However, more often than not the skills you need to create prints might not be so useful when you want to illustrate a character you came up with on your commute home.
That's where Skillshare comes in. Digital Painting: From Sketch to Finished Product is a graphic design course that will help you create stunning character illustrations with nothing more than Adobe Illustrator. The program is focused on teaching you how to see the basics of graphic design in a different light and use them to create lifelike art that will amaze anyone.
Before taking a closer look at what this Skillshare graphic design class has to offer, it's important to note that even though the syllabus focuses on the main techniques to help you get better at digital art, only character design will be covered out of all of the different illustrations that can be created.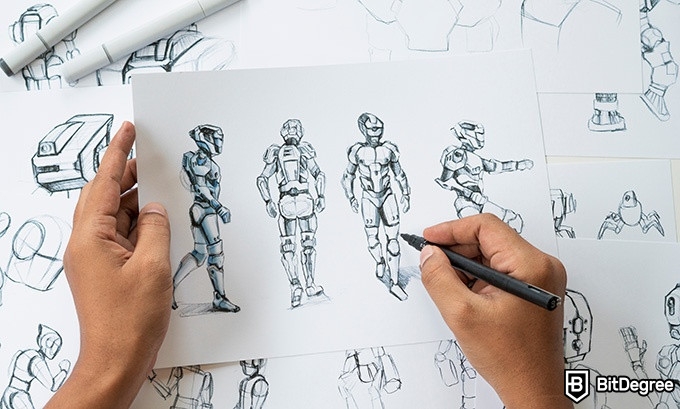 The intermediate level program takes you on a step-by-step journey to learn how to bring an idea to life on your screen, touching on everything from sketching out the concept to making the lighting bring out the most important details.
In addition to that, a bonus lesson is included on how to design eyes for your characters - you really can't forget the windows to the soul.
With 45 minutes of detailed instructions divided by topic into 11 lessons, the course is guaranteed to be a pleasure and a joy to take by anyone who enrolls in it.
Another thing to keep in mind before making your decision is, of course, the pricing. What makes Skillshare worth your attention is its incredibly affordable courses. All of the programs mentioned in our article can be taken for free during the first 14 days of your premium subscription, which you can continue enjoying for only $10 per month.
The premium membership not only includes access to all available courses on the platform, but you can revisit them as many times as you want, too.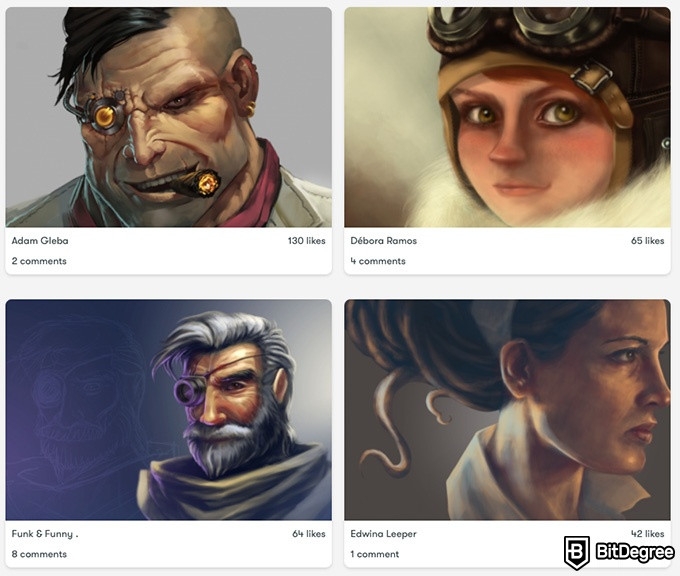 If you decide to find out how to translate your character designs onto a screen, be prepared to learn:
How to generate ideas to capture the specifics of a character;
How to layer colors to create different textures and effects;
What a difference lighting can make to set the mood of the illustration.
To those who were dreaming of illustrating their own novels or just having fun with different character designs, this Skillshare design course is the perfect place to begin.
Start the course NOW.

Even though the things some people can create with graphic design can rival the realism of photographs, we can usually distinguish which piece of art was created with a camera, and which - with an app. However, there are some tricks you can use to make your work be one step closer to mimicking reality.
Illustrator Secrets: 5 Techniques to Add Realism to Your Work is a Skillshare graphic design course designed to help you bring an extra dimension of realism to your designs and make people question what came first - a photo, or the illustration?
Something to mention before moving on is that realism in graphic design is a more advanced technique that isn't exactly beginner-friendly. If you are new to the field, we recommend taking several introductory courses first, just so you would feel comfortable learning the material covered in this program.
The key element of realism in any piece of art, whether it's graphic design or oil painting, is, of course, dimension. What makes this class great is that it presents the theories and basics of adding dimension in a way that leaves students room to do it in their own way. The syllabus shows examples of different brushes and layering methods that can be used to make the design pop, without making each creation look the same.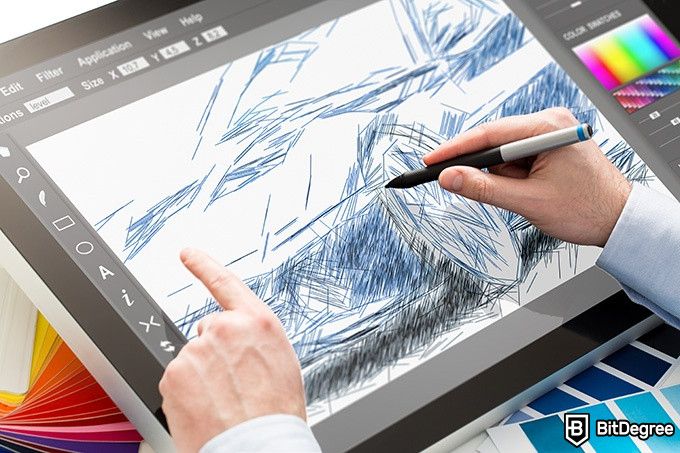 The 8 lesson course takes on each technique and tool one at a time, allowing every topic to be explained fully and simply so that every student could hone their new skills. This makes the class much easier to understand and, of course, much more fun to take.
Even though the material at hand has its intricacies, you won't need to watch hours of footage on how to blend that one dot just right to make it look like a ladybug on a leaf.
The pocket-sized course is only 40 minutes long, which makes it the perfect length to enjoy on a calm evening with your hobby.
Of course, anyone worried about the price tag on such a useful class can sigh in relief. This Skillshare graphic design course, along with all others mentioned in the article, can be taken for free during the first two weeks of your premium membership, which only comes out to be $10 per month after the free trial is over.
If you are looking for a great deal, then your search ends here.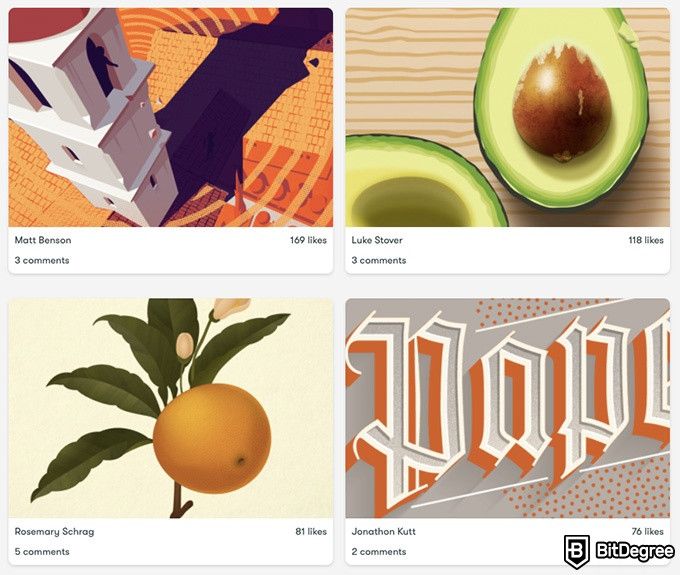 Those looking to give their artwork a new dimension of realism can expect to learn:
Different techniques to add dimension to your illustrations;
How to create interesting effects with custom brushes;
How you can use the basic tools available to create advanced artwork.
We believe that anyone interested in taking their graphic design skills to the next level should consider this Skillshare graphic design course as one of the best places to begin.
Start the course NOW.
Conclusions
After reading our article on the best graphic design courses on Skillshare you should know everything that makes the platform great.
However, if you are still wondering if we would recommend these graphic design programs to you, we can answer you with confidence.
YES, we would absolutely recommend these courses to anyone interested in the art form.
The courses available on Skillshare cover many different topics related to graphic design, from fundamental theories to advanced techniques to enhance your illustrations. The platform truly has it all, and at a wonderful price point, too.
However, two things should be noted. Firstly, not all courses are beginner-friendly. So if you are eager to jump straight into lettering you should take a few introductory courses beforehand to make sure the material does not overwhelm you.
Secondly, because graphic design is such a broad field, most courses focus on one topic at a time, making sure the material quality is as high as possible. This might seem silly to those looking for an all-in-one graphic design course. But with such simple structures and incredibly affordable membership, you really can take on as many classes as you would like.
If it so happens that Skillshare did not grab your attention, you shouldn't worry. There are many other online learning platforms, such as Udemy, that offer high-quality graphic design courses for great prices.
We hope that we have inspired you to try graphic design and that you will find inspiration with Skillshare. Good luck and let your creativity shine!
Scientific References
1. Meggs, Philip B.. "Graphic design". Encyclopedia Britannica, 9 Apr. 2021, https://www.britannica.com/art/graphic-design.
2. The Bureau of Labor Statistics, 2021-2024 projections. https://www.bls.gov/ooh/arts-and-design/graphic-designers.htm
Leave your honest feedback
Leave your genuine opinion & help thousands of people to choose the best online learning platform. All feedback, either positive or negative, are accepted as long as they're honest. We do not publish biased feedback or spam. So if you want to share your experience, opinion or give advice - the scene is yours!