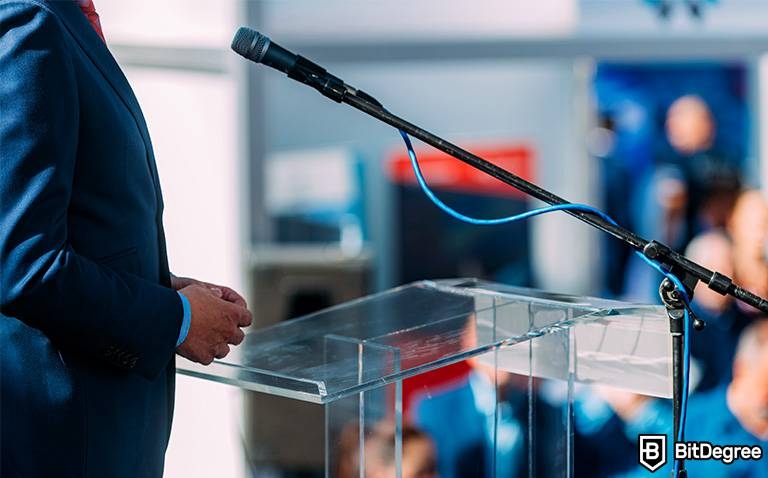 For some, public speaking comes naturally. However, others may struggle to talk in front of a crowd. But just like any other skill, you can manage your speech, and learn how to sound good in public. That's where public speaking classes online might come in handy.
Many refrain from speaking in public, because they've never been good at it. Or they've never tried, and now they just feel anxious. However, public speaking courses might push those feelings aside. Who knows, maybe it will open up a whole new career path!
Here I will take you through some key reasons why public speaking is a crucial skill in any scenario. More than that, I'll give you suggestions on some of the best speech classes out there for professional or personal needs. Let us start with figuring out why online speech classes are worth a try.
Why Should You Take Public Speaking Classes Online?
First and foremost, it is a great skill to have in any study field. Even in the early stages of education. I'm sure we've all had to do some public speaking at some point in our lives. Usually presenting slides on PowerPoint, for better or worse.
Latest Udacity Coupon Found:
SAVE 75%
Udacity Black Friday Offer
The best time to save on Udacity courses is now - follow this coupon to access 75% Udacity Black Friday discount on all courses & enjoy top-quality learning for less!
Expiration date : 30/01/2023
3,176 People Used
Only 97 Left
But doing it well is a great confidence booster that opens up a whole spectrum of opportunities. Especially in a professional environment that requires working with groups of people.
On average, a good public speaker in the US earns around $90,000 per year. I mean, it's a decent salary compared to a profession like programming. Also, you can work on the side by giving, for instance, online speech classes for adults.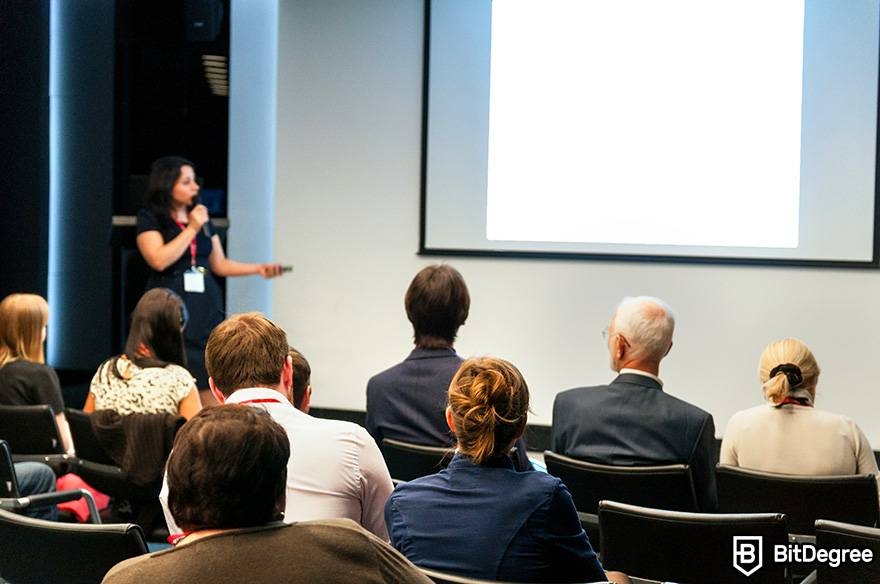 Alongside being a good skill to earn money, public speaking makes it easier to learn languages. By being confident in your speech, you will feel a lot less pressure using foreign languages in different contexts. Likewise, you'll get to practice both a foreign language and public speaking at the same time!
More than that, lots of grown-ups struggle with public speaking. Most people in their 30's, for instance, wouldn't really be comfortable going to real-life speech classes for adults. Therefore, having an online tutor might be an easier, and more discreet way of improving public speaking.
That being said, speech courses aren't strictly for adults. Younger people, looking to prepare their presentations for school or university projects, can benefit from speech courses on the best virtual learning platforms.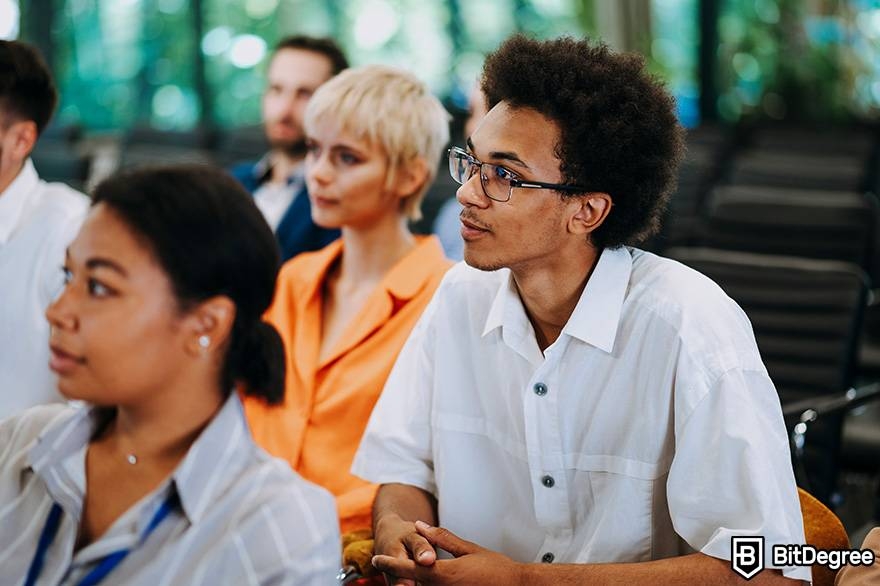 Finally, public speaking classes online are much more accessible and diverse. One single speech tutor might not give you the right tools for all your public speaking needs. Whereas virtual speech classes will let you find the perfect specialist for, let's say, doing presentations.
It is quite clear that top online learning platforms have tons of speech classes for adults and children of all ages. What's even better - these classes have their own categories. Which makes it easier to find the exact class for something like business communication.
For instance, Udemy has speech classes for presentations, media, and even breathing techniques. On Coursera, you can have public speaking classes on how to persuade, inspire, and more. Finally, edX has public speaking courses on how to communicate effectively from the best universities in the world like Harvard!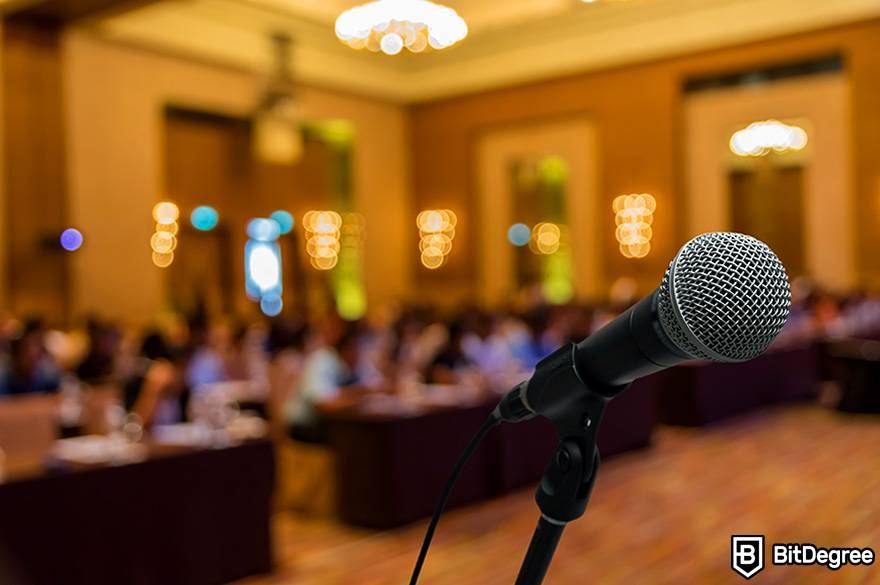 Not sure what to choose? No worries, I got you covered. I've done some digging, and found the top speech classes from the largest MOOC platforms.
The public speaking courses that I've picked range from basic speech techniques to professional guidance on how to persuade, and inspire audiences. Also, you'll find some negotiation classes for business communication.
In fact, I've selected the best public speaking classes online based on the ratings, reviews, and popularity that they've got. So bring your A-game! Take a look at some speech classes that will skyrocket your confidence in a public environment, and raise you to success.

Platform: Udemy
Duration: 16 hours 1 minute
Price: €99.99
Certificate: YES
Level: All Levels
Discount: Available
Apply HERE
If you're looking to learn pretty much everything there is to know about giving speeches - here's your chance to do so. In fact, this class is the number one best-selling presentation course on Udemy!
The Complete Presentation and Public Speaking/Speech Course is a collection of some of the best speech classes available in 7 languages. The outlined goal of this course is to teach you how to give great speeches for professional and casual audiences.
Your course will be divided into 12 acts (or categories). These categories hold 206 lectures with over 16 hours of content! More than that, you'll have over 300 downloadable resources with speech guides on occasions such as weddings or award shows.
Keep in mind - it's not mandatory to complete the course in order, so you can pick and choose whatever interests you.
Anyways, during the first couple of classes, you will learn how to identify your audience, determine the purpose and structure of your speech. Likewise, you'll get some tips on preparing slides, and how to make your speech visually attractive.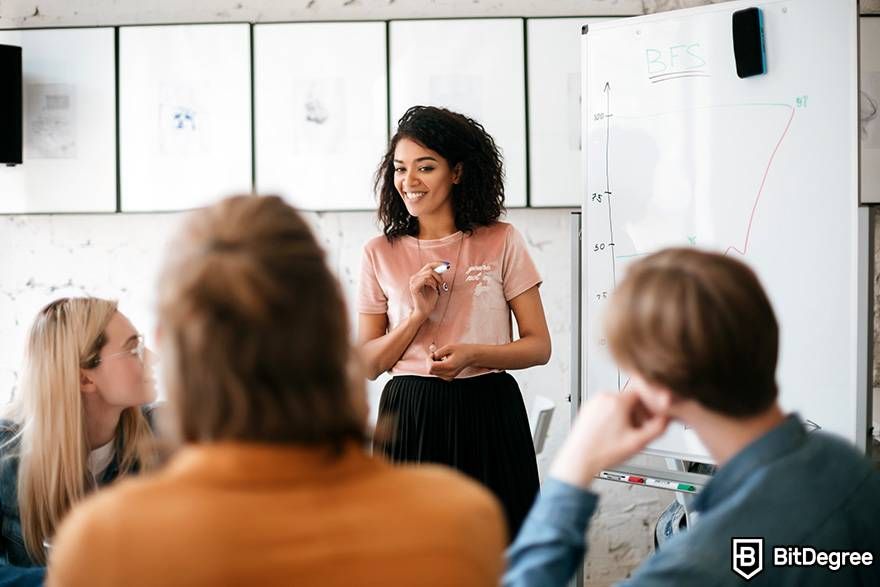 Then there is the actual presentation part: you'll learn how to be confident in front of an audience and deliver your speech properly. Also, there will be some advice on what questions to ask the public.
Finally, you'll get some extra tips on your appearance, how to prepare for a speech, and what to consider after doing a presentation. Basically, you'll get some exercises for revision.
What's more interesting, these public speaking classes online were created by an award-winning business school professor Chris Haroun - one of the highest-rated instructors on Udemy. His speech course has an average rating of 4.5 stars out of 5 with positive reviews from students.

Here's a review from one of them:
"This is a really great public speaking course. I learned so much from taking this course. I learned how to better prepare and present a speech. I've also learned things that I started implementing in my own classroom as a teacher (creating and using slides). This course met me right where I was. Thanks, Chris!" - M.Swaby
As of right now, this speech class is at €99.99. However, you might want to check out some discounts and see if they are applicable for this course.
Either way, here are some key aspects that you may learn during this course:
Preparing your speech
Gaining confidence before a presentation
Answering any questions about your presentation
Delivering a unique speech
Creating a presentable image of yourself
Overall, this speech class seems to be quite beginner-friendly with a progressive learning structure. So if you're looking to become a complete expert in giving speeches without any prior knowledge or experience - this course could be your breakthrough.
Start the course NOW.

Platform: Udemy
Duration: 2 hours 34 minutes
Price: €89.99
Certificate: YES
Level: All Levels
Discount: Available
Apply HERE
If you've recently been tasked with a public presentation at work, or you have an important business meeting - it will most likely require more than memorizing a pre-written text. Nerves and anxiety come into play when you're not used to speaking in front of a group of people.
Nevertheless, this course might be something to pull you out of the gutter.
Here's one of the best public speaking classes online that will focus on giving you the right tools for a great presentation in a business environment.
The course has 38 lectures compiled into 7 different sections that you can complete in 2 and half hours. On top of that, you'll get 13 downloadable course materials for self-improvement.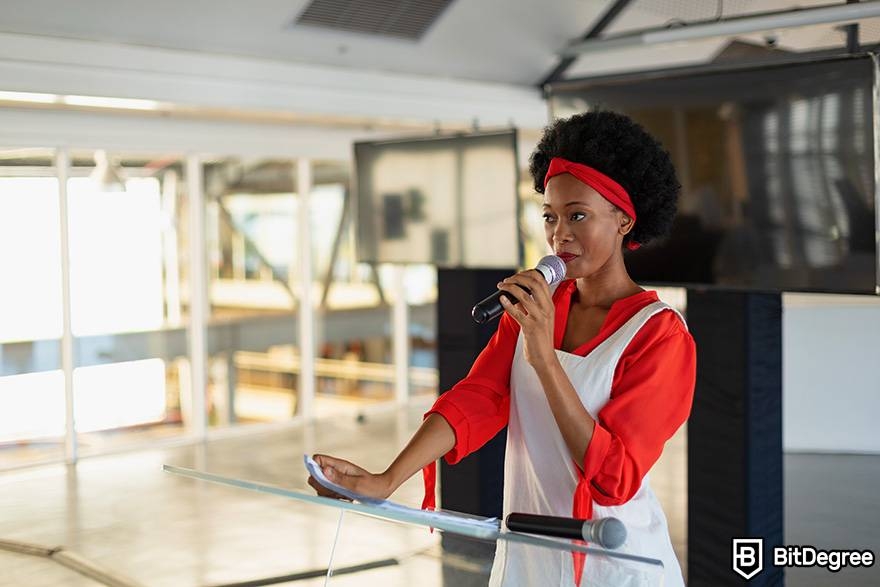 At first, you'll get to learn how to develop presentation skills, alongside building up your confidence. Then you'll find out how to engage your audience and plan a presentation.
Finally, you'll get some insight into running group meetings and dealing with various questions from the audience.
All of this will be presented by two professional speakers Joeel and Natalie Rivera who are passionate personal improvement experts. In 2014, they started working digitally which was the biggest part of their success.
Joeel's and Natalie's course averages a rating of 4.3 out of 5 on Udemy with tons of positive reviews from their students. Most of them praised their tips and recommendations on overcoming stage fright and preparing presentations.

At the time of writing this article, the course is €89.99. However, make sure to check out some of our coupon codes to get the best deal available.
Now here are the main points that will be covered in these public speaking classes online:
Overcoming anxiety when speaking in public
Using notes, cues, and memory techniques
Non-verbal communication
Breaking the ice with the audience
Writing presentation content with expert-reviewed methods
These are just a few aspects of this course. There's a whole lot more where that came from. So if you'd like to learn public speaking from industry professionals - be sure to check out these public speaking classes online on Udemy.
Start the course NOW.

Platform: Udemy
Duration: 1 hour 48 minutes
Price: €89.99
Certificate: YES
Level: All Levels
Discount: Available
Apply HERE
Speaking of languages - ever thought about how you may sound to a foreigner that doesn't speak your native tongue? Well, if they have no idea what you're saying, then it only makes sense that they will focus more on your delivery and appearance. Which is what this course is about.
During this speech class, you'll find out how to take your verbal skills to the next level and speak to foreign audiences.
With 25 lectures, you'll learn how to impress your foreign listeners by using simple vocabulary so your translated speech hold's up in contexts of other cultures. Then you'll do some practice exercises which will help you prepare for real-time situations.
Your course guide will be a personal development expert TJ Walker who has some of the best-selling classes on Udemy. With over a million students enrolled in his courses, TJ's public speaking classes online have an average rating of 4.7 out of 5 stars.

For now, the course sits at €89.99, but the price is subject to change. So be sure to check out some Udemy coupons that could be applicable for this course.
Now after finishing TJ's course, you'll learn how to:
Speak to foreign audiences
Craft speeches with a simple vocabulary
Adjust your speech to other cultures
In a nutshell - if you find yourself in front of an international audience - try winging it, or better yet, make sure that you've taken this course beforehand. So why wait?
Start the course NOW.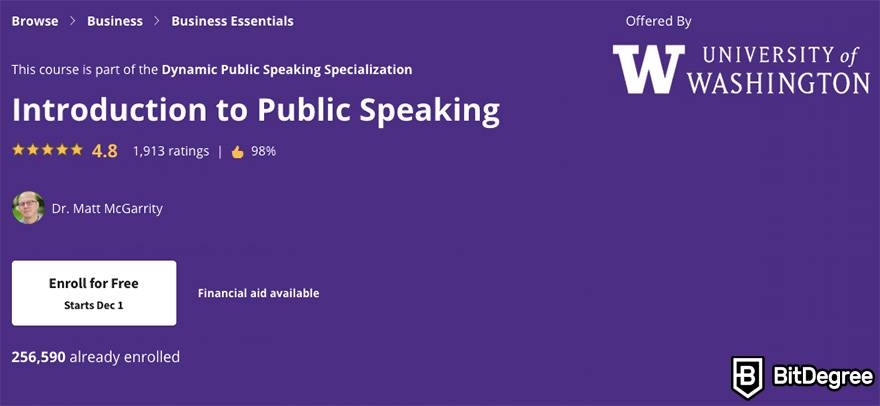 Let's say you're not sure about a freelance tutor giving you advice on giving speeches in public. Well, there's always an alternative. Coursera has certified teachers from prestigious universities that have public speaking classes online.
The Introduction to Public Speaking course comes from the University of Washington which is in the top 100 of the best universities in the world. Here you'll get the essential tools on how to prepare speeches and presentations with efficiency.
It is a beginner-friendly course, separated into 5 weeks of learning. Each learning week will require 1-3 hours of your time. During the first couple weeks, you'll learn how to construct a speech on paper, and then you'll turn it into a public one.
On top of that, you will get some insight on illustrating your ideas, overcoming stage fright, and techniques for giving a great speech. At the final stages, just like during an exam - you will have to do a final speech in order to put your knowledge to the test.
Dr. Matt McGarrity, the Principal Lecturer in the Communication Department at the University of Washington, will be the instructor of this course. He has published multiple articles on communication and won a number of public speaking awards.

In fact, his course is rated at an average of 4.8 stars out of 5 with overwhelmingly positive feedback.
Here is a review from one of the students:
"This course has been an eye opener for me, I truly enjoyed it. It gives you basic knowledge of what it takes to be a good public speaker, and you can apply this knowledge not only in presentations, but also in your daily life. The most difficult part for me was to make the videos and watch myself, but it really helps in your improvement. Also, the feedback of your classmates makes you see things you haven't caught. Try it out, you won't regret it." - Ithzel M R
As a side note, you can choose the audit track, but you may get a lot less to work with. However, if you're looking to have a digital certificate of this course that you can add to your resume - make sure to get a Coursera Plus subscription. Or purchase the class as a single learning program at a starting price of €42.
Now let's take a look at the main perks that you'll earn by taking this course:
You'll become familiar with writing speeches
An ability to make ideas of your speech memorable for listeners
You'll learn how to tackle the fear of public speaking
All in all, these public speaking classes online seem quite perfect for beginners. You'll get a clear structure on how to improve public speaking, overcome stage fright, and write powerful messages. On top of that, you will be guided by the industry's top experts.
Start the course NOW.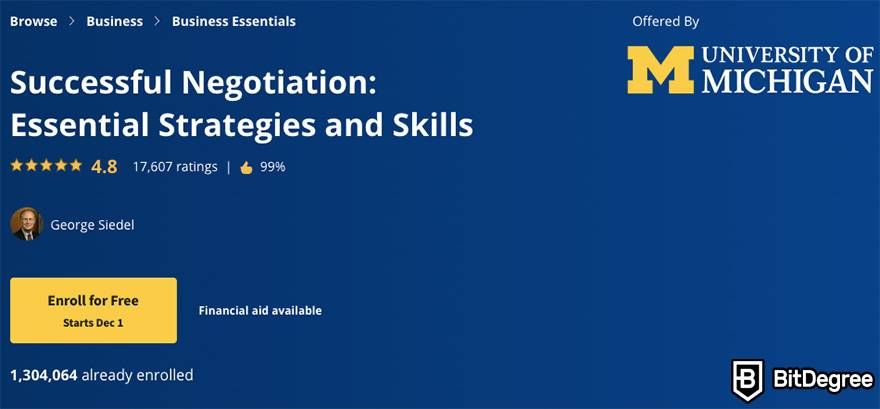 Another key factor of public speaking which covers the business side is negotiation. If you're into sales or marketing - it is a crucial skill to possess so you don't fumble under pressure.
This course is brought to you by the University of Michigan which currently takes the 19th spot in the world's best universities. Here you will learn multiple techniques and strategies for successful negotiation in a form of public speaking.
It is open to students of all levels. The course itself is split into 7 weeks. Each week you need to spend approximately 2-4 hours learning to complete the course in about 17 hours.
The first weeks involve planning negotiation strategies, then you move on to using set pieces for successful negotiation. Also, you get to learn strategies for closing business deals, and how to mediate a negative outcome of a contract.
Finally, you'll get to practice your negotiation skills, and take a final exam to complete the course.
Your instructor will be George Siedel who is a Professor of Business Law at the University of Michigan. His course is rated at 4.8 stars out of 5 with positive feedback from his students.

In fact, the Learner Career Outcome tab shows that 16% percent of students started a new career path because of this course. Another 23% got a career benefit by completing the course.
Having that in mind, you can try this speech class out on Coursera with a free trial option. However, you will not be able to earn a certificate. So you might want to check out the Coursera Plus subscription plan (starting at €42) which will reward you with career furthering benefits.
Now then, let's quickly go through the things that you'll learn during this speech class:
Successful negotiation
Negotiation strategies
Negotiation tactics
Closing business deals
Key part to remember - this course is more of an addition to your speech skill set. However, before you jump into it - make sure you got the basics of public speaking covered. But if your needs of public speaking require having skills of negotiation - this is a perfect course for you.
Start the course NOW.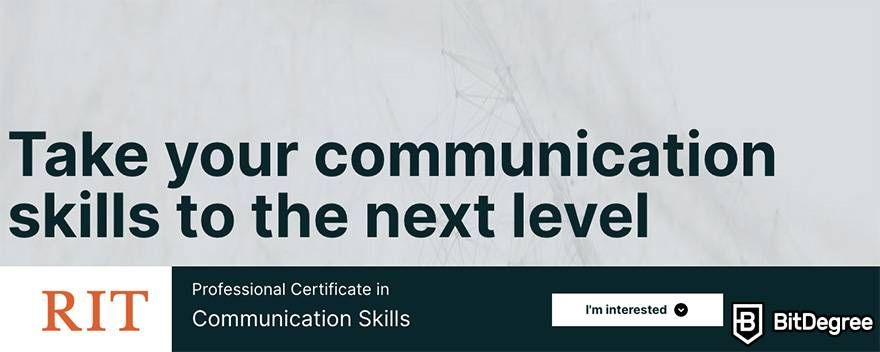 Platform: edX
Duration: estimated 2 months to complete
Certificate: YES
Level: Mixed
Discount: Available
Apply HERE
Looking to top up your speaking skills with a professional certificate? Here's your chance to do so!
The Communication Skills Program is a collection of public speaking classes online, taught by experts from the Rochester Institute of Technology. You'll learn how to excel your business communication skills by doing effective presentations, and crafting impactful stories.
The program consists of 3 extensive, skill-building courses that you should complete in 2 months at a pace of 4-6 hours per week. However, you can do it at your own speed.
It starts off with a workplace storytelling course that will give you crucial information on crafting messages and narratives for target audiences. Then you'll move on to a class about building confidence and giving an unforgettable speech to the audience.
Finally, you'll get expert-based visual presentation tips about enhancing your speech with impactful images and effective communication. That includes making presentable slides and managing stress in front of an audience.
From here on out, you'll be taught by 4 decorated communication instructors with journalism, playwriting, and marketing backgrounds. Therefore, you will get a wide spectrum of professional input on public speaking.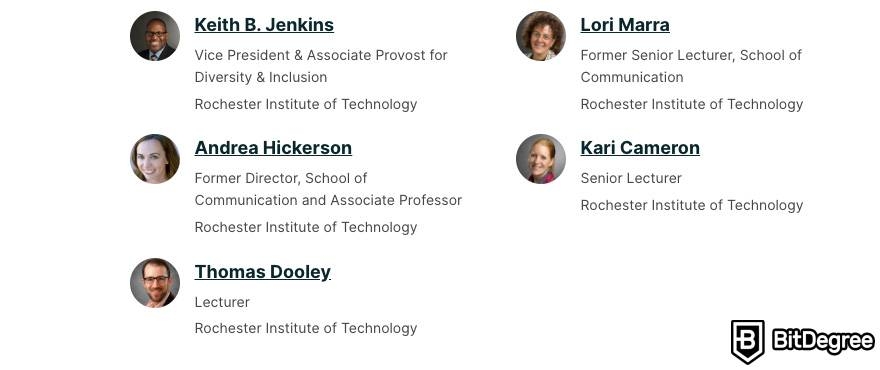 Right now, the whole program is set at a price of €464 which is pretty expensive. You could choose the audit track, but you may not get to do any exercises, or get a completion certificate. However, you can buy classes from the program separately, or use our coupons for a discount.
Now let's look at a quick rundown of what you'll get to learn from this program:
How to convey messages and narratives to your target audience
How to make memorable presentations
How to impress your audience with visuals
All in all, this is a great package of public speaking classes online, with one of the largest variety of courses and instructors. The best part of this course is that you'll get a chance to become a professional in the public speaking field.
Start the course NOW.

In this day and age, public speaking has become a crucial part of politics, the economy, and various social scenarios. So, in order to portray a convincing message, it requires telling a strong speech with a powerful meaning. This is also known as rhetoric which will be covered in this course.
These public speaking classes online come from Harvard University which is the second-best university in the entire world! Here you will be introduced to American political rhetoric with insight on how to effectively speak in public.
You'll be able to complete this course in 8 weeks at a pace of 2-3 hours per week. However, it is not mandatory - you can learn at your own speed.
Now at first you'll begin by learning how to use rhetoric in speeches while exploring various rhetorical techniques. Then you will move on to writing your own speech by using specific wording methods.
Finally, you'll get some tips on constructing arguments and identifying logical fallacies in other speeches. In fact, the content will be backed up by speeches from political figures like Martin Luther King Jr. and John F. Kennedy.
Your course instructor will be James Engell who is a Professor of Comparative Literature at Harvard University. He has written multiple research studies on language, literature, and culture which are closely related to crafting speeches.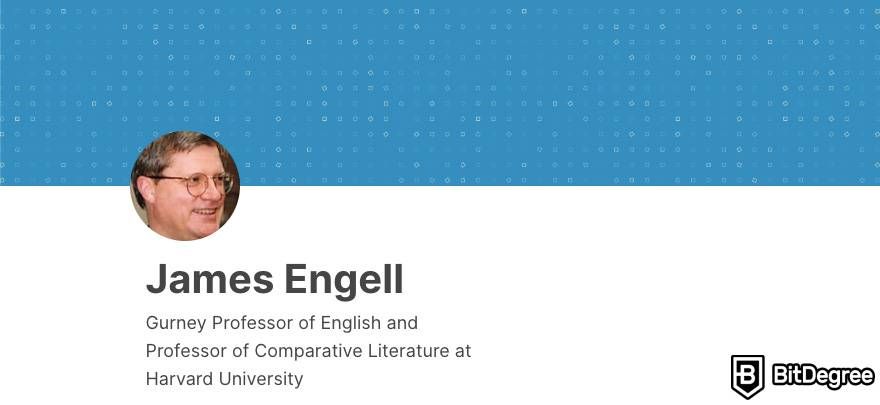 At the moment of writing this article, the course is at €120. If you're not sure about buying the course - you might want to look through our coupon page for a discount or use the audit track.
In any case, let's look at a brief summary of what you'll learn during this course:
How to use rhetorical tools in your speech
How to use public speaking techniques to reach desired goals
How to evaluate the strength of a speech
So, if you're looking through some of these speech classes for adults, and want to possess a strong skillset to express your thoughts - this course will bring you up to speed.
More than that, such public speaking courses online might end up being huge eye-openers. In other words, you may find yourself in a political commentator's shoes!
Start the course NOW.
Conclusions
Our tour of public speaking classes has come to an end. But your need for guidance hasn't, so be sure to choose the right course for your professional/personal needs. Likewise, don't hesitate to explore other public speaking classes online on platforms such as Udemy, Coursera, or edX.
Learning how to speak in public can be tough, but it gets a whole lot easier when an expert teaches you all the right tips and tricks. However, enrolling in a speech class might seem ineffective, or just not engaging enough. Maybe even too expensive. What then?
Well, if you're hesitant to purchase a particular course, or money's tight at the moment - don't worry. Udemy offers a 30-Day Money-Back Guarantee on all courses. Also, edX has a 14-day refund policy on purchased classes, while Coursera gives you a 7-day trial for all your learning needs.
So as the old saying goes - don't knock it till you try it. And in this case, you can try for free!
Leave your honest feedback
Leave your genuine opinion & help thousands of people to choose the best online learning platform. All feedback, either positive or negative, are accepted as long as they're honest. We do not publish biased feedback or spam. So if you want to share your experience, opinion or give advice - the scene is yours!