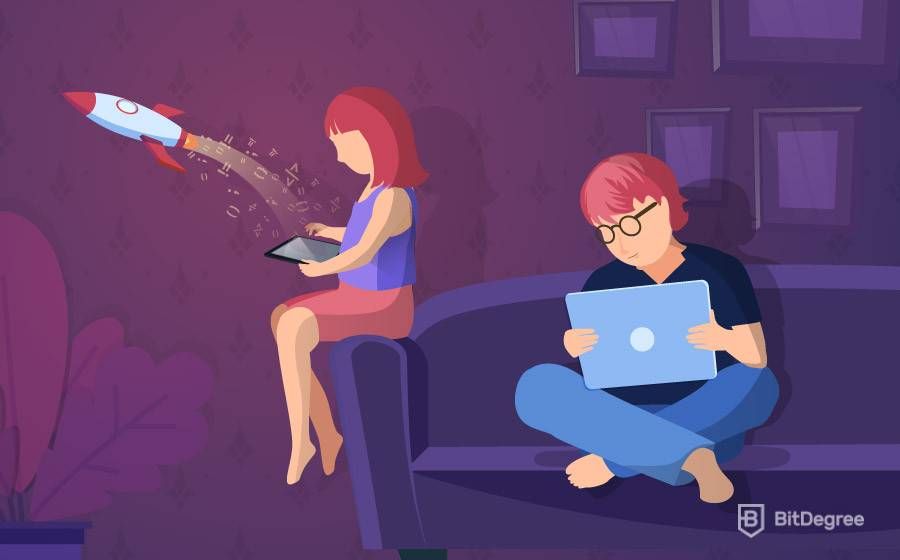 It's no secret parents only want the best for their child – and this does not end with comfortable clothes and filling meals. The ultimate goal is to give them a solid foundation in life. One of the best things you can do for your little one is to provide them with a quality education that will allow them to pursue a career of their dreams. In the last few years, programming for kids has been in the spotlight – let's discuss why and how you could be teaching kids to code yourself!
The future of the IT world
Some people are skeptical about the hype of programming for kids. They believe you can never be sure what the future brings. However, it requires very little research to see coding is not going anywhere – and the sooner you start, the stronger you stand.
Latest Udacity Coupon Found:
SAVE 75%
Udacity Black Friday Offer
The best time to save on Udacity courses is now - follow this coupon to access 75% Udacity Black Friday discount on all courses & enjoy top-quality learning for less!
Expiration date : 30/01/2023
3,176 People Used
Only 97 Left
The career choice of tomorrow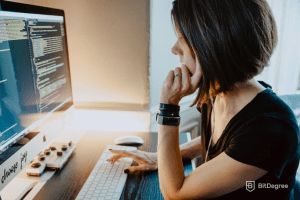 Gone are the days when coding was just a niche for geeky outcasts. Nowadays, professional developers are highly sought after in most companies, the international tech giants employ thousands every year – and they're still talking about a shortage! It seems like everybody needs software, and every software needs updates and support. The opportunities aren't limited to tech companies, either: two out of every three computing jobs are founded in finance, business, healthcare, design, and a variety of other areas. According to the US Bureau of Labor Statistics, the demand for software developers in 2028 is going to be 21 percent higher than it was in 2018. The growth rate is much more impressive than it is for most other occupations. It's only natural a lot of parents are looking into programming for kids: a solid foundation means a stronger skill set, which can turn into a guaranteed career. It's a lucrative field, too: Burning Glass estimates that an IT specialist can earn approximately 19 percent more than a non-IT professional on average.
Coding for elementary students
The world has been going IT-crazy for quite a while now – actually, long enough for programming to be considered a skill worth teaching universally. Apple's CEO Tim Cook says "coding should be required in every public school in the world" and even states that it could be more important to learn to code for kids than to learn English as their second language. The parents seem to agree: a whopping 93 percent of them think teaching kids to code is a great way to use the school's resources, and 91 percent want their children to learn more computer science. However, while it's definitely not uncommon to learn coding for elementary students anymore, the situation differs significantly from country to country. 9 EU countries now teach programming for kids as a part of their elementary school curriculum, and seven more include it in secondary education. Starting in 2023, teaching kids to code is mandatory in Japan as well. As for the US, less than half of schools across 39 states teach computer science. The number is even lower in Canada: only one out of three students says their schools teach kids programming. We can see the IT job sector and teaching kids to code have one thing in common: the demand is far higher than the supply. Luckily, there's a ton of ways to learn programming for kids that don't require the formal school environment… or even reaching school age.
DO try this at home: various approaches to programming for kids
If you, an adult person, wanted to start training in software development yourself, you would probably know where to start. There are university programs, online courses, bootcamps, tutorials, study guides, and a ton of other ways to get into this. However, if the student can still count their age on their fingers, it's safe to say you can throw all of these out of the window. We would all like to think of our children as prodigies, but in reality, they are few and far between. In most cases, it is simply unrealistic to expect for a small child to have an attention span or the patience of an adult. With the right approach, however, it's even possible to teach basic coding for toddlers. After all, it's the early bird that gets the worm.
iPad can do more than cartoons: coding apps for kids
A lot of parents say their kids are fans of their iPads and other tablet computers – sometimes to an extreme level. If it seems impossible to beat their fascination, don't overdo it. With special coding apps for kids aged four and up, this entertainment machine can become a handy learning tool. Move the Turtle is a great option for anyone who wishes to introduce their youngsters to programming for kids. It uses the Logo programming language, which has been specially designed for educational purposes. As the name of the app suggests, the child can move the turtle around their iPad screen using various programming instructions. Each new level brings a different challenge that makes your child gradually but firmly grasp the concepts of variables, procedures, loops, and conditional instructions. They will also learn to save and reuse their work. You can use Move the Turtle in English, Spanish, or Polish. If dinosaurs are more up your kid's alley, introduce them to Daisy the Dinosaur. A simple drag and drop interface lets you animate the creature, make it spin, roll, jump, and even dance – while secretly teaching kids to code at the same time. Four-year-olds and older children will intuitively get how objects, sequences, events, and loops work. The downside to Daisy the Dinosaur is that it doesn't offer many functions and challenges. However, as a free app, it can be a great introduction to programming for kids.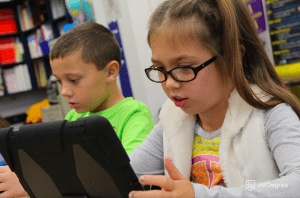 Hopscotch is another creation of the team behind Daisy the Dinosaur. Unlike the coding apps for kids mentioned before, this one is aimed at kids who are a bit older. Hopscotch can be used to teach coding for elementary students aged seven and up, both at home and in the classroom (with a special educators' plan). By using the Scratch programming language, it simplifies game development for kids. As of now, there are 33 million games already created by children using Hopscotch around the world!
Online programming games for kids
Applications for tablets are a great choice when you need to explain coding for toddlers and just slightly older kids. They do a pretty good job of introducing the basic concepts. However, introducing actual programming languages for kids requires more than a touch screen device and some drag-and-drop challenges. If your kid is a bit older (say, 7+) and already knows how to read and do some basic typing, you might want to show them some programming games for kids that can be played in any web browser. One of our personal favorites is CodeCombat, which offers a wide choice of disciplines to learn, including but not limited to web development and game development for kids. Since 2013, the game has had over five million players, almost half a thousand contributors, and been translated into fifty languages. Going through levels and challenges of increasing difficulty, CodeCombat teaches programming languages for kids of all ages. Depending on the goal you choose, you can master HTML, CSS, JavaScript, Python, and others. Another nice option for kids over ten years of age is CodeMonkey. In 2023, it received a What's On 4 Kids award as the Best Educational Online/Digital Program for Kids. In the game, you help the adorable little monkey collect bananas by completing various tasks. CodeMonkey can be used to teach CoffeeScript and Python programming languages. For kids, it is a great way to get a firm grasp on universal coding concepts, such as objects, arguments, variables, loops, and arrays. CodeMonkey is available in twenty languages, and there are plans to offer more translations in time.
Turn coding into a child's play with specialized toys
Some parents feel hesitant about programming for kids because they think it means they will be spending hours and hours in front of the screen. You might be surprised to learn it might not even be necessary! First released in 2014 on Kickstarter, Robot Turtles is still the highest selling board game on the platform. Yes, you heard us right – it's a game with a board, cards, and a few types of tiles that can be played by a company of up to five players. As of 2023, more than fifty thousand game sets have been sold all around the world. Created by a professional software developer and a father of young twins, Robot Turtles introduces programming concepts in a way that even a four-year-old can comprehend. By moving their turtles across the game board to avoid the obstacles and reach the diamond, your children can learn about basic commands, programs, functions, and debugging. When teaching kids to code, those raising girls face an extra challenge: the old belief about tech being no place for women has not been going away as fast as we would like. The gender gap in the tech industry is immense: statistics say women occupy less than 18 percent of all the coding jobs. Luckily, thanks to a bunch of active women, inclusivity is on the rise – and you can see it in programming for kids, too. In 2017, Sharmi Albrechtsen was called one of the women who are "disrupting the status quo and championing gender diversity in advertising and tech". Sharmi is the inventor of SmartGurlz – a series of four racially diverse programmable dolls for girls (6+ years of age). Each doll has a scooter that you can control using the SugarCoated app. Both Girl Scouts of America and BlackGirlsCode have recommended SmartGurlz in public statements. Your kids will carry out various missions – all while learning to code in Scratch. Basic algorithms, loops, and code sharing can literally be a child's play!
Dip into robotics
Various robot models are a great way of learning programming for kids who are a bit older. Building and controlling something from afar is fascinating to a lot of young tech enthusiasts, as well as lovers of sci-fi movies. There is a massive variety of toys you can choose from, depending on your budget and the child's personal preferences. Let's look at a few impressive options. Dash is a cute bubbly robot, compatible with both iOS and Android devices. There are multiple apps you can use to control it. Due to different levels of complexity, each age group can find an app that suits them best. Coding allows the child to make Dash move on its wheels, interact, and even react to touch. There's also a wide choice of extra accessories you can purchase, making the Dash even more powerful. It can even draw with special markers and play a tune on its tiny xylophone! Lego started their story with wooden toys and later made history with their omnipresent plastic building blocks. Now, it wants to teach kids programming, too. As of now, they offer two codable sets: Lego Boost (ages 7–12) and Lego Mindstorms (ages 10+). To make programming for kids more achievable, the systems are based on drag-and-drop coding blocks. Each set allows you to build a variety of different robots. To control them, the child will be using a free application on their computer, tablet, or smartphone. While playing, a child learns how coding works with robotics – and how they can use their own skills to build something from scratch.
Projects that keep on giving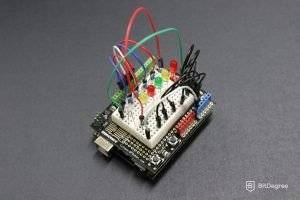 Another great way of introducing programming for kids is microcomputers like Raspberry Pi and Arduino. They offer a unique chance of dipping into the hardware side of computer sciences, too. It's not surprising they have quite a following among adult hobbyists and DIYers. Microcomputers are affordable, small, and light enough to carry in small hands. The fun thing about them is, it's impossible to ever say you've tried everything it has to offer. The variety of projects you can take up is immense, and the internet is full of ideas. You can make everything from a home surveillance camera to a guitar or a plant watering system. You can make both Arduino and Raspberry Pi even more powerful by adding extra components to them, such as sensors and lights. It's important to acknowledge using microcomputers might be a bit too challenging for younger kids. 12-year-olds and older kids will be able to grasp it, but the younger ones will probably need some assistance. Still, you can always turn it into a hobby you do together! Another way to make using a Raspberry Pi a bit more beginner-friendly is by using an educational kit like CrowPi. It's a portable package of different parts with a 7-inch display. Accompanied by a printable manual and video tutorials, it will help your youngster master their Raspberry Pi. As for Arduino, it might be good to prepare by getting familiar with the Arduino language, which is very C-like, but has some tiny peculiarities. To ban the boredom from your house, you can also try subscription boxes. Bitsbox is our favorite, as it requires absolutely no coding experience, works for 6–12 year old boys and girls, and has multiple pricing plans. Every month your child receives a set of coding projects in various levels of complexity. Each project teaches a different computer science concept, such as conditionals, loops, or operators. Having picked a project, they get the code for it on the Bitsbox website. Then, they're free to customize it and make it their own. When they finish the job, you can download the app your kids made to your mobile device.
Programming books for kids
It's kind of standard to imagine books and tech as two opposing sides, right? And yet it shouldn't be. Both of these worlds can coexist and even intermingle to create the best result. As a matter of fact, programming books for kids can be a great way to introduce them to the world of coding.
Storylines that intrigue
Just like Robot Turtles, Hello Ruby started as a Kickstarter project in 2014. Having gathered 38 times more money than initially planned, it's one of the most funded children's books on the platform. As of 2023, the first book is translated to over twenty languages, and three more have been published in the series. The author of the books is Linda Liukas – the founder of Rails Girls, an international program of coding workshops for women and girls. Hello Ruby doesn't actually teach any programming languages for kids. Instead, it aims to make the key concepts of coding familiar to 5–7-year-olds. By following Ruby and her friends in their adventures, your little ones can grasp the idea of algorithms, patterns, debugging, variables, loops, and so much more.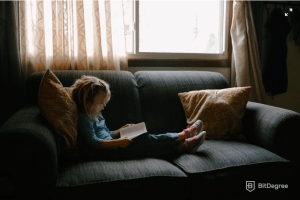 Apart from being a C++, Java, and Python developer, Josh Funk writes children's books. He has also written two as a collaboration with the nonprofit organization Girls Who Code. How to Code a Sandcastle and How to Code a Rollercoaster tell the story of two friends: a girl named Pearl and a robot called Pascal. They introduce the steps of software development by building real-life objects. Boys and girls can grasp the proper sequence, loops, if statements, variables, and more. With humor and beautiful illustrations by Sara Palacios, the books are a delightful option for anyone who's interested in programming for kids.
Something for the busy bees
Some kids might find storytelling unnecessary: they want to get their hands onto action as soon as possible. It's especially true for kids who are a bit older and more self-dependent. In such cases, you can choose books that provide instructions on how to create something yourself. Max Wainewright's books are great if you're interested in computer graphics, software, or game development for kids. The Young Rewired State community has released a few great guides on HTML, CSS, and JavaScript for kids to get hooked on web and game development. If you have a particular topic in mind, you can also take a look at the Dummies Junior book series. They contain all the fundamentals of specific programming languages for kids.

Pros
Simplistic design (no unnecessary information)
High-quality courses (even the free ones)
Variety of features
Main Features
Nanodegree programs
Suitable for enterprises
Paid certificates of completion

Pros
Huge variety of courses
Easy to navigate
No technical issues
Main Features
Huge variety of courses
30-day refund policy
Free certificates of completion

Pros
Easy to use with a learn-by-doing approach
Offers quality content
Gamified in-browser coding experience
Main Features
Free certificates of completion
Focused on data science skills
Flexible learning timetable
Addressing gender diversity
For the small female tech enthusiasts, the books written by Reshma Saujani might be an excellent read. Reshma is the founder and CEO of Girls Who Code. Her first book, called The Friendship's Code, was released in 2017, and three more followed later. In the story, the girls who barely know each other get assigned to the same group in the new coding club at school. Inevitably, adventures soon begin, followed by coding apps and decrypting mysterious messages. The book series works on introducing programming for kids of around 8–12 years of age. For the ones who are a little bit older, Reshma Saujani has written a non-fiction book called Girls Who Code: Learn to Code and Change the World. It provides a great source of inspiration by introducing the stories of real female developers, as well as explaining the key coding principles in a beginner-friendly way.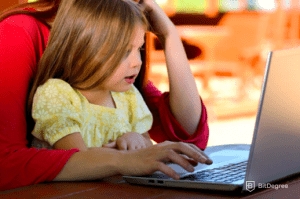 Another way to light up the fire in the eyes of your young tech whizzes is by giving them a professional role model. Introduce them to biographies of the female software development pioneers. Our suggestions? Try Ada Lovelace, Grace Hopper, or the six brilliant women who fired up the ENIAC computer in 1946. There's a rather wide choice of books for readers of various ages, starting from elementary school level. As for younger ones, you can always read together – some bonding time over an inspiring story never hurt any family!
Teaching them to program their future
You might try all the tools described and all we still don't know about, and your kid might still choose another career path when they grow up. Does that mean you failed? Absolutely not. Our goal is never to make kids live our dreams: they have to build and live theirs. All we can do is give them the best foundations. Programming for kids is never just about a chance to push them towards a tech career. First of all, it is teaching them to think. Even the basic coding tasks will help your little one develop stronger organizational skills, teach them to solve problems, think outside the box, and find shortcuts. Dealing with challenges of varying difficulty, they will be able to unleash their creativity and be as curious as one can be. Most importantly, they will gain confidence in themselves. Because if they can make a robot dance with just a few lines of code – is there anything they cannot do?
Leave your honest feedback
Leave your genuine opinion & help thousands of people to choose the best online learning platform. All feedback, either positive or negative, are accepted as long as they're honest. We do not publish biased feedback or spam. So if you want to share your experience, opinion or give advice - the scene is yours!