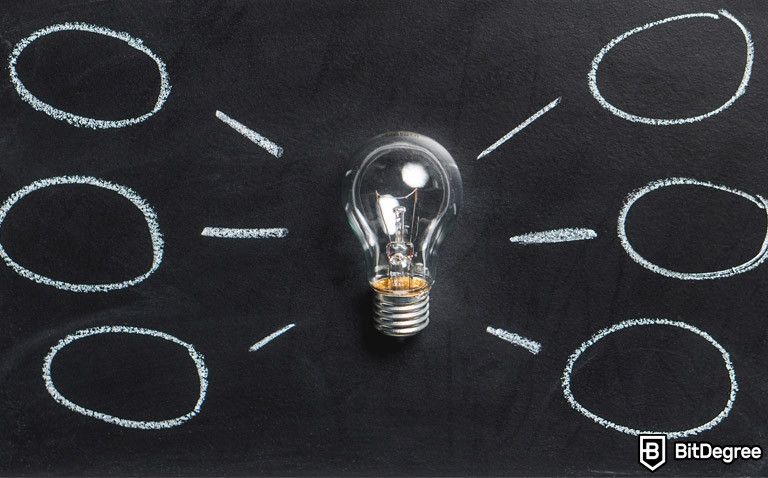 Believe it or not — teachers create the future. They get to make a difference in students' lives, develop and mold new teaching techniques, influence youngsters. Online teaching courses could be the stepping stone to become the best pedagogue in the field.
A very significant role, would you agree?
Most of us could have encountered an unforgettable teacher. They may have an impact on your views, personality, career path, mental health, and even wisdom nowadays. Yes, teachers hold that power in one way or another.
So, do you wish to step into this noble career path? Depending on the subject, student's age range, and skill level — you might need a different set of skills yourself. Besides, elementary school teachers have different competencies than, for example, advanced English language teachers.
For that reason, more and more MOOC platforms offer teaching classes, making it hard to choose the best ones.
Keeping that in mind, in this article, I take an in-depth look at my 7 handpicked online teaching courses suitable for anyone and everyone. Either you are in the education field or you are just thinking about entering — these courses will help you achieve your goals!
Online Teaching Courses: Is It Worth It?
Becoming a teacher nowadays is worthwhile, if you would ask me. However, not because there is a lack of them.
Latest DataCamp Coupon Found:
EXCLUSIVE 67% OFF
On DataCamp Subscription
Follow the Datacamp promo code link & get an exclusive 67% OFF Datacamp subscription. Act now while the offer is still available!
Expiration date : 27/03/2023
2,765 People Used
Only 35 Left
Have you ever heard the saying "be the change you wish to see in the world"? Well, by being a teacher, unlimited opportunities appear to do that. It doesn't matter if you would teach teens or adults.
Teachers of the younger audiences are literally forming the future generations, their views, knowledge, and feelings towards learning. We all know — you either love or hate the subject, depending on the teacher.
Also, let's not forget that teaching adults a new field of study, means preparing new professionals.
Additionally, teachers are always learning themselves! It's way more than just a job. You need to be the best on the subject you are teaching, as well as evolve, and constantly renew your knowledge. That way, you are making sure that students are getting the highest quality education manageable.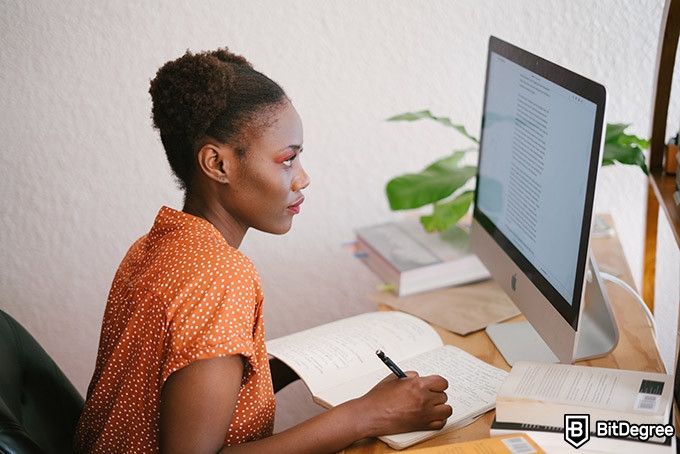 Besides, sometimes you may go the extra mile without even knowing it. That means, apart from being a teacher, you might become a mentor or even a friend. You may be the inspiration to love books, learning, to go further, and try harder.
To kick off your journey as a teacher, why choose online teaching courses? Can you get a teaching degree online?
Firstly, we live in a modern world. In regards to that, there is a great extent of ways to make any of your tasks easier to do. Well, to give a few examples — learning, entering a new career field, getting a degree. Online courses play a huge role in making education easily accessible.
Even though in-person classes are considered the best way to learn — online education is getting more and more popular worldwide.
In-person classes usually take in the passive learning module, while online classes are often student-centered and require active learning[1]. So you can either choose to be in the teacher-controlled classroom dynamics or the dynamic that encourages you to participate more actively and independently.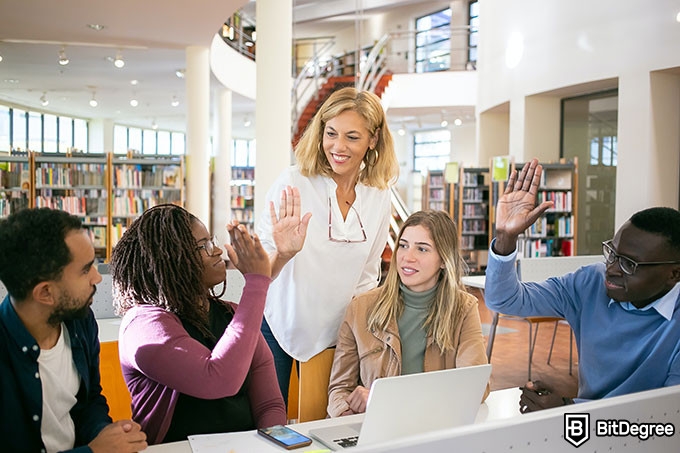 Let's not forget that by choosing online teaching courses, you don't need to leave your home. That is a huge advantage, especially, if you are living somewhere further away. Long travels every day can be super tiring.
Also, the growth of popularity of online learning results in more high-quality content. Keeping that in mind, more and more professionals choose to upload their individual courses, or even add online teaching alongside classroom teaching.
Moreover, you might be wondering, can you get a teaching degree online?
Yes, you can! You can apply for a bachelor's degree in teaching, and study fully online. To take the most out of the learning process — the best MOOC platforms offer an immense amount of high-quality online teaching courses and classes.
With that being said, let's take a look at the top 7 Udemy, edX, Skillshare, and Coursera online teaching courses, for you to become the best teacher in no time!

Platform: Udemy
Duration: 43 minutes
Price: €49.99
Certificate: YES
Level: Beginner
Discount: Available
Apply HERE
The teacher — the artist. Teaching, without any doubt, can be described as a form of art. From a student's perspective, it might be unnoticeable, how much time and effort a teacher puts in to construct a methodology, that fits you the best.
Moreover, not all teachers are this dedicated to their profession, which is sad, to say the least. However, the ones that are, have strategies. If you want to reach your full potential as a teacher, you should consider learning about different strategies yourself.
Even though this course is relatively short (43 minutes), the benefits of the given information are undoubtable.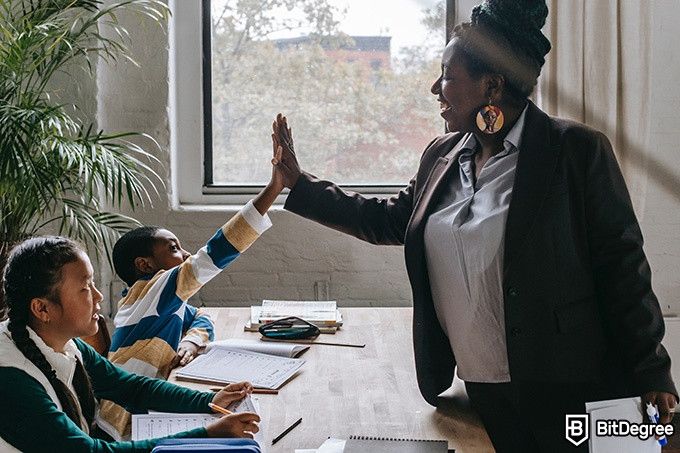 Additionally, this teaching online course is constructed for those newly stepping into the teaching profession and those who already have. Not to forget to mention, it is also suitable for consultants, managers, and others that want to get better at giving instructions.
So online teaching courses like this one can also be useful for self-development. Understanding how to communicate with someone new on the topic, and instruct them is a great perk.
Those enrolled will learn:
To understand key learning and teaching techniques
Key teaching styles
Theories and domains
Learning blocks and what to do with them
Let me add that this course is one of the online teaching certification programs. Keeping that in mind, the information gained by such studies will be helpful for developing your career potential. Also, it should improve your self-esteem.
While checking out what students have to say about the course, the most recurring phrases were that the course is easy to follow, informative, and amazing for resume building!
Also, the lecturer Dr. Stevan W. Hartshorn has an extensive background in developing learning strategies for adults and children. So, I don't know about you, but I would be super happy to get into some of his teaching techniques.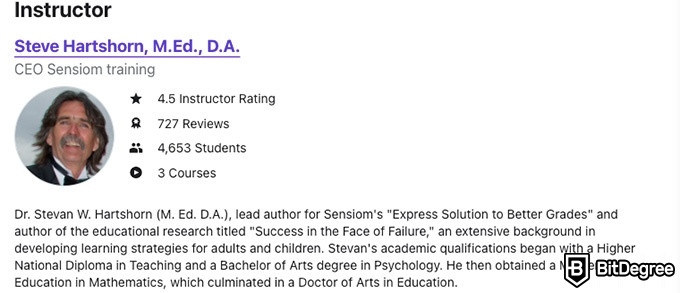 If you're wondering how much the course costs, you might be surprised, only €49.99 for a program that will provide you with a steady ground of fundamental teaching skills and a verified certificate of completion.
You can also check out Udemy coupon codes to get an even better deal!
Online teaching courses like this one, are perfect for someone who is just beginning to learn about teaching and preparing for more in-depth classes.
Start the course here NOW.

Platform: Udemy
Duration: 6 hours
Price: €89.99
Certificate: YES
Level: Beginner
Discount: Available
Apply HERE
Looking for the best online teaching degree? Perhaps you are a native English speaker? Or maybe your English skills are at an advanced level? If that is the case, this teaching online course is for you.
Online teaching courses like this one, are specifically designed to help you become an online English teacher. If you didn't already know, online teaching requires a different set of skills than the usual, classroom teaching. Sometimes, engaging a student over a computer screen can be a hard task.
Furthermore, have you ever heard of the term "freelance teacher"? Well, either way, let me enlighten you.
Freelancing is one of the factors that is often overlooked when thinking about the field of teaching. Which makes the newbies forget the option exists. Well, let me remind you about the new, modern possibilities.
As well as any other freelancing field, freelance teaching means working for yourself. Freelance teachers need to find their students, have their own materials, set their prices, and use all the technology preferred.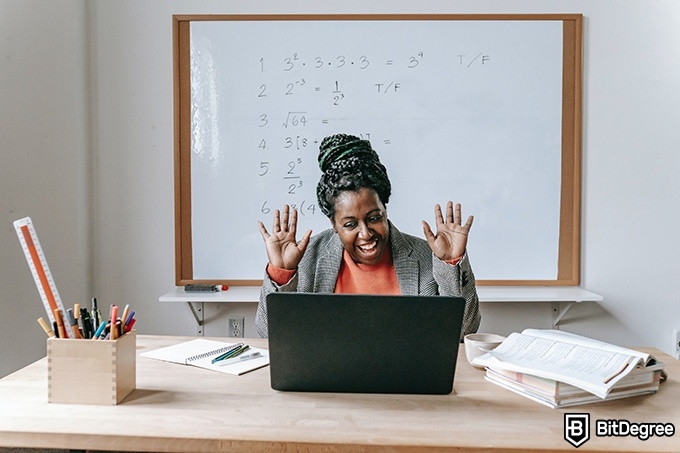 So, everything would be up to you! But, perhaps there is a smart way to start freelancing? Maybe there are some tips and tricks?
You would find out in this best online teaching degree program.
The course is suitable for both, experienced teachers and those who have never taught before. So, it doesn't matter if you are a teacher who wants to explore additional possibilities or someone that is just starting out. You will find valuable information either way!
Along with your English skills, you need the ability to teach and help students that desire to learn. Additionally, you should make sure that your teaching is engaging — that way, students will come back for more.
That means more work and more income for you.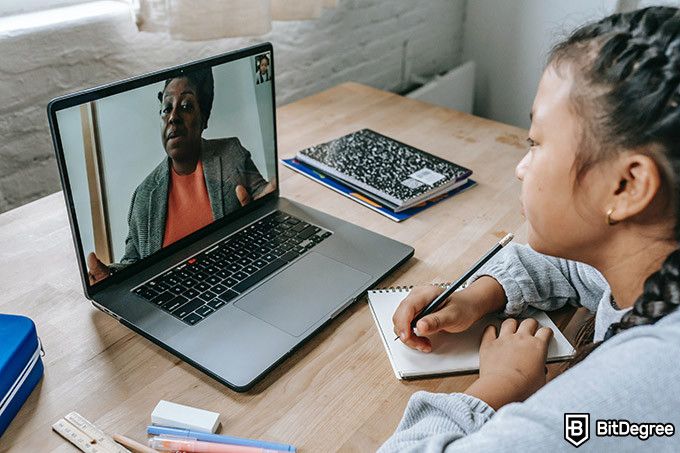 There is a big selection of online teaching courses out there. Nonetheless, this one contains hours of video presentations, downloadable worksheets that you can use with your students. As well as it guides you through the best online materials and websites to use in your virtual classroom.
By enrolling students will learn:
How to find students to teach
How to find out what your students need
How to decide what to teach
What to charge and how to get payed
What essential tools are needed
Links to materials and sources online
How to teach the core language skills
How to prepare students for exams such as IELTS, TOEFL and etc.
How to build your online teaching business
The price of this Udemy teaching online course is €89.99. It makes perfect sense since you are getting so much high-quality learning material, and the ability to start your own business afterward. Furthermore, you'll get a free ebook as a bonus.
It's undeniable that choosing the path of online teaching has its perks. Besides, living in a world controlled by Covid 19, having alternatives is always a good idea.
So make sure to gain all the valuable skills, and be ready for anything life throws at you!
Or maybe get the best online teaching degree?
Start the course here NOW.

Platform: Udemy
Duration: 2 hours
Price: €89.99
Certificate: YES
Level: Beginner
Discount: Available
Apply HERE
Sometimes, teaching can get a bit out of hand with all the different types of methods and principles. It can get hard to determine what is right and what is wrong, at first.
Nevertheless, occasionally, there is no right or wrong way to teach. However, there might be something that is more suitable for you and your students. This course will present you with a few different ways of teaching, and let me tell you, it gets a bit controversial.
Would you agree that one of the most significant factors that influence the feeling of happiness in students — a happy teacher? I sure would. However, this factor is quite subjective. Without the teacher being happy, there is an extensive list of other vital aspects.
For instance, no homework. Yes, you've read that right. Depending on the situation, having no homework is essential. Let me explain.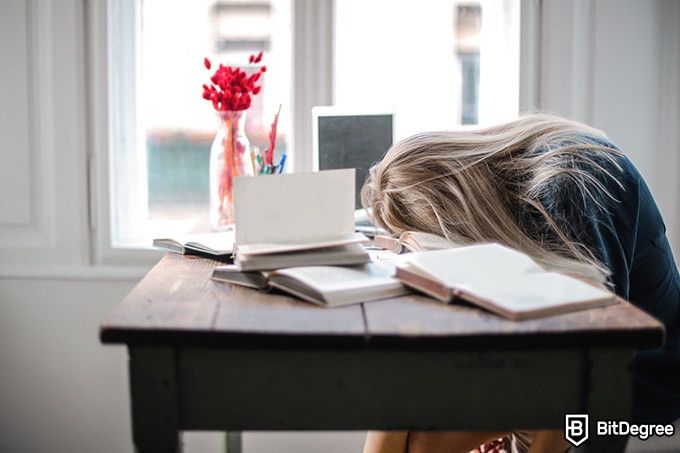 Research shows that in a competitive, academic setting, people who spend more time on homework/studying spend less time on sleep, media use, and social activities[2]. Long hours of homework/studying on weekends may be a risk factor for depression.
So, the fact about homework and depression might be a reminder to always be open-minded and evolve with your teaching techniques. This course is the stepping stone for trying out unique and unconventional teaching methods!
The program consists of 2 sections called happy classroom and happy teacher, with 32 lectures in total. Making this teaching online course jam-packed with information.
Those enrolled will learn:
The traits of highly effective teachers
Solutions to the mediocre education system
How to overcome challenges
Common mistakes to avoid
Why homework is ineffective
How to give constructive feedback
Effective activities you can do in class
The principles of teaching
How to build a healthy relationship with your students
Why planning lessons is a waste of time
Things that make the classroom boring
The problems with forceful teaching
On top of that, there will be examples of scenarios that happen inside the classroom, to get a better picture of what might occur.
Along with the program's short duration and interesting structure, students also rave that it's clear and descriptive. Additionally, the students of this teaching online course also mention, that they felt inspired to create something new in their classroom environment.
You could say this course has the power to break the old stereotypes of teaching.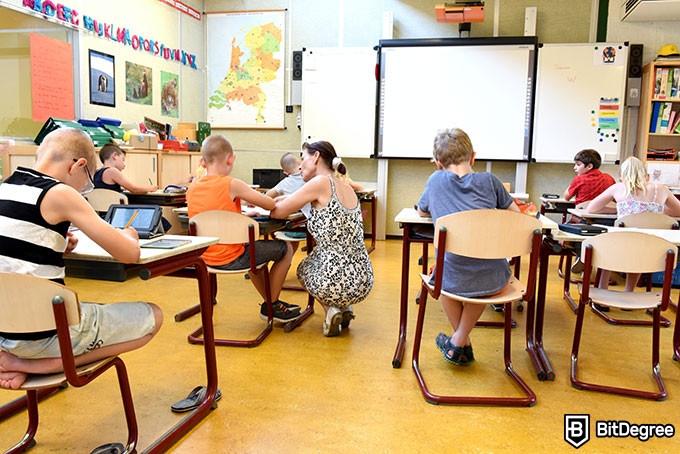 If you are curious who is behind this course, let me introduce you to Jeison Gonzalez and Madison Fitzpatrick. Husband and wife with a joined passion — teaching. Jeison Gonzalez even states — teaching is his life. They believe that the change in education depends on us, teachers. It is our duty and responsibility to do everything in our power to have a positive impact on students.
Speaking of pricing, if you are concerned that it will empty your wallet a bit, don't worry. The skills and knowledge you take from this course are an investment in a successful career later on. As I've mentioned before, happy students result in happy teachers.
The entire course costs €89.99 which can seem pricey, however, online teaching courses like this one are preparing you to be the best professional in the education field.
Start the course here NOW.

Platform: Skillshare
Duration: 24 minutes
Price: €11.99 a month
Certificate: NO
Level: Beginner
Discount: Available
Apply HERE
Searching for a quick, short, but valuable teaching online course? Here you go, only 24 minutes of content and it can do wonders for your teaching career.
Perhaps you are wondering, how in the world to make the students less bored? Short solution — games. Online teaching courses like this one, talk about clear and constructed ways to increase your teaching effectiveness using fun techniques.
For example, TPR (total physical response) teaching, which was created by James Asher, a psychology professor, is based on the experience of how humans learn their first language. When a child is still learning, their parents are very psychically involved in impairing language.
So, to use it in your classroom you need to play the role of a parent. Saying a word and demonstrating an action. The students then should demonstrate the action after the teacher's command, and later on, say the word while demonstrating.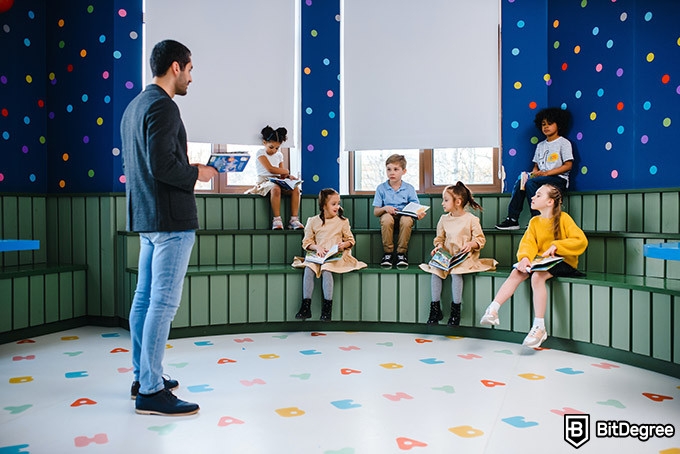 Nevertheless, this method can be uniquely adapted in different situations, so make sure to use your imagination! Besides, you will learn more about it in this program.
Another technique talked about in this course is called "Whole brain". A method, that maximizes students' engagement in the lecture. Moreover, it focuses on mimicry, which is considered a natural way to learn.
It is a highly energetic, authentically engaging learning process. Interested in trying it out? This course takes a more in-depth look at the topic.
Let me add, the program contains a hands-on class project. Applying theoretical knowledge in practice is a way to make sure you have memorized everything important.
Furthermore, the project contains 5 games for babies (can be adapted for older) and it encourages you to create 5 more. You have no choice but to be creative.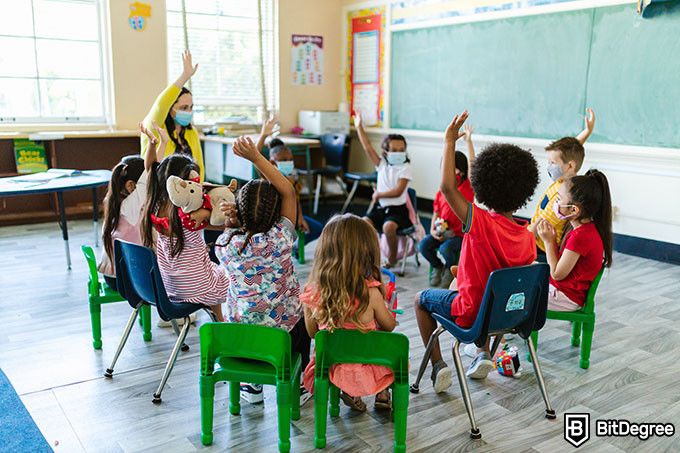 In addition, you will always have 10 games to use in your classroom! I am sure that students will be delighted.
To be honest, Skillshare prices always surprise me. For only €11.99 you will get a diverting learning experience and a great addition to your lesson plans.
To add, students say that they liked the clarity of instructions and organization of lessons.
Why be a boring teacher when you can be the fun one?
Start the course here NOW.

Platform: edX
Duration: 4 weeks
Price: €129 (free audit available)
Certificate: Yes
Level: Intermediate
Discount: Available
Apply HERE
Have you thought about the concept of learning more deeply? Do you believe that it is just the communication between the student and the teacher? In one way or another, there is a lot of science behind it.
Perhaps there are answers to why some students have a hard time learning the subjects, that others describe as fun and easy? Everyone is different, however, a dedicated teacher can manipulate and adjust their teaching methods accordingly.
To be more exact, this program takes a more in-depth, scientific approach to teaching and learning. As much as it may look intimidating to study cognitive psychology, contemporary educational theories, and neuroscience, it is essential for bringing your knowledge to a higher level.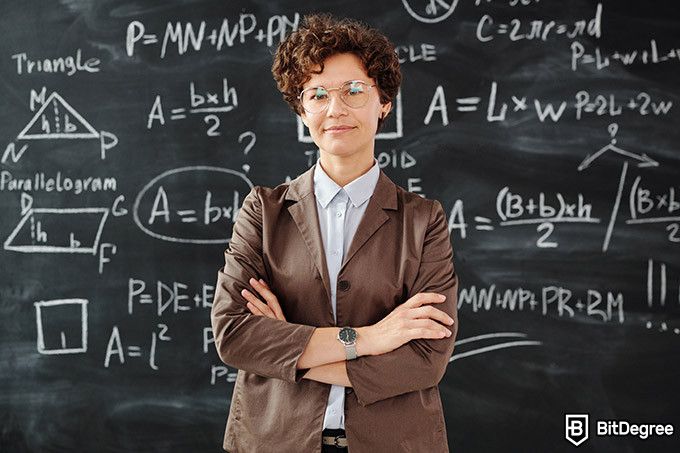 Hard work always pays off, would you agree?
The emphasis is based on theoretical skills. To be fair, theoretical knowledge is the backbone of being a teacher. As much as you can be entertaining and amusing, you also need to be wise and professional.
Divided into 4 chapters, the program covers the fundamentals of deep learning.
The chapters talk about:
The introduction into deep learning — the structure of the brain and how it responds to different learning experiences.
Communication skills — verbal and nonverbal
Motivating students — the tools and strategies
Feedback — how students can use feedback to support deep learning
Even though the program might seem extended, I can assure you that every piece of information is very valuable. Besides, you will only spend 2-3 hours a week. Which makes it a great option even for the busiest people.
Online teaching courses like this one, focus on setting a strong foundation of knowledge on how to employ multiple ranges of powerful teaching strategies and authentic learning activities. Also, to assist students in becoming independent thinkers, innovative creators, and effective communicators.
Let me mention that the course is funded by Microsoft and is a part of the Microsoft K-12 Education Leadership Initiative. So, if one of the most successful companies in the world, believes in this course — so should you.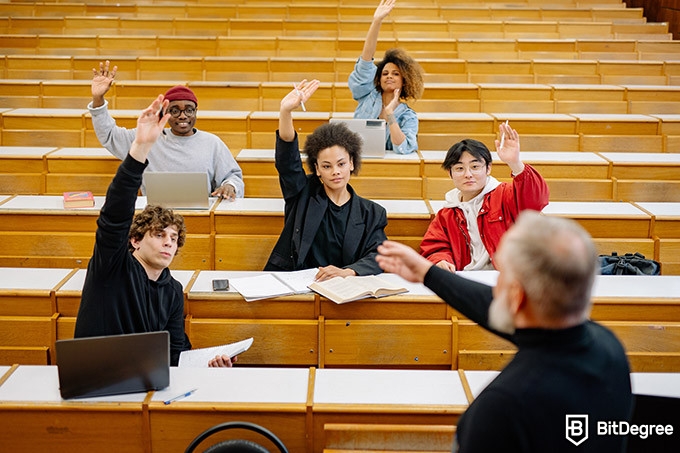 Additionally, this course is one of the most in-depth options on my list. However, it's not beginner-friendly, so, I would recommend taking a few simpler courses before this one if you are just stepping into the field.
Nonetheless, if you are already familiar with teaching — applying for this teaching course is a must!
edX provides courses powered by world-class institutions and universities, online teaching certification programs, extensive materials, and most importantly, graded assignments and exams. So the price of €129 seems quite reasonable, right?
Also, you can choose the free audit option, however, you will not get the whole learning experience nor a certificate.
Dive into the world of deep learning today!
Start the course here NOW.

Platform: edX
Duration: 6 weeks
Price: €42 (free audit available)
Certificate: Yes
Level: Intermediate
Discount: Available
Apply HERE
When it comes to choosing between online teaching courses, you may stumble upon a lot of factors. Whether you're new to teaching or you have been doing it for years — there is always something you can improve.
To not get overwhelmed, you may start with a course that covers one subject at a time. Nevertheless, others prefer a more comprehensive courses that cover lots of essential factors at once.
It is significant to find something that suits your needs each step of the way. So make sure to take your time while deciding between online teaching courses.
This course talks about the fundamentals of the science of learning. It covers the most significant aspects, that every teacher should know, from the scientific perspective.
Knowing your subject and how to present it isn't enough to be a good teacher, to say the least. Good teachers are lifelong learners themselves, they are constantly hungry for knowledge and discovering why, how, and when things happen.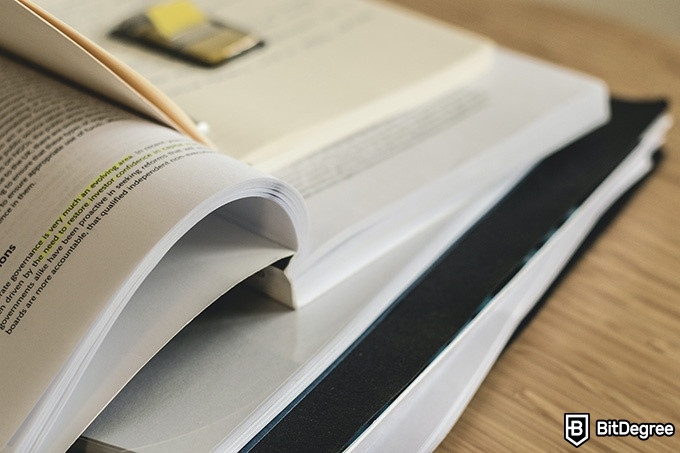 The Science of Learning - What Every Teacher Should Know, is one of the edX online teaching certification programs. The course is designed to bring your social science skills to the next level.
Powered by Teachers College, the program focuses on how to evaluate what's preventing students from learning at their full capacity. Additionally, to enhance the practice of K-12 teachers.
Therefore, keep in mind that this course is aimed at people with preexisting knowledge. Besides, if you are a beginner — start from the simpler courses mentioned above. When the basics are crystal clear, I highly suggest coming back to the intermediate programs.
This teaching online course is divided into 4 weeks of learning, ranging from how the brain stores, retrieves and makes memories to tackling more complex topics, such as teaching strategies based on cognitive science, to maximize learning for all students.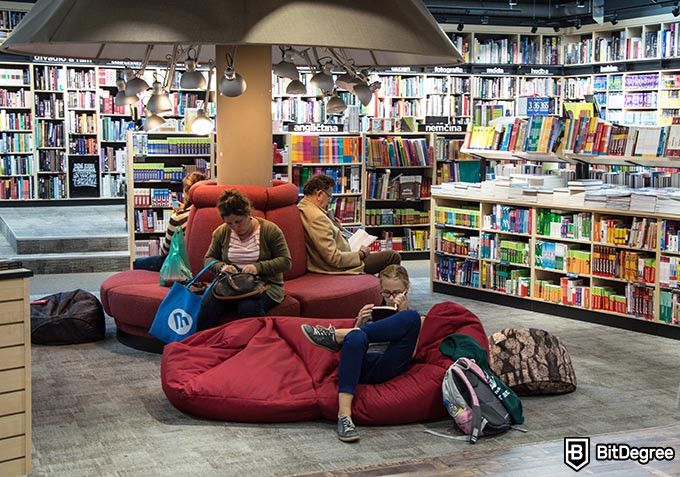 By spending 2-4 hours per week you will have plenty of time to get a hang of each lecture. Well, it's a self-paced program, for that reason, no stressing about speed and deadlines is a guarantee.
One factor that makes edX a great option for students — the free audit option. With that being said, if you wish to get an accredited certificate of completion, you would need to pay €42.
If you would ask me, it's a small price for a very high-quality course and valuable knowledge.
Those enrolled will learn:
How the brain works with memory
Why working memory is important
Strategies for making memories "stick"
Misconceptions about learning
How to help students become independent learners
Teaching strategies
Help your students step into their future with confidence
Start the course here NOW.

Platform: Coursera
Duration: 12 months
Price: From €49 (free audit available)
Certificate: Yes
Level: Beginner
Discount: Available
Apply HERE
It is a great perk to possess prominent language skills. Every language has its formula, unique vocabulary, sentence structures, grammar, and sayings. But what is the most adequate way, to teach a second language?
Research shows that a communication-friendly classroom would enhance foreign language development in a supportive and inclusive learning environment[3].
Without communication, there are other factors that may have an influence on your students' ability to learn languages.
By attending this course, you will get a grip on how to teach anyone a foreign language, in the most sufficient and distinctive ways. That is exactly why Coursera online teaching certification programs, are the best thing you could do for your career.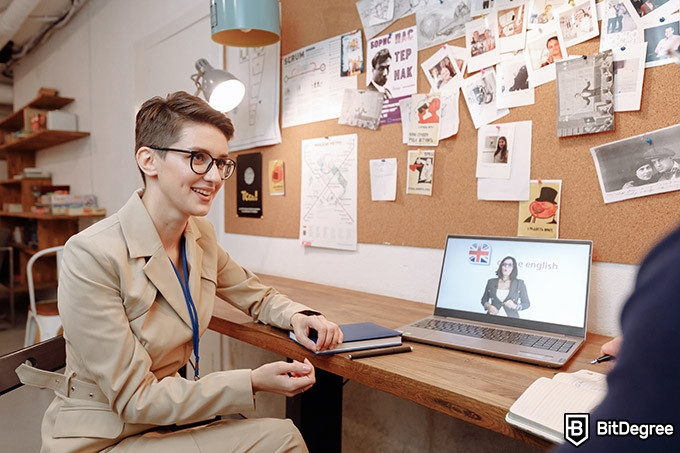 Provided by Arizona State University, this course is one of the highest quality online teaching courses on the platform. With an amazing rating and top instructors, you will also be certified by a nationally-ranked university. So, there is no doubt that more career opportunities will appear afterward.
Focusing on applying theoretical knowledge practically (using a learning project), you will get to write lesson plans, record yourself teaching and create a professional teaching portfolio that will be submitted for an expert review.
The program is constructed with 8 different courses in total that should be completed in 12 months :
Foundational principles
Theories of second language acquisition
Lesson design and assessment
Capstone Project 1
Second language reading, writing, and grammar
Second language listening, speaking, and pronunciation
Technology Enriched teaching
Capstone project 2
This program stands out from the other online teaching courses by having a distinctive structure with multiple beginner-friendly courses. Entering as a complete beginner with no prior knowledge nor skills, you might be able to launch your career as an English teacher afterward!
With the duration in mind, it should be noted that the program is self-paced. Therefore, it is even manageable for the busiest people with the most hectic schedules. No excuses allowed!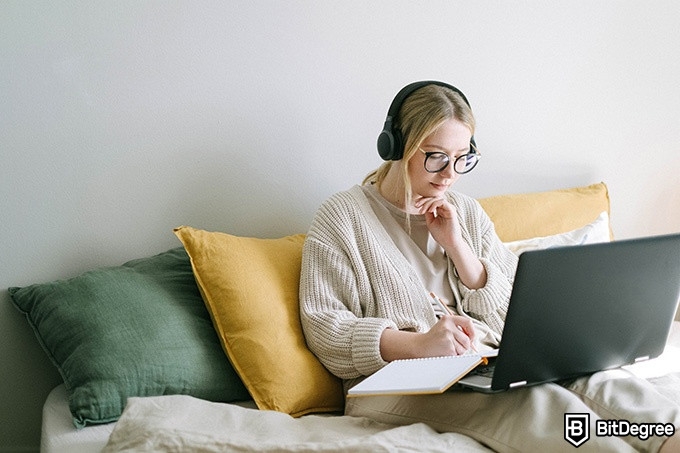 Speaking of pricing, keep in mind that online teaching courses like this one, will cover every bit of detail needed. Not to forget to mention, it consists of 8 separate courses. The price goes from €49, which might even seem unbelievably cheap, for this kind of extensive material.
Nevertheless, a free audit option is available, but don't forget that you won't be able to do the projects nor get a certificate of completion.
Don't hesitate and begin your English teacher career immediately!
Start the course here NOW.
Conclusions
Teaching is a part of our everyday life. You don't even need to be in the educational field. From our childhood, till now, even without being fully aware, we constantly learn and teach. It can happen between your friend group, acquaintances, at work, and other places. Therefore, the perks of being a good teacher can be applied even outside the classroom.
For that reason, online teaching courses are becoming more popular as a way for teachers to evolve, and as a starting point for others. Additionally, there are many options to choose from. One way to narrow down the selection is to look at the best MOOC platforms available.
I am sure that you will find the best option for yourself and see you in my next article!
Scientific References
1. Jasmine Paul, Felicia Jefferson 'A Comparative Analysis of Student Performance in an Online vs. Face-to-Face Environmental Science Course From 2009 to 2016'
2. Sing Chen Yeo, Jacinda Tan, June C Lo, et al. 'Associations of time spent on homework or studying with nocturnal sleep behavior and depression symptoms in adolescents from Singapore'
3. Christina Nicole Giannikas, Maria Kambanaros, Elena Theodorou 'English foreign language teachers' awareness of childhood language impairment'
Leave your honest feedback
Leave your genuine opinion & help thousands of people to choose the best online learning platform. All feedback, either positive or negative, are accepted as long as they're honest. We do not publish biased feedback or spam. So if you want to share your experience, opinion or give advice - the scene is yours!