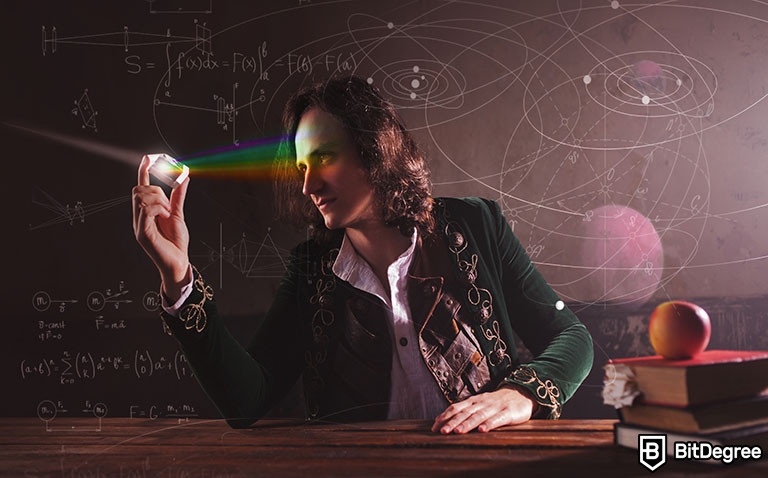 Picture this. Almost all ordinary matter (99.9999999%) is empty space. If you took out all of the space in our atoms, the entire human race would fit into the volume of a sugar cube.[1] How do we know this? Physics, of course. It's a powerful tool that helps us understand the universe we live in. With online physics courses - the world's mysteries are at your fingertips!
By understanding physics, we understand the principles that govern everything around us and beyond, from can openers to DNA, to black holes. Thanks to technology, now you can learn physics online from the comfort of your couch. With these online physics courses, you'll be on your way to answering some of the biggest mysteries of life in no time!
In this article, you'll find the best online physics courses available in 2023, both beginner-friendly and more advanced options. Got some questions about the universe you can't wait to (try) and answer? Wait no more!
Let's get you informed and ready to (en)roll!
Best Online Physics Courses
There are many physics classes online you can take. The tricky part is choosing the right one when you have no guidance. Well, today I'll guide you through 8 best options to learn physics online, offered by well-known universities on top e-learning platforms so that you can finally step into this fascinating world.
Latest DataCamp Coupon Found:
GET 50% OFF
On Datacamp Plans
Use this Datacamp coupon to access a limited-time discount - get 50% OFF DataCamp plans. Don't miss this Datacamp deal!
Expiration date : 24/09/2023
3,928 People Used
Only 17 Left
We'll look at each course in detail and consider things like the topics covered, price, rating, duration, and difficulty level. After reading this article, you'll hopefully be ready to (en)roll! Simply choose the course you like most, and get cracking. Oh, and If you like the idea of free online physics courses, I have some good news for you, but more about that in a minute.
First, I want to make sure you're aware of all the possibilities that studying physics online can bring.

Pros
Easy to use with a learn-by-doing approach
Offers quality content
Gamified in-browser coding experience
Main Features
Free certificates of completion
Focused on data science skills
Flexible learning timetable

Pros
Simplistic design (no unnecessary information)
High-quality courses (even the free ones)
Variety of features
Main Features
Nanodegree programs
Suitable for enterprises
Paid certificates of completion

Pros
Huge variety of courses
Easy to navigate
No technical issues
Main Features
Huge variety of courses
30-day refund policy
Free certificates of completion
Why Learn Physics Online?
Physicists can work in a wide range of research fields, as it occupies a large part of human activities. Those with physics skills up their sleeve are highly valued employees in different companies and organizations.
Physics is the discipline for you if you're curious about the world and want to know more about how things work. It will help you learn the physical laws for everything and find scientific explanations for various events.
It is a profession that works hand in hand with technology and new energies, which allows workers in the area to be up-to-date and well informed about the latest trends and scientific discoveries.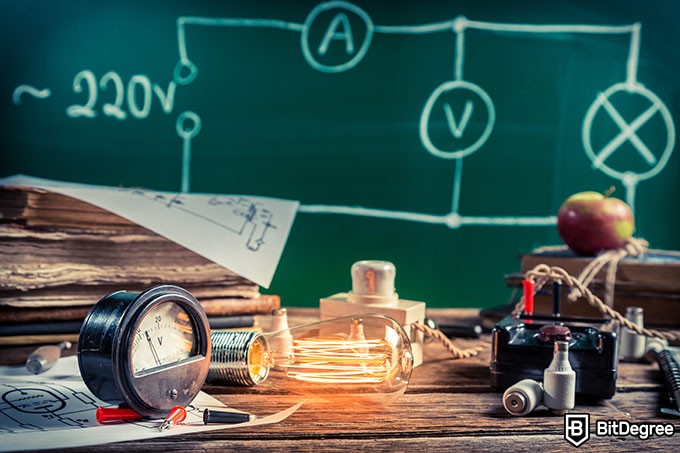 Or, maybe you simply want to explore some popular topics in physics? Even if you don't plan to become an expert, studying physics will expand your mind and teach you some fascinating stuff you can apply in your everyday life.
Anyway, these online physics courses are a great way to dip your toes into the world of physics and see what it's all about.
Many students choose to learn physics online for the following reasons:
#1 It's a lot more affordable than degrees.
Not only that. As I said, most of what you'll find in this article are free physics courses, provided by well-known universities. University degrees cost thousands, and while they are much broader programs than a single online course, it doesn't mean you need it to gain the skills and knowledge you want.
#2 You choose what you want to study.
Why is that good? You can pick and choose courses that go hand in hand with your interests. Once you enroll in a degree, you have all the curriculum sorted out already, and there's less room for changes. With online physics courses, you can start off by taking an introductory course, then move on to learn more about Einstein, waves or vibrations, electromagnetics, or whatever else it is you're curious about.
#3 It's very convenient.
You don't have to worry about spending time and money on commuting to classrooms, you can simply log in and study whenever you have a free minute. While this does require certain time-management skills, it also makes it much more convenient to study from wherever you are.
All you need is a laptop and a good internet connection to start learning.
#4 You can work and study at the same time.
Many people who want to develop new skills find a hard time combining studies with a full-time job because they don't have control over the timetable of the lessons. Online physics courses are great because you can study at any time, whether it's 5 pm in the evening or 6 am in the morning on a Sunday.
#5 Online physics courses take a relatively short time to complete.
Most courses focus on one subject at a time, so in essence, they're much shorter.
Also, because you study at your own pace, it means you can finish it a lot faster than a classroom-based course. Of course, if you tend to somewhat procrastinate (zero judgment, I do that sometimes too), you have to be extra careful about your study ethics.
#6 You can study at your own pace
In relation to the point I made above, studying at your own pace is a really attractive feature of online physics courses. There's no pressure to speed it up, as it tends to sometimes happen in classrooms. If there's a subject you find more challenging, you can spend as much time on it as you like.
Plus, since all the teaching material is recorded, you can rewind or fast-forward it until you're 100% sure you understand everything the instructor has to say.
Likewise, if you're quick to learn certain topics, you can move on to the next subject whenever you like.
Quality Courses by Top Universities
Online physics courses in this article are university-level courses taught by experts in their field. Today, you'll find physics classes online organized by the Australian National University, University of Virginia, University of Massachusetts, Stanford University, and the University of Tokyo.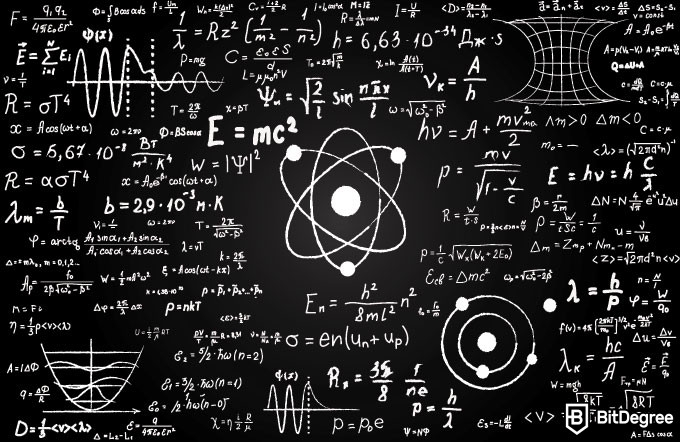 You should know that whatever course you choose today, has been taken by many other students like you. All the courses have received a lot of positive feedback and are rated at no less than 4.5 stars.
Nevertheless, you should still carefully read the syllabus and prerequisites of the course you're interested in, to avoid the not-so-nice surprises. In the description of each course, you'll find what topics are covered, and the main things you need to know before you enroll.
Free Online Physics Courses
Many of the courses you'll find in this article are free online physics courses.
EdX allows you to access all the material for free, you only have to pay for the certificate if you wish to receive one.
Coursera also has free physics courses, although it works slightly differently. You can "audit" all the courses for no extra fees, with restricted access to some of the quizzes and student communities. If you purchase the full program experience, you get all this plus instructor feedback and a certificate.
I have some good news though: if you're not too eager to pay the full price, but still want to enjoy the perks of paid courses, you can use coupons. There are some great deals available, accessible right now!
You'll also find top deals available in the descriptions of paid courses, so look out for those!
All right, are you excited yet?
Let's cut to the chase! I present to you the best online physics courses in 2023.

It's a unique introductory course that explores major discoveries to help you understand the fundamental concepts of physics.
What's so special about this course? The video material for classes is filmed in different locations all over Europe, where those discoveries were made. In each interview, you'll hear experts talk about what exactly happened and how the discoveries took place.
Topics covered:
How can we measure the circumference of the Earth? Basics of geometry and trigonometry
How do objects move? Data analysis and kinematics
What causes motion? Forces, acceleration, and Newton's Laws
How can we use motion? Work, energy, and simple machines
How can we determine our longitude at sea? Simple harmonic motion
What is electricity? Charge and electric fields
What is left to discover? Modern physics and open questions
This is one of the best free online physics courses, led by a passionate instructor Andy Brown, with many expert interviews included. To deepen your learning, there are interactive quizzes on the topics, so you can practice as you go along. You know, sometimes we all need a little push, and quizzes are a good way of keeping track of what you learn.
Since you don't have to pay a penny, why not try and see if you like it? All you need to enroll is basic algebra skills, a laptop, and the willingness to learn!

Platform: edX
Offered by: Australian National University
Duration: 〜 9 Weeks
Price: FREE
Certificate: YES (paid)
Level: Intermediate
Where to apply? Here
Does exploring the biggest mysteries of modern astrophysics sound exciting? This might be the course for you. Taught by professor Brian Schmidt and prize-winning astrophysics researcher Paul Francis, it will take you through nine of the greatest unsolved problems of modern astrophysics.
It's a more theory-based kind of course, where you won't need all those algebra skills, as you won't be conducting experiments yourself. However, you will for sure learn a lot more about them!
Edx Deal Active Right Now:
Free Courses
At edX Website
Browse special selection of edX courses & enjoy learning new skills for free. Only pay a small fee later if you wish to receive a certificate of completion.
Expiration date : 24/09/2023
3,417 People Used
Only 33 Left
Topics covered:
An understanding of the biggest unsolved mysteries in modern astrophysics
An appreciation of why these problems are so difficult
How astrophysicists are attempting to answer them, and the clues that have been identified so far
After completing this course, you may not have all the answers, but you will have a better understanding of how scientists try to find them, and what has been studied so far.
This course by Australian National University is part of ANUx courses from the first-year astrophysics program. If you like this one, I recommend checking out the XSeries Program in Astrophysics, where you'll find other courses that cover topics like exploring exoplanets, the violent universe, and cosmology in more detail.
Check out the courses within the XSeries Program by clicking on the links below:
If you're curious about astrophysics, definitely check these out!
What is XSeries Program?
It's basically a combination of courses designed to provide students an in-depth knowledge of one particular field. While XSeries certificates don't grant credits, they're an effective way of gaining knowledge and skills in the area of your choice.
The certificate you receive after completing all the courses successfully is a great addition to your CV and a nice boost for your career. Besides, it's a symbol of all the effort you put in to learn a new subject and a nice way to reward yourself for pushing through.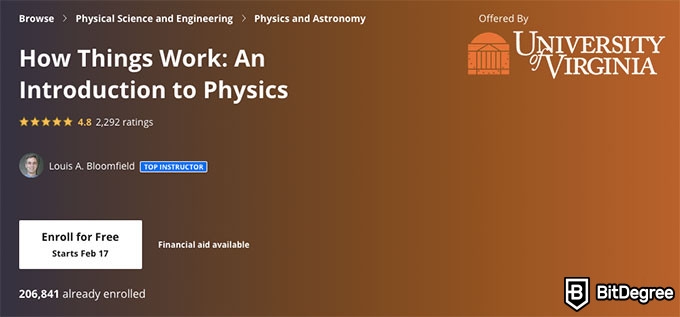 Platform: Coursera
Offered by: University of Virginia
Duration: 〜 14 hours to complete
Price: FREE
Certificate: YES (paid)
Level: Intermediate
Where to apply? Here
Here's an introductory course by the University of Virginia, rated at 4.8 stars with thousands of students and positive reviews. If you never paid attention to physics in the classroom at school - no worries, this course explains complex physics in a way that's easy to understand, so you'll pick up the content easily and at your own pace. The instructor's laid-back attitude and enthusiasm will definitely take you on a fun learning ride!
Another brilliant thing about this course is that there are many demonstrations of physics at work, so you visually get to see how various concepts apply to real-life situations. This not only helps you to see the world through a different lens but also really makes learning more effective. Concrete examples make it easier to understand abstract ideas and extend information retention.[2]
Topics covered:
Course Introduction
Skating
Falling Balls
Ramps
Seesaws
Wheels
Bumper Cars
There's an exam at the end, where you get to test all the things learned throughout the course. Even after completing the course, you'll be able to apply the knowledge to everyday life, which makes it definitely worthwhile.
Teaching material includes subtitles in Arabic, French, Portuguese (European), Chinese (Simplified), Greek, Italian, Vietnamese, Korean, German, Urdu, Russian, Turkish, English, Hebrew, Spanish, Hindi, Japanese.

Platform: edX
Offered by: University of Massachusetts
Duration: 〜18 Weeks (12-15 hours/week)
Price: FREE
Certificate: YES (paid)
Level: Intermediate
Where to apply? Here
It's one of the more specialized online physics courses on vibrations and waves, designed to prepare students for advanced physics and related engineering fields. Still, the knowledge you'll gain is relevant to many different systems.
You'll explore the concept of "resonance" and how it's applied to systems of masses of springs, sound waves, 2D surfaces, atoms, and more. Awaken the inner physicist inside and analyze problems involving mechanical vibrations and electromagnetic waves within a wide range of topics.
Edx Deal Active Right Now:
Free Courses
At edX Website
Browse special selection of edX courses & enjoy learning new skills for free. Only pay a small fee later if you wish to receive a certificate of completion.
Expiration date : 24/09/2023
3,417 People Used
Only 33 Left
Topics covered:
Simple Harmonic Motion
Driven vibrations and resonance
Vibrations of continuous systems
Properties of sound and electromagnetic waves
Polarization and polarizers
Waves at interfaces and in media
Interference phenomena
Since it's a more specialized course, there are some prerequisites if you wish to enroll:
Physics: 8.01x Mechanics and 8.02x Electricity and Magnetism
Math: 18.01x Calculus and 18.02x Multivariable Calculus
If you're not sure whether you have the skills to tackle this course head-on, you can always enroll for free, check out the material, and come back to it later. It's one of the free online physics courses unless you want to purchase the certificate. If you decide to get the certificate, save some of your money with the edX coupons, which give you access to great deals on selected courses.
At the end of the course, you'll even get a taste of Quantum Mechanics, the basic mathematical framework that underpins it all. [3]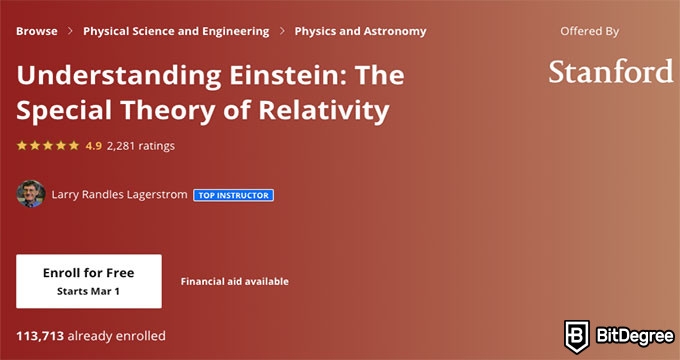 Platform: Coursera
Offered by: Stanford University
Duration: 〜 81 Hours to complete
Price: FREE
Certificate: YES (paid)
Level: Beginner
Where to apply? Here
This course is dedicated to Einstein and his groundbreaking scientific achievements. Most of us know the popular ideas surrounding the scientist, but this is a chance to delve deeper into his personality as well as the concepts, predictions, and strange paradoxes of his theory.
Throughout the course, you'll be answering questions such as how did Einstein come up with his ideas? What was the nature of his genius? What is the meaning of relativity? What's "special" about the special theory of relativity? What does it mean to say that time is the "fourth dimension"? Is time travel possible, and if so, how? Is there any evidence that definitively confirms the theory, or is it mainly speculation?
[featured-coupon review_id="4"]
Topics covered:
Introduction to the Course, and Einstein in Context
Events, Clocks, and Reference Frames
Ethereal Problems and Solutions
The Weirdness Begins
Spacetime Switches
Breaking the Spacetime Speed Limit
Paradoxes to Ponder
To the Center of the Galaxy and Back
There aren't many (if any) online physics courses like this one. If you're curious about Einstein as much as you are about the Theory of Relativity - go for it! You can always quit if it turns out to be not what you expected since enrolling doesn't cost anything without a certificate.
It's taught by Larry Randles Lagerstrom, the Director of Academic Programs at Stanford University who holds degrees in physics, mathematics, and the history of science, and offers graduate certificates in artificial intelligence, cybersecurity, data mining, nanotechnology, innovation, and management science.
If you want to get familiar with the instructor and his way of presenting ideas, check out his TED-Ed video here.
He has also written a book titled Programming the Web Using XHTML and Javascript (Web Developer Series).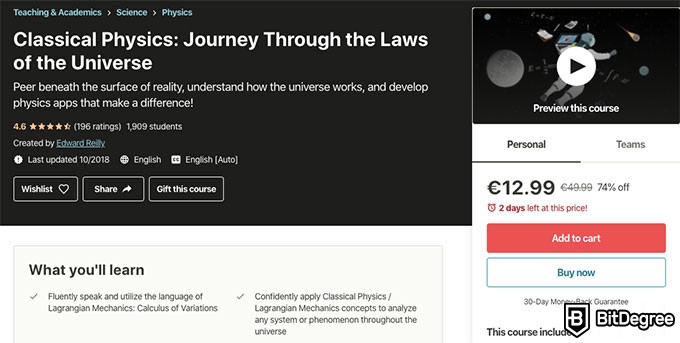 Platform: Udemy
Offered by: Edward Reilly
Duration: 〜 20 Hours of on-demand teaching recordings
Price: Check the description below
Certificate: YES
Level: Beginner-Intermediate
Where to apply? Here
Did you know that many of the things we come across every day, like houses, cars, phones, computers were created using the same underlying principles? According to the instructor, everything around us is "a direct product of classical physics". This course will teach you about key concepts that make modern society possible and provide you the skills that are essential for success in any STEM industry.
It's one of the most popular online physics courses on Udemy, organized and taught by Edward Reilly, a truly passionate instructor who does his best to present the subjects in an entertaining, and understandable manner.
It focuses on the fundamentals of physics which open the gates to more complex subjects in physics and which deepen your understanding of the world. It's full of practical tasks where you get to test your skills and play with the newfound concepts.
Guess what? You'll get to work with MATLAB, one of the most popular programming languages today for engineers and scientists, and create your own simulations. It's a versatile skill that will certainly make you stand out!
Subjects covered:
Language of Lagrangian Mechanics: Calculus of Variations
Programming algorithms to solve any equation of motion
MATLAB programming skills essential in any STEM industry
Applying Classical Physics / Lagrangian Mechanics concepts to analyze any system or phenomenon throughout the universe
Physics simulations similar to those that power video games and animated movies
Comprehensible techniques for linearizing and solving differential equations
After completing the course, you'll receive a certificate of completion and a well-deserved feeling of achievement.
Udemy Pricing
In terms of prices, Udemy online physics courses work slightly differently, since you cannot access them for free. However, you can use Udemy coupons to get full lifetime access to the course at a much lower price than the original.
Requirements for this course
It's recommended to have at least some basic knowledge in elementary math and physics concepts (such as Calc 101, Linear Algebra, and Newtonian Mechanics) before you enroll. If you don't, but you think you're able to tackle it - try it out, since there is no expiration date for your subscription, you can always leave it and come back to it later.
Since this course involves MATLAB simulations, you need to have the program installed to make the most out of your learning experience. Active learning [4] is where it's at.

Platform: edX
Offered by: Massachusetts Institute of Technology
Duration: 〜10 weeks
Price: FREE
Certificate: YES (paid)
Level: Intermediate
Where to apply? Here
Provided by the University of Massachusetts, this course focuses on charges and how they interact with each other and create electric fields and electric potential landscapes. You'll learn more about the fascinating Maxwell's equations, one of the most elegant and concise ways to state the fundamental laws of electricity and magnetism[5] and study electricity and magnetism that dominate the foundational processes in nature and electronic devices.
Topics covered:
How Electric Fields form and how to measure them
What are Dipoles
Gauss's Law and why it is important
What is Electric Potential
How Conductors, Insulators, and Capacitors work
You will need to use calculus in this course, so it's recommended to have some experience to make the most out of your learning. Alternatively, check out this short introductory-level course Calculus Needed for Physics and Chemistry, which will equip you with calculus skills that you can apply in other online physics courses too.
This course is part of the XSeries Program called Introductory Electricity and Magnetism, so if this subject is something you're interested in - enrolling in this program may be a great way to gain in-depth knowledge in this particular field.
If you're interested in the XSeries Program, have a look at other courses that are part of the program:
Electricity and Magnetism: Magnetic Fields and Forces (Enrol Here)
Electricity and Magnetism: Maxwell's Equations (Enroll Here)
You can enroll in individual courses for free, or you can enroll and purchase the whole program and once, together with a certificate right here.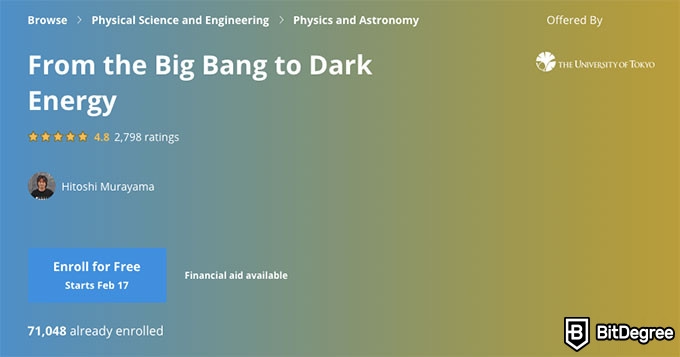 Platform: Coursera
Offered by: The University of Tokyo
Duration: 〜 30 hours to complete
Price: FREE
Certificate: YES (paid)
Level: Beginner
Where to apply? Here
Offered by the University of Tokyo, rated as the #7 best university for physics in Japan, this course will introduce you to the biggest mysteries of humankind, such as the Big Bang and Dark Matter, which encompasses 80% of matter in the whole universe.
[featured-coupon review_id="4"]
Topics covered:
From Daily Life to the Big Bang
Birth of Elements and Higgs Boson
Dark Matter and Anti-Matter
Inflation and Dark Energy
While it's a relatively new course, it already attracted a lot of positive feedback from students all over the world, saying it's "an amazing course for those amateur and aspiring physicists" who are just starting their journey into the depths of the world's biggest secrets.
Whether you're completely new to this field or want to brush up on some old theoretical physics skills that you may have forgotten, this course does a good job at presenting these complex subjects for students from different backgrounds.
Conclusions
All right, so today we looked at 8 best options for physics classes online:
All of these courses are offered by top universities and experts in their field. They've received a lot of positive feedback, and have helped many students gain knowledge in this fascinating field.
You can find the courses on the best e-learning platforms, including Udacity, edX, Coursera, and Udemy.
For all the newbies in the world of physics, I recommend introductory-level online physics courses such as Landmarks in Physics or How Things Work: An Introduction to Physics Course. They focus on the main concepts of physics and their practical application.
For theoretical physics, check out the Greatest Unsolved Mysteries of the Universe Course or From Big Bang to Dark Energy Course, both of them explore the biggest mysteries and what we know (and don't know) about the world so far. Understanding Einstein: The Special Theory of Relativity Course will debunk myths about Einstein and teach you the ins and outs of his theory: the Theory of Relativity.
If you already have the basic knowledge of physics and calculus and want to dive deeper, you may want to look at Electricity and Magnetism: Electrostatics or Vibrations and Waves Course. They're more specialized technical courses that focus on these specific subjects in-depth.
Classical Physics: Journey Through the Laws of the Universe Course is also a course focused on technical skills, where you'll need a basic knowledge of calculus and physics concepts.
EdX platform offers XSeries Programs, which are combinations of courses designed to provide in-depth knowledge in a subject. You can purchase the whole program and get a certificate at the end or you can enroll in single courses for free.
Some of the best XSeries Programs in Physics are XSeries in Astrophysics and XSeries in Electricity and Magnetism.
You can access all of these online physics courses for free. If you want to receive a certificate, you can upgrade to the full experience and get rewarded when you complete the selected courses. For discounts, check out these coupons, which will give you full access to many courses at a much lower price.
Scientific References
1. Symmetry Magazine: The particle physics of you
2. Linda M. Love, EdD: Enhancing learning using concrete examples
3. New Scientist: Quantum physics, our best basic picture of how particles interact to make the world
4. Cornell University: Active Learning
5. United States Naval Academy: Maxwell's Equations & Magnetism of Matter
Leave your honest feedback
Leave your genuine opinion & help thousands of people to choose the best online learning platform. All feedback, either positive or negative, are accepted as long as they're honest. We do not publish biased feedback or spam. So if you want to share your experience, opinion or give advice - the scene is yours!