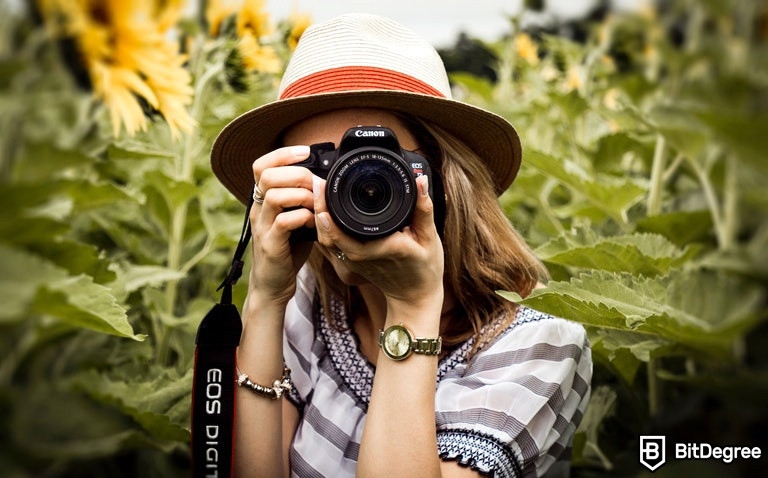 It's the age of social media — images are everywhere around us. Naturally, it intrigues and inspires us to learn how to take those images in a professional way ourselves. With online photography classes, you can easily do that from the comfort of your own home.
With many possibilities to learn online, you can be overwhelmed with all the choices and decisions. Well, that's what I'm here for. I've picked the best Photography courses to tell you about from currently top-rated online learning platforms.
This way, you can make the smartest choice for your online learning experience and choose the most suitable online photography courses for your needs.
What's So Special About Photography?
Firstly, it's everywhere. These days I am seeing my friends share their lives through pictures, rather than through words. Pictures make us experience things, sometimes with knowing nothing about what's in the picture.
Latest Udacity Coupon Found:
SAVE 75%
Udacity Black Friday Offer
The best time to save on Udacity courses is now - follow this coupon to access 75% Udacity Black Friday discount on all courses & enjoy top-quality learning for less!
Expiration date : 10/02/2023
3,176 People Used
Only 97 Left
Now, you may not be a fan of taking selfies or seeing yourself in photos. And I get that — we all have our insecurities. But have you ever wanted to learn to capture the world around you like a pro? Be it your room, your neighborhood park, or that impressive view you didn't want to leave during your last holiday.
Photography is what enables you to create memories at every opportunity. It's what helps you to show the world to others the way you see it. It's what evokes emotions and helps to relive a specific moment in your life. It can have a therapeutic effect on your mental health[1] or be helpfully used for rehabilitation counseling[2].
You decided you want to focus on developing your photography skills. What's next? How should you approach the learning process? As virtual learning has become quite relevant and more popular, online photography classes are a great choice for your development.
Why Should You Take Online Photography Classes?
If you are an active and busy individual, it can be a struggle to find time for all hobbies and activities — learning included. Usually, offline university courses take weeks, months — sometimes even years.
Not to mention that such university (or in-person) academic courses cost an arm and a leg. For example, Photography BA at University of Brighton costs over £9,000 (about $12,400). However, most of the online photography classes discussed in this article are under $100.
In addition, choosing an online learning platform opens up way more possibilities. The more options you can choose from for your online photography class, the more certain you can be about making the best possible choice for your needs.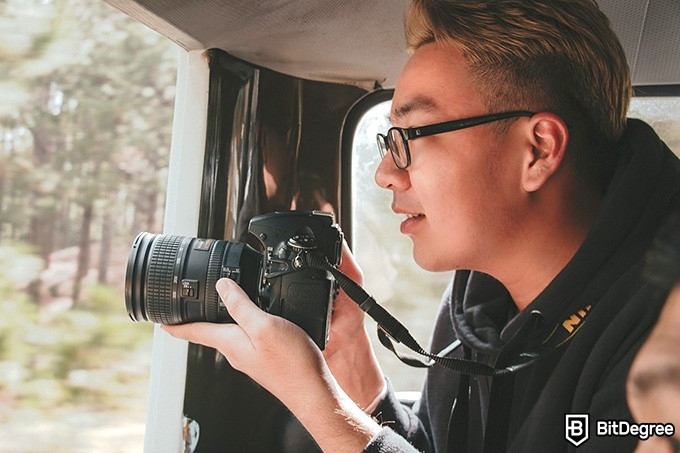 Not to mention, online platforms have numerous amount of reviews that are available just a click away. You would not access reviews for a standard photography academic course as easily as you would for online photography courses.
Therefore, taking photography classes online, instead of in person, could be the choice for you. Not only it saves your time, it also allows you to develop skills while simply lying in your bed.
I looked through various online learning platforms to find the best options for various online photography classes.

People are one of the most common photography subjects. We're still mostly interested in each other — how we look, what expressions we make, what emotions we portray. Or perhaps you simply want to memorialize precious personal moments in pictures.
This course offers exactly that — creating great portrait photos. It focuses on real-life cases and tips for live sessions. The examples are taken from live sessions with the instructor's friends and family, rather than professional models.
This makes the course a considerably more realistic approach to learning photography. Therefore, it is one of the online photography classes that are highly relevant for real-life applications, and not just for a theoretical interest.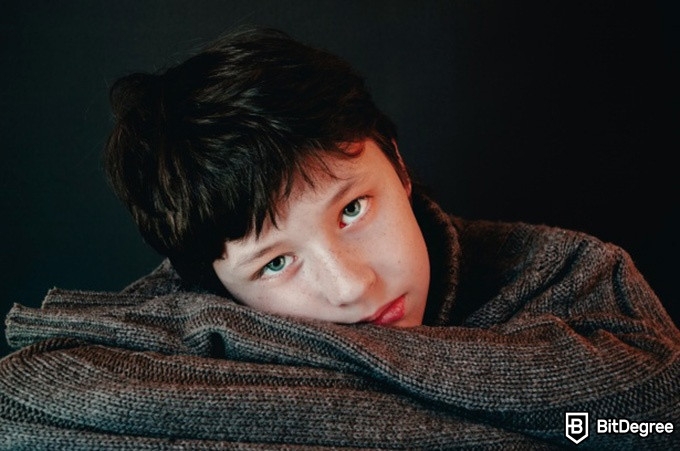 The course is meant for photographers of all levels — from complete beginners to advanced photographers who are looking to learn something new. If you have a DSLR or mirrorless camera and have basic knowledge of how to use it, you're good to go.
The course instructor Bernie Raffe is a professional photographer with an interest in photography since his early teenage years. His qualifications are officially acknowledged by Master Photographers Association and Master Photographers Association in the UK. His photographs have granted him awards as well.
The course has 32 lectures and is about 3 hours long. Lectures cover the basics of portrait photography, indoor and outdoor lighting, and getting lovely expressions or smiles. It also covers camera flash usage and maternity photography, all using real, live session examples.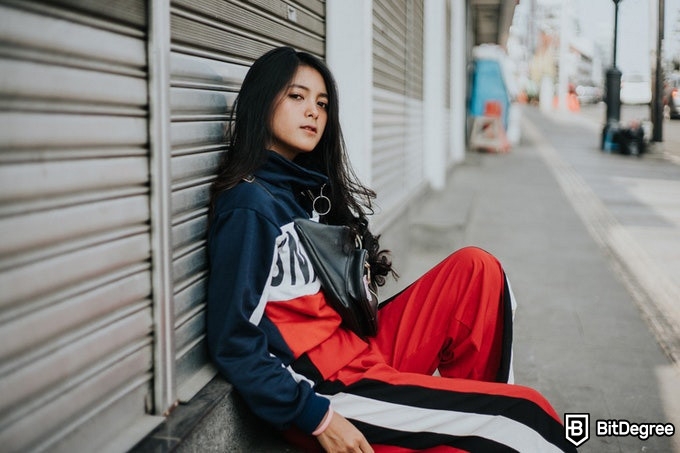 This online photography class has the perfect average rating of 5.0! 94% of the reviews are 4 or 5 stars. Both new and experienced photographers felt they learned a lot. There were also compliments for the teacher for his engaging demeanor. Definitely sounds like one of the best online photography courses there are.
"This was a great course for the beginner or intermediate student. I enjoyed the relaxed style of the presenter who gave us a course with a good basic introduction to portraiture and lighting, excellent videos of using both natural light and flash. I'm looking forward to putting his excellent advice into practice. Thanks Bernie!" — Dianne McIlwain
A 3-hour course for only €39.99 feels like an absolute steal! Especially with such an experienced instructor and high reviews. Definitely one of the online photography classes to put on your radar.
Throughout this course, you'll learn:
Fundamentals of lighting for portrait photos
How to get great expressions from your models
Tricks for live sessions with people
This course will surely capture your interest if you're just someone who has a general interest in photography and is looking somewhere to start. However, it will still be useful even if you already have photography experience or seek to take things to a next level.
Start the course NOW.

This topic is probably one of the most relevant photography classes online for a modern-day photography enthusiast. Especially if you're just starting out, you'll want to focus on using the most convenient device for your photography — your smartphone.
The course is designed for beginners, as it mainly covers the basics of the topic. However, even if you're an experienced photographer, but have not tried mobile photography yet — this online photography class is still great for you!
The course includes a hands-on class project for you to take pictures of your neighborhood. I always find such practical experience very useful for the overall learning process.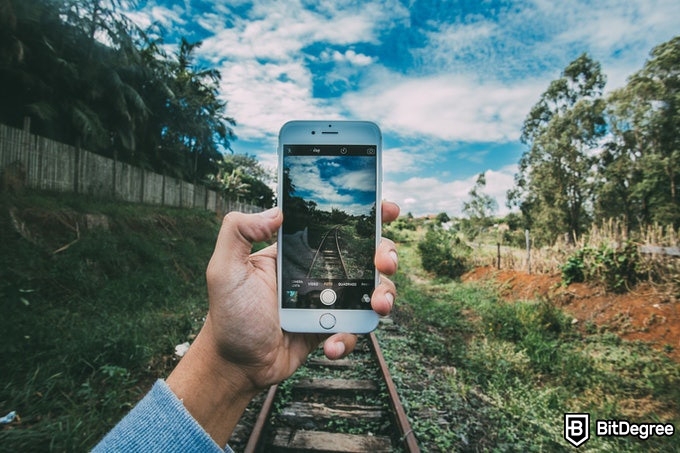 The course teacher Tyson Wheatley is an established photographer and journalist with more than 10 years of experience in the social media field. He has over 500,000 followers on Instagram, worked with various brands — including Toyota — and was a TedX speaker in 2012.
The course is made up of 12 lectures and takes 46 minutes. It covers the basics of taking pictures with your phone, such as location, time of day, or lighting. You will learn how to use Snapseed and other photo editing apps. The course also tells you how to edit the pictures and a bit of what strategy to use for Instagram.
Most reviews show students enjoyed the course and found it very useful. However, there were some concerns because the apps discussed were a little bit outdated. The skills taught are timeless, though.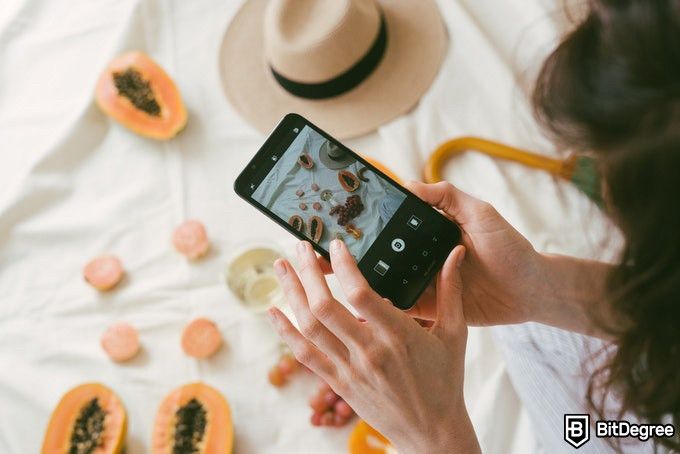 "I really enjoyed your videos. I have no professional photography experience and Im super excited to acquire some basic experiences. My biggest take away was the "telling a story" advice and the cool apps that I will stat to get familiar with. Thank you!" — Cindy Reyes
This course is accessible for Premium users of Skillshare. At the time of writing, Skillshare's Premium membership starts at only $15 per month. But with our available coupons, you can cut that down even more!
After finishing this course, you'll know how to:
When and how to take pictures for Instagram
What apps to use for editing
Sharing and storytelling strategies for Instagram
This is a great online photography class for beginners. You'll be able to use these skills whether just for your own daily snapshots, or if you try to make a career out of your Instagram account.
Start the course NOW.

Lighting in photography may seem a basic aspect, but it's also a very crucial one. Lighting is not just the visible brightness or darkness, it also sets the mood and the atmosphere for your picture. It's the good usage of lighting that ensures your picture shows the feelings you want it to show.
This course will help you create an amazing dramatic portrait using lighting. You will learn how to prepare the location's surroundings, your model, and your camera settings so that your taken portrait comes to life.
The course instructor Justin Bridges is a fashion and portrait photographer. He has worked for such known brands as GQ, Giorgio Armani, or Amazon. He has 5 courses available on the same Skillshare platform, so check him out if he caught your attention.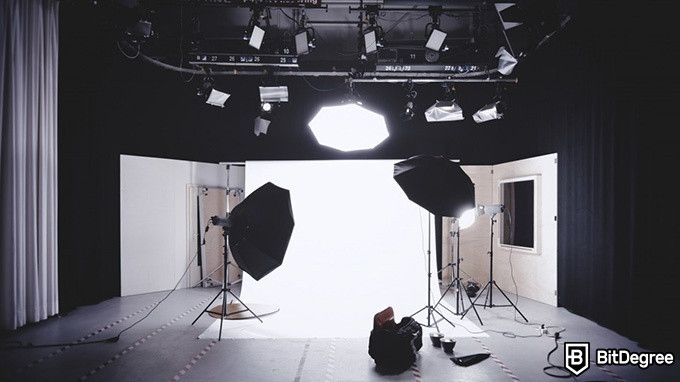 The course is hour-and-a-half long and has 13 lessons. The lessons cover numerous subjects, ranging from technical aspects of your equipment to different shot techniques. You'll find instructions for quality editing post-shot as well.
86% of the students who rated this class felt their expectations were met or exceeded. Several users commented that they were below intermediate level, but still were able to find this course very useful and suitable for their future photography work.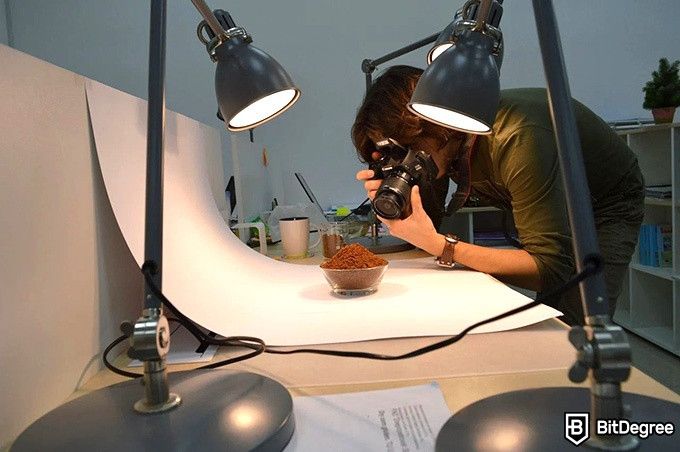 "Great instructor. He's very thorough and knows his stuff! I am very glad I've taken his class. He gives you lots of golden nuggets." — Antreina Stone
The course is restricted to Premium Skillshare users. The Premium subscription starts at a low $15 a month.
During this course, you will learn how to:
Set your equipment to get the best out of the shot
Set up the mood and manipulate the lighting to get the desired results
Edit the photo to make sure it looks just like you need it to
I would definitely recommend this specific online photography class to enrich your skills and to enlighten your passion for photography.
Start the course NOW.

This course is for those who want everything in one place. Whether you're a complete beginner who only just started using your first camera or someone who has been dabbling in photography for a while, you'll find something to learn from this course.
The course covers numerous photography subjects. From understanding how a camera works to flash photography, from focus and field depth to color balance, from composition to mobile photography. You name it, and it will most likely be here. One of the most extensive online photography courses I've seen, to be honest.
In this course, you will receive lectures prepared by 4 instructors. With their total expertise, this class is bound to be filled with educational talent. Especially because one of them is Phil Ebiner. He's a top-rated instructor with over 2 million students on the platform.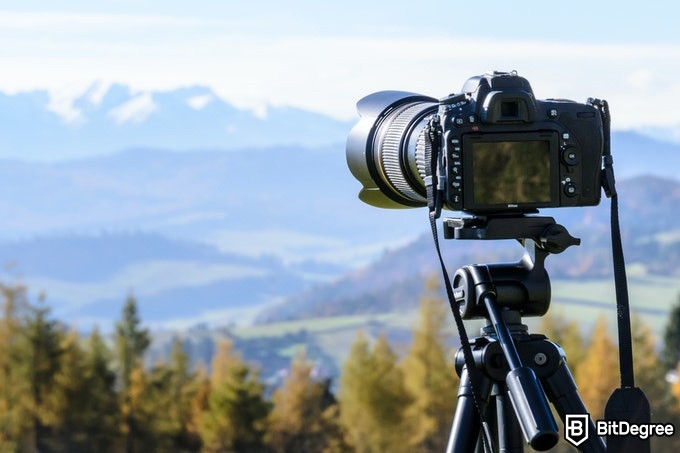 This course consists of 38 sections and 354 lectures, totaling about 24 hours of course material. While it may sound daunting at first, most of the sections are under an hour or even half an hour. This means you would be able to take the course in parts without it being too overwhelming.
An outstanding 94% of the students, who took this online photography class, gave it a rating of 4 or 5 stars. That's an impressive feat! Most reviews focused on the amount of useful information. The course received great comments from both beginners and already advanced photography enthusiasts.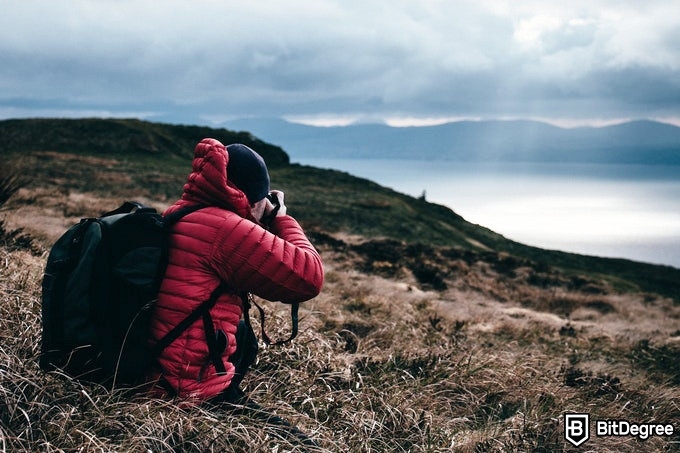 Priced at €119.99, this is a very affordable course, considering the time it will have you engaged. With the extensive topics and amount of expertise within it, it's money very well spent.
"I really enjoyed watching these lessons and doing all the exercises. Before I found this course, I thought I couldn't hope to take any good photos without an expensive camera. If you have the same thoughts, then this course will surely persuade you otherwise. You'll be amazed at what you can do!" — Petr Brakhnov
After this course, you will know:
How to photograph in different scenarios and settings
How a camera works
How to edit photos in a professional manner
If you have an extensive interest in photography, this course is for you. If you want to excel in more than just one type of photography, this course is for you. If you want to learn from the best experts, this course is definitely for you.
No matter if you're just a beginner, or already have experience in photography, you'll find a great deal of useful and valuable information. This is probably the most extensive one out of online photography classes available.
Start the course NOW.

If you're into somewhat non-standard photos, or if you like to play around with the photos you take, long exposure photography may be of interest to you. You would need a DSLR, mirrorless, or simply a mobile camera for such photography.
This course teaches you the main techniques and settings for long exposure shots. It includes two live demonstrations out in the field and instructions for editing in Adobe Lightroom.
The instructor for this course is Phil Ebiner. He is the most popular lecturer for photography classes online within the Udemy platform. He has around 150 courses available for topics like photography, video editing, or design.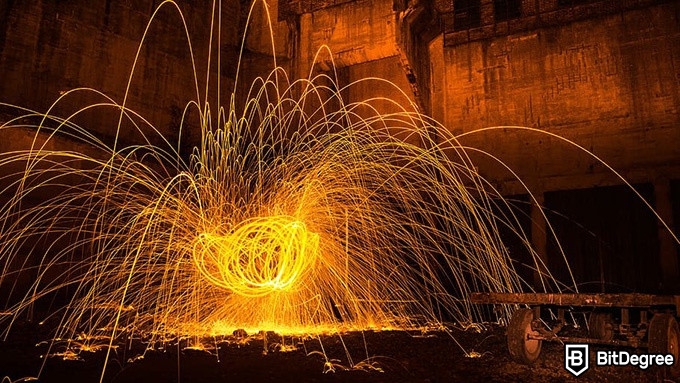 The course has 16 lectures and is 48 minutes long, in total. The main part of the course discusses the gear and settings needed for long exposure photography. After that, you'll have the previously mentioned live demonstrations and instructions for editing.
For this course, 87% of the reviews are 4 or 5 stars. Most of the reviewers agreed this was an informative and excellent course for the topic, though some of them did want a couple more demonstrations to be included.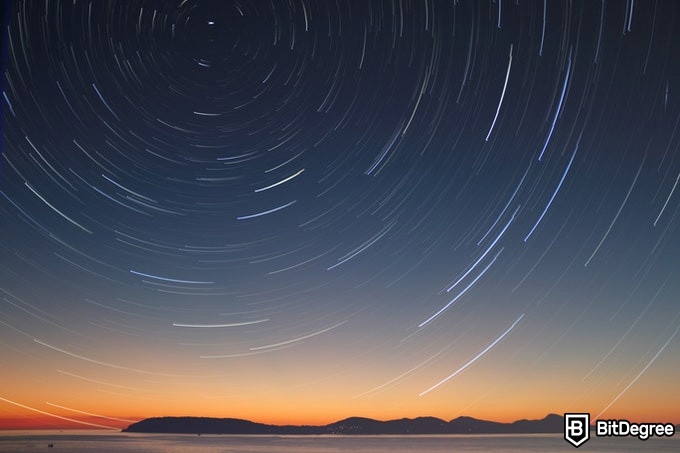 "Amazing course, thank you so much. I can't wait to get out and put into practice what I have learnt. I have always wanted to try long exposure but didn't know where to start. Course is really easy to follow and very informative. Will be looking at other courses!" — Carolyn Tyrer
The instructor was very eager to hear additional feedback from the students, intending to make improvements to this course.
At €89.99, this is considerably cheaper than other long exposure photography courses out there. And with available special deals, you can get that for an even lower price.
After completing this course, you will be able to:
Know what gear to use for long exposure photography
Understand the right settings for long exposure pictures
Edit long exposure photos
Long exposure pictures are definitely a more unique and impressive path, compared to standard photography. So while I would recommend starting out with something more general and typical, long exposure is still worth the shot in your journey for online photography classes.
Start the course NOW.

This specialization is actually 5 courses in one. If you're interested in only a part of it, you can take only one or some of the included courses. Of course, for the full benefit and learning, I highly recommend the full specialization.
The 5 courses will help you to better know your camera device, its various settings, or photo composition. Various photography techniques and post-production image editing are also part of the course materials.
The course is taught by Peter Glendinning and Mark Valentine Sullivan. Peter was commissioned for the official portrait for a Michigan Governor and was the first to teach an online course at the Michigan State University (MSU). Mark is both a photographer and a composer and has numerous expositions in various galleries.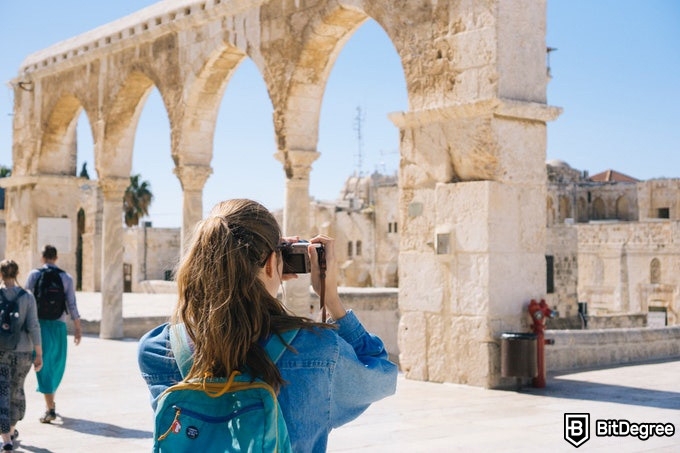 This specialization lasts about 6 months. Don't worry, you won't have to sweat all that time! Each of the courses is meant to take a month, calculated as if you commit only 4 hours per week. If you are a more keen and active student, you will complete it even sooner.
The remaining course is actually the Capstone Project. During it you will essentially be making your own photos, using the knowledge you learned from the first 4 courses. All students share their photos with each other, receiving feedback.
Upon completion, you will receive a certificate from Michigan State University. Even more, you then will be able to use discounts on equipment, granted by industry partners. Now that's what I call a bargain!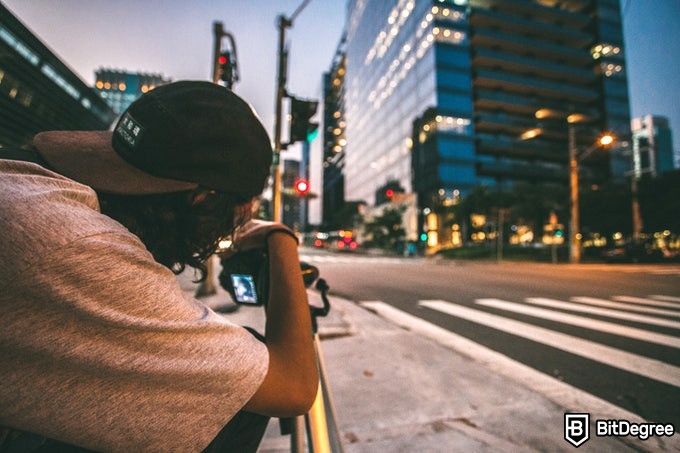 The specialization is rated 4.8 out of 5 by the students. Individual courses are rated between 4.7 and 4.9 (also out of 5). Almost a perfect score speaks for itself.
Specializations are available only for subscribers. Coursera subscription rates depend on each specialization, starting from $39 per month. They also offer a 7-day free trial, during which you can cancel your subscription without reservations. In addition, you can check what discounts we have available for Coursera courses.
After completing this course, you will know:
How to effectively use various settings and modes of your camera
How to edit the pictures post-production
How to use light in ambient and natural settings
With this extensive specialization and experts from Michigan State University, you will have a vast knowledge of photography and its techniques. What I like the most about it is that you can choose the course or courses you want, or just take the whole specialization. Definitely worth your time and attention.
Start the specialization NOW.

After taking some of these online photography classes, you'll probably want to make money out of it. After all, if you can turn a hobby or passion into an income source, it's a win-win situation, right?
Even if you're an experienced photographer, selling yourself and your work is a different ballpark. This course will teach you how to photograph various products, places, or people for commercial use. Aside from just taking quality pictures, you will learn how to present both your work and yourself in the photography industry.
As mentioned, the course mainly covers two aspects: how to photograph products for commercial use, and how to make it in the business. The tips and instructions for taking pictures address various photography subjects. Architecture, fashion photography, and industrial are only some of them.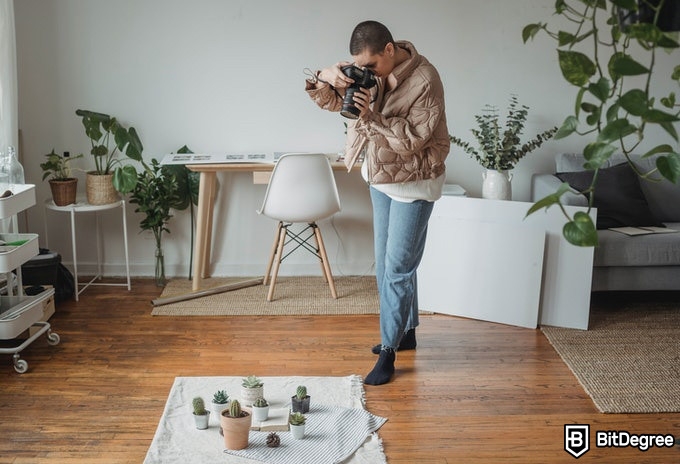 In addition to discussing how to take those photos for commercial use, the course explains relevant technical aspects for setting such pictures up. Those aspects include lighting, color management, location lighting, flash photography, and others.
What I like the most about this course is that lectures start with fundamentals or introductory notes for various sub-topics, but later on you revisit those sub-topics with advanced tips.
The business part of the course may seem significantly smaller than the pure photography one. However, the provided written sources should still provide enough information and instructions on how to sell your skills in the market.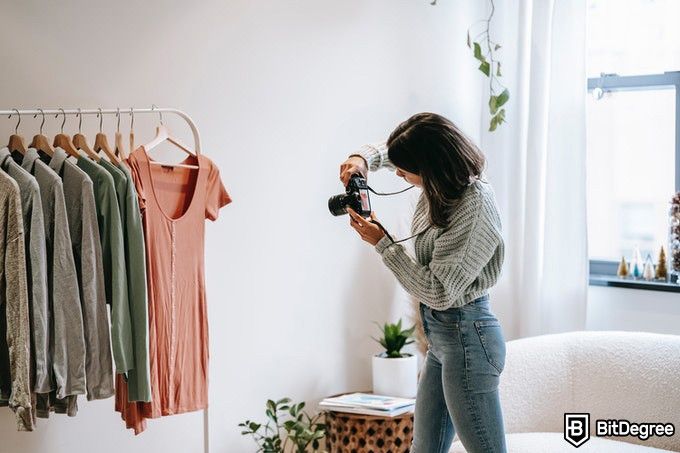 And you'll hear all of these from a very competent teacher. Charlie Borland has over 30 years of experience in professional photography. He has worked for well-known brands and worldwide magazines. He has taught photography in and outside the US and has published two photography-related books.
The instructor has made two additions to the course in October 2020. This shows that he is very interested to make this a quality and full course even after its initial publication.
The course has 191 lectures and lasts a total of 33 hours and 25 minutes. The course is well segmented, so you'll be able to process it at your own pace, without it being overwhelming like it can feel with some other photography classes online.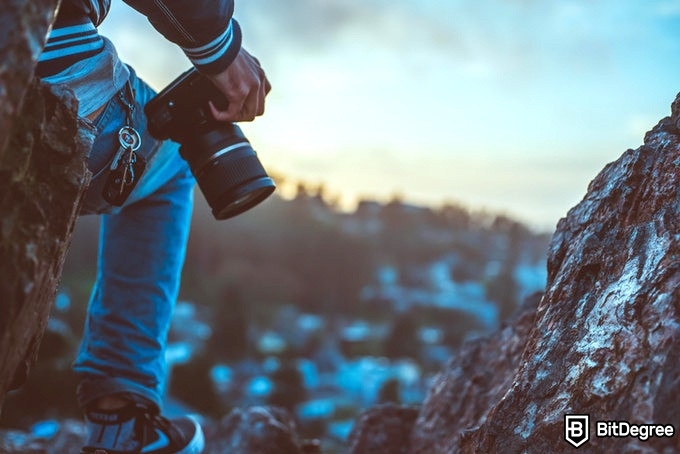 85% of the reviews for this course are 4 or 5 stars. One of the main compliments was regarding the competence and passion of the lecturer. The other tendency was to compliment the extensive course material.
One of the students commented that this course was a significant addition to their skills, even though they were already working as a commercial photographer.
"What an awsome value! Finishing the course feels like graduating Uni :) Endless amount of real life examples with great explanation in detail. It is admirable how much work has gone into creating a course like this. Also presented in an understandable manner!" — Mihkel Pulk
The price of €89.99 seems to be the standard for such an extensive course for a specific photography topic. Based on the covered aspects and reviews, it's definitely worth the cost.
In this course, you will learn:
How to appropriately photograph products, locations, or people for commercial use
How to set up gear settings and technical aspects for quality commercial photos
How to market your photography business for interested customers
If you are someone who's looking to turn your photography passion into something more tangible, this course will be great for you! An experienced expert, extensive information, and real industry examples will make sure you have a good understanding of how to leave your mark commercially.
Start the course NOW.
Free Online Photography Courses
Now, if you have only a very slight interest in photography, or if you're not yet sure whether a specific aspect of photography is for you, you may want to try out some of the free online photography courses instead. I got you covered for those as well.
Something to have in mind is that free online courses are not gonna be as extensive or elaborate as the premium ones. You're definitely cutting on the cost, but you may want to consider if the quality difference is worth it.
It is also worth noting that the free courses don't have the completion certificate available. It may not be a dealbreaker if you're looking to improve your skills just out of curiosity, but still a note to have in mind.
That being said, let's have a look at some of the free options available to catch your eye.
Platform: Udemy
Rating: 4.7
Duration: 2.5 hours
You'll learn the basics of how your camera works and the correct technique to set it up. You'll receive tips for framing photos and some rules for their composition. You'll also find out how to control exposure or what creates the lighting the way you have it in photos.
Platform: Udemy
Rating: 4.8
Duration: 4.5 hours
You'll learn how to shoot on green screen and creative possibilities of using it for your photography.
Platform: Udemy
Rating: 4.7
Duration: 1 hour
You'll learn how to use exposure, what settings to use to create the desired depth of field, and how to adjust shutter speed for either motion blur or freeze effects.
Platform: Udemy
Rating: 4.7
Duration: 40 minutes
You'll learn about general camera care and what accessories are essential. You'll also learn how to hold your camera, prime lens, or how to use flash.

Pros
Simplistic design (no unnecessary information)
High-quality courses (even the free ones)
Variety of features
Main Features
Nanodegree programs
Suitable for enterprises
Paid certificates of completion

Pros
Huge variety of courses
Easy to navigate
No technical issues
Main Features
Huge variety of courses
30-day refund policy
Free certificates of completion

Pros
Easy to use with a learn-by-doing approach
Offers quality content
Gamified in-browser coding experience
Main Features
Free certificates of completion
Focused on data science skills
Flexible learning timetable
Platform: Udemy
Rating: 4.8
Duration: 1.5 hours
You'll learn what is light and where it comes from. You'll find out behaviors of light, types of contrast, and how your eyes see the light compared to how the camera does it.
Conclusions
All the mentioned paid courses on the Udemy platform include a 30-day money-back guarantee, full lifetime access, and a certificate of completion. Coursera offers a 7-day free trial for their subscription services, and Skillshare offers refunds for their annual subscription within the first 7 days as well.
As discussed in this article, there are online photography classes for all kinds of photography. Ranging from standard portrait or mobile photography to more specialized categories such as long exposure photography — I'm sure you will find something that will click with you.
The pricing is also very friendly — almost all the discussed classes are under $100. And if you're still unsure if you want to open up your wallet, there are decent free options for you to choose from. Whichever you chose, may your future photography journey be picture perfect!
Scientific References
1. Jan E. Sitvast, William Springer: 'The use of photography in perceiving a sense in life: A phenomenological and existential approach in Mental Health Care'
2. René Stevens, Evans H. Spears: 'Incorporating Photography as a Therapeutic Tool in Counseling'
Leave your honest feedback
Leave your genuine opinion & help thousands of people to choose the best online learning platform. All feedback, either positive or negative, are accepted as long as they're honest. We do not publish biased feedback or spam. So if you want to share your experience, opinion or give advice - the scene is yours!