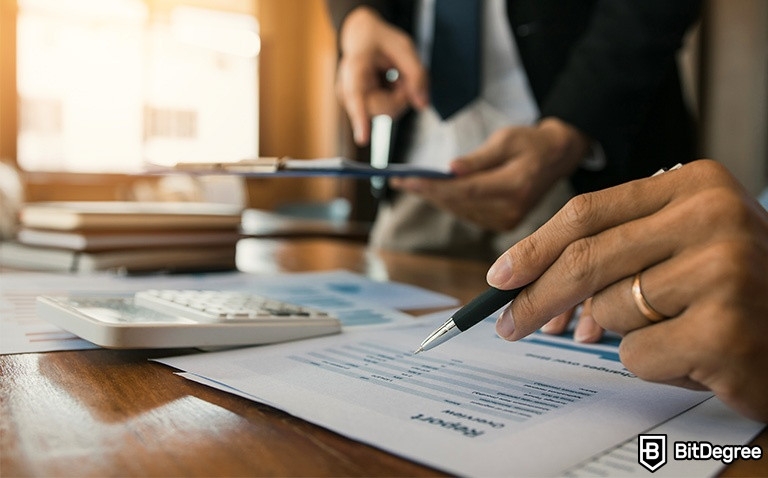 So, you have a growing interest in finance. Perhaps you've looked into career opportunities in the field and think joining one of the many online finance degree programs out there is something you'd enjoy. Maybe you want to learn how to deal with finances in your personal life.
It's a whole new field for you, and there's so much to learn. But finding a starting point can be tough. Where do you find the basics? Which information is still relevant and which is outdated? Which online finance degree programs are worth the money?
Well, worry no longer! Today, I will give you an overview of some of the best paid and free online finance courses to get you started on your new path. We'll be looking at a whole range of courses – from the most basic Finance 101 to cutting-edge financial technologies like DeFi.
But before we get started, let's see exactly why online finance classes are worth checking out.
Why Should You Choose Online Finance Degree Programs?
Of course, before you invest in online finance classes, you want to be sure that they're worth your time and money. Starting a career in this field is a big step to take. What are the prospects of studying finance? What if it's a dying field?
Latest DataCamp Coupon Found:
EXCLUSIVE 50% OFF
On DataCamp Subscriptions
Follow the Datacamp promo code link & get an exclusive 50% OFF Datacamp subscriptions. Act now while the offer is still available!
Expiration date : 06/06/2023
2,765 People Used
Only 35 Left
Well, it's certainly not. In fact, according to the Bureau of Labor Statistics, we're set to see employment in the financial field grow 10% by 2026. That's nearly 800,000 new jobs in the US alone! Finance is a high-risk, high-reward industry, so there's always going to be a demand for industry professionals.
It's also a vast field. From research and predictions to working directly with clients personally or in the corporate world, you can easily find ways to adapt your skills in this industry.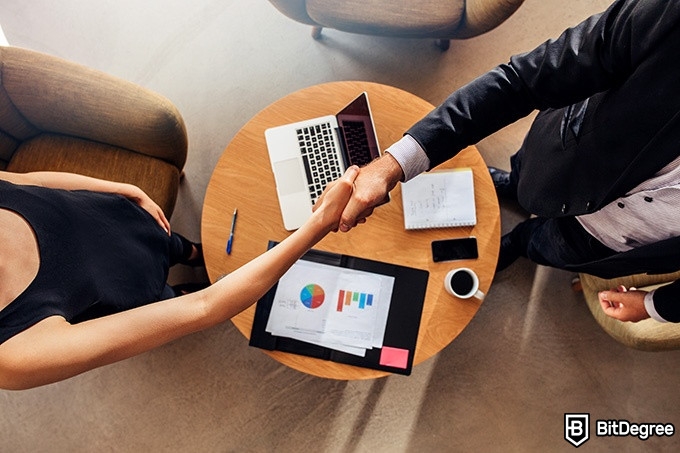 And let's not forget about the emerging innovations in the FinTech field. Banking procedures, transactions, even money itself – everything is moving to the digital space. With the rise of blockchain technology, we're about to see what financial technology might have in store.
There are also the personal benefits you can get out of learning more about finance. Taxes, loans, investments – these things can get complicated. There's so much legalese. With the help of online finance courses, you can clear up the fog and know for sure how to manage your money.
So, is looking into online finance degree programs worth it? Absolutely! Not only will skills in the financial field make your CV look nicer, but they'll also help you in your personal life when it comes to money matters.

Platform: Udemy
Duration: 3 hours 14 minutes
Price: FREE
Certificate: No
Level: Beginner to Intermediate
Discount: N/A
Where to apply? HERE
If you're just starting your financial education, it can be hard to figure out where the starting point should be. Personal finance? Corporate finance? Something else whatsoever? With so many online finance degree programs around, it's easy to get lost.
Well, you're in luck! The Basics of Finance course on Udemy is perfect for beginners who want to learn not only about the professional side of finance but also its history and development into numerous industry branches. It's one of the top-rated free finance courses on the platform.
Sounds overwhelming? There's no need to worry! This course does not require any prior knowledge about finance whatsoever. It's structured in a way that helps you learn the essentials of finance step by step.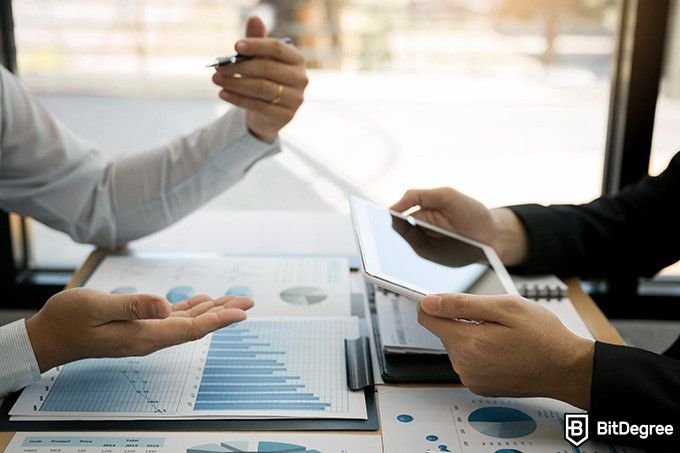 For starters, you'll learn about the origins of finance and how we went from using the barter system to inventing money. Then, you'll get a brief overview of the banking system and its regulations.
During this course, you'll learn what sets personal and corporate finance apart, and how to manage budgeting. Finally, you'll cover the risk management of financial products. Each section of the course will be wrapped up with a quiz to test your knowledge.
Another perk of this course is that it's not just loaded with theory. You'll have the opportunity to look at several case studies, one of which is based on the 2008 financial crisis. It'll help you understand how monetary policies work in practice and how they can be regulated.
The course was created by Nishant Verma. He is a finance professional with over eight years of experience in the financial field. Verma is an accredited CFA charter holder, which is one of the highest internationally recognized qualifications for financial experts.
The Basics of Finance course will crush any misconceptions you may have about finance. Many people assume that in order to understand finance, you need to be a math expert. This tends to spook them away from the subject.
However, as Verma proves, it's not all about numbers. You don't need to be a genius mathematician – what you really need is an open mind and a passion for learning.
Once you've completed the course, you'll have a good understanding of:
The origins and a brief history of finance
The differences of micro and macroeconomics
Financial accounting and analysis
Corporate finance basics
You will no longer want to skip over the Finance section on a news portal or make your way out of the room once the conversation turns towards money. With the help of this course, you'll be able to feel comfortable discussing topics like investments, stocks, or shares.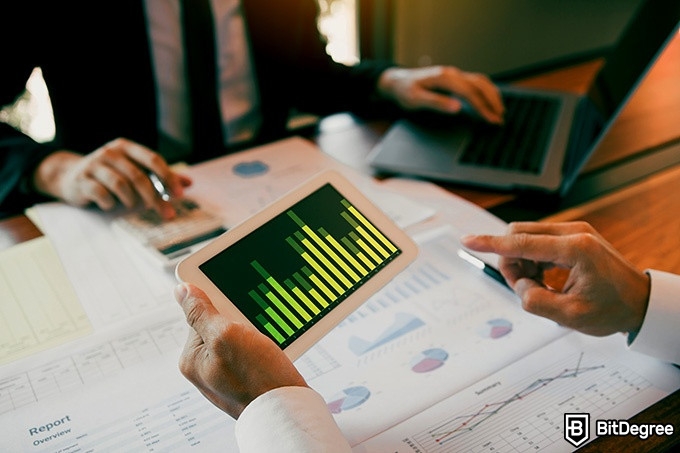 This course is available on Udemy completely for free. Unfortunately, this means that you won't be getting a certificate once you're done with the course. However, it can be a great starting point if you're on a budget and want to learn the very basics of finance.
So, if you're looking for one of the best free online finance courses that Udemy has to offer, the Basics of Finance course is where you might want to get started.

Platform: Udemy
Duration: 8 hours
Price: €89.99 (before discount)
Certificate: YES
Level: Intermediate
Discount: Available
Where to apply? HERE
If you already have some experience in the financial field, you're probably aware of the CFA. It stands for Chartered Financial Analyst, and it's one of the most important qualifications in the industry. Acquiring the CFA qualification can be grueling and requires months or even years of studying.
To complete level 1 of CFA, you need to take a complicated, 180-question exam that lasts about four hours altogether. Naturally, the preparations for this qualification can be expensive and intensive. Thankfully, this is where the CFA Level 1 - Complete Quantitative Methods course on Udemy can help you out.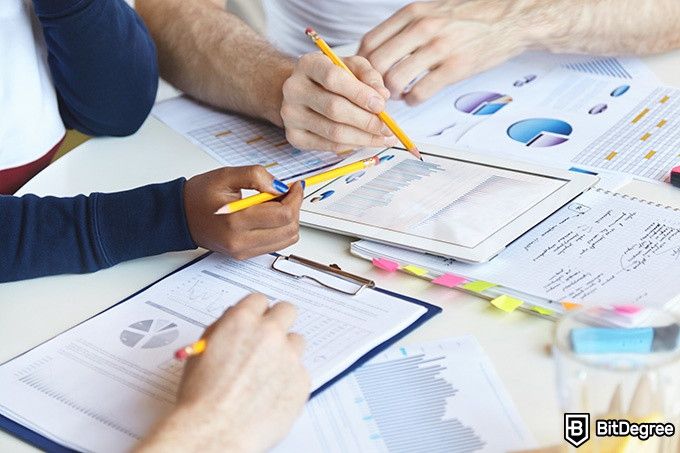 As the name suggests, this course focuses on the quantitative methods you'll need for your CFA exam. It's one of the 10 online finance degree programs offered by PrepNuggets on Udemy for CFA Level 1 preparation. So, if you're interested, you can also check out their other guides, such as Financial Reporting Analysis, Corporate Finance, or Derivatives.
The Complete Quantitative Methods course is brought to you by PrepNuggets. The PrepNuggets courses are aimed at CFA candidates preparing for their level 1 exams. They're among the highest-rated and best-selling CFA preparation courses on Udemy.

You'll be focusing on the calculus part of the exam. So, it's recommended you keep your calculator nearby as you study along.
In about 8 hours, you'll be able to master the formulas, hypotheses, and theories that can come across in the exam. From data visualizations and statistical concepts to probabilities and the Monte Carlo simulation — this all-rounder course will help you make sure you're ready for the challenge.
Here's a little taste of what the course is set to help you achieve:
Making present and future value calculations
Effectively using probability tools in financial analysis
Understanding the basic concepts of statistics and probability
Interpreting technical chart patterns with ease
The materials for this course get updated annually, so you can be sure that you'll be up to date whenever you take the CFA Level 1 exam. Alongside the video lectures, you'll also have access to nearly 50 downloadable resources and additional articles.
The course costs €89.99 to access. If you consider how much time and money goes into preparing for the CFA 1 exam, you could be saving up thousands with the help of this course.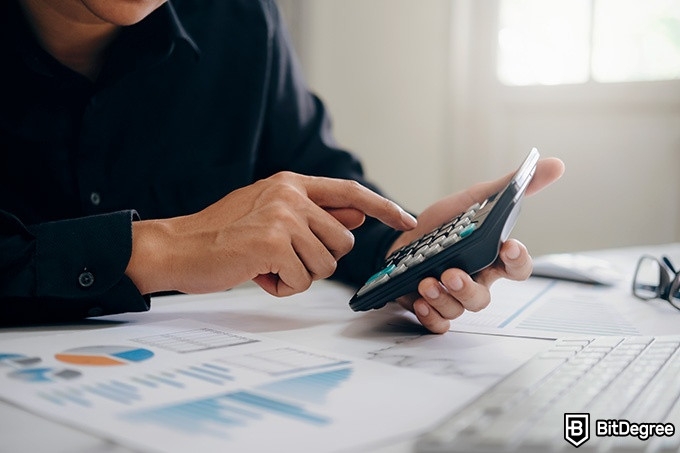 And have I mentioned that Udemy offers its users discounts and special offers? That's right – you can get access to the entire course and additional materials for up to 87% off!
So, if you don't know where to start your CFA journey, look no further. Sign up for this course today and be prepared when the time comes for the big challenge.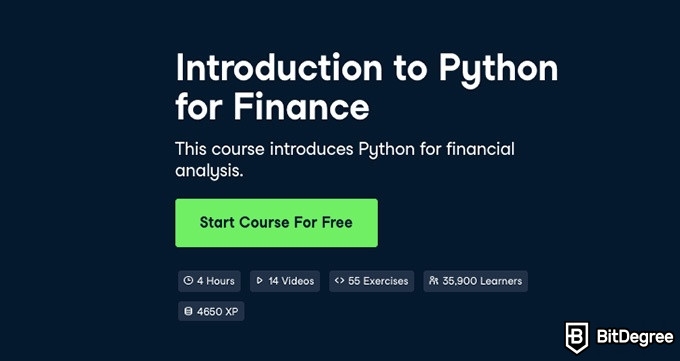 Platform: DataCamp
Duration: 4 hours
Price: $12
Certificate: No
Level: Beginner
Discount: Available
Where to apply? HERE
Did you know that programming and finance can easily go hand in hand? In fact, learning a programming language can make your life in the finance sector much more manageable. Data analysis, statistics, simulations – you can automatize many of the calculations and processes and take some of the weight off your shoulders.
In fact, technical skills are becoming less of a "good to know" and more of a necessity in the financial field. They're often listed as a requirement in job applications. And to be frank, nowadays, it's really inconvenient to work without programming tools.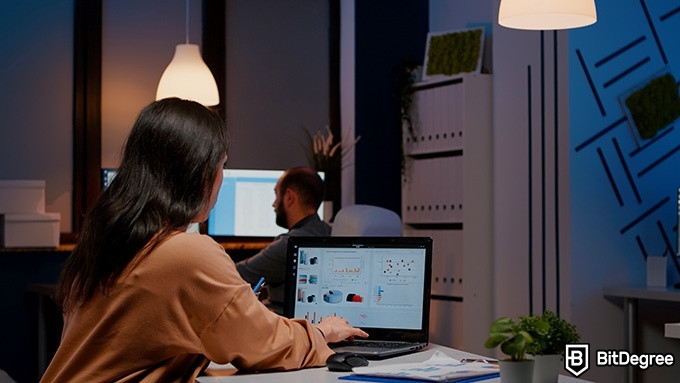 Of all programming languages out there, Python is the leading choice when it comes to financial solutions. It helps with qualitative and quantitative analysis, data visualizations, and simulations, among others.
There are quite a few online finance degree programs that also teach you Python essentials. A few of them are even specifically designed to learn programming for finance. And if you're a beginner at programming, DataCamp has just the course for you.
Introduction to Python for Finance is a 4-hour course that will teach you the fundamentals of Python data structures for financial purposes. This is an interactive course that will let you immediately try what you've learned in practice.
The course is split into five chapters that deal with different ways that Python can be used for finance:
Welcome to Python
Lists
Arrays in Python
Visualization in Python
S&P 100 Case Study
Throughout the course, you'll be able to see how Python is used for financial purposes in practice. You will get a general introduction to how Python works. Once you have the basics – like creating variables, exploring list methods, working with 2D arrays, and visualizing data – covered, you will get to more specific examples.
For example, as one of your tasks, you'll get to conduct a financial analysis of stocks for the companies in the S&P 100, an American stock market index. You'll have to analyze the growth expectations of the companies, as well as calculate the price-to-earnings ratio of each company provided to you.
This Introduction to Python for Finance course was created by Adina Howe, data scientist and assistant professor at Iowa State University. She's a researcher focusing on using computational data to help manage the global land and water resources.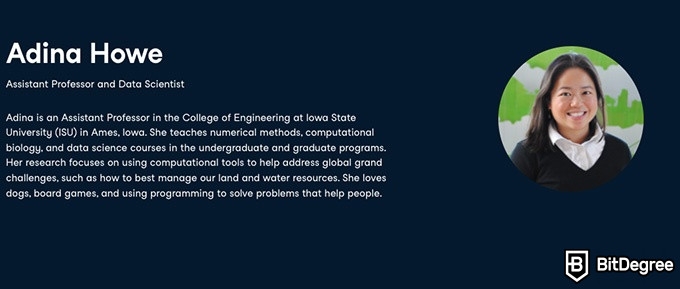 This DataCamp course is beginner-friendly, so you don't need any prior Python experience. However, it's best if you already have some background knowledge of finance. If you're interested in learning more about how finance and Python work together, you can also check out the Finance Fundamentals in Python course on DataCamp.
DataCamp offers the first chapter of all its courses for free to all users. And if you enjoy the taster, you can continue studying for just $12 a month! With the standard plan, you will be able to access not only the Introduction to Python for Finance course but also check out the rest of the courses and skills tracks DataCamp has to offer.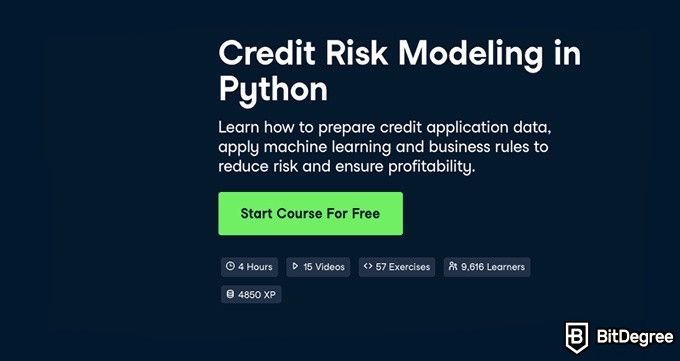 Platform: DataCamp
Duration: 4 hours
Price: $12
Certificate: No
Level: Intermediate
Discount: Available
Where to apply? HERE
Applying for a loan or a credit card can be more fickle than it looks. There's all the paperwork. You have to make sure your information is in order, know where you qualify. Then there's the matter of credit scores, interest rates, repayments. It can get really complicated, really quickly.
Well, it's just as complicated on the financial firm's side of things. Loan companies have to calculate risk and determine if you're a good candidate for a loan or a credit card. It's a careful game of balance, especially with the 2008 economic crisis at the back of everyone's minds.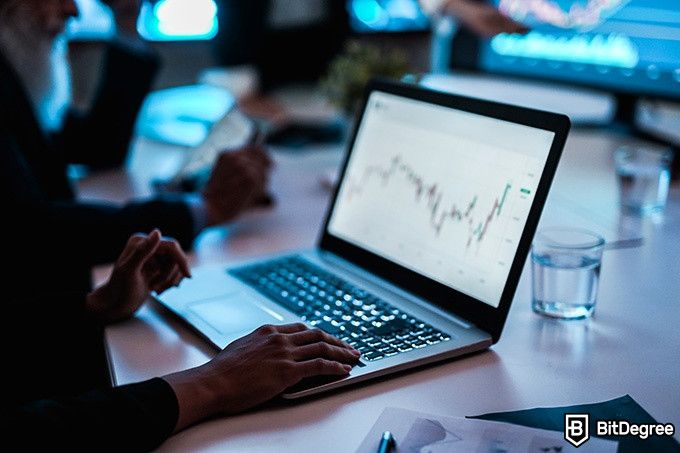 Have you ever wondered exactly how credit risks are assessed? Is it all random? What's the system in place? Is it really that impossibly convoluted? Do you need to be a genius who crunches numbers for breakfast, lunch, and dinner?
Not at all! All you need to understand risk modeling is financial knowledge, a bit of programming, and lots of determination. Combine all of these ingredients, and you'll get the Credit Risk Modeling in Python course on DataCamp.
This course will introduce you to the way financial firms prepare credit application data. You'll also get to work with machine learning and see how it's used to reduce possible risks. That'll give you an insight into how risk management functions in the real world.
The author of this Python course is Michael Crabtree, a data scientist and Big Data engineer at Ford. Not only is he an online teacher, but he's also an avid student with over 80 MOOC certificates under his belt. So, you'll be taught by someone who also understands online finance courses from a learner's perspective.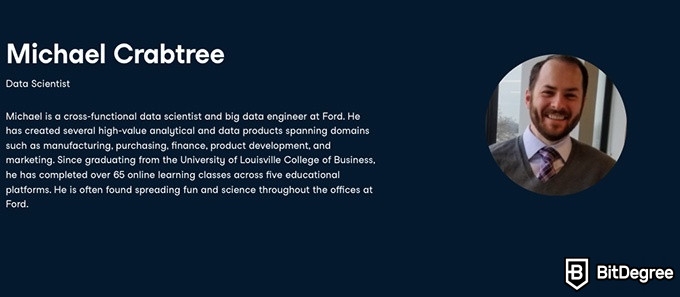 In this course, you'll be taught to:
Work with(out) missing data by replacing and removing it
Create predictions and work with probabilities
Build sophisticated decision tree models
Develop a business strategy and minimize expected loss
The Credit Risk Modeling in Python course requires you to have some Python knowledge already. If you don't feel confident using Python yet, you can check out the Introduction to Python for Finance course also on this list.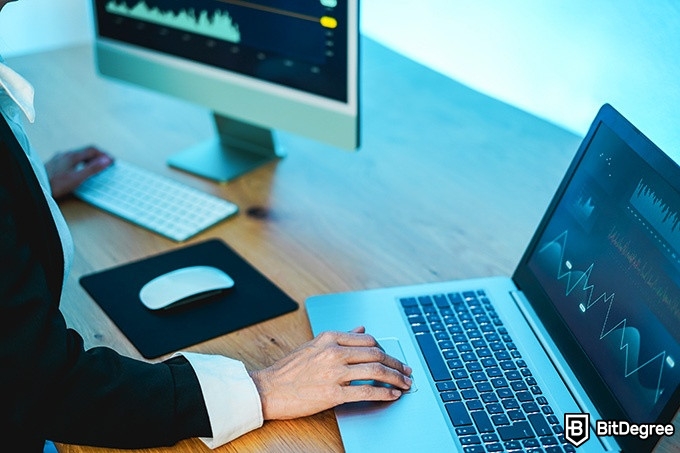 Throughout this 4-hour course, you will be able to work with Python in practice – you'll be given a real-world data set. Alongside video instructions, you'll have multiple choice questions and exercises. Once you've completed the course, you'll be able to apply the credit risk modeling methods in your work or personal life.
The first chapter of this course is available for free. But if you want to keep going, you can subscribe to the Standard plan for just $12 a month. This plan will also allow you to access all courses, including other programming and finance classes, available on the DataCamp catalog.
So, if you want to learn exactly how useful Python can be in specific financial scenarios, you can simply enroll in the Credit Risk Modeling for Python course today!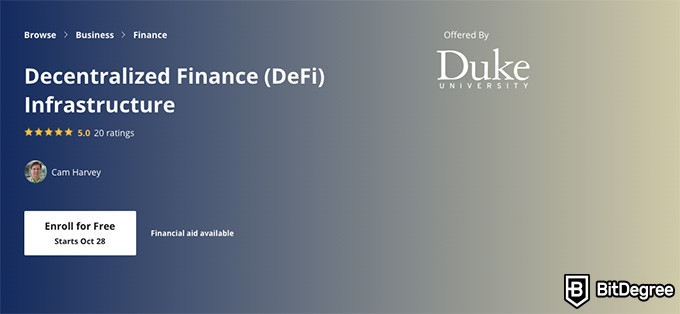 Platform: Coursera
Duration: 6 hours
Price: FREE
Certificate: YES (Paid)
Level: Beginner
Discount: Available
Where to apply? HERE
If you've been around the financial side of the Internet, you might've heard of the term FinTech. It stands for financial technology, and it's a broad umbrella term used to describe technological innovations in the financial sector. From banking apps to cryptocurrencies – if it's digital, it's FinTech.
One of such innovations is the development of a branch known as decentralized finance, or DeFi. It's a term that goes hand in hand with all things crypto. Decentralized finance aims to eliminate the middleman, like banks or brokerages – hence the decentralization. Most of the DeFi projects you'll come across are built on blockchain technology.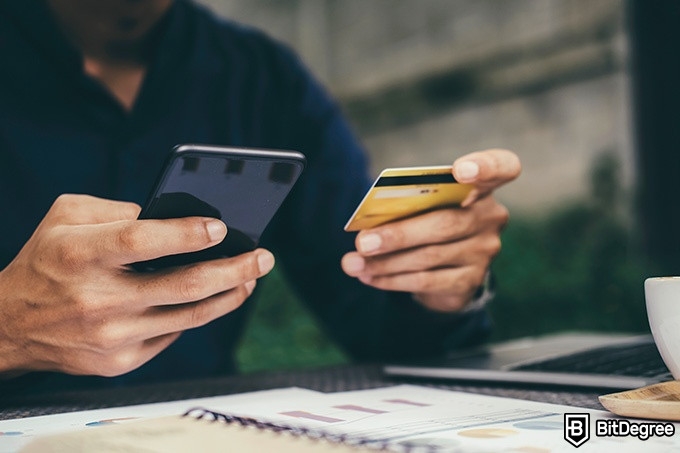 If you're interested in learning more about DeFi, one of the online finance degree programs available on Coursera might be the one for you. The Decentralized Finance (DeFi) Infrastructure course explores the origins of this financial branch, analyzes the problems that DeFi is designed to solve, and explores the myths floating around about crypto.
The course focuses on the key infrastructure components of DeFi:
Blockchain
Cryptocurrency
Smart contracts
Oracles
Stablecoins
Decentralized applications (dApps)
You'll get a brief overview of the history of DeFi and the changes in the financial system. You'll get the chance to explore the mechanics of blockchain. During the course, the differences between cryptos and stablecoins will also be explained.
The DeFi Infrastructure course was created by Cam Harvey, professor of Decentralized Finance at Duke University. He has over seven years of experience teaching DeFi and the future of finance. He's bringing his expertise in the crypto field to this course.

With six hours of content, this program is structured to be learned over the course of four weeks, with about 1-2 hours of studying a week. However, it's completely self-paced, so you can study as fast or slow as you want. You can also adjust the assignment deadlines for your convenience.
By the end of this course, you'll be able to:
Talk about the origins of crypto and describe the evolution of DeFi
Explain the problems DeFi aims to solve and how this can be achieved
Define the key components that make up the DeFi infrastructure
Identify the misconceptions of crypto and redefine them
You can audit this course entirely for free. However, with the paid route, you'll get even more perks. Not only will you receive a certificate upon completion, but you'll also be able to take part in the quizzes and join the discussion board for the course.
With Coursera Plus, you can access over 3000 courses and earn unlimited certificates for $59 a month. This is the kind of a bargain you simply cannot refuse. And have I mentioned that the first week will be completely free? There's no reason not to start the DeFi Infrastructure course on Coursera Plus today!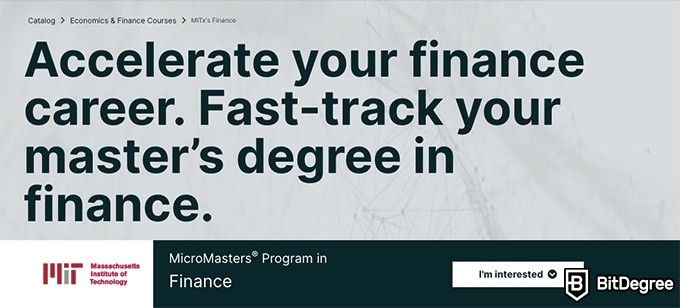 Platform: edX
Duration: 1 year 3 months
Price: €1,933
Certificate: YES
Level: Beginner
Discount: Available
Where to apply? HERE
So, you're interested in studying finance. Not just for a few hours a day or a couple of weeks. You really, really want to study finance inside out, learn just about everything there is to know – and keep it all online. Are there any online finance degree programs that can meet your expectations?
Absolutely. And I know exactly what you're looking for. Let me introduce you to the MicroMasters in Finance program on edX. This course is unlike any other on the list – and it's one of the best online finance courses out there.
MicroMasters in Finance is a fast-track version of the MIT Sloan Master of Finance. So, when it comes to online finance degree programs, this is one of the highest quality courses you can find.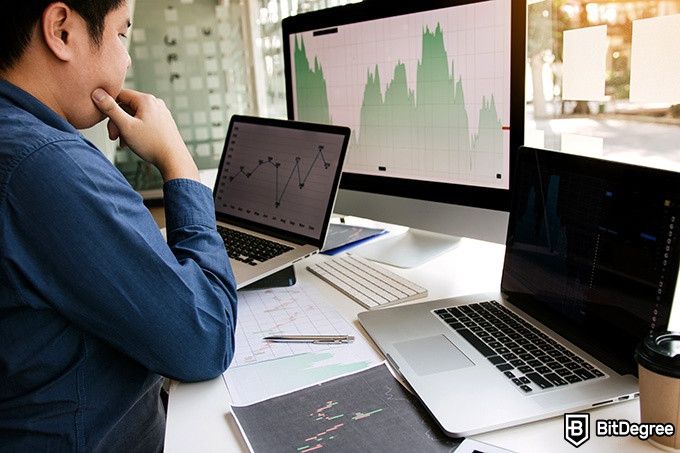 This microdegree consists of five courses:
In parts one and two of this course, you'll learn about the fundamentals of modern finance. They'll introduce you to the concepts of corporate finance and capital budgeting, explain risk analysis and corporate financial decisions. You'll also work with valuation models and apply them to financial securities like stocks and bonds.
The third course, Financial Accounting, deals with financial accounting. It's a deep dive into the structure of financial reports and transaction records. You'll learn the common accounting terminology and gain the skills to read and analyze financial statements.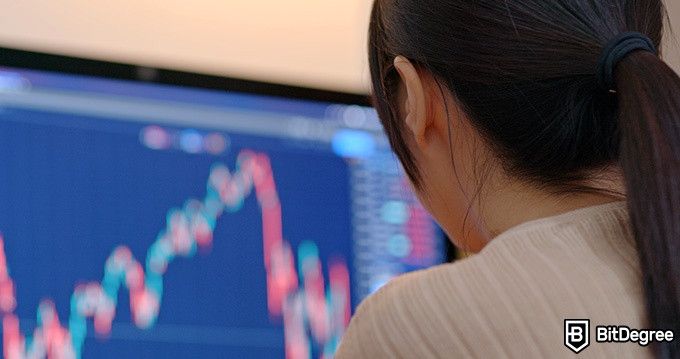 Mathematical Methods of Quantitative Finance will allow you to put your theoretical skills into practice. You'll work with probabilities and apply algebra to asset pricing. The course will also teach you numerical methods like quadratic programming and the Monte Carlo techniques.
Finally, in the Derivatives Markets course, you'll examine valuation methods, risk speculation and management, and gain familiarity with major world markets and instruments.
This course is brought to you by a team of lecturers and industry experts. They're all part of the MIT academic community, so you will be receiving the same content quality as the students enrolled in the Master of Finance program.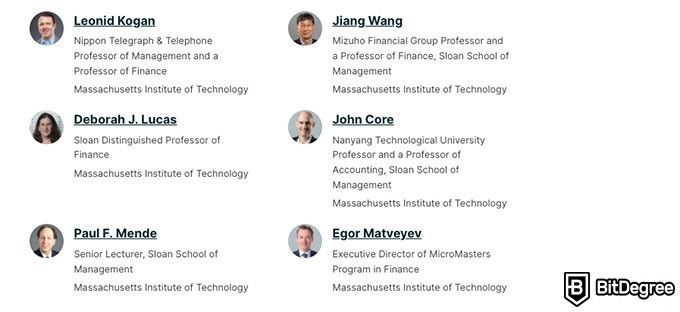 As you can see, it's the longest and one of the most comprehensive online finance degree programs offered on our list. Each of these online finance classes is also individually recommended for CFA exam preparations.
This program costs $1933 to enroll. It is the most expensive course on the list, so you might be considering turning away. However, there are a few things to keep in mind. Firstly, this course takes approximately 15 months to complete. At this pace, it's estimated to take 10-14 hours of dedicated studying a week to graduate.
Secondly – and perhaps most importantly – this course is fully accredited. That's right – you can use your MicroMasters in Finance certificate as actual valid college credit. And that doesn't just go for the US either – it's also accepted by selected universities in Canada, Chile, and Latvia, to name just a few!
So, while this seems like a hefty investment upfront, the five online finance courses in this MicroMasters will count towards your higher education, and you'll be saving thousands of dollars in the meantime.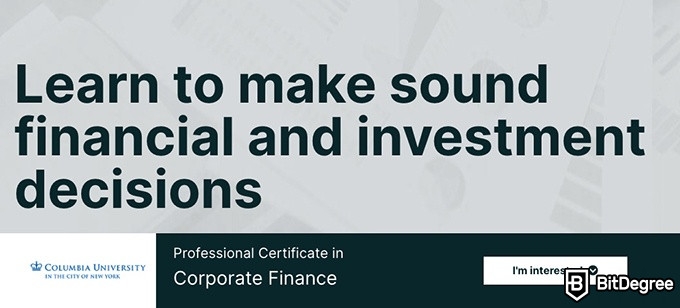 Platform: edX
Duration: 3 months
Price: €580
Certificate: YES
Level: Beginner
Discount: Available
Where to apply? HERE
Are you looking for something more traditional? Do you think you have what it takes to be a hotshot in the corporate world? Do you want to get a glance at what corporate finance looks like behind closed doors?
If your answer to all these questions is a very enthusiastic yes, then you should give the Corporate Finance course on edX a try.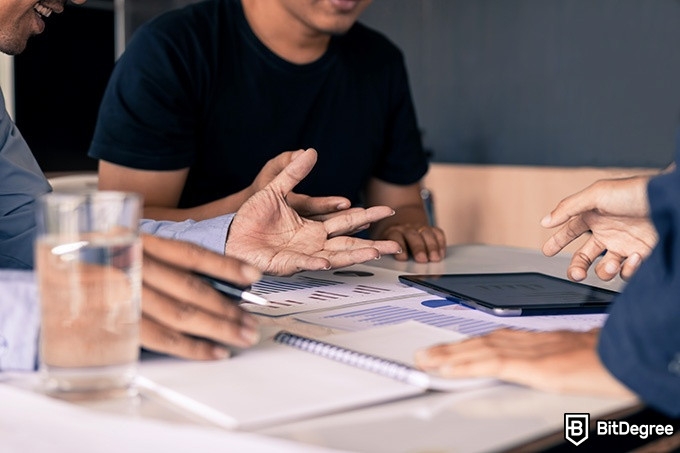 This course will provide you with insights into what the corporate finance world looks like and what skills it requires. You will develop the skills necessary to make reasonable and logical financial and investment decisions.
The instructor of this course is Daniel Wolfenzon of Columbia University. His research focuses on corporate finance and organizational economics. His Corporate Finance classes on edX are based on the first-year MBA course taught in Columbia Business School.

The goal of this course is to prepare you for a successful career in the corporate finance field. It's especially suitable if you're interested in banking, consulting, or CFO track corporate career options.
The course consists of three online finance classes. You will be taught:
The essential concepts of corporate finance
How to value investment opportunities
What the free cash flow method is and how to use it
Risk measurement
Computing the average cost of capital
Once you've completed the course, you will receive a certificate from edX. This is a great opportunity as, according to the information provided on the course page, the job prospects in corporate finance are very optimistic, both in commercial and government branches.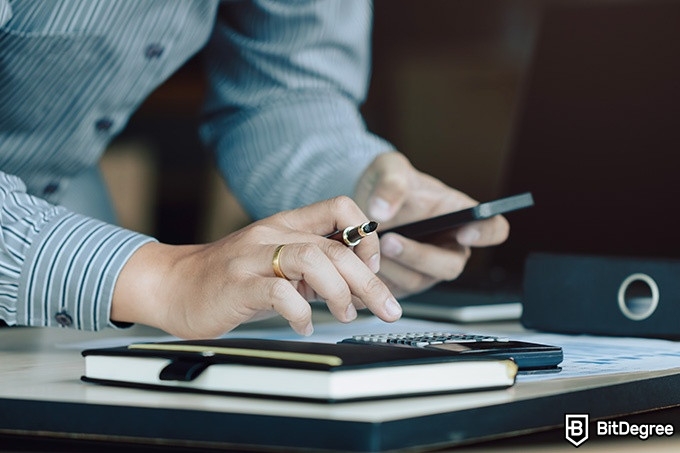 Altogether, it should take you about 3 months to complete the Corporate Finance course, at around 3-4 hours of studying a week. The entire course costs €580, making it one of the pricier online finance degree programs on the list.
However, edX offers its user base discounts and special deals. Besides, when you take the cost of a semester at Columbia Business School into account, you can see that this is a great deal to save your money. There's simply no reason not to enroll today.
Conclusions
The financial industry has a long history, dating back to the days of Aristotle. It has been evolving and growing for several millennia, and it doesn't seem like it's slowing down any time soon.
And the best part is that it's never too late to join this flow. With so many online finance degree programs to choose from, you can learn just about everything there is to know about the industry. From its history and research processes to practical calculations and technological developments – you're sure to find your niche.
So, there's no reason to wait any longer. Whether you're looking to become a qualified financial expert or went to see how the tech side of things works, there's something out there for you. Find your perfect course and start studying today!
The best time to work on your career development and explore financial innovations is today. All you need is a passion for the subject and determination to learn and grow (also, occasionally, a calculator by your side).
I hope you found this guide to the best online finance degree programs useful. I wish you the best of luck on your venture into the world of finance!
Leave your honest feedback
Leave your genuine opinion & help thousands of people to choose the best online learning platform. All feedback, either positive or negative, are accepted as long as they're honest. We do not publish biased feedback or spam. So if you want to share your experience, opinion or give advice - the scene is yours!