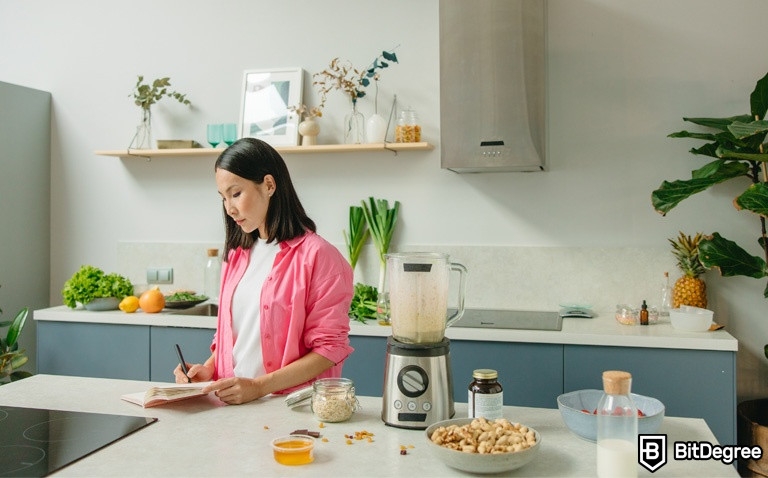 Did you know that nutrition is a critical part of your health? Hopefully, you did. To put it simply, nutrition is the study of nutrients in your food. Moreover, if you are interested in the topic of food, the best option might be — nutrition courses online.
To specify — nutrients are fats, proteins, carbohydrates, vitamins, fiber, minerals, and even water. A biochemical and physiological process happens within your body by using them. I am sure that you are familiar with the concept. But do you know anything more about nutrition?
Additionally, if you wish to step into the enormous medical field and be a nutritionist, you must choose the best nutrition classes online.
This article briefly discusses my top handpicked nutrition courses on Udemy, Skillshare, edX, and Coursera online learning platforms.
Why You Should Choose Nutrition Courses Online?
If you care about the quality of your life, nevertheless, you aren't sure if your choices regarding eating are the right ones — nutrition classes might be the lightbulb above your head.
Latest DataCamp Coupon Found:
EXCLUSIVE 50% OFF
On DataCamp Subscriptions
Follow the Datacamp promo code link & get an exclusive 50% OFF Datacamp subscriptions. Act now while the offer is still available!
Expiration date : 06/06/2023
2,765 People Used
Only 35 Left
Maybe you constantly fall back into bad habits and feel unhealthy afterward? Perhaps you don't understand how to control your cravings and what food is the best for you? That could be a valid reason for looking up online nutrition courses.
Besides, knowing the food you eat every day and forming healthier habits may save you lot's of money from going to doctors' or dietists' appointments. By getting a grip on nutrition, you can be in control of your well-being and quality of life.
Research shows that it is usual for people to have a very poor understanding of a healthy diet[1]. How can you take care of yourself if you don't have the knowledge needed? If so, maybe everyone should try out nutrition courses online?
The approach to health through nutrition is very essential.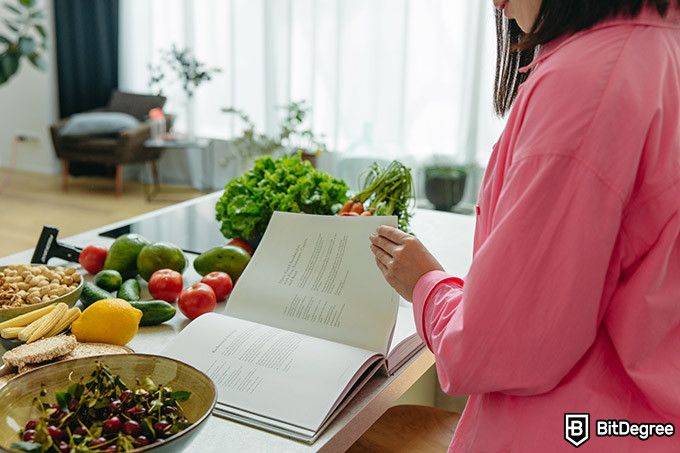 Furthermore, wellness is an industry that always needs new, rising specialists. With that in mind, the world constantly seeks medical guidance and new ways of living longer and healthier lives.
Therefore, perhaps you feel a passion for helping others and want to choose a noble career path? Or do you desire to know more about the healthy relationship between body, mind, and food?
Later on, you can also specify in other fields such as sports nutrition, public health nutrition, personal nutrition, nutrition therapy, and more.
However, you need to acquire a variety of skills to become a good specialist. Those skills could be communication, creativity, research, understanding of allergies, health concepts. Also, nutrition courses online come in handy, when there is a need to learn more in-depth nutrition aspects.
By trying to pursue a nutritionist career you must gather as much knowledge and skills as you can. You may even need to attend a few nutrition courses online or a specialization that already includes more than one course.
That way you will be a more profound specialist and an appealing candidate for your future employers.

Platform: Udemy
Duration: 4 hours
Price: €89.99
Certificate: Yes
Level: Beginner
Discount: Available
Apply HERE
Speaking of personal health, nutrition courses online such as this one are specified in helping you build your diet and teach the fundamentals of meal planning. On the other hand, meal planning is a fascinating way of keeping yourself on the right track of nutrition.
So if you could describe yourself as the person who constantly falls out of their routine, or breaks their own health-related rules — meal planning is the factor that could help. However, I would like to note that it might be a challenging task.
Having a take-out or junk food is easily accessible, fast, and makes you full at the right moment. Moreover, it might be something you are used to when feeling hungry. However, it is an unhealthy habit, and online nutrition courses focus on changing impulsive junk food eating to meal planning. But perhaps there is a way to make it easier?
Find out in this course!
Nothing may be easier than ignoring your well-being and eating fast food. However, there are ways to make healthy habits easily manageable. After a while, choosing fruit as a dessert over a donut will seem like something that goes without saying.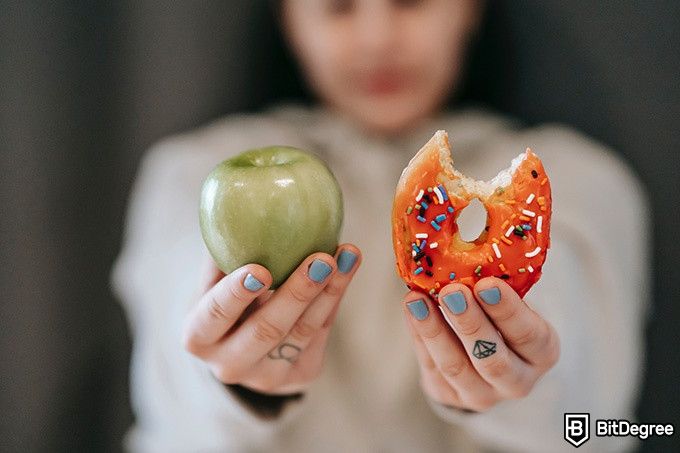 Do you have a weight loss goal? If so, nutrition courses online such as this one may be the best solution. To add, I would believe that with the abundance of information nowadays, you might have stumbled upon a variety of different diets or products that supposedly should help you lose weight. That makes it hard to determine the right solution.
If you have ever been burned from the diet culture, you know that the wrong kind of approach could even be harmful to your well-being. As well as to your wallet. So instead of buying diet plans and fake supplements, invest in your knowledge. Having knowledge of nutrition way is more trustworthy.
This nutrition class teaches you how to reach your goals, lose fat, build muscle and do it the right way.
Those enrolled in this course will learn:
Dieting for health and fitness — everything you need to know about nutrients, optimal calorie intake, adjusting your diet, cheat meals, ready-to-use meal plans, and pre-workout and post-workout meals.
How the diet trends work — such as gluten-free, low carb, paleo dieting, vegan dieting, fasting.
How to improve your health and immunity — vitamins and minerals, water intake, reading a nutrition label, testosterone boost, scientifically proven ways to improve the immune system.
Answers to frequently asked dieting questions — are carbs evil? How to boost metabolism? Does meat cause cancer? Is too much protein bad for you?
This course is for anyone that has an open mind about dieting. You don't need any prior skills or knowledge. Keeping that in mind, this nutrition class is built considering every bit of detail to teach you as much as possible.
To those curious who is behind this nutrition class, let me introduce you to Felix Harder, a certified instructor, and coach. He specializes in science-based health and personal development. As he said himself: "Personal development doesn't have to be difficult!".
And this may also be the motto of this nutrition class.
The price for this course is €89.99, which is way more affordable than paying a specialist to help you with balancing your lifestyle. And as a result, you will understand why you need to eat the way you do.
Start the course here NOW.

Platform: Udemy
Duration: 4.5 hours
Price: €89.99
Certificate: Yes
Level: Beginner
Discount: Available
Apply HERE
If you are looking for nutrition courses online that could be advantageous for personal and professional development, this might be the perfect one.
This course may be more serious in regards to the fundamentals of nutrition science. So, if you want to step into the nutrition-driven career path this may be the perfect way to start.
Now, let me mention the internationally accredited diploma certificate you will receive. However, just attending lectures isn't quite enough to earn a certificate, you will have to take an exam. Moreover, students' reviews state that it isn't quite the easiest exam you could imagine nutrition courses online could have. So don't hesitate to prepare. Also, let me add — you need to pass the exam by at least 50%!
Nonetheless, don't worry, the information provided is more than enough to be confident in your knowledge.
To add, these nutrition classes provide an in-depth look at the nutritive components of food that the body needs for producing energy — macronutrients and micronutrients. How essential are they for our bodies? You would get an answer in this course.
By enrolling students will:
Understand macronutrients, micronutrients, fiber, probiotics, water, and the role they play in our bodies.
Understand the energy balance.
Learn the top carbohydrates, proteins, fat sources and estimate the daily intake.
The course consists of 4 modules:
Introduction to nutrition — the base knowledge you need.
Macronutrients — learning about their classifications, types, functions, and food sources
Micronutrients — an in-depth discussion of their important functions, deficiency symptoms. You will also be provided with a table that shows micronutrients daily values adequate and tolerable limits.
The last module — will provide you with precisely 14 nutritional guidelines, 15 healthy snack ideas, and a few vegetarian and non-vegetarian plans. So you will have something to start with.
All in all, you will get a well-rounded set of skills by choosing this course from other nutrition courses online. According to students reviews, which are impressively good, the course is very informative and detailed. Nevertheless, it is easily understandable. What more could you need?
And for a reasonable price of €89.99, you will get a valuable experience and a more profound passion for nutrition.
Start the course here NOW.

Platform: Udemy
Duration: 2.5 hours
Price: €29.99
Certificate: Yes
Level: Beginner
Discount: Available
Apply HERE
Nutrition courses online may often be very serious and provide extensive research of information about the topic. It is perfect for health care workers or someone who needs a bit of everything. However, this online nutrition course is a bit different.
Nonetheless, this course is great for making healthier choices and understanding claims and labels. Which is an amazing knowledge to possess in general.
In addition, you don't need any prior skills, just access to the internet, obviously. And a topping of motivation would be fantastic.
Even though nutrition is a very broad subject on its own, it's still just an aspect of medical care. Online nutrition courses like this one break down the subject even more. So it is more of a personal development kind of thing.
The lecturer Evita Ochel who is also a wellness teacher and nutritionist uncovers the real truth behind packaged food ingredients and numbers. Using her 20 years of experience, she will teach you how to use food to support your health and not destroy it.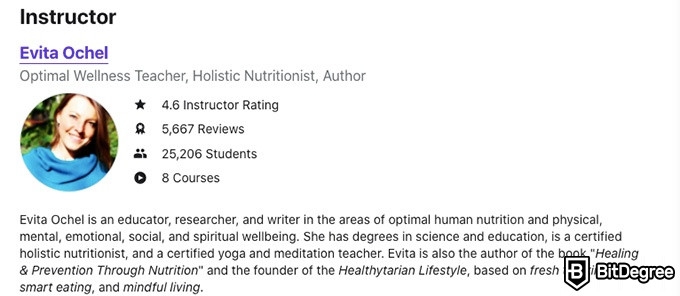 Speaking of packaged food, research shows that the positive aspect of processed foods could be healthy, seasonal ingredients[2]. Nonetheless, there is often an increasing number of additives inside. The additives could not seem like big of a deal if they are just sugar, salt, fats. However, they are often added way more than the recommended amount.
Whether you would like to lose weight, make better food choices, or improve your health this nutrition class will provide 2.5 hours of video footage, resources, materials, printable sheets, practical tasks that should help you navigate modern nutrition.
What I like about online nutrition courses like these is the really easily understandable content and beneficial information for almost anyone. So start being more mindful and make your food work for you, not the other way around.
For as little as €29.99 students enrolled will learn:
Understand nutrition facts and labels
Choose healthier processed foods
Spot food industry tactics
Interpret the quantities of key nutrients
Know how to eat for the best health and weight results
Spot high sodium and sugar foods Start the course here NOW.

Platform: edX
Duration: 6 weeks
Price: Free
Certificate: Yes (paid)
Level: Beginner
Discount: Available
Apply HERE
High-calorie foods are all unhealthy! You need to eat in small portions! You can't skip breakfast! You have to be skinny to be healthy! You can't have snacks!
These are all diet myths you probably have heard of before. However, there are a lot of other ones which mislead people. This course will help you figure out what is a fact and what is a myth. Therefore, be free from speculations!
So maybe you have been burnt from trying out a new diet that was recommended to you by someone? Maybe you wasted a lot of money and time trying to lose weight? It is no surprise. Nowadays with hundreds of diets, different specialists with different opinions, it's hard to figure out who you can trust.
Maybe it's time to learn so that you can trust yourself?
Furthermore, when they said — "the science" in the title, they weren't kidding. Provided by the University of Newcastle, this nutrition course focuses on arming you with the knowledge and tools for you to finally make the right decisions. And to add, you will know the science behind it.
As they want to make this clear, this course isn't a diet plan. There isn't any intention for temporary results. Nutrition classes like these provide you with the information you can use and adapt to a wider variety of life situations.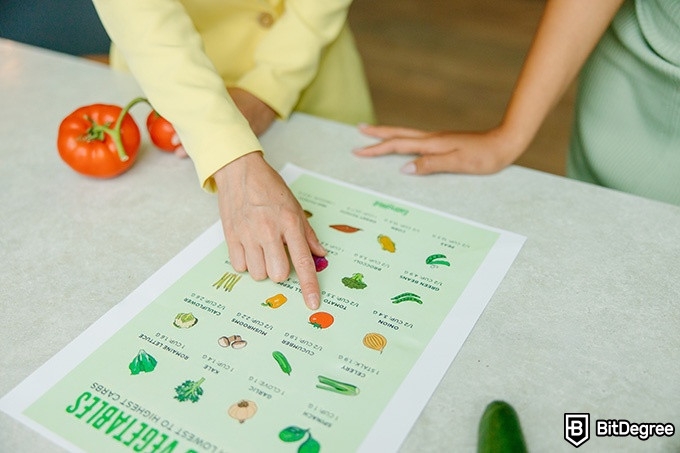 On the other hand, you would only possess one road to your destination by getting a diet plan. There are no other ways or variations. It can get tedious and even frustrating, right?
But fear no more! With this course, you'll learn to develop a healthy eating plan yourself. Also, your definition of a healthy weight, calorie intake may be turned upside down. It is so easy to be affected by the diet culture and contrasting opinions. You may have no idea how misleading the information can be.
Students enrolled in this course will learn:
The key weight management concepts — including body measurements, calories, and kilojoules, energy, portion size
The nutrition value of different foods
How to calculate energy requirements
How to identify features of fad diets and healthy diets
Behaviors that help promote the maintenance of lost weight
Speaking of pricing, you can choose to attend the course free of charge, however, you will miss some of the key opportunities. To specify, you will get limited access to course materials, no shareable certificate of completion, and graded assignments or exams. So the online nutrition courses could be a bit narrow.
From my point of view, having assignments, exams, and a certificate from the University of Newcastle professors may be similar to attending the university itself. The difference is that it doesn't cost thousands of dollars, but €120, which is quite a reasonable amount.
Start the course here NOW.

Platform: edX
Duration: 8 weeks
Price: Free
Certificate: Yes (paid)
Level: Beginner
Discount: Available
Apply HERE
Nutrition has always been linked to your mood, behavior, and mental well-being if you didn't already know. Medical professionals say that a healthy diet and daily exercise are essential for mental health.
Keeping that in mind, it is remarkable that there are nutrition courses online like this one. Speaking of this particular 8 weeks course, it will take you through an incredible journey of exploring the fundamental role of nutrition in mental health.
If the 8 weeks scared you a bit, let me specify that you would spend only two to six hours a week learning. Doesn't seem as much right? Additionally, you will learn at your own pace. No pressure at all.
This course is fitting for either the professionals who want to expand their field of knowledge or for those who struggle with their mental health, anxiety, depression, mood swings.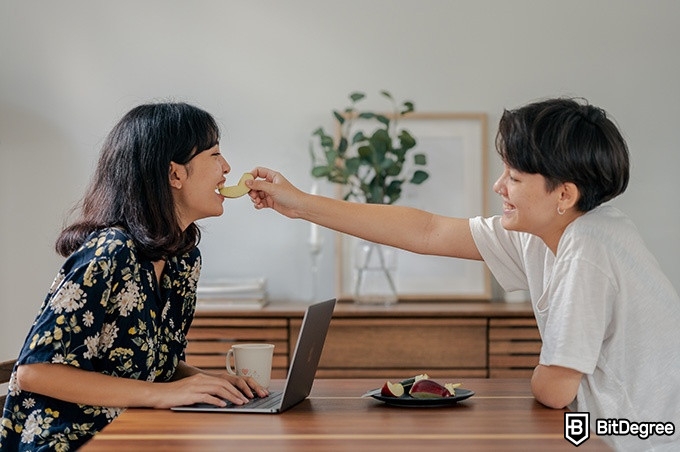 The nutrition classes of this course may be the healing recipe you need. Or an additional tool. Either way, you only gain something from learning.
Moreover, professor Julia Rucklidge has developed this course based on her own research. The nutrition classes online of this course will cover real evidence supporting better nutrition, supplements, understanding what to eat and what to avoid can improve mental health.
Those enrolled in this course will learn:
To identify environmental and individual aspects that supply nutrients to the brain
To recognize the foods related to mental health
To understand when additional supplements are needed to ease mental health problems
To examine dietary advice
To implement simple ways to improve your diet
To explore micronutrients
To connect diet choices and mental health
To discover dietary patterns
A lot of new useful skills, which is expected from a University of Canterbury course.
To add, the syllabus consists of 6 chapters that cover things like setting weight loss goals, diet risks, macronutrients, and self-reflection.
So with the university professor Julia Rucklidge, you will access trustworthy information and gain skills surrounding nutrition and mental health.
As well as the other edX course, this one is accessible for free. Nonetheless, to get the whole experience and a rewarding certificate, the price stands for €128.
If your gut is telling you that you should give this course a try, trust it!
Start the course here NOW.

Platform: Skillshare
Duration: 2.36 hours
Price: €11.99
Certificate: No
Level: Beginner
Discount: Available
Apply HERE
Do you get easily overwhelmed by thinking of what to eat every day? Perhaps you tend to seek, fast, easily accessible but not as healthy food when lunchtime comes around? Or do you struggle to maintain your eating plan? If you've been searching nutrition courses online, you stumbled upon the right one. I can assure you that.
Thinking ahead of time and planning in any aspect of your life may reduce stress and save you some time in the future.
There are at least 3 proven benefits of meal planning:
Healthier meals and snacks — no need for reaching something quick and filling when you are prepared ahead.
Saving money — less take-out and more heartwarming, homemade food (by freezing food, you can even cook meals longer ahead).
Saving time — having the ability to concentrate on your daily tasks and not worrying about what to cook, eat, and when to go to the grocery store.
Excellent benefits, right?
This course is designed for everyone, no nutritional knowledge is needed. Also, these nutrition classes are fitting for any diet (even vegetarian and vegan). Developing successful eating habits is a life-long investment that will have positive effects on your overall well-being. That could result in being a more positive person in general. Positive people are fun to be around, would you agree?
By attending this course you can check out one thing from your "what to worry about today" list. Because meals won't be your constant concern anymore, let me add that you will spend more quality time with your family.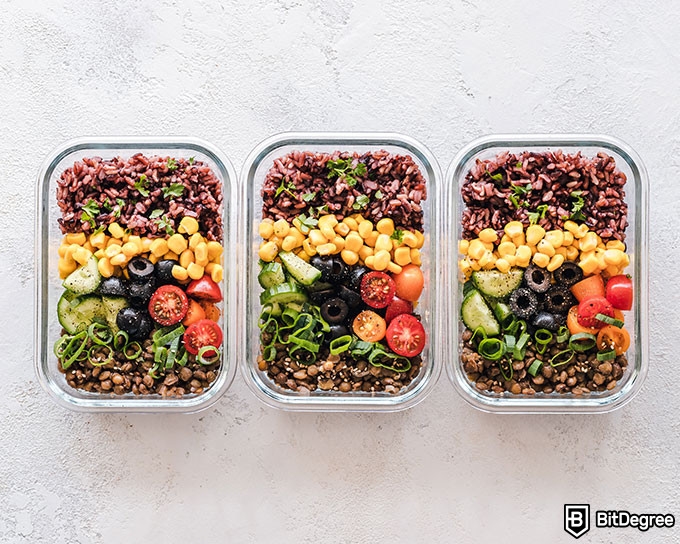 By enrolling you'll get 37 lessons and 2 hours of content that covers your cooking preferences, creating your ideal workspace, real-case studies, sample menu plans, and best practices.
As you've probably gathered, short nutrition courses like this one can be advantageous just after studying for a few hours. Students say that they liked the clarity, organization, and helpful examples in this course.
The instructors of this nutrition class Emilio and Samantha are the organizing masters — having courses that cover bullet journaling, self-care, and organizing your home as well as this one.
All of that for €11.99? That's a great deal if you ask me.
Why not try it out? Become a meal planning virtuoso today.
Start the course here NOW.

Platform: Coursera
Duration: 3 months
Price: Free
Certificate: Yes (paid)
Level: Beginner
Discount: Available
Apply HERE
Are you looking for nutrition courses online that are more like an in-depth specialization? I've got you covered.
Could you say that people often establish positive relationships with food? Me neither. Frequently, in this modern society, food is not viewed as fuel for your body. Moreover, it is viewed as a pleasure or the biggest enemy.
While hearing the term mindfulness the first thing that could come to mind is Buddhism or yoga. However, this practice should be used more often and applied to more daily-life habits. As you've might have noticed, I am heading towards mindful eating.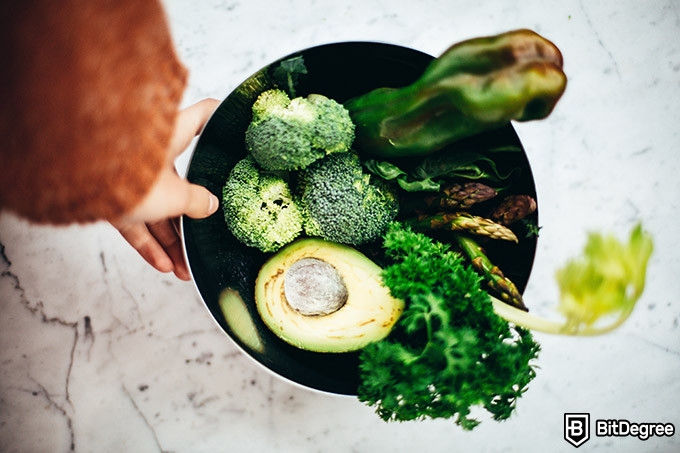 What is mindfulness? Mindfulness is the ability to be present and aware of your surroundings and yourself. Feeling the moment, I could say. Mindfulness can go with meditation, breathing, or other exercises.
But what about mindful eating? Mindful-based approaches appear to be most effective in addressing binge eating or emotional eating and that may prevent weight gain[3]. To put it simply, mindful eating is having full attention to your food.
In order to learn more about mindful eating, nutrition, and even improving our planet — this course is just the perfect approach.
Note that this specialization takes approximately 3 months to complete (spending 2 hours a week) and is built from 3 separate courses:
Rebuilding our Relationship With Food — course explores the science behind cravings and strategies to have a better relationship with food. As well as practicing mindful eating and customizing your own eating plan.
Introduction to Food and Our Environment — focuses on sustainable eating and learning how food production affects our environment. By finishing this course you'll come away with tips for how you can make food choices that will protect the world we hand over to the next generation.
Cooking for Busy Healthy People — in this course, you'll learn great recipes from two professional chefs. As well as you'll learn to enjoy great quality food without harming your health and even improvising in the kitchen! If you have a hard time preparing meals, this course will be a life-saver.
This specialization is free to read and view the course content. Nevertheless, if you wish to have graded assignments, professional feedback, quizzes, self-paced learning, and a certificate of completion the price would be $49 – $79 depending on the subscription. Having the full learning experience would bring the most benefits, keep that in mind.
Students enrolled will learn:
To make more sustainable and environmentally friendly food choices
Mindfulness and mindful eating
To cook using simple ingredients and have healthy meals
To rebuild their relationship with food
To observe eating patterns and make a custom eating plan
All in all, this course is perfect for you if you want a high-quality, well-rounded education.
Start the course here NOW.
Conclusion
We've reached the end of my nutrition courses online list! Learning nutrition is a great choice, to say the least. So make sure to choose the best learning material!
By choosing the best quality nutrition classes online, check out our best MOOC platforms. I can confidently state that Udemy, Coursera, Skillshare, and edX learning platforms are the ultimate choice for anyone seeking quality education and engaging type of teaching.
Keep in mind, that some courses may be more fitting for people that want to step into the nutritionist career field and others for those who just want to learn how to make better food choices. Either way, expanding your understanding of the topic is a guarantee.
So make your priorities clear and have the best learning experience by choosing any of the recommended courses.
Thanks for sticking with me and see you in my next article!
Scientific References
1. Denise de Ridder, Floor Kroese , Catharine Evers, et al. 'Healthy diet: Health impact, prevalence, correlates, and interventions'
2. Rachael L Thurecht , Fiona E Pelly, Sheri L Cooper 'The influence of current food and nutrition trends on dietitians' perceptions of the healthiness of packaged food'
3. Janet M Warren , Nicola Smith , Margaret Ashwell 'A structured literature review on the role of mindfulness, mindful eating and intuitive eating in changing eating behaviours: effectiveness and associated potential mechanisms'
Leave your honest feedback
Leave your genuine opinion & help thousands of people to choose the best online learning platform. All feedback, either positive or negative, are accepted as long as they're honest. We do not publish biased feedback or spam. So if you want to share your experience, opinion or give advice - the scene is yours!