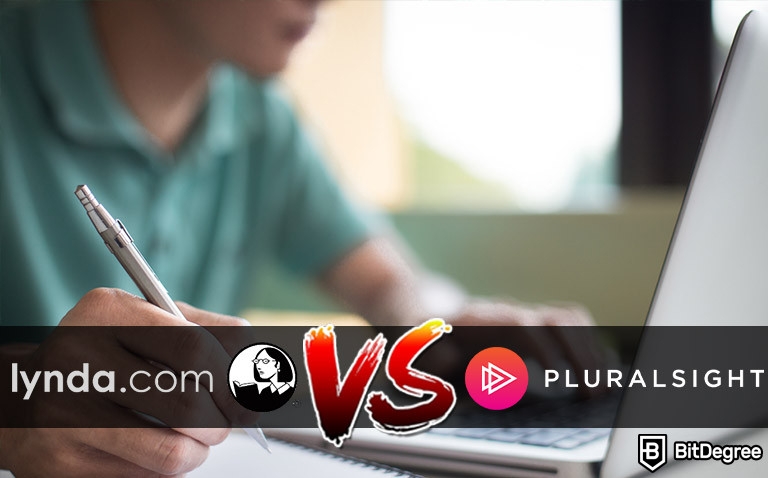 Since there are tens of recommended e-learning platforms, finding the very best for your personal needs is not that simple. While one platform provides you with inexpensive courses, another offers accredited certification, so how can you make a choice?
In this Lynda VS Pluralsight comparison, we'll take a look at both players and evaluate them based on specific criteria that are crucial when choosing a top-rated online learning platform. This way, you'll be able to pick the one that suits your needs better.
Both of them are well-known in the industry. Lynda was founded back in 1995, whereas Pluralsight was launched in 2004. What's important to mention is that since 2015 Lynda is known as LinkedIn Learning, meaning that all the courses are transferred to LinkedIn as well. That said, while you'll be able to find multiple courses on Lynda.com, you'll be redirected to LinkedIn once you pick a specific course.
Lynda VS Pluralsight: Comparison Criteria
Now, before jumping straight to Lynda VS Pluralsight comparison, I would like to highlight a few aspects that matter.
Latest DataCamp Coupon Found:
CLAIM 50% OFF
DataCamp Cyber Monday Deal
DataCamp Cyber Monday special is here! Enjoy a massive 50% off on DataCamp plans. Subscribe now and redefine your data and Al skill set for the better!
Expiration date : 01/12/2023
5,324 People Used
Only 36 Left
When evaluating two online learning platforms without having a clear system, things can get a little complicated. That's why we'll take a look at five crucial aspects and ground the entire Pluralsight VS Lynda comparison on them.
The five points that I've been talking about include course variety and quality, certification, ease of use, language support and pricing. To make it even more clear, let me introduce you to each of these aspects separately and explain why they're so important.
Course Quality & Variety. These two aspects will be evaluated together as they're the most important ones when choosing an e-learning platform. If you're interested in learning multiple different subjects, you should choose an online learning platform that provides you with a variety of courses to pick from. Most of the top platforms provide you with thousands of options. However, while the number is important, it's crucial to pay attention to the course quality, including content freshness and video quality.
Certification. If you've been looking for the most recommended MOOC providers in the market, you probably noticed that the majority of them provide you with certificates. As you probably know, getting a certificate of completion is crucially important if you want to add it to your portfolio or CV as well as share it with your employer to get a better job offer. However, what I'll be focusing on more in this Lynda VS Pluralsight comparison are accredited certificates. I'll explain more about each of them further in this article.
Ease of Use. Even though this aspect is not as important as the previous one, ease of use is something that you should be taking into consideration whether we're talking about online learning platforms or any other service. Since you'll be browsing through courses, checking information, follow your personal achievements, and so much more, choosing a platform that's not only easy but also fun to use is highly recommended.
Language Support. While a huge part of people who are looking for top e-learning platforms speak in English, there's still a huge part of individuals who do not understand this language. To solve this issue and provide all the members who want to gain new knowledge with an opportunity to learn, the majority of online learning platforms offer multiple language support. In most cares, courses will be in English, however, you'll be able to choose from a list of available subtitles.
Pricing. When looking for courses, programs or specializations, you'll definitely pay attention to the price. While some MOOC providers offer multiple free courses to pick from, others have different conditions. You'll see that the majority of platforms have multiple payment systems, including the pricing for individual courses as well as monthly or yearly subscriptions (these are recommended for those who are studying online a lot). What is more, when comparing Lynda VS Pluralsight, we'll see which of the two platforms offers longer trials.
Now that you're aware of every factor that can help to evaluate which of the two learning platforms is more suitable for your personal wants and needs, let's move to the actual Pluralsight VS Lynda comparison.
Lynda VS Pluralsight: The Comparison
Each of the factors in this Lynda VS Pluralsight comparison will be evaluated in the same order as I introduced you in the previous section.
Course Quality & Variety
When it comes to course quality, it can be pretty difficult to evaluate. In most cases, all the courses that you'll find on best-rated online learning platforms are uploaded by different instructors from all over the world. This means that, most likely, you'll be able to find courses that vary when it comes to the quality.
Some instructors can provide high-quality content and videos, whereas others can disappoint you. That being said, if you're afraid to pay for a course that's not worth paying for, you should always check out students' reviews as well as how popular it is. That should be very helpful when making a decision.
Let's focus on Lynda VS Pluralsight comparison now.
When Lynda wasn't a part of LinkedIn Learning, you were able to choose from 3,500 courses. However, now that all the courses are transferred to LinkedIn, you can choose from 12,000 courses.
Now, among these 12,000 courses, you'll be able to find classes and programs in a variety of subjects, including programming languages, business, maths, arts, and so much more. According to the multiple student reviews, Lynda (now LinkedIn Learning) is highly recommended for career paths. Thus, it's fair to say that you'll be able to find the courses and programs that you were looking for.

When it comes to Pluralsight, you get to choose from 8,000 courses. While the number is relatively lower, you still get a pretty good amount of options to pick from. Since Pluralsight offers courses for beginners, advanced students and experts, you'll find courses and programs that are suitable for you.
Also, it's important to mention that Pluralsight is mostly recommended for IT, software development and business skills. That said, if you're interested in these fields, or at least one of them, you should definitely check it out.
Now, when compared to Udemy, one of the industry leaders, none of these platforms can compete. Udemy provides students with about 130,000 courses to pick from. Needless to say, it offers the most impressive course variety in the market. However, Udemy has its own pros as cons as well.
When it comes to quality, I have good news. It appears that both Pluralsight and Lynda are the top providers and are recommended for their course quality. So, you can expect to get up-to-date information as well as high-quality videos that you'll be learning from.
Now, if you're looking for sites like Lynda or Lynda.com competitors, I'd highly recommend checking out Coursera and DataCamp. Both of these platforms can provide you with top-tier courses that will teach you valuable knowledge and skills.
Certification
When it comes to certification, it's pretty interesting. While most of the online learning platforms will provide you with a certificate of completion that you'll be able to share with your friends, add to your portfolio or CV, not all of these certifications are accredited.
You should know, though, non-accredited certificates are still better than no certification, so take that into account when evaluating Lynda VS Pluralsight.
Now, what's the difference between accreditation and certification?
You see, non-accredited certification is like a written reassurance that some online learning platforms provide you with. They can be shared and added to your CV, however, they do not have formal recognition.
When it comes to accredited certifications, on the other hand, they stand higher than certifications as well as have a formal recognition between employers. In most cases, university-level courses that take months to complete as well as include exams that you have to pass, provide you with accredited certificates. However it also highly depends on the learning platform.
So, Lynda VS Pluralsight, which of them provide more valuable certificates?
Well, the good news is that both Lynda and Pluralsight will provide you with certified courses. However, it's slightly disappointing that none of them offer accredited certificates. Now, while that's not an issue, if you find it rather important, you should check out Pluralsight as well as Lynda.com competitors that provide accredited certifications - Coursera and edX.
Ease of Use
As far as the ease of use goes, there are basically a few aspects that you should pay attention to - whether the website is designed clearly and what the inside of the courses look like.
Now, the website should be clearly structured as well as easy to navigate in order for you to find courses that you're looking for without much trouble. When it comes to the inside of the courses, you should be able to see your progress, the entire course curriculum, play and stop videos whenever you want and so much more.
So, when talking about ease of use in this Lynda VS Pluralsight comparison, I can immediately say that you won't have any navigation issues with these platforms.

When you visit the Pluralsight website, you can instantly find the drop-down menu that includes courses, paths as well as assessments. Moreover, you can take advantage of a search bar, type in keywords and easily find courses.
The situation is slightly different when it comes to Lynda. Even though all courses were transferred to LinkedIn Learning, you'll be able to find quite a good amount of courses on the website. However, once you start learning, you'll be redirected to LinkedIn. If it seems slightly confusing, you should simply go straight to the LinkedIn Learning website.
Now that this part of the Pluralsight VS Lynda comparison is clear, let's move to language support.
Language Support
It's not a secret that the majority of online learning platforms provide content in English. However, what should you do if you're not a native speaker or don't know the language at all? Well, if that's the case, you should be looking for MOOC providers with multiple language support.
When comparing Lynda VS Pluralsight, the winner is clear. Pluralsight supports 50 languages, whereas Lynda only 5. That's quite disappointing, to say the least.
If you were to look for sites like Lynda that support multiple languages, you should visit Coursera and edX.

Pros
Easy to use with a learn-by-doing approach
Offers quality content
Gamified in-browser coding experience
Main Features
Free certificates of completion
Focused on data science skills
Flexible learning timetable

Pros
High-quality courses
Nanodegree programs
Student Career services
Main Features
Nanodegree programs
Suitable for enterprises
Paid certificates of completion

Pros
A huge variety of courses
Easy-to-navigate interface
Over 600 free courses
Main Features
A huge variety of courses
30-day refund policy
Free certificates of completion
Pricing
As I mentioned previously in this Lynda VS Pluralsight comparison, when it comes to pricing, there are usually two payment systems: a single-course payment and subscription.
Now, if you're wondering which of the two is more recommended, I'd have to say that it depends on your personal preferences. If you want to study multiple courses at the same time, then choose a subscription, however, if you choose courses one by one, then it's probably better to consider single payments.
Moving to Lynda VS Pluralsight pricing comparison, Lynda (or LinkedIn Learning) allows you to choose both subscriptions and single-course payments, whereas Pluralsight only has subscriptions.

Even though both Lynda and Pluralsight provide relatively customer-friendly prices ($25 and $29 per month), some of you might still find it too expensive. If that's the case, you should check out all the available coupon codes that were hand-picked by our dedicated team and find yourself the most attractive deal.
Conclusions
Therefore, when choosing an online learning platform, it's crucially important to consider your personal wants and needs.
As far as the Lynda VS Pluralsight comparison goes, both platforms are highly recommended. However, Lynda, which is currently called LinkedIn Learning, is recommended for career paths, while Pluralsight is more suitable for those who are interested in IT, software development and business.
If you're looking for other sites like Lynda or Pluralsight (keeping in mind that Lynda is currently called LinkedIn Learning), you should definitely give it a try to Coursera and edX. Both of these platforms are well-recognized as well as highly recommended.
Leave your honest feedback
Leave your genuine opinion & help thousands of people to choose the best online learning platform. All feedback, either positive or negative, are accepted as long as they're honest. We do not publish biased feedback or spam. So if you want to share your experience, opinion or give advice - the scene is yours!