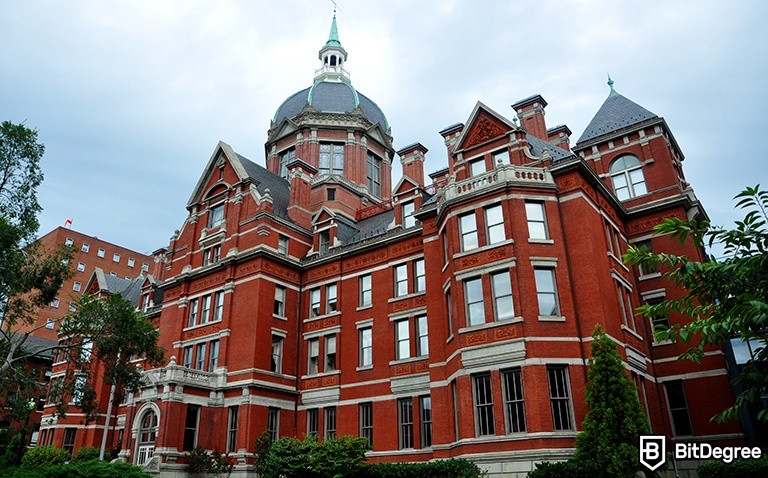 Education is a crucial factor to anyone who wants to both grow as a person, and also seek a certain specific career path. Oftentimes, however, traditional education can be rather costly - not everyone can afford to go to a high-ranking university. Well, with the help of Coursera, you might be able to access some of the top John Hopkins online courses.
The two names mentioned above are some of the most respected institutions in their own realms of expertise. Coursera is an online learning platform that provides its users with the chance to study some top-tier courses. The John Hopkins University is a private research facility in Baltimore, Maryland - also known for being very high-end.
With the help of Coursera, you could be able to study some of the most popular John Hopkins courses online, for a much better price than you would on campus. That is why, in this article, we're going to check out the best and most popular John Hopkins online courses offered and brought to you by Coursera.
John Hopkins Online Courses: Why Study Online?
Before we get to the actual best John Hopkins online courses, let's quickly discuss the concept of studying university subjects online. As you might have gathered from the introduction, it's a pretty attractive concept, for most people.
Latest DataCamp Coupon Found:
EXCLUSIVE 25% OFF
On DataCamp Subscriptions
Follow the Datacamp promo code link & get an exclusive 25% OFF Datacamp subscriptions. Act now while the offer is still available!
Expiration date : 12/12/2023
2,765 People Used
Only 35 Left
What makes it so attractive, though? Well, there are a few good reasons.
First up, the obvious - the current pandemic happening in the world. While it's surely a "hot" and contentious topic, many universities have closed down, and transferred their lectures to an online format.
With a higher number of students becoming accustomed to studying online, more people are also becoming more interested in e-learning, in general. Since Coursera offers you the chance to learn some of the best John Hopkins online courses on its platform for a better pricing deal, it seems like a no-brainer for most!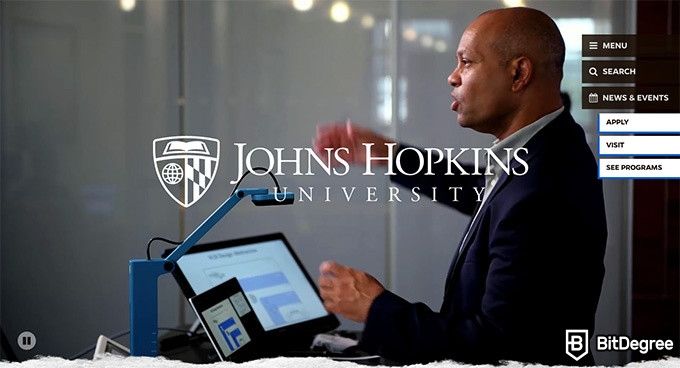 In general, however, that's where the actual charm of John Hopkins online classes lies - in the fields of pricing and convenience. Pricing-wise, you do not need to enroll in a university in order to learn a specific subject or course - Coursera allows you to do it in a much, much more affordable way.
Convenience is another huge factor, too. You are able to study the subject from the comfort of your home, at any point in time that you wish, and also taking as many breaks as you'd like, too. It makes it so that you and you alone are in charge of your time, and how you choose to go about learning the course.
No matter what your reason for looking for John Hopkins online courses is, once again - you can be sure that you'll be able to find some high-quality options on Coursera. Without further ado, let's check out 7 of the most popular John Hopkins open courses.

Did you know?
Data science is, without a doubt, one of the most popular specializations out there. Well, at least for those who want to start a new career or get a raise, and are looking to study some John Hopkins online courses.
It makes sense, then, that the Data Science Specialization class is one of the most popular learning programs (specializations) on Coursera, as far as John Hopkins goes.
If you study the course material an hour per day, the whole learning experience will take around 11 months. During this time, you will be able to gain all of the essential knowledge surrounding the field of data science - R programming, regression analysis, debugging and data cleansing, using Github, and so on.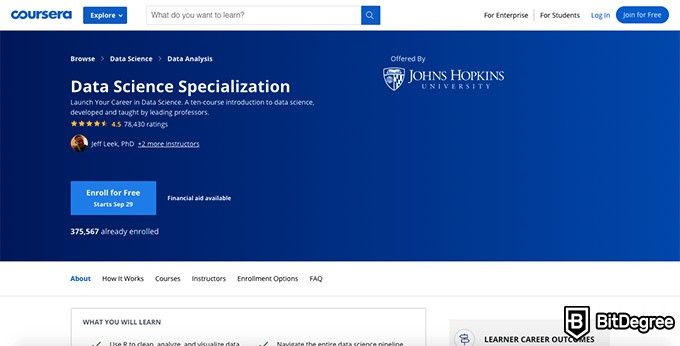 The course is suitable for complete beginners in the field - this means that if you have no idea about data science and working with large amounts of data, in general, there's no need to worry - all will be explained in the course itself! You should, however, have some familiarity with Python.
Surely one of the best John Hopkins online courses!
COVID-19 Contact Tracing is, without a doubt, one of the more interesting courses on this list of Coursera's John Hopkins online classes, mostly because of the fact that it's such a sensitive topic in the present times.
Still, it's actually what makes this course so popular and valuable, too.
While the class only lasts for 7 hours, during this time, you will be able to learn both about the COVID-19 virus (rather, the SARS-CoV-2 virus), how contact tracing works, and what are the most significant factors that get in the way of proper contact tracing, in general.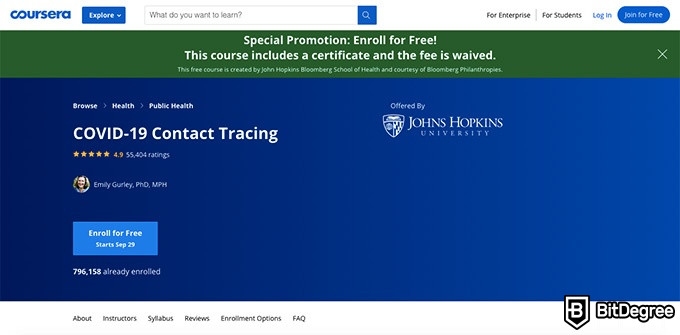 This is actually one of those John Hopkins online programs that are exceptionally valuable at a specific point in time, namely - now! With the pandemic showing no signs of slowing down or coming to a halt, it's crucial to inform the public of the most effective ways of how each of us can combat the virus - contact tracing is just one of them.
If you're interested in helping out your peers in dealing with the coronavirus, and have a few spare hours of time (approximately 7, to be exact), then this course should surely be on your radar.
First aid is something that we all tend to learn at a very young age - whether it be stopping bleeding from a fresh wound or performing the Heimlich maneuver, first aid basics are quite essential to learn, since they can literally save your life, or the life of another person that happens to be close to you.
What is often forgotten, however, is psychological first aid - that is what one of the John Hopkins online courses - the Psychological First Aid class - aims to tackle.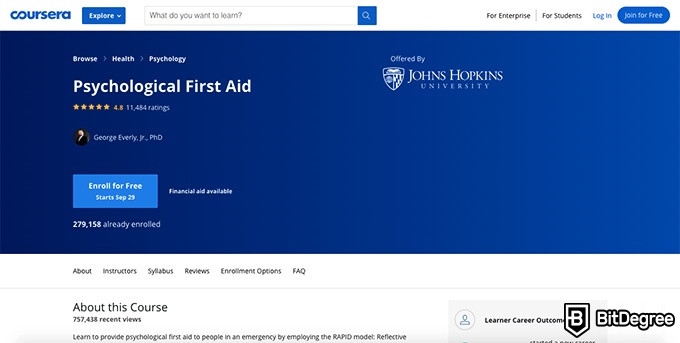 This course - same as the COVID-19 one - lasts around 7 hours. While it is very short, it will present and describe to you the RAPID model. It would look a little something like this:
R - Reflective listening
A - Assessment of needs
P - Prioritization
I - Intervention
D - Disposition
Throughout the duration of the course, you will be able to learn how to listen to what other people are trying to say in a reflective manner, how to practice adequate self-care, how to spot when a person is in a serious crisis, and many more useful things.
Psychological first aid is extremely important, so if you're interested in learning more about how you can help others and yourself, this is one of the John Hopkins online courses that are definitely worth paying attention to.
Are you an aspiring web developer? Have you gotten your motivation to start creating sites all built up, and ready to go, yet you lack the proper education regarding the essential tools that are used in web development?
If that's the case, then the HTML, CSS, and Javascript for Web Developers course might be just what you need to get a great start!
During the 40 hours that the course takes, you will be able to learn just that - how to apply HTML, CSS, and JavaScript in all of your web development ventures! You do not need any prior knowledge to get started, although some know-how with those mentioned topics would surely make it easier.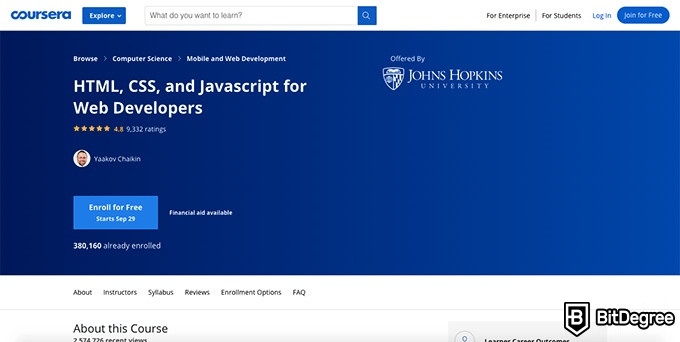 If web development has been your passion, and you've been looking for expert-level courses on the topic, then this is one of those John Hopkins online programs that you should surely pay attention to! Students do appear to love the course, there are more than 380,000 people enrolled, and it has a nearly-perfect rating - surely a good sign!
Cancer is a terrible illness - I probably don't need to tell you that much. There are some John Hopkins online courses, however, that can provide you with the chance to learn more about this disease - Introduction to the Biology of Cancer is one such course.
Throughout the entire runtime of the course in question, you'll be able to identify the major types of cancer that are out there, and learn the intricacies of how cancer works, in general. This will give you some basic understanding of the topic.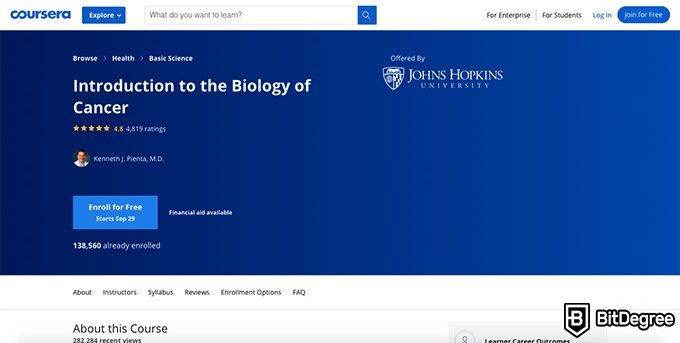 Towards the latter part of the course, you will also have the ability to learn about cancer screening and treatment. Tying all of this information together, you should develop a pretty significant base of information on how cancer works, how you can identify it, and how it is then treated, too.
While it is surely a difficult topic, it is also one that is worth looking into - you never know when such knowledge may come in handy (naturally, I hope that you would never have to use this information). Still, if you're interested, it's one of the better John Hopkins online programs, for sure!
R programming is a topic that often comes up when someone mentions or references data analysis and management. It's basically a programming language that is used to deal with huge amounts of data - how to manage it effectively, how to find what you're looking for, and so on.
The R Programming course is an intermediate level class. In other words, you should have some experience with data analysis, and at least know what regressions are, and how they work.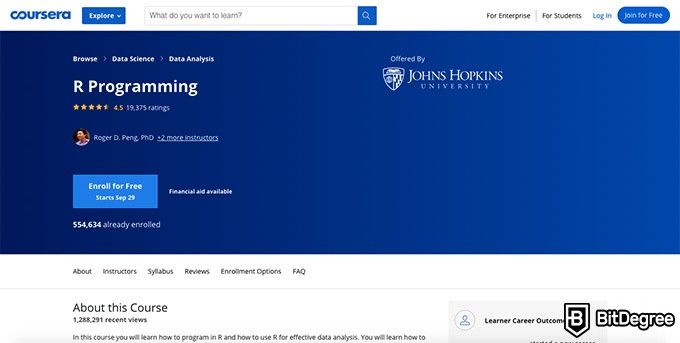 If you already feel that you're up to the challenge, however, do note that users claim this to be one of the best John Hopkins online courses for anyone who's interested in R programming. Once you finish the course, you should have a pretty good comprehension of not only R programming, but how data analysis works, in general.
It's also an amazing opportunity to advance your career, too. 36% of the people who've taken the course point out that they were able to start new careers, while 35% received some tangible career-related benefits.

Pros
Easy to use with a learn-by-doing approach
Offers quality content
Gamified in-browser coding experience
Main Features
Free certificates of completion
Focused on data science skills
Flexible learning timetable

Pros
High-quality courses
Nanodegree programs
Student Career services
Main Features
Nanodegree programs
Suitable for enterprises
Paid certificates of completion

Pros
A huge variety of courses
Easy-to-navigate interface
Over 600 free courses
Main Features
A huge variety of courses
30-day refund policy
Free certificates of completion
If you're interested in the field of neuroscience, then the Fundamental Neuroscience for Neuroimaging course is a must - it's considerd to be one of the best John Hopkins open courses for anyone interested in delving into the field of neuroscience!
The course is made for both students of the subject, and also professionals who already work in the field. While it will act as an introductory course (hence the "fundamental" part), it's actually part of a neuroscience specialization - if you complete all of the courses in this specialization, you're bound to have a rather deep understanding of the topic in question!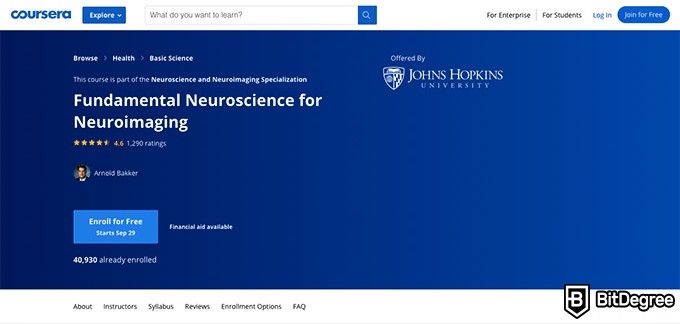 Surely one of the more interesting John Hopkins open courses!
Pricing
Now, the last thing that should be mentioned when talking about John Hopkins online courses is the pricing model - rather, models - that you're bound to encounter.
Each and every single one of the above-mentioned courses is free to enroll in. That being said, some of them are going to have different pricing options once you do that.
Some courses could be completely free to study, but have a paid certificate - frankly, if you'll want to receive certification for what you've learned, you'll have to pay up. The prices are going to vary depending on the length and complexity of the course.
Other courses will require you to pay a monthly subscription fee, but will likely have free certificates included in the deal. Yet again, the price tags for such John Hopkins open courses are going to vary on a course-dependent basis.
Whatever the actual prices may be, though, you can be sure that studying John Hopkins online courses on Coursera is going to be much more affordable than doing so in an actual university, namely - the John Hopkins University.
Conclusions
So - those were some of the top most popular John Hopkins online classes. If you're interested in checking Coursera out, I would highly recommend you do so - it's an amazing online learning platform, and the John Hopkins online courses that it houses are truly of the highest standard.
With all of that being said, I hope that this article has proved to be useful for you, and that you found a great course for yourself. Best of luck, and until next time!
Leave your honest feedback
Leave your genuine opinion & help thousands of people to choose the best online learning platform. All feedback, either positive or negative, are accepted as long as they're honest. We do not publish biased feedback or spam. So if you want to share your experience, opinion or give advice - the scene is yours!