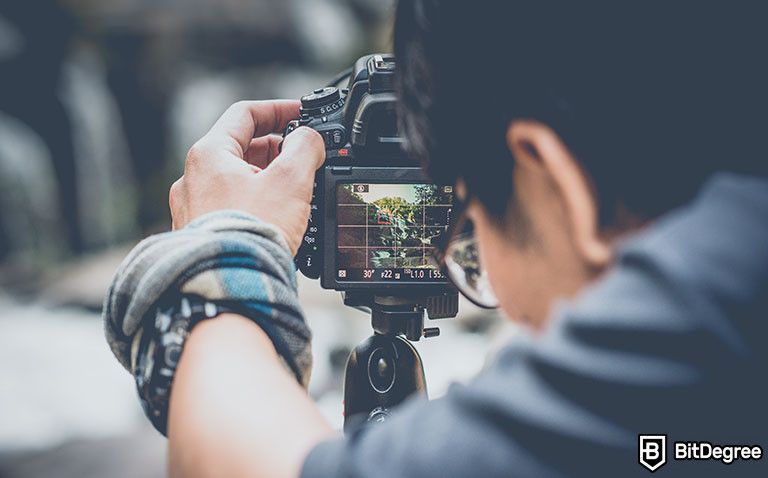 Ready to unleash your inner photographer? In 2023, there are many ways you can go about it. Taking a Harvard online photography course is one option. Though online learning resources are vast - there are many high-quality courses available for free, which I want to tell you about. After all, it's nice to have more than one option to choose from, isn't it?
In this article, I'll tell you about the Harvard online photography course and other alternatives that can take you closer to achieving your goal. After you're done reading, I encourage you to choose the course and get cracking - the photography industry is quite competitive, so the sooner you start gaining those skills, the better you can become!
You never know, what if you become the next Ansel Adams?
Harvard offers a Fundamentals of Digital Photography Course on their e-learning website by Harvard Extension School. It's a course designed for beginner photographers looking to grasp the fundamentals of photography. To be precise, it teaches students how to work with a digital camera (DSLR or mirrorless) and manual settings.
Latest Udacity Coupon Found:
SAVE 75%
Udacity Black Friday Offer
The best time to save on Udacity courses is now - follow this coupon to access 75% Udacity Black Friday discount on all courses & enjoy top-quality learning for less!
Expiration date : 10/02/2023
3,176 People Used
Only 97 Left
Other topics include the fundamentals of exposure, composition, lighting, editing techniques, color correction, delivery for print and digital media, metadata creation, and digital workflow management.
It's an extensive course that involves broader topics of classical art and its influence on photography, as well as Lightroom skills. While they are important, such a broad scope of subjects covered might bum you out if you're looking for a short, concise course that can be completed fast.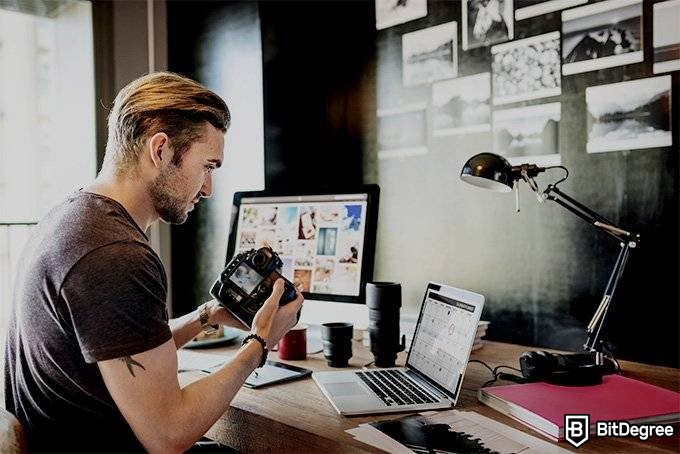 Their website doesn't mention the length of the course, so it's hard to tell, but given that it's an instructor-led course I assume it will take longer to complete than many other self-paced options.
To complete the Harvard online photography course you have to attend live web conferences on a set time regularly - some students might love it, some hate it.
This course costs $1,880+, which is a lot compared to the alternatives that are available.
The enrollment to this Harvard online photography course at the moment is closed, so again, if you want to build your photography skills fast - you might want to look elsewhere. At the moment, there's no information about when the next enrollment will open.
Harvard Photography Course: TOP Alternative
I want to tell you more about alternatives to the Harvard online photography course that have been positively reviewed by thousands of other online students who share your passion for photography.
Below, I'll include a few different courses within a Specialization on Coursera that focus on different aspects of photography so that you're aware of what's available to you.
Just before we get into it, I want to tell you about Coursera if you're not familiar with this platform yet.
What Is Coursera?
Coursera is known as one of the best e-learning platforms right now. Why? Well, for various reasons. The platform offers more than 3000 online courses that are open to anyone with a decent wifi connection and a computer.
Though it doesn't earn its positive reputation from the amount of courses it offers. The consistent high-quality of Coursera's courses might be a more important factor.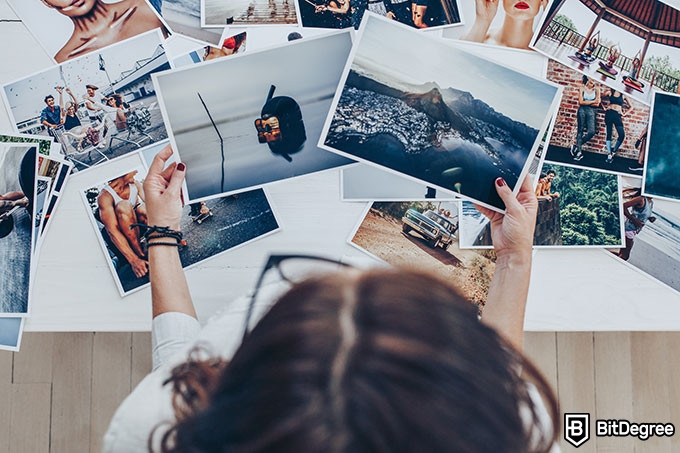 All of the courses on the platform are designed by or in collaboration with well-known universities and institutions, which ensures high-standard teaching content and resources. If you're interested in more courses, feel free to browse the online course catalog right here.
Alrighty, now let's look at the best alternative to the Harvard online photography course.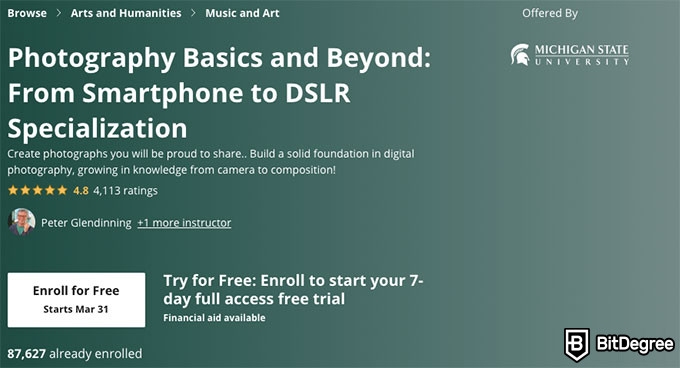 Platform: Coursera
Offered by: Michigan State University
Duration: 〜 6 months (4 hours/week)
Level: Beginner
Where to apply? Here
I can almost hear you ask, "what is a Specialization"? So, let me explain that first.
A Specialization on Coursera is basically a combination of courses that offers a micro-credential in a particular subject. So in that sense, it's quite similar to the Harvard online photography course.
While it doesn't offer an "official" university certificate, you can receive a verified certificate upon successful completion of all the courses within the Specialization that proves your skills. Here's an example of the certificate you would receive: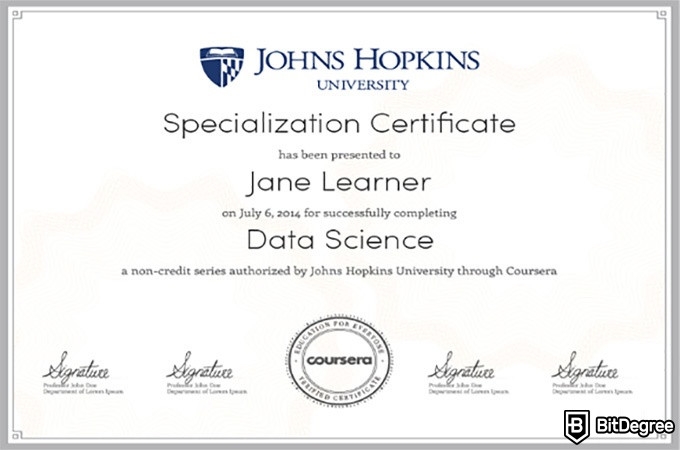 So, the Photography Basics and Beyond Specialization is a combination of 5 different courses, each focusing on one particular subject in photography.
Such a structure allows you, as a student, to focus on a small chunk of information at a time and to organize your material a lot more easily. In fact, chunking has been scientifically proven as an efficient learning strategy, as it "decreases the load on working memory".[1]
Specialization Pricing
This Specialization is offered to you by Michigan State University. Its in-state tuition and fees are $14,460. Guess how much this program costs? Much less.
If you want to receive a verified certificate for completing the Photography Basics and Beyond Specialization, you'll have to purchase a monthly subscription, which costs $49 per month. You're free to cancel it whenever you like.
Now, with the subscription, you get full access to the course and certificates.
Free Courses
The good news is that you can actually access the courses within this Specialization for free! There are a couple of ways you can do it. First, you can enjoy a 7-day free trial, which gives you access to everything within the course.
Second, you can "audit" the course for free. This means you get access to most of the course material apart from the certificate and some interactive features, such as the quizzes and peer reviews.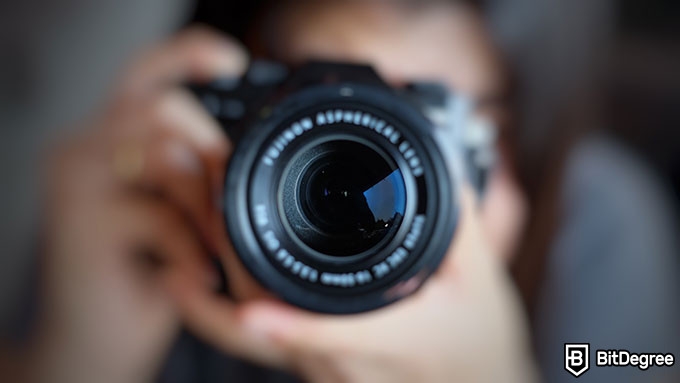 You can "audit" any course within the program. So, if receiving a certificate is not your top priority - this is an amazing way to learn from a well-known university at no cost.
If receiving a certificate is important to you, but you are saving money for your next trip abroad, here are some coupons for you to use on Coursera. If you catch some good deals, they can save you tons of money while giving you full access to the courses!
You won't be able to use coupons for the Harvard online photography course, that's for sure!
Take Single Courses
Learning photography online offers a lot of flexibility. In this case, you can take single courses and you don't have to do the whole program if you don't want to or don't feel that it's necessary.
Perhaps there are some topics you're already familiar with, in which case you can just skip those or speed through. Of course, you'll have to complete the assignments within each course if you want to receive a certificate for the Specialization, but it's completely self-paced, so you can go as fast (or as slow) as you like.
By the way, all the teaching material in this Specialization comes with subtitles in Arabic, French, Portuguese (European), Italian, Vietnamese, German, Russian, English, Spanish.
Now, let's explore each course within this Specialization so you know what to expect.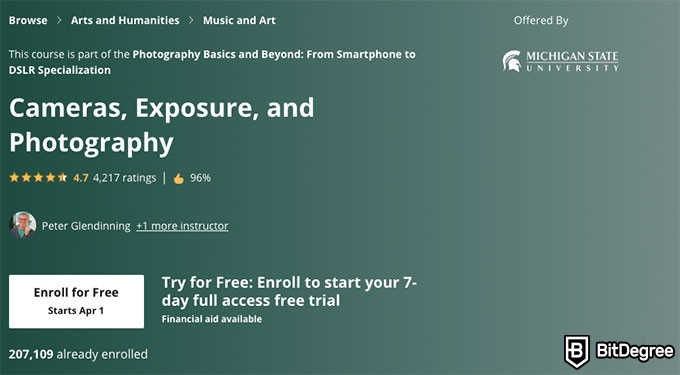 Time to complete: 〜 18 hours
Price: FREE (to audit)
Certificate: YES (paid)
Level: Beginner
Where to apply? Here
This is the first course within the Specialization. It has an average of 4.7 rating from over 4,200 students across the globe. In this course, you'll get familiar with your own camera's qualities, as well as those of other cameras.
In The Vantage Point and Frame module, you'll find out what makes a picture exciting and pick up techniques for improving your own photographs.
If you purchase the monthly subscription, you'll also get a chance to upload your pictures to the private web gallery, which is a place where students of this program can interact and learn from their peers.
What you'll learn:
Fundamentals
Camera capabilities: differences and similarities
Setting up yourself and your digital camera: Menus, Settings, and baggage!
Picture Decisions: The Vantage Point and Frame
This course should take about 18 hours to complete, but of course, it will depend on you, too, and the type of learner you are. Some students are faster, some are slower - there's no right or wrong here!
Here are a couple of reviews from previous students who took this course:
"My time spent studying this material was an investment in myself. I picked up several new ideas and added a deeper understanding of composition as well as the mechanical parts of my art. Thank you."
"The course was very comprehensive and easy to understand. The instructors made sure that they are giving the information in a way that won't make me confused. Thank you so much for this great course!"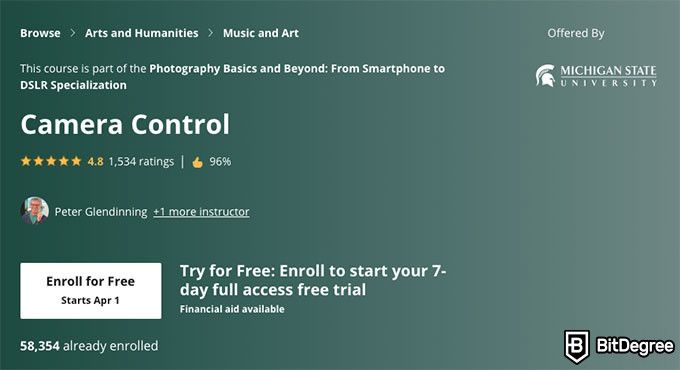 Time to complete: 〜 13 hours
Price: FREE (to audit)
Certificate: YES (paid)
Level: Beginner
Where to apply? Here
In this part of the program, you'll dive deeper into the elements of camera control and learn about the lens and depth of field - both essential parts of a professional photograph.
In the last module, you'll explore picture decisions further, and look at the effect your practical decisions can have on the photographs you take. You'll look at the significance of time in particular for all photographs.
This course has an average 4.8 rating from over 1,800 students.
What you'll learn:
Elements of Camera Control 2.0: The Lens
Elements of Camera Control 3.0: Depth of Field
Picture Decisions
Here's what students have said about this course:
"This [is a] really great course of this Specialization, one the best I've ever taken, online or 'real' (and I have taken a lot, two Masters Degrees and PhD studies). Peter and Mark are awesome!"
"The instructors are incredibly knowledgeable. The projects are instructional and test you to learn, try, etc. It made me think of new ways to capture images and inspired me to photograph every day!"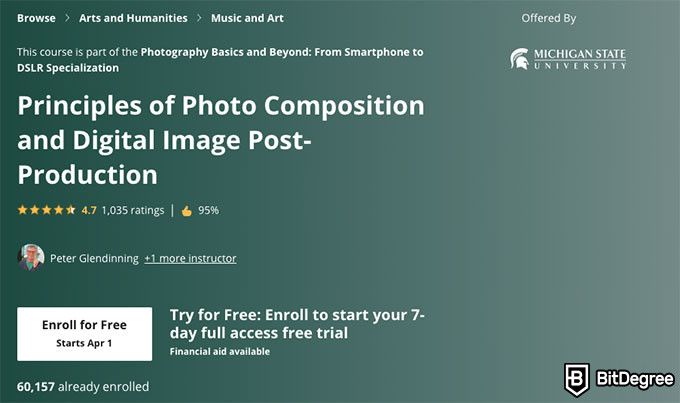 Time to complete: 〜 16 hours
Price: FREE (to audit)
Certificate: YES (paid)
Level: Beginner
Where to apply? Here
The third course within the program is designed to provide students with an in-depth understanding of design elements that are relevant to all different kinds of photography.
Also, you'll start to discover what happens in post-photography and learn to use different tools to edit your images, including Adobe, Lightroom, and some smartphone apps.
This course has an average rating of 4.7.
What you'll learn:
Elements of Design: Building Blocks of Composition
Composition means putting the Elements of Design together!
Photo Editing Fundamentals 1.0: "Workflow," from Exposure through Adobe™ Lightroom™ Classic
Photo Editing Fundamentals 2.0: SmartPhone Apps
It takes about 16 hours to complete the course, but remember that it's only a rough estimation. Since it's self-paced, chances are no two students finish it in the exact amount of time.
Here's one comment from a former student about this course:
"Post-production was something I wanted to get into, but haven't. This course allows me to explore with guidance. I love the challenges of the projects and the peer review to see what others imagine."

Pros
Simplistic design (no unnecessary information)
High-quality courses (even the free ones)
Variety of features
Main Features
Nanodegree programs
Suitable for enterprises
Paid certificates of completion

Pros
Huge variety of courses
Easy to navigate
No technical issues
Main Features
Huge variety of courses
30-day refund policy
Free certificates of completion

Pros
Easy to use with a learn-by-doing approach
Offers quality content
Gamified in-browser coding experience
Main Features
Free certificates of completion
Focused on data science skills
Flexible learning timetable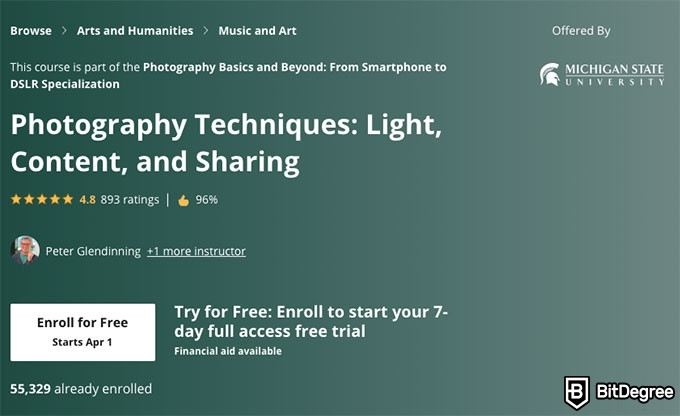 Time to complete: 〜 16 hours
Price: FREE (to audit)
Certificate: YES (paid)
Level: Beginner
Where to apply? Here
This is the last course before your final Capstone Project for this whole program. So, buckle up - there are some valuable lessons to be learned that will serve you, as a photographer, for life.
Photography Techniques takes longer to complete compared to other courses within the Specialization, because it includes more complex topics and because it contains peer-review assignments, designed to prepare you for your final project. If you can afford it, I certainly recommend purchasing the subscription and completing those assignments.
The average rating for this course is 4.8.
What you'll learn:
The Content of a Photograph: from fact to fiction, documentary to purely expressive
Light Fundamentals 1.0: People, Places, Things under Ambient Light
Light Fundamentals 2.0: People, Places, Things under Controlled Light
Finishing Pictures: Options for Showing and Sharing
Pay attention to what you'll find in this course - a lot of valuable technical lessons and practical advice is offered here for aspiring photographers who want to become professionals.
Here's what other students have said about it:
"It was an excellent course, highly practical and with lessons that go straight to the point, this is a course that invites you to meditate like a professional, and project yourself to advance and continue learning about art. A thousand times I recommend it to anyone, whether you are interested in improving your technique or starting from scratch as has been my case."
Photography Capstone Project
Time to complete: 〜 20 hours
Level: Intermediate
This is it! The very last step to achieving your photography certificate! This is where you get a chance to apply all your newfound skills and knowledge to your own photography project. The capstone project is available to students who have full access to the course.
For discounts to full courses, check out the offer below:
Coursera Deal Active Right Now:
100% Free
Selected Coursera Courses
Take advantage of 100% free online Degrees and Certificates on Coursera & master your skills. Follow this Coursera coupon link to access the courses.
Expiration date : 10/02/2023
2,871 People Used
Only 29 Left
What does the project consist of? You'll have to develop a personal project with 10 photos in the area of your choice, whether it's documentary, portraits, or anything else you come up with.
In the end, your work will be reviewed by the instructors Peter and Mark (if you're subscribed to the monthly membership). During the duration of the project, you'll be able to connect with fellow learners and comment on each other's work. Use it! Peer review is an efficient way to get better results.
Here's a student comment from 2020 about the Final Capstone:
"I learned so much from the professors and the peers in this class ...I highly recommend the five class sequence… The skills taught really helped me. Not only were their lectures informative, they provided other resources to explore. What was the best about the class was the interaction with peers in the class..."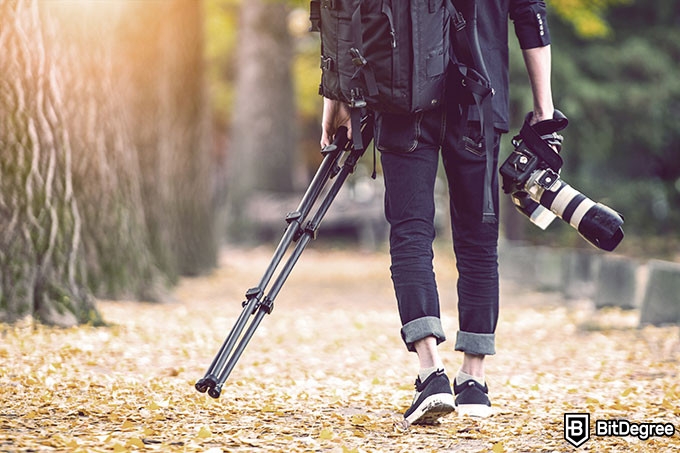 So, as you can see, the Photography Specialization on Coursera is an in-depth program that offers students real photography skills, and actually provides many opportunities to apply them in all kinds of projects.
From this perspective, if you're thinking about taking the Harvard online photography course, I really recommend considering this program first. Why? Because it will cost you nothing to enroll and browse through the course content.
If, in the end, you think "I still prefer the Harvard online photography course", there's nothing stopping you from enrolling! It's just that if you're anything like me, you'll appreciate saving money that you could spend elsewhere.
Speaking of which, there's one more course I wanted to tell you about. It's a Harvard free online photography course. Now, the reason I mention it last is because it has some significant limitations, and I personally wouldn't choose it over the other options.
Anyway, let me explain what I mean.
Harvard Free Online Photography Course

Okay, yes, it is a Harvard free online photography course. Naturally, you think it's a high quality course, because Harvard. It's not a bad course, don't get me wrong. In fact, it was an excellent course! Back in 2009, which is when it was released.
Actually, this is the biggest downside of this course - it's outdated. Sure, it can still offer some valuable pieces of information for aspiring photographers, however, you have to be aware that some of it may be more relevant for the previous generation of photographers.
In terms of technology, 2009 was a different era. Just think about how much our phones have changed! So, the same goes for cameras.
You can access the course through their website which is convenient because all the teaching material is in one place. All the pre-recorded lectures are also on youtube.com if you prefer.
The whole content is organized into 12 lectures. Each lecture contains a pre-recorded video, lecture slides, and the syllabus. There's no peer-reviewing, instructor feedback, or community to join online available.
Topics covered:
Welcome
Software Tools & Light
Exposure
Optics
The Histogram
Digital Cameras
Color
Artifacts
Personally, I wouldn't recommend relying on this Harvard free online photography course for professional skills for a few reasons:
It's outdated
No feedback
Doesn't teach you about Lightroom
I can understand why students may like the sound of these classes within the Harvard free online photography course - they come from a prestigious university that's well-known all over the world.
However, just because it's Harvard, it doesn't mean these free classes are your best shot at becoming a photographer in 2023. There are many other courses that you can access for free or at very reasonable prices, and they're full of valuable content, including the Photography Basics and Beyond Course.
Tips For Success In The Photography Field
Even if you complete a Harvard online photography course or any other course for that matter, they won't guarantee your success as a photographer.
Don't get me wrong, they will certainly help you gain the necessary skills to be a photographer, and provide you with all kinds of technical advice and strategies to improve your takes.
However, you'll need more than that to become a professional. What else could you possibly need, you may wonder. Well, there are some things that many starting photographers are not aware of.
Ready? Here are some ideas and tips that might help you become a successful photographer:
You should have a clear idea of what kind of photography you want to be successful in. Focusing on one particular theme or idea allows you to progress faster and frankly, become better at it.
You should also know if you want photography to be your main source of income, or if you want photography to be your side hustle.
Choose a few photographers whose work you really like, and spend time analyzing their photographs: the idea behind them, techniques used, the effect they have on the viewer, and so on.
You can apply the knowledge you gain in the Photography Basics and Beyond or the Harvard online photography course. Doing so will give you a unique perspective on your own photographs and shape your, as a photographer own identity.
If you don't have any favorites yet, check out this list of 50 best photographers ever.
Know How To Keep Your Passion Alive
Your life as a professional photographer won't always be easy. You will be doing something you love, but there are times when the fire that used to carry us is in danger. It happens even to the best.
Dealing with many clients, meeting multiple demands and long work hours can take a toll on your passion. You need to find a way to get it back when that happens. Unfortunately, there is no universal way to do it and it's up to everyone to figure out what works best for them: going for a walk, going on a holiday, visiting an art gallery.
Buy a good-quality folder to store your photos. Select a few of your best prints and put them there. Label each image with your name, address, and phone number, so that when a customer asks to see some samples, you're prepared.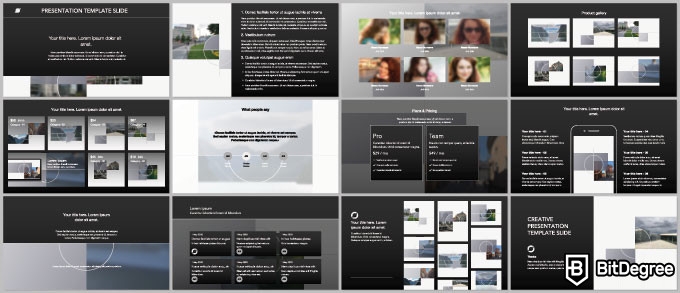 Also, create an online portfolio. This will make your art noticeable to a wider audience. It will make you look knowledgeable as an artist, and it will add credibility to your work. There are some free websites that allow you to create decent-looking portfolios.
Don't ever stop learning! Art is a process. Even after you complete a photography course, continue building your skills - there's no limit! Attend workshops, classes, and do anything else that helps you build confidence and originality in your work.
Conclusions
So, here's what we learned today, in a nutshell. There are two Harvard online photography courses available - the Fundamentals of Digital Photography Course and the free Exposing Digital Photography Course.
Are they worth taking? It's more complex than that. The Fundamentals of Digital Photography Course is a quality Harvard photography course, however, it's very expensive compared to some other alternatives, and the enrollment only opens once a year (most likely).
I highly recommend checking out the Photography Basics and Beyond Specialization on Coursera as an alternative to Harvard's course for the following reasons:
It's much more affordable (you can access individual courses for free)
You can take single courses within the program
It's self-paced
It covers a huge variety of topics
Includes peer-review, projects, student community, and instructor feedback
Takes less time to complete (6 months)
I don't think Harvard's free online course is the best resource for you to become a professional photographer, mainly because it was released in 2009 and not updated, which means a lot of it is outdated, and it doesn't include important subjects such as Lightroom.
Scientific References
1. Stephen B. Fountain, Karen E. Doyle: Learning By Chunking
Leave your honest feedback
Leave your genuine opinion & help thousands of people to choose the best online learning platform. All feedback, either positive or negative, are accepted as long as they're honest. We do not publish biased feedback or spam. So if you want to share your experience, opinion or give advice - the scene is yours!