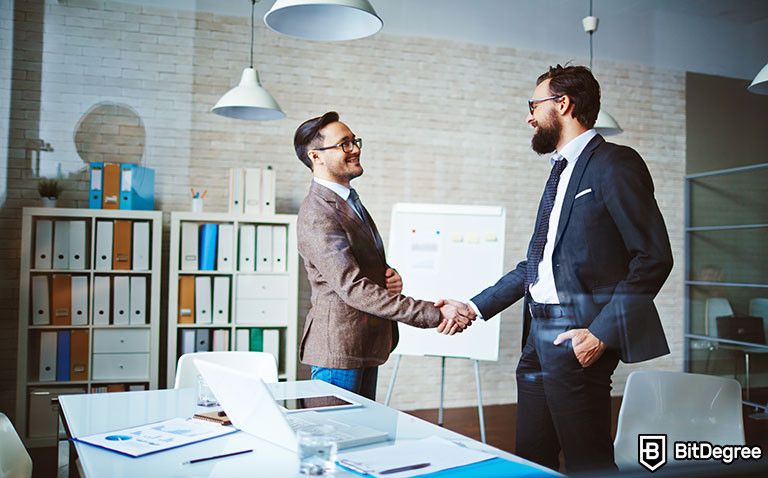 So you want to be a good negotiator? No doubt, it's one of the most crucial skills that no one talks about. The best thing is - there are courses online that can help you build them. Today, I will tell you about the Harvard negotiation course and some more affordable alternatives for you!
If you think about it, negotiating is actually an inseparable part of our lives. We negotiate at work, at home, with friends and family. Of course, you wouldn't negotiate with your romantic partner the same way you would negotiate with a business client, but the underlying goal is the same: to resolve an issue and come to a mutual agreement.
In this article, you'll find what are your best options to gain negotiating skills online: the Harvard Online Negotiation Course, Introduction to Negotiation, or Successful Negotiation Course? Use my in-depth guide to help you make the right decision today!
Harvard Negotiation Course: Common Negotiation Myths
Negotiation is not only present in the business world. We apply it both consciously and unconsciously in many of the activities we carry out daily. For example, when discussing a price, deciding what movie to see, planning where to go on vacation or whenever we communicate to reach some sort of agreement.
Latest DataCamp Coupon Found:
EXCLUSIVE 50% OFF
On DataCamp Subscriptions
Follow the Datacamp promo code link & get an exclusive 50% OFF Datacamp subscriptions. Act now while the offer is still available!
Expiration date : 06/06/2023
2,765 People Used
Only 35 Left
The word "negotiation" within the context of business originated in the 15th century, however, it's almost certain that humans have been negotiating for much longer than that.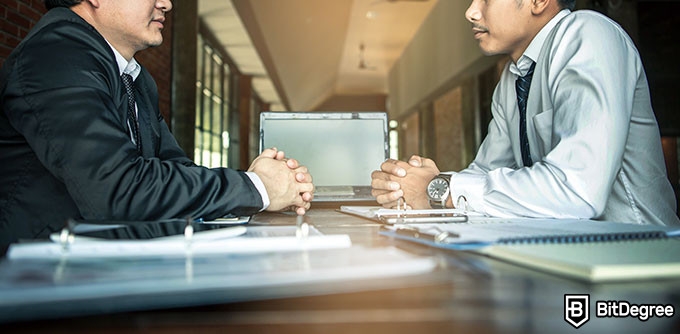 Throughout all this time, many myths about negotiation made their way into popular culture and peoples' perceptions, stopping negotiators from improving their skills.
Now, to help you live up to your best potential as a negotiator, let's debunk some of the most widely held negotiating myths.
Great Negotiators Are Born With It
This is probably the most accepted myth but guess what? It's not true. The art of negotiation is one that can be learned. So if you're having doubts about whether "you're meant to be a negotiator" - rest assured, you can become one if you want to. It's not just a skill for a selected group of people who are born with it.
Everyone has the potential. The best negotiators are those who welcome feedback and practice their skills.
Negotiation Is About Lying, Taking Advantage, Being smarter
Situations in which one wins and the other loses are not a top priority, as they do not necessarily solve problems. The true objective is to listen to the other party and their points of view in order to find alternatives that allow the development of a win-win proposal so that both parties benefit from the solution.
Of course, there are people who find it easier to negotiate because of their personality, but no doubt the three most important elements to achieve success in a negotiation are preparation, preparation, and more preparation.
Another myth is that to be a good negotiator you have to be aggressive or even rude. No. The best negotiators are those who communicate effectively.
If you get all argumentative and aggressive, people may find it difficult to do business with you in general. It is often a lot easier for people to come to terms with someone who is generally nice.
Professional Negotiators Are Cold And Indifferent
Self-confidence and self-control are important for a successful negotiation. Zero expressions and bare logic can create a distance between the parties that can damage the course of actions.
The "opponent" should feel that they're rationally and emotionally cared for and understood because what sounds logical to you, may not sound logical to them.
This helps form a mutual "bond" that can be beneficial to both parties. What matters most are not the characteristics of the negotiators, but how they use their best qualities to solve the issue at hand.
Women Are The Best Negotiators
A meta-analysis conducted by Walters, Stuhlmacher, and Meyer found that women were more willing to cooperate during a negotiation only very slightly, accounting for less than 1% of the variance[2].
Not only this result is kind of insignificant, but it also shows that gender doesn't define how good of a negotiator you can be.
Okay! You and I both know time flies like an arrow, so let's not wait any longer and start exploring the courses!

For those who have always dreamed of taking a negotiation course at Harvard, the Harvard Business School Online offers a negotiation course titled "Negotiation Mastery". The course is about 8 weeks long, and there are a few enrollment dates available.
Although the classes are self-paced, there are set deadlines for the coursework and collaborative exercises that you will have to meet.
Some students hate having strict deadlines, because they stress them out, while some feel they're a good way to get motivated, so think about what effect they will have on you, before enrolling.
The Harvard Negotiation Course is 100% online, taught on the HBS Online course platform. So it's not exactly the same as studying a negotiation course at Harvard, but it's pretty close.
What you'll learn:
Understand negotiation dynamics and how to prepare for uncertainty
Learn to craft agile strategy and be quick on your feet in changing circumstances Resolve small differences before they escalate
Secure maximum value for your organization and yourself
Reflect on personal behaviors and refine your approach to be more effective
The course is taught by Michael Wheeler, an author of 11 books, including the Art of Negotiation: How to Improvise Agreement in a Chaotic World.
To enroll, you'll have to create an account, complete an application process, and provide some personal background information. You should receive an email confirmation from the administration team within 7 days.
To complete the registration, the full price has to be paid before you begin the course.
While the Harvard Negotiation Course is a good course that can add value to your life as a negotiator, it does have one big downside - the price.
For about 30 hours of teaching material, you'll have to pay $1,600. You'll only be given access to the course after the full price is paid.
Now, what if I told you that you could access university-level courses at a more affordable price? Or even better, for free? Bear with me.
Harvard Negotiation Course: Free Alternatives
Okay, so here's the thing: the internet is an amazing place, full of opportunities. That is also the case with online courses - you could take the Harvard negotiation course, or you can take a look at some alternatives that are free!
I'm going to tell you about two alternative negotiation courses by Yale and Michigan Universities on top e-learning platforms that you can access for free. You can thank me later!
Top E-Learning Platform
Have you ever heard of Coursera? It is a highly popular e-learning platform right now that offers university-level courses at very reasonable prices. In fact, you can access many of the courses on this platform for free. You only have to pay for the certificate if you decide you need one.
Coursera was founded back in 2012 by Stanford University, in an effort to make high-quality learning in various subjects available to students all around the world. Coursera courses are open for all - as long as there's a wifi connection.
If you want to learn more about this platform, check out this review by experts where you'll find answers to the most common questions people ask before enrolling.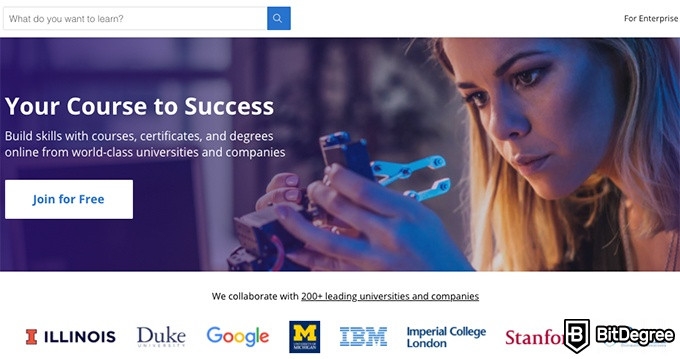 Another great thing about taking courses on Coursera is that there are no lengthy application processes you have to go through - all you have to do is choose the course you like and enroll! No fees, no strings attached.
You can browse through the content, and if you find that it isn't right for you, you can simply cancel your subscription or quit. Unlike with the Harvard negotiation course, you don't have to pay anything at the time of registration.
Also, there are often learning deals available for Coursera, which allow students to purchase certificates and full access to selected courses at half price, sometimes even less!
Coursera Deal Active Right Now:
100% Free
Selected Coursera Courses
Take advantage of 100% free online Degrees and Certificates on Coursera & master your skills. Follow this Coursera coupon link to access the courses.
Expiration date : 06/06/2023
2,871 People Used
Only 29 Left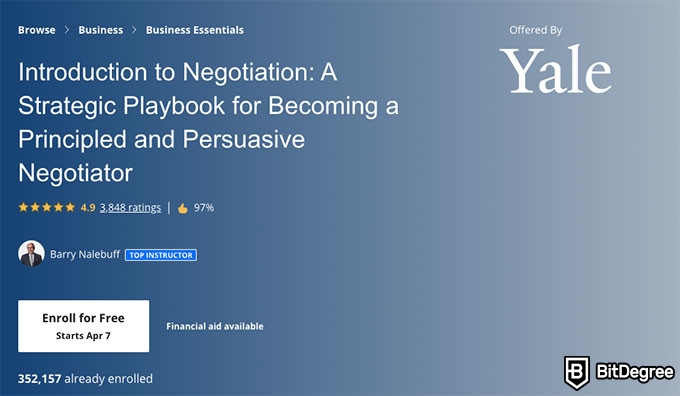 Platform: Coursera
Offered by: Yale University
Time to complete: 〜 32 hours
Price: FREE
Certificate: YES (paid)
Level: Beginner
Where to apply? here
Introduction to Negotiation is designed to prepare students for real-life scenarios through developing a framework that they can use in any negotiation. This course looks at negotiating from a game-theory point of view.
Don't worry though, you certainly don't need to be into maths to be able to take this course!
Taught by Barry Nalebuff, this is one of the best negotiation courses you'll find online. It has an overall rating of 4.9 (from over 3840 students). The course is offered to you by Yale University, which is ranked No. 9 in Best Business Schools.
The course is organized into small sections according to different topics. Each section includes a few short video lectures, readings, and interactive quizzes to help you track your own progress.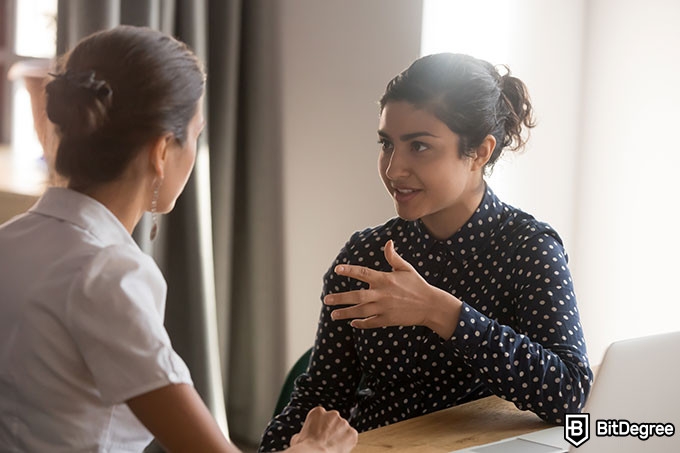 In fact, dividing new information into small chunks (chunking) has actually been proved as an efficient way to learn.
It's a completely self-paced course, which means you are the boss. You can adjust the deadlines according to your own schedule and study whenever. It's very convenient when you have a full-time job or other commitments because you can do all your studying and projects whenever you have the time.
Topics covered:
What is the Pie? Learning about pie theory and how you can use it to your advantage.
Negotiation Caselets. Put the theory to practice through interactive exercises.
Zincit Case. Through analyzing the case study, you'll cover topics such as preparation for a negotiation, making ultimatums, alternating removals, avoiding regret, expanding the pie, and dealing with those who have a completely different mindset.
Outpsider Case: Work with a more challenging case study to gain some insight into revealing information and tactics that can be used in negotiations, who should make the first offer, what the first offer should look like, and how you should respond to threats.
Advanced Topics. Negotiating when you have no power, negotiating over email, and the role of gender differences in negotiation.
Linda Babcock: Ask for It. In this section, you'll get to learn from a well-known negotiation expert and explore topics such as the value of asking. She'll show you how to prepare and then how to ask.
Herb Cohen: You Can Negotiate Anything. Get some insider's tips for effective negotiations from the author of classics like You Can Negotiate Anything. You can read the book review here.
John McCall MacBain: The Consummate Dealmaker. This guy is the master of principled negotiation, and he's willing to share his insights with you! If you're not familiar with principled negotiation, I can tell you it's definitely worth your attention!
Acknowledgments and Further Readings
The course is not all video lectures and readings, it's much more than that! Just like the Harvard Negotiation Course, this course includes many real-world case studies which will be your main focus. Also, you'll get to practice negotiating with other students and receive feedback on your performance.
Another great thing about this course is that all the video material comes with subtitles in Arabic, French, Portuguese (European), Italian, Vietnamese, German, Russian, English, and Spanish.
Here's what previous students have said about the Introduction to Negotiation Course:


Free Content
So, as I mentioned, you can access Coursera's course content for free. How? You need to click on the name of the course and then choose to "audit" the course, just like it's shown in the image below.
When you "audit" the course, you get access to most of the content for free. This includes all of the video lectures and readings, but not all interactive exercises. Free access also doesn't include a verified certificate. To receive a certificate, you will have to purchase it.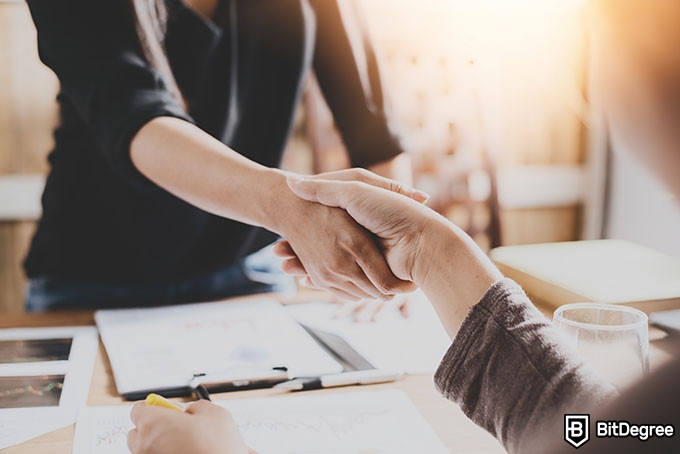 However, the full course experience won't cost you more than $49. Plus, you can use the e-learning coupons, which can give you full access to selected courses for an even lower price! This is something that the Harvard Negotiation Course doesn't offer - discounts.

Pros
Easy to use with a learn-by-doing approach
Offers quality content
Gamified in-browser coding experience
Main Features
Free certificates of completion
Focused on data science skills
Flexible learning timetable

Pros
Simplistic design (no unnecessary information)
High-quality courses (even the free ones)
Variety of features
Main Features
Nanodegree programs
Suitable for enterprises
Paid certificates of completion

Pros
Huge variety of courses
Easy to navigate
No technical issues
Main Features
Huge variety of courses
30-day refund policy
Free certificates of completion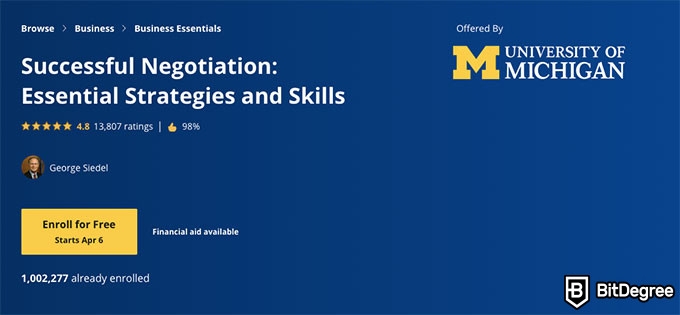 Platform: Coursera
Offered by: University of Michigan
Time to complete: 〜 17 hours
Price: FREE
Certificate: YES (paid)
Level: Beginner
Where to apply? Here
With 1,002,277 students this is the most popular negotiation course on the platform that you can enroll in right now! It explores negotiating from a different point of view from the Introduction to Negotiation and the Harvard Negotiation courses.
This is a huge advantage for you as a student because you can choose the course that best suits your preferences. All of the courses include valuable content that you will definitely benefit from as a negotiator.
Offered to you by the University of Michigan, this course focuses on the following parts of a typical negotiation: preparation, negotiation, closing, performance, and evaluation. This is exactly how the course is structured.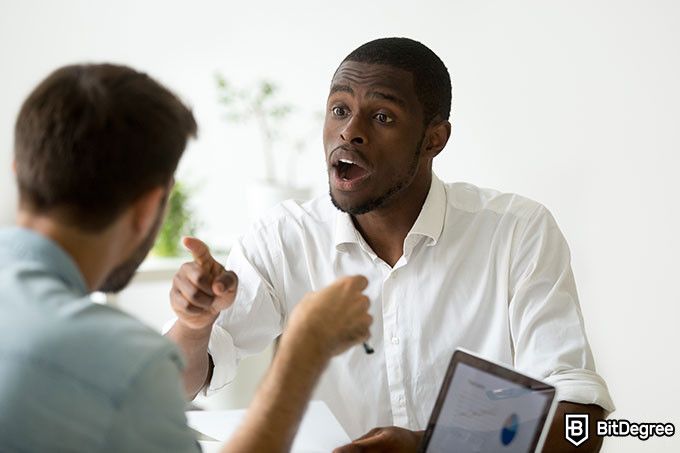 Each section covers a different topic, which is a part of a negotiation. The sections are divided into short video lectures led by George Siedel and include various readings and interactive exercises that help deepen your knowledge.
Topics covered:
Introduction. An overview of the course and the four main stages of any negotiation.
Prepare: Plan Your Negotiation Strategy. In this module, you'll learn to complete a negotiation analysis which will help you prepare for a successful negotiation.
Negotiate: Use Key Tactics for Success. This module covers some fascinating stuff, including how to use power during negotiations and psychological tools that you can use during those negotiations.
Close: Create a Contract. Here you'll learn what steps to take to create a binding contract in the business environment.
Perform and Evaluate: The End Game. You'll learn what to do when the agreement performance is hard to achieve and how to use dispute resolution processes in particular, such as mediation and arbitration.
Practice Your Negotiation Skills. Fun times! In this section, you'll get to practice your newly developed skills with another student taking the same course in some other corner of the Earth!
Final Examination. Big day! Time to test your knowledge. To earn a verified certificate, you'll have to successfully complete this exam which should take about 75 minutes.
Like the other negotiation course on Coursera, this one is accessible for free. However, if you want to take the exam and receive a verified certificate in the end, it costs $49. Still, this is much more affordable than the Harvard Negotiation Course which costs $1,600.
Previous students have described this course as being one of "the best and enlightening MOOC [I have] ever taken".

The whole course takes about 17 hours to complete, which is very quick, so if you want to gain skills fast - this may be your best option. It's also 100% self-paced, so you can complete the tasks whenever you're available.
All the video-based content in this course comes with subtitles in Arabic, French, Ukrainian, Portuguese (European), Chinese (Simplified), Italian, Portuguese (Brazilian), Vietnamese, German, Russian, English, and Spanish.
Tips For Effective Online Learning
To reap the benefits of online courses, you have to do more than simply log onto the platform and watch the lectures. Studying online can be a very rewarding process, but it does require a bit of extra planning.
So, here are some tips that will help you make the most out of your e-learning experience and become the best negotiator you can be:
Understand how e-learning works
Make sure you have a decent wifi
Have a dedicated study environment
Organize your time
Identify personal objectives
Take breaks
Remember Your Motivation
Interact With the Community If Possible
Online courses are not an "easier" way to learn, but they can be more effective than traditional classes. To get the most out of your e-learning experience, you'll have to dedicate your time to it, maintain focus and fully commit yourself to this learning process, just as you would in a traditional, face-to-face course.
Make Sure You Have a Decent Wifi
Technical issues can be really annoying. Videos not loading properly, resources not downloading, and so on can really make you lose concentration and so the quality of your learning won't be the same.
Good connection and fast internet will contribute greatly to a positive online training experience and help you make the most out of the course.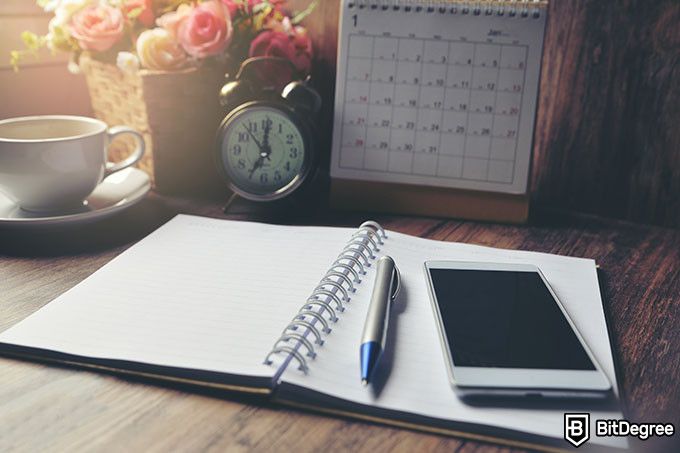 It's essential to have a dedicated place for studying when you're participating in an online course. Ideally, it should be an environment where you feel comfortable, calm, and most importantly - free from distractions. Try not to do anything else online when you have a study session planned.
I even recommend turning off your phone at the time of study to make sure your concentration is on-point.
Good time management is the key to successful online learning. This means planning what has to be done each day, setting daily goals, and following up on them.
If you can, try to have a fixed study schedule and a planner, where you can write down everything you have to do: lectures, homework, extra readings, and so on. Also, if you choose a course that's self-paced, set yourself some deadlines and write them down.
Set a time for study a few days a week if you can, and take breaks regularly: go for a walk, clear your mind, grab a snack and come back to it feeling refreshed and ready to tackle the challenges!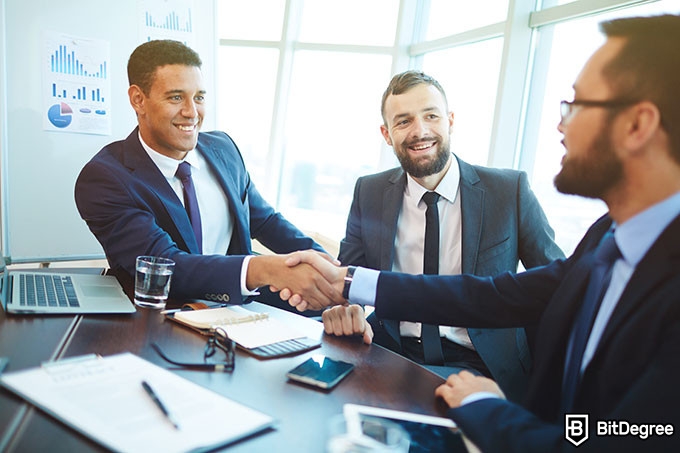 Identify Your Personal Objectives
The courses are organized and structured in a way that allows you to easily organize the materials and follow your own progress. My advice is to write down what your object is for each section of the course and do a check-in with yourself after completing each module to see whether you've managed to achieve it.
This is especially important for self-paced courses that don't have set deadlines. While the flexibility they have is great, it also means you need to come up with your own ways to stay on track, and identifying your goals is one of them.
Also, whenever you feel unmotivated, try to actually picture a situation in your head of how you're going to use the skills you acquire in this course for your success.
Having long and intense study sessions instead of consistently working for a short period of time can be detrimental to your success as a learner. Cramming a lot of information at once will decrease the chances[1] of you remembering it long-term.
When you decide to open your laptop to work on your classes, do so in a good mood. Remember that you decided to study online for yourself: it is not an obligation.
It is something you do for yourself and with the intention of having a better, more successful future.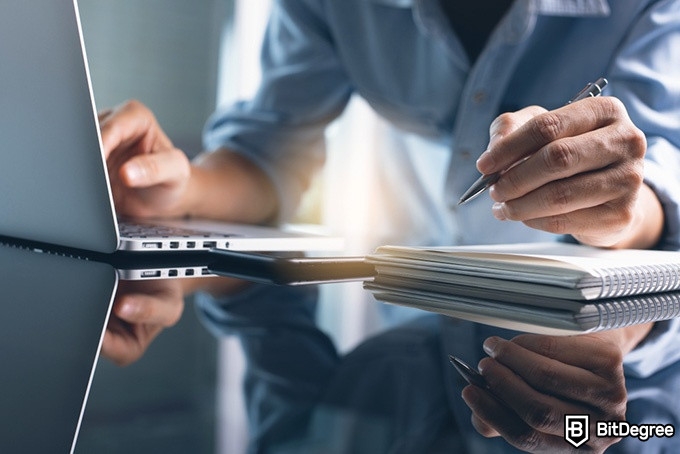 Interact With the Community If Possible
All of the courses I told you about today, including the Harvard negotiation course have a possibility to work with peers and receive feedback. Do it!
Although studying online is an individual process most of the time, some learning platforms can also encourage interaction. Take advantage of each discussion forum or group assignment to share your ideas, perspectives, and comments on the topics you are studying.
Read what your peers write and make constructive comments. Educational environments, including virtual ones, are ideal for networking and expanding your social network. You never know where the next opportunity hides!
Read these tips and most importantly - use them! They will help you be a better, more effective learner.
Conclusions
Congratulations! You've made it to the end of the article, now the only thing you have left to do is choose the course and enroll!
These are the courses we looked at:
The Harvard Negotiation Course is a 100% online course offered on the university's own platform. Teaching content includes about 30 hours of video lectures plus other readings and exercises. To take the online negotiation course at Harvard, you'll have to pay the full fee of $1,600 when you register for the course.
While the Harvard online negotiation course is a high-quality course, there are some alternatives that won't cost you nearly as much, while still providing you with top-notch online education:
They're university-level courses offered to you by Yale University and the University of Michigan that can be accessed for free. To receive a verified certificate upon completion only costs $49.
If you ask me, it's an amazing opportunity to learn a new skill from top universities at ridiculously low prices or even for free.
Also, don't forget to use the tips I provided for effective learning - they will help you make the most out of your e-learning experience and make that newly found knowledge stick.
Scientific References
1. David Glenn, The Chronicle of Higher Education: Why Cramming Doesn't Work
2. Erin Sheppard, Characteristics and tactics of negotiators, 2020
Leave your honest feedback
Leave your genuine opinion & help thousands of people to choose the best online learning platform. All feedback, either positive or negative, are accepted as long as they're honest. We do not publish biased feedback or spam. So if you want to share your experience, opinion or give advice - the scene is yours!