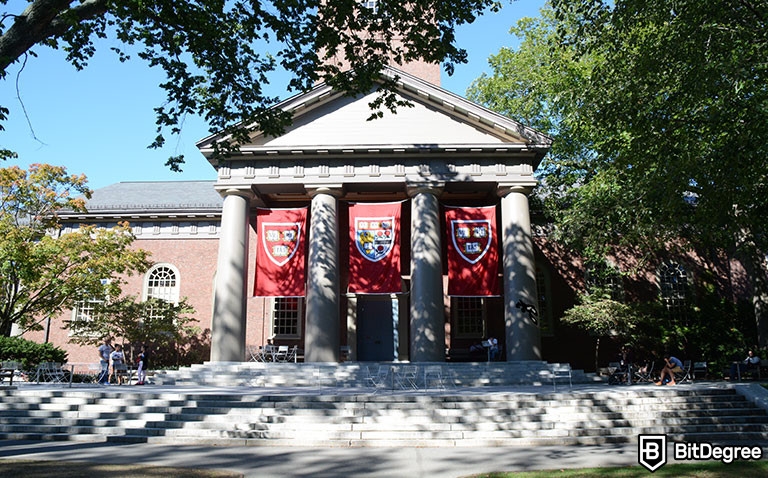 The World Economic Forum estimates that millions of new job roles will be generated by 2023, with a high demand for tech skills like programming and development. No doubt now is a better time than ever to enroll in the Harvard CS course online!
Today, I'll tell you everything about the legendary Harvard CS online course: the price, duration, content, etc. I'll also tell you how you can use it to your advantage, and give you some valuable tips on how to make your online learning experience effective!
All you need to do is read this guide carefully, check whether the course description is what you expect, and enroll. Before you know it, you'll be on your way to becoming a computer science expert!
Harvard CS Course: Why Study Computer Science Online?
A survey by Babson Survey Research Group found that over 30 percent of higher education students[1] in the U.S. are taking at least one distance course. In fact, it's great for students and those with full-time jobs, because of the many perks e-learning offers.
Latest DataCamp Coupon Found:
CLAIM 50% OFF
DataCamp Cyber Monday Deal
DataCamp Cyber Monday special is here! Enjoy a massive 50% off on DataCamp plans. Subscribe now and redefine your data and Al skill set for the better!
Expiration date : 08/12/2023
5,324 People Used
Only 36 Left
Nowadays, a vast amount of knowledge is literally at your fingertips - you can learn pretty much any skill online. Of course, you could argue that some skills cannot be gained through the use of your laptop, however, that's certainly not the case with computer science.
Learning computer science online allows you to be your own boss, study from wherever you want, and do so at very reasonable prices. In fact, you can find many courses for free.
If you have a job, online courses allow you to combine work and study a lot easier, since in most cases, you can simply grab your laptop and access the course content whenever you have some free time.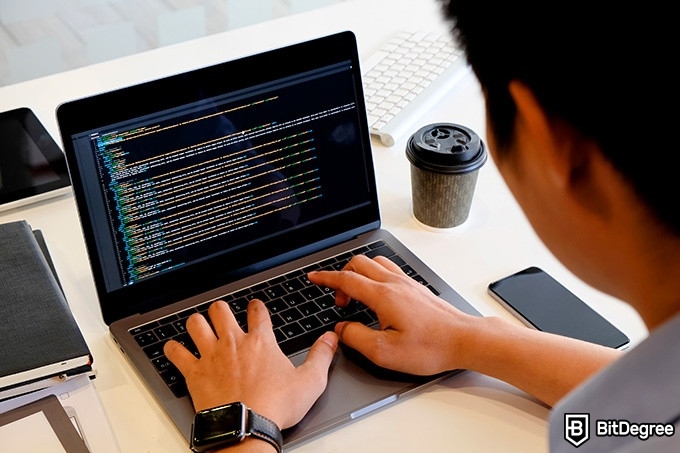 You have more options available. For example, the introductory-level Harvard CS course belongs to a few online professional certificate programs, so after you complete this course, you can choose any of those programs and achieve a professional certificate online. This kind of flexibility is not offered in on-campus courses.
Oh, and you also save tons of time. Online courses take less time to complete, and you don't have to travel back and forth to the classroom. Also, your online classes will never get canceled because of some unplanned events, such as the notorious COVID-19.
Besides, you can make use of coupons that offer you all sorts of e-learning deals and save tons of money. I mean, think about it: what classroom-based could you walk into waving a coupon asking for a discount? Probably not many.
High-Quality Courses For Free
Have you ever heard about edX? Well, it's considered one of the best e-learning platforms, and honestly, it's easy to understand why. EdX was founded in 2012 when Harvard University decided to team up with the Massachusetts Institute of Technology with the aim to make high-quality educational content available across the globe.
Today, around 400,000 students are acquiring new skills through edX, which is home to around 2650 courses by 140 leading universities and institutions, including Harvard University itself.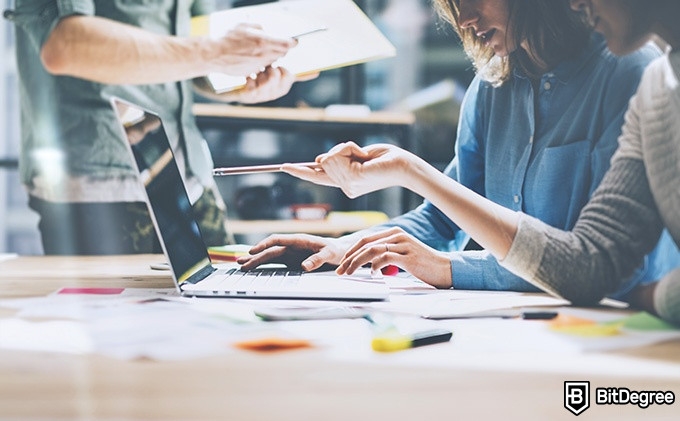 Okay, now here's a juicy piece of information: many of the courses on this platform can be accessed for free! For real. You can access university-level courses at no cost. Technology is not so bad, am I right?
All the courses offer a certificate of completion, which you do have to purchase. Still, what's great is that you can always enroll, see whether it's what you expected, study, and then purchase a certificate later if you decide you do need one.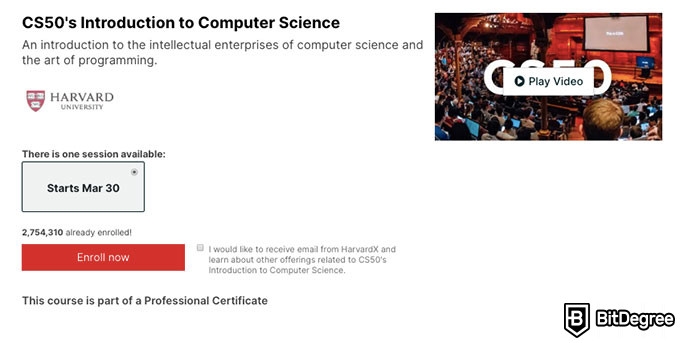 Platform: edX
Offered by: Harvard University
Duration: 〜 12 weeks (6-18 hours/week)
Price: FREE
Certificate: YES (paid)
Level: Beginner
Where to apply? Here
This Harvard CS50 online course is one of the most popular computer science courses on edX. In case you wonder, CS50 stands for Computer Science 50, an on-campus and online course designed to introduce students to "the intellectual enterprises of computer science and the art of programming".
Students love it so much, Harvard CS50 course is now being taught at Yale University too!
Yes! This is your chance to study the same course you would study on-campus, adapted for online learners. Anyway, before you get too excited, let's explore the course and its content in more detail.
You don't need prior experience in computer science to take this Harvard CS course. It covers the fundamentals in topics like abstraction, algorithms, data structures, encapsulation, resource management, security, software engineering, and web development.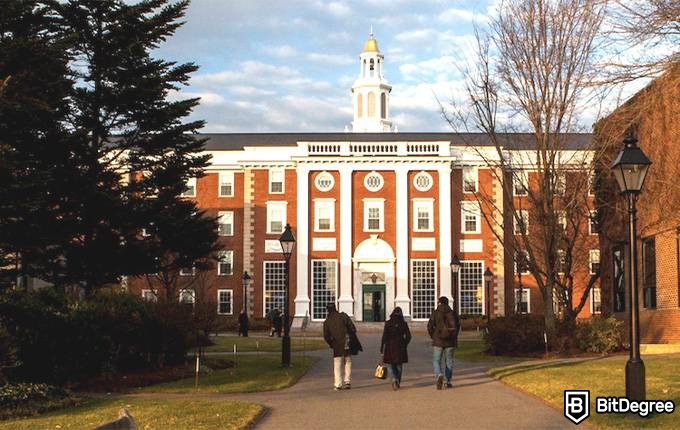 Throughout the course, you'll also gain an understanding of various programming languages, such as C, Python, SQL, and JavaScript plus CSS and HTM.
What you'll learn:
A broad and robust understanding of computer science and programming
How to think algorithmically and solve programming problems efficiently
Concepts like abstraction, algorithms, data structures, encapsulation, resource management, security, software engineering, and web development
Familiarity in a number of languages, including C, Python, SQL, and JavaScript plus CSS and HTML
How to engage with a vibrant community of like-minded learners from all levels of experience How to develop and present a final programming project to your peers
According to the description, it should take about 12 weeks to complete this Harvard CS course online, given that you spend 6-18 hours per week studying and engaging with the teaching content.
However, do keep in mind that every student is different. Depending on the type of learner you are, it might take you more or less time to complete it. It is packed with a lot of valuable information, so if you're not familiar with any of it yet, it may take you longer to grasp.
Here you can find some study tips for different learning styles. Even if you're not sure which one is yours, it's fun exploring new ways of learning, you never know, maybe you'll discover something that will be an eye-opener!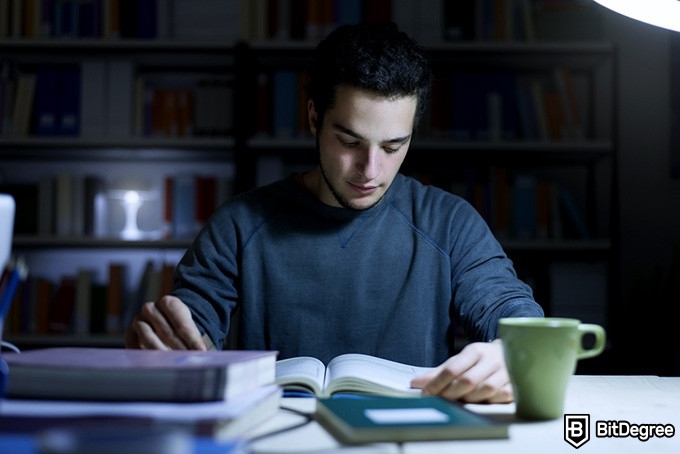 You're probably curious about the certificate. So, here's how you can achieve it: earn a satisfactory score on 9 problem sets and successfully complete the final project. Because it's a self-paced Harvard CS course, you can take all the time you need to truly soak up all the knowledge until you feel comfortable solving problems on your own.
Be careful though! Having too much time can also have a negative effect on your progress because there's no one to pressure you when the times are hard, or when motivation is low.
This Harvard CS50 online course has won the "All-Time Top 100 courses" award by Classcentral.
If you're a complete newbie, someone who doesn't consider themselves to be a "computer person", there's a course you can take before enrolling in the Harvard CS course that covers the very basic notions of internet, multimedia, security, web development, and programming. It's called CS50 Understanding Technology Course on edX.
Harvard CS Course: How Can I Use It?
After completing the Harvard CS course online, you'll have a solid foundation of knowledge in computer science, and you'll be familiar with the most important aspects of it. Now, computer science skills can be applied to a wide range of tasks and activities - "everything is becoming a branch of computer science".
How can you use the Harvard CS course? Well, the skills you'll gain can be a valuable addition to your CV. Whether you're already working and want to gain a new set of skills, or if you're thinking of changing careers, this course will serve you well.
Furthermore, CS50's Introduction to Computer Science is the first course within a few professional certificate programs on edX. So, once you successfully complete this course, you'll be basically halfway through achieving a professional certificate in the subject that the program is designed for.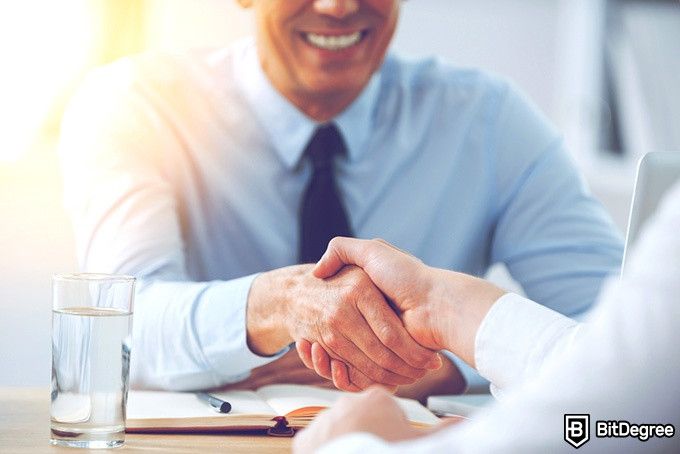 To receive a professional certificate, you'll have to purchase the full program experience, which includes the certificate in the price. Sometimes, there are some deals available for selected programs, which you can check out right here.
The full program will take slightly longer to complete, but if you're interested in one of these subjects, and are serious about working in the field - this is your chance to gain a professional certificate at a very low price, compared to on-campus courses.
Harvard CS50 online course is the foundational course for the following professional certificate programs: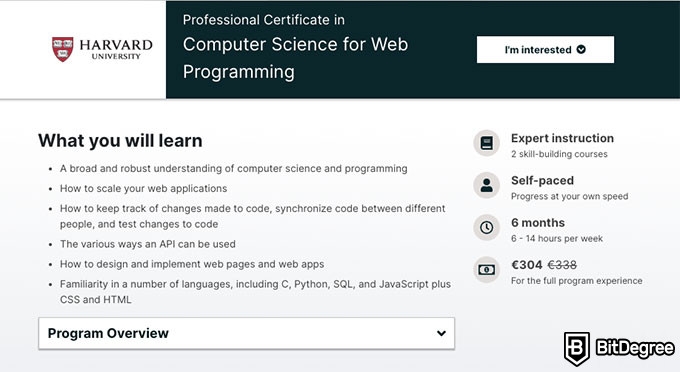 This program combines the Harvard CS course and CS50's Web Programming with Python and JavaScript Course, where students learn the design and implementation of web apps with Python, JavaScript, and SQL using frameworks like Flask, Django, and Bootstrap.
The estimated time to complete this program is 6 months. According to Marketwatch, web developers are always in demand. So if you've ever thought about becoming one, now is a good time!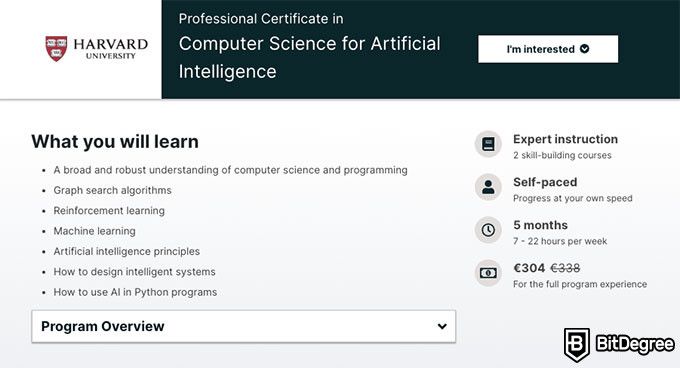 This program is designed to provide an understanding of fundamental topics for future artificial intelligence experts, such as graph search algorithms, classification, optimization, reinforcement learning, and other topics in artificial intelligence.
After completing this program, students should be able to design their individual intelligent systems, using the techniques learned in the course.
This program should take more or less 5 months to complete. Artificial intelligence is penetrating our lives steadily, and it's more than likely that the demand for this kind of experts will just keep growing, so job prospects for professionals with AI skills under their sleeve are looking bright!

Pros
Easy to use with a learn-by-doing approach
Offers quality content
Gamified in-browser coding experience
Main Features
Free certificates of completion
Focused on data science skills
Flexible learning timetable

Pros
High-quality courses
Nanodegree programs
Student Career services
Main Features
Nanodegree programs
Suitable for enterprises
Paid certificates of completion

Pros
A huge variety of courses
Easy-to-navigate interface
Over 600 free courses
Main Features
A huge variety of courses
30-day refund policy
Free certificates of completion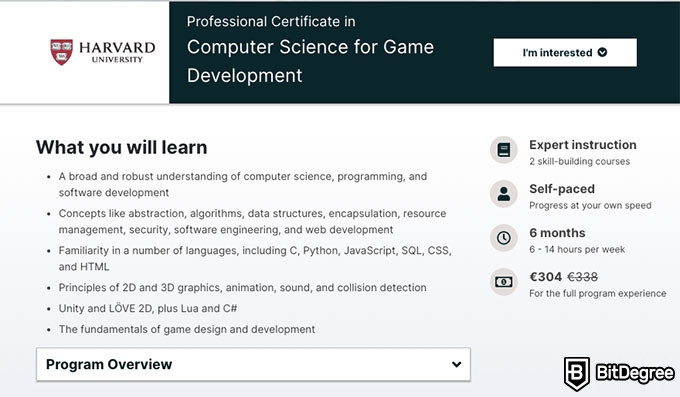 If you've ever wanted to develop your own game - this one's for you. The program consists of the Harvard CS course and CS50's Introduction to Game Development Course.
After completing the program, you'll have all the knowledge and skills needed to do so. You'll cover topics such as the principles of 2D and 3D computer graphics, animation, sound, and collision detection and using frameworks like Unity and LÖVE 2D, as well as languages like Lua and C#.
The program takes about 6 months to complete. Just like with many other tech professionals, the demand for game developers has been growing, and they enjoy pretty good pay. Most Game Developers earn between $47,000 and $88,000 per year, with the national average at $56,000.
By the way, you can take single courses within these programs for free. Free access does not include a verified certificate, however, it doesn't stop you from gaining knowledge, as you still get access to the teaching material!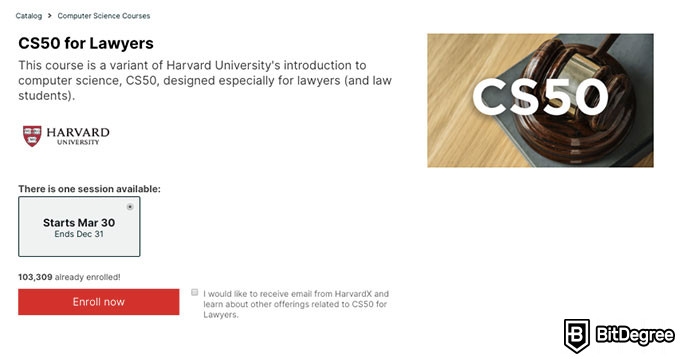 Platform: edX
Offered by: Harvard University
Duration: 〜 10 weeks (3-6 hours/week)
Price: FREE
Certificate: YES (paid)
Level: Beginner
Where to apply? Here
Computer science and lawyers may sound like an odd combination, but it's more common than you think! Why would lawyers find it useful to know computer science?
Here are a few reasons:
Law and programming share many of the same skills, including logic and problem-solving
Competitive edge
Automating tasks
Because of the qualities that both fields share, lawyers often find computer science an attractive skill to learn, because it complements their profession well, and it makes it easier to learn, given that they already possess some of the key qualities that computer scientists do. There's a rumor that lawyers make good programmers.
This Harvard CS course is unique - it's designed specifically for professionals and students involved in law. It's meant to provide them with a deeper understanding of the legal implications of technological decisions that some clients make, and equip them with skills for mining data for answers themselves.
There are no prerequisites for this course, and it's perfectly suitable for beginners in cs too.
It combines discussions of various real-world-like case studies and technical instructions to provide students with enough knowledge so that they can be active participants in technology-driven conversations.
What you'll learn:
Computational Thinking
Programming Languages
Algorithms, Data Structures
Cryptography
Cybersecurity
Internet Technologies, Cloud Computing
Web Programming
Database Design
Cybersecurity, continued
Challenges at the Intersection of Law and Technology
Harvard CS course for lawyers offers a certificate at a fee, or you can access the content for free, without a certificate. It takes roughly 10 weeks to complete, given that you study between 3 and 6 hours per week. Of course, as I mentioned earlier, don't take this very literally, because it can take you more or less to complete, depending on you.
How To Study Online Efficiently?
Now, there's no doubt taking Harvard computer science courses online is a sensible option. Though it's important to understand that studying online is different from studying in a classroom.
Why? Because you're not surrounded by other students, you're (usually) in your home environment, and you rely on your inner motivation resources to do the work you have to do.
I know, this may sound challenging, perhaps it can even scare you away from learning online, but I have some tips that will prepare you for an efficient online learning experience so you can gain the most out of it.
With the right tools and mindset, you can reap the benefits of distance learning in no time!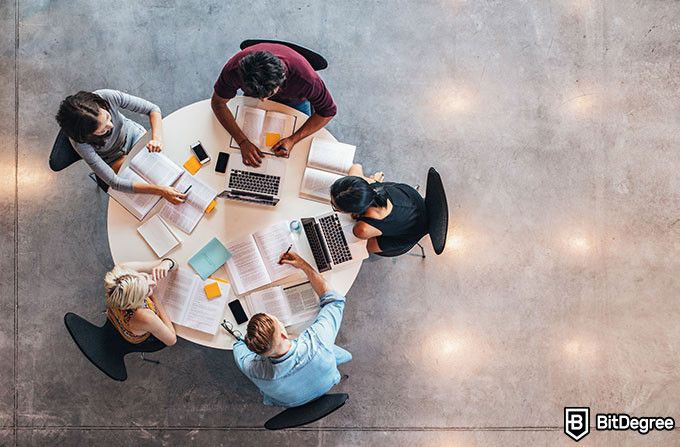 Top Tips For Efficient Online Learning:
You will need a computer, tablet, or cell phone in good condition and with updated programs such as word processors and multimedia file readers, where you can review content, research, and upload tasks.
A good wifi connection is a must. I probably don't need to go into detail on this one, since it's pretty obvious why you would need a good connection while studying online.
You can also use physical or digital notes to help you track your progress. By the way, since you're going to study the Harvard CS course online, remember to check if there are any specific requirements for that course. Perhaps you'll need to download some software, and so on.
Goal-setting can put you on the path of success[2]. My advice to you is this: define in what amount of time you want to finish your course and the pace you'll need to reach it. Use your imagination to think about ways in which you'll use your newfound skills and knowledge as a way to keep yourself motivated.
Having a daily schedule is a very good idea. You may have to modify it or give up some things to put your study plan into practice.
Despite the flexibility that edX courses provide, if there is no schedule to complete the tasks, the goal can be lost. Tasks accumulate, and when you want to remember something, it will have already snowballed.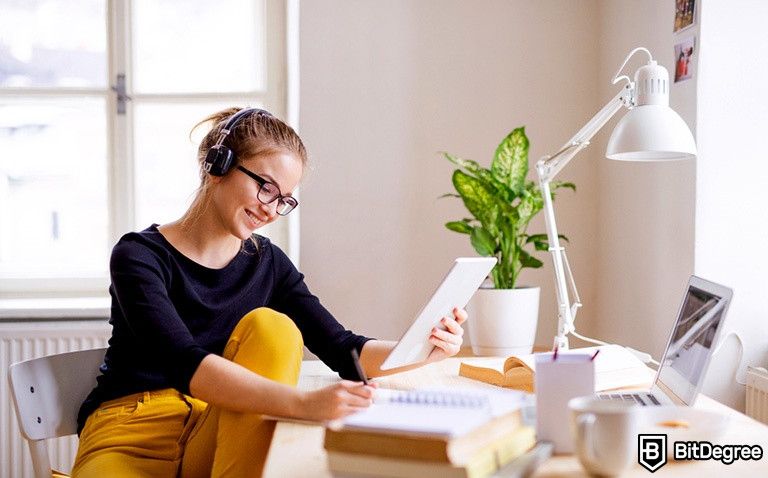 So it is better to be safe! And the best way to do it is by creating your own e-learning schedule. It can be a schedule with study plans only or with all your daily activities, although I highly recommend writing everything down, this way it's much easier not to get all mixed up.
To become an expert in a subject or discipline of your choice, you need to give it your full attention and effort. If you enroll in many courses, you can get into a situation where you can't find enough time to dedicate to each of them, spending your day without achieving much. It is best to move forward one course at a time and remain consistent.
Have a Distraction-Free Space
The place where you study is very important because you must be away from distractions such as a television, your cell phone, or other people during your sessions to make the most of your study time. Also, avoid areas with too much noise and try to have good lighting, a comfortable desk, and a chair.
Your progress will be much more consistent if you advance a little each day, instead of having long sessions in a single day during the weekend. Take time to review, read, complete a project, or consult additional sources every day. Learning is a lot more efficient when you make it a routine.
I know that sometimes we want to do things fast so we push ourselves to reach the goal faster. However, it is never good to overdo it. Good performance is related to dedication, but only as long as your limits allow it.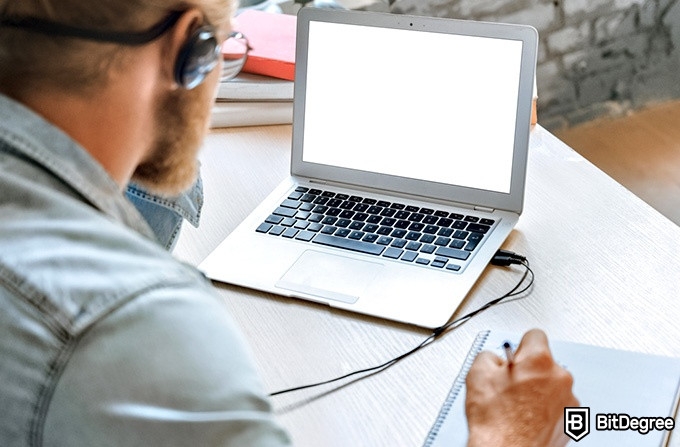 If you spend all day sitting in the chair studying without a single break, chances are you'll feel exhausted, remember less, and feel even less motivated to study next time.
Studying online places you in a different context than face-to-face classes, which is why for you to be successful, you have to know your strengths and limits well.
Take Advantage Of Online Community
Form a connection with your virtual online learning community, join forums whenever possible, discuss what you learn, any doubts you have, and so on. When you discuss it with others, students or instructors, you learn more than if you rely 100% on the material provided.
Plus, a community will make the whole experience a lot more enjoyable! Unless, of course, you prefer being left to your own devices. The great part about learning online is that you have options: join the community or not, it's all up to you!
Students who successfully complete courses are not necessarily those who start at a higher level, but rather those who have a higher level of tolerance for technical problems, seek help when they need it, work on what they have to every day, and persist, even when times get tough. Online learning requires a sense of independence, internal motivation, and responsibility.
If you're completely new to e-learning, I recommend checking out this course below on edX. It's designed for students who want to make sure their online learning experience is going to be efficient and fruitful.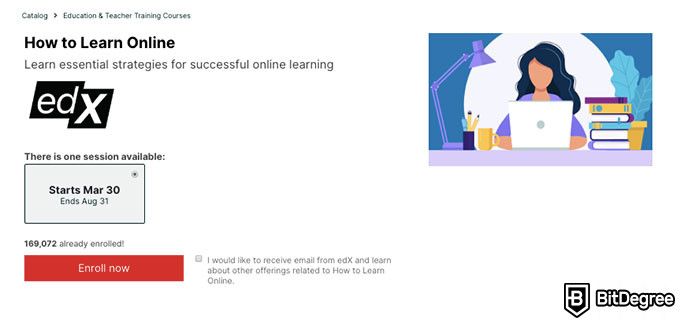 If you decide to take the Harvard CS course, consider combining it with this one. It will answer some important questions like:
How do I take notes during live or recorded instruction? What's the difference? What's the point of discussions and how should I participate in them to get the most value? What can I do if I have trouble concentrating or lack time to complete assignments? What is the ideal study environment?
It's a short 2-week course, which is for everyone who wants to make the most out of their e-learning experience. Throughout the course, you'll learn a combination of "science-backed techniques" that can be a game-changer in your online learning journey.
It's a completely free course, so if you have the time, why not give it a go?
What you'll learn:
Self-care strategies for online learning
Space, time, technology: study space, time management, managing technology
Learning strategies
Communication and community: strategies for communication, collaborating, and building connections with your instructors and fellow learners
Plus, this course is not only about learning on edX. Everything you learn will be easily applicable to any other platform, so the online learning skills you'll acquire in this course will serve you for life - you can use them in the future for studying any other subject on any platform.
Whether you'll combine it with the Harvard computer science course or any other - it will be a nice fit.
Final Thoughts
So, should you take the Harvard CS Course? I say go for it!
It's one of the most popular Harvard computer science courses ever, and it's at your fingertips! You can easily access it on edX by clicking on the name of the course in the description above and enroll. You can learn for free, and purchase a certificate if you decide you need one, but it's not a rule.
The Harvard CS Course is a suitable option for beginners because no prior experience is needed. The only thing you do need is to be familiar with general notions of the internet and computers. If you need to refresh your memory on those, check out the CS50 Understanding Technology Course.
Completing the Harvard CS Course on edX will not only be a good addition to your CV, but also provide you with highly marketable skills that will make you a valued member of any team.
Harvard CS50 online course is the first course within a few programs on edX, so once you complete this one, you can enroll in one of the professional certificate programs and you'll already be halfway through achieving it.
If you want to prepare for a truly productive online learning experience, check out the How to Learn Online Course, which will give you all the tips and strategies you can possibly need.
Scientific References
1. Babson College: Distance education up, overall enrollments down 2021
2. Deakin University: How goal-setting can put you on the path to success
Leave your honest feedback
Leave your genuine opinion & help thousands of people to choose the best online learning platform. All feedback, either positive or negative, are accepted as long as they're honest. We do not publish biased feedback or spam. So if you want to share your experience, opinion or give advice - the scene is yours!