While various programming resources have been available online for about as long as the internet has existed, it's only in recent years that structured learning has become accessible. Whether you're looking for a career boost or want to try something new, online learning platforms should be on top of your list of options. And today, I'll introduce you to two of them – edX VS Udacity.
Even if you don't plan to work with programming or data science directly, having these skills on hand can be great for your professional development. We'll be taking a look at the two platforms and see how they compare in terms of course quality, learning rewards, and monthly costs. If you want a useful tool to have on hand with more data, feel free to try out our Comparison Tool for online learning platforms. It'll let you see how Udacity VS edX compare against each other, as well as other popular alternatives, like DataCamp.
Before we start, here's a very brief introduction to the two platforms. Udacity is an online learning platform for professional development that was launched in 2011. Its courses cover subjects like machine learning, data management, and cloud systems. Its competitor is edX, a platform that has been around since 2012. This platform offers various academic courses on a broad range of subjects. For the sake of transparency, we will only focus on the data science courses on edX.
And now, let's see how our facts-driven comparison system works.
edX VS Udacity: Comparison Criteria
Before we begin the edX VS Udacity comparison itself, we need to discuss how this process is going to work. After all, the two platforms differ quite a bit when it comes to the content they offer. As I've mentioned, edX covers topics outside data science and programming, so we'll be narrowing things down when we compare the two. Given that, what measures do we take to keep our analysis fair and square?
Latest DataCamp Coupon Found:
EXCLUSIVE 67% OFF
On DataCamp Subscription
Follow the Datacamp promo code link & get an exclusive 67% OFF Datacamp subscription. Act now while the offer is still available!
Expiration date : 26/03/2023
2,765 People Used
Only 35 Left
Over the years, we have established and refined an analysis system. It consists of five criteria – course quality, usability, language support, certifications, and pricing. We'll take a look at what each of them entails in a moment. These aspects were chosen as they can be objectively discussed regardless of the platform – you can get the idea of how the platforms function and what their downsides might be.
So, let's see how we're going to evaluate Udacity VS edX today:
Course Quality. We're going to start by taking a look at the main product offered by all online learning platforms – the courses. Naturally, it's not possible to compare every single course on both platforms to each other. However, there are still things we can discuss, such as the overall catalog range and quality. Furthermore, we'll see what learner levels are supported. While many people join digital learning platforms to learn something completely new, advanced students also like having resources to keep their skills sharp.
Ease of Use. Everyone wants their user experience online to be smooth and enjoyable. You don't want to go through multiple pages just to find where the beginner's courses are – you want to start learning straight away. So, in this category, we'll be discussing things like navigation, course catalog and search tools, and the overall user experience on edX VS Udacity. In addition to these desktop experiences, we'll talk about smartphone access. Do the platforms offer iOS or Android apps? We'll find out soon enough.
Foreign Language Support. Both edX and Udacity are platforms with users from all over the globe. This means that some of the users may not be fluent English speakers, which might hinder their learning experience. To assist learners from different backgrounds, platforms like DataCamp offer localized features, such as subtitles, to make the learning process easy to follow. In this category, we'll see if non-English speaking students are supported and what tools can be used to assist their studies.
Certifications. You could say that certifications are the bread and butter of most online learning platforms. They're the final goal of every learner – alongside the knowledge itself, of course. There are often caveats to being eligible to receive a certificate of completion, such as requirements to pay for the course or complete certain exercises. However, the reward for the efforts can be very sweet – some platforms even offer accredited certificates that can be useful in an academic setting. We're going to find out what rewards Udacity VS edX grant their users and how valuable they can be.
Pricing. Our final order of business is talking about the costs. While you can find some free courses on online learning platforms, the core of the catalogs usually consists of paid classes. Here, the platforms can choose a few ways to go – a monthly subscription, a one-off payment, or a hybrid model where you pay for one course for as long as you plan to take it. We're going to compare the free and paid perks that you get as an edX VS Udacity user – and I'll grant you access to some of the special offers you can use to cut those costs lower.
These are the general principles of how our comparisons typically work, and you'll see it in practice in just a minute. Keep in mind that while we use objective data and live website features to conduct the comparison, the final decision is subjectively yours. We won't write a grade at the end of each evaluation. Instead, you'll be making the final call based on your personal needs as a learner.
That said, I understand that making a decision so quickly can be hard, and you may want to take some other things into consideration. Don't worry, I've got your back here. For starters, have you seen our reviews for both edX and Udacity? If not, I recommend checking them out so you gain a better understanding of how the two platforms work.
Then, head over to our Comparison Tool for online learning platforms. This fun little feature lets you see various data, such as key features and statistics, of the two platforms and see how they stand against each other. You don't have to stick to the edX VS Udacity comparison either – you'll find numerous platforms here, so if you want to, say, measure edX against DataCamp, feel free to do so!
Now that we've established the evaluation system and goals, let's begin the comparison itself.
edX VS Udacity: The Comparison
Each category will follow the same order as established above, starting with the course quality.
Course Quality and Variety
Although the importance of online learning courses may seem obvious, it still can't be overstated. The quality of the learning content is the determining factor when it comes to deciding whether a platform is worth your time or not. So, it's unsurprising that we've picked this category as our first for the edX VS Udacity comparison.
There are two things to discuss here – how many courses the platforms offer and how varied they are. The first question is the easier one to answer. Let's take a look at edX first – in total, this platform's catalog consists of over 3,000 courses. From this range, nearly 600 are categorized as data science courses, and almost 200 are classified as computer programming courses. So, it's a pretty sizable number overall.

Udacity's catalog is smaller, consisting of over 200 courses overall. However, this platform has a unique approach to courses. While you can take a single course of your own choice, the main appeal of Udacity is its Nanodegrees – special intensive study programs. A nanodegree can take anywhere from a couple months to half a year to complete, so it's a pretty big commitment.
As you work on your nanodegree, you don't just learn the theory of subjects like cybersecurity, machine learning, or cloud technology – you also get to work with hands-on projects that can later be used in a portfolio once you're applying for jobs. Additionally, you have the support of mentors and fellow students, so you're not simply learning on your own.
edX also offers its users more than just basic courses. This is a very academic platform, and many of the courses are offered by internationally renowned colleges and universities. As such, you can find full degrees that you can enroll in. I'm not kidding here – edX MicroBachelors and MicroMasters are intensive courses based on actual university curriculum, and once you complete them, you can convert your results to actual college credit.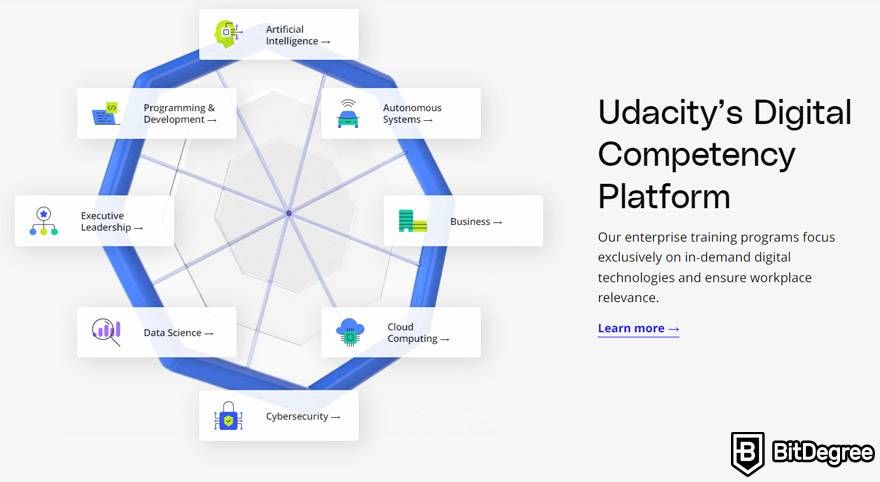 In addition to university degrees, edX also offers other services, like executive education and XSeries. Executive education courses are structured to help leaders with managing and structuring their enterprises. XSeries are field-specific programs formed of several courses to help you gain professional and academic insights into the field.
Naturally, with hundreds of courses covering every field of tech, there's something for all learner levels. Are you a beginner? You'll find introductory courses. Want a bigger challenge? Easy – both platforms support intermediate and advanced students.
So, as far as the course range is concerned, the edX VS Udacity situation is pretty even-footed. Whether you favor a more academic approach or want more industry-level experience, you'll find the right fit.
Ease of Use
Have you ever opened a website, whether it's a learning platform or anything else on the internet, hoping to quickly find something, only to give up because the structure is too confusing or annoying to navigate? Taking user-friendly design into account is really important, especially on sites like edX VS Udacity, where the developers' goal is to create a convenient and easy learning flow.
Don't worry – we're not going to get super technical here. However, one thing is imperative – a good site structure can be the defining factor between a new student and an abandoned website. So, are edX and Udacity convenient platforms to navigate?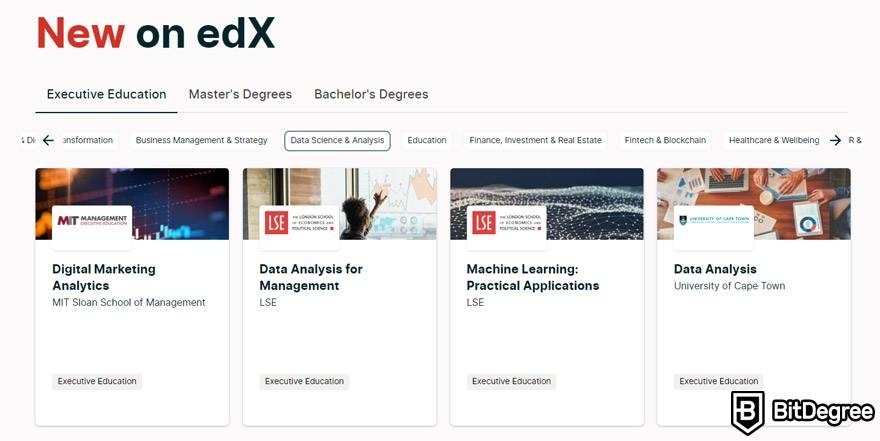 When it comes to edX, figuring out what's where is pretty easy. All those different learning services we've discussed, known as Pathways, have their own category, making it easy to see what each of them offers without things getting mixed up. Additionally, you can look up courses based on their subject. Each subject has multiple subcategories, so the search process is really easy to navigate.
Searching itself is also convenient. There are multiple filters you can toggle with to refine your search results and find exactly what you need, including:
Subject
Skill
Partner
Program/learning type
Level
Language
To clarify a couple: subject refers to the overall area of expertise, while skill lets you choose a more specific branch. For example, you can have Computer Science as the subject and Python as the skill. Partner lets you search based on the universities and organizations that provide the edX courses you're taking.
Now, let's take a look at the other platform of our Udacity VS edX comparison. Here, it may be more complicated to figure things out at first. For starters, there are three types of users on Udacity – Individuals, Enterprise, and Government.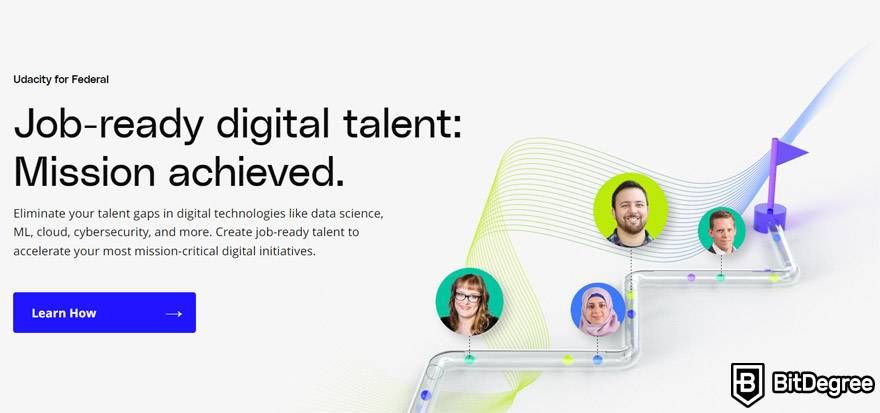 Individuals are quite self-explanatory. You're likely to be one of them – someone who wants to learn for their own purpose, whether that's personal development or curiosity. Enterprise users are typically teams that require customized learning programs and management tools to study in tandem. Government is perhaps the most interesting category – Udacity works with several nations to help their labor sectors bring in more tech professionals in the most lucrative fields.
Let's presume that you are an individual user. In that case, you can proceed with the course selection with ease. You can look up courses based on the subject (known here as School) or navigate the full selection. Here, you can refine your search based on the topic, field, skill level, duration, and price.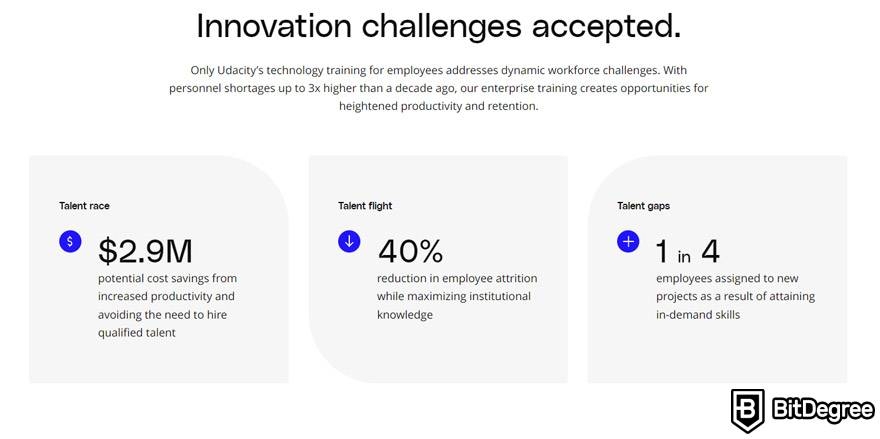 Once you've got the hang of things, the desktop experience is easy on both platforms. However, how does the edX VS Udacity mobile learning process differ? Can you find an app and study without being tied to your desk?
Yep! In fact, both edX and Udacity offer iOS and Android apps. However, there's a small caveat for edX users – the drag-and-drop features that you'll encounter on some courses are not mobile-compatible, which may prevent you from completing your tasks.
Overall, whether you're interested in Udacity VS edX, you should have a pretty good user experience, particularly thanks to the well-established search filters that make it easy to find what you need.
Foreign Language Support
Are you a native English speaker? This might feel like an odd question. However, even though online learning platforms often provide content primarily in English, many users don't speak it as their native language. Given that, you'll often come across foreign language features that can aid the learning process. This can range from subtitled or dubbed video guides to full website translations. In any case, localization can be crucial for a successful learning journey.
So, in terms of foreign language support, how do edX VS Udacity face off against each other?
Well, you might've noticed that one of the edX search filters was "Language". So, it's good news here. You can change languages two ways – either by switching your preferred site language or choosing a course language where available. Unfortunately, not all courses have multiple language accesses. However, given that the edX hosts over 3,000 courses, that's not easy to achieve.
Table: key features of edX VS Udacity.
As far as the language selection range is concerned, you've got a nice selection. For example, you can pick between 19 site languages, including German, Korean, and Polish. Since the course catalog is continuously updated, you can keep an eye on the courses you're interested in to see if they'll get a translation. Alternatively, you could try getting in touch with the institution that offers the course to see if a translation could be arranged for the future.
Udacity's language selection is shy compared to edX's. At the time of writing, you can only find five foreign languages available – Arabic, English, Spanish, French, and Korean. However, while I can't say this for certain, it seems that foreign language availability is connected to the Governments program. So, if Udacity is working with your national institutions, chances are that your mother tongue may show up on the list.
While both platforms offer foreign language services, it seems that currently edX has the upper hand. Nevertheless, Udacity is clearly working towards gradually providing non-English speakers with more support.
Certificates
We can't do a thorough edX VS Udacity comparison without discussing certificates. After all, aside from the courses themselves, they're often the strongest selling point of online learning platforms. Similar to a college diploma, a digital certificate acts as proof of your learning results on the platform of your choice. But how significant are certificates, exactly?
For starters, many people have found that completing digital courses and having proof of this achievement can be a great career boost. Platforms like DataCamp can help create a gateway from elementary skills to industry-level knowledge in tech. So, it's no wonder that learning online is so lucrative.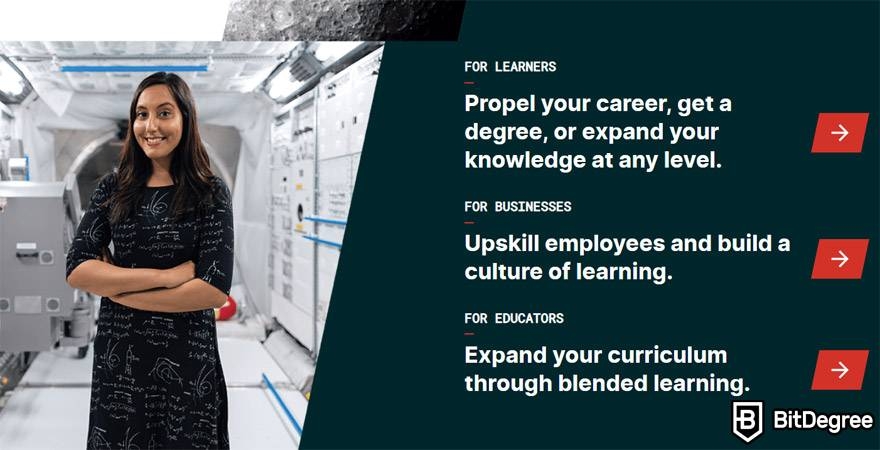 Then, there's the special kind of certificates that some learners are especially after. If you manage to obtain one of those, you have the prestige of having learned a course from a highly-rated university. Sometimes, you can even take the grades you got from your digital course and convert it to credit that can be used to calculate part of your GPA. These are known as accredited certificates.
Earning an accredited certificate can be more complicated than receiving the regular kind. This is mostly due to the fact that not many online learning platforms offer university-backed courses. However, by now, you're familiar with one that does offer such perks. Can you guess what it is?
If you guessed edX, you're absolutely correct. As we've established, it's an academically-backed platform, and many of the instructors are professors themselves. In addition to colleges and universities, tech industry giants like IBM also host certified and accredited courses which you can use on your journey to complete official tech training that these companies provide.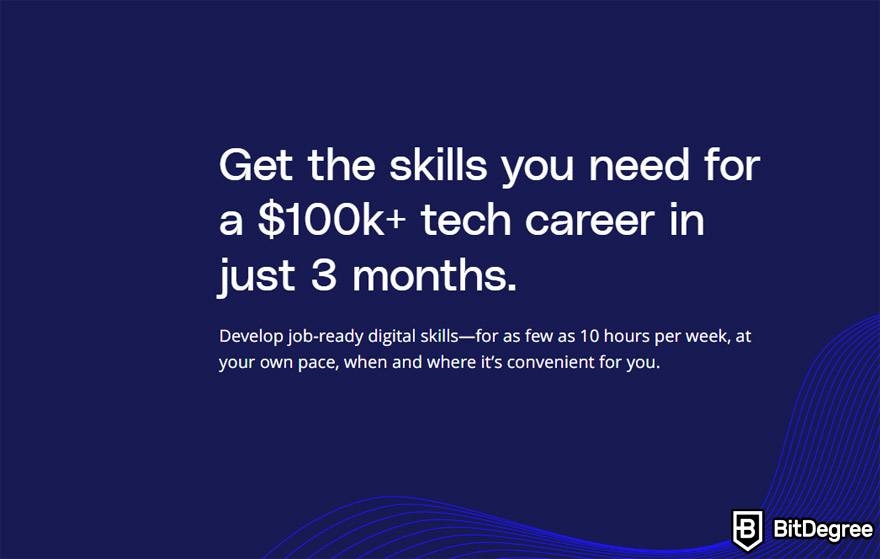 Now, let's talk about Udacity. Although the courses are called nanodegrees, the certificates you receive for completing them are not accredited. However, one big perk of nanodegrees is the built-in portfolio that you create for yourself as you study. Keep in mind that Udacity requires ID verification before issuing you with a certificate of completion.
If you're looking for an accredited certificate, edX should definitely be your choice. However, if the learning experience is more valuable than the digital bonus you receive at the end, the Udacity VS edX qualifications will probably be on similar terms.

Pros
Easy to use with a learn-by-doing approach
Offers quality content
Gamified in-browser coding experience
Main Features
Free certificates of completion
Focused on data science skills
Flexible learning timetable

Pros
Simplistic design (no unnecessary information)
High-quality courses (even the free ones)
Variety of features
Main Features
Nanodegree programs
Suitable for enterprises
Paid certificates of completion

Pros
Huge variety of courses
Easy to navigate
No technical issues
Main Features
Huge variety of courses
30-day refund policy
Free certificates of completion
Pricing
We've got one last category left to cover – pricing. Deciding whether a platform is a worthwhile investment comes not just from the course quality, but also from how much they cost. If it's out of your range, the decision may be made before you have a chance to consider it. And while universities are definitely the far pricier option, I can say from the getgo that edX and Udacity are among the more expensive options for an online learning platform.
However, before we talk about the price, let's start with something sweeter – free content. What can you find on edX VS Udacity for free?
Well, edX supports course audits. If you come across a course that you're interested in, you can access it to some extent without paying. Auditing lets you listen to the video guides and access additional resources. However, as an auditor, you are not eligible to complete the practical tasks or earn the certificate of completion.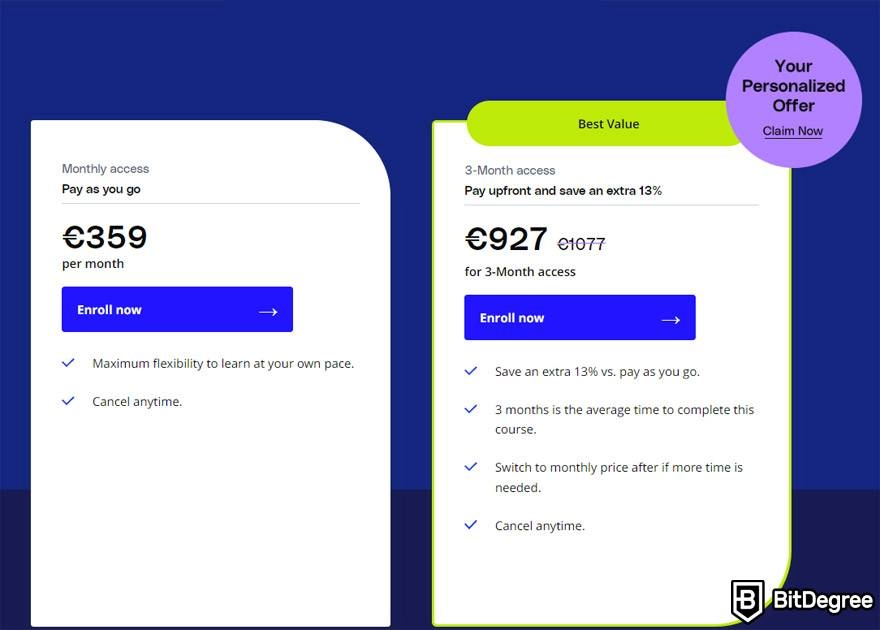 Udacity, on the other hand, offers a few free courses that you can take. These are introductions to various data science subjects. However, as with edX auditing, the free courses on Udacity do not come equipped with certificates.
While the free range isn't very extensive on either platform, it can still give you a good idea of how the learning process works before you make an actual financial commitment. And how significant is that commitment on Udacity VS edX exactly? Well, let's take a look.
Both platforms charge you per course (or nanodegree), and, as I've mentioned, the prices can be quite steep. For example, a typical edX verified track can cost around $99. However, the prices vary and this is a one-time payment that grants you unlimited access to the material. If you find a course you want to take but feel like it's slightly out of your range, I can help you out – click here to find special discounts and offers.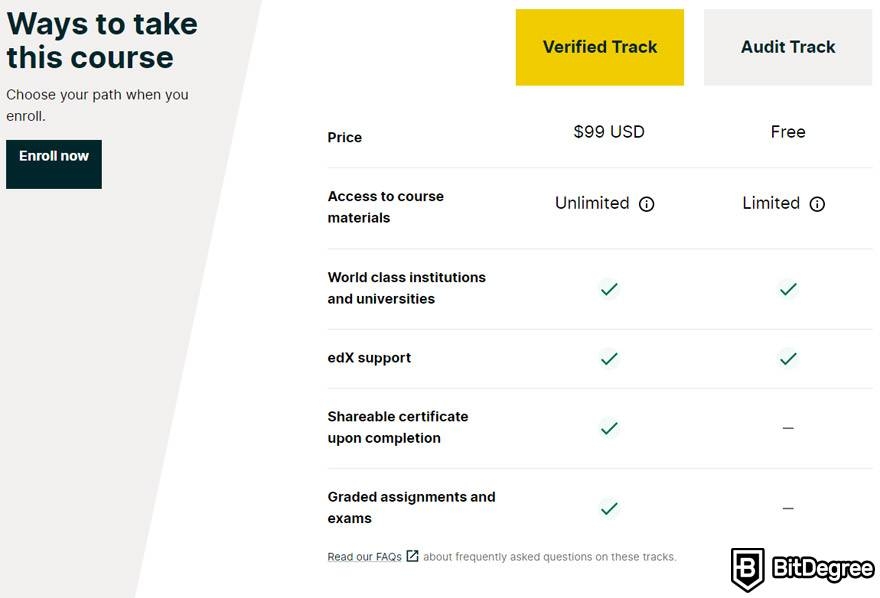 Udacity nanodegrees use a hybrid of a per-course and subscription payment. What does it mean? Well, if you choose to take a nanodegree, you only have to pay for that one course. However, each nanodegree has a set duration. So, for example, you may have to pay for three months if you choose one nanodegree or for six months if you pick another.
Unlike edX, the one-month payment for the course is fixed, coming in at $399 for the first month. With each additional month, a 15% discount is applied. Furthermore, Udacity offers personalized discounts based on your preferences. And if you're not tired of seeing the word "discount" yet, here's one more mention – you can find even more discount codes and special deals here.
While Udacity charges you more than edX, you'll spend more time on this platform making your way through the nanodegree. However, if you're just looking to get started, the free options on Udacity VS edX may scratch that itch for a bit. And then, you can see which one's worth the money more for you.
Conclusions
And that's all for our edX VS Udacity review. What do you think – which platform will suit your needs better? Both of these online learning services offer a great range of high-quality tech courses, desktop and mobile-friendly learning, and foreign language support. While there's room for growth in some regards, it's certainly been tough competition.
Now that you've got the essentials before you, the ball is in your court. All you need to do is sign up for one of the platforms – or both if you're curious – and see for yourself how they work in practice. Do you feel like you need some more data before making the decision? Then our Comparison Tool is here for you. You'll be able to see how specific edX VS Udacity features compare, and learn more about our other favorite platforms, like DataCamp.
Don't forget – we'll be very happy to hear your feedback on the platforms in the comments below. And now, it's time for you to start learning!
Leave your honest feedback
Leave your genuine opinion & help thousands of people to choose the best online learning platform. All feedback, either positive or negative, are accepted as long as they're honest. We do not publish biased feedback or spam. So if you want to share your experience, opinion or give advice - the scene is yours!