Are you looking for a high-end online learning platform? Do you want to learn something new, but aren't sure what's the best way to go about it? If so, then this edX VS Coursera comparison might actually shed some light on the matter!
Both edX and Coursera are among the best online course providers out there. Having said that, both of the platforms do, in fact, have some differences from one another - they might not suit everyone! In order to figure out - edX or Coursera? -, you should take the time and research both of them, thoroughly.
Today, in this article, you can do just that - compare edX VS Coursera, see the benefits and shortcomings of each of these two MOOC providers, and pick the right one for yourself!
edX VS Coursera: Comparison Criteria
If there's one thing that's certain when discussing online learning platforms, it's that everyone and their mothers are going to have specific preferences for what they want those platforms to be like.
Latest DataCamp Coupon Found:
EXCLUSIVE 50% OFF
On DataCamp Subscriptions
Follow the Datacamp promo code link & get an exclusive 50% OFF Datacamp subscriptions. Act now while the offer is still available!
Expiration date : 08/06/2023
2,765 People Used
Only 35 Left
That's quite normal. However, you should also keep in mind the fact that there are some features that are quite essential for any MOOC provider that wants to be considered among the best ones!
No matter what your personal preferences are, you should always consider whether or not the e-learning site of your choice possesses the aforementioned features. What are they, exactly? Well, in this edX VS Coursera comparison, we'll consider five - course variety & quality, pricing, certificates, language support, ease of use.
Let's discuss each of them separately.
Course Quality & Variety. Course quality is something that's rather obvious - no matter which side of the edX VS Coursera debate you are on, you are probably always going to care about the quality of the courses that you're planning to study. Variety is also an aspect that's worth keeping in mind - this is especially true for those who plan to study a few different classes in a consecutive manner. Do also remember this if you'll find yourself looking for sites like edX or sites like Coursera!
Certificates. For most people who are looking for a great online learning alternative, certificates are going to be absolutely crucial. They usually serve a much wider purpose than just being a "nice to have" addition to your resume. That being said, most people who are participating in the edX VS Coursera debate are looking for accredited certificates - these papers might be the determining factors between you getting your dream job, and your potential employers deciding on someone else for the spot. Whether it be edX or Coursera, or any other e-learning site, always check whether or not it provides certification!
Multiple Language Support. The vast majority of the online learning platforms you're bound to come across online are going to be based in a single language - English. It is widely accepted that this particular language shall be most conveniant for most of the users of such platforms - after all, it's also the language in which this very text is written, too! Having said that, it isn't one of the major factors in this edX VS Coursera comparison without a reason - if a platform is based in a few different languages (both site- and course-wise), it will surely attract a much bigger audience of potential students!
Ease of Use. The usability factor is something that is often overlooked when people look for the best online learning platform for themselves - whether it be this Coursera VS edX comparison or any other, most people will tend to focus on course count or quality, or even the pricing model, disregarding the ease of use of a site altogether. While the aforementioned aspects are absolutely crucial, it's worth pointing out that you'll likely be using the platform for quite some time - you'd probably want it to be as simple to use as possible!
Pricing. Different e-learning sites have very different pricing models. Not only that, but when you're talking about platforms such as the two in this edX VS Coursera comparison, you might even come across multiple pricing options on a single site, too! Whatever the case might be, many people are going to look for ways to save as much money as possible while still receiving the education that they want. If you have a set budget, and aren't ready to splash bands left, right and center, this is going to be a very important point in this Coursera VS edX article!
So - those are some of the main aspects that you should keep in mind when thinking about sites like edX or sites like Coursera, or even considering the two online learning platforms that are at the focus of this comparison, too. As pointed out before, everyone is going to have their own, personal preferences - that's OK! Still, you should use the features discussed above as your main points of reference.
With all of that being said, let's move on straight to the edX VS Coursera comparison.
edX VS Coursera: The Comparison
In order to keep this Coursera VS edX comparison as clear as possible, we'll be going through each of the earlier-discussed aspects, and checking how both of the platforms perform. We'll begin with the course quality and variety aspect.
Course Variety & Quality
Admittedly, the quality of the courses available on an e-learning site is going to be at the top of the list for most people who are looking to learn something new, at least as far as priorities go. With some high-quality courses, you can expect to become proficient in the respective field, and increase your chances of landing that job that you've been after.
So, as far as course quality goes, how do the two platforms compare?
Well, most of the edX VS Coursera user reviews and comments appear to agree - both Coursera and edX offer some amazing quality courses, no matter what it is that you want to learn.

Coursera is oriented towards some specific career paths, while edX is going to be great for anyone who's looking to learn a new skill and develop their career outlook.
Both platforms also offer different, yet significant benefits to their learners - while Coursera has over a thousand more courses than edX, the latter platform provides users with progress checkers and some non-degree-related courses (Coursera does not have these options).
In any case, it's safe to say that both of the platforms in this edX VS Coursera comparison are top-tier, as far as content quality and variety are concerned.
Certificates
As pointed out earlier, no matter if you're looking for some sites like edX or sites like Coursera (or any other e-learning platform, for that matter), certificates are going to be a crucial part of your search.
Most high-end online learning platforms are going to have some sort of certification available for you to acquire - that's obvious. Having said that, there are different certificates that you might come across - namely, simple and accredited ones.
Simple, non-accredited certification holds as much value as you'll place on it. It's highly unlikely to help you out in a job interview, and is more used to show off your newly-acquired skills, rather than as tangible proof that you do actually possess them.
This isn't the case with accredited certificates, though. These types of certificates show that you have taken the time to both study some specific information, and then take the examination (and other tests). On top of that, if you possess an accredited certificate, it can have some very positive effects on your job prospects, too!
So - what's the situation with edX or Coursera?
Well, in short - both of the platforms offer accredited courses (in a way).
Coursera does provide its students with accredited certificates. edX, on the other hand, has what they call "verified certification" - in essence, they work the same way as their accredited counterparts.
Definitely some good news in this edX VS Coursera comparison, no matter which platform it is that you prefer!
Language Support
While multiple languages aren't exactly mandatory when it comes to high-quality online learning platforms, they are surely still important.
If a platform is translated into a few different languages, you'll have a much easier time accessing the content found within - in other words, the site will be much more approachable. While it is true that a staggering number of people in the world speak fluent English, this isn't the case everywhere, and other language support can be very useful.

Course-wise, most of the time, the dominating language will still be English. Having said that, you might be able to find some courses that'll have subtitles in other languages - this does depend on a case-by-case basis, though.
As far as this edX VS Coursera comparison goes, the situation is pretty simple - while edX is available in around 5 languages, you'll find that Coursera supports 10!
Usability
While deciding whether edX or Coursera is going to suit your wants and needs best, you should always remember to consider the ease of use factor, too.
As mentioned in the introductory part of this edX VS Coursera comparison, while usability isn't something that would come up all the time when it comes to student e-learning site reviews, it is very important, nonetheless. If a platform is simple to use, you'll have no trouble navigating through the course lists and picking out the best option for yourself.

This extends to the actual course pages, too. Video players, course lesson selection, class descriptions, bullet-point lists, and so on - it can all either be very accessible and fun to use, or quite annoying and bothersome!
When it comes to the edX VS Coursera debate, you can rest assured that usability isn't something that you'll need to worry about with either of the MOOC providers in question. Both platforms offer amazing ease of use - while edX is a tad bit more complicated than Coursera, the differences are likely to be unnoticeable for most.

Pros
Easy to use with a learn-by-doing approach
Offers quality content
Gamified in-browser coding experience
Main Features
Free certificates of completion
Focused on data science skills
Flexible learning timetable

Pros
Simplistic design (no unnecessary information)
High-quality courses (even the free ones)
Variety of features
Main Features
Nanodegree programs
Suitable for enterprises
Paid certificates of completion

Pros
Huge variety of courses
Easy to navigate
No technical issues
Main Features
Huge variety of courses
30-day refund policy
Free certificates of completion
Pricing
Finally, to finish off this edX VS Coursera comparison, let's take a look at the pricing options that are available with each of the two platforms in question.
Now, admittedly, pricing can get a bit complex, especially when you're looking at such high-end sites as the two that we are discussing in this very article. For starters, it's worth mentioning that both edX and Coursera have subscriptions and one-off payment options available for you to pick from.
Individual courses are going to range from around $40 up to $300, depending on the platform and the course that you pick (both have similar pricing models in this regard). That said, the subscriptions might actually go higher than that, but most range around the $40 - $50 mark.
On top of that, if you choose to learn a specialization or an actual degree, do expect prices to be in the thousands! Certificate-wise, you'll have to pay on both edX and Coursera - the prices for the certificates are going to depend on the individual courses in question.
Lastly, Coursera offers its students a free 7-day trial - edX does not. However, both platforms are going to have 14-day refund periods.
Conclusions
So, then - which of the two online learning platforms in this edX VS Coursera comparison are worth checking out?
In all honesty - both of them! Whether it be edX or Coursera, you can expect some top-tier quality courses on either of these platforms!
Both of the sites are actually quite similar in many regards, and offer their students different perks and benefits. They are also both considered to be top-tier, at least as far as MOOC providers go. In all honesty, no matter which site it is that you choose, you shouldn't be disappointed!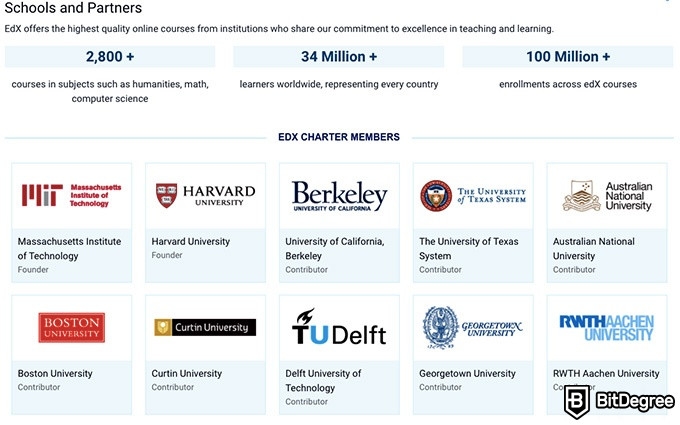 If you do want to choose one of the two, though, keep in mind that Coursera offers its students some personalized learning paths, while edX does not have such a feature. That said, edX has some progress checkers and non-degree courses - not something that you'd be able to find on Coursera!
All in all, I thank you for reading this edX VS Coursera comparison, and hope that it was useful to you!
Leave your honest feedback
Leave your genuine opinion & help thousands of people to choose the best online learning platform. All feedback, either positive or negative, are accepted as long as they're honest. We do not publish biased feedback or spam. So if you want to share your experience, opinion or give advice - the scene is yours!