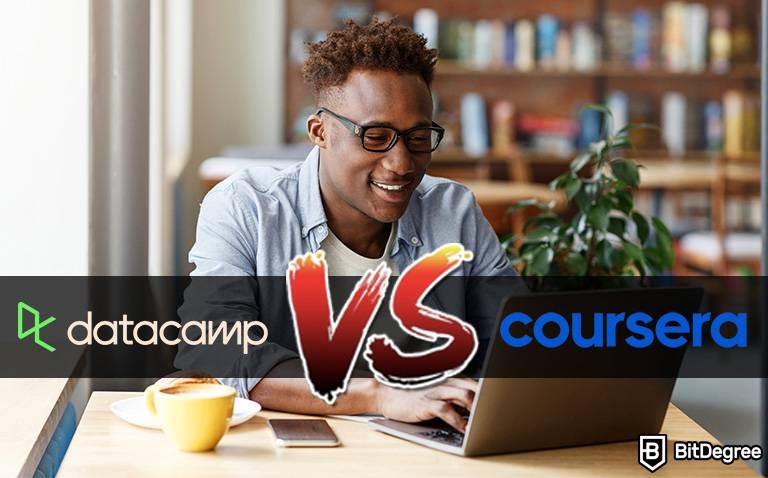 In recent years, following the Covid-19 pandemic, our lives have been completely turned upside down – and education was one of the most impacted areas. This period gave rise to online learning platforms – a way to learn more flexibly in the comfort of your own home. Today, we'll be taking a closer look at two such platforms and see how DataCamp vs Coursera compare when it comes to digital education, specifically in the data science field.
Whether you're more interested in Coursera or DataCamp, you've likely heard of both platforms. And since they're both often ranked among the best online learning platforms out there, making that final decision can be tough. To make things easier for you, we've developed a five-criteria system of evaluation that looks into what each platform has to offer and where they might fall short.
So, let's quickly see what we're dealing with today. Coursera is one of the biggest players in the MOOC scene. It was launched in 2012 and offers a vast scope of learning programs in affiliation with internationally renowned universities and companies. DataCamp is a platform that was launched in 2013. It's a career-driven learning platform that offers courses taught by industry professionals who share their field experience and tips with the learners.
Before we get started, bear in mind that we'll only be focusing on data science course comparisons here. So, we'll only look at how things like DataCamp vs Coursera Python or R courses compare and won't delve into the broader Coursera catalog.
With that out of the way, let's take a look at how the DataCamp vs Coursera comparison is going to work.
DataCamp vs Coursera: Comparison Criteria
At first glance, the DataCamp vs Coursera comparison may appear unbalanced, as the latter platform offers a much broader spectrum of courses in fields like social sciences, personal development, and health. So, to maintain things fair, we will be looking exclusively at the data science courses and use five criteria to analyze the two online learning services.
Latest DataCamp Coupon Found:
CLAIM 50% OFF
DataCamp Cyber Monday Deal
DataCamp Cyber Monday special is here! Enjoy a massive 50% off on DataCamp plans. Subscribe now and redefine your data and Al skill set for the better!
Expiration date : 06/12/2023
5,324 People Used
Only 36 Left
The following criteria are not arranged in any order of importance. We believe that all five aspects bear significant weight when determining whether DataCamp or Coursera may be the better option for you. The criteria are advisory, and we won't be writing any grades at the end of each category.
Ease of Use. Whether you're interested in Coursera or DataCamp, your first action will be to open the website or download the app and see what the platforms look like. How long does it take for you to figure out the navigation and where the key links are? In this category, we'll be taking a look at how easily newcomers may find the two learning platforms to navigate. We'll also look at technical convenience – is there availability of mobile learning, or are they available exclusively on desktop?
Language Support. Here, I'm not referring to a DataCamp vs Coursera R face-off or something similar. The language in question is, straightforwardly, the language that we all speak (and that you're reading right now) – English. Although English dominates in many programming spaces, it can be helpful to find some content in your mother tongue. So, we'll see if you can find localized content, subtitles, or other foreign language support on the two platforms.
Course Quality & Variety. Before you commit to learning a new thing, you're probably going to do extensive research to find out if it's actually worth it. We'll make this step simpler for you – we'll see what users have to say about the two platforms and how they're generally reviewed. We'll explore the catalog variety to see what learner levels can find them the most useful. Finally, we'll take a look at the different learning categories, like individual courses and long-term tracks.
Certifications. Once you graduate from college or university, you receive a diploma that serves as tangible proof of your achievements. Things are similar on online learning platforms – once a course is finished, you usually receive a digital certificate. There are two types of certifications that typically stand out – accredited and non-accredited. We'll see what rewards you receive for completing your DataCamp vs Coursera Python courses and how they differ between the services.
Pricing. Last but not least, pricing can have a massive impact on your decision. Whether it's traditional or digital education, you need to be sure you're getting your money's worth. We'll be taking a look at what plans DataCamp vs Coursera offer and whether there are any free learning opportunities. You'll also find out about some of the discounts that the two platforms offer, as well as special plans for educators and enterprises.
Of course, only you can decide which way our Coursera vs DataCamp comparison is going to sway you. However, having all five criteria analyzed might help you settle on that final decision.
Without further ado, let's begin our DataCamp vs Coursera match.
DataCamp vs Coursera: The Comparison
We'll go through each of the five criteria one by one, following the same order that they were described above.
Ease of Use
Let's kick off our DataCamp vs Coursera comparison by taking our first broad look at the platforms. For starters, where are you looking at – your monitor or your smartphone screen?
I probably don't need to explain that phones are pretty much a must in this day and age. They've become as versatile as some laptops. And this means developers need to make sure that the apps and websites you want to visit work as well on the smaller vertical screen as they do on a 13-inch monitor.
We'll be off to a good start here – not only are both websites mobile-compatible, they are also available as mobile apps for iOS and Android devices. So, you don't need to be locked to your computer to learn – as long as you have your phone, a stable internet connection, and a few minutes to spare, you can brush up on your programming skills on the go.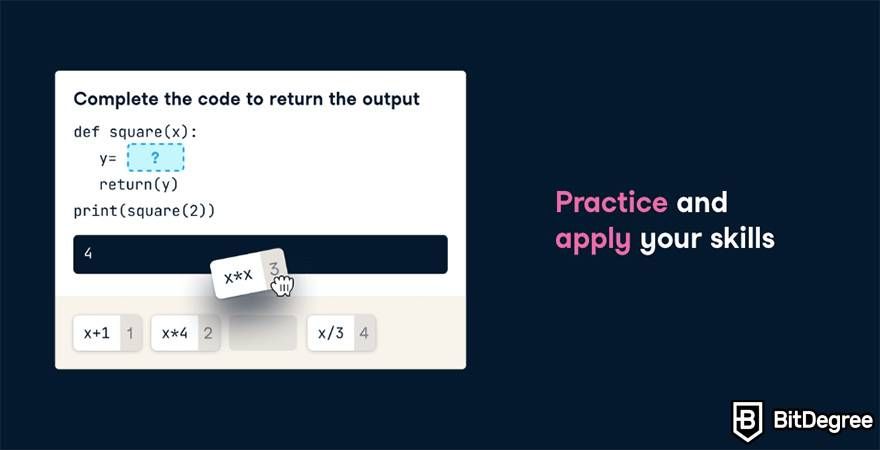 However, you're most likely going to study on the desktop, as that's simply more convenient if you're, for example, especially interested in the DataCamp vs Coursera R or SQL course differences. So, what does the desktop experience feel like?
Well, given the sheer scope of Coursera's catalog, it can feel overwhelming at first. The "Explore" menu offers two categories:
Goals – select a course based on your milestone priority. Here, you can select whether you want to take a look at some of the free courses (spoiler alert!), earn a degree, advance your skills, or even start a new career;
Subjects – this is the certificate section that allows you to select the course based on your interest. You'll find categories such as Business, Language Learning, and Math & Logic. As I mentioned before, our focus today is the Data Science subject category.
Navigating the Subjects selection can be confusing. You have options like "Degrees" and "Certificates". These differ from your usual one-off courses. How? Well, degrees are exactly what they sound like – university-affiliated academic degrees that you can complete simultaneously with students that are attending seminars in person.
Certificates, on the other hand, are long-term qualification programs. They can take up to 9 months to complete and provide you with industry-level credentials. We'll delve more in-depth into these programs when we cover the certifications on Coursera vs DataCamp.
So, the menu can be a bit tricky to navigate at first. However, the courses themselves are pretty straightforward. If you choose to take a single course or a specialization, you'll be able to preview the descriptions for each lesson, as well as your assessment tasks.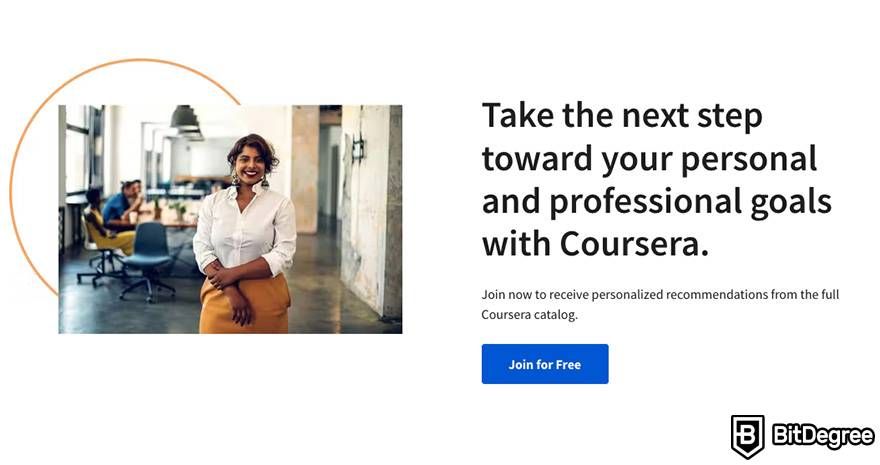 Let's take a look at DataCamp now. Since the platform focuses solely on data science and analysis courses, its menu is easier to navigate. You can choose to learn based on your level, focus on which technology interests you the most, or select your objective:
Learning about data
Improving skills
Changing careers
You can also select to take a skill or career track. These are programs that combine several courses into a single learning path and allow you to work on your skills gradually. If you're curious to see how this works in practice, you can find our guide to the DataCamp SQL Fundamentals skill track here.
Aside from the individual learning experience, we can also talk about what teams may be able to find. Both Coursera and DataCamp offer their users employee training possibilities via their B2B services.
DataCamp for Business supports large-scale teams of up to 10,000 users with data-driven active learning. As with regular courses, these resources take data from the real world and apply it to create custom-tailored training experiences for your team.
Coursera for Business is a job-based learning environment. It implements the Skills Dashboard to help you track your team's performance as they complete the guided learning tasks. You can determine which skills your team is going to be focusing on and monitor the process.
In terms of platform usability, DataCamp is probably going to be easier for a newcomer to figure out. This is in part due to the platform's design being based on the ideas of gamification. The goal is to provide simple yet exciting learning models and methods to make the learning experience both informative and enjoyable.
So, which one is doing better in terms of accessibility – DataCamp or Coursera? Well, if you're completely new to the platforms, DataCamp will probably be easier to figure out at first.
Language Support
As I mentioned in the introduction to the criteria, we don't mean programming languages here. In terms of that, DataCamp vs Coursera stand toe-to-toe – both offer extensive catalogs to develop your skills in various languages and data management tools, so covering that alone would require a separate article.
Instead, what interests us here is how accessible the content is to non-native English speakers.
English is one of the most widely spoken languages in the world. But not everyone speaks it with the same level of fluency. Some people are more comfortable speaking; others are better at listening. Jumping into an audiovisual multimedia learning space can be difficult, especially if you've never used English at an academic level before.
So, to help foreign students, online learning platforms may offer support in their native language. This can manifest in several ways – in some cases, video lectures are subtitled. In others, the entire website can be accessed in several different languages.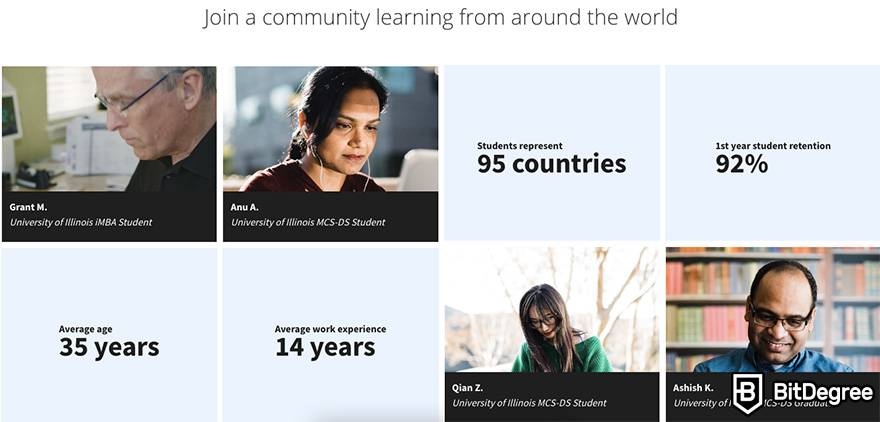 When it comes to comparing DataCamp vs Coursera in terms of language support, the latter has the advantage. The Coursera website is localized in several languages, including German, Japanese, and Brazilian Portuguese. This allows users to immerse in a website that's easier to navigate. Additionally, course videos come equipped with subtitles.
However, this comes with some caveats.
For starters, while you can change the language of the website, all courses will automatically be opened in the language that they were created in. So, if the course has been translated, you'll need to change languages manually.
You've probably noticed that I said "if" the course has been translated. While some of the content is fully available in several languages, with a catalog of over 5,000 courses, it's simply not possible to make everything available at once. So, some courses may only have translated subtitles, others may be available in three languages, while some will only be accessible in English.
Additionally, the availability of translations hangs on only on Coursera as a whole, but also on the course providers. Since most courses are created and sponsored by universities, you may need to contact the relevant program administrators to learn more. Furthermore, if you choose to follow through Guided Projects, you'll see that they are only available in their original language and cannot be translated.
The language support question might also cause some community confusion. As part of your learning process, you'll need to submit peer-reviewed assignments. It's not clear whether Coursera separates the assignments based on the selected language, so you may run into some miscommunication on the way. That being said, language options are there, and they can be more than helpful.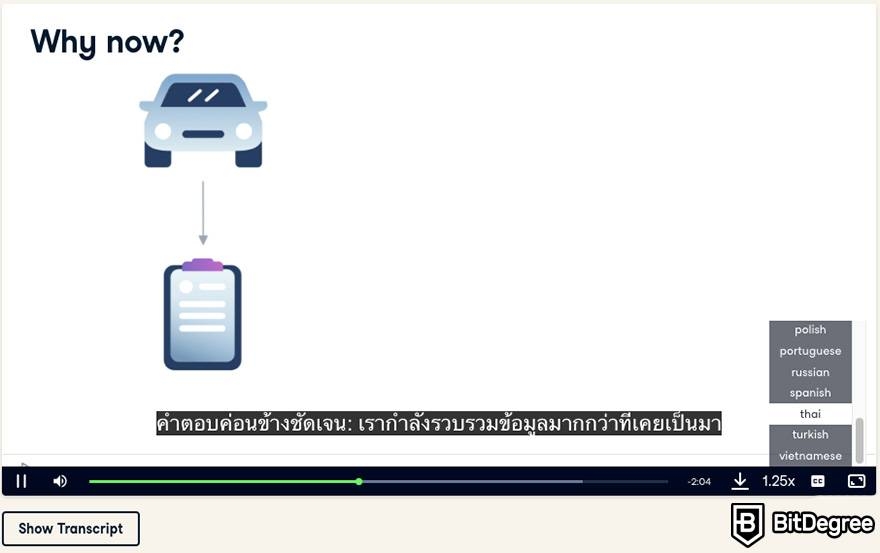 When it comes to DataCamp, the situation is a lot simpler. The website itself is only available in English. However, practically all videos come equipped with subtitles – and with at least 10 languages to choose from, they cover some of the biggest foreign language speaker groups out there. The subtitle languages include Chinese, Italian, and Thai.
Additionally, DataCamp offers a broad range of community-based resources. These include projects and guides created by fellow DataCamp members. Among them, you'll find content that has been developed and published to aid speakers of various foreign languages in their data science learning journey.
So, while Coursera is currently providing a broader range of foreign language support options, DataCamp is slowly but surely stepping up – especially thanks to community contributions.
Course Quality & Variety
It's time to get to the fun part – talking about the course content. Of course, we won't be analyzing every subject against each other to determine which of the DataCamp vs Coursera Python courses are more informative. However, if you're curious to learn more, you can find our overview of the Coursera Python for Everybody program, as well as our list of the best DataCamp Python courses.
Instead, we'll be looking at the course quality on a broader scale. On our best online learning platforms list, both DataCamp and Coursera rank among the top five providers. The customer feedback has also been positive – both platforms are praised for their course quality and variety for all learner levels.
Whether you're on Coursera or DataCamp, you have the opportunity to go from your first steps to the advanced level gradually, often following the lessons developed by the same instructor team throughout.
Coursera is an academic-focused platform, and the partner names speak for themselves. From Ivy League to Oxford, the courses include materials, examples, and advice that enrolled students have access to. So, you'll know that the courses meet university-level standards.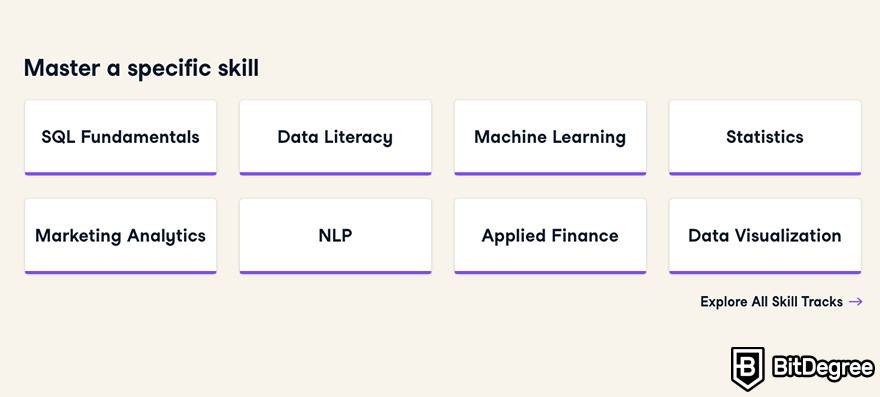 DataCamp, on the other hand, is career-focused, and courses are taught by instructors that have extensive experience in the data science and analysis fields. You'll be covering not only the essentials of programming or data management but also getting professional insights from the field, as well as trying your hand at various resources and projects that use real-world data.
As for the course variety, Coursera vs DataCamp are quite evenly matched here. We can't compare the number of courses available very accurately, as the entire Coursera catalog is so extensive (including other subjects), and there are several learning services, like certification and degree programs. Nevertheless, both platforms have hundreds of courses to choose from.
If that feels overwhelming at first glance, don't fret – all courses are grouped based on learner level, specialty, and technology. Whether you're a beginner or an advanced student, you should have no trouble choosing something to match your level.
However, bear in mind that Coursera may require you to have access to third-party software to complete your tasks and study, although this depends on your selected course. This might make it more difficult if you can't gain access to these tools or prefer studying on your phone.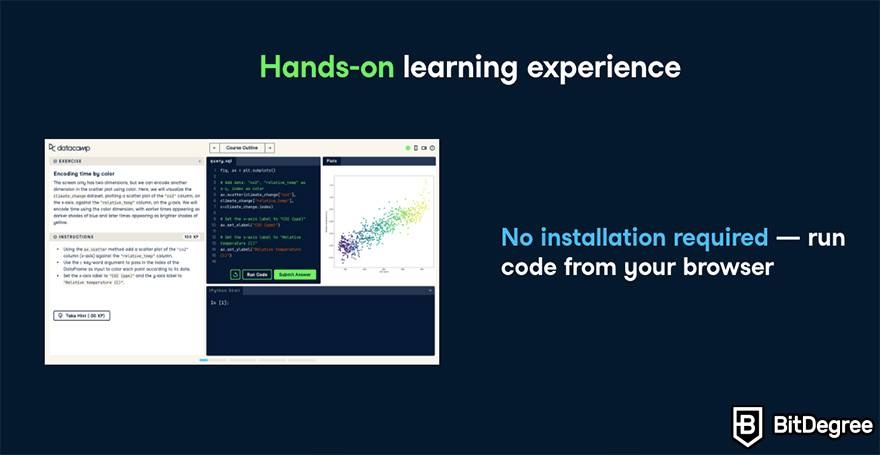 On DataCamp, everything takes place on the native Jupyter Notebook, so you have all your video chapters and exercises in one place. You'll have a tutorial for the Notebook once you sign in, so you won't be thrown off the deep end.
You'll also have access to numerous additional resources that will enhance your DataCamp learning experience. From cheat sheets that cover the essentials of the most popular programming language to webinars and case studies done by the DataCamp research team, you'll be able to expand your skills and knowledge, all in one place.
So, in terms of content quality and variety, this Coursera vs DataCamp match-up is quite equal across the board.
Certifications
Who doesn't love being awarded for their achievements? While accessible education and experience are what make online learning courses worthwhile, receiving a certificate at the end of your studies is also a pretty lucrative bonus. Let's take a look at how the Coursera vs DataCamp certification issuance looks.
I have to warn you ahead of time – things can get a little complicated here. As I mentioned, Coursera has several different learning services, and each of them is awarded differently.
Let's take a closer look:
Courses – courses provide regular certifications upon completion. Users must pass all assessments with the required grades. It's possible to complete a course but not receive a certificate if the assessments are failed, or if the learner chooses to audit the course.
Specializations – specializations are made up of several courses. After completing your specialization, you will receive a certificate for each course that you successfully finished.
Degrees – certificates are granted for completing degrees in the MasterTrack program. These are equivalent to receiving credit that goes towards a Master's degree in your subject of choice.
Professional certificates – courses that are similar to specializations but are not self-paced. Professional certificates may have time limits, as well as GPA requirements. They may offer additional perks, such as online lab credits or limited-time access to industry-level software.
One crucial thing about the Coursera certificates is that they are accredited. Since the platform works directly with academic institutions and many instructors teach their subjects as part of the curriculum, the certificates represent that the skills you've developed are on par with academic standards. In some cases, you may be able to use some of the certificates as part of your academic credit.

I mentioned auditing earlier. Coursera also allows interested students to go through the course by auditing it. This feature is available for free users. However, auditing doesn't include peer-reviewed assessments, and you won't be eligible for the certification after finishing the course.
Let's take a look at our other platform now. On DataCamp, you have two types of rewards that you can obtain:
Certificates
Certifications
It might seem like a small difference, but it's a crucial one. Certificates are what you receive for completing a course on DataCamp. Unlike Coursera, the DataCamp certificates are not accredited. However, this doesn't diminish their value, as they're still proof that you've mastered the subject.
Similar to Coursera, you can only get the full scope of certificates if you have a paid DataCamp account. If you decide to complete a skill or career track, you won't get a single reward at the end – instead, you'll earn a certificate for each course within the track that you successfully complete.
Certifications are closer to Coursera's professional certificates. At the time of writing, a DataCamp Certification can be earned for completing one of the two programs – Data Scientist or Data Analyst. Upon completion, you will earn your certification, which is equal to an industry-level exam. Unlike regular certificates, these Forbes #1-rated Data Analysis certifications have an expiration date and must be renewed every two years.
So, whether you're more interested in DataCamp or Coursera, you'll be receiving proof of your studies that you'll be able to add to your LinkedIn profile, mention on your CV, or even print out and hang on a wall.
Although only Coursera offers accredited certifications, both platforms are reputable, so the lack of university ties on your DataCamp diploma won't diminish its value – nor the acquired skills.

Pros
Easy to use with a learn-by-doing approach
Offers quality content
Gamified in-browser coding experience
Main Features
Free certificates of completion
Focused on data science skills
Flexible learning timetable

Pros
High-quality courses
Nanodegree programs
Student Career services
Main Features
Nanodegree programs
Suitable for enterprises
Paid certificates of completion

Pros
A huge variety of courses
Easy-to-navigate interface
Over 600 free courses
Main Features
A huge variety of courses
30-day refund policy
Free certificates of completion
Pricing
Our last matter of business in this DataCamp vs Coursera comparison is the pricing. Online learning platforms are often a more affordable alternative to traditional education – but how much can you save exactly?
Well, if you're interested in a Coursera degree, we're talking about thousands of dollars. Of course, the degree programs are not part of the regular course catalog and are taught based on a different schedule. So, the costs will differ from the standard plans (we'll get to them in a moment). Nevertheless, by completing a full degree on Coursera, you may be saving as much as $10,000 a year!
However, if you're interested in taking a course or completing a specialization, it gets a lot more affordable. Users that want to complete a course and get all the perks that come with it can choose one of the three Coursera Plus plans:
Single Learning Program ($49—$79/month)
Monthly ($59/month)
Annual ($399/year)
The costs are still high compared to some other learning programs. However, since you're receiving an accredited certificate at the end, the price tag makes sense. You can select different plans based on whether you want to take a one-off course or dig deeper into the subject. You can also find some discounts and special offers on the Coursera catalog here.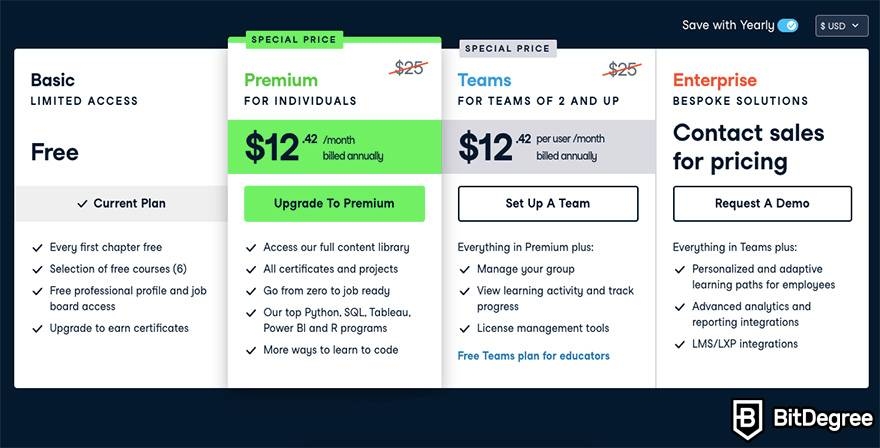 DataCamp offers its users three plans to choose from:
Basic (free)
Premium ($25/month)
Teams ($25/month per person)
As part of the Basic plan, you'll be able to complete one of the six free introductory data science courses. The first chapter of every single course is also going to be available. So, if you want to get a taster before you make the commitment, you can easily follow through. All users can also access resources for career development, like job boards.
Premium unlocks more than 390 courses, as well as all projects and certification programs. You'll have all individual user tools and perks at your disposal, and be able to earn certificates and certifications for your progress. DataCamp also has some discount codes and coupons that you can find here.
The Teams plan is suitable for small-scale groups, like student projects or short-term assignments. In addition to all the Premium perks, you'll also have group management tools and an easy way to track progress across the board.
Additionally, if you're looking for enterprise workshop solutions, you can contact the DataCamp team for custom rates. And if you happen to be a teacher, you may be eligible to join the DataCamp Classrooms program. This service provides free data science and analysis courses, assessments, and projects that can be easily included in your day-to-day curriculum.
So, if you're only interested in one subject, like DataCamp vs Coursera R courses, the former option may be more cost-efficient. However, regardless of your decision, you are certain to get your money's worth with both DataCamp and Coursera.
Conclusions
This brings our DataCamp vs Coursera comparison to its conclusion. Let's have a quick wrap-up and see what we've found out.
For starters, Coursera is an academics-focused platform, while DataCamp's catalog of over 390 courses is more based on career development and sharing industry knowledge. Nevertheless, both platforms are well-received by the digital learning community and offer high-quality content for all levels.
While Coursera is better suited for foreign language students thanks to its extensive localization, DataCamp is working on making this feature more widely available through video subtitles and community contributions. Both platforms provide a combination of video lectures, downloadable resources, and projects that use relevant data and examples.
Now that you know the essentials of Coursera vs DataCamp, it's your turn to make the decision. Perhaps you might even want to give both platforms a shot? Let us know in the comments about your experience while learning data science.
So, good luck with your studies – no matter which platform you choose, it'll be worth it!
Leave your honest feedback
Leave your genuine opinion & help thousands of people to choose the best online learning platform. All feedback, either positive or negative, are accepted as long as they're honest. We do not publish biased feedback or spam. So if you want to share your experience, opinion or give advice - the scene is yours!