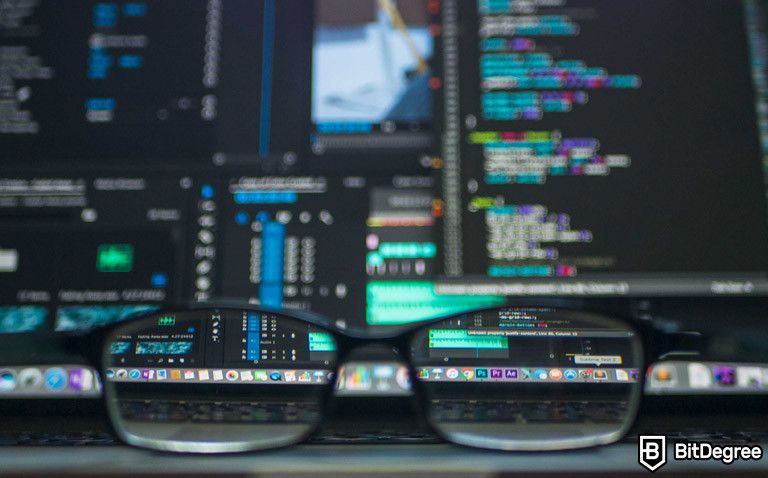 While the world is changing, coding always remains one of the most needed and popular tools for development. Keeping that in mind, I have prepared the best online coding courses to get you started. Furthermore, believe it or not, the first widely used programming language called FORTRAN was invented back in 1954. So, you could say the concept has been here for a while.
If you are only familiar with programmers from the movies, you may have an exaggerated view of them. Not all computer specialists are some kind of masterminds, sitting in a dark room full of computers with a black hood on, and hacking into the government files.
Nevertheless, if you are already in the field, my description may have seemed over the top. But believe me when I say some people genuinely think of programmers as genius hackers, because they really do.
Getting the speculations out of the way, how can you become a developer yourself?
For you to get the most extraordinary learning experience, I searched upon thousands of online programming courses provided by the best MOOC platforms and narrowed them down to the top 7. These courses were chosen due to their high-quality content, students' reviews, and career opportunities. So, walk with me through the best options out there.
Perhaps we could also decide which of the following is the best online programming course for you?
Best Online Coding Courses: Can You Start From Zero?
From zero to hero. Can you manage to learn something that seems relatively complicated, with no prior knowledge?
Latest DataCamp Coupon Found:
EXCLUSIVE 50% OFF
On DataCamp Subscriptions
Follow the Datacamp promo code link & get an exclusive 50% OFF Datacamp subscriptions. Act now while the offer is still available!
Expiration date : 08/06/2023
2,765 People Used
Only 35 Left
Absolutely yes! And no, I'm not an optimist, actually a realist, if you were wondering.
Programming has always been surrounded by the fog of "this is super hard genius stuff".
Let's clear that fog, shall we?
You might be wondering what is coding classes in general. As an example, there was a time when I was so clueless, my description of "what is coding classes" was slightly ridiculous.
If you are like me, let me assure you — coding classes aren't just for programmers to sit there and code. The classes include theoretical learning and can be suitable for learners with different skillsets. That is where the best online coding courses come in handy.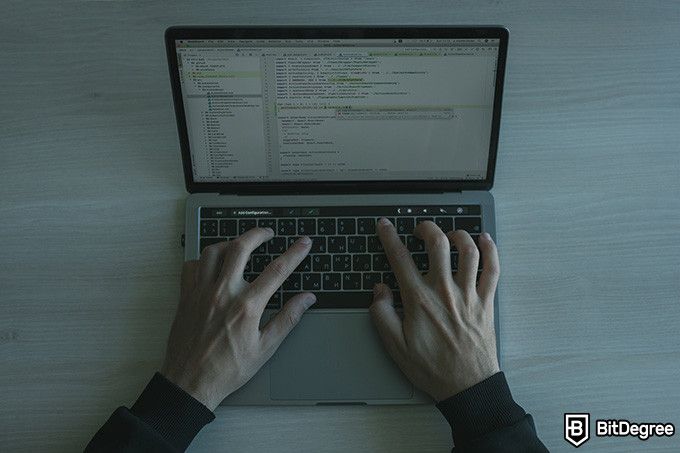 To get a better idea, developers use code to tell the system what to do. Additionally, programming languages are called like that for a reason – it's a way to communicate with your computer.
However, learning programming languages, is a bit different than, for example, learning foreign languages. There are thousands of other programming languages used in web development, computer software, apps, etc. Nonetheless, you don't need all of them.
The best option to narrow down things is to choose the most appealing programming language. The most popular programming languages in 2023:
JavaScript
Python
HTML
SQL
Java
Shell scripting languages
PHP
Typescript
As you may see, many options are available. It might look like a daunting, if not an intimidating task to choose between them. However, the Udemy, Udacity, Coursera, and edX best online coding courses provided in this list, will help you decide in no time.
Most of the online beginner-friendly programming courses will guide you every step, covering all the fundamental information such as binary code or source codes. Later on, the classes will introduce you to the chosen language or field. From learners' experiences around the world, I can assure you that it's possible to get the hang of coding with online programming courses.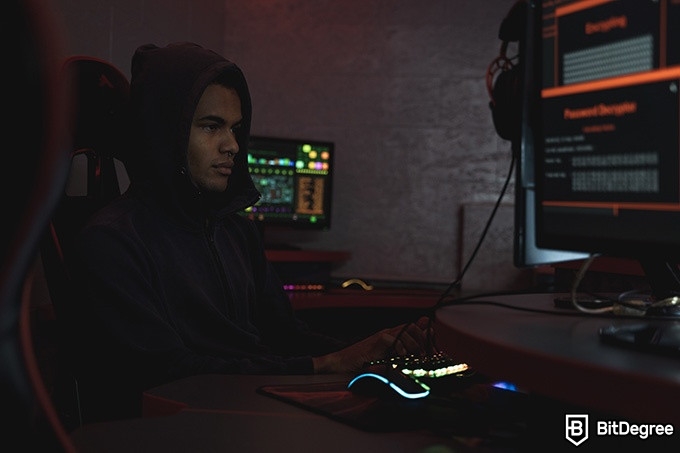 To add to that, online classes are a very cost-effective and flexible method to learn. All you need is a computer and a little ambition to begin coding. By opting to learn online, you will be able to eliminate extra stressors such as travel, deadlines, and funds.
Moreover, you'll still be getting a high-level education, extensive material, and the most professional lecturers. Additionally, there are even Nanodegree programs out there. And surprise surprise — I've included them here.
By knowing how to code, you can become:
Web developer
Front-end, back-end, or full-stack developer
Computer system engineer
Database administrator
UI\UX designer
The list could go on throughout the extent of this article, but let's limit it to a few options. The abilities are literally endless (and the paycheck may be too).
On that note, let's begin with the best online coding courses.

Platform: Udemy
Duration: 6.5 hours
Price: €89.99
Certificate: YES
Level: Beginner
Discount: Available
Apply HERE
At the moment, you still might be confused about where to start and what to choose. Or perhaps you need to understand the basic technology you are about to use? This, best online programming course is a great starting point.
The program is called pre-programming for a reason. To specify, you will be introduced to all the basics before jumping into coding. The basics can go from understanding the fundamentals of how computers work, to 8 basic programming concepts.
Because knowing nuances is crucial to anyone who is just stepping into the world of IT, taking this online programming course will help you build a great understanding of the field before jumping into the practical factors.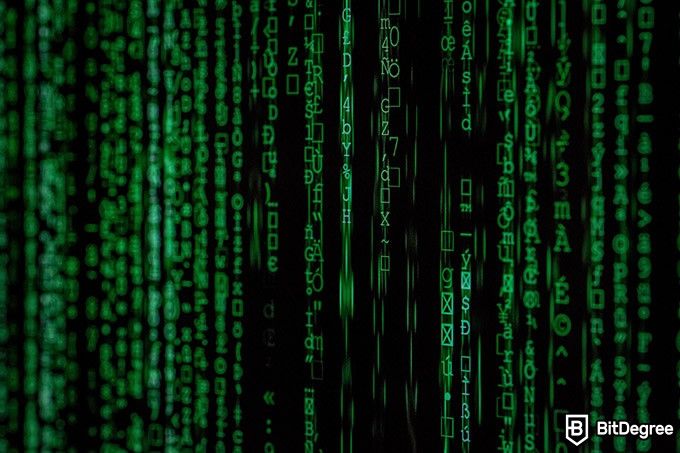 The syllabus focuses on essential information for both, expanding your fundamental knowledge, and as a stepping stone to becoming a programmer — making the class a fantastic choice for people with various skills.
Divided into 10 sections, the program talks about one topic at a time. Starting from the basics (why and how things work), an overview of the internet, and defining front-end and back-end. Later on, tackle more advanced topics such as frameworks and tech trends. The course ends with a section called — choose your path.
Let me acknowledge that this program has a purpose to help you choose between career paths, programming languages, and frameworks. That's part of the reason you are here, right?
You will also have additional activities and recaps in almost every section to ensure the covered topic sticks with you.
Additionally, online coding classes with certificates are known to be leading quality. Keeping that in mind, Udemy is one of the most well-known online learning platforms, with thousands of learners worldwide.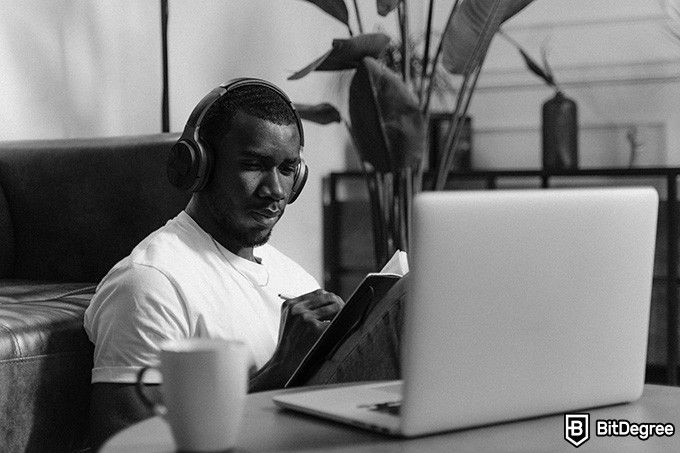 The reason behind Udemy's popularity may be the education quality, wide selection of courses, and affordability. Speaking of affordability, this particular online programming course costs €89.99. The price includes the most profound classes that will help you prepare your own "studying and getting into the field" plan.
Those enrolled in this course will learn:
Fundamentals of how programming works
To choose a programming language and path
To impress their friends with random facts about Bill Gates and Steve Jobs
How computers work and how that relates to web technology
The basic concepts of programming
To understand and apply the concept of programming framework
To understand world technology trends
To communicate with others about technology
To install, modify and evaluate content management systems

Begin your journey with one of the best online coding courses.
Start the course here NOW.

Platform: Udemy
Duration: 60 hours
Price: €89.99
Certificate: YES
Level: Beginner
Discount: Available
Apply HERE
Python is a dynamically structured, interpreted, object-oriented high-level programming language. It features built-in data structures, as well as dynamic typing and dynamic binding, making it ideal for quick application development, scripting.
Besides that, Python is also used in software development and machine learning. So, there is no surprise that it is one of the most popular programming languages out there. Additionally, it's said that this language is relatively easy to learn.
Whether you are curious and wish to challenge yourself, or are determined to enter a new career field, the best online coding courses like this one, are a unique yet back-breaking opportunity.
To clarify, by back-breaking, I mean that this Bootcamp may be a bit intense for some of the learners. Nonetheless, it's totally worth the effort.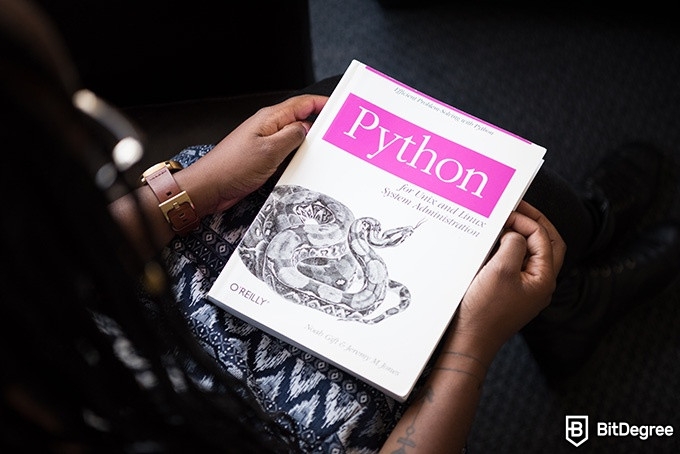 This one of the best online programming courses on Udemy approaches learning through lots of practical tasks. To be more specific, it's called 100 Days of Code for a reason. This course has exactly that — 100 sections and 100 projects.
Yes, 100 projects. Talking about a brief portfolio, right?
Even though it seems like a lot, every project is guided and briefly explained. You'll have the theoretical part, quizzes, and only then the project part comes in. For me, it even seems like an amusing way of learning.
When comparing the finest online coding courses on this list, this program stands out due to its unique format. To give you a better sense, the projects can range from designing password generators to producing a capstone project for a flash card software.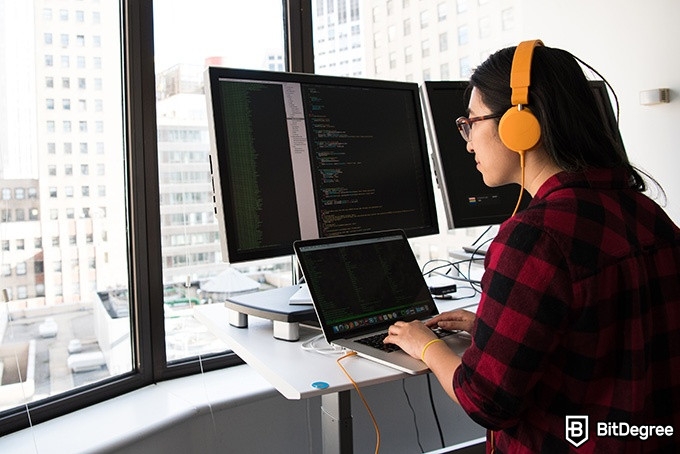 One thing to note about the best online coding courses is that you can choose your own pace. Even if one section a day is suggested, you can still attend a few sections or don't study at all that day. You chose these aspects yourself.
Those enrolled will:
Be able to program with Python
Build GUIS and Desktop applications with Python
Be able to build websites and web apps
Build games like Pong, BlackJack, and Snake
Be able to use Python for data science and machine learning
Create a portfolio of 100 Python projects to apply for developer jobs
Alright, your concerns about harming your wallet are understandable. Nonetheless, this course is a real investment into your future. By finishing it, you will have an extensive, in-depth portfolio that will ensure new career opportunities.
That's our goal here, right?
So for €89.99, you could make your career dreams a reality. It takes hard work to get around these days, and these online coding courses with certificates make sure you do.
Start the course here NOW.

Platform: edX
Duration: 6 months
Price: €274 (free audit available)
Certificate: YES
Level: Beginner
Discount: Available
Apply HERE
I see you there, sitting in your desk chair, thinking about online coding courses with certificates. Well, Abra Kadabra, here you go. Learn The Art of Mobile App Development, one of the best online coding courses that include a professional certificate.
This one is the lengthiest course on my list (6 months). However, not the priciest. For those longing to fully understand what is coding classes, how to learn, and where to get a superior education — this, best online programming course is the way to go.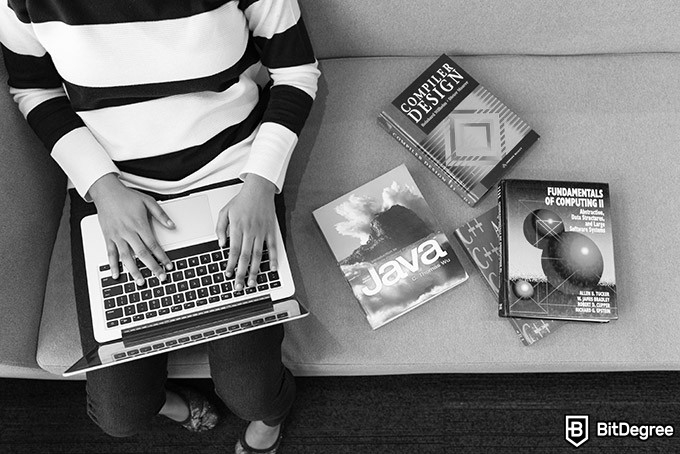 What makes computer science special is the ability to control the interaction between you and the computer. Moreover, by gaining computer science skills, you'll always be an adaptable, evolving, and modern employee. As well as an interesting and skillful person overall.
Could you imagine that great feeling of telling someone that you know how to code? I can. Furthermore, you could as well, by enrolling in this Learn The Art of Mobile App Development — one of the best online coding courses overall.
Additionally, the emphasis of this course focuses on mobile app development. Let's agree that there are millions of apps out there, and they are taking over the world, in a good way.
Whether it's GPS, dating apps, games, social networks, and others, mobile apps play a big role in our lives. And there are new ones being created every day. Want to become a part of it? Perhaps you want to have an impact on smartphone users? If so, right now, you should see the START line.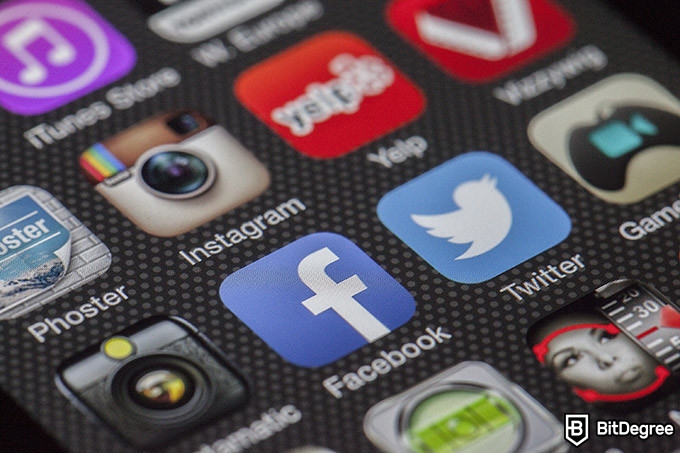 Provided by Harvard University, this course is suitable for those already wandering in the industry and those with no prior experience. Nevertheless, let me add that it is mandatory to have discipline and a topping of motivation. Don't quote me on that, but I believe, motivation isn't enough to achieve your goals.
If you agree with me, high five. If you don't, still, high five.
Jokes aside, students enrolled in this course will learn:
To understand computer science and programming
Abstraction, data structures, resource management, security, software engineering, web development, and algorithms
How to implement an app
How to develop a mobile app
Familiarity with numerous programming languages
How to master components, props, state, style, user input, and debugging
Let's discuss the price a bit. Yes, it's €274. Yes, it's not the most affordable online programming course. Nonetheless, there is a reason for it. One of them is that the program is curated by experts from Harvard University.
Additionally, the program is made from two separate courses:
Introduction to Computer Science
App Development with React Native
Without that, you'll get a professional certificate, you'll be making your own study schedule, and you'll be involved in a professionally guided project. Those €274 shouldn't seem as pricey now, right?
Create your own app, be the best of the best, and brag about it to your friends!
Start the course here NOW.

Platform: edX
Duration: 14 weeks
Price: €218 (free audit available)
Certificate: YES
Level: Beginner
Discount: Available
Apply HERE
Art is essential to science. Even studies show that creativity is a skill that is necessary to develop a successful career[1]. Nevertheless, there is always a debate about that.
Furthermore, did you know that at some point, art and sciences were considered as the same subject? Remembering Leonardo Da Vinci, do you feel that his scientific achievements are more significant than artistic ones? Perhaps they are equal?
Speaking of which, this, another one of the best online coding courses, could be viewed as a combination of the big two's. The creativity and the science.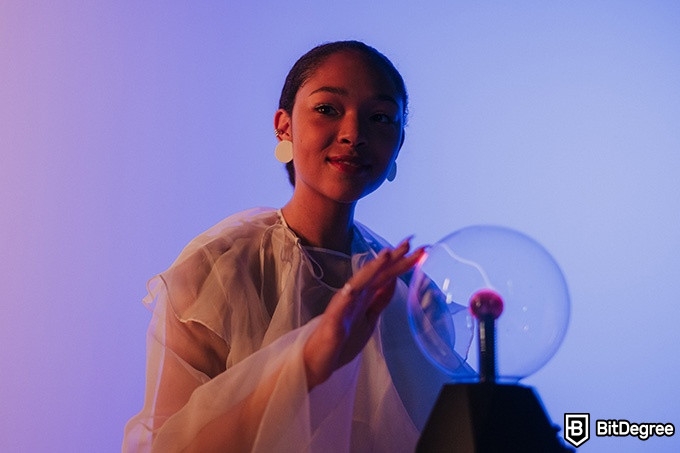 You'll go into a subject that isn't simply coding. Object-oriented programming will be taught for graphic design, digital media, and creative applications. To put it simply, the course focuses on showing how programming allows you to release your inner designer.
In contrast to the Learn The Art of Mobile App Development course above, this one is more oriented towards teaching you to apply programming skills when working with various creative media.
So, if you are one of those people that want to learn by focusing on something specific, and get easily overwhelmed in a vast course that covers all the basics — this choice is for you. Furthermore, even if you are already a coding expert, the material offered in the curriculum is still useful for personal development.
However, worth mentioning that it's essential to have a great understanding of computers and technology. If you struggle with computer literacy — the course might be hard to catch up with.
This online programming course's syllabus is divided into 14 sections, each of which covers the principles of coding as means of expression. The first segment, for example, is devoted to 2D sketching, while the latter section is dedicated to video characteristics.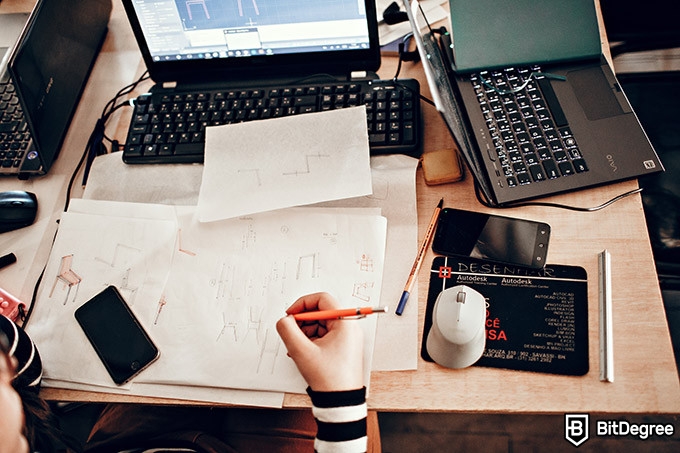 After all of that, there will be the final project, of course. I don't know about you, but if I were to choose the one and only from the best online coding courses, the final project would be a considerable factor when making a decision.
Final projects are a means to see if the course was worthwhile and if you fully comprehended the material. Additionally, students are usually eager to add something fresh to their portfolios.
Those enrolled will learn:
Best practices for designing software within the object-oriented framework
How to design creative works in the medium of software
Cultural literacy of the computational arts by critically engaging with historical and contemporary practices
Personal learning strategies, project planning and problem-solving
P5.js fundamentals
All of that for €218. Also, a free audit is available. Nevertheless, you won't get a certificate, unlimited access, and professional feedback on your work.
Be unique, code creatively.
Start the course here NOW.

Platform: Udacity
Duration: 4 months
Certificate: YES
Level: Intermediate
Discount: Available
Apply HERE
Moving on from the best online coding courses for beginners, to more advanced courses. This Front End Web Developer program is for those who already have a basic understanding of HTML, CSS, and JavaScript.
Furthermore, it's ideal for students, programmers, or someone who had finished more basic courses prior to this one.
Additionally, the program has a list of suggested courses for you to prepare if needed (introductions of the specific subjects).
Led by 4 professional instructors, this online programming course will introduce you to Javascript, HTML, furthermore, how to develop websites and applications using CSS, Flexbox, and CSS grid.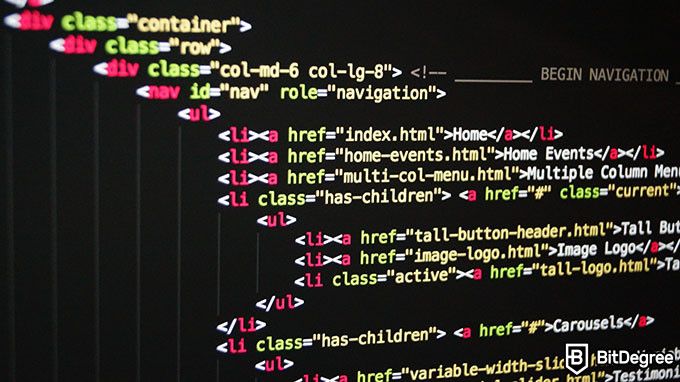 So, you'll learn to work with different tools and even user interfaces applications.
Also, when reading students' reviews, I noticed that one thing they rave about — the course is pointing where to find answers in the future and that there are always people helping you.
As much as the course encourages students to be independent when it comes to studying and reviewing materials, it's also one of the rare online programming courses that issue mentors' support.
After completing this course, you'll have a solid foundation of front-end development and will be able to engage in real-world projects from industry experts. In regards to that, I would dare to say that you'll be able to build websites and apps independently.
The classes are completely self-paced, which means that you get to plan the time to spend studying to fit your daily schedule, and not the other way around. Nevertheless, don't rush it! Ensure that you are taking everything the course offers.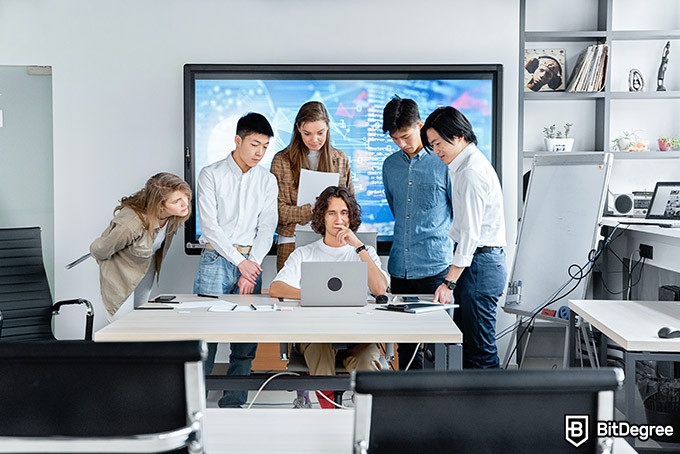 Speaking of pricing, this Nanodegree program is no joke. To enroll in this class for one month, the price would stand for €359. Moreover, if you are eager to finally become a programmer and dive in ultimately, the price for the entire 4 months of this course would be €1236.
Note that Udacity offers personalized discounts.
Besides, take into consideration that the program is prepared thinking of every bit of detail. It includes technical mentor support, student community, and even career services such as LinkedIn profile optimization. As well as, real-world projects that get reviewed by experts.
So, a well-rounded education is guaranteed.
Start the course here NOW.

Platform: Udacity
Duration: 4 months
Certificate: YES
Level: Intermediate
Discount: Available
Apply HERE
Are you looking for the best online coding courses that cover an increasingly popular field — blockchain? This one is the best online programming course, that even gives you the opportunity to work with Bitcoin and Ethereum protocols.
The blockchain database is different from others, since it's managed by the people who use it, and no one is in charge. To learn more about it, this course is a perfect choice.
I advise putting your time and attention into this course if you want to travel down the dynamic route of digital transactions that are spread across the network on blockchain. Of course, there is also money aspects, but we'll get to that later.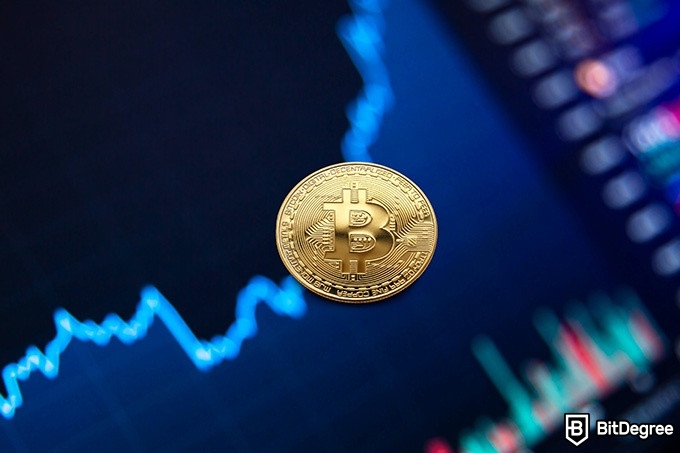 The emphasis of this course focuses on the fundamentals of blockchain development and teaching how to create your own. Keeping that in mind, you'll create your own apps and secure a digital asset with the guidance of the course instructors.
Additionally, I would like to mention that this online programming course is oriented to people that are already comfortable with object-oriented programming and JavaScript. So, if you are a complete beginner, I would recommend coming back to this course after you've gained some experience.
Moving forward to pricing, a month of this Udacity course stands for €359. As for the Front End Web Developer course above, to purchase the full 4-month course, you would need to pay €1236.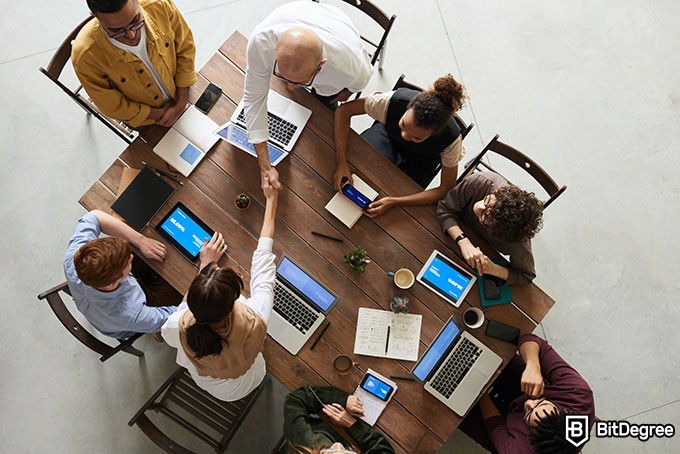 It isn't the most affordable course. Nevertheless, Udacity always offers the best quality, detailed and professional courses that the reviews prove to be worth the price.
Gain the essential skills and begin your career in no time.
Start the course here NOW.

Platform: Coursera
Duration: 4 months
Price: From €49 (free audit available)
Certificate: YES
Level: Beginner
Discount: Available
Apply HERE
This one is quite an extensive Coursera specialization program that talks about all the bits and pieces of programming fundamentals. The best online coding courses like this one focus mainly on adapting programming to your already existing skills, and it could even be the main subject of your other studies.
As the course states, programming is an essential part of any education, not only science. It's the first step into understanding technology's impact on our modern world. You would agree with me, that the importance of technology is undeniable, right?
If so, the course is made for you.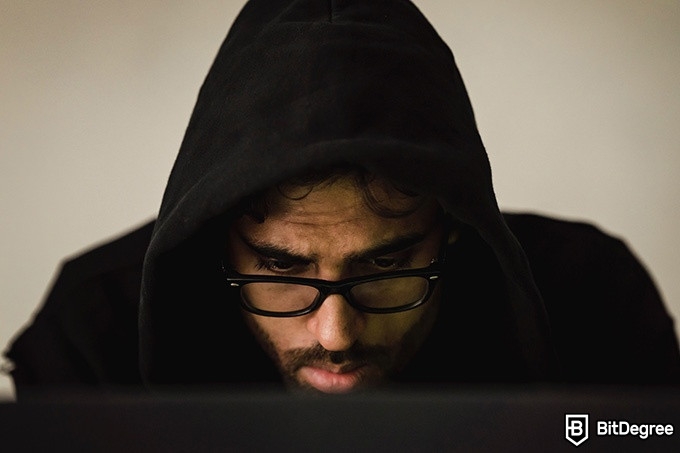 Designed by the University of London and highly rated instructors, the program will take you on a journey starting from the basic programming concepts to mathematics for computer science. Additionally, all the information is backed up with scientific context.
Furthermore, the program is constructed from 3 different, highly rated courses that will ensure to provide you with everything you need to start off your coding game strongly.
By enrolling, students will learn:
Programming principles
Computational tools
JavaScript for creating interactive programs
To develop and use mental models
To convert between number bases, work with modular arithmetic, sequences, and series and plot graphs.
The basics of graphical programs
All in all, the course is quite lengthy (4 months) and extensive, aimed at those eager to learn everything from one, big course. The program will save you time from wandering between short classes. This one has it all in one place.
The best thing is, as you've may have already noticed, I LOVE projects. Well, surprise, it's included in this course. Many courses limit themselves to one final project, however, this one has lots of them throughout all the program.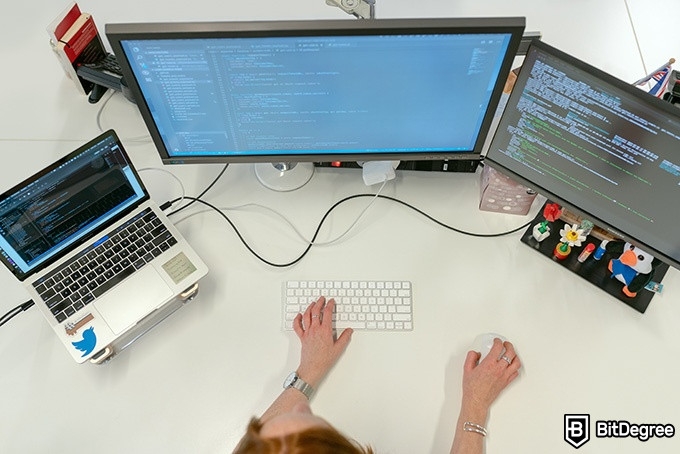 It can be mathematical puzzles, solving crimes in an interactive sleuth application, and solving daily computer problems. The classes are designed to be fun. Keeping that in mind, learning can also be fun.
The great thing about Coursera is that you can take the courses completely free. Nevertheless, if you need a certificate of completion or graded assignments you would need to pay from €49.
Start the course here NOW.

Video games are a massive part of the world nowadays. Keeping that in mind, it has never been a better time to pursue game development. In this case, by using Scratch programming language.
For a bit of context, Scratch is a block-based visual programming language. It's mainly used to create animations and games. Scratch isn't as popular as other programming languages, to say the least, nevertheless, it's a great tool for those who want to create basic, visual stuff.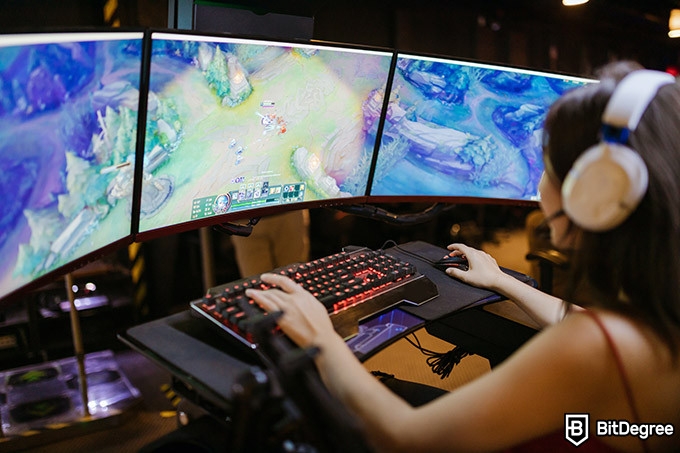 One thing to note about this, one of the best online coding courses, is the duration. The course introduces a new (for some), relatively simple programming language, as well as the design process, and how to debug a program. All of that in only 2 hours.
With that being said, this online programming course is the shortest on this list.
The course instruction will walk you through these steps:
Create an account and navigate Scratch
Navigate the code editor
Game design
Writing main algorithms for the game
Add statements to character control
By looking at the student's reviews, I can confidently say that this is one of the best online coding courses for beginners. Don't get me wrong, it won't make you an expert. Since the course is very simple and short, it could be used as an introduction, before diving in deeper. As for many things in life, getting a grip of a specific, basic code will make it easier to understand more complex ones later on.
As well as engaging in an authentic task while learning is a great way to "test the waters" of programming and see if it's truly something you want to be doing.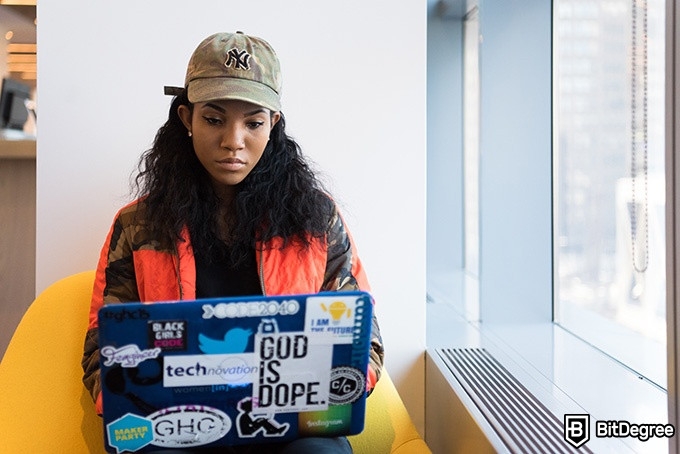 The best thing about this course by far — the price. The classes entirely free of charge. However, if you are interested in online coding courses with certificates, this option isn't for you.
Additionally, the lessons are fully hands-on practical sessions. So if you are looking for more theoretical information, you might want to look at the other courses mentioned.
All in all, I would recommend this course as a quick and fun stop before getting into the more serious programming.
Start the course here NOW.
Conclusions
Programming is one of the most popular fields to study these days. The amount of courses, classes, programs on the topic is constantly growing. Because of that, you need to make sure to choose the option out there.
All of the best online coding courses in this article are currently available at the top MOOC platforms such as Udemy, Udacity, Coursera, and edX.
If you are a newbie and have no idea "what is coding classes", I would recommend starting from the introductory courses. So you could get a better idea of what coding is overall. All the fundamentals are essential when stepping into a new field.
Remember, the list includes courses that provide professional certificates and Nanodegrees. Something to keep in mind when choosing.
Now, take the Aladdins offer, jump on the magic carpet, and sign "a whole new world," adding "of coding" to the end.
I am hilarious, I know.
Scientific References
1. Isabel Reche, Francisco Perfectti 'Promoting Individual and Collective Creativity in Science Students'
Leave your honest feedback
Leave your genuine opinion & help thousands of people to choose the best online learning platform. All feedback, either positive or negative, are accepted as long as they're honest. We do not publish biased feedback or spam. So if you want to share your experience, opinion or give advice - the scene is yours!