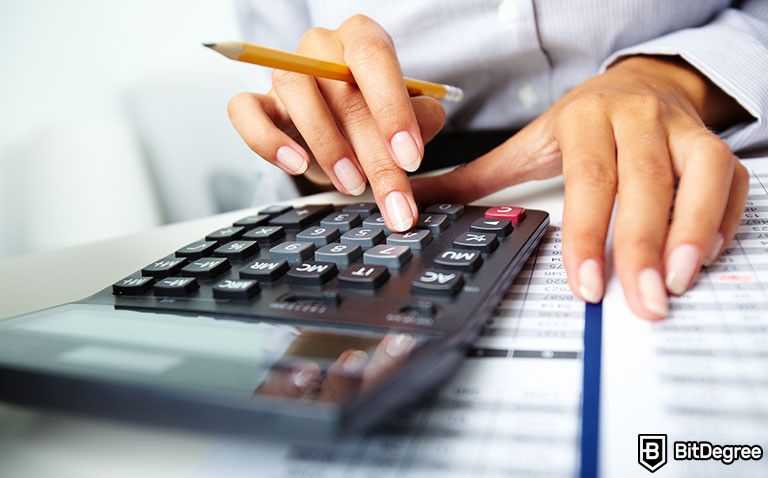 Did you know that FBI accountants were the ones to bring down America's most powerful gangster, Al Capone? Yes, you read that right. Thanks to Frank Wilson and forensic accounting, the mob boss was charged with tax evasion (out of all things!) and sentenced to 10 years in prison.
Now, even if taking down gangs is not really your thing, you can still do great things with accounting skills up your sleeve. With these online accounting courses, you will be out there in the market real soon!
In this article, you'll find 8 best options for online accounting classes (forensic accounting included) on some of the top e-learning platforms like Coursera, edX, and Udemy. There are courses for beginners as well as more advanced students, so you'll definitely find one that suits you!
To help you decide, I've also included various reviews and comparisons of those platforms, so no worries - after reading this article you will be well informed to finally choose the right course. Also, here's a little extra: keep an eye out for our coupons, scattered throughout the article. They will save you a ton of money and you'll be able to purchase courses with up to 100% discount!
Best Online Accounting Courses Right Now
I've researched many courses throughout different platforms and picked the best options in various subjects in terms of user ratings and reviews.
Latest Udacity Coupon Found:
SAVE 75%
Udacity Black Friday Offer
The best time to save on Udacity courses is now - follow this coupon to access 75% Udacity Black Friday discount on all courses & enjoy top-quality learning for less!
Expiration date : 10/02/2023
3,176 People Used
Only 97 Left
Let's begin!
If you aren't familiar with the online learning platforms that I mentioned yet, read my extensive reviews by clicking on the links below:
These are some of the most popular online platforms available right now. All of them offer courses on a big variety of subjects, offered by well-known universities and taught by experts. Thousands of students have used them and learned new skills that they applied in their degrees, professions, and everyday life!
Free Accounting Courses Online with a Certificate: How Does It Work?
Okay, so here's the thing: both Coursera and edX allow you to access many courses for free. However, a certificate is most often paid for. When it comes to individual courses, they aren't too pricey.
Having said that, there is a way to access free accounting courses online with a certificate on Coursera. Yep, you won't have to pay a penny. One way to achieve this is to apply for Financial Aid or a Scholarship offered by the platform.
Here's how it works: choose the course you like, send in your application for Financial Aid (or a Scholarship), and wait for Coursera to reply. If your application is successful, you get full access to that course AND a certificate as long as you finish the course within 180 days of your Financial aid application. After that, you will have to purchase the certificate.
Alternatively, make use of our coupons and get the best deals today!
If you haven't taken an online course before, there's a chance you're still unsure whether it's a good idea to take accounting classes online.

Pros
Simplistic design (no unnecessary information)
High-quality courses (even the free ones)
Variety of features
Main Features
Nanodegree programs
Suitable for enterprises
Paid certificates of completion

Pros
Huge variety of courses
Easy to navigate
No technical issues
Main Features
Huge variety of courses
30-day refund policy
Free certificates of completion

Pros
Easy to use with a learn-by-doing approach
Offers quality content
Gamified in-browser coding experience
Main Features
Free certificates of completion
Focused on data science skills
Flexible learning timetable
Are Online Accounting Courses Worth It?
You may still be asking yourself, "hmmm, but why take an online accounting course? Wouldn't it be better to study in a classroom?"
Well, let me help you out here. Of course, studying online is different from studying in a classroom in many ways, but it's important to understand that studying online does not imply lower quality. That is a big fat myth.
As with anything else, some courses are great, some are so-so. Therefore, it's important to do good research before you embark on an online education boat, just like you would with any classroom-based course (fun fact: that's why I wrote this article).
After that, it's up to you how much effort you put into learning a subject and therefore, how much you will gain from the course. As good as the course may be, it won't do all the hard work for you.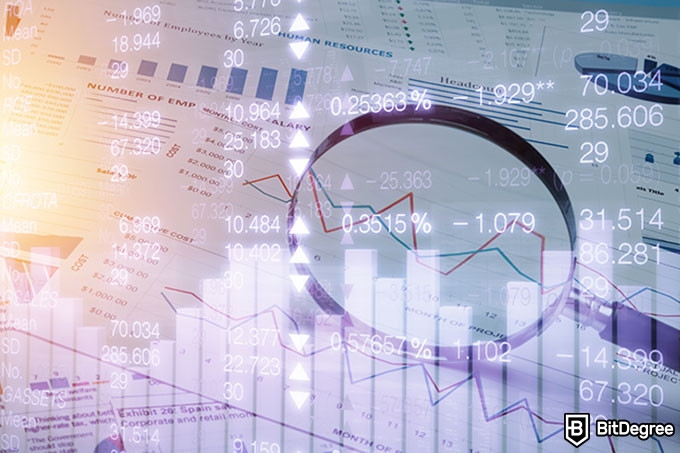 Benefits of Taking Accounting Classes Online
There are many.
I'll name a few that will help you make up your mind (to study online):
#1. Quality Material
All the courses on edX and Coursera are offered by officially recognized universities. Udemy courses on this list are taught by instructors who are experts in their field. Rest assured, I wouldn't be suggesting these courses if not for the amount of positive feedback they've already received from students.
#2. Flexibility
You're completely in charge here. You choose where and when you want to study. You choose your own pace. Plus, you don't have to worry about getting to the classroom, so it gives you more time to do other things. This is an especially attractive aspect of online learning for those who have jobs or families to look after.
#3. Reliability at Times of Uncertainty
If you think about all the chaos Coronavirus caused not only in our lives but also in the traditional education system, e-learning seems like an ideal option. Classes won't get canceled, "schools" won't shut down, and you won't have to sit in a stuffy classroom. You can spend the whole day studying in your PJs!
#4. Advance in Your Career
Accounting is a great skill to have in whatever area you work in, as it is the backbone of any successful business or organization[1]. Accounting skills not only will help you make better decisions and become a highly valued member of any team, but also make you a better-equipped businessperson.
Plus, taking accounting classes online doesn't require you to quit your current job, as you can easily combine work and study.
Those who possess accounting skills can also work in different companies and organizations such as public sector agencies, state agencies, private sector companies, academic institutions, and even as independent consultants.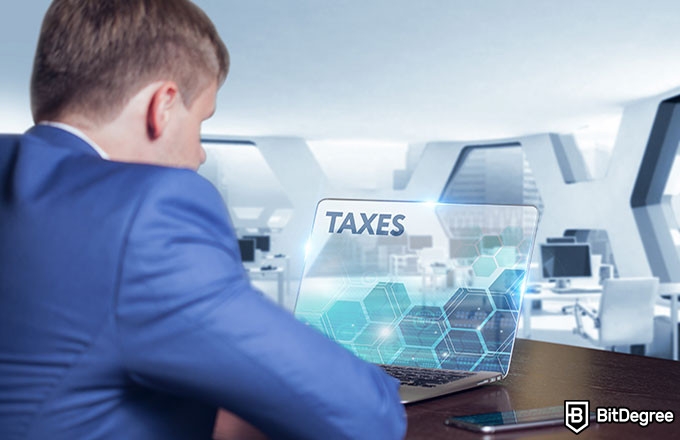 To answer in short, of course they are worth it! Online accounting courses on this list are reliable, flexible, affordable, and they can change your life (what if you become the next Frank Wilson?)
It's about time to learn something new!
Ready? Let's take a look.
Top 8 Best Online Accounting Courses and Specializations
Come on, don't back down now! You've already made it to this article, now all you need to do is choose the course that you like best and enroll while you can! With the number of students joining online courses growing (or should I say exponentially growing) every day, especially with COVID-19[2], who knows how long you'll be able to access these for free?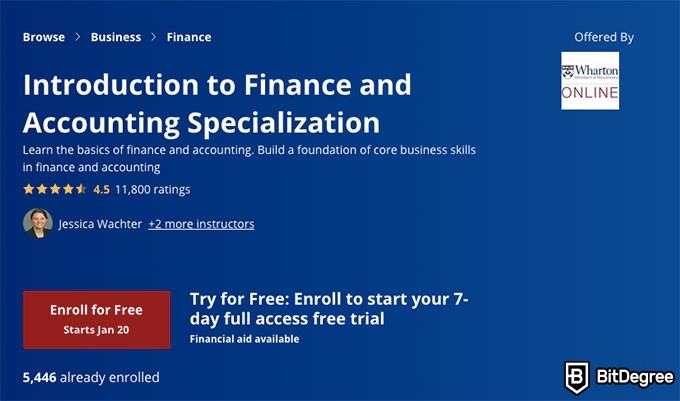 Platform: Coursera
Offered by: The University of Pennsylvania
Duration: 〜 5 months, if you study 2 hours per week
Price: check their website
Certificate: Yes (paid)
Level: Beginner
Where to apply? Here
This specialization involves 4 separate courses that are ideal for newbies in the field. As the name suggests, it introduces students to the world of accounting and corporate finance within the context of real-life situations.
It doesn't require much previous knowledge. All you need to enroll is some basic mathematics skills and the willingness to learn.
After completing this specialization, you will be able to classify cash flows, differentiate between NPV and Internal Rate of Return (IRR), understand compounded and discounted cash flow valuations, and apply these to your decision-making processes.
Here are 4 courses that form part of this specialization:
This course will take you through key concepts like NPV, Compound and Simple Interest, Annuities versus Perpetuities, and teach you how to use them in calculating risk and returns to optimize investments. It is for students who haven't studied accounting before and for anyone who just needs to refresh their memory on the matter.
All the teaching material in this specialization comes with subtitles in English, Arabic, French, Portuguese (European), Chinese (Simplified), Italian, Vietnamese, Korean, German, Russian, Turkish, Spanish, and Japanese.
This course dives deeper into some key concepts of accounting, such as time value of money, risk-return tradeoff, cost of capital, interest rates, retirement savings, mortgage financing, auto leasing, capital budgeting, asset valuation, discounted cash flow (DCF) analysis, net present value, and more. This is where you'll get to apply your knowledge to real-life situations and make decisions about businesses as you would in real life.
Detailed analysis of financial statements, such as the income statement, balance sheet, and statement of cash flows is at the core of this course.
This course forms part of Business Foundation Specialization on Coursera, which means it counts towards your learning in that specialization too, so you wouldn't have to complete it twice. Besides, if you wish to work in corporate accounting or start your own business, combining these two specializations is not a bad idea.
Take a step further and learn the ins and outs of financial statements. You'll want to complete the Introduction to Financial Accounting course before you move onto this one, as it covers more complex topics of Assets, Liabilities, and Stockholders' Equity, bank debt, mortgages, and bonds.
Click here to start now if you like the idea of combining all of these courses in one specialization.
Coursera Deal Active Right Now:
100% Free
Selected Coursera Courses
Take advantage of 100% free online Degrees and Certificates on Coursera & master your skills. Follow this Coursera coupon link to access the courses.
Expiration date : 10/02/2023
2,871 People Used
Only 29 Left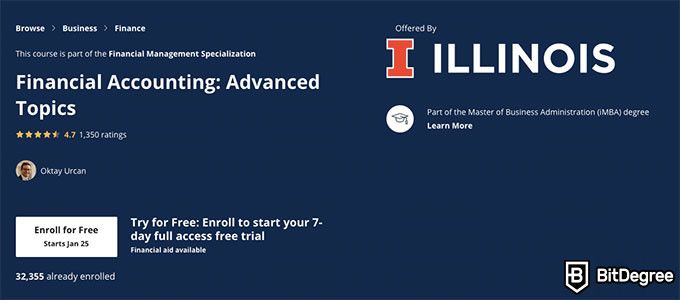 Platform: Coursera
Offered by: University of Illinois at Urbana-Champaign
Duration: 〜 13 hours to complete
Price: Free (to enroll)
Certificate: Yes (paid)
Level: Intermediate
Where to apply? Here
Looking for free online accounting courses? Look no more. Coursera allows you to "audit" this course for free. This means that accessing most of the material costs nothing. Pretty good, isn't it?
This online accounting course is for students who already have some experience in accounting. It is a well-organized course that covers more complex subjects in way that is relatively easy to understand, and it uses actual examples to support the ideas presented in lectures.
Keep in mind, though, that there's a fee if you wish to receive a certificate and have your assignments reviewed by instructors. This is how most of the free accounting courses online with a certificate work.
Check out our coupon for the best deals available right now. Grab them while you can!
In Financial Accounting: Advanced Topics, you'll explore various factors that affect the financial health of a company, understand how major financing sources such as long-term assets, liabilities, and shareholder's equity are created, how they're valued, and how they affect the liquidity position of the company.
Topics covered:
Accounting for long-term assets
Accounting for liabilities
Accounting for shareholder's equity
Cash Flow statement
This is the second course of Financial Management Specialization. It also forms part of the 100% online Master of Business Administration (iMBA) from the University of Illinois at Urbana-Champaign. This means that if you get accepted into the program, completing this course will count towards your final degree.
Teaching material comes with the following subtitles: Arabic, French, Portuguese (European), Chinese (Simplified), Italian, Vietnamese, Korean, German, Russian, Turkish, English, Spanish.
Coursera Deal Active Right Now:
100% Free
Selected Coursera Courses
Take advantage of 100% free online Degrees and Certificates on Coursera & master your skills. Follow this Coursera coupon link to access the courses.
Expiration date : 10/02/2023
2,871 People Used
Only 29 Left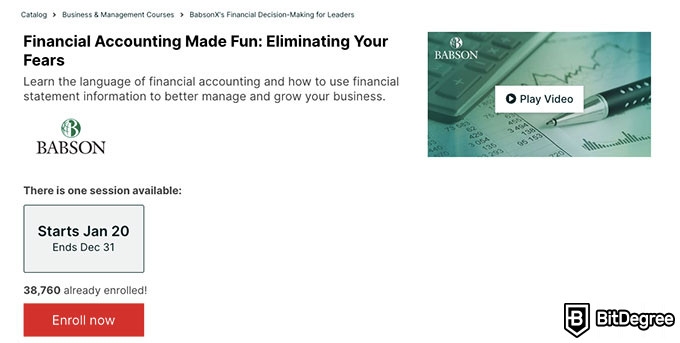 Platform: edX
Offered by: Babson College
Duration: 〜 4 weeks, 4-6 hours of studying per week
Price: Free (to enroll)
Certificate: Yes (paid)
Level: Beginner
Where to apply? Here
Do financial terms sound to you like some sort of gibberish? You're not alone. There are many students who can't wrap their heads around the accounting terms. Let me tell you something: no more running away from it! This course is designed to introduce you to all the basics and it promises to make financial accounting fun!
It's time to overcome your fear of accounting.
If the idea of fun accounting didn't convince you, maybe this will - this is a free online accounting course. Well, technically. Similar to courses on Coursera (click here for an extensive edX vs Coursera comparison), all the material is free to access. You'll only have to pay if you want to purchase a verified certificate.
Don't get discouraged though, with our edX coupon you can get discounts on many courses on edX right now. If you want to find out full prices for the course, it's best to check their website, as they often change so it's hard to keep track.
[featured-coupon review_id="140"]
Anyway, back to the course: Babson college provides an online accounting course Financial Accounting Made Fun on edX, in which you'll finally get to create simple hypothetical companies and various scenarios, and use them to construct main financial statements, differentiate between cash and profits, evaluate the performance of a business using performance ratios, and create financial forecasts.
You'll really get to feel like a highly knowledgeable businessperson or accountant - don't miss the chance! Start the course NOW.
Topics covered:
Balance Sheet and Transaction Analysis
Income Statement and Cash Flows
Ratio Analysis
Forecasting
This course is part of the Business Principles and Entrepreneurial Thought XSeries. Enroll now.
[featured-coupon review_id="6"]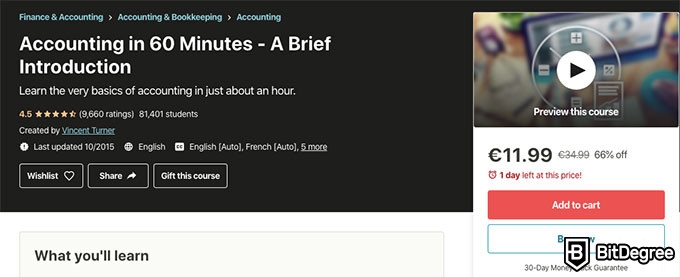 Platform: Udemy
Offered by: Vincent Turner
Duration: 〜1 hour on-demand learning material
Price: $42 (no discount)
Certificate: Yes
Level: Beginner
Where to apply? Here
With 81,388 students, this speedy accounting course is one of the most popular courses on the platform. It's perfect for everyone who needs to brush up on some basic accounting skills quickly. If you studied accounting at school but have forgotten most of it (no judging) and need to bring that knowledge back to life - enroll now. It will certainly be an hour well spent!
The course is taught by Vincent Turner, a holder of MSBA and a Certified Information Systems Auditor, who's been teaching students basic accounting for over 10 years.
Topics covered:
The Accounting Equation (One you can understand!)
Balance Sheets
Income Statements
Debits and Credits (And how to know which is which!)
Why Profit Does Not Equal Cash!
One of the best things about Udemy courses is their convenience. You can access your course literally anywhere, at any time! You don't even need a computer to do it - Udemy has developed an app that allows students to log in and get on with studying within seconds.
In terms of prices, Udemy platform can seem a bit tricky. Some of the courses are a little pricey if you purchase them for the full price. However, many of the courses go on sale a few times per month. This means you can buy a 42$ course for as little as $16.
In case want to access the course right now and you don't fancy paying the whole price - use our coupons that will give you huge discounts on many Udemy courses.
[featured-coupon review_id="136"]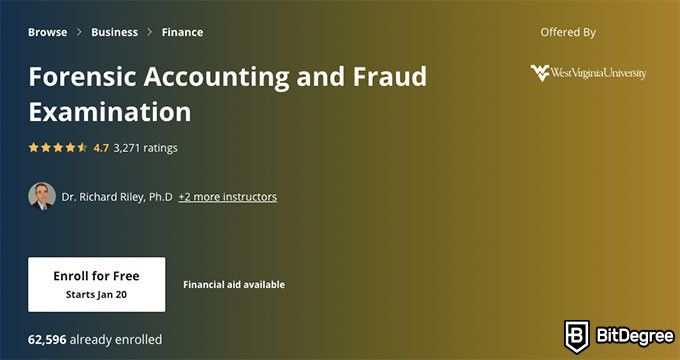 Platform: Coursera
Offered by: West Virginian University (LINK)
Duration: 〜 7 hours to complete
Price: Free (to enroll)
Certificate: Yes
Level: Introductory
Where to apply? Here
Remember the whole deal with Al Capone and forensic accounting? This is your chance to learn more about it, and to get into the minds of fraudsters. Who commits fraud? Why? How? These are the questions you'll be answering in this exciting course lead by three professors from the University of West Virginia.
Topics covered:
The Accidental Fraudster
The Predator Fraudster
Big Data, Benford's Law and Financial Analytics
Cyber-Crime and Money Laundering: Contemporary Tools and Techniques
Whistleblowing
This is a short introductory course designed for students who are planning a career in forensic accounting (for example switching from tax accounting) or simply want to learn more about the world of fraud. It won't prepare you for a job in forensic accounting, but it will definitely be a good start.
Teaching material in this course comes with subtitles: Chinese (Traditional), Arabic, French, Portuguese (European), Chinese (Simplified), Italian, Vietnamese, Korean, German, Russian, Turkish, English, Spanish
Ready? Start the course NOW.
Coursera Deal Active Right Now:
100% Free
Selected Coursera Courses
Take advantage of 100% free online Degrees and Certificates on Coursera & master your skills. Follow this Coursera coupon link to access the courses.
Expiration date : 10/02/2023
2,871 People Used
Only 29 Left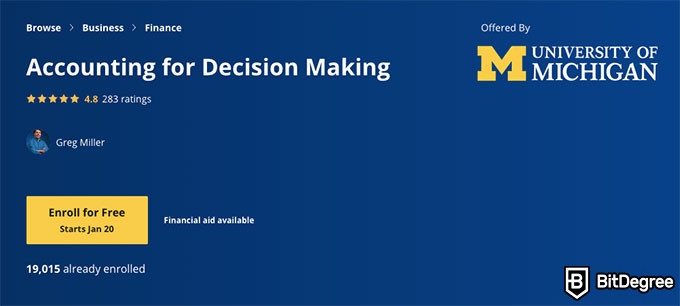 Platform: Coursera
Offered by: University of Michigan (LINK)
Duration: 〜 29 hours to complete
Price: Free (to enroll)
Certificate: Yes
Level: Intermediate
Where to apply? Here
What's a good tool to help you make better (financial) decisions? You guessed it, it's certainly accounting, and everything that comes with it.
In this course led by Greg Miller, professor at Ross School of Business, you'll answer the big questions of accounting and more using balance sheets and income statements. It includes all the same topics that you would come across in the MBA course. University-level course from the comfort of your couch, isn't the 21st century the best?
You'll learn about making sales and building inventories, and later on, building ratios, among many other extremely useful accounting tips and tricks that will make you a better accountant.
What makes this course stand out is the way the instructor approaches complex issues. Instead of focusing solely on numbers and answering "how" you get those figures, he asks questions like "why does it work this way? Why do accountants make this choice? Why did they trade off this way of thinking about it versus that way of thinking?"
Topics covered:
Why Do We Have Accounting and How Can You Make it Work for You?
The Accounting Cycle and Bookkeeping: Foundational Tools for a Deeper Understanding
Revenue, Accounts Receivable, Inventory and Cost of Goods Sold
Long-Lived Assets
Liabilities and Stockholders Equity
Cash Flow Statements
Ratios and Course End Assessment
By the way, you can also take this course to qualify for the residential component of the Finance for Strategic Decision-Making Executive Education program. It is basically a combination between MOOCs (Massive Open Online Courses) and face-to-face instruction in an open-enrollment offering.
The University of Michigan is a highly valued institution all around the world. Guess what? They offer more courses you can enroll in. Check out this list of best online courses offered by the University of Michigan and discover more!
Coursera Deal Active Right Now:
100% Free
Selected Coursera Courses
Take advantage of 100% free online Degrees and Certificates on Coursera & master your skills. Follow this Coursera coupon link to access the courses.
Expiration date : 10/02/2023
2,871 People Used
Only 29 Left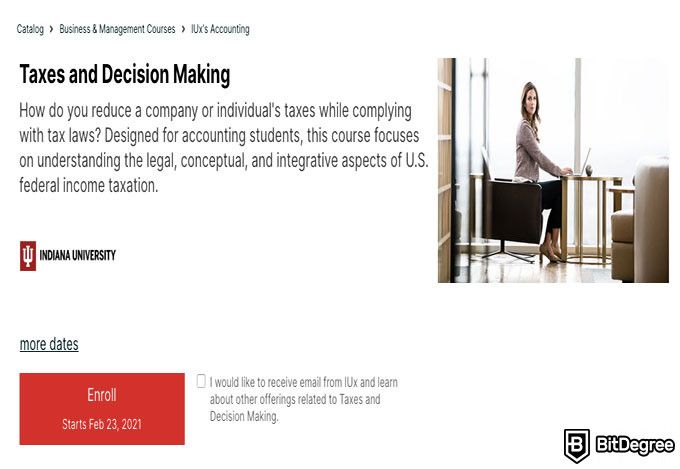 Platform: edX
Offered by: University of Indiana
Duration: 〜 12 weeks (8-12 hours per week)
Price: FREE
Certificate: Yes (paid)
Level: Advanced
Where to apply? Here
Do you want to learn about one of the most influential laws there is? Yep, the income tax law. Understanding how you can make it work for you or your business will surely make you stand out as a professional.
So, want to know how to reduce the present value of income taxes? This course will teach you everything you need to know about U.S. federal income tax and provide you with the knowledge to make the right decisions and maximize returns.
It is a valuable addition to any accountant's set of skills, as income tax affects literally any business (or individual).
This course is marked as an "advanced" course on edX, therefore you should have an understanding of basic accounting before you enroll in this course. This way you will be able to gain the most out of all the material presented.
If it's the world of taxation you're interested in, but don't have the foundations yet, consider combining this course with one of the introductory courses on this list.
Topics covered:
How to apply federal income tax laws to income taxpayers, (individuals and businesses)
How to use basic finance tools to help taxpayers and businesses make decisions that maximize after-tax wealth or earnings
How to differentiate federal income tax laws from financial accounting standards
Keep in mind that you will have to purchase a textbook to complete this course. Don't worry, you won't have to browse the library, there's an e-book available and you can choose between purchasing it permanently or renting it for a specific amount of time.
[featured-coupon review_id="6"]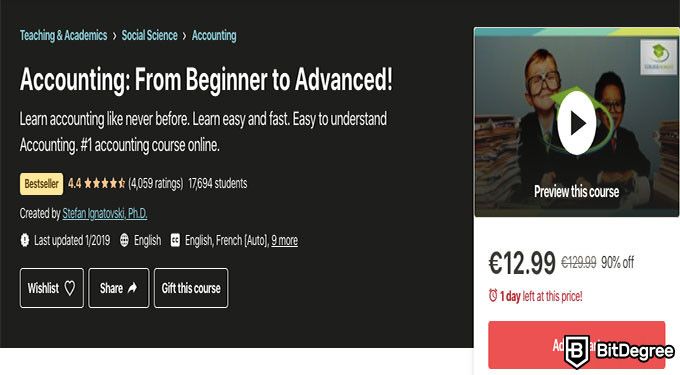 Platform: Udemy
Offered by: Stefan Ignatovski
Duration: 〜 4 hours on-demand video
Price: $158 (no discount)
Certificate: Yes
Level: Beginner
Where to apply? Here
100% one of the best online accounting courses - Accounting Classes: from Beginner to Advanced proudly stands as a #1 accounting course on Udemy.
It is taught by an accounting professor, forensic accounting expert, author, investor, and entrepreneur - Stefan Ignatovski (seems like a cool guy, doesn't he?). This course will take you on a real accounting journey - you'll start by dipping your toes into the world of accounting and soon learn to navigate the wide sea of digits and decisions.
This extensive course is for business owners, students, accountants, exam takers, bookkeepers and anyone who's interested in this field. Charismatic Stefan will make sure you get it!
What makes this accounting course unique? Mainly, it's how the course is structured. The instructor presents every subject in videos that are no longer than 5 minutes each, which saves you from being bombarded with too much information all at once.
Since this is a problem that many of us face when learning something new, this structure makes the course very attractive. I'm not kidding, it has already won the hearts of 17,600 students.
Topics covered:
Debits and Credits
Journal Entries
Adjusting Entries
Deferrals
Accruals
Accounting Cycle
FIFO LIFO
Bank Reconciliation
Internal Controls
Petty Cash
Bad Debts
Depreciation
Bonds
Stocks
Dividends
Statement of Cash Flows
As of January 19, 2023, this course costs $15 (quite a difference from its full price, hey?). This happens regularly. Udemy often drops course prices significantly, which is when most people make their move. If you think about it, it's truly an amazing value for the price. If I were you, I'd go grab it now.
Alternatively, here's a coupon for you to use. Consider it your lucky day!
[featured-coupon review_id="136"]
Conclusion
Of course, as promised, here are some comparisons. Both edX and Coursera are more similar in the sense that they both collaborate with well-known universities to offer the courses. Udemy, on the other hand, is slightly different because individual instructors are the ones who create the courses. Therefore, I've included a table to show you the main differences between edX and Udemy.
So to wrap it up, if you require a formal certificate to prove certain skills, choose edX or Coursera platforms. Coursera offers specializations while edX doesn't, so if you don't want to bother looking for separate courses but you'd like an in depth learning material on introduction to accounting - choose the accounting specialization on Coursera.
Not all the courses have the same difficulty level, just as they don't cover the same topics. For example, Financial Accounting: Advanced topics or Taxes and Decision Making courses will not suit beginners. All the other courses are possible for beginners to grasp, as most of them include learning the fundamentals.
Make sure the topics covered in the course are what you're looking for. If you're interested in forensic accounting, or the philosophy behind committing fraud - choose Coursera's Forensic Accounting Course.
The short course on Udemy is perfect for all the busy bees who are highly self-motivated students, as Udemy doesn't offer graded assignments, or student forums to join. That's not to say that their courses value any less, it simply all depends on the type of learner you are and your, as a student, needs. If you are into a more informal type of learning and trust yourself to do the work - Udemy is the option for you. It's quick, simple and you get full lifetime access to the courses.
Scientific References
1. Inland Press: Accountants the Backbones of the Business World
2. European Centre for the Development of Vocational Training: Coronavirus Boosts Interest in Online Learning
Leave your honest feedback
Leave your genuine opinion & help thousands of people to choose the best online learning platform. All feedback, either positive or negative, are accepted as long as they're honest. We do not publish biased feedback or spam. So if you want to share your experience, opinion or give advice - the scene is yours!