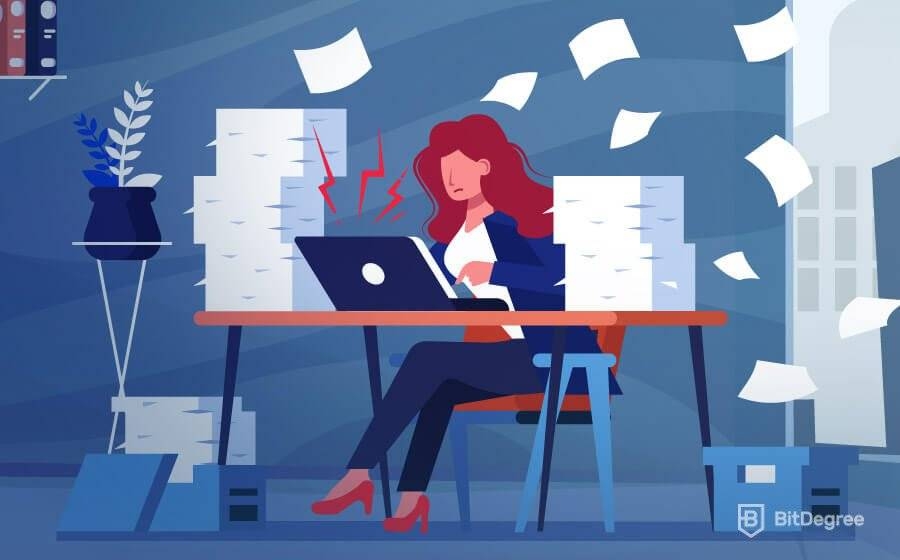 All of the best CMS platforms let people create web pages from provided templates without having to write code to create the basic structure for websites.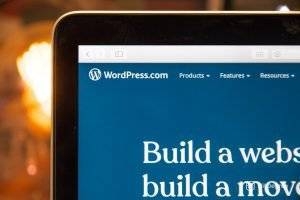 A content management system (CMS) refers to a piece of software that helps people with no programming experience create, control, edit, style, and publish content on the Web.
Therefore, content management systems provide a simplistic way of managing content and documents. You do not have to know CSS or HTML to make your text bold or to divide a piece of text into a bullet list.
For instance, you can write or copy-paste your text into WordPress and edit it the way you do on Microsoft Word or LibreOffice.
What is a Content Management System, and why should you choose it?
Content management systems are basically software that you can use for managing your documents and/or prepare them before publishing them on the web. Even though people won't be writing code, they will be using the already prepared HTML classes and styling properties of CSS.
Latest DataCamp Coupon Found:
EXCLUSIVE 25% OFF
On DataCamp Subscriptions
Follow the Datacamp promo code link & get an exclusive 25% OFF Datacamp subscriptions. Act now while the offer is still available!
Expiration date : 13/06/2023
2,765 People Used
Only 35 Left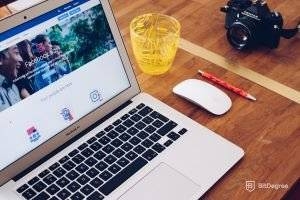 For people that have no technical background, this option of simply editing documents is an advantage. However, developers can take matters into their own hands as well.
WordPress is one of the examples of content management systems, and it offers two options for file editing: visual and text. The text mode shows all of the HTML and CSS code that creates the visual effect users see. Therefore, developers can easily manage their content by adding different styling properties and classes.

Did you know?
Best CMS advantages: easy to use, no coding experience necessary
The user communities highly appreciate the best CMS systems because of the following reasons:
Content management systems do not require you to have any programming or coding skills. Everything is done simply and cleanly as if you are managing content in a standard text editor. You might not realize, but you are secretly using many pre-defined HTML classes and blocks of styling properties.
If developers want to include extra styling rules, they can easily do this by taking advantage of the more tech-oriented editing modes.
The content management system software usually offers a clear-cut dashboard and user interface with separate sections for handling different parts of websites. For instance, there are categories for editing and publishing documents, managing comments, or reviewing additional tools installed for the website.
The dashboard also provides general information about your website from its SEO status to the latest updates that you can take advantage of to improve security or other aspects of your website.
Content management systems offer a great variety of templates and themes that you can choose for your website. Basically, a template represents the basic structure and the position of various navigation menus. When you first create a website, you will immediately see the full product. All you have to do is replace the generic information with original ideas.
All best CMS platforms have the feature of helping you store text documents, images, videos, and other types of content. Additionally, there is an easy select-and-upload way of adding pictures or videos to the posts you intend to publish on the web.
More benefits: installing plugins, localization, and scheduling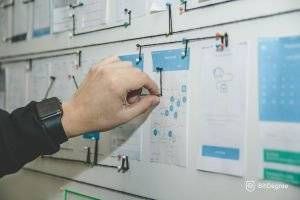 We have already mentioned that the main navigation menu of CMSs have a category of additional tools. This feature refers to the fact that you can install plugins that will improve the way your website looks or works. For instance, you can install SEO-oriented plugins that will help you make your website and posts more search-engine-friendly. Additionally, you can use plugins to add methods for payment processing.
A handy feature is scheduling post publishing. You can set the exact time when content needs to be published. Therefore, you can write posts in advance and set them for publication the next day or week.
They offer a lot of features for managing content like dividing texts into headings, sub-headings and indicating keywords for your posts.
Since people use pre-defined templates and structures in content management systems, there is no need to adjust the way your website will look on different screens and devices.
If your targeted audience includes people from countries speaking in different languages, you might need to apply localization to make your website more inclusive. Not all CMSs are capable of translating content in several target-languages, but some offer this feature. For this purpose, it is Ektron, Sitecore. However, similar features exist in WordPress and Joomla as well.
The best CMS: Wordpress?
The list of best CMS platforms begins with WordPress, one of the most widely used systems around. Before starting to talk about its capabilities and benefits, we need to state the difference between Wordpress.org and Wordpress.com.

Wordpress.org is an open-source project, supported by the WordPress Foundation since 2010. It is a free content management system, but there are some explanations when it comes to managing a website for free. The actual services of Worpress.org are free, meaning you do not have to pay a dime to install the software. However, every website needs to be hosted somewhere. In simpler terms, its like renting a space for your content on the Internet.
Wordpress.com offers a way of hosting your website for free as long as you have no problem with additional advertisements that cover the hosting expenses. Therefore, the free-hosting option is not great for businesses as the bandwidth and speed of such websites are limited. Additionally, you might also want to get rid of the advertisements cluttering your site. If you want to learn more about how can you use Wordpress, be sure to enroll in our Wordpress training course.

Main benefits
WordPress is probably one of the classic examples of content management systems as it offers the majority of features we mentioned in the previous section. It provides:
Simple interface to manage your content.
Flexibility when it comes to the type of website you want to create.
Tools for publishing such as scheduling of publications.
Easy text editor to divide your content into sections and style them.
Secure system for storing and uploading images.
Ability to use plugins and extend the features of your website. Some of the plugins are free, while others cost money.
SEO-friendly management of the website to make it rank higher in search engines.

Pros
Easy to use with a learn-by-doing approach
Offers quality content
Gamified in-browser coding experience
Main Features
Free certificates of completion
Focused on data science skills
Flexible learning timetable

Pros
Simplistic design (no unnecessary information)
High-quality courses (even the free ones)
Variety of features
Main Features
Nanodegree programs
Suitable for enterprises
Paid certificates of completion

Pros
Huge variety of courses
Easy to navigate
No technical issues
Main Features
Huge variety of courses
30-day refund policy
Free certificates of completion
Free hosting options
Some people might be interested in hosting their WordPress (or other) websites for free. Fair warning: usually, these options have fewer features and other limitations.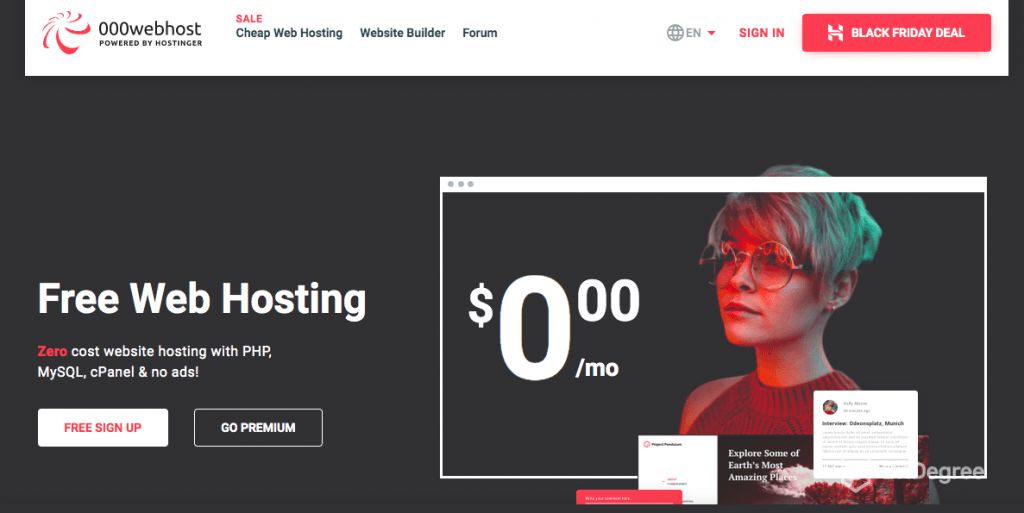 000webhost: you can host your WordPress with this service, but there are quite a few downsides to this option. Indeed, 000webhost offers considerably high-speed and no additional advertisements. However, websites hosted for free will have at least an hour of downtime every week or so. If your site is business-oriented, this feature can cause some serious loss of assets every month.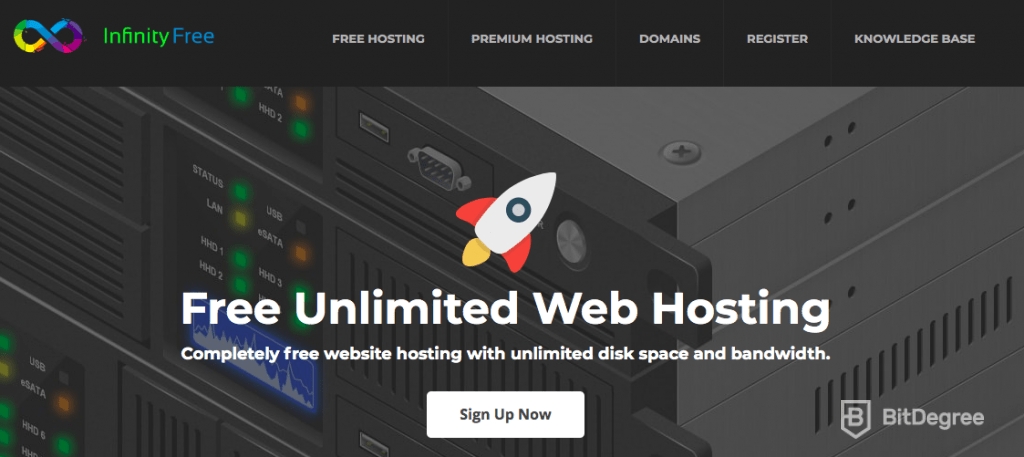 InfinityFree: this service seems pretty great on the surface. Unlimited bandwidth, unlimited disk space, decent uptime. However, there are some severe limitations when it comes to the types of content that users can upload. Additionally, violations of terms and conditions document might lead to suspension or even removal of your website and its data.

Hostinger: this option is not free, but a dollar per month seems like a reasonable price to pay for a more stable and efficient web-hosting. With the cheapest hosting plan, you get unlimited websites, email accounts, bandwidth, and even memory backups every week.
Wix
Wix is a cloud content management system. One of the main features of Wix is its unique website-builder allowing you to drag and drop.
Additionally, Wix is a free content management system (to a certain extent). For instance, the free plan does not let you create a unique domain name, which might be essential for making a business appear more professional. Websites that follow the free plan will have the subdomain of wix.com. Which makes them one of the best CMS choice when you're just starting out and don't want to invest a lot of money.

Of course, you need to set up a hosting service for your website as well. Wix offers both paid and free hosting. With the paid plan, you will get more features and functions that are not available for users not paying a dime.
A website from Wix has a free hosting, offering 500MB of bandwidth and 500MB of cloud storage. Premium plans extend the cloud storage to 20GB and unlimited bandwidth. If your website is growing, you might need to switch to the paid plan to have more space for files.
Here are a couple of features that put Wix in this best CMS list:
Users have a lot of opportunities for customization of websites. For instance, you can modify default templates and make them more fitting to your brand.
Fun and easy website builder allowing you to adjust the organization of your website.
SEO-friendly management of content.
User-friendly interface.
Wix websites are all hosted by Wix hosting services. This feature might be considered useful, but it might be annoying that you cannot switch to another service. For instance, WordPress websites can be hosted on WordPress but are not restricted from trying other hosts.
Is Wix the best CMS you can find? It depends. While Wix offers flexibility in terms of customizing your website with the tools integrated into its website builder, it is more limited.
Joomla
Joomla lets users create websites and links them to MySQL, MySQLi, or PostgreSQL database. This CMS has a built-in feature for helping developers localize their websites. Therefore, it is easy to reach the multilingual edge over your opponents.
For instance, the localization of WordPress websites can only occur if you install an additional plugin.

People sometimes indicate that the interface of this CMS is a bit more complicated than, let's say, WordPress. Such a claim is confirmable, but in our eyes, the differences are only minor.
In fact, Joomla has most of the standard features to be treated as one of the best CMS platforms on the web. It offers free and paid plans for website creation as well. Of course, the free plan bounds your website to have a subdomain of joomla.com. Additionally, you can host your site for free only as long as you do not break the restrictions of disk space and speed.
One requirement for your website to survive is having to log in and press the "renew" button every month. If you want to remove the joomla.com subdomain and to improve disk space, you can pick one of the paid plans starting from 5 dollars. Additionally, you can choose a different hosting service as long as it supports Joomla websites.
Drupal
Drupal is one of the best CMS platforms as well, often compared to WordPress in terms of its popularity. It is an open-source project, meaning that you can modify the provided code to suit your needs or brand better.
This content management system offers all the regular features from helping developers publish posts, making websites SEO-friendly, and storing content such as images or videos. However, Drupal is for more advanced users than beginners that have no programming experiences and/or have not tried any CMS before.

For instance, to install third-party plugins in
Furthermore, this CMS has its limits. It is not the best platform for blogging as you need to do a decent amount of setting up before writing posts comfortably. Additional modules are also necessary for the localization of websites.
Therefore, it might be better to choose Drupal for more serious websites. Additionally, you need to know at least the basics of HTML, CSS, and PHP to use Drupal effectively. As you know, WordPress does everything for you and is the top beginner's choice.
If you mind is set on Drupal though, be sure to check out our course.
Magento
Magento is one of the best CMS services for developing e-Commerce websites (online stores). The software gives you a convenient shopping cart system and a variety of other features. You can download the open-source version free-of-charge which provides the resources necessary for creating a functional e-Commerce website.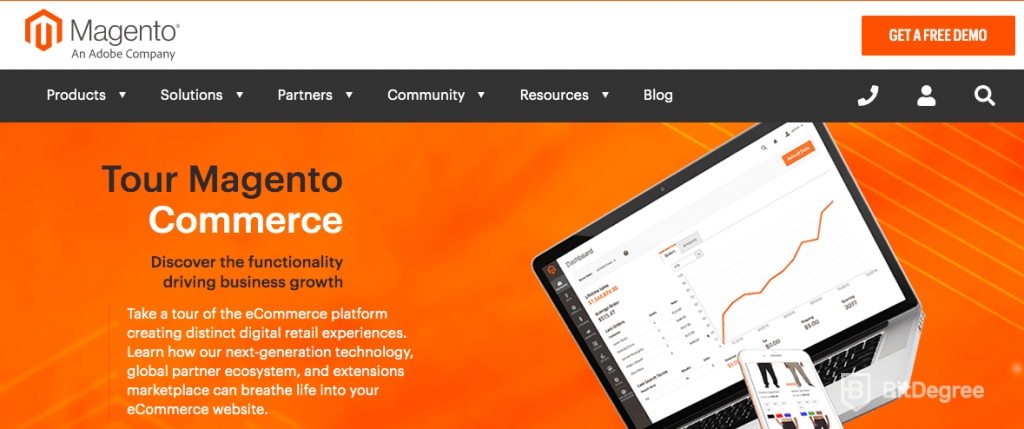 The paid plan called Magento Commerce is supposed to boost your sales and attract more interest from potential users.
From the technical side, Magento is not that different from Joomla or WordPress. Magento also offers templates, SEO-friendly management, and easy post publishing. However, since Magento is commerce-oriented, it is more focused on providing top-notch services for multi-store management, mobile commerce, marketing, etc. Therefore, it is a solid option for creating an e-commerce website. Want to learn how to use it? BitDegree has a course for you.
Squarespace
Squarespace is another beginner-friendly content management system software. This platform is more equipped for the management of small-to-medium size websites. Additionally, the degree of customization available is not that impressive when compared to WordPress.

Indeed, Squarespace lets you modify templates to match your brand or ideas. However, this system offers adjustments in a controlled environment, meaning that you cannot make changes freely (when compared to other available platforms).
One of the biggest disadvantages of Squarespace is that it does not offer a free plan option. If you want to create a website with this system, you would need to sign up for one of the premium plans.
Since there are free content management systems around (offering similar if not better features), we would not encourage you to choose the paid plan. In case you are still very interested in Squarespace, you can try out its 14-day free trial and give the system a chance.
Conclusions: Which CMS When?
This CMS comparison discussed six of the most popular platforms around. WordPress is a clear winner with its simplicity and feature-rich system. However, there is no reason why you cannot try out other platforms. You may start managing your website with a free plan, but switch to a paid plan once your website gets more traffic.
If you are a beginner, the best CMS is WordPress as well. Its interface, features, and overall functionality are very easy to master in a short time. Additionally, you will be able to customize templates, install additional plugins, and enhance your website with more features than offered originally. Similar functions are provided by other systems as well, and you are welcome to try them as well.
Of course, if you want to use an e-commerce website, you should choose the platform that specializes in this field. Therefore, you might consider Magento. It is best to focus on your goals and attempt to choose the option that will make the development process faster.
By the way, be sure to check out BitDegree's CMS course category to learn more about various content management systems and how to use them.
Leave your honest feedback
Leave your genuine opinion & help thousands of people to choose the best online learning platform. All feedback, either positive or negative, are accepted as long as they're honest. We do not publish biased feedback or spam. So if you want to share your experience, opinion or give advice - the scene is yours!