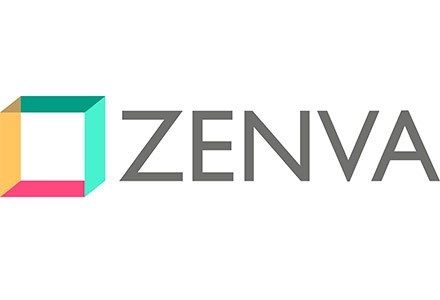 The Statista Research Department predicts that by 2026, the total market for online learning is forecasted to grow exponentially worldwide, and should reach more than $370 billion. In 2019, it was worth about $101 billion, so you can imagine the difference.
It's obvious that an increasing number of people are choosing online learning platforms instead of traditional education not only due to flexibility and affordable prices but also due to the pandemic. Based on the survey, about 85% of international students are currently taking classes online. Since online learning is becoming a new reality, today we'll take a look at Zenva reviews to see if this platform can be the future of online learning.
In this Zenva review, I will introduce Zenva Academy while shortly focusing on its history. What is more, I will take a look at the available courses, their structure, flexibility, the value of certificates, pricing, and additional information. That said, by the end of this article, you'll be able to answer the following questions:
Is Zenva good?
Is Zenva Academy legit?
A quick side note, before we begin - if you're looking for a top-tier online learning platform, whether it be on the basis of course variety, credibility, or general usability, you should check out DataCamp, Udacity, and Udemy.
Verdict at a Glance
Zenva is an online learning platform that offers mostly coding-based knowledge, including game and web development, data science, augmented reality, machine learning, and even more. The platform is relatively easy to use, it offers user-friendly prices, a clear structure, and a certificate of completion. The only problems are that you might lack courses to choose from, and certificates are not accredited.
Pros
Programming courses
Certificates of completion
Positive customer reviews
Cons
Not accredited certificates
Only programming-related courses
Zenva Reviews: What is Zenva Academy?
Founded in 2011, Zenva is an online learning platform that offers training in programming and computer science, these fields specifically:
Game Development
Web Development
Virtual & Augmented Reality
Machine Learning
Data Science
Mobile Apps
More than 1million learners and developers have joined this platform to date. The company's main goal is to positively affect people through games and technology. It seems that they're doing pretty well so far.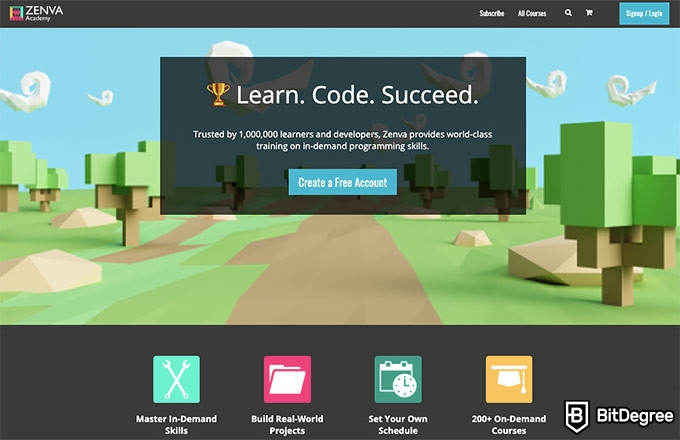 Zenva Academy provides you with more than 250 courses to choose from. While the options list is not as long compared to some of the top providers, Zenva courses can help you to learn how to create your own app, games, websites, and even more projects relatively quickly.
That said, while this platform is not suitable for those who are interested in learning soft skills, it might be a great option for those who are looking to improve their coding skills.
Now that I've introduced to you Zenva Academy, it's time to jump straight to the actual Zenva review and find out more about this online learning platform.
Latest DataCamp Coupon Found:
EXCLUSIVE 25% OFF
On DataCamp Subscriptions
Follow the Datacamp promo code link & get an exclusive 25% OFF Datacamp subscriptions. Act now while the offer is still available!
Expiration date : 12/12/2023
2,765 People Used
Only 35 Left
Zenva Reviews: PROS
Like the majority of Zenva reviews, I would like to focus on the positive aspects first. In this part of the Zenva Academy review, you will find out what kind of courses Zenva offers, their structure, ability to study on demand, the value of certificates, and even more.
Even though Zenva is not the best-known online education platform, it has a lot to offer. Let's move further and see what it is exactly that I'm talking about.
Focus on Programming Courses
If you've been going through various online learning platforms, you probably noticed that each of them is slightly or a lot different from one another. Some of them offer short and fun courses that will teach you soft skills in no time.
Other platforms focus on a specific type of courses. For example, programming languages, business and management, arts and music, etc. However, you will also come across platforms that have it all. A few of such examples include Coursera, edX and Udemy.
Also, there are platforms that will allow you to enroll in various courses that are taught in prestigious universities, such as Harvard, Yale and Stanford.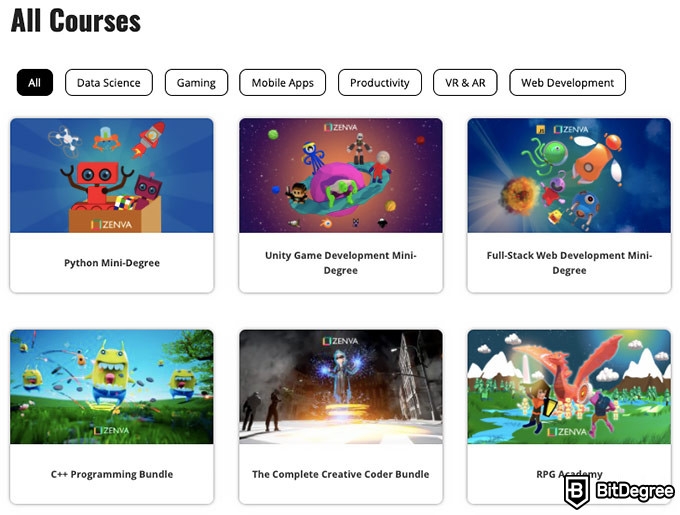 Now, when it comes to Zenva Academy, it's focused completely on coding skills. The platform offers more than 250 on-demand courses that will teach you programming skills. Zenva distinguishes these courses:
Data science
Gaming
Mobile apps
Productivity
Virtual reality & augmented reality
Web development
You can filter each of them to find exactly what you're looking for. For example, data science courses include:
Computer vision
Data analysis
Data handling
Databases
Machine learning
Visualization
Gaming courses cover such categories:
Artwork
C++
Godot
HTML5
Multiplayer
Unity 2D
Unity 3D
Unreal engine
These are only some of the available Zenva courses to choose from. If you're looking for a specific course, you can visit their official website and use the "search" tool.
Since Zenva focuses on teaching you coding skills quickly, you'll be learning by doing. That said, the studies will include not only theoretical but also practical material. This way, you'll learn how to build real games, websites, apps, and even more skills, depending on which course you choose.
Free Courses Available
Since there are so many free online courses to pick from, many students choose them instead of paid ones. However, there are a few major problems with such courses (in most cases). First of all, the quality of such courses is usually very poor.
What is more, you often get outdated material, so you never know if you get the newest information. Also, if the course is free, it's possible that the instructor lacks expertise.
While the previously-named issues are pretty common when it comes to online learning, it doesn't mean that every course is like this.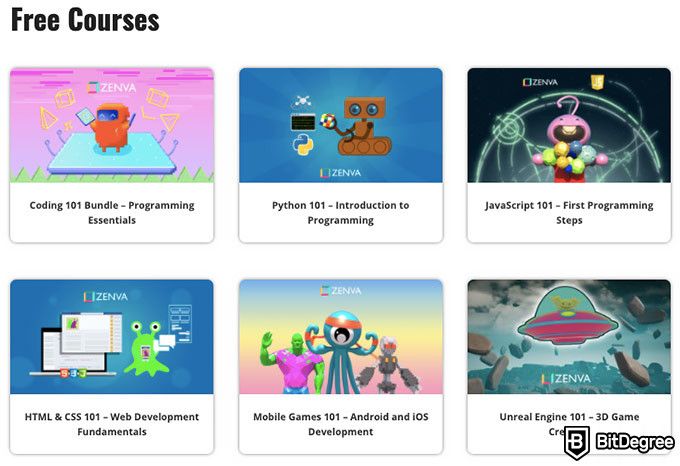 Now, after I found out that Zenva offers free courses, I immediately had to check what the Academy is offering. It turns out that you can choose from 12 different courses that focus on the basic knowledge of various subjects. The free courses include but are not limited to:
Coding 101 Bundle - Programming Essentials
Python 101 - Introduction to Programming
JavaScript 101 - First Programming Steps
HTML & CSS 101 - Web Development Fundamentals
Mobile Games 101 - Android and iOS Development
Unreal Engine 101 - 3D Game Creation
These are only half of the available courses. If you want to check any of them out, you need to go to the course and click"GET FOR FREE". Once it's done, the course will be added to your cart and you'll be able to check out instantly. That won't cost you anything.
Multiple Zenva reviews will tell you that free Zenva Academy courses are perfect for those who haven't yet decided what kind of courses they want to choose. That said if you're one of those people you can choose from the list of the available courses that cover the very basics of different fields until you decide which subject you should continue learning further.
Also, even though I mentioned that free courses are not always recommended due to the poor quality and outdated information, this is not the case with Zenva. Since Zenva Academy doesn't provide thousands of courses to choose from, they can focus on quality instead of quantity and ensure content freshness.
Free Zeva courses include multiple lessons that cover the basics of different subjects. All you need is a browser with an internet connection and you can start learning. After completing the beginner course, you will be provided with suggestions on which course to pick after you finish.
Access Mini-Degrees
Zenva Academy offers not only regular courses but also Mini-Degrees. After completing these Mini-Degrees, you get enough knowledge to start a new career path. Even though you will need to put a lot of time and effort into this, it's one of the better alternatives to traditional learning that can cost you a fortune.
When it comes to the prices, Zenva features a subscription model, so you won't need to pay for each course additionally. We'll talk more about the prices further in this Zenva Academy review.

Currently, you can choose from 26 Mini-Degrees, however, you can expect that more will be added in the close future. Here are some of the Zenva Mini-Degrees that you can choose from:
Python MIni-Degree
Full-Stack Development Mini-Degree
Unity Game Development Mini-Degree
Intro to Programming Bundle
Data Science Mini-Degree
Mobile App Development Mini-Degree
These and many other available degrees include video, material, source code and PDF notes, closed captions, certificate of completion, and you can access them anywhere and anytime.
Just like every course, the degree includes all the needed information about what you're going to learn, included projects, the curriculum and requirements. In most cases, they require no previous knowledge in the field.
Study on Demand
One of the main reasons why it's recommended to choose Zenva and other online learning platforms instead of traditional studies is flexibility.
If you already have a full-time job, responsibilities and family you need to support as well as look after, then online learning might be exactly what you need. Since online studies are flexible, you can enroll in classes anywhere and anytime, without the need to change your original plans.

Just like the majority of online studying platforms, Zenva Academy allows you to study on-demand. This means that as long as you're a subscribed user, you can continue learning. Whether you complete 1 course in 6 months or 6 courses in only 1 month, that's completely up to you.
All things considered, once you choose online studies, you can use your free time for improving your knowledge and gaining new valuable skills.
Certificate of Completion
Even though there are various benefits associated with online learning, such as flexibility, endless topics, pricing, and so on, finishing online courses is not the same as graduating from university. At least that's something people often say.
I would agree that it's not the same as you don't get on-campus experience, however, some online courses can provide you with more practical knowledge and experience than actual universities.
Now, it's not a secret that if you're studying online not only for the sake of learning something new but also because you want to land a better job offer or promotion, you need proof that you actually graduated. Yes, I'm talking about a certificate of completion.
What you should know, though, is that not every learning platform provides a certificate of completion. What is more, the certificates that some platforms offer are not accredited.
Since you came looking for Zenva reviews, let's focus on that. Zenva provides students with certificates after completing the courses. While Zenva Academy certificates are not accredited, they're still valued among employees. That said, once you finish the course at Zenva Academy, you can add those new skills to your portfolio and kickstart your career or land a better job offer.

There aren't that many online learning platforms that offer accredited certificates but a few of the most recommended ones include Coursera and edX.
Both of these platforms offer university-level courses from Harvard, Yale, Stanford, Princeton, and other prestigious universities. So if you want to get an online experience that would be as close to traditional institutions as possible, it's recommended to check those platforms out.
Reliable Customer Support
When it comes to different products and services, there's one thing that I found truly helpful throughout the years. That's a reliable customer service that is always there for you in case you encounter any platform-related issues.
To find out how helpful Zenva customer support is, I analyzed multiple customer Zenva reviews. The majority of students claimed that Zenva is truly helpful when needed, and answers all the questions related to payments, subscriptions, courses, and so on.
That said, if you have any questions, you can always contact the Zenva customer support that will be there for your when needed.
Positive Customer Reviews
When choosing an online learning platform, it's crucial to perform research and find out what current or ex-students have to say about it. It's the best way to find out the experience from the first lips. So, is Zenva Academy good?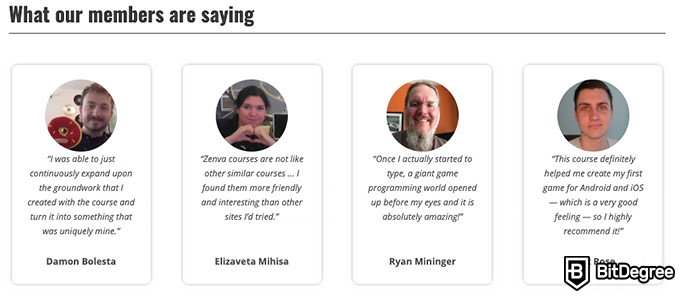 When searching for customer Zenva reviews, I noticed that customers have a lot of positive things to say about this learning platform. The platform is rated 4.5 out of 5 on Trustpilot, so that says a lot.
Here are the things that the majority of the customers who evaluated this learning platform as "excellent" distinguished:
The platform is well-structured and provides great pricing.
Easily learn complicated subjects.
Learn new skills in a limited amount of time.
Great customer service and an easy-to-use platform.
Very affordable courses.
High-quality, well-structured courses.
Although there are more positive aspects that were mentioned by the variety of customer Zenva reviews, these were the most popular opinions surrounding the platform.
Zenva Reviews: CONS
By now you should think that Zenva is a really great platform. Even though it's truly recommended for those who want to gain coding knowledge, there are also some negative aspects distinguished in different Zenva reviews. That said, let's move further and find out, Is Zenva Academy good, for real?
Only Coding-Based Knowledge
Even though it completely depends on your personal preferences, the majority of people are looking for not only specific-knowledge based platforms. Just imagine that you find a platform that offers only cooking-based classes. It's great at first as it was exactly what you were looking for back then.
However, there are great chances that after some time you will start wondering "what other skills can I learn?". Well, if you're studying on a platform that offers a variety of different courses you can simply scroll through the list of available options until you find a subject that interests you and start learning.
But if you've chosen a platform that offers only specific-subject based courses and you decide that you want to improve your knowledge in another field, you'll need to find another platform. Needless to say, this is not only inconvenient but you will also need to pay for two different subscriptions (if the platform features this payment model).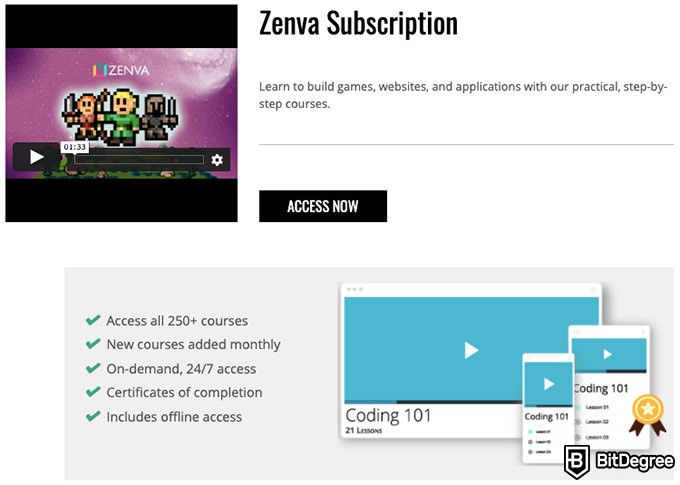 Sadly, Zenva offers only coding-based courses. As mentioned previously in this Zenva review, you get only 250 options to choose from. While that might be enough if you want to gain specific knowledge only, some people will definitely want more courses.
As an example, let's compare Zenva with some other well-known online education platforms:
If you're afraid that Zenva courses won't be enough for you, you should definitely consider other options, there are definitely more than enough - just pick from the list. Of course, if you see that Zenva offers courses that are exactly what you're looking for at the moment, nothing should stop you.
Certificates are Not Accredited
As already mentioned in this Zenva Academy review, the majority of online learning platforms provide you with certificates of completion. In most cases, those certificates are not accredited. Even though non-accredited certificates are way better than nothing, you should be aware of the difference between the two.
Accredited certificates are officially recognized by various international institutions, they tend to be more valuable and widely recognized among employers. Non-accredited certificates, on the other hand, are not recognized by official, international institutions.
However, what you should know is that non-accredited certificates are usually given to you at the end of the course without the need to pay additionally, whereas accredited courses tend to be more expensive and you might need to pay additionally for the certificate itself.

Now, Zenva provides you with non-accredited certificates, however, it doesn't mean that you cannot add them to your portfolio, or show off your new skills to get a better job offer. The majority of employers will appreciate the effort and will definitely reward it.
Thus, this fact shouldn't stop you from choosing Zenva courses as there are very few online learning platforms that provide you with accredited certifications. In case you want to find out more about such platforms, you should check out Coursera and edX.
Not the Best User Experience
Depending on the course that you choose, you might need days, weeks or even months to complete. This means that you'll be on a platform all the time. It seems that not all online education platforms understand that.
As I first visited the Zenva Academy website, I instantly thought that it looks a bit outdated. At the top of the page, you can see the menu bar where you will find prices, all available courses, your courses, and your account. What is more, you can use the "search" tool to find courses that you're looking for in the easiest possible way.
If you scroll a bit down the page, you can find some of the available courses, and the platform features.
Now, it might seem that everything is clear, however, when I was researching Zenva reviews, I found out that there are some free courses available. Truth be told, I wasn't able to find them on Zenva's website. What is more, I was interested in finding Zenva Mini-Degrees but that was a complicated task as well. To do that I simply searched for Zenva courses on Google. Of course, once you find a course that you're looking for and start learning everything is clear.
Hence, if you're not one of those people who believe that visual appeal is everything and value the quality of the learning material only, you might find Zenva courses just the right fit for you.
Pricing
Zenva features a subscription-based model. Compared to other online education platforms, it offers an average pricing point. You can take a look at the prices here:
If you don't want to make a commitment, you can also find Zenva courses on Udemy. Zenva Academy is one of the instructors on Udemy that was already chosen by more than 500k students.
Different from Zenva, Udemy allows you to pay for individual courses and continue learning them for as long as you want. Such a payment model is more recommended for those who have very little time and take longer than a month to complete one course. If you study daily, however, a subscription-based payment model will probably suit you better.
Zenva Academy Alternatives
Chances are that after reading this and some other Zenva reviews, you decide that this platform is not the best choice for you. If this happens, I want you to have other options that you can take into account.
All that said and done, let's switch to Zenva Academy alternatives that focus not only on programming courses but also other fields.
DataCamp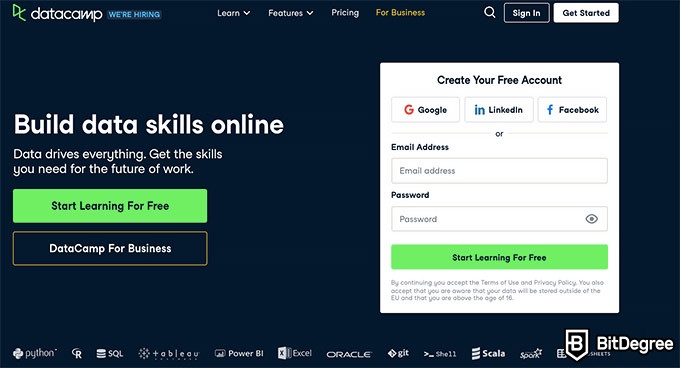 Established in 2014, DataCamp is one of the most recommended MOOC-providing platforms. Just like Zenva, DataCamp focuses on specific topics, mostly on data science and R programming.
The platform teaches people all the essential skills that are needed to work with data. You will find courses for beginners and more advanced learners. What is more, you can learn DataCamp courses anywhere and any time. That is as long as you have an internet connection.
DataCamp features a very clear interface, you'll be able to find courses that you're looking for without much trouble. What's more, students say that DataCamp courses match the quality they get, so it's completely worth it.
Talking about the pricing, DataCamp offers 5 different plans for personal usage and businesses:
As you can see, DataCamp offers even more customer-friendly prices than Zenva Academy. Needless to say, you should consider it as a great alternative.
Udacity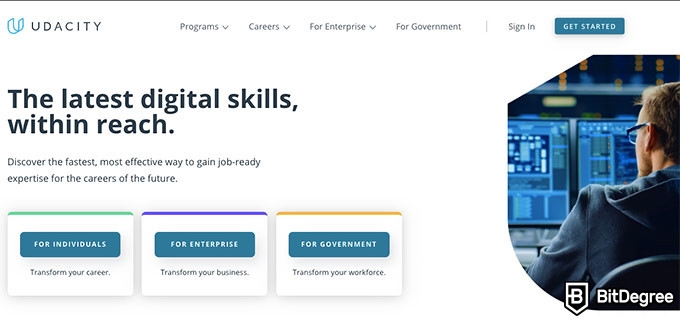 Another highly popular online learning platform that you've probably heard about before is Udacity. It was founded back in 2011 and offers a variety of attractive features as well as more than 500 courses available.
Udacity has a very clear interface, without any unnecessary information which makes it really convenient to use the platform. What is more, it focuses on the quality instead of the quantity, so you can expect to get a top-tier quality when learning.
Udacity mostly focuses on teaching coding skills, however, you will also find classes on business and management as well as languages and more. One of the main reasons why students choose this online learning platform is Udacity Nanodegree courses. It takes 6-12 months to complete, however, you get in-depth knowledge and a certificate of completion. The majority of students claim that it's completely worth it.
Udacity prices depend on the course that you choose. What is more, you get a variety of free courses to pick from and a free trial to check the platform out.
edX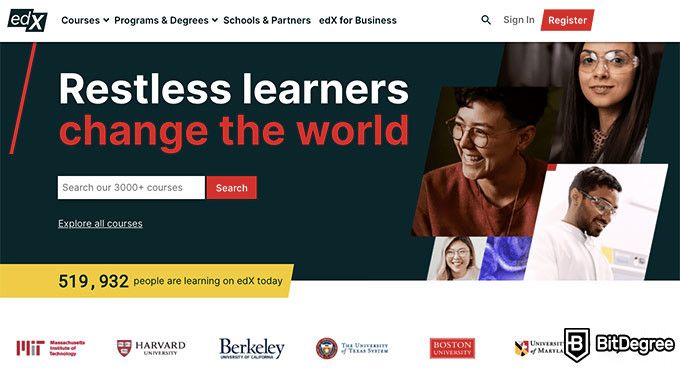 The final alternative to Zenva that I would like to focus on is edX. Founded back in 2012, the platform focuses on university-level courses and offers a variety of different subjects to choose from.
edX offers top-tier quality courses that will teach you valuable knowledge, the platform has a very clear interface that will make your experience even more enjoyable.
What's exceptional about edX is that it's one of a few online learning platforms that offer accredited certification, meaning that they're truly valuable among different employers.
On edX you will find a variety of free courses, however, you will need to pay for a certificate if you want it. Courses are self-paced, so you can learn whenever you find time for that.

Pros
Easy to use with a learn-by-doing approach
Offers quality content
Gamified in-browser coding experience
Main Features
Free certificates of completion
Focused on data science skills
Flexible learning timetable

Pros
High-quality courses
Nanodegree programs
Student Career services
Main Features
Nanodegree programs
Suitable for enterprises
Paid certificates of completion

Pros
A huge variety of courses
Easy-to-navigate interface
Over 600 free courses
Main Features
A huge variety of courses
30-day refund policy
Free certificates of completion
Conclusions
Many of you came looking for Zenva reviews to find out answers to these questions:
Is Zenva good?
Is Zenva Academy legit?
Knowing what you already know after reading this Zenva review, you will probably agree with the fact that Zenva is quite a good online learning platform for those who are looking for programming-based knowledge.
The platform was founded back in 2011 and offers more than 250 courses to choose from. What's great is that you can find free courses offered by Zenva, all of them are introductory level. What's more, you can choose Zenva Mini-Degrees to get more in-depth knowledge.
The platform features a subscription-based payment model, meaning that you can enroll in as many courses as you want and still pay the same price. What is more, after completing Zenva courses, you will get certificates. They're not accredited, though.
Even though Zenva Academy seems like a good option for those who are looking to learn coding-based knowledge, you should always keep in mind that there are some really great alternatives to choose from. DataCamp is one of the most recommended options. It offers more than 300 programming-related courses and is often considered one of the best platforms in the market.
Also, as mentioned in this Zenva review, you shouldn't forget that there are online learning platforms that offer thousands of courses on various topics, programming included. The most recommended ones are currently Udacity and edX.
Table: Udacity and DataCamp comparison.
I hope that you found this Zenva review helpful and managed to make a decision about this platform or found an even better alternative.
Leave your honest Zenva Academy review
Leave your genuine opinion & help thousands of people to choose the best online learning platform. All reviews, either positive or negative, are accepted as long as they're honest. We do not publish biased reviews or spam. So if you want to share your experience, opinion or give advice - the scene is yours!