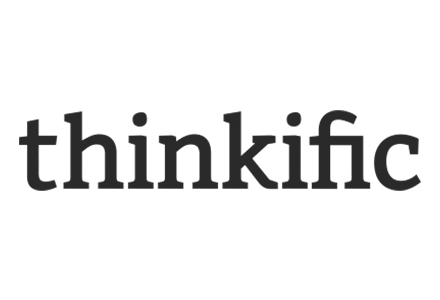 Are you an online learning enthusiast? Do you have some immense knowledge that you'd like to share with the world, but aren't sure where to even begin? Well, let me tell you - some user Thinkific reviews might help you find the right path!
While Thinkific is often "thrown into the same basket" as edX or Coursera, this particular platform is actually quite different. While the two formerly-mentioned platforms are MOOC providers, user Thinkific reviews will tell you that Thinkific is actually a course hosting site.
What does this mean? And, more importantly, how can you actually benefit from this?
Well, all of the answers are going to be provided in the article ahead. Read on and find out!
Pros
Unique course creation tool
Multiple different features
Great for company employee training
Supports multiple different types of courses
Cons
Pricey subscription plans
Lack of marketing tools
Thinkific Reviews: PROS
Now, while Thinkific is surely a unique platform when it comes to online learning-related sites, we're still going to follow the usual route and talk about the pros and cons that are often attributed to the platform by some user Thinkific reviews.
Before we do that, it's worth further-clarifying what is Thinkific, in general.
As pointed out in the introductory part of the article, Thinkific offers you the chance to create and host your own courses on their platform. Well, not exactly on THEIR platform, per se - instead, the company allows you to create a separate site (section) with their site builder, and integrate your courses there.
As you can probably imagine, there are quite a few benefits to a platform like this. One of the most commonly mentioned of these benefits would have to do with the user Thinkific reviews that are grateful for the fact that there is a simple way to create courses for anyone who's interested!
A Straightforward Course Creation Tool
Admittedly, these days, finding a reliable online learning platform isn't as difficult as it used to be. There are many sites out there that both house and provide multiple different courses, ranging in a wide variety of topics.
While that is great for someone who wants to learn something new or improve their existing knowledge concerning some particular topic, there are also those people who want to teach, rather than learn!
Unfortunately, one thing that's obvious from multiple user Thinkific reviews is that, for such people, there aren't all that many reliable options, course hosting website-wise.
This is where Thinkific comes in.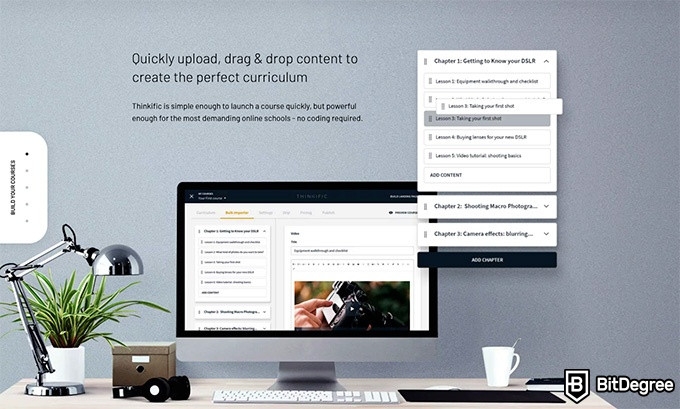 Thinkific provides you with an opportunity to create and (or) upload your own courses on their platform. That's only half of the deal, though - the other half has to do with the simplicity aspect of the whole ordeal!
As far as the creation process of the Thinkific courses goes, you can be sure that, if anything, the company has streamlined the process to make it as simple as possible.
After you first register on the site, you will be redirected to your dashboard. Once there, simply select the course management tab - you'll then be sent to a specific management area where you can both create and also upload some existing course material that you might have.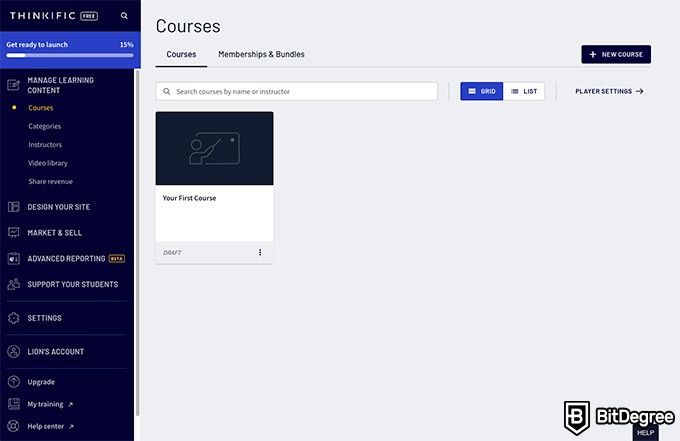 Some user Thinkific reviews point out that this area works in a linear manner - analyzing it reveals that it is definitely true! It's actually one of the secrets behind the ease of use factor of the dashboard - instead of being bombarded with multiple different areas to fill out, you can work with the courses in a section-specific way.
The simplicity factor truly does mean a lot, in the grand scheme of things. It's certainly cool to know that the platform isn't only reliable, but also straightforward and well-optimized.
Allows Multiple Types of Courses to be Hosted
Reading through user Thinkific reviews, you'll notice that there are plenty of mentions about course hosting, but not than many people discuss the actual type of courses that you'd be able to create, upload and share on the platform.
Well, I'm happy to tell you that you'll be able to create and upload most of the types of courses you could imagine - the only thing that won't be possible is in-person chatting and training.
What this means is that you can utilize everything from text sheets all the way to audio and video recordings in your course. There are tools on the website (in the course management and creation section) that will allow you to easily upload all of such files, and then work with them.
Good for Training
As you read through all of the user Thinkific reviews available online, you'll notice that quite a few of them talk about the site being very useful for anyone who wants to take the time and train (educate themselves) in course creation.
Frankly, the main reason for why that's the case is because you can create a site and a course on the platform completely free of charge.
Now, don't get me wrong - Thinkific pricing is surely a topic that we'll discuss later on, and the site's services aren't free to use, if you're serious about creating your first course, and then making a profit out of it.

That said, there are quite a few things that you can do with Thinkific that are completely free. For example, if you just want to "get a feel" of how the actual course creation process works, and how to use a well-optimized dashboard, you can do that - no costs there!
It's also great simply because you get the chance to try everything out before committing to a monthly subscription (that's the Thinkific pricing model).
Great for Companies (Employee Training)
While there are many individual people who want to create a course and then sell it online, that's not the only "target audience" of Thinkific. As a matter of fact, the services offered by the company are some of the most attractive to other brands who want to find an optimal way to train their employees in some specific areas of expertise.
There are many companies out there that do, in fact, struggle to optimize and automate certain training processes, especially when it comes to new employees who have no prior experiences in their respective fields.
This is an issue simply because, more often than not, the senior employees of the company have to dedicate a lot of time to teaching the newcomers all of the ins and outs of how to do their jobs efficiently, thus not being able to perform their own important tasks!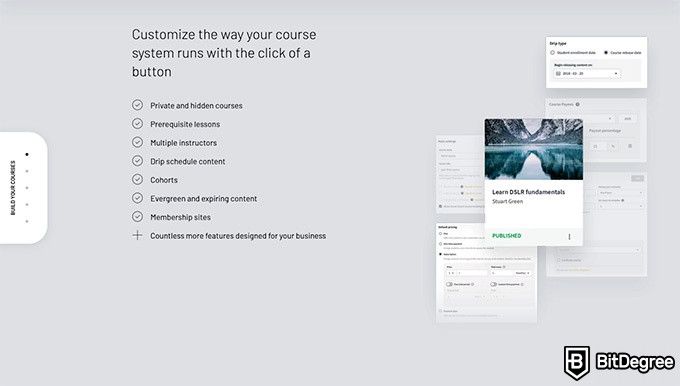 Thinkific is a great alternative in situations like these. It provides you with all of the necessary tools that you might need in order to create a streamlined and polished course for your employees!
It's actually *the* answer when it comes to training automation. You'll be able to do everything from video courses up to testing and quizzing - frankly, anything that you might need to check whether or not the person has understood the materials presented within the course.
There are multiple ways of how such a course creation tool can be beneficial in a company setting - some user Thinkific reviews stress this, too!
Multiple Different Features
As pointed out a few times in this article already (and mentioned endlessly in other user Thinkific reviews), the platform in question boasts a lot of different features.
These features aren't just exclusive to the courses and their creation processes, though. Thinkific has a site builder tool to help you out in hosting your newly-made courses - as you can imagine, this tool is optimized quite well, too!
Course creation-wise, you'll be able to utilize different course material formats (video, audio, text, etc.), integrate tests and quizzes, add in surveys, post-course discussions, downloadable courses, and so on. It would seem that Thnkific has thought about everything - you shouldn't come across any issues while working on your own course.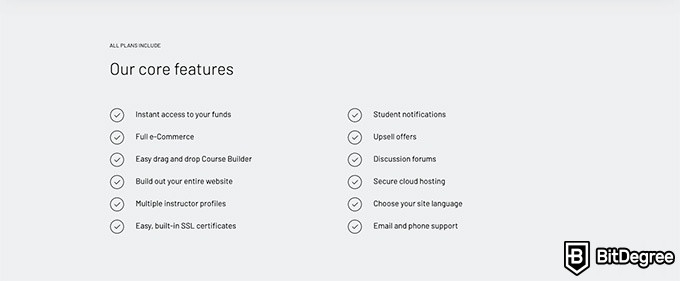 After you're done with the course creation process itself, there are also tools to help you out in regards to publishing and course management. You'll have the chance to assign prerequisite lessons and hidden (private) courses, work with multiple instructors, drip schedule content (set course release dates), etc.
Finally, it should be pointed out that there are also multiple site customization and security features, too. Depending on your subscription plan of choice, Thinkific courses come with an integrated SSL certificate, eCommerce functionality, mobile version optimization, no course indexing, and so on.
Overall, most user Thinkific reviews agree - the platform has a lot to offer for anyone looking to start hosting (creating?) their own courses!
Latest DataCamp Coupon Found:
EXCLUSIVE 25% OFF
On DataCamp Subscriptions
Follow the Datacamp promo code link & get an exclusive 25% OFF Datacamp subscriptions. Act now while the offer is still available!
Expiration date : 12/12/2023
2,765 People Used
Only 35 Left
Thinkific Reviews: CONS
As you have probably noticed by now, most of the Thinkific reviews that are present online are quite positive towards the company and its services. However, there are a couple of notable aspects that are not as positive - it's worth mentioning them before you make up your mind on whether or not this is the best course creation and hosting site for you.
Lack of Course Marketing Tools
One of the most common complaints that can be seen among user Thinkific reviews left online (perhaps even *the* most common complaint) has to do with the lack of marketing tools that are available on the platform.
Frankly, users claim that while Thinkific does provide you with all of the necessary tools in order to create your course from the ground up, there are basically no features that would allow you to then market those courses in an effective way. Not even an email marketing tool!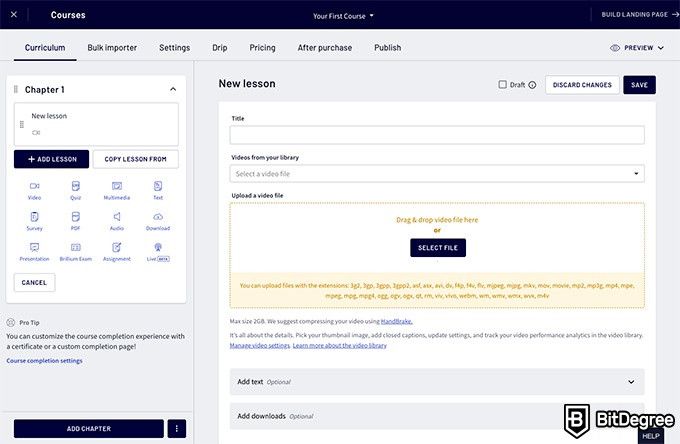 This creates a pretty interesting, yet less-than-desirable situation. If you already have an audience on, say, social media, you can then direct that audience to your new course - simple! However, if you are actually looking to "make your big break" with the course in question, marketing can be a struggle!
Whatever the case might be, it's still a bit disappointing that Thinkific lacks efficient and effective marketing tools.
Price
While pricing is something that is usually discussed as a separate topic, it's worth pointing out that many users would claim Thinkific pricing to be a con.
Let's take a look at why that's the case.
Essentially, Thinkific has five separate pricing plans - Free, Basic, Pro, Pro + Growth Package, and Premier. Each of these plans come with their own, unique features and additions.
The pricing options for the four plans would look a little something like this:
All of these pricing options are presented if you choose the monthly payment feature. If you pay annually, you'll save 20% off of each of the plans.
The free plan should be seen as the "training" option - it's going to be best for those who still aren't sure about what it is they want to create, or even if Thinkific is the right choice for them, in the first place. It does have a lot of limitations, but should give you a pretty good idea of what to expect out of the platform.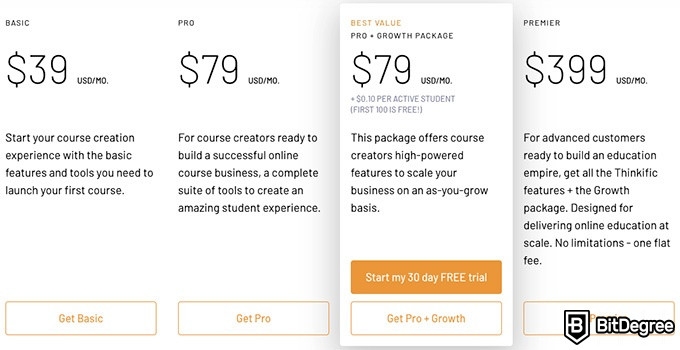 As you can probably see for yourself, however, the prices are quite… High. While they might make perfect sense in the grand scheme of things (after all, as you create courses, you'll probably sell and profit from them), but for those who are just looking to try out the platform a bit further than the free plan, it can still be pretty expensive.

Pros
Easy to use with a learn-by-doing approach
Offers quality content
Gamified in-browser coding experience
Main Features
Free certificates of completion
Focused on data science skills
Flexible learning timetable

Pros
High-quality courses
Nanodegree programs
Student Career services
Main Features
Nanodegree programs
Suitable for enterprises
Paid certificates of completion

Pros
A huge variety of courses
Easy-to-navigate interface
Over 600 free courses
Main Features
A huge variety of courses
30-day refund policy
Free certificates of completion
Conclusions
To finish off discussing user Thinkific reviews, there is but a single question left to answer - is Thinkific worth it?
In short - yes.
While the subscription plans are pretty pricey, and you are going to have to do most of the marketing for the courses yourself, Thinkific is an amazing tool for creating full-on, high-end courses, and optimizing them from each and every aspect you could think of.
If you'd like to check out some examples of what amazing, high-end courses should look like, you can visit Coursera or edX - there are surely plenty of top-tier examples there! Take a course, analyze it, and get inspired!
All of that being said, thanks for reading the review of the Thinkific courses creation tool! I hope you found the information presented within useful, and wish you good luck in your upcoming course creation ventures!
Leave your honest Thinkific review
Leave your genuine opinion & help thousands of people to choose the best online learning platform. All reviews, either positive or negative, are accepted as long as they're honest. We do not publish biased reviews or spam. So if you want to share your experience, opinion or give advice - the scene is yours!