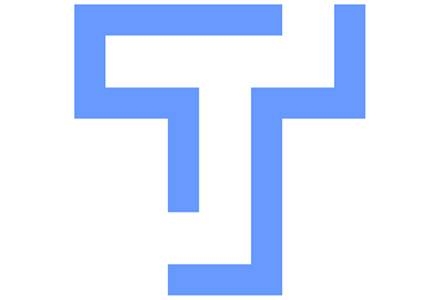 Various IT-based professions are seeing a rise in popularity. This popularity isn't only a one-sided thing, however - an increasing number of companies and employers are searching for people who would be competent in the above-mentioned fields.
There are many different ways that you could learn and study your topic of choice: traditional education, tutors, self-teaching, or even online courses. In this Thinkful review, we'll take a look at one site that offers such courses.
First of all, I'll tell you about Thinkful itself. Many Thinkful reviews seem to ignore the aspect of just what the platform actually is. I do, however, think that it's important to have some background information about the company before we start talking about the services that it offers. Moving away from that, we'll talk about the site's features, content and everything in between.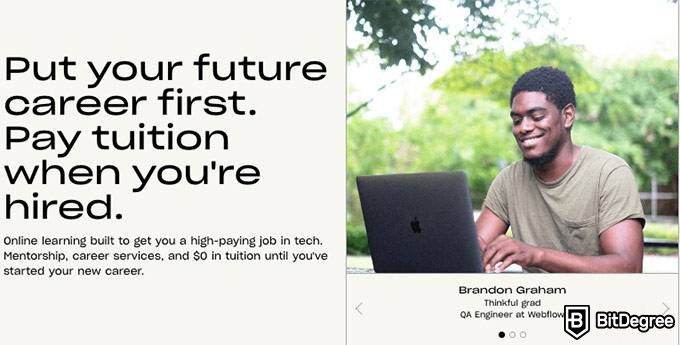 With so many different online course providers, it can be difficult choosing a single specific one. A good place to start, however, is to check out the story of the company that you're interested in.
Once you know a bit about the people behind the platform, you should be able to get a better feel for the company, in general. With that said, let's check out Thinkful.
Note: Since Thinkful may not be among the most recommended options due to specific reasons that I'll be discussing in this review, you might want to check out the best-evaluated online learning platforms - Udemy, edX, and Udacity.
Pros
Easy to use and navigate
1-on-1 learning model
A guaranteed job position
Cons
Unhelpful support
High pricing
Some mentors are incompetent
Table of Contents
Thinkful Review: Introduction
Thinkful, like many others, is a MOOC provider. MOOC stands for Massive Open Online Course. This means that Thinkful provides its users - students - the ability to learn their desired skills through an online platform that acts as a medium. How is this site different, though?
First of all, most of the MOOC providers that you'll come across online offer hundreds (if not thousands) of courses, all based on varying topics. Thinkful, however, offers only a few programs.
Furthermore, the site offers no ability to receive a "degree" (something that is very popular with other e-learning-based websites) - instead, Thinkful's business model revolves around the students receiving a job straight after finishing one of the programs.

The company is New York city-based and was founded in 2012. One of the main features that it boasts itself on is the fact that it has over 500 mentors that are concerned with providing a '1-on-1' learning experience. It's a pretty interesting concept, but I'll go into it more in-depth later on, when we'll talk about the features that the platform offers.
Latest DataCamp Coupon Found:
CLAIM 50% OFF
DataCamp Cyber Monday Deal
DataCamp Cyber Monday special is here! Enjoy a massive 50% off on DataCamp plans. Subscribe now and redefine your data and Al skill set for the better!
Expiration date : 08/12/2023
5,324 People Used
Only 36 Left
Ease of Use
One of the main concerns that people often have with online course providers is that they have pretty confusing and difficult-to-use interfaces. It's important for an online education-based platform to be both easy to use and have an appealing visual side.
Admittedly, the latter isn't as important as many other aspects, but if a site lacks in its design department, there's an automatic feeling of uncertainty that may lead to questions like "is Thinkful worth it?". That being said, the very first thing that we'll check out in this Thinkful review is the ease of use of the platform.
Let's start from the very beginning - the home page. Since it's the very first thing that most of the site's visitors see when they search for Thinkful online, the home page becomes a very important place from both informative and marketing standpoints.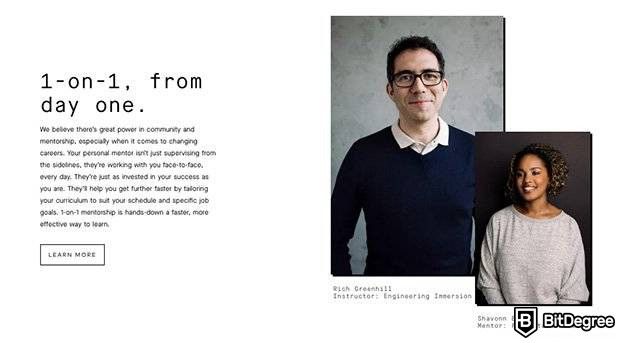 Once you enter the site, you are immediately greeted by an "interactive slogan" - a constantly changing phrase accompanied by a few success stories. Once you scroll down, you'll notice some information about the company, the full list of programs that the site offers (it's a short list), a partner list and a section called "Outcomes".
The page is quite basic in its layout. I actually had a pretty good first impression - there was no feeling of being overwhelmed with information or various pop-ups (there were none), everything was structured rather clearly and comfortably.
Not many Thinkful reviews mention this, but the UI of the site is also very easy to use. Sure, you could claim that the company chose the easiest route and just went with the most basic structure out there, but that doesn't necessarily mean that it's a bad thing!
I think that most people would prefer the basic, simplistic design and layout over a fancy, tough-to-look-at and navigate platform.
If you'd like to visit the course page (in Thinkful's case - the 'program' page), you could do so by either picking a topic from a dropdown menu or simply choosing one from the program list I've mentioned earlier. It does look rather funny, though - if you're used to seeing lists of hundreds of different courses, you're in for a surprise.
The site offers only thirteen - yes, THIRTEEN - different programs to choose from.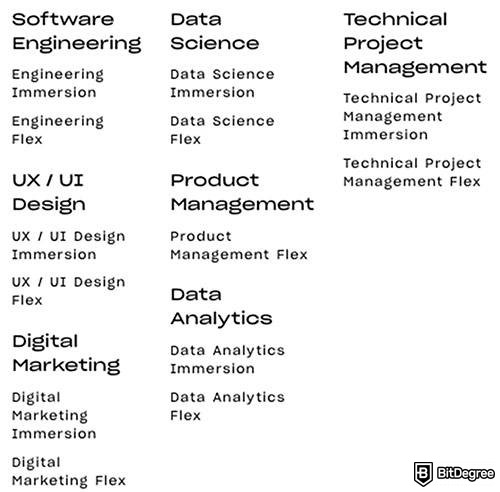 I have to hand it to Thinkful, though - they truly do have unique course landing pages. I mean, it probably makes sense, doesn't it? If you're a company that only hosts thirteen programs, it's pretty easy to make the landing pages of each of the programs quite unique and interesting.
For this review, I chose the "Full Stack Flexible" program. I was greeted with a layout similar to that of the homepage, except that this one was dedicated solemnly to the individual program in question. The information about the program was presented in a very clear and concise manner.
However, if you'd want to access the course syllabus, you'd have to give the platform your email (which isn't all that surprising). There's no trick, though - once you enter your email, the whole syllabus unlocks - you can read up on individual lessons and find out what is it exactly that you'll be learning.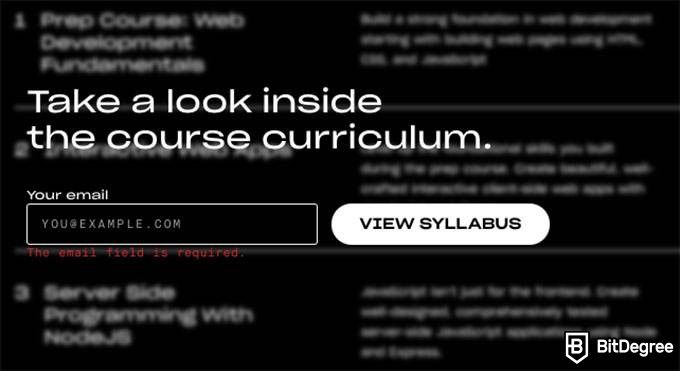 The page goes further on to emphasize the various benefits that you would receive if you were to choose the specific program. All in all, I must admit - Thinkful left a pretty good impression on me when it comes to the design and usability sides of things. The platform is interactive, fun to use and pretty to look at. So far - so good!


Did you know?
Content Quality
Although this is probably obvious, the quality of the content that a learning platform provides is probably the most important aspect when it comes to maintaining a good reputation and being successful, in general.
Many online education-based websites play the "quantity card" - they offer hundreds or thousands of courses, but most or all of them are very poor in the quality department. Let's see what Thinkful reviews say about the quality of the platform's programs.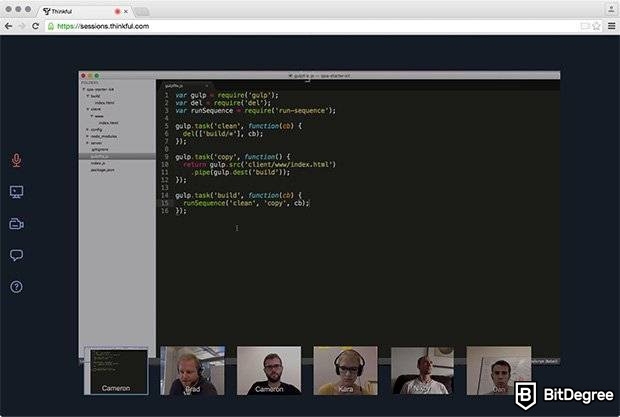 Online Thinkful reviews are actually somewhat mixed when it comes to the quality of the content that the platform provides. It should be noted that the vast majority of students say that they love the site - the mentors are great, the curriculum is excellent, the pace is perfect, and so on.
However, what I myself found to be really interesting was the fact that the negative reviews directly contest these same claims.
For example, one Thinkful review states that the mentor of a specific program was a joke - he simply told the student to google information, without providing much input himself.
Another Thinkful review emphasizes that the quality of the lessons themselves are tragic - apparently, they are comprised of nothing more but random articles and excerpts. The fact that these negative reviews are so, well… Opposite to the positive ones is actually shocking to me.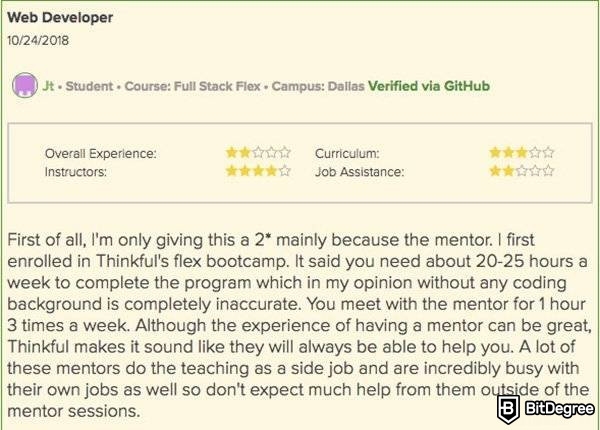 However, there was one point that proved to bug the majority of students, both those who were happy and those who were dissatisfied with the quality of the content - the customer support. Most Thinkful reviews concerning this point were very negative.
Students claim that the administration of the site is very unhelpful, and that it's almost impossible to get some sort of an issue sorted out. This is something worth keeping in mind moving forward.
Just so you know, these issues are not related to others, more recommended learning platforms, such as edX, Coursera and Udacity.
Features
Thinkful, as an e-learning platform, is quite original in the way that it deals with its business model. I've mentioned this before, but while most MOOC sites try to host as many courses as possible, Thinkful is the one exception - there are only thirteen programs available on the site.
Most of them guarantee students a stable job after completion, or they'll offer a refund. Naturally, there are exceptions - the company states that refunds are only available to those who have "worked hard" on their assignments (whatever that could mean).

One of the most advertised and renowned features that many Thinkful reviews debate about is the "1-on-1" mentorship. Once you enroll in a program, you are guaranteed to receive a personal mentor who will help you through ought your learning path.
This is actually the very first website that I've come across that would offer a feature like this. As mentioned earlier, the company hosts over 500 mentors to help students with their lessons.
Overall, the idea behind Thinkful is truly an original one. If one of the thirted available programs (that mostly revolve around full stack development, engineering, data science and so on) suit you, Thinkful might actually be a very interesting place to learn.
Price
Pricing is also very important when it comes to maintaining a growing and stable business as an online learning platform. Different platforms have different pricing options, but most of them choose to sell individual courses or offer a subscription-based model of payment. Thinkful falls into the earlier category.
On the site, you can purchase each individual program at your own leisure. However, the company makes it clear just how serious they think these programs are - the pricing starts from $9500 USD and can go all the way up to $16,000 USD! That's a whole lot of money!
The site does offer different pricing plans (also something that isn't all that common), and you can even apply for a scholarship for some courses. With all of that said, the sums are still pretty significant.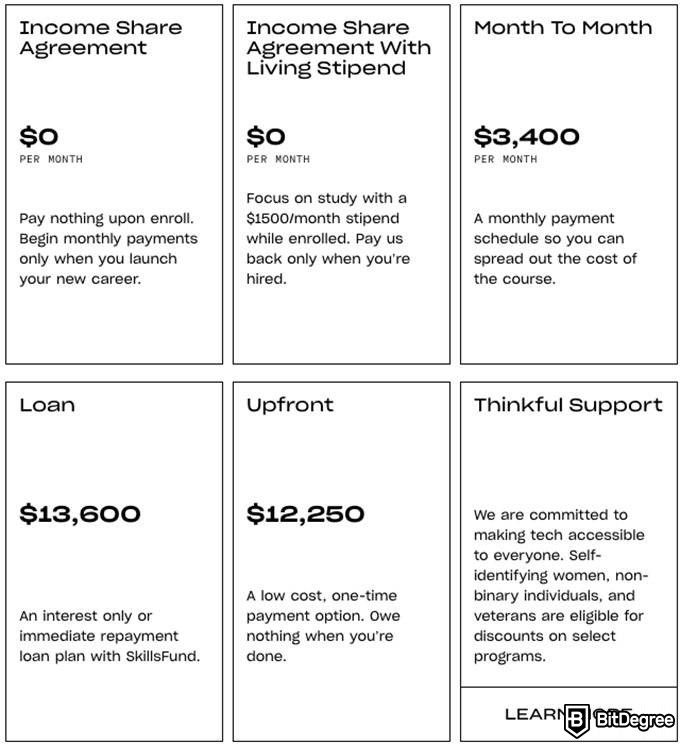 The funny thing is that I haven't really encountered all that many Thinkful reviews that would complain about the prices. Students usually have issues with support or even the course materials, but very little is referenced when it comes to is Thinkful worth it on the pricing side of things.
Learning Experience
Finally, let's talk about the learning experience that a person might have if he or she chooses to learn at Thinkful.
This point is surely the most subjective one to analyze (how can you measure learning experience? You can do it from the platform's side of things, but different people will still have different experiences with the same things). However, it's still important that we look into it.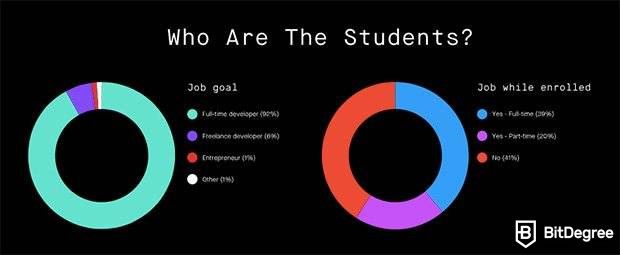 If you take a look at the Thinkful Bootcamp reviews, you'll probably notice that most of them are conflicting when it comes to the learning experience that a user might have on the site.
Even though the majority of students leave quite positive Thinkful reviews that claim the site to be great for learning and getting a stable job, there are still some issues that cloud the overall experience.
If you were to sum up the learning experience based on the majority of Thinkful reviews found online, you could claim that the site offers a good opportunity to study specific subjects in-depth.
However, you should be aware that not all mentors are as motivated or competent as they should be, and that you might face issues with customer support, if you ever need to contact them.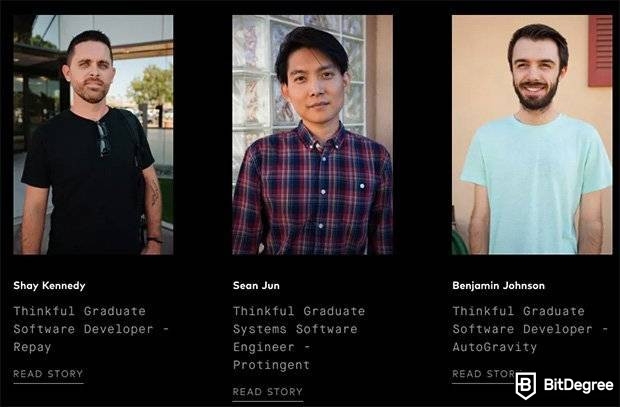 Pros
Easy to use with a learn-by-doing approach
Offers quality content
Gamified in-browser coding experience
Main Features
Free certificates of completion
Focused on data science skills
Flexible learning timetable

Pros
High-quality courses
Nanodegree programs
Student Career services
Main Features
Nanodegree programs
Suitable for enterprises
Paid certificates of completion

Pros
A huge variety of courses
Easy-to-navigate interface
Over 600 free courses
Main Features
A huge variety of courses
30-day refund policy
Free certificates of completion
Conclusions
Well, we have reached the end of this Thinkful Bootcamp review. Is Thinkful worth it? Well, it's hard to say. It all depends on many different variables - your financial situation, expectation management, free time that you could spare to learn the desired subject, and so on.
The platform itself seems to have a pretty good reputation, if we were to talk in an overall perspective. However, you would probably do well to keep certain issues in mind, namely the competence of some of the mentors (you never know what kind of a person might get assigned to be your mentor) and the quality of the administrative support of the website.
If you want to check out other online learning platforms, however, don't know where to begin, you should definitely check out Udemy, edX, and Udacity. Each of them offers a completely different experience.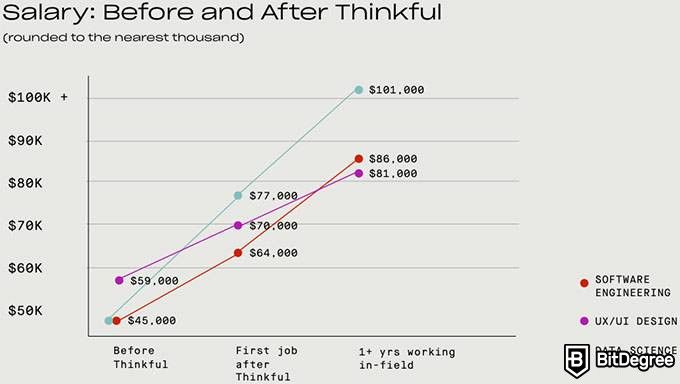 With that said, I hope that this Thinkful review helped you better understand what is Thinkful and what the company does.
Leave your honest Thinkful review
Leave your genuine opinion & help thousands of people to choose the best online learning platform. All reviews, either positive or negative, are accepted as long as they're honest. We do not publish biased reviews or spam. So if you want to share your experience, opinion or give advice - the scene is yours!