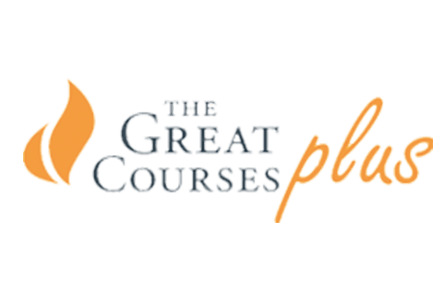 There are a lot of e-learning platforms that are offering their services to the masses. Naturally, some of them are better than others. However, it often depends on your own, personal preferences, rather than anything else. And one of the things that might help you create certain preferences is a good online course provider review. That's exactly what you've found here - welcome to The Great Courses Plus review!
In this The Great Courses review, first of all, you'll find out about the company behind the platform. After that, we'll talk about the features, pricing, content quality, and everything in between - I'll provide you with an in-depth look into the e-learning site. Finally, we'll finish the review off with a pro and con list.
Any good online course provider review should begin with an introduction to the company behind the platform. This The Great Courses Plus review isn't different - once you know a bit about the people behind the project, you'll be able to better understand the product itself.
That being said, though, if you find that, after understanding a bit more about the platform, you aren't really that big of a fan of TGC+, do note that there are some alternatives - namely, Udemy, edX and Coursera are often viewed as the top-tier online course providers.
Pros
Simple and easy to use and navigate
Professionally made courses taught by experts of the topic
Great mobile support
Cons
Might be a bit pricey to some students
Could improve on some design areas
The Great Courses Plus Review - Introduction
The Great Courses Plus is a "segway site" to one simply known as The Great Courses. What's the difference between the two? Well, the original site is based on individual sales of course-themed videos, while the Plus version offers a subscription-based model. According to the company behind the websites, both of them are separate entities, and are not there to replace one another.
Both websites belong to a company known as The Teaching Company. It was established in 1990, by a former US Senate Committee Chief Counsel Thomas M. Rollins. The company hires various experts that specialize in different areas of science. They then create courses and provide them to the company, which, in turn, uploads them to the platform.

Given that the company was established almost 30 years ago and is still going strong to this day is probably something that is worth keeping in mind! It's not every day that you'll encounter a platform that would be successfully doing business almost three decades from its inception.
With that said, let's not get into any more detail - at this point, you should have a pretty good basic idea about the company behind the e-learning site. Now, let's move on to the actual The Great Courses Plus review.
Latest DataCamp Coupon Found:
CLAIM 50% OFF
DataCamp Cyber Monday Deal
DataCamp Cyber Monday special is here! Enjoy a massive 50% off on DataCamp plans. Subscribe now and redefine your data and Al skill set for the better!
Expiration date : 08/12/2023
5,324 People Used
Only 36 Left
Ease of Use
The very first point that we'll analyze in this The Great Courses Plus review is the platform's ease of use. However, before we begin, I'd like to clear a couple of things up.
First of all, even though you would expect mostly UI and navigation analysis out of a section that's called "Ease of Use", I will also be talking about the design of the website. Why? Well, I honestly think that the way that a website looks has a lot to do with how "easy" it is to use it.
Think about it - if a platform chooses to have a huge palette of colors integrated into its design, it's more likely to annoy the potential user and sway him away. Furthermore, less-than-average designs give off an aura of uncertainty - a person is less likely to trust a website that has a poor design, since it might look like a scam (even though it might not be one).

Also, the way that I'll go about studying the ease of use of The Great Courses Plus website is by analyzing their front page, and then making my way further on from there. I do this in most of my MOOC platform reviews - I think it allows me to better understand the website from its very core, and to develop a more in-depth, intimate understanding of what it's trying to achieve.
With all of that being said, let's officially begin this The Great Courses Plus review by taking a look at The Great Courses Plus homepage.
As soon as you enter the site, you are immediately greeted by The Great Courses Plus' slogan - "Learn everything about anything". Below that, you have an interactive menu-type of an interface that allows you to choose a topic (history, health, music, etc.) to start learning.
Scrolling down, you have the typical layout that you would expect - benefits of using the platform, features, partner list. So far, the homepage is pretty generic - I did, however, like the very first thing that you'd see once you enter the site, that being the interactive menu. It's easy to understand and is very appealing to use.

If you press on one of the topics (which I did) in the menu, the background image changes and a scrollable course list (related to that topic) appears. I've chosen to go the "History" path, and the course that caught my eye was "The Greek World: A Study of History and Culture".
Once you enter the course landing page, you are presented with a lesson list and, at the very bottom of the page, a few course reviews. Honestly, this has got to be the most unimpressive course page I have ever seen in my life. It fails to motivate to choose to learn the course, lacks some information (namely - course requirements, resolutions, etc.) and is simply unattractive. The lecture list looks cumbersome - it could definitely use an overhaul!
Other than that, the site itself is alright. Surely, you won't find any design innovations within The Great Courses Plus platform, but it's still OK. When it comes to the ease of use part, I had no issues using the site - everything's a pretty smooth sail from the homepage.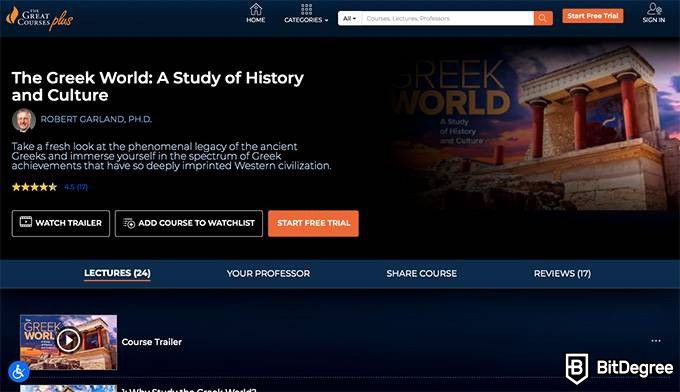 What I did enjoy was the "Category" section of the site. It's another alternative of finding desired courses - if you don't like the interface on the front page, you can simply visit the category section and pick a course from there. I really liked the layout of the page - each category has its different sliding menu with all of the courses related to that category displayed.
I'm somewhat indifferent when it comes to the thumbnails, though - on one hand, they resemble stock photos. On the other hand, I've seen some hideous thumbnails in my life, and compared to them, the ones over at The Great Courses Plus are beautiful.
All in all, the platform is easy to use and navigate. The design choices are also acceptable - there are some things that might bug the general user, but it's no game-breaker.

Did you know?
Compare The Great Courses Plus Side by Side With Others
All Online Learning Platforms may look similar to you but they're NOT all the same!
Yes! Show me the Comparison Chart
Content Quality
Content quality, as a whole, is something that should be prioritized by any company that looks to be successful in what they offer to their customers. Whether you sell online courses about web development, or t-shirts with your design on them - if you want to build a strong following and a good reputation, quality should be your number one focus point. Having said that, let's check out some The Great Courses Plus reviews that deal with the course quality.
In general, people are very positive when it comes to the courses that The Great Courses Plus offer. Different from a lot of other MOOC providers out there, the platform hires professors of different specialties to create the courses. This means that the majority of the content on the site is made by true professionals of their craft, and upholds a college-level of quality.
And it goes to show! As I've mentioned earlier, most The Great Courses Plus reviews concerning the quality of the material on the website are very positive. Students seem to agree with the fact that the content quality is great - I haven't found any negative reviews concerning them.
Features
The features that a MOOC provider might offer are a great way to stand out of the almost over-saturated market of online courses. Some e-learning platforms choose to have a lot of flashy, one-off features that are there to attract new users every single day of the week. Other sites have a more conservative approach and try to figure out ways of how they could bring in a steady flow of new students every day, all the while maintaining and keeping the current student base satisfied.
As many The Great Courses Plus reviews point out, this company is closer to the latter group of MOOC providers. Depending on which The Great Courses review you've read, you might find that the site emphasizes mobile support, provides a constant stream of new courses, has an awesome subscription model, and so on. Let's check some of these main features out.

First of all, mobile support. Many The Great Courses Plus reviews claim that the site is very adamant on providing amazing mobile support through a native app, available on all of the major mobile devices (including Kindle). It's worth pointing out that some The Great Courses Plus reviews talk about some problems with the Kindle Fire devices and the app, but this doesn't seem to be a prominent issue.
Furthermore, the app requires a stable internet connection (WiFi) to work - offline viewing isn't an option as of yet.
Another great feature that the company has is a free trial. If you choose to download the app and register, you can get a 30-day free trial on their platform. That's actually a pretty big deal! There aren't many MOOC providers that would offer a free trial, let alone a 30-day one.
Price
Pricing is also an important aspect when it comes to selling online courses. Depending on the method of choice, the users might react differently to various pricing choices that a MOOC-based platform might tend to invoke.
The individual courses on The Great Courses Plus site can reach the price range of around $500. However, as most The Great Courses Plus reviews point out and advise, it's much better to buy the company's subscription plan. The plan costs $49.95 for a month, or $360 for the annual option.

All things considered, that's actually a great price! I've come across a few The Great Courses reviews that claim this price to be too high, but if everything with the site is as good as they advertise it to be (namely - their course quality), then this price tag is a bargain! There are plenty of e-learning platforms that offer much worse quality courses for a significantly higher price. Keep in mind that, with a subscription, you will unlock ALL of the courses on the platform!
Learning Experience
If you've decided to buy a course (or a subscription) from an online learning-based platform, you are most likely going to want to have a great learning experience. But how do you measure such a thing? Well, it's pretty simple, really - all of the different variables come together to form an overall feeling of either a fun and thorough learning experience, or a dreadful and forgettable one.
Having said that, it's also important to remember that your own, personal mood is also going to impact the experience that you have with a course or a website - even if you're studying the best and most in-depth course out there, you're going to have a bad time if you're not in the mood.
Since it's impossible to measure the learning experience from the user side of things, let's return to the platform itself. The majority of The Great Courses Plus reviews claim that they've had great experiences with the courses on the platform. Knowing that, it's probably logical to think that a lot of it had to do with the website having a mobile app option and providing such a big assortment of different courses.
However, the main reason still boils down to be the quality of the courses themselves. When you know that you're learning a topic from an expert of the craft, you are that much more likely to have more confidence in the subject matter, and enjoy an overall better learning experience.

Pros
Easy to use with a learn-by-doing approach
Offers quality content
Gamified in-browser coding experience
Main Features
Free certificates of completion
Focused on data science skills
Flexible learning timetable

Pros
High-quality courses
Nanodegree programs
Student Career services
Main Features
Nanodegree programs
Suitable for enterprises
Paid certificates of completion

Pros
A huge variety of courses
Easy-to-navigate interface
Over 600 free courses
Main Features
A huge variety of courses
30-day refund policy
Free certificates of completion
Conclusions
We have reached the end of this The Great Courses Plus review. I hope that this article was useful to you, and that you now have a better idea of what The Great Courses Plus is.
If the platform in question hasn't really piqued your interest, you should consider trying out some alternatives - Udemy, edX, and Coursera are three of the more popular picks.
Leave your honest The Great Courses Plus review
Leave your genuine opinion & help thousands of people to choose the best online learning platform. All reviews, either positive or negative, are accepted as long as they're honest. We do not publish biased reviews or spam. So if you want to share your experience, opinion or give advice - the scene is yours!