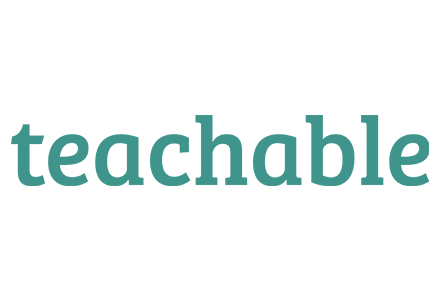 Are you someone who wants to share their knowledge with the world, but aren't sure about the best way of going about it? If so, online course-hosting platforms might be the answer. One of such platforms is Teachable - judging by the user Teachable reviews found online, it might actually be a great option, too!
If you've ever even considered the idea of creating and selling online courses, then you've likely heard about the Teachable platform... More than once. It's often considered to be the leader in regards to online course hosting and instructor personal branding.
Is there any truth to these claims? And can everything truly be as great as it sounds?
Well, that's exactly what we'll try to figure out in the article ahead. With the help of other user Teachable reviews, this should be a pretty straightforward task!
Pros
Easy to use
Marketing and analytics tools
Supports most type of courses
Teachable takes care of the design, product page, hosting, etc.
Unlimited students, video storage, etc.
Cons
Some plans are pricey
5% transaction fee with Basic plan
Teachable Reviews: PROS
To start things off, we'll take a look at some of the most positive aspects that are often mentioned in user Teachable reviews. Whether it be Teachable courses and their uploading process to the site, or the ease of use of the platform itself, we'll touch on all of the important aspects below.
The Ideal Platform for Beginner Instructors
Reading through the user Teachable reviews found online, one of the sentiments that you're bound to notice pretty fast is the fact that many instructors (and wannabe-instructors) appreciate Teachable for the fact of just how easy it is to "get into".
What does that mean, exactly? Well, to put it simply - Teachable is often considered to be the perfect online course hosting site for complete beginners.
With the Teachable courses features available on the site, you'll be able to concentrate on the quality of your course material, and won't really need to go out of your way in order to optimize your site with proper SEO tools or worry about the design choices. All of the more technical things are going to be taken care of for you.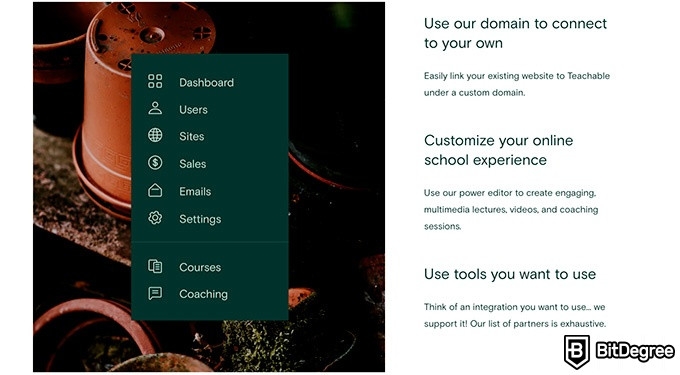 The platform is also very simple to use. Upon registering on the site and being redirected to your dashboard, all it will take are just a few glances at some of the sections in order for you to understand and see where everything is located.
Student lists, affiliates, course management tabs, navigation bars - no matter what feature it is that you're looking for, the usability aspect of Teachable is very intuitive and straightforward.
All of these things make Teachable an amazing choice for beginner instructors. This is especially true if you're not very IT-savvy, and don't really know the ins and outs of website hosting, site creation processes, design, and so on.
It's also something that's widely echoed on some other user Teachable reviews, too - most people appear to be very thankful for the fact that they can concentrate on their courses, and don't have to pay a lot of attention to the site creation itself (unless they want to, of course).
Supports Most Types of Courses
If you have ever taken an online course before, you probably know that the information presented in such courses can vary in format.
For example, think about some sort of a course in maths. While there's a lot of theoretical material to be discussed, math is a topic that needs plenty of visual presentations, too! This is why many math courses combine either video and document formats, or require students to submit written assignments, too.
Where does the Teachable platform come in here, you may ask? Well, the great thing about Teachable is that it supports all of the main forms of course content that you might wish to upload to your site.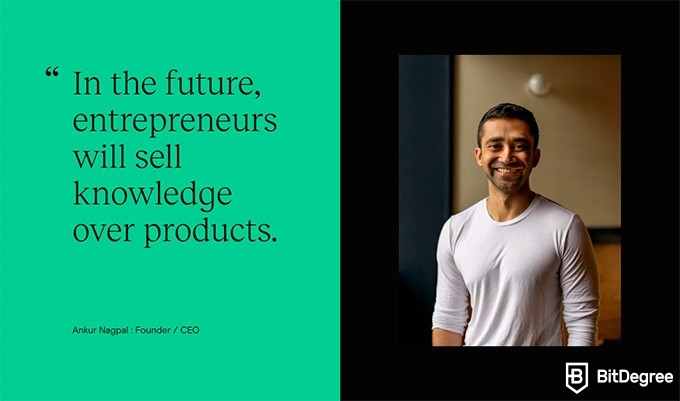 What this means is that you'll be able to both upload various different files to your course, but will also have the chance to chat with a student live, if they happen to encounter some sort of an issue that they couldn't solve.
Many of the user Teachable reviews do mention this, and consider it to be a really important benefit of the platform! Quite frankly, it means that Teachable does not limit your methods of delivering your course material to the students - great!
Simple Marketing, Course Sale and Student Tracking Tools
One half of a successful and well-designed online course hosting platform has to do with the ease of use factors and the actual course hosting aspects themselves. However, in order for such a platform to be truly well-made and tailored to the instructors' wants and needs, there's also the other half of student and course sale management, too!
Going through user Teachable reviews found online, it would appear that Teachable possesses no issues with this aspect.
The site in question packs all of the necessary and important sale tracking and analytics tools that you'd require whilst trying to analyze your course sales. You'll see your earnings, the changes in sales during certain periods of time (percentage-wise), and will have the chance to utilize many more advanced features.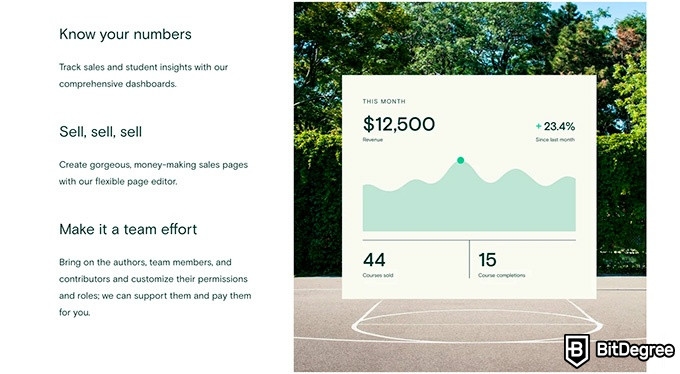 Student tracking-wise, the Teachable platform does not disappoint, either. Since students will be leaving their email upon signing up for your course, you will have that - with the Teachable up-sale tools, you'll be able to reach out to these students, and offer them additional services or discounts.
You will also be able to see how much your students interact with your courses, their completion rates, and where the students get stuck. There are multiple different features that will make your business model analysis both simple, and also effective!
On top of all of that, you'll also find that multiple user Teachable reviews mention the product page creation of your courses. Frankly, all that you need to know is that you do not need to worry about these pages - Teachable courses are all going to be marketed in some high-quality sales pages, since the platform is able to take care of their design itself!
Secure and Safe - Both for the Instructors, and the Students
Security is something that is often overlooked when searching for the best online course hosting site. People (instructors) tend to focus on feature variety and ease of use, and the topic of security tends to come up only after you've actually registered on the site and started working with your courses.
I've noticed that it's not really something that would be often discussed in user Teachable reviews, either. People do focus on course analytics and the fact that Teachable can take care of all of the tech-stuff for you, but there's little mention of, say, the fact that your site will have an integrated SSL certificate.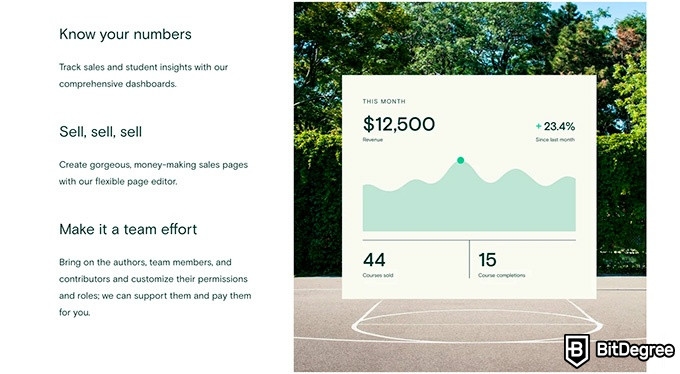 An SSL certificate is the little lock icon that you'll see at the top-right corner of the page, near the URL of the site that you're currently on (at least it there if you're using Google Chrome). What it does is it makes sure that the information that you visitors enter on your website is secure, and won't leak out to malicious third parties.
On top of that, the platform also takes care of all of the site hosting needs that you might have, too. Finding a good hosting provider can be a tricky task - this is especially true if you have zero prior experience with website creation or hosting. Thankfully, Teachable takes all of that trouble off of your hands!
Latest DataCamp Coupon Found:
CLAIM 50% OFF
DataCamp Cyber Monday Deal
DataCamp Cyber Monday special is here! Enjoy a massive 50% off on DataCamp plans. Subscribe now and redefine your data and Al skill set for the better!
Expiration date : 06/12/2023
5,324 People Used
Only 36 Left
Teachable Reviews: CONS
Now, we've established the fact that most of the user Teachable reviews found online are rather positive. That being said, though, it's important to point out that there is also some less-positive feedback that some people have for the Teachable platform, too.
Teachable Takes a Cut of Your Profits (Even for the Paid Plan)
If you choose Teachable as your main course hosting platform, you'll have to pay a subscription fee. This fee will come in the form of a few different plans - we'll get to the specifics later on, but for now, just keep this in mind.
So - what's the issue here?
Well, Teachable takes a cut from your course sale profits - at least when it comes to the Basic plan.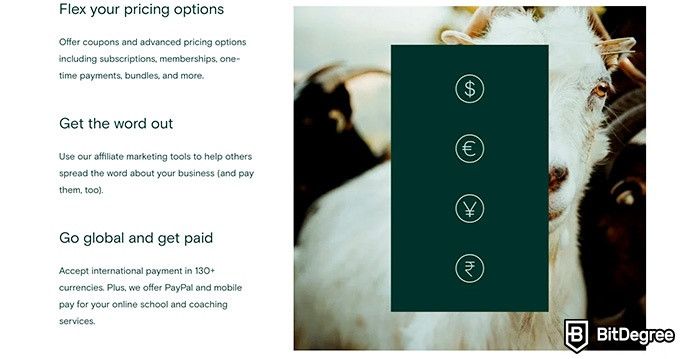 Most of the user Teachable reviews found online are rather adamant that this is a big issue, granted the fact that you do already pay for a subscription to their services. Many users see this as an unfair practice.
The Basic plan (the most affordable option you could go with) will have a 5% transaction fee, too.
Now, some users do point out that, even if you do choose the Basic plan, you'll receive a lot of significant perks - keeping this in mind, the "sale tax" does actually make more sense.
User Complaints Concerning Maintenance
One of the more prominent complaints that you'll find with user Teachable reviews is the fact that Teachable does appear to have issues when it comes to dealing with maintenance.
To be more specific, some users claim that it's rather annoying that the site goes down for hours on end. While it does not appear to be a common occurrence, when it does happen, instructors fear that they might lose out on some significant profits.
Truth be told, if I was to visit a website and notice that it's "down for maintenance", it's unlikely that I'd come back to it again, at least not anytime soon - I would just look for the information I need on the next site on the list.

I would also argue that this is probably the case with most users who are searching for something online, too.
While it might not be a simple issue to sort out, it's still something that Teachable should look into, nonetheless.
Price
With the main benefits and shortcomings of the Teachable platform discussed and evaluated, let's finish off this review by taking a look at the pricing options that are available on the platform.
As noted earlier, you'll have the chance to choose from one of the company's subscription plans. With each price tier, you'll receive an increased number of perks, both when it comes to course management, and also marketing and site administration tools, too.
The subscription plans in question are:
The jump in price from the Basic plan to the Pro one is actually quite significant! Naturally, you do receive a lot of perks with the upgraded plan, too - one of the most significant of them would be the removal of the 5% transaction fee.
It's worth mentioning that, no matter which plan it is that you'll choose, you'll get unlimited video storage, courses, hosting, integrated payment processing, and multiple other perks and benefits.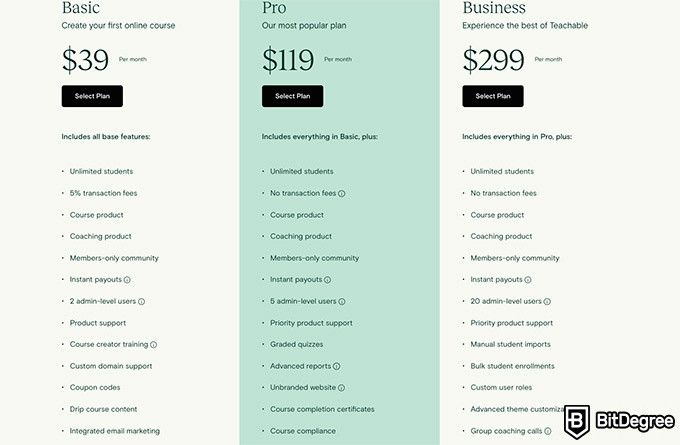 All things considered, while the pricing options aren't super-affordable, they do make a lot of sense, given everything that you'll receive with either of those plans! If not for the transaction fee with the Basic plan, it would surely be a great option, in general!

Pros
Easy to use with a learn-by-doing approach
Offers quality content
Gamified in-browser coding experience
Main Features
Free certificates of completion
Focused on data science skills
Flexible learning timetable

Pros
High-quality courses
Nanodegree programs
Student Career services
Main Features
Nanodegree programs
Suitable for enterprises
Paid certificates of completion

Pros
A huge variety of courses
Easy-to-navigate interface
Over 600 free courses
Main Features
A huge variety of courses
30-day refund policy
Free certificates of completion
Conclusions
If I was to draw a conclusion from all of the user Teachable reviews that are floating the web, I must say - it surely is one of the best online course hosting sites out there!
Sure, Teachable does have some issues - no site is perfect. Whether it be the lack of integration options, a transaction fee, or long maintenance hours, while all of these things can be annoying, they are unavoidable, no matter which course host it is that you pick.
That said, Teachable does possess a lot of amazing benefits, too! It offers a wide variety of amazing features, allows you to upload and create almost any type of courses, supports multiple different currencies, has analytical and marketing tools, and so on - it surely is a great option for anyone looking for a place to host their courses!
With all of that being said, though, if you still don't have any courses of your own, and are simply researching the market, one of the best ways of how you could "get to know the competition" is by studying some other online classes! If you're interested, check out the courses available on edX or Coursera.
Leave your honest Teachable review
Leave your genuine opinion & help thousands of people to choose the best online learning platform. All reviews, either positive or negative, are accepted as long as they're honest. We do not publish biased reviews or spam. So if you want to share your experience, opinion or give advice - the scene is yours!