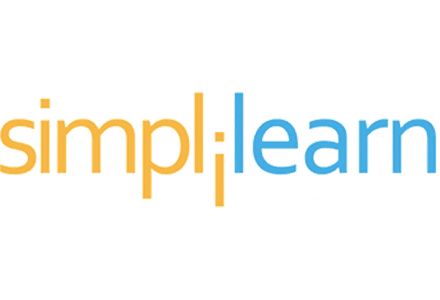 If you're interested in the topics of online courses or online education, and have encountered Simplilearn online, you're probably also going to run into some Simplilearn user reviews, too. Some of those reviews are going to be positive, while others... Not so much.
This is where I come in - in this comprehensive Simplilearn review, were going to take a look at what users of the platform have to say about it, and check out Simplilearn ourselves, too.
Needless to say, with the huge number of different online learning platforms out there, and top-tier alternatives such as Udemy, it can be rather difficult to pick the right one for yourself. Simplilearn does, for a fact, have something interesting to offer to its users, but all in due time - let's take it from the top, shall we?
TL;DR: Simplilearn offers its users around 400 different courses that are accredited. The courses are of a high quality, and will provide users with some useful, and even career-changing information. That said, all of the classes on the platform are paid, and the number of courses themselves can leave some things to be desired.
Pros
Accredited certificates
High-quality courses
Expert instructors
Blended learning options
Cons
Expensive
Small variety of courses
Small course count, in general
Simplilearn Reviews: PROS
To start things off, we're going to take a look at some of the more positive user Simplilearn reviews.
It's worth pointing out that, in general, the public opinion about the learning platform online is quite positive. While there are a few negative aspects and Simplilearn complaints that should be addressed, we'll get to them, too - first up, however, let's discuss the main target audience of the platform.
IT-Oriented Courses
Visiting Simplilearn's official website, you'll notice that there are a few categories of courses to pick from. These categories include:
Data Science and AI
Project Management
Cyber Security
Cloud Computing
DevOps
Business and Leadership
Software Development
Agile and Scrum
IT Service and Architecture
Digital Marketing
Quality Management
Big Data
Notice that most of these topics have one, single thing in common - they revolve around the realm of IT.
Indeed, reading through the user Simplilearn reviews left online, it's obvious that most people have come to the platform and purchased a subscription simply because they want to further their knowledge in the field of IT, no matter what the specifics are.
Naturally, however, the term "IT" refers to a broader spectrum of skills, and not just web development or software programming. As you can see, there are courses on, say, digital marketing, too - it's a profession that is also heavily focused on IT!

Frankly, if you're interested in one of the fields mentioned in the list above, then you'll surely be able to find user Simplilearn reviews that praise the learning experience of the platform, and that recommend the courses that the site houses.
Speaking of learning experiences, it's a topic that's worth investigating a bit deeper.
High-Quality Courses
One of the biggest praises that Simplilearn appears to receive from its users is that the quality of the courses is truly held to a high standard.
This is a big deal! Users claim that Simplilearn is a great place to learn new skills (or further-study already-existing ones), especially if you're looking to improve your chances of landing a well-paid job (we'll get to that).
This is noteworthy simply because of the fact that not all learning platforms provide their users with high-quality, career building-aimed courses. A good example here would be MasterClass - the platform is very well-known for providing its users with superb-quality courses taught by celebrities.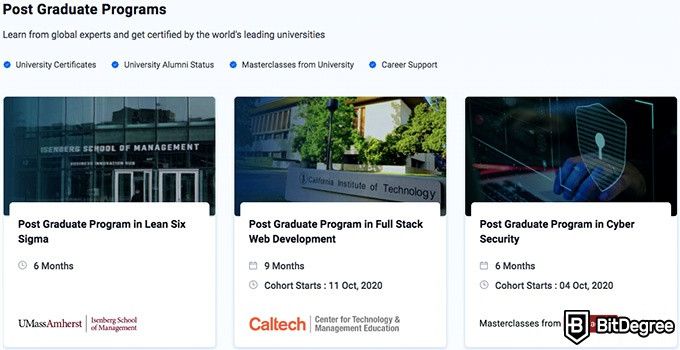 That said, these courses offer no accreditation, and are mostly geared towards people who simply want to learn and entertain themselves while doing so, rather than study a single topic deeply, with the thought of improving their career-building chances after doing so.
Again, though - user Simplilearn reviews will tell you that the e-learning platform in question falls into the latter category. The platform houses high-end courses that go in-depth with the material that they utilize.
Blended Learning - Better Results!
Blended learning is a term that refers to studying a topic with the help and assistance of the instructor, and the ability to work on real-world, actual projects during the learning process.
As you can imagine, this is a much more efficient way of studying a topic that you're not only passionate to learn, but also actually NEED TO in order to upgrade your career.
It's something that many user Simplilearn reviews mention as one of the best perks of the platform. While learning the courses, you will be able to both ask questions 27/7, and also participate in real-world practice activities.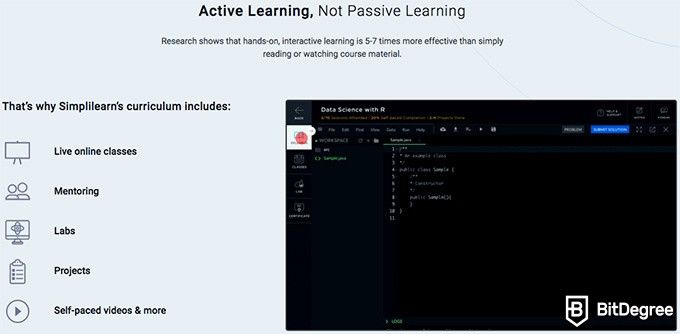 That's rare! With most learning platforms, what you'll receive is the ability to learn a course at your own, desired pace - that's it! While there might be some practical exercises or "homework", chances are that you won't really have the ability to consult with the instructor directly. It's surely a huge win for Simplilearn!
Accreditated Certificates
Now, this is huge.
Many high-tier online learning platforms offer their users certifications after they complete the course. However, these certificates are rarely accredited.
What is an 'accredited' certificate? Well, if you finish a web developer course, and receive an accredited certificate, this simply means that there are very reputable and reliable institutions that stand behind that course, and that (in a way) vouch for the knowledge that you received whilst completing it.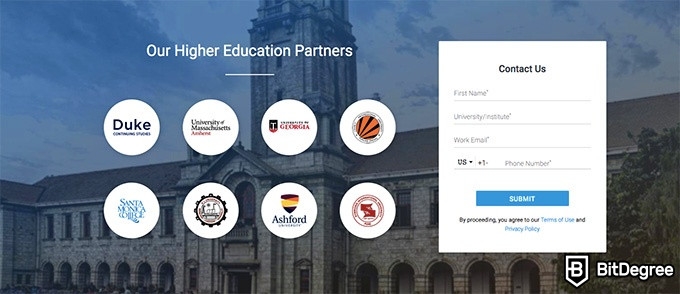 On the other hand, certificates that are not accredited do not hold as much value or weight in a job interview.
As some user Simplilearn reviews have pointed out, this is a big deal mostly because it's still not a very common occurrence to offer accredited certificates on your learning platform. It's an amazing deal for the users, since they can be sure that the quality of the material is truly top-tier, and that they have an actual chance to get a job after they finish learning.
Reliable Customer Support
While this is something that's often overlooked while studying user Simplilearn reviews, it's surely worth mentioning and praising!
No matter what industry it is that you turn to, customer support is always viewed as one of the most difficult and troublesome aspects - online learning platforms aren't an exception.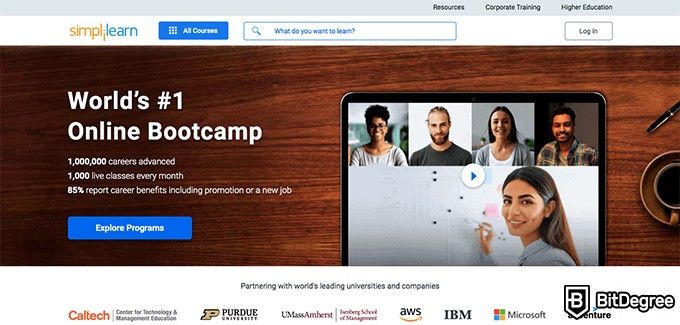 Users report that Simplilearn has some very decent customer support. The support team is very helpful, and you are able to reach them both via live chat, and also by calling them on the phone, if the issue is urgent.
While you'll rarely encounter issues that would require you to actually call the support up, it's still nice to know that there is a possibility like that! It surely adds to the reputation of the company, and shows the user that Simplilearn does take their work seriously.
Latest DataCamp Coupon Found:
CLAIM 50% OFF
DataCamp Cyber Monday Deal
DataCamp Cyber Monday special is here! Enjoy a massive 50% off on DataCamp plans. Subscribe now and redefine your data and Al skill set for the better!
Expiration date : 04/12/2023
5,324 People Used
Only 36 Left
Simplilearn Reviews: CONS
Now that we've covered all of the most notable positive aspects mentioned by user Simplilearn reviews, let's take a look at some of the more-critical things that users say about the platform, and the courses found within it.
A Limited Number of Courses to Pick From
One of the most common criticisms that are aimed at Simplilearn is the fact that there's a pretty limited number of courses available for you to study from.
User Simplilearn complaints mention that, while it may seem like there are a lot of courses to pick from at first (seeing as they are segmented into different categories), once you start looking for something specific, you'll end up noticing that the choice pool is actually pretty limited.
Not ideal.
This is especially true when you keep the pricing options in mind (we'll get to that) - Simplilearn is one of the more-expensive platforms to learn on.

That being said, the main defense here is that all of the courses are professionally-made, so you should expect top-tier quality, no matter what it is that you try to learn. While many online learning platforms nowadays offer huge course selections (i.e. Udemy offers a staggering 130,000 courses), the quality control might suffer, as a result.
Not an issue with Simplilearn, though.
To put it short, multiple user Simplilearn reviews have put it best - if you're searching for something specific to learn, and the course count on that topic is enough for you, then Simplilearn should be a great choice in this regard.
On top of that, remember - you could always brush up your experience and skills on some other e-learning sites, too!
No Free Courses to Try Out
If you've visited any of the more-popular online learning platforms, you are probably quite well-aware of the fact that most of them do provide the user with a variety of free courses to try out before committing to a subscription / purchasing a paid course.
This is great! From a user's perspective, you get the chance to "feel" how to platform works - how the UI functions, whether or not the video player is intuitive, and so on. While free courses are usually less-than-great quality-wise, they can still give you a rough idea of what to expect moving forward.

As many Simplilearn reviews point out, however, this is not something that you'll be able to experience with the online learning platform in question. Simplilearn does not have any free courses for you to try out.
Surely, it's not really something to be too concerned about. Still, in most cases, whenever people are actually looking to purchase a course on such a site, they're going to want to test it out, first.
Price
Finally, since we've discussed all of the positive Simplilearn reviews, and most of the notable Simplilearn complaints, let's also take a look at the pricing options that are available on the platform.
As mentioned earlier in the article, Simplilearn is a rather pricey option for anyone looking for online courses. You can expect its pricing options to look something like this:
For courses where you learn at your own pace, prices will start from $500-$600.
Courses that have integrated blended learning options will start at $800.
There's also corporate training for teams of people - these prices are always going to be custom.
As you can see, the prices are, well… Very high. Naturally, if there's one thing that you could take from all of the user Simplilearn reviews, it's the fact that the platform is aimed towards a very specific group of people.
Accredited certificates, limited course selection, high-quality standards… All of these things add up to create a very straightforward, high-standard-oriented education platform.

In simple terms, users who come to Simplilearn and purchase (and then learn) the courses on the platform mostly do so because they have very specific goals in mind. In most cases, these goals are going to have to do with improving one's career path, getting a job, or some similar ones.

Pros
Easy to use with a learn-by-doing approach
Offers quality content
Gamified in-browser coding experience
Main Features
Free certificates of completion
Focused on data science skills
Flexible learning timetable

Pros
High-quality courses
Nanodegree programs
Student Career services
Main Features
Nanodegree programs
Suitable for enterprises
Paid certificates of completion

Pros
A huge variety of courses
Easy-to-navigate interface
Over 600 free courses
Main Features
A huge variety of courses
30-day refund policy
Free certificates of completion
Conclusions
Now, with all of that being said and done, is Simplilearn worth checking out?
The answer to this question is both very simple, and also rather difficult - it depends on what it is that you want (need) out of an online course provider.
If you're serious about your education, and are searching for a reliable online course provider in order to study a subject in a "professional" manner, then yes - Simplilearn is surely worth considering. The company is serious about what they do, and provide very high-quality content.
That being said, some user Simplilearn reviews will tell you that if you are simply looking for online courses in order to study something at your own leisure, or learn some new skill strictly for your own entertainment, then there are surely better options out there. Just take a look at Udemy - the platform is bound to have exactly what you're looking for!
Think about it this way - Simplilearn should be viewed as an online college. While that might be a stretch, bear with me. You wouldn't probably attend college and pay huge sums of money just because "you want to learn some secondary skills", right? Well, the same sentiment could be applied here, too.
All in all, whether you choose to try Simplilearn out or turn towards the alternatives, I do wish you the best of luck in your path of online education. Never stop learning, do so at your own pace, and I'll see you next time!
Leave your honest Simplilearn review
Leave your genuine opinion & help thousands of people to choose the best online learning platform. All reviews, either positive or negative, are accepted as long as they're honest. We do not publish biased reviews or spam. So if you want to share your experience, opinion or give advice - the scene is yours!