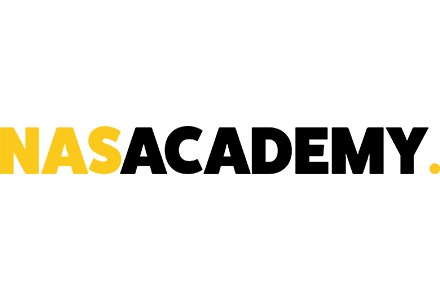 Over the recent years, online learning platforms have become an essential tool for anyone who would want to either learn a new skill, or improve an already-existing one. The pandemic has showcased how valuable online learning can really be! That being said, in this Nas Academy review, we'll check out a platform that has remained relatively lowkey, for some time now.
Truth be told, with platforms such as Coursera and Udemy dominating the space, less-known course providers often have to really fill in a specific niche, in order to stand out.
Well, no matter if you're looking for information about Nas Academy from Philippines, or the US, you can remain assured - the course provider in question DOES specialize in a rather specific niche. This niche revolves around content creation.
Is your curiosity piqued? Let's take a closer look at the course provider in question!
Pros
Certificates of completion
Decent pricing options
Content creation-oriented online learning platform
Simple to navigate and use
Cons
Small number of courses
Certificates not accredited
Nas Academy Review: PROS
For starters, we'll take a look at some of the praise that Nas Academy has received from its users, and also check out the main benefits that you yourself can expect to receive whilst using the platform in question.
It's also worth mentioning that Nas Academy was created in 2020, by a man named Nuseir Yassin. While being a very new project in the space, Nas Academy wasn't the first platform Mr. Yassin founded - he is also the man behind Nas Daily, the popular YouTube channel.
As you will see in the review ahead, Nuseir Yassin's goal is to develop the ultimate learning experience for creators around the world. With time, he managed to assemble a team, and create a platform aimed at people who want to create content, be it in the form of videos, photos, or else.
With that said, let's address the elephant in the room, first - the fact that most user Nas Academy reviews refer to the platform as a content creation education hub.
Learn Content Creation (YouTube, Photography & More)
Have you ever dreamt about becoming a YouTube star? Or a social media influencer? Perhaps you've just bought a new camera, and are seeing yourself within the photographer's career path?
If any of the above apply to you, Nas Academy might just be the place to go to.
Multiple user Nas Academy reviews left online will tell you that the online learning platform in question offers a selection of different courses, all ranging in their topics. However, the main emphasis of the platform appears to lie on content creation-related classes.

And that becomes evident when you take a single look at the "Course" section of the site! Here, among other topics that we'll cover in just a minute, content creation stands at the very forefront.
Now, as the term might imply, this is a wide area of expertise. You could create content by writing articles or books, making videos, or even taking photos. Worry not, though - all of these categories of content creation (and more!) are covered within Nas Academy.
The courses are going to range in difficulty and length, as well as the price tags attached to them. This way, almost everyone should be able to find something that'd suit their personal wants and needs.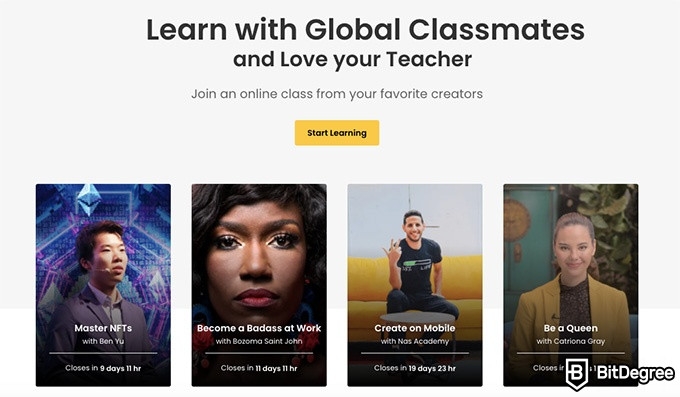 As I've mentioned in the introductory part of this Nas Academy review, though, the point here is that, no matter if you're looking for Nas Academy Dubai courses, or are situated in some other part of the world, the MOOC provider in question fills out a specific niche.
In other words, if you already know what you're looking for, you will have a much better chance of finding a course that you'd desire on a platform that's focused on that particular area of expertise!
That being the case, though, don't get me wrong - Nas Academy does offer other types of courses, as well, and we'll get to them in a minute. However, the core focus of the platform remains on content creation, and teaching people how to visualize, plan out, and create the content that they love.
Multiple Course Categories
As I've mentioned earlier in the Nas Academy review, if you were to navigate to the "Course" section of the website, you'd quickly learn that content creation is at the center of attention with this course provider.
That said, though, there are also other categories worth exploring here, as well.
Specifically, Nas Academy offers 6 different categories for you to browse through:
Content Creation
Business
Crypto
Others
Degrees
Free Workshops
While some categories don't really reference course types (we'll get to that soon), anyone looking to learn about crypto or even business will find classes relevant to their wants and needs, as well.
One awesome thing that multiple user Nas Academy reviews don't mention is the fact that the platform offers crypto-related courses. Why is this important, you may ask? Well, simple - it shows that Nas Academy is "keeping up with the times", and offering its students topics that are relevant in this day and age.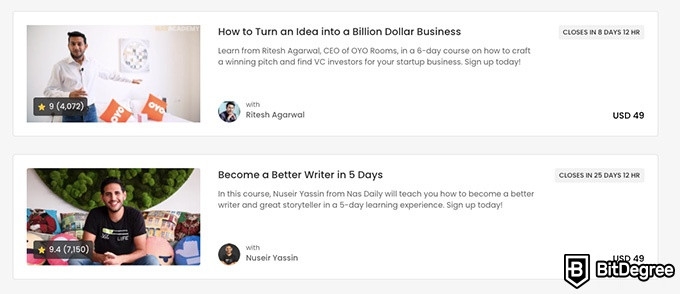 Naturally, there are multiple online learning sites out there that do now offer crypto education - this isn't anything *too* surprising. That said, as you might have gathered from this Nas Academy review already, the platform in question doesn't really offer a huge selection of course categories to its users. This makes every category special, and thus, seeing crypto here is awesome!
In short, if you'd like to learn about content creation, how to build a business, or even expand your knowledge in the crypto field, Nas Academy will allow you to do all of that, no problem!
Degrees and Free Workshops
Individual courses on Nas Academy are centered around some niche aspects of your selected topics that you'd like to study and learn. For example, some student Nas Academy reviews will tell you how they learned about the basics of crypto, while others boast about an NFT course - the same category, but different niche topics.
This is all fine and cool, especially if you know what you want to learn, specifically. This will actually help you save a lot of time and money, as well - perhaps you're not a beginner in photography, and only need to learn some specific techniques, and thus, don't need to take the full course module?
With that being said, though, if you ARE an actual beginner in some select topics, and WOULD like to specialize in those topics, Nas Academy will allow you to do that, too.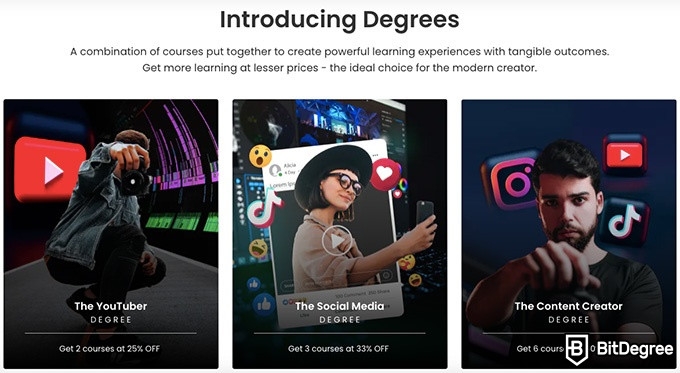 To be more specific, while Nas Academy offers individual courses, students can also choose to go for one of the Degrees available!
Now, it needs to be said that these "degrees" aren't actual, university-level education signifiers. Instead, this is simply a name given to certain collections of courses found on the platform.
In total, there are three Degrees that you can choose to study - The Content Creator, The YouTuber, and The Social Media.
Now, glancing at the curriculum of each of these degrees will reveal that they are largely composed of courses that are available to be learned individually on the platform. The Degrees also share some courses with one another, as well, depending on the topic.
So… What's the point of studying one of the degrees, then, if you could just read through student Nas Academy reviews, and pick a single course?

Well, that's exactly the point - you get a sort of a bundle of classes, with a huge discount attached!
Each Degree is comprised of a few courses, and depending on that number, you can expect to receive discounts ranging from 33%-off to 50%-off. These are some very significant discounts!
Lastly, on top of all of that, you can actually choose to create a course bundle of your own, if you don't like the pre-selected courses in your Degree. Nas Academy allows for a lot of customization options - that's cool!
In addition to these Degrees, however, there are also free workshops that you may find on the MOOC provider's website, as well.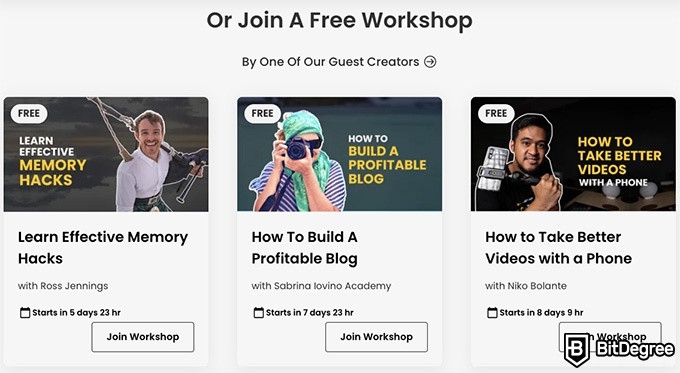 These workshops are simply free classes that anyone interested may attend. Once you navigate to the "Free Workshops" tab on the course selection page, you'll see all of the upcoming free classes, and when they're going to be held.
User Nas Academy reviews will tell you that, if you'd like to participate, all that you need to do is register on the platform, and enroll in the workshop that interests you. Then, when the time comes, the actual event will be held on Zoom.
This, for a fact, is another interesting feature that not many students (whether Nas Academy Philippines, Dubai, or from somewhere else) put an emphasis on.
Live Classes
The absolute majority of MOOC platforms in the industry offer a pre-recorded course format. What this means is that an instructor creates a course, uploads it on their platform of choice, and when a student enrolls into that course, they unlock all of the material found within.
This is, obviously, pretty standard practice. However, reading through different student Nas Academy reviews, you will quickly learn that it's not the model employed by the platform in question. Instead, Nas Academy holds live classes.
Evidently, this comes with its own pros and cons. In a very general sense, though, most students view this as a benefit.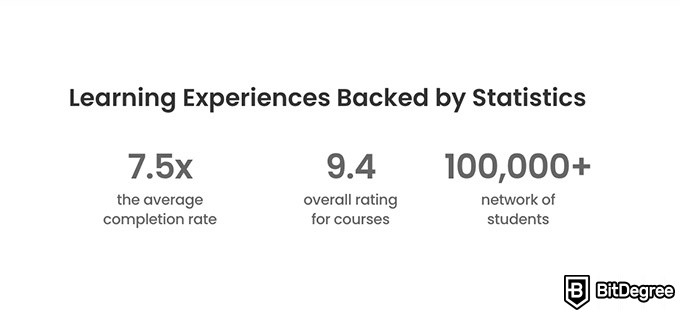 The biggest benefit of pre-recorded classes is the fact that you are able to enroll and tune in whenever you want. There are no schedules to follow, and no mandatory points in time that would require you to be online. This is great for those individuals who have busy timetables, and would prefer to learn at their own pace.
On the flip side, though, such courses are often left unfinished, since there is no feeling of responsibility to actually tune in and learn! This is something that's tackled by the live course format on Nas Academy.
Furthermore, with live courses, you will be able to receive direct feedback from the instructors, in real time. This is something that, yet again, is not available with pre-recorded classes.
Any way you'd look at it, one thing's for certain - if your schedule allows it, you should definitely look into live classes over pre-recorded courses. And, coincidentally, Nas Academy offers just such classes to its students!
Simple & Intuitive User Interfaces
When you're looking for the best online learning platform for yourself, chances are that the primary features that you look into are pricing, course types, and the general reputation of the brand. This makes sense, since these are truly some of the most important aspects that need to be examined before you can decide whether or not to sign up.
That said, though, you shouldn't forget the actual usability aspects of the platform, either.
If you're looking for a course provider, chances are that you'll be spending a lot of time studying a specific topic. You might take up a long course, multiple classes, or even an entire degree, in general!
With that in mind, naturally, you'd want the platform to be intuitive, easy to navigate, and - most importantly - for the course interfaces themselves to work smoothly and without major issues.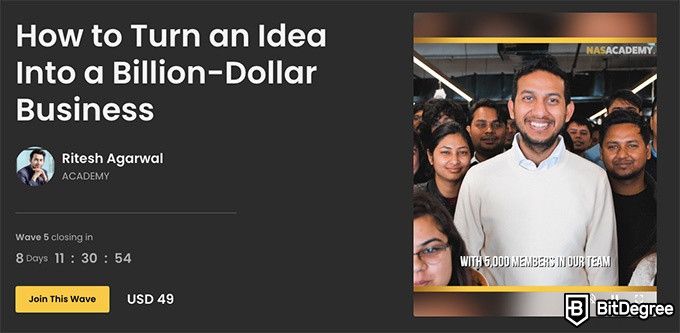 Well, reading through multiple different user Nas Academy reviews, it would appear that the platform has this aspect covered, as well!
Truth be told, all it takes is a single visit to their website, and this becomes pretty self-evident. While not necessarily boasting the coolest and most modern UI on the market, Nas Academy keeps things simple - all of the important sections are easy to find, the course filter works great, and the course pages themselves are very straightforward.
Definitely worth keeping in mind!
Decent Pricing Options
Pricing is, undoubtedly, a huge factor when picking out the best course platform for yourself. A course provider could be absolutely amazing, in all senses of the word, but if the courses that it offers are priced exponentially high, well… Chances are that it's not going to be for everyone.
The difficult part with course-providing platforms is that they usually employ very varied pricing models. Some MOOC providers prefer to keep their courses priced individually, others use a subscription model. Then there are degrees, learning paths, course bundles, and so on - it can get rather confusing, fast!
That being said, reading through student Nas Academy reviews from Dubai, the Philippines, the States, and the rest of the world, it would seem that there's a somewhat mutual consensus that the prices of the platform in question are actually very approachable!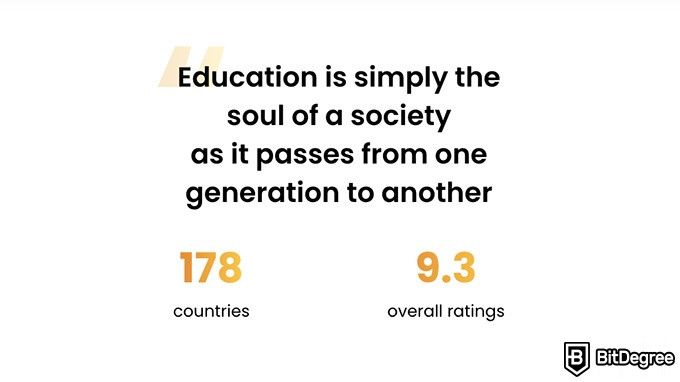 Nas Academy employs a one-off course payment system - meaning, you pay a single payment for the course, and receive unlimited access to all of the learning materials found within.
The prices for these courses range from $29 up to $699, as of writing this Nas Academy review. That's a big range! At the same time, that's a good thing, too - everyone should be able to fit into their designated budget.
Prices will depend on the topic and length of the course, among other things. When compared to some other platforms out there, ever the high-end courses offered by Nas Academy are very approachable, price-wise!
Certificates of Completion - Available!
Certificates are often viewed as a crucial part of a course provider. This is perfectly fair, too - a certificate can showcase your effort, and the fact that you have actually put in the time and completed the course!
Admittedly, most high-end MOOC platforms do offer certificates with their courses. I'm happy to say that Nas Academy is no exception here, either. This is awesome!
Certificates are available to be claimed after you finish the course. Nas Academy encourages its students to share the certificates with their friends and employers, with the sentiment that they might help improve your career opportunities, as well as make you more certain about your skills, as well.
Whether or not Nas Academy's certificates might have actual tangible benefits for one's career is a good question (and one that we'll explore later in the Nas Academy review). However, no matter how you look at it, the fact that certificates are actually available is a great perk!
Latest DataCamp Coupon Found:
EXCLUSIVE 50% OFF
On DataCamp Subscriptions
Follow the Datacamp promo code link & get an exclusive 50% OFF Datacamp subscriptions. Act now while the offer is still available!
Expiration date : 04/06/2023
2,765 People Used
Only 35 Left
Nas Academy review: CONS
Now that we've covered all of the main benefits associated with Nas Academy, it's worth mentioning some drawbacks, as well. Specifically, we'll take a look at online user Nas Academy reviews that weren't too positive towards the online learning platform in question, and analyze why this is the case, in the first place.
Small Number of Available Courses
Notably, one of the biggest complaints that users have regarding Nas Academy is the fact that the course selection is actually rather limited.
As pointed out earlier in the review, there are basically three different course categories to pick from - content creation, business, and crypto. These three categories share a total of a bit over 40 courses.
This is, admittedly, a very small number, especially when you think about other course providers offering tens of thousands of courses to their users. However, as a "con", this is still rather subjective.
Thanks to the one-off payment course purchasing model available with Nas Academy, you are able to purchase the courses that you'd like, and not be committed to some sort of a subscription model.

This, in turn, means that if there are courses on Nas Academy that are actually useful to you, the limited number of classes available isn't really an issue. This is only the case for individuals who either want to study many more courses on a select topic, or don't want to use multiple platforms at the same time, and would thus rather register and learn on one that has a bigger course choice pool available.
In any case, it's worth keeping in mind the fact that you won't really find a lot of courses to choose from on Nas Academy. Hopefully, with time, their course selection options will only go up.
No Accredited Certificates
Earlier in the Nas Academy review, we've discussed the point that the online learning platform in question provides its students with certificates, after they complete a course. The downside of this is that said certificates aren't accredited with any traditional education institution out there.
Confused? Allow me to explain.
There are two types of certificates that an online learning institution can provide to its students - those of course completion, and also accredited certifications.
The former are simply papers telling you that you've completed a course on a website. The latter, however, are truly sought-after - accredited certificates show that you've passed a thorough, university-level course. These certificates can also be used to qualify for university credit, with certain select universities (it depends on the course, and the certificate itself).

Accredited certification is rather rare - that's true. This, however, is what makes it truly valuable!
Nas Academy does not offer accredited certification to its students. Instead, there are only course completion certificates available for you to receive.
These are great, sure, but they are less likely to have an impactful effect on your professional life. A potential employer would likely be much more impressed with an accredited paper, instead of one that simply shows that you've completed some sort of a course.
Is this a major drawback? No, not really. That said, it does depend on your own, personal situation, and is thus worth keeping in mind, nonetheless.
Summary
Up to this point in the Nas Academy review, we've discussed quite a few different aspects surrounding the online learning platform. In order to make sure that you don't forget the essentials, let's have a quick summary of what we've talked about, shall we?
Nas Academy is an online learning platform where students are able to access live courses taught by different experts in their respective fields. The platform offers over 40 courses in three different categories - content creation, business, and crypto. The core focus of Nas Academy, however, appears to be courses that revolve around content creation.
The pricing options of the platform are rather fair, with prices ranging from $29 up to $699. All payments are one-off - meaning, you purchase the course, and can start learning, without any recurring subscriptions being present.

Nas Academy is also very simple and straightforward to navigate through, and offers its students the chance to receive certificates after they complete a course. These certificates aren't going to be accredited, however - a point worth keeping in mind!
In addition to standard courses, potential students may opt to purchase Degrees, which are discounted course bundles on three different topics (social media, YouTube, and content creation, in general).
Furthermore, there are also weekly workshops that are completely free to join - the topics will change depending on when you decide to join, but the actual lectures are free to attend, via Zoom.
All in all, while Nas Academy isn't the best-known online learning platform on the market, it has attracted a huge variety of positive student reviews - Nas Academy students from the Philippines, Dubai, United States, and the rest of the world are mostly very positive towards the platforms, with some of the bigger complaints being aimed at the course selection, and some individual course instructors.

Pros
Easy to use with a learn-by-doing approach
Offers quality content
Gamified in-browser coding experience
Main Features
Free certificates of completion
Focused on data science skills
Flexible learning timetable

Pros
Simplistic design (no unnecessary information)
High-quality courses (even the free ones)
Variety of features
Main Features
Nanodegree programs
Suitable for enterprises
Paid certificates of completion

Pros
Huge variety of courses
Easy to navigate
No technical issues
Main Features
Huge variety of courses
30-day refund policy
Free certificates of completion
Conclusions
That's it - you are now much more knowledgeable about Nas Academy, and the online learning services that this company provides! What's the conclusion here, though - would I recommend trying the platform out?
Yes, I would, but for a specific group of people. Let me explain.
If you're interested in one of the three topics available on the platform - business, content creation, and crypto -, and would like some "lightweight" courses on any one of those topics, then Nas Academy is definitely worth checking out. The prices are decent, and the live learning model will help you establish a certain routine, and finish up your studies in a timely manner.
On the flip side, if you're looking for high-end classes, and are only satisfied with accredited certification, then Nas Academy might not be the ideal choice, as a first option. Instead, the courses available on the platform can be complementary to your other studies.
All in all, Nas Academy is definitely a decent online course provider, and is worth checking out for anyone whos interested in learning a new skill, or improving an already-existing one!
Leave your honest Nas Academy review
Leave your genuine opinion & help thousands of people to choose the best online learning platform. All reviews, either positive or negative, are accepted as long as they're honest. We do not publish biased reviews or spam. So if you want to share your experience, opinion or give advice - the scene is yours!