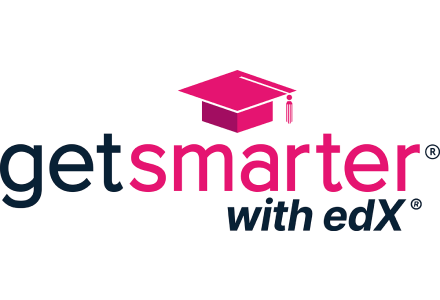 In the realm of online education, there are quite a few different companies offering potential students the chance to develop and expand their knowledge on certain topics. Picking a single online learning platform can prove to be a challenge! Today, in this GetSmarter review, however, we'll discuss one of the more-interesting choices that you could make.
GetSmarter courses are rather special, due to the way that they are designed, as well as the certificates that they come equipped with. Whether you're looking for GetSmarter MIT classes, or those that relate to Stanford, chances are that you're already aware of some of the major benefits offered by the platform.
We'll discuss those benefits in an in-depth manner, as well as look at some of the quirks that might be referenced when talking about GetSmarter. Let's get straight to it, then!
Pros
University-level courses
Great customer support
Data-backed course selection
Self-paced learning
Multiple partnerships
Flexible payment options
Cons
Courses can get pricey
Non-accredited certificates
GetSmarter Review: PROS
We'll start this GetSmarter review off on a positive note, and take a look at all of the major benefits that the platform provides to its students. At the top of the benefit list, naturally, you have things such as university partnerships, as well as the relationship that GetSmart has with 2U.
2U + GetSmarter + edX - An Online Education-Oriented Trio
Whilst reading through various GetSmarter reviews found online, you will quickly learn that the company is rather proud to have a great relationship with another online education-focused brand called 2U. Specifically, GetSmarter is a subsidiary of 2U.
While GetSmart is based in South Africa, 2U is located in the US. The aim of the latter company is to digitize higher education, and bridge the gap between on-campus learning, and the experience that students have whilst studying online. 2U is mostly focused on some of the top-rated universities around the world.
At some point, with 2U constantly being recognized as one of the leading EdTech companies on a global scale, the brand noticed GetSmarter, and struck a relationship with the course provider in question. The partnership has been present ever since.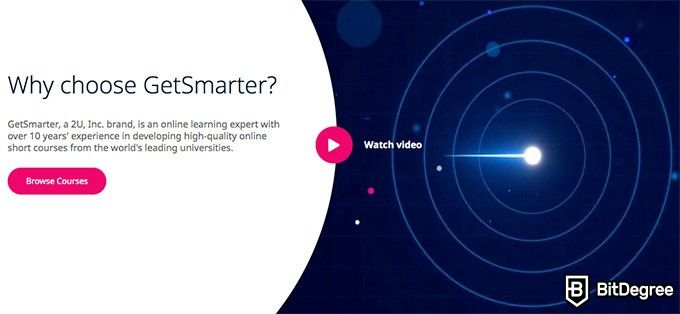 What does this mean for anyone choosing GetSmarter courses as their go-to source of knowledge in a specific field? Well, the partnership with 2U has allowed GetSmarter to become much more accessible to different students around the world, as well as broaden their course catalog by quite a bit.
This is fantastic news if you're interested in learning more than one topic, or would simply like to have a broader selection of classes to choose from.
At the same time, if anything, it adds to the legitimacy of the course provider, too! By having international partnerships and some globally-recognized courses, the online course platform can attract a wider audience of students. This is something that's evident from user GetSmarter reviews left online, too.
Worth mentioning that 2U has recently acquired edX, another eLearning giant.
Partnerships With 20+ of the Best Universities in the World
What's the most important feature that you'd be looking for in a course-providing platform? Is it course variety? Perhaps the price ranges of certain classes that you could study?
While those things are very important, sure, they pale in comparison to one, single factor - quality.
There are few things that are as important when picking a course than the quality of the learning material found within. Everything else falls short, in comparison - it can be the most advertised class in the industry, handed to you completely free of charge! However, if it lacks in quality, in the best-case scenario, you'll simply be wasting your time.
How should you know whether GetSmarter courses offer high-quality learning materials, though? Well, there are a few different points to look at. The most obvious of these points would be the fact that GetSmarter, as of writing this article, has partnerships with 23 different university partners around the world.

Famous universities that have partnered with GetSmarter include Harvard, Stanford, IMD, MIT, LSE, Berkeley, UC Davis, Cambridge, Oxford, and many more. Surely some of the most recognizable names in the industry!
These partnerships mean that Get Smarter courses are top-notch, and up-to-standard, in regards to each of the universities that they are made in collaboration with.
In other words, if you were to, say, pick a healthcare course from Stanford, and study it on the GetSmarter platform, you can expect the same level of quality as you would while studying the topic at Stanford.
This definitely does act as a huge confidence boost, in regards to how students view GetSmarter courses! This is something that's evident from reading different user GetSmarter reviews, too.
Short and To-the-Point Course Structures
Admittedly, this is a contentious point to discuss. However, if you're looking for a way of how to improve your knowledge in a specific field without dedicating thousands of hours to online learning, user GetSmarter reviews will likely tell you that this platform is for you.
One of the core features of GetSmarter courses is the fact that the platform offers "short courses" to its students. What does short mean, in this regard?
Well, granted that some of the company's courses could go up to the 10-week mark, it's probably safe to say that "short" is a subjective term here. That being the case, however, there's a perfectly logical explanation of what is meant by this term.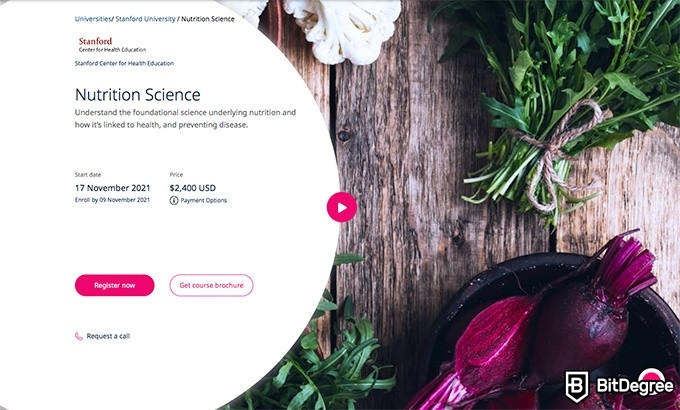 Even if your GetSmarter courses of are at the 10-week mark, this is nothing when you compare them to actual university courses that are taught on-campus. Degrees and specializations take years to master, if learned the traditional way - by comparison, a 6- or 10-week course can definitely be considered "short".
Doesn't that imply a poorer learning experience, and lack of useful information, then? Well, not necessarily - even if it does, though, there are justifications, too.
For starters, Get Smarter courses are much more affordable than actual university courses or specializations - that's for sure. At the same time, the learning material is structured, and the classes themselves act as a sort of a bootcamp. Meaning, you'll have to spend some significant time during those weeks in order to take in all of the material that is taught.
While there are user GetSmarter reviews that aren't happy with how the course certificates work (more on that later), the duration of these courses does not (and should not) imply poor quality. What DOES it imply, though?
Well, if you choose to study GetSmarter courses, you will be able to receive some high-level education, in a short amount of time. This is awesome for anyone who might not have a lot of spare time, and just wants to improve their knowledge in a specific field.
Swift and Helpful Customer Support
No matter what sort of product or service it is that you might be looking for, customer support is often left as one of the few undervalued features. A single look at the various user GetSmarter reviews left online will show you that online learning platforms aren't exempt from this rule, either.
That shouldn't be the case, though! Customer support is an extremely important and valuable asset to any service that you may choose to partake in - this is especially true in regards to online learning, too!
Proper customer service can help you solve various issues, and resolve any complaints that you might have. If you run into a problem with your registration, course enrollment, billing, or anything in between, it's a huge deal to have someone right there, by your side, to help you out.
I'm happy to say that, both in regards to my own, personal experience, and that expressed in multiple student GetSmarter reviews, the customer support services offered by the brand are top-notch.

I myself had a few questions regarding the learning durations of Get Smarter courses, and decided to contact their support directly. The support agent named Ashley was super-helpful, and answered all of my questions in a timely, respectable, and understanding manner.
Looking through different GetSmarter reviews online, it would seem that this is the norm, rather than an exception. Most students appear to have a lot of positive experiences with the support agents over at GetSmarter, no matter what type of a question or issue they might be having.
On top of that, the support over at GetSmarter is also very flexible, studying-wise. For example, if something were to happen, and you couldn't finish all of your assignments in time, you could contact the support agents, and get your deadlines extended or postponed!
It's definitely a notable feature (benefit) to keep in mind!
Data-Backed Course Selection
One of the bigger worries that some students have when it comes to online learning platforms is that a lot of the courses presented on said platforms are going to frankly be useless.
What does that mean in the context of online classes? Simple, really - that the courses are going to be both of poor quality, or packed full of information that's simply not going to be relevant for anyone who's trying to improve their chances of landing their dream job. Or both.
We've already covered the "quality" aspect in this GetSmarter review, and have come to the conclusion that this isn't something that you'd need to worry about. Get Smarter courses come equipped with university-level standards, as far as the quality of the subject material is concerned.

At the same time, however, I am happy to be able to state that this is also true in regards to the actual topics of these courses, as well. GetSmarter has a data-driven course selection procedure - it guarantees that, no matter what type of a class you may pick, you'll always receive industry-relevant information.
How does this work, exactly? Well, a dedicated team behind GetSmarter analyzes the industry, and identifies the most sought-after professions and career paths at the current point in time. Then, this analysis is applied when creating (picking out) the courses that are going to be present on the website.
If you had some fears and reservations about this particular point, you can rest assured that GetSmarter's got you covered!
Self-Paced Learning Model
Arguably one of the biggest benefits for learning online as opposed to in an in-class environment is the leniency that you have with all of your studying needs. Allow me to elaborate on that point a bit further.
When you're attending in-person classes, you have a set date and time for when you need to be present in that class. If you skip it - that's on you. On top of that, more often than not, once you are actually in the classroom, you aren't really going to be able to multitask, either - you'll have to focus 100% on the materials that are being taught.
The opposite is true with online learning… At least most of the time.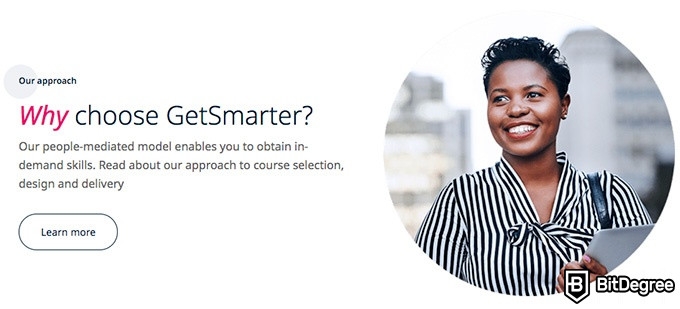 Studying a course online, you will have the freedom to learn at your own pace, and at any point in time that you might feel the need to. This is wonderful, in general, but is especially relevant to individuals who have full-time jobs or other time-confusing responsibilities in their lives.
Is the situation similar with GetSmarter? Well, yes, kind of.
All GetSmarter courses are self-paced. What this means is that you'll be able to learn at your own pace, as well as take things as slowly as you'd like to.
I say "kind of" intentionally, though - not everything on GetSmarter is "self-paced".
Specifically, while you can study the courses found on the platform in a way that's comfortable for you, assignments and deadlines are held at some set, strict dates. This means that you have all of the time UNTIL that date to learn in a way that's best for you - once the date comes, though, you'll need to show up for the test.

In a way, this is actually good. It gives you a specific date as a deadline for you to finish a set amount of learning material, and objective, time-specific goals are usually a good thing. User GetSmarter reviews mention that there are learning time suggestions with every course on the website, as well - an approximate amount of time that you'll need to spend in a week to be able to learn efficiently.
All of that aside, however, you can be sure that, if you want to manage your time and learn at a pace that's comfortable for you, GetSmarter courses will allow you to do that, no problem.
Modern, Easy-to-Navigate-Through Users Interface
User interfaces and page layouts are some features that we usually don't really think about all that much, when picking out the best online learning environments for ourselves.
Admittedly, that makes a lot of sense - it's not exactly a huge criterion that needs to be paid attention to. At the same time, once you *do* actually pick a platform, and start a course, it becomes much more noticeable.
Poorly-designed user interfaces are a nuisance, to say the least - this is a sentiment that's echoed by some student GetSmarter reviews, too. If you've tried a few different MOOC providers by now, you can probably tell the difference between a user-friendly UI, and one that feels like it's been designed in the 90s.

Whether you'd pick a GetSmarter MIT class on marketing analytics, or some sort of a sales course, you can be sure that, in both cases, you'll receive nothing but a smooth and seamless experience, as it relates to the UI of the website.
GetSmarter's website looks and feels modern, and is very intuitive to navigate through. Courses are pretty simple to find, the data on their landing pages is informative and useful, and the actual course UI itself is very simple to use, too. That's awesome - it makes the entire learning experience much more enjoyable!
Latest DataCamp Coupon Found:
EXCLUSIVE 25% OFF
On DataCamp Subscriptions
Follow the Datacamp promo code link & get an exclusive 25% OFF Datacamp subscriptions. Act now while the offer is still available!
Expiration date : 12/06/2023
2,765 People Used
Only 35 Left
GetSmarter Review: CONS
Now that we've gone through all of the major benefits that you can expect to receive by choosing GetSmarter as your go-to online learning platform, there are certain shortcomings that still need to be discussed, too. Notably, most user GetSmarter reviews found online are positive towards the course provider, with only a few complaints being echoed multiple times.
Non-Accredited Certificates
Most of the reputable online course providers out there offer certificates of completion to their students. Meaning, upon finishing a course, you can expect to receive a paper (or a digital) certificate with your name on it, signifying that you have, indeed, taken and finished the course.
Sounds good? Well, it is! However, there are generally two types of certificates that you can expect to receive - accredited, and non-accredited ones.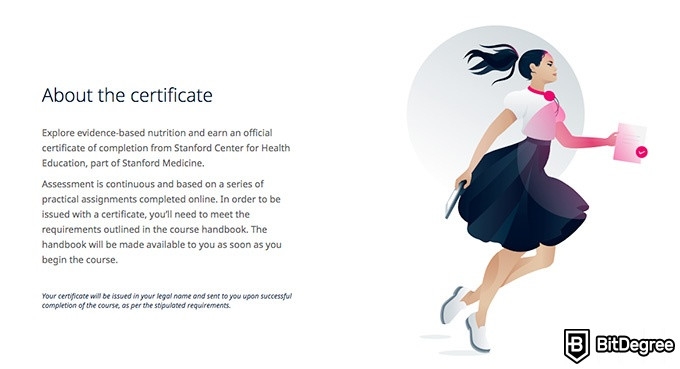 Accredited certificates are extremely valuable, in more ways than one. For starters, they can allow you to receive credits in select universities that recognize these certificates. In other words, instead of taking a marketing class in your university, you can just learn online, and then use the certificate as proof that you have done so - you'll receive all of the credits for that course.
This is just one side of the coin, however. The best part is that accredited certificates are often highly valued by employers. Why is that the case, though?
Well, you see, anyone can issue a certificate. In a very general sense, this doesn't mean that this paper holds any value! An accredited certificate of completion, however, guarantees that the student has finished an intense and well-prepared course, and does possess the know-how to prove so.
On the flip side, multiple user GetSmarter reviews will tell you that non-accredited certificates aren't by far as valuable. Unfortunately, this is what you'll get with many of the classes offered by GetSmarter. Worth mentioning, though, that there are some courses that are, in fact, accredited.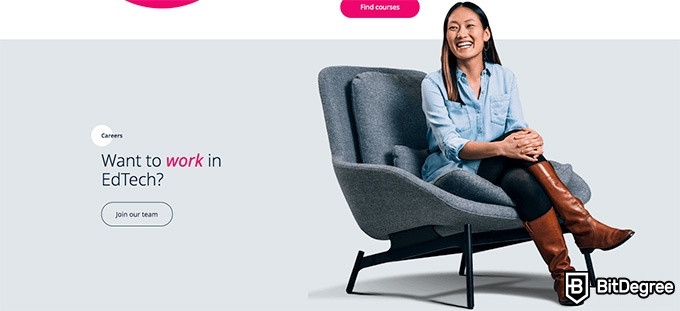 Now, don't get me wrong - this doesn't mean that the GetSmarter certificates are useless. Far from it! They will contain your legal name and surname, and will be mailed to you after you successfully complete a course. These pieces of paper can hold a lot of value, especially since they'll contain the names of some of the world's best universities!
That aside, no matter how you look at it, GetSmarter certificates aren't accredited. Granted the actual pricing options for many of the courses available on the platform, this isn't ideal.
Pricey Courses
A major benefit of online courses that's often echoed by multiple fans of this type of learning is the fact that online education is often much more affordable than that of in-person classes.
Depending on where it is that you live, traditional education can get really expensive - that's rather obvious. It's especially frustrating if all that you want to learn is a single, niche topic, but then have to take a whole lot of additional courses in order to receive your education.
In a general sense, online courses are much more affordable than traditional learning. Naturally, as some student GetSmarter reviews will tell you, it does depend on a few different factors - certificate accreditation, the quality of the course, and so on.
Well, as far as online learning is concerned, GetSmarter courses aren't the most affordable ones around. Worth mentioning, though, that this is because GetSmarter isn't an MOOC provider, but rather a platform offering exclusive and people-mediated courses.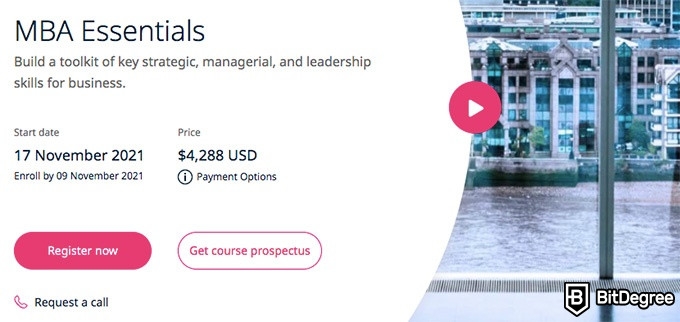 Course prices mostly range from $1,500 up to around $3,500. The actual prices do depend on the topic, course length, and the institution (university) that the course is associated with.
When you keep in mind the general quality of said courses, the prices do become justified, at least to a certain extent. The one main complaint that users seem to have is the fact that, with prices like these, you would expect accredited certification - as we've already discussed earlier on in the GetSmarter review, though, this is not the case.
It's worth mentioning that there are also multiple payment options available, too. You can either pay the full price in advance, or split the payments into a few different parts. The specific conditions will, once again, depend on the length of the course.
Summary
By this point in the GetSmarter review, we've discussed a lot of different features, benefits, and shortcomings of the online course provider. Before we finish off, let's have a quick summary in order to be able to see the bigger picture in a clearer manner, shall we?
GetSmarter is a globally-recognized online learning platform. It specializes in short courses that are all backed by some of the best-known names in the traditional university world. GetSmarter also has an extensive relationship with 2U, a well-known global EdTech development platform.
In a general sense, the majority of student GetSmarter reviews found online are rather positive. The platform, albeit not that well-known globally, offers its students a wide variety of different benefits. They include everything from top-tier quality courses and self-paced learning, all the way to amazing customer support services and an intuitive user interface.

On the flip side, there are also a few complaints that keep coming up when you're looking through online-located user GetSmarter reviews, too. The most notable ones include the fact that there could be more accredited certificates offered, as well as a point about how the courses themselves aren't the most affordable options you might come across.
Truth be told, at least when it comes to the pricing options of the courses, when you consider all of the benefits that you receive whilst learning with GetSmarter, the prices do make sense. Sure, they are higher than with many high-end MOOC providers, but this reflects on the quality of information received, as well as the customer services surrounding the course itself.
When it comes to GetSmarter certificates, things are a bit more complicated. If you're in need of an accredited certificate, specifically, you'll need to check out your select course on GetSmarter to find out if it provides you with exactly that. However, if you don't really care, and it doesn't impede on your goals and expectations after you finish the course, then there's nothing to worry about.

Pros
Easy to use with a learn-by-doing approach
Offers quality content
Gamified in-browser coding experience
Main Features
Free certificates of completion
Focused on data science skills
Flexible learning timetable

Pros
Simplistic design (no unnecessary information)
High-quality courses (even the free ones)
Variety of features
Main Features
Nanodegree programs
Suitable for enterprises
Paid certificates of completion

Pros
Huge variety of courses
Easy to navigate
No technical issues
Main Features
Huge variety of courses
30-day refund policy
Free certificates of completion
Conclusions
With everything being said and done, but a single question remains to be answered in this GetSmarter review - is the platform worth checking out, and would I recommend you do so?
Yes, I would! Although, do keep in mind that it probably won't suit everyone, and will be best for a specific type of individual.
As you've probably gathered by now, GetSmarter is a high-end course provider. It's aimed at students who are serious about their education, and want to significantly improve their knowledge in their respective fields of expertise.
If you're simply looking for a fun course to take during your free time, without an actual goal in mind, sure - GetSmarter could still suit your wishes and expectations. However, it might not be the best option in that regard.
A final point on the pricing aspect of said courses - don't forget that there are multiple payment options, and that you can actually split the price into a few parts that are paid at different points in time! While the price tags could potentially seem daunting at first, with a bit of planning, they can be managed much easier.
Thanks for reading my GetSmarter review, and best of luck with your online learning ventures to come!
Leave your honest GetSmarter review
Leave your genuine opinion & help thousands of people to choose the best online learning platform. All reviews, either positive or negative, are accepted as long as they're honest. We do not publish biased reviews or spam. So if you want to share your experience, opinion or give advice - the scene is yours!