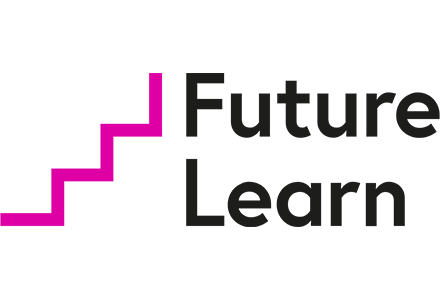 Have you heard about the Brandon-Hall study before? According to the study, online learning requires 40% to 60% less employee time than learning the same subject in a traditional classroom setting. That said, quick learning is one of the main reasons why people choose online learning in the first place. For this reason, today we'll focus on the FutureLearn review and see whether you can learn quickly and effectively on this platform.
In this FutureLearn review, we'll focus on the platform itself. That includes usability, available courses, exceptional features, and even more. I will also introduce the company behind FutureLearn and shortly focus on its history.
Without further ado, let's jump right into this FutureLearn review and find out if it's worth it.
Verdict at a Glance
FutureLearn is an online learning platform that was founded back in 2012. The platform offers a variety of courses, programs and degrees to choose from. What is more, you get accredited certificates as well as the ability to earn credits whilst learning on this platform. Moreover, it features a clear structure and has partnerships with well-known universities. On the other hand, there are quite many negative students' FutureLearn reviews, and it can be quite expensive.
Pros
Variety of courses
Clear structure
Partnerships with numerous universities
Accredited certificates
Cons
Some poor student reviews online
Could get really expensive
FutureLearn Review: What's the Story Behind It?
FutureLearn was founded back in December 2012. It's a British digital learning platform owned by The Open University and SEEK Limited. You probably know nothing about these two companies, so let me give you a quick introduction.
The Open University (OU) is a public research university that was established back in 1969 and is considered to be the biggest university for undergraduate education in the UK. The OU offers a variety of courses that can be studied anywhere in the world. Currently, there are more than 175,000 students already enrolled, and the number keeps growing.
The OU was founded by the Labour Prime Minister Harold Wilson, who served as Prime Minister of the United Kingdom from 1964 to 1970 and 1974 to 1976. It's one of the two universities of higher education in UK that received accreditation in the United States of America by the Middle States Commission on Higher Education.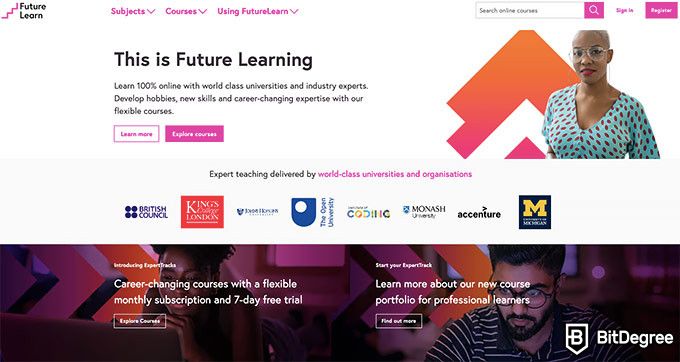 Now, Seek Limited that's also known as the Seek Group focuses on connecting job seekers and employment opportunities by helping hires to find candidates in suitable roles. The company was founded back in 1997 and currently operates in 18 countries. It's fair to say that the more such platforms there are, the better opportunities students get after completing online courses.
What's exceptional about FutureLearn is that, according to Financial Times, it was the first platform that provided students with an opportunity to get a degree from a top UK university using their smartphones and tablets.
FutureLearn has more than 175 UK and international partners, including multiple universities: The Open University, University of Bristol, University of Exeter, King's College London, Lancaster University, and others. That's one of the reasons why FutureLearn can provide you with such high-quality online courses (we'll discuss that further into the FutureLearn review).
Now you should have a pretty good idea of what FutureLearn is all about. It's time to move further into FutureLearn review and find out the pros and cons of using this platform. That will help you to decide if you want to stick with FutureLearn or consider other options.
FutureLearn Review: PROS
It's not surprising that we'll begin this FutureLearn review from the positive aspects. That will help you to find out about the benefits it can provide you with, and there are quite many of them.
So let's begin.
Good Variety of Courses
When choosing an online learning platform, one of the aspects that you should keep in mind is the variety of courses to choose from. Unless you're looking for very specific courses, such as programming or business management, then you might want to consider platforms that focus solely on such subjects.
FutureLearn offers a variety of courses, including a huge range of short courses, more extensive ones, and even online degrees that could provide you with a similar experience as traditional institutions, especially since the majority of classes are transferred online due to the pandemic.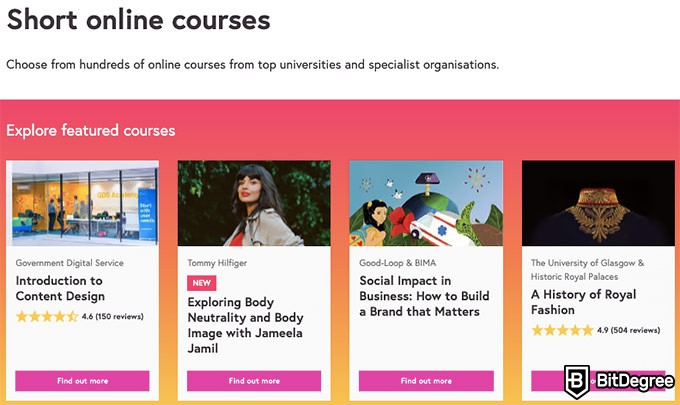 The subjects that you can learn on FutureLearn include:
Business and management
Creative arts & media
Healthcare & medicine
History
IT & computer science
Language
Law
Literature
Nature & environment
Politics & society
Psychology & mental health
Science, engineering & maths
Study skills
Teaching
Just like I told you, one of the reasons why it's worth considering FutureLearn is because this platform provides you with a wide variety of different subjects you can study.
Also, as mentioned previously in this FutureLearn review, the platform offers not only short courses but also more in-depth ones as well as online degrees. That's why I would like to take this opportunity to focus on each of them and find out the difference. This will also help you to pick the courses based on your personal wants and needs.
Short Courses
The majority of short courses offered by FutureLearn should last from 2 to 10 weeks when learning about 3 hours per week. There are hundreds of options available, they're offered by leading universities and other specialist organizations.
Short courses are highly recommended for those who want to expand their knowledge in different areas, however, don't have that much time for studying. They're flexible, meaning that you can learn anywhere and anytime.
ExpertTracks
ExpertTracks include 58 in-depth courses that will help you to master new skills in specific specialist areas. These courses include not only theoretical learning material but also a practical part that will help you to move towards becoming an expert in a specific field.
After completing ExpertTracks courses you get a certificate that you can add to your portfolio to show off your new skills and get better job opportunities.
MicroCredentials and Programs
When it comes to MicroCredentials and programs, you get 31 options to choose from. These courses allow you to get more in-depth knowledge in a specialized field.
All of these courses were created keeping in mind the most in-demand career skills. What's more, each of them was created by top universities and provides you with accredited certifications as well as formal online assessments.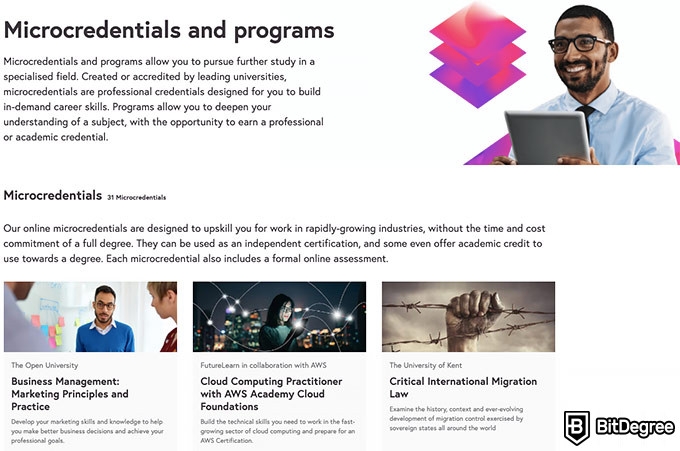 That said, if you want to become an expert in a specific field, you should keep FutureLearn MicroCredentials and programs in mind.
Online Degrees
If you're looking for the most in-depth courses, you should be aware of FutureLearn online degree courses. Every Futurelean review will tell you that this option is the most similar to traditional education. After completing a FutureLearn degree, you get a qualification that's recognized internationally.
If you want to choose from these courses, you first need to choose from the available options - from graduate certificates to master's degrees. Then you will need to enroll in classes and learn new knowledge. After that, you will need to pass all the assessments, and you will get your degree.
Needless to say, this will take time and effort, however, it's completely worth it at the end. After all, you will get a degree.
That's about it when it comes to FutureLearn courses. It seems that FutureLearn provides you with all possibilities to learn new skills. All you need to do is pick a suitable course, ExpertTrack, MicroCredentials, or a degree.
Partnerships with Universities
When looking for high-quality courses, you should know that not everything depends on the platform but rather on instructors who upload courses. Knowing that FutureLearn is in partnership with multiple universities and other institutions might be the sign that it offers top-quality courses (you'll find out if that's the case further into this FutureLearn review).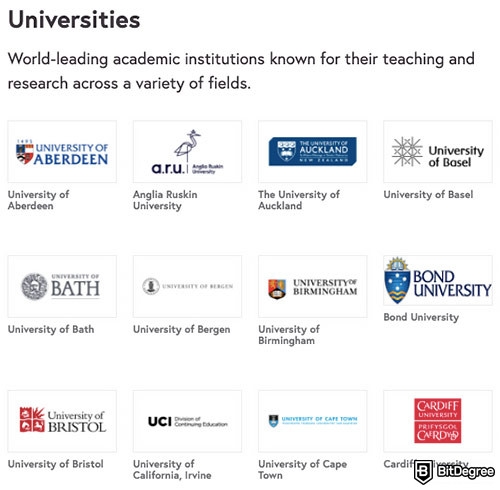 Currently, FutureLearn partners with tens of universities, including:
University of Aberdeen
University of Birmingham
University of Bristol
University of Cape Town
Cardiff University
City University of Hong Kong
Durham University
Dublin City University
The University of Law
Hanken School of Economics
and many others
What is more, FutureLearn is in partnership with other specialist organizations that focus on various fields of expertise. Such organizations include Accenture, Advertising Week. AllBright, Amnesty International, BIMA, British Council, BSAC, ClickSlice, EIT InnoEnergy, EIT Manufacturing, Filtered, and many more.
Also, there are 5 Centres of Excellence that FutureLearn is in partnership with:
Abertay University,
Darden School of Business, University of Virginia
Glion Institute of Higher Education
HKU School of Professional and Continuing Education
Institut Français de la Mode (IFM)
Finally, there are tens of associate partners, and the number keeps growing. A few of them include the University of California, Berkeley, Cambridge University Press, The Data Lab, University of Oxford, and others.
Since there are multiple benefits to becoming the FutureLearn partner, the company continues establishing new partnerships on a regular basis.
Clear Course Structure and High-Quality Video Material
Learning online is not always easy, especially if a platform doesn't have a clear structure. Based on FutureLearn reviews, one of the reasons why students like this platform are because of the clear course structure that looks like this:
Starting the Course. Once you choose a course, it will appear on your courses' list. This way you'll be able to easily track your progress as well as immediately add new courses that you'll want to learn in the future. Also, by clicking on the course, you can immediately continue learning, upgrade it or leave it. It's very convenient.
Performing Various Activities. All FutureLearn courses are divided into weeks, each of them includes various activities that you need to complete in order to move further.
Videos, Audio and Articles. To make it more interesting you will be learning from various videos, audio and articles, after which you will usually need to complete a short quiz to make sure that you understood everything.
Commenting. If you have any questions about a specific subject or topic, you can comment in the space below the course. This will allow you to understand every topic to the fullest.
Discussing. Even though this won't happen that commonly, you will be given a topic that you will need to discuss with a fellow student. It's already been proven that when discussing you learn things way easier.
Replying. When commenting you will also get replies from other students. To make sure that you're not missing out on those, you'll be getting email notifications instantly.
Following. FutureLearn is a social learning platfrom. This means that if you find an interesting person who makes on-point suggestions and asks the right questions, you can press the 'Follow' button on their profile page.
Taking Quizzes. After the majority of classes, you will need to complete quizzes to show that you actually understand what you're learning. There's no need to worry about answering incorrectly as you have an unlimited number of tries.
Completing Tests. If you decide to upgrade your account (we'll be talking about it more in the pricing section of this FutureLearn review), you'll have an opportunity to take tests. They're a bit different than quizzes as you'll have only 3 tries and an overall mark.
Completing Assignments. Some courses will allow you to complete assignments as well as get and give feedback from and to other students.
Finishing the Course. If you're a paid member and have completed all the courses as well as passed all the tests, you'll get a certificate of completion that you'll be able to use when showing off your skills.
While the course structure matters, it's crucial not to forget that the content and video quality are even more important aspects. Based on FutureLearn reviews and my research (I enrolled in multiple courses to check the video quality as well as learning materials), FutureLearn offers top-tier quality courses, in regards of videos and other types of content.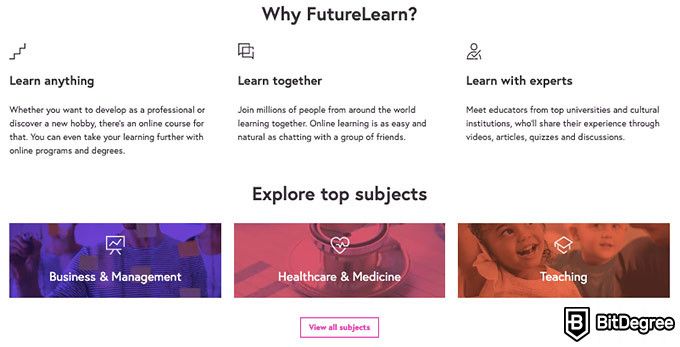 That has to do with the fact that FutureLearn partners with top-tier universities as well as other accredited institutions that are very unlikely to offer poor-quality content.
All things considered, you should be pretty happy with FutureLearn courses when it comes to their structure and quality. Keep in mind that each course can be a bit different when it comes to both of these criteria, so you can always check it out for free before becoming a paid member.
Earn Credits Through Learning on FutureLearn
Back in May 2016, FutureLearn announced that students had an opportunity to earn course credits when choosing FutureLearn programs. According to the provider, that was the first time that learners were able to earn degree course credits through MOOCs.
You can choose from 31 FutureLearn MicroCredentials and programs that are offered by leading institutions of higher education. FutureLearn programs can be worth up to 30 UK academic credits.
Also, you can choose from multiple online degrees that can be a great alternative to traditional learning. They will take months to complete, however, you will get valuable knowledge, and certificates that are well-recognized among numerous employers.
Needless to say, there aren't that many online learning platforms that can provide you with such opportunities as FutureLearn, especially when it comes to earning credits through learning on this digital education platform.
Accredited Certificates
In most cases, students only pay attention to the fact that they will get a certificate, however, the more important question is if those certificates are accredited or not accredited. There's quite a difference between the two.
Accredited certificates have formal recognition and are more valuable than not accredited ones. In order to get such a certificate, the institution where you're studying has to be accredited. Now, even though not accredited certificates are less valuable, many of them are still recognized among employers and can be added to your portfolio.
The thing is, the majority of online learning platforms provide you with certificates, however, most of them are not accredited. Since FutureLearn is in partnership with tens of universities as well as other accredited institutions, you also get accredited FutureLearn certificates. It's not that common, to say the least.

Also, it should be mentioned in this FutureLearn review that you'll need to upgrade your course in order to get a certificate. What is more, you have to complete more than 90% of all course steps as well as get a score over 70% on your tests. Once it's done, you will get your digital certificate immediately and the printed version should reach you within 2-5 weeks.
In case you want to check out other top-tier platforms that provide you with accredited certificates, you should check out Coursera and edX. Coursera is considered to be one of the best platforms for career paths, whilst edX is great for learning new skills and developing a career.
The first part of the FutureLearn review is coming to an end. As you've seen, this learning platform has definitely a lot to offer. You get to choose from a good variety of courses, not only subject-wise but also in terms of their length. What is more, FutureLearn certificates are accredited and they have a very clear structure. Considering these aspects, it's one of the better online learning platforms for different needs.
FutureLearn Review: CONS
Since it's rarely all good, the time has come to focus on the negative aspects of this FutureLearn review. Each of them is important, so you should take them into account.
Poor Student Reviews
When choosing an online learning platform, one of the aspects that you should keep in mind is student reviews. There are things that providers won't tell you, however, students notice when learning.
That said, I not only tested the platforms myself but also checked out multiple FutureLearn reviews to see what the students are saying. I was quite surprised by the fact that FutureLearn is evaluated only 2.6 out of 5 on Trustpilot. Almost half of the reviews are negative ones.
When it comes to the aspects that students are the most unhappy about, these include some issues with the refund policy and the fact that some free courses provide only general knowledge, rather than digging deeper into the topic. However, it seems that the latter issue completely depends on the course that you choose.
Also, it's fair to mention that many students are truly happy with their learning experience on FutureLearn. They state that courses are very affordable and provide interesting learning material. That said, there's never only one opinion when it comes to digital learning platforms.
Quite Expensive
Even though FutureLearn offers a variety of free courses, you will need to pay accordingly if you want an upgrade or get an unlimited plan.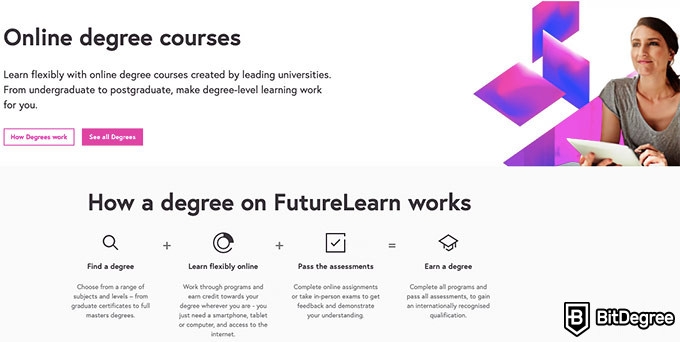 It's fair to say that if you want to get the best experience, it might get pretty expensive. I won't go into details here as the further part of this FutureLearn review focuses entirely on prices, so get straight to it to find out more.
How Much Do FutureLearn Courses Cost?
When it comes to pricing, there are usually two different payment models - subscription-based and payments for individual courses. Also, it's not a secret that some platforms offer completely free courses and charge for certificates only.
Now, getting back to the FutureLearn review, explaining the pricing of this platform is a bit tricky, it basically depends on which learning mode you choose. There are three:
Free - study for free for the duration of the course plus 14 days.
Upgrade - from about $50 to $90, depending on the course.
Unlimited - $279.99 per year.
You can access the majority of short FutureLearn courses completely free. You'll see the 'join free' button for such courses, so you can enroll immediately.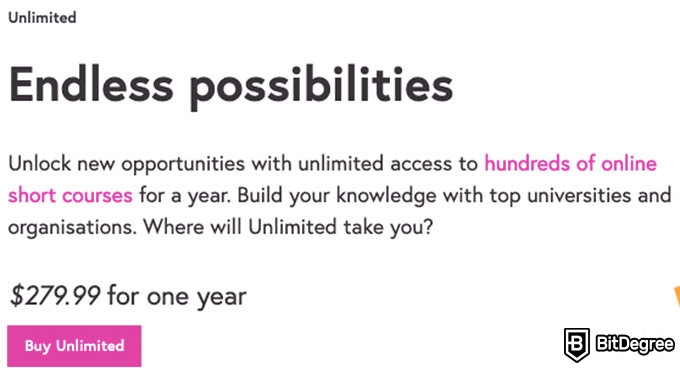 Now, if you want to get additional benefits, you can upgrade your plan. It can be done not only before starting the courses but also during and after the course. Once you do that, you will get unlimited access to the course, as long as it exists on the platform. What is more, you'll be able to complete tests as well as get certificates that will prove your knowledge.
The Upgrade plan only provides benefits to individual courses, so if you want to get the same perks on multiple courses, it's recommended to get the Unlimited plan that will cost you $279.99 per year.
Even though it's quite expensive, you'll get an opportunity to choose from various expert-level courses where you'll be able to discuss the subject with other students as well as get hands-on support.
When it comes to Microcredentials, programs and online degrees the pricing varies depending on each one of them individually. It can reach even tens of thousands of dollars, so that's definitely an investment.
FutureLearn Alternatives
Since you already know the main reasons why choosing FutureLearn could be a good idea, and also aspects that aren't as good, you've probably managed to make your decision and decide if this online learning platform is the suitable platform for you.
Now, whatever your decision is, it's always a must to be aware of FutureLearn alternatives, especially when it comes to top-tier online learning providers, such as Udacity, Coursera, and edX.
You might be well-aware of these platforms, however, I would like to introduce each of them in case you want to find out more.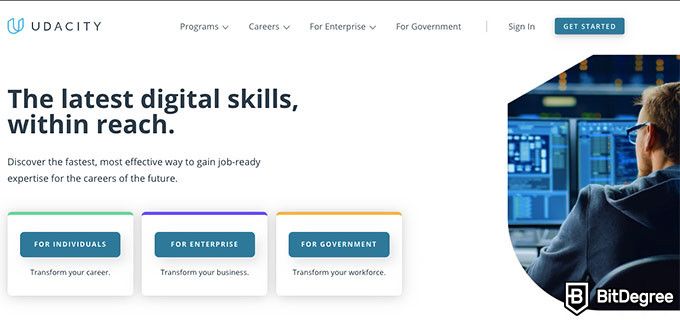 Founded back in 2011, Udacity is currently one of the most popular and recommended online learning platforms that offer exceptional features and more than 500 courses to choose from.
Udacity is mostly recommended for its coding courses, the majority of them are based on this subject. However, you will also find courses on languages, business and management, and even more.
If you want to get in-depth knowledge, then it's recommended to go for Udacity Nanodegree. Even though it takes from 6 to 12 months to complete, it's completely worth it. You also get a certificate that you can add to your portfolio.
Since Udacity focuses on the quality of the courses instead of the quantity, students are truly happy with the quality of learning material. Also, it features a very clear interface, so it makes the whole learning experience even more enjoyable.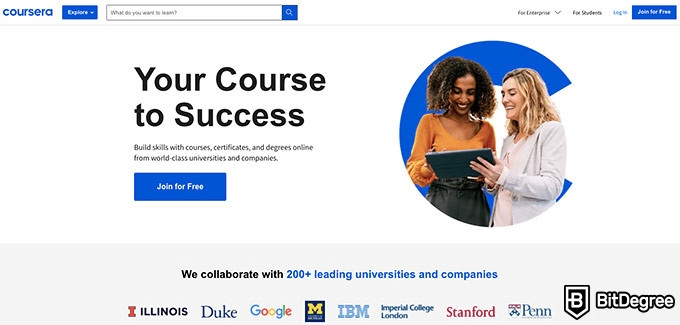 When looking for university-level courses you will also come across Coursera. The platform has more than 45 million members and the number keeps growing. Also, it's one of a few digital education platforms that provide you with accredited certificates.
Coursera offers more than 1000 free courses as well as covers a variety of different subjects, including computer science, languages, IT and software, personal development, math and logic, and even more.
Coursera courses are of the top-quality, so you won't be disappointed. Also, most of them are very affordable.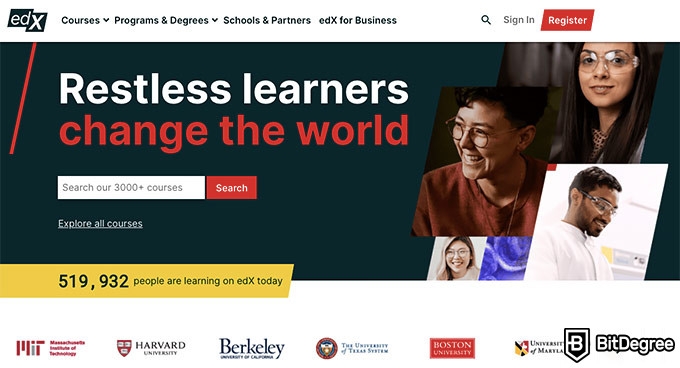 edX is another platform that could be a truly great alternative to FutureLearn. Founded back in 2012, the platform focuses on a variety of different subjects, just like FutureLearn. What is more, edX offers university-level courses, so you will get the highest-quality learning material.
Unlike many other platforms, edX offers accredited certificates that are truly valuable amongst employers. Also, you can choose from hundreds of free courses that you can learn without limitations. Certificate costs additionally, though.
Based on multiple student reviews, edX is one of the best online learning platforms not only because of high-quality courses but also because of the amazing learning experience.
Latest DataCamp Coupon Found:
CLAIM 50% OFF
DataCamp Cyber Monday Deal
DataCamp Cyber Monday special is here! Enjoy a massive 50% off on DataCamp plans. Subscribe now and redefine your data and Al skill set for the better!
Expiration date : 10/12/2023
5,324 People Used
Only 36 Left
Conclusions
Hopefully, this FutureLearn review helped you to decide if this digital education platform is exactly what you're looking for.
In conclusion, FutureLearn seems to be a reliable platform that will help you to gain knowledge in various fields. You can choose from hundreds of free courses, also multiple ExpertTracks, Microcredentials and programs as well as online degrees.
Due to the partnerships with multiple universities, FutureLearn offers accredited certificates that provide real value and can help you to take your career to the next level.
What is more, FutureLearn features a clear course structure that includes various quizzes, video and audio material, commenting, and so much more. Also, you can earn credits through learning.
A few drawbacks associated with the platform include negative customer FutureLearn reviews and prices. It can get quite expensive, to say the least, especially when it comes to programs and online degrees.
In case you didn't find FutureLearn suitable for your needs, you can consider other top-rated online learning platforms. The most recommended ones include Udacity, Coursera and edX. Millions of students have already chosen these providers.
Table: Udacity and Coursera comparison.
Leave your honest FutureLearn review
Leave your genuine opinion & help thousands of people to choose the best online learning platform. All reviews, either positive or negative, are accepted as long as they're honest. We do not publish biased reviews or spam. So if you want to share your experience, opinion or give advice - the scene is yours!