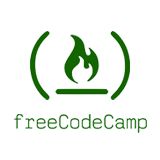 Programming and coding are probably some of the most popular topics that people look for when it comes to online courses - naturally, this has made it so that there is a huge variety of courses to choose from. In order to help you find out more about the platforms that teach people about coding, there are certain reviews that you can find online. And in this freeCodeCamp review, we'll take a look at one such platform.
Just so you know and get familiar with what we're going to talk about, and to get a better idea of the general picture. I'll briefly introduce the platform and the company at the very beginning. After that, we'll take a look at the features that it offers, its content quality, pricing (you might be surprised), and so on.
If you find that freeCodeCamp does not, in fact, suit your standards, you might want to try out some other MOOC provider, still - do check out Udemy, Coursera or edX for some high-end, quality courses!
Let's not waste any more time and jump straight into it!
Pros
Free-to-use
Certification available
Provides the opportunity to practice the skills that you've learned with other non-profit organizations
Cons
Has some technical problems
Table of Contents
freeCodeCamp Review - Introduction
freeCodeCamp is a non-profit organization that aims to help people learn all the necessary coding skills. It was first launched in 2014, in California.
The creator of freeCodeCamp, Mr. Quincy Larson, claims that his reason for creating and establishing the platform is to help students go from being a beginner to an advanced level in the field of coding and web development. Since Mr. Larson is a software developer himself, he wanted to create a platform that would be better at teaching people coding than the way that he learned it.
Since the company is a non-profit, all of the things that you can learn on the platform are completely free. Furthermore, once you finish your studies on freeCodeCamp, you will have the opportunity to apply your skills in practice for other non-profit organizations, thus providing you a full (theoretical and practical) experience.
Now that you have a fundamental understanding of what the company's about, we can move on to the actual freeCodeCamp review and try to figure out is freeCodeCamp good.
Latest DataCamp Coupon Found:
CLAIM 50% OFF
DataCamp Cyber Monday Deal
DataCamp Cyber Monday special is here! Enjoy a massive 50% off on DataCamp plans. Subscribe now and redefine your data and Al skill set for the better!
Expiration date : 04/12/2023
5,324 People Used
Only 36 Left
Ease of Use
It's very important that an e-learning-based platform would be both easy to use and visually-appropriate. It is often that you'll find educational websites that have some pretty good content, but it's practically impossible to navigate around the site to find it. Admittedly, the visual side isn't as important as the practical one, but it still plays a huge role in creating a successful platform.
We usually don't really notice the design of a platform when it's good. However, if the website is atrocious and impossible to look at, we probably won't be able to forget it for a long time. And this isn't a "no such thing as bad publicity" type of a thing, either - after all, we're talking about a platform designed for learning, not some occasional visiting or specific branding.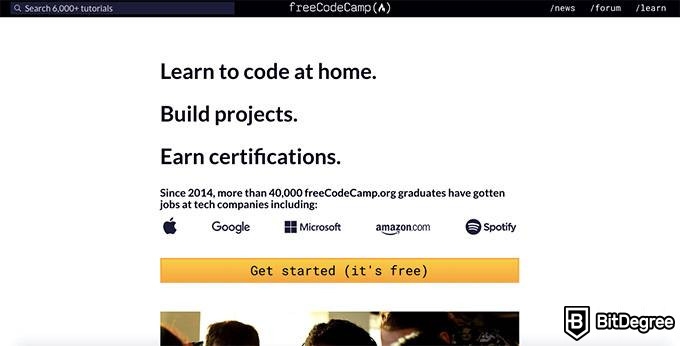 When I first came across the homepage of freeCodeCamp, I wasn't all that pleased. My initial thought was that I had just entered a way-back machine - the layout and design seemed like something that came from 2002. After just a few seconds of browsing, however, I immediately regretted that thought.
The style that the platform uses, even though it's super simplistic and basic, goes hand-in-hand well with the overall image that the company tries to upkeep. It's quite apparent that the brand values simplicity, which actually fits in perfectly with what they do.
The user interface is really easy to navigate and get around. Honestly, the team over at freeCodeCamp couldn't have made it more obvious for what newcomers to the site should be doing - the "Sign Up" button on the main landing page takes up a huge portion of the screen. If you choose to scroll down, you'll see a couple of success stories, a section telling you what you'll learn, and some information about the platform being a non-profit.

A lot of freeCodeCamp reviews don't seem to mention this, but there are no such things as actual "courses" on the platform. Instead, all of the information that the site provided is displayed in articles, some videos, and interactive lessons.
Even though it's really easy to get around and find what you're looking for, I did notice some technical difficulties on the site. My main concern was that as soon as I typed something into the search bar, I would get a blank wall with invisible (yet clickable) links. Furthermore, once I actually chose a few lessons to visit, I was hit with a 404.
This happened only twice, so it wasn't all that big of a deal. That being said, the platform should strive to maintain its reputation by upkeeping a high standard when it comes to these types of things.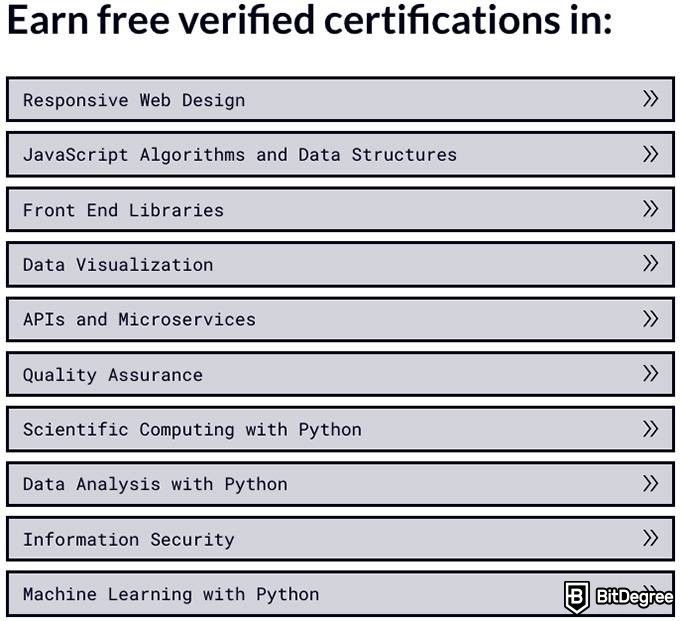 Overall, even though I experienced some inconveniences, I actually liked my time spend on the site. Once you enter a specific lesson that you want to study and learn, you will be presented with some instructions on the left, and an interactive coding example on the right of the screen.
The way that this is structured was actually quite pleasing - I didn't feel any discomfort having to jump from one part of the screen to the other, everything was laid out clearly. As far as this Free Code Camp review is concerned, the platform is really easy to use and is even somewhat unique with its simplistic design decisions.

Did you know?
Content Quality
If you truly want to learn to code, then online learning platforms can be your best friend. However, it's really difficult to unlearn something that appears to be (or is presented) as being right at the time, but turns out to be completely wrong later on in life. This is why the quality of the content that you'll study matters more than anything else.
If the course (or article, or tutorials, or a video guide) is taught by a professional of his or her craft, then you're all set for smooth sailing. However, if the quality of the content that an e-learning site offers isn't exactly up-to-par, you risk learning something completely wrong - and that's really bad.
Taking a single look at online freeCodeCamp reviews, you'll notice that students are generally really happy with the quality of the content that the platform offers. Most people that have the initial question "is freeCodeCamp good?" are usually satisfied once they try the platform out.

As I've mentioned a bit earlier in this freeCodeCamp review, the website doesn't really offer any specific courses, per se. Instead, you have the opportunity to learn by studying certain segmented, put-together pieces of information. Even though this might sound a bit, well… unprofessional, the quality of these tutorials is actually really good.
freeCodeCamp is great in the sense that it's designed for complete beginners in the field of coding. You can have no initial knowledge about coding, and still register and start learning. When I visited the site, I tried to see and examine the quality of freeCodeCamp's HTML and HTML5 lessons. I clicked on the very first lesson, got taken to an introductory-type of a "course page", and started reading.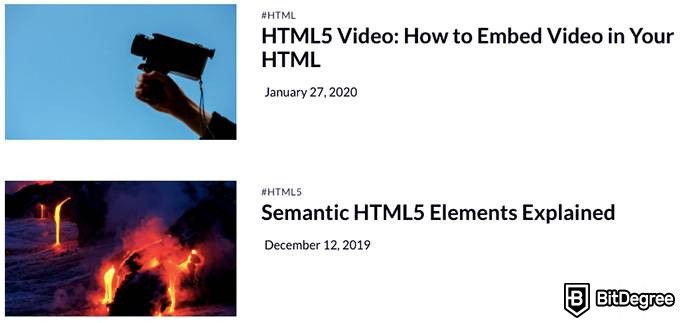 I must admit, as someone with extremely limited knowledge of HTML, I was pleasantly surprised with just how nicely and simply the information was presented. This is also a point that many freeCodeCamp reviews seem to agree on - the actual presentation of the content is really approachable and easy to understand. This goes to show that the platform does try to cater even to complete beginners - that's great!
Features
One feature that is really unique to freeCodeCamp is that, once you finish your studies on the platform, you have the opportunity to apply them in practice. The site offers you a chance to try your skills out with other non-profit organizations. Not many freeCodeCamp reviews seem to mention this, but features like this should be really important to people who are actually serious about acquiring a job as a coder or a web developer.
If you choose to find out is freeCodeCamp worth it by learning from the company's curriculum, you'll get the opportunity to study various aspects of coding from a designated lesson list. Once you finish off the 5 final projects of a subject, you'll receive an official certification that represents your achievement.

Overall, the platform offers a very straightforward and thorough learning experience with all of its features. Even though you won't find any flashy competitions, you probably won't be disappointed by what you do get, either.
Price
So - why in the world would I include a chapter about the pricing over at freeCodeCamp if it's, well... Free? It's pretty simple, really, - in this freeCodeCamp review, we still haven't talked about where the platform gets its financing from. The fact that it's free for student use is even displayed in its name. However, there are no hints that would tell you what makes it all possible.
A lot of Free Code Camp reviews mention this, but the funding for the platform actually comes from donations and contributions. Anyone can donate to the site, thus pitching in on its constant development.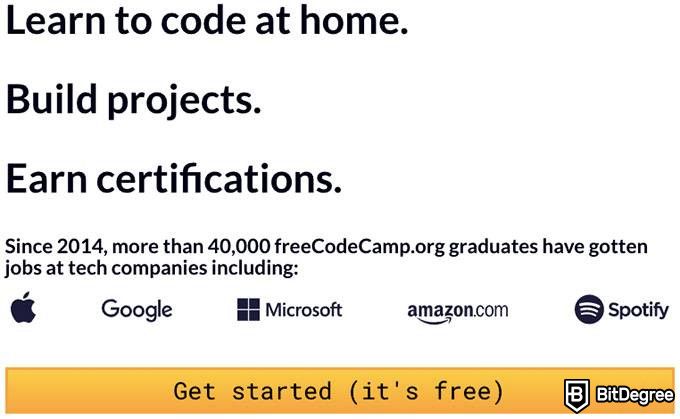 And, by the looks of things, people do! A lot of this probably stems from the fact that whenever people ask "is freeCodeCamp worth it?", often the topic of certification comes up. The company works closely with other various non-profit organizations worldwide - this allows freeCodeCamp to promise certified students possibilities to test their skills "in the real world".
Since this isn't really an all that common feature, it makes sense that people want to contribute and show their appreciation, which they do by donating and helping to keep the site up and running.
Learning Experience
Let's talk about something that not a lot of Free Code Camp reviews do - learning experience. When it comes to e-learning platform reviews (some freeCodeCamp reviews are no exception), you will often see that people talk about very narrow and specific things - pricing of a plan, instructor's tone of voice, some glitchy banner, etc.
Whether it be pros or cons, students tend to be very specific. Well, this freeCodeCamp review is a bit different, because now we will try to find out is freeCodeCamp good by talking about the student's learning experience.
Most freeCodeCamp reviews don't use this to discuss is freeCodeCamp worth it, since it's a very subjective point, in the first place. And not only course quality-wise - your learning experience may depend on many different factors, such as your overall mood, room temperature, a pet that won't leave you alone, deadlines, goals & expectations, etc.
I know that some of these points are almost funny, but believe me - they do add up.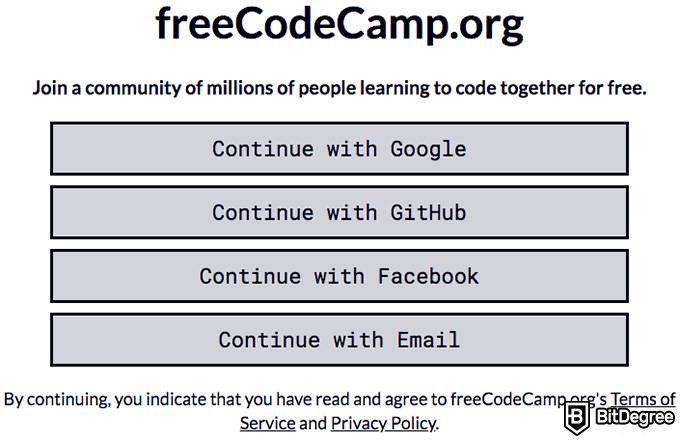 However, each and every online learning platform has a general vibe surrounding it. You might not always be able to point it out, but you can just feel if the site is worth your attention or not. Whether it be visual design decisions, the placement of the UI, or even the quality of the courses - in the end, everything adds up to create a general POV on the learning experience that you'll receive.
When it comes to this freeCodeCamp review (or most of the other freeCodeCamp reviews that you'll find on online forums), I must say - the general opinion around the learning quality that freeCodeCamp provides is really positive.
Not only because it's free, though - you can get a free service that sucks, too! It seems that the platform is genuinely concerned with providing its students with the best possible learning experience possible.

Pros
Easy to use with a learn-by-doing approach
Offers quality content
Gamified in-browser coding experience
Main Features
Free certificates of completion
Focused on data science skills
Flexible learning timetable

Pros
High-quality courses
Nanodegree programs
Student Career services
Main Features
Nanodegree programs
Suitable for enterprises
Paid certificates of completion

Pros
A huge variety of courses
Easy-to-navigate interface
Over 600 free courses
Main Features
A huge variety of courses
30-day refund policy
Free certificates of completion
Conclusions
With all of that said, we've reached the end of our freeCodeCamp review. I genuinely hope that it was useful to you, and that you'll be able to use this information to decide whether or not you want to check freeCodeCamp out.
As a final note, I'd like to remind you that, if you came here looking for some more-traditional programming courses, you shouldn't leave disappointed, either - there are other platforms for you to try out! Try Udemy, edX, Coursera, or Udacity - you're bound to find some courses that will suit your wants and needs on either of those platforms!
Leave your honest freeCodeCamp review
Leave your genuine opinion & help thousands of people to choose the best online learning platform. All reviews, either positive or negative, are accepted as long as they're honest. We do not publish biased reviews or spam. So if you want to share your experience, opinion or give advice - the scene is yours!